I've been having a bit of an obsession with biscuits lately. There's seriously nothing better than eating fresh-from-the-oven biscuits. Unless it's fresh-from-the-oven biscuits with lots of butter melted on them. Or, even better! Fresh-from-the-oven biscuit sandwiches. I've now declared these acceptable for breakfast, lunch, or dinner, preferably all three on the same day (um, I've done it!).
This is another recipe I got from the December issue of Bon Appetit, but it's from Molly Wizenberg of Orangette fame, one of my long-time blog favorites. I totally trust Molly on all things food and this recipe is super simple and well worth it!
Sweet Potato Biscuits w/ Ham, Mustard, and Honey (recipe says it makes 25, I got 20 when halved):
1 /34 lb. sweet potatoes (AKA yams), peeled and cut into 1/2 inch cubes
1 3/4 C all-purpose flour
1 T packed dark brown sugar
2 1/2 t baking powder
1 t salt
1/2 t baking soda
Pinch cayenne powder
8 T (1 stick) unsalted butter, chilled and cut into 1/2-inch cubes, plus 2 T butter, melted
1/3 C chilled buttermilk
Dijon mustard
6 oz. thinly sliced country ham or black forest ham
Honey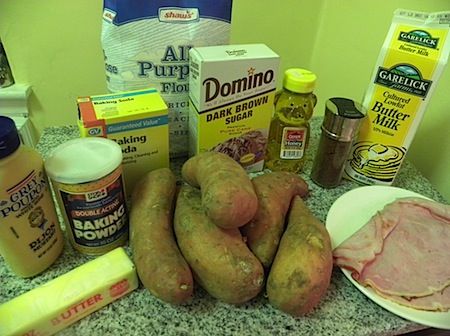 OK, so I used WAY too many sweet potatoes. I guess I had no idea what 1 3/4 was, but if I had read the whole recipe, I would have realized I only needed 3/4 C of mashed potatoes in the end. So, I probably should have just used 2 potatoes (and would have still had leftovers). Instead, I used 5 and had delicious mashed sweet potatoes left over for days. I was OK with that, but I figured I should let you know.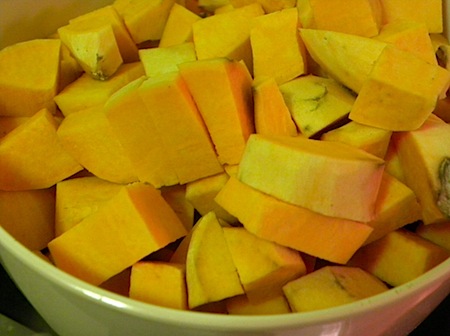 Anyway, cook the sweet potatoes in a medium pot of boiling salted water until tender, about 8 or 10 minutes.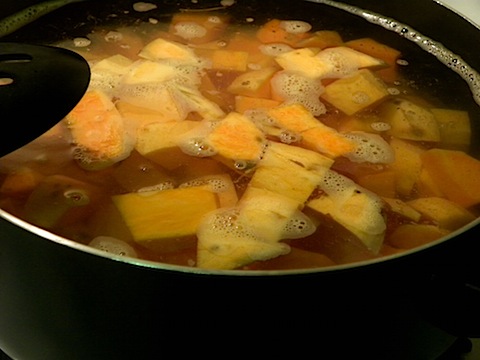 Then, drain, cool, and mash the potatoes.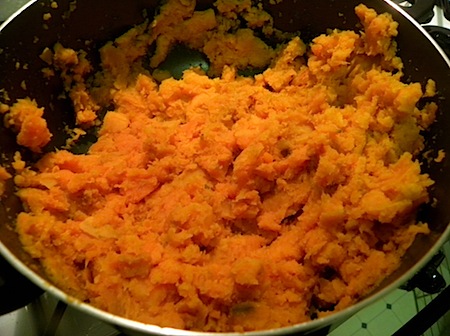 Whisk the flour, dark brown sugar, baking powder, salt, baking soda, and cayenne in a large bowl.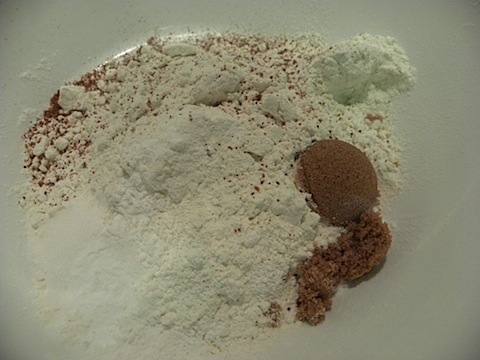 Add the cubed butter to the flour mixture and toss to coat. Rub with fingertips until mixture resembles a coarse meal (again! A recipe that doesn't call for a pastry blender and heads straight to the fingers!).
Then whisk 3/4 C of the mashed sweet potatoes and buttermilk in a medium bowl.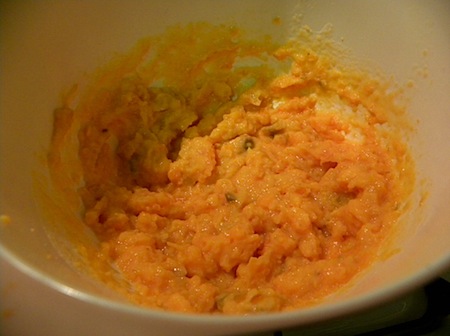 Add to the flour mixture and toss with a fork.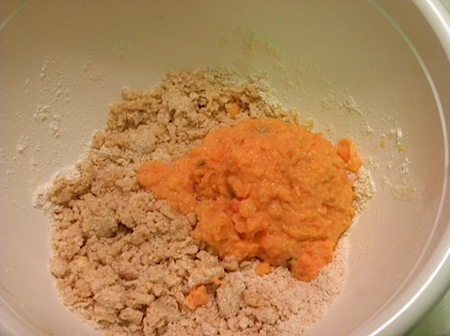 Gather mixture in bowl, kneading dough until it comes together.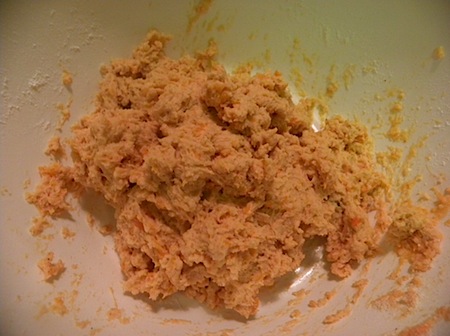 Place dough on a floured work surface and pat into a 1-inch thick round. Using a 1 1/2-inch biscuit cutter, cut out biscuits. If you don't have a biscuit cutter, you can simply shape the dough into biscuit look-alikes by hand.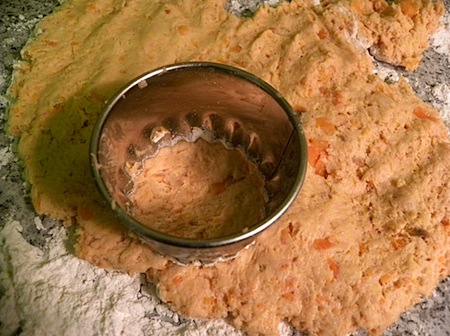 Keep gathering scraps and cutting more biscuits.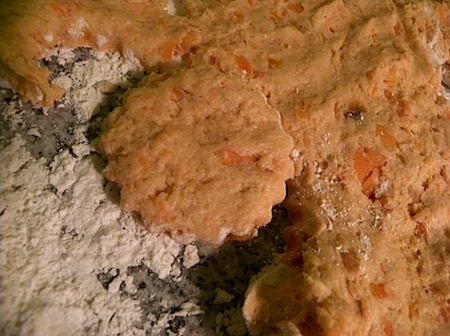 The recipe calls for a 9-inch cake pan with 1 1/2-inch sides. All I had at the moment was a pie plate and that worked just fine. I buttered the whole pan and arranged the biscuits side by side. It's fine to have them touching each other.
Brush the biscuits with melted butter.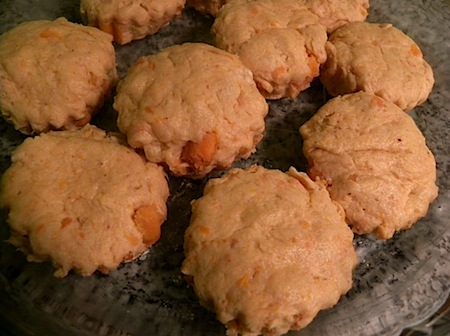 Bake at 425 degrees until puffed and golden on top, about 22 minutes.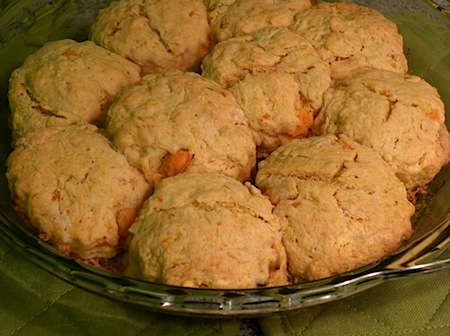 Cool for 10 minutes in pan or plate.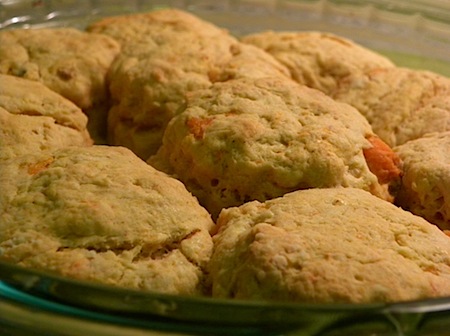 Biscuits should easily pull apart and come out of the pan.
Cut them in half crosswise.
Spread half of each biscuit with mustard and top with a slice of ham (I used black forest from the deli).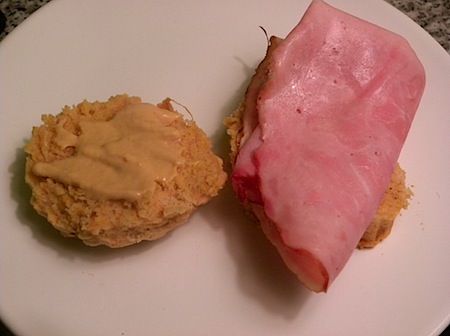 Drizzle with honey. You may be awesomely surprised by how well the honey goes with this. And I mean awesomely.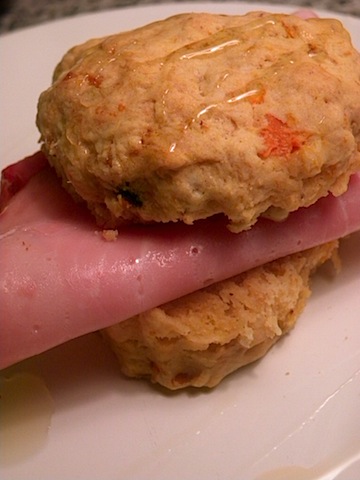 Then make another. Because one won't be enough.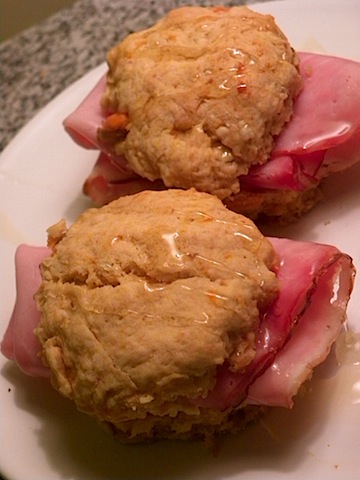 This was an absolutely amazing flavor combination! The sweet earthiness of the biscuit mixed with the spiciness of the mustard and sweetness of the honey was enough to make your taste buds go wild. It was especially delicious with the biscuits being nice and warm.
And you're likely to have lots of these biscuits left over and you can do as you please. I personally love a warm biscuit with a little dab of butter for a snack. But these biscuits also make for a mean egg sandwich. And simply as a substitute for anything you'd make with bread. They're pretty much just perfection.
I'm totally biscuit-crazy and have a feeling there are a lot more biscuits in my future. This love is just not going anywhere soon. Anyone have a favorite kind I need to try making?
[Sues]