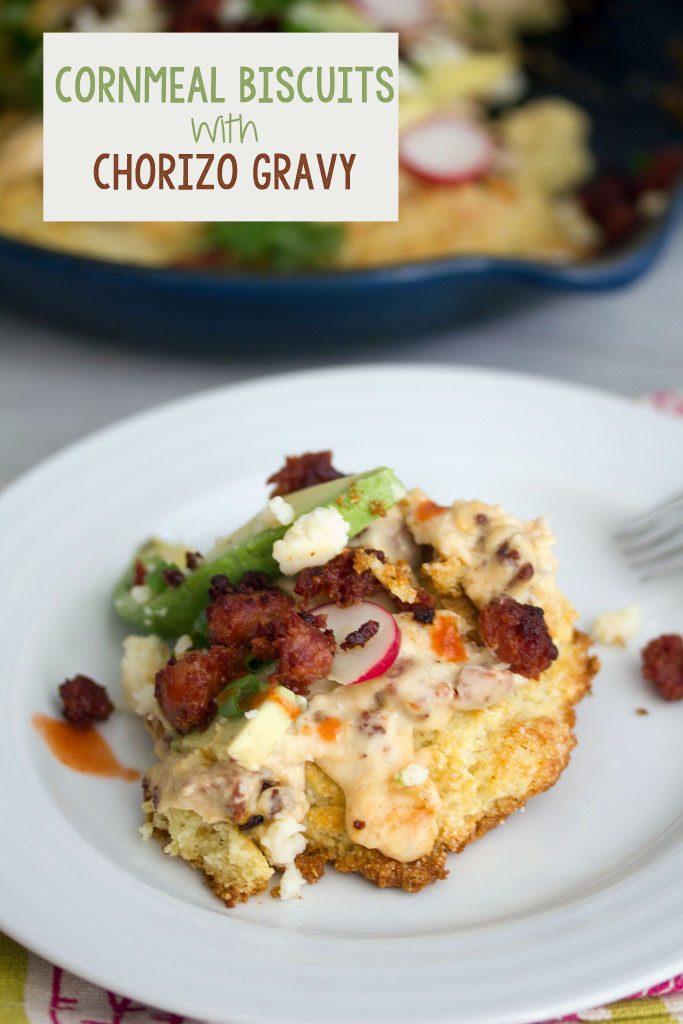 Happy Monday! Here we go again. And here I go again with posting about breakfasts that, if you have an office job, there's no way you can enjoy today. Or tomorrow. Or the next day. Sorry, that makes me feel like a horrible person. But to be fair, I have an office job, too, so I can't enjoy weekday breakfasts either. So, maybe I just want you to feel my pain so we can suffer together. Please forgive me. If I could, I'd be in your kitchen right now making this breakfast for you. Promise.
Remember a couple months ago when I made pimento cheese for my first time and lamented about how I know next to nothing about Southern cooking? Well, I am very thankful to Bon Appétit for teaching me all I know about Southern food. First I made their pimento cheese and now I'm making their biscuits and gravy. For breakfast. I didn't even know biscuits and gravy was a thing until I visited my sister when she was living in Chicago and we went out to breakfast. It's just not really a thing we do too much in New England.
To be honest, I wasn't really dying to try biscuits and gravy when I first discovered them. They didn't really sound, or look, that appealing to me. Well, until I ate at Biscuit Love in Nashville. And then I saw these Cornmeal Biscuits with Chorizo Gravy and Scallions recipe in Bon Appétit magazine. Then I suddenly had to make them. I guess it's just that this dish is a whole lot more attractive than the typical biscuit and gravy dish you'd get at a local diner. 
It's really the gravy that I was a little iffy about. You can't really argue with the deliciousness of biscuits. Especially when they're being served for breakfast. Why is that not done more often in Boston?? For this recipe, the biscuits are made in a cast-iron skillet. I love it!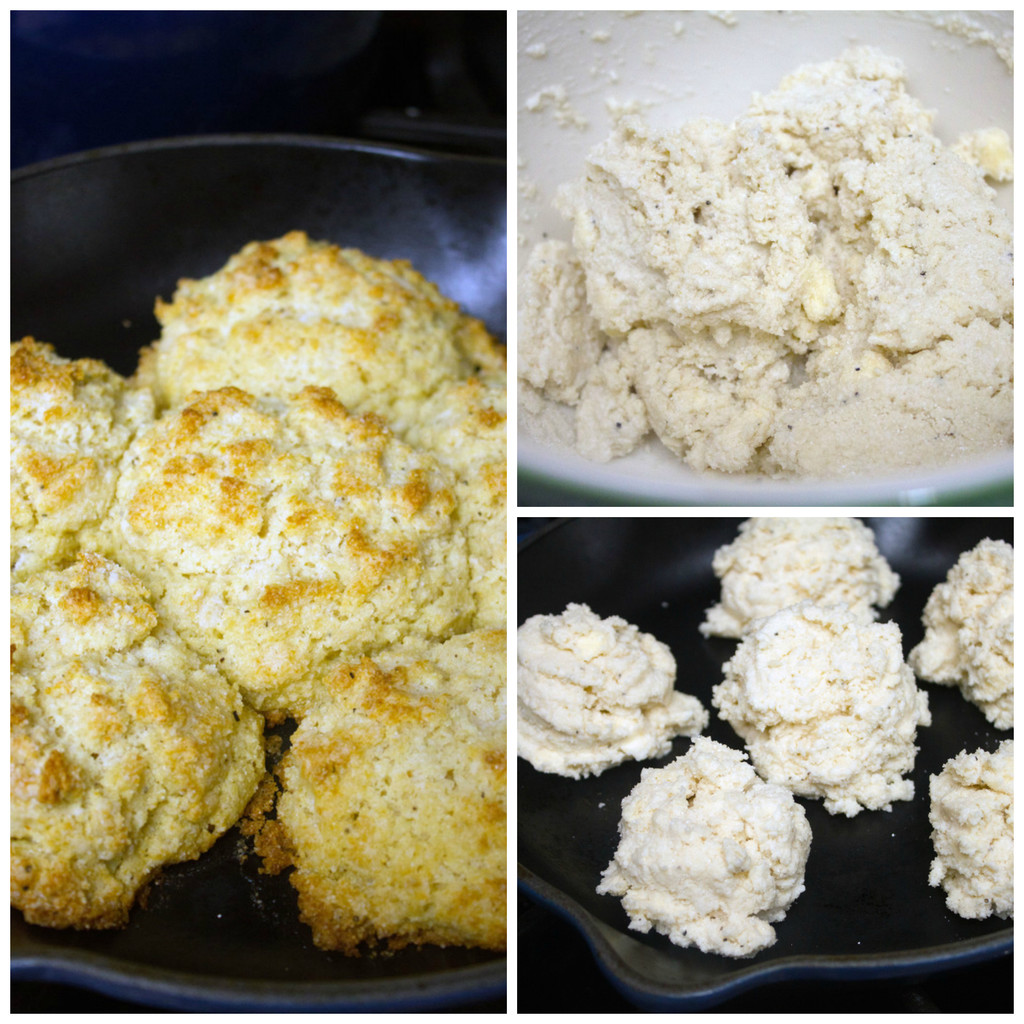 Gravy is super easy to make, too. And fun. Especially when it involves chorizo.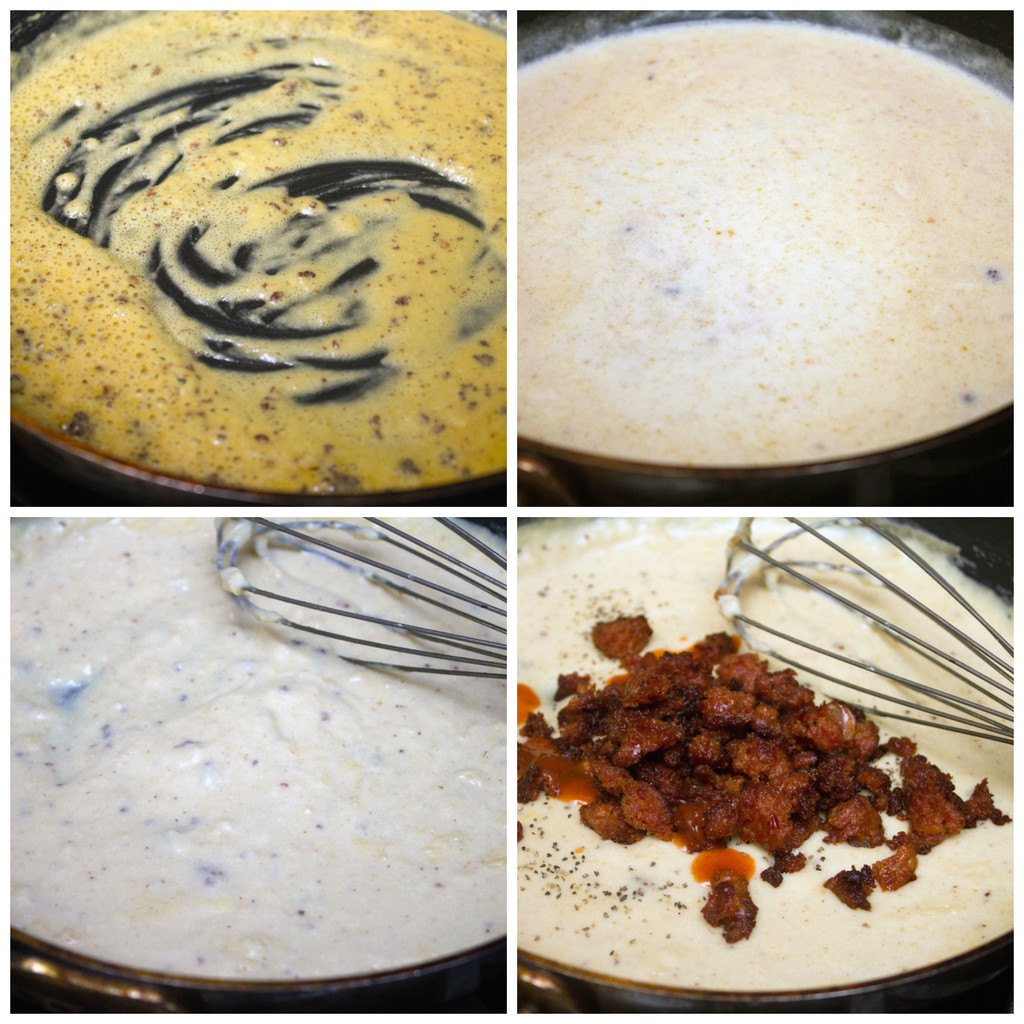 So, obviously the biscuits and chorizo gravy are what this meal is all about. But all those toppings are also absolutely necessary.
Avocado, radishes, cotija cheese, tabasco, and cilantro.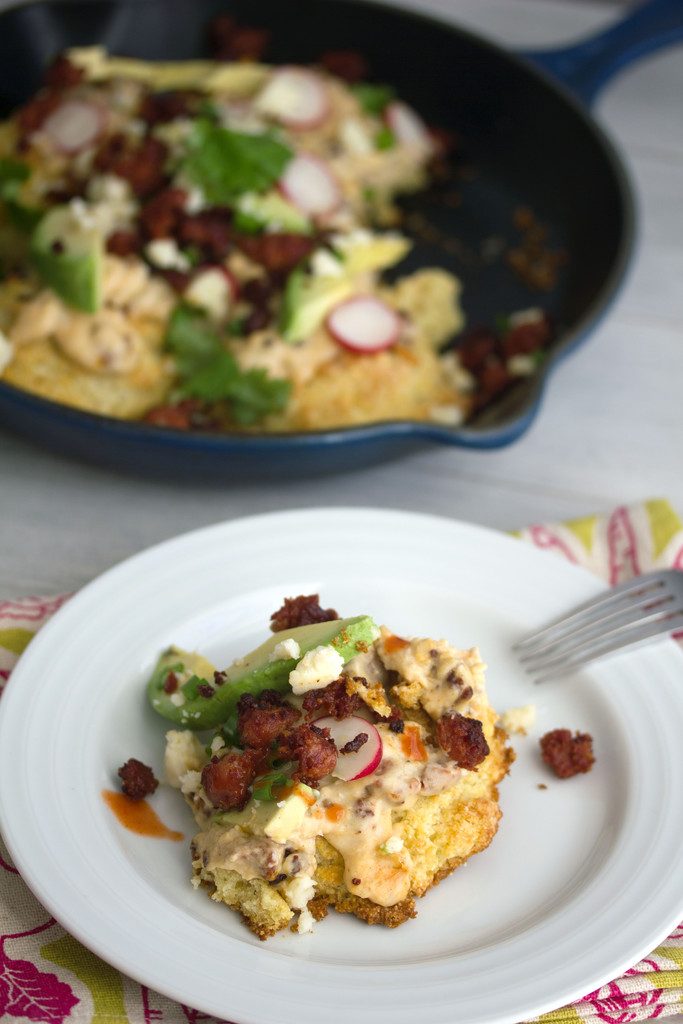 And suddenly I have yet another brunch favorite. I really don't know why I haven't thrown a brunch party lately… At this point, it would be an all-day brunch, there are so many dishes I want to make.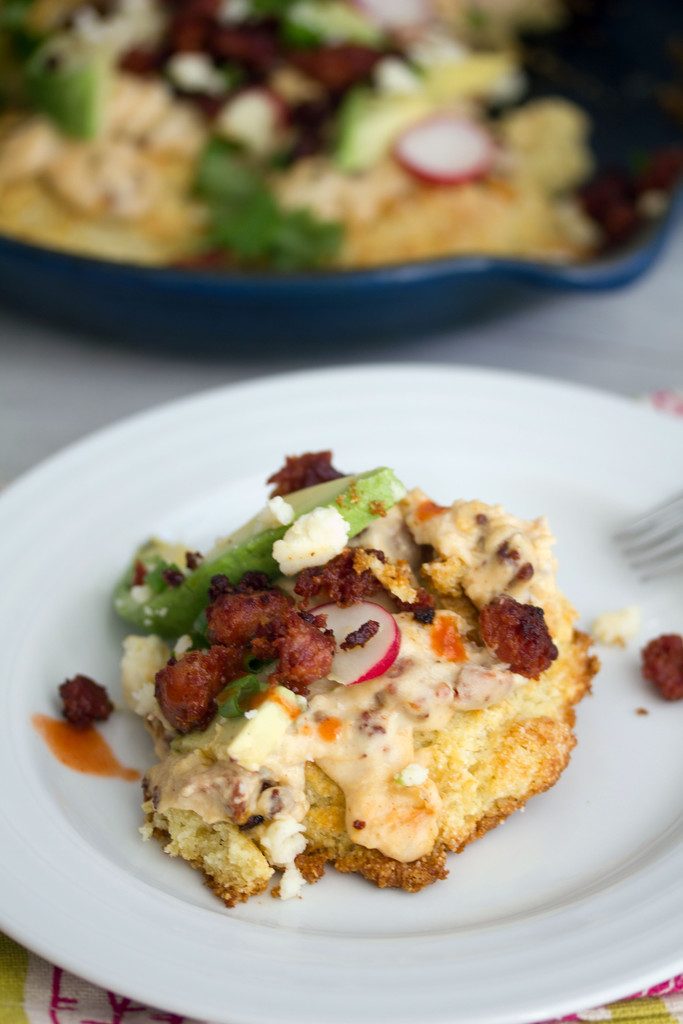 Am I still skeptical of gravy? Nope. Not a bit. Honestly, I think I feel a little better about it now that I made it myself. I "get" it now.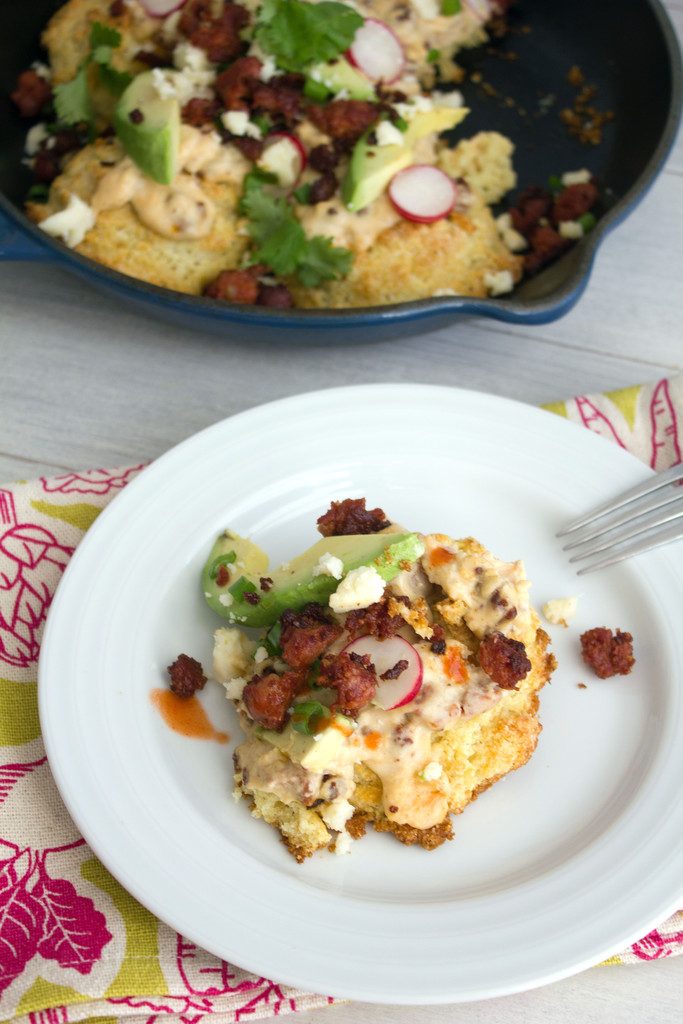 To be honest, I'm not sure I totally get the radishes. But that said, I totally loved them. They added a crisp little crunch to the meal.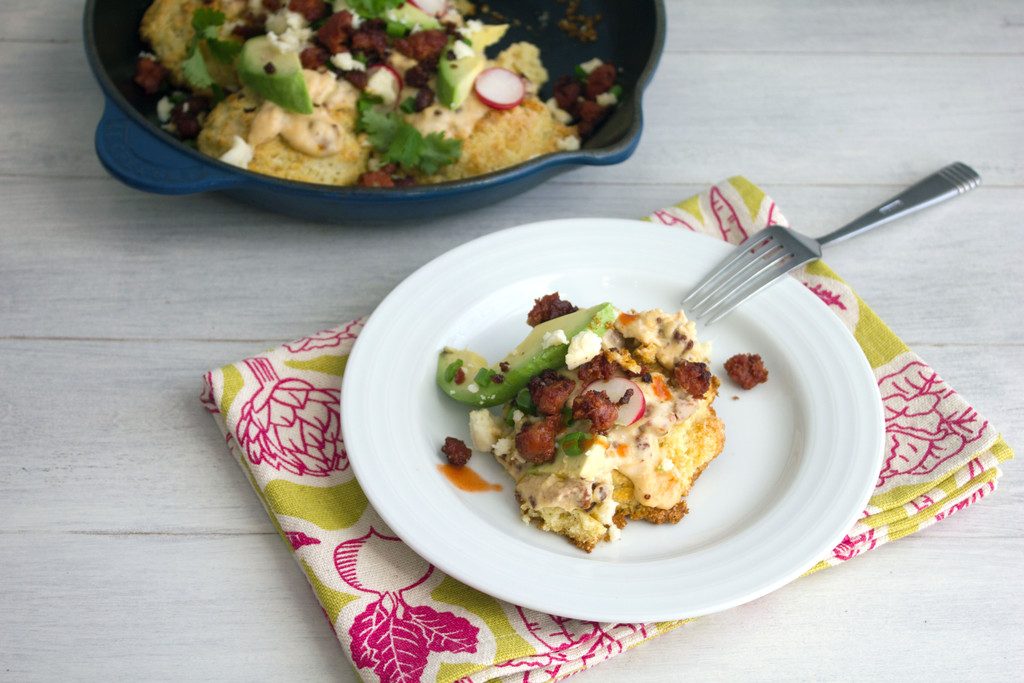 The hot sauce gave the biscuits a little kick, which was a nice contrast to the creamy gravy. And when is avocado ever a bad idea?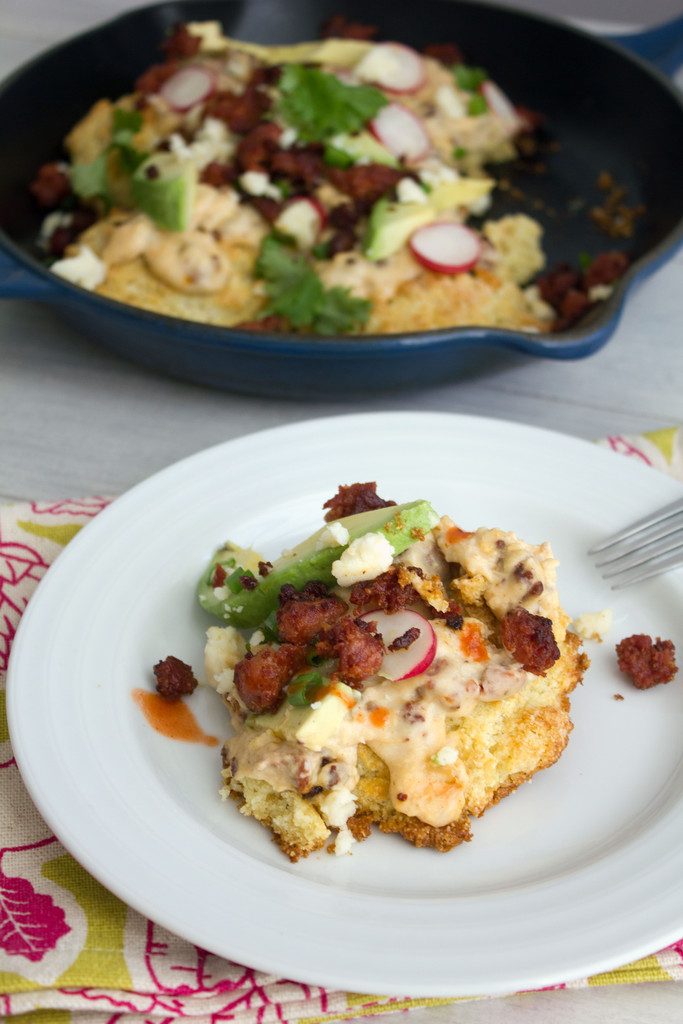 But I do have to admit something… Last week I claimed that I want nothing to do with a breakfast that doesn't involve eggs or maple syrups. And I clearly lied. Because this dish has neither. And it's still brunch perfection. 
That's not to say that I didn't consider putting an egg or six on this…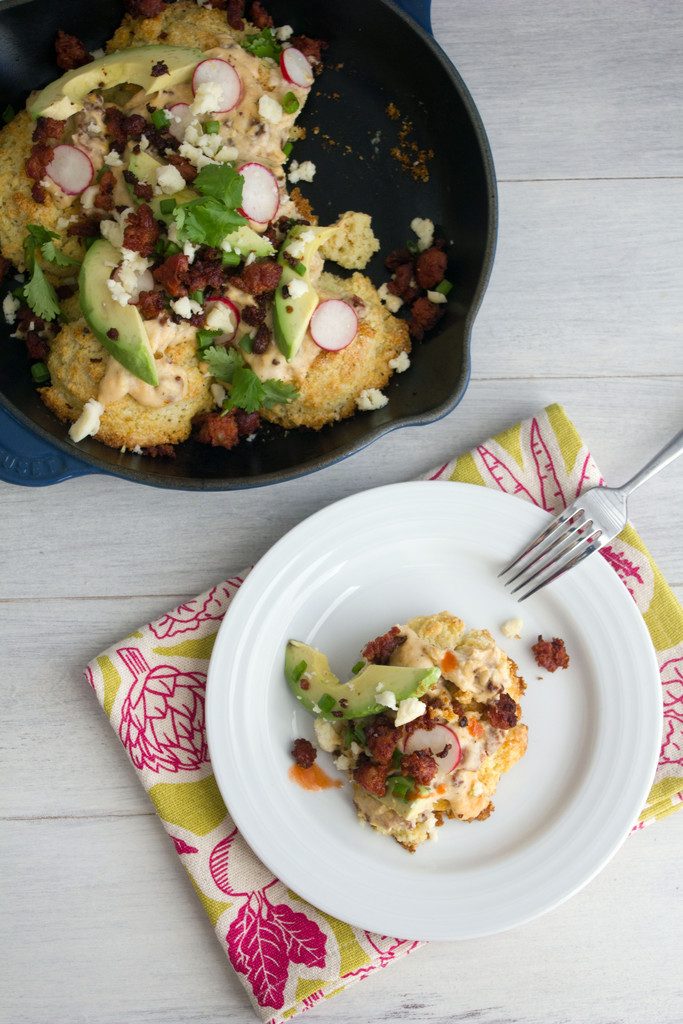 Anyway, it was really, really difficult to only eat one of those biscuits. This is a dangerous dish to make if you're home alone. I'm just warning you.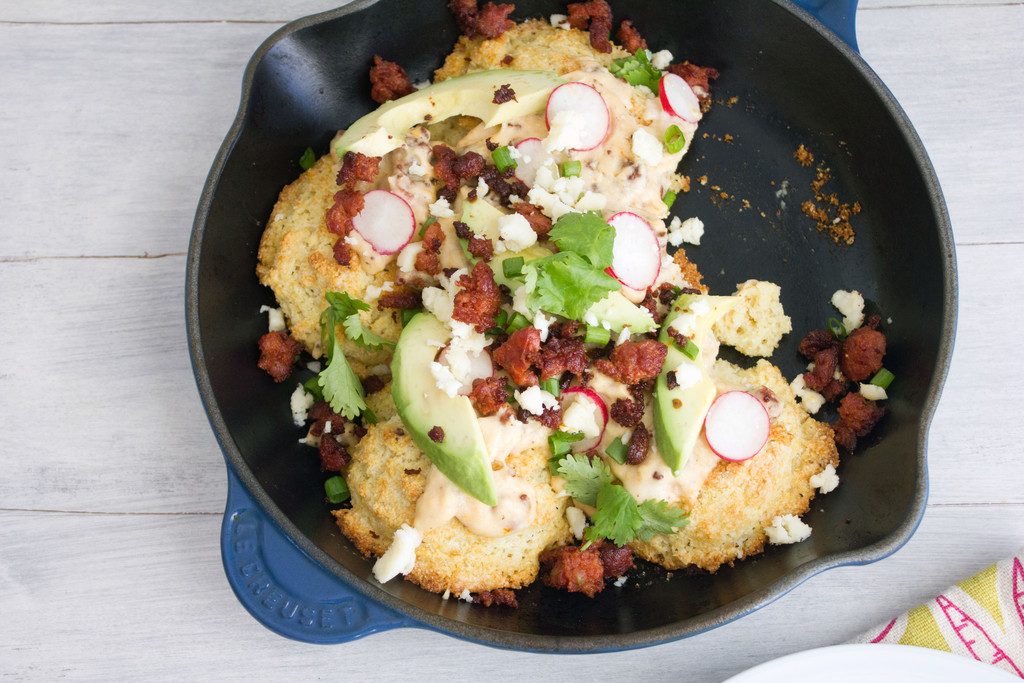 But it's the perfect excuse to throw a brunch party! Or to sit and cry at your desk because life really isn't fair. Hey, Saturday is only a few (several) days away. It's always good to have something to look forward to.
Are you a lover of biscuits and gravy?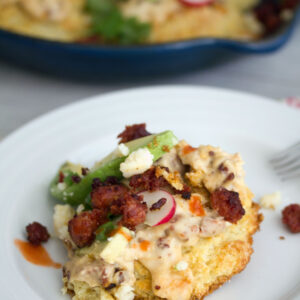 Print Recipe
Cornmeal Biscuits With Chorizo Gravy
Even if you don't think biscuits and gravy are "your thing," this recipe for Cornmeal Biscuits with Chorizo Gravy will likely change your mind. Bring on breakfast!
Ingredients
1

cup

all-purpose flour

¾

cup

cornmeal

1

Tbsp

sugar

1½

tsp

baking powder

1

tsp

baking soda

1

tsp

salt

¼

tsp

freshly ground black pepper

½

cup

1 stick chilled unsalted butter, cut into pieces

¾

cup

buttermilk
Gravy and Assembly:
1

Tbsp

vegetable oil

1

lb.

fresh chorizo

casings removed

3

Tbsp

all-purpose flour

2½

cups

whole milk

Salt and freshly ground pepper

Hot sauce

for drizzling

1

avocado

peeled, pitted, and sliced

4

scallions

thinly sliced

2

radishes

thinly sliced

½

cup

cilantro leaves

roughly chopped

½

cup

Cotija cheese or queso fresco
Instructions
Pre-heat oven to 425 degrees.

In a large bowl, whisk together flour, cornmeal, sugar, baking soda, salt, and pepper.

Using a pastry cutter or your fingers, work butter into flour mixture until chickpea-sized pieces are formed.

Add buttermilk and stir until just combined.

Drop 1/4-cupfuls of dough into an 8" cast-iron skillet, spaced about 1" apart.

Bake until biscuits are cooked through, puffed, and golden brown, rotating skillet once, about 12-15 minutes.
Gravy And Assembly:
While biscuits are baking, heat oil in a medium skillet over medium heat.

Add chorizo to skillet, breaking up large pieces with a spatula.

Cook, stirring occasionally, until chorizo is browned and crisp, about 8-10 minutes. Using a slotted spoon, remove chorizo to a small bowl.

Keeping heat on medium, whisk flour into the drippings in the skillet.

Continuously whisk until roux is smooth and turning a light golden brown.

Gradually pour in milk, whisking until incorporated.

Reduce heat to medium-low and continue to whisk constantly, until gravy is thickened, 5-8 minutes.

Stir half the chorizo into the gravy and season with salt, pepper, and hot sauce.

While biscuits are still hot, spoon gravy over them. Top with avocado, scallions, radishes, cotija cheese, hot sauce, and cilantro. Sprinkle remaining chorizo on top, as well.