Sometimes April comes around and I realize something horrible. I haven't had an orange vegetable in months. In the fall, I pretty much live off of sweet potatoes, pumpkins, squash, and carrots. But when spring comes around, my favorite vegetables are often neglected. It's a travesty, really. Especially since this is the time of year I could most use a natural tan. And as we all know, orange vegetables are the best way to get your Jersey Shore skin tone on (hehe). Sorry. I write about celebrity gossip as part of my day job and sometimes it's hard to get it out of my head. Really, I think about Justin Bieber, Kim Kardashian, Robert Pattinson, and Miley Cyrus ALL THE TIME.
Anyway, I've been getting a major orange vegetable craving lately and knew something had to be done. I make hummus all the time, though for some reason, I never make it with tahini. But since this version had a sweet potato base, I figured with tahini would be pretty necessary. When I say this recipe is the simplest recipe ever, it's the understatement of the year. The hardest part is peeling, chopping, and steaming the potatoes. The rest is just throwing everything in the food processor. Or blender if you don't have one.
Sweet Potato Hummus (makes 4 cups):
Adapted from Martha Stewart's Whole Living
• 1 lb. sweet potatoes, peeled and cut into 1-inch chunks
• 1 can (15.5 oz) chickpeas, drained and rinsed
• ¼ C fresh lemon juice (from 1 lemon)
• ¼ C tahini
• 2 T olive oil
• 2 t ground cumin
• 1 garlic clove, chopped
• Coarse salt and pepper
• Smoked paprika (optional)
• Pita bread and/or veggies, for serving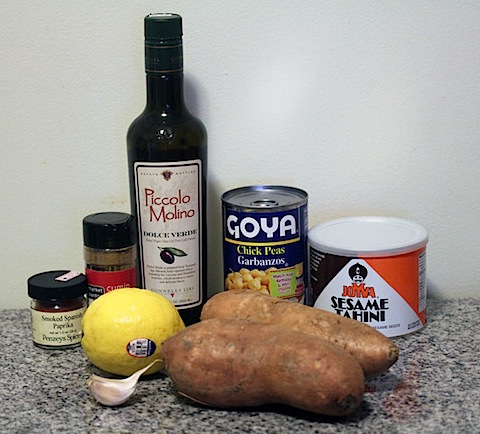 First peel and chop all your sweet potatoes.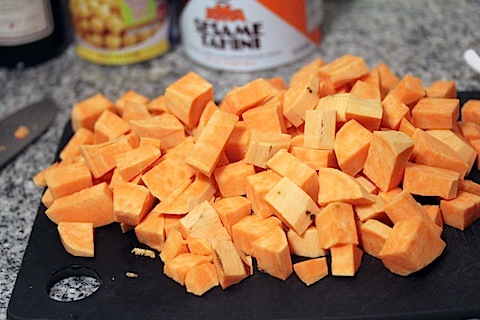 Then you'll want to steam them. For some strange reason, I don't have a steamer basket (hello, wedding registry?), so I made my own makeshift one. I filled a pot about halfway with water, got it boiling and then put a strainer over it and filled it with sweet potatoes.
I let the the potatoes steam for about 15-20 minutes. You could probably just microwave them if you didn't feel like creating a makeshift steamer. But hey, I love a challenge.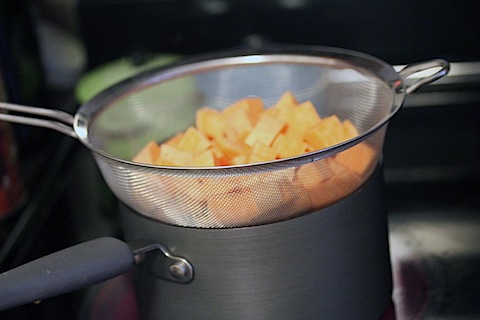 I steamed them in two batches since I had so many of them.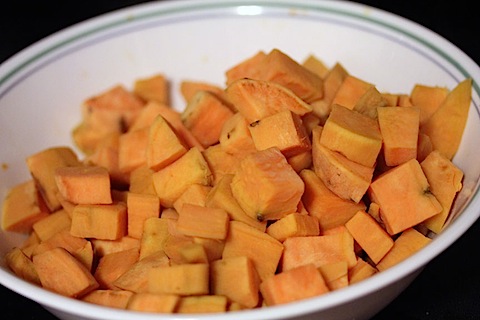 The next (and basically last) step is super easy.
Put the sweet potatoes in a food processor. Then add in the chickpeas, lemon juice, tahini, oil, cumin, and garlic.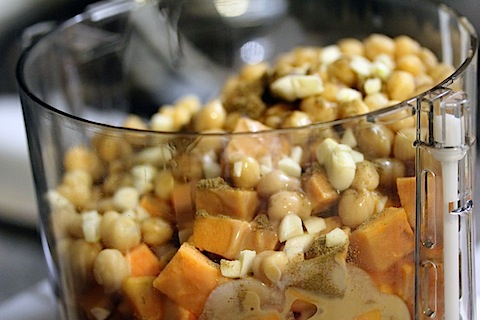 Puree for about one minute. Thin with water if necessary. I definitely had to add a little water to mine.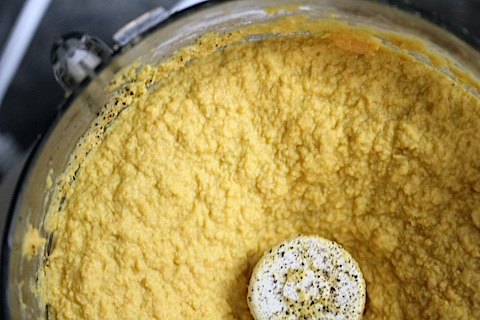 Season the hummus with salt and pepper and sprinkle some smoked paprika on top if you'd like. Then stick it in the fridge to let it cool.
Serve with pita, of course. The hummus also goes nicely with veggies or crackers.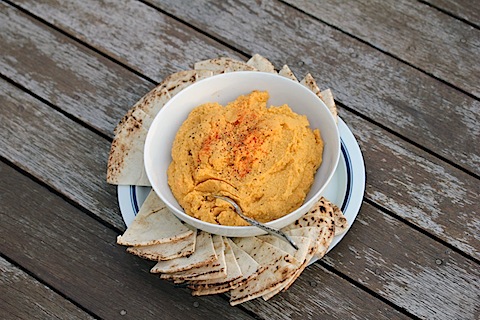 I love a nice simple recipe I can just throw in the food processor and be done with 🙂 This makes the perfect party appetizer since it's a beautiful color and delicious to boot.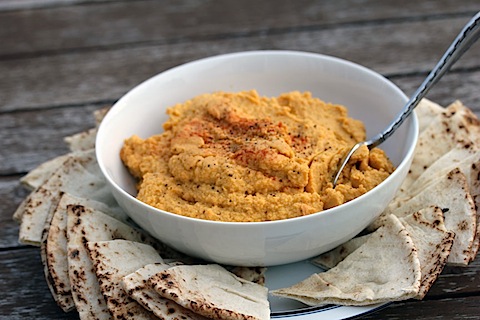 I absolutely loved this sweet potato hummus, but I would definitely say it wasn't as smooth and creamy as other hummuses. I didn't think that was a bad thing; just a bit different.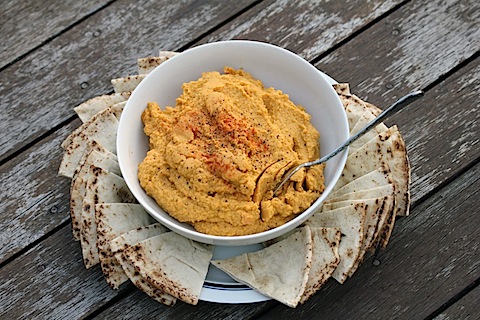 You give me any way to get my orange vegetables in and I'm happy. This hummus lasts about a week in an airtight container in the fridge. And trust me, I've been taking full advantage of that, putting it on basically everything.
Can I just say how happy I am about how quickly this week is flying by? Just have to get through a couple days and then it's the weekend! And here in Boston, Monday is Patriot's Day and Marathon Monday 🙂 I still have to work on Monday (one of the perils of freelancing!), but am excited to watch the marathon for a bit since I live on the path. Clearly, I'm way too excited for the weekend when it's only Wednesday night 🙂 It's just been one of those weeks!
What's getting you through this week?
[Sues]