This Thai Quinoa Salad is packed with veggies and couldn't be easier to put together... Though you may not be able to resist eating the peanut dressing with a spoon!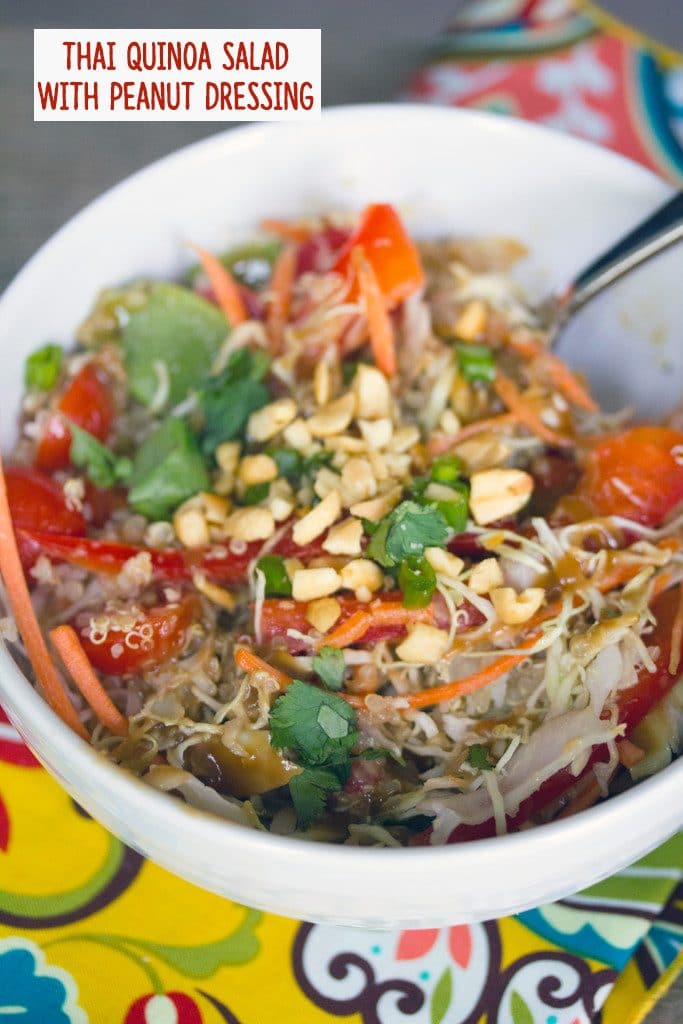 Things I have not had time to do in the past week:
Cook a proper dinner (hello, pizza and meals out. And chips and salsa. And grapefruits when I'm trying to be healthy... ish. Oh, and ice cream; lots of that)
Watch the new season of Orange is the New Black (currently two episodes in)
Respond to emails (er, sorry if you're waiting for a response from me)
Read the latest issue of Bon Appetit magazine (and I'm dyinggg)
Have a glass of wine (I legitimately can't remember the last time I had a glass of wine. Horrifying)
Sleep (why?? Was that supposed to be important?)
Those are just a few of the reasons I'm thankful I had the foresight to make up a batch of this salad for both dinners and lunches. It's the kind of dinner you feel OK about because it's about a billion times healthier than ice cream sandwiches, but is a whole lot tastier than a lot of healthy meals that are super easy to throw together. And when I'm faced with a) a box of ice cream sandwiches in my freezer and b) a healthy dinner that I have to spend 30 minutes putting together after a long day at work, I'll almost always choose the ice cream. Unless I have something like this Thai Quinoa Salad with Peanut Dressing sitting in my fridge.
This salad makes a busy person a very happy person. But seriously, we're all ridiculously busy these days, right? When was the last time you heard someone saying "man, I've been so bored lately. I wish I had stuff to do?" If people like that are still out there, I hate them. I cannot remember the last time I was bored because I had nothing to do. Luckily, my current busy is not just due to work (which let's face it, keeps me quite busy), but also has everything to do with all kinds of amazing things happening in life. This week in particular has been a pretty fabulous one packed to the brim with awesomeness. So, I am most certainly not complaining about my busy.
THAI QUINOA SALAD WITH PEANUT DRESSING RECIPE
Like most salads, you can add and leave out whatever you choose. If you want more carrots and less cabbage, do it! Don't like the spice of chili peppers? Leave them out. Hate quinoa? Well, I guess you could make this with brown rice... But then you couldn't call it a Thai quinoa salad anymore. But that's OK! As long as you're not making this salad out of ice cream sandwiches (or chugging the dressing out of a mug), you should be just fine.
Let's be honest, this salad is freaking easy to put together. Especially if you're purchasing chopped cabbage and carrots already. You know how to put a pot of quinoa on the stovetop (er, if you don't, I recommend just following the package's directions! But generally use 2 cups of water per 1 cup of quinoa, bring to a boil and then let simmer, covered over low heat for about 15 minutes, until water is absorbed). Your quinoa should be cooked and cooled before you make this salad.
And you know how to slice and dice a few veggies, right? (er, if not... maybe look up some tutorials on YouTube?).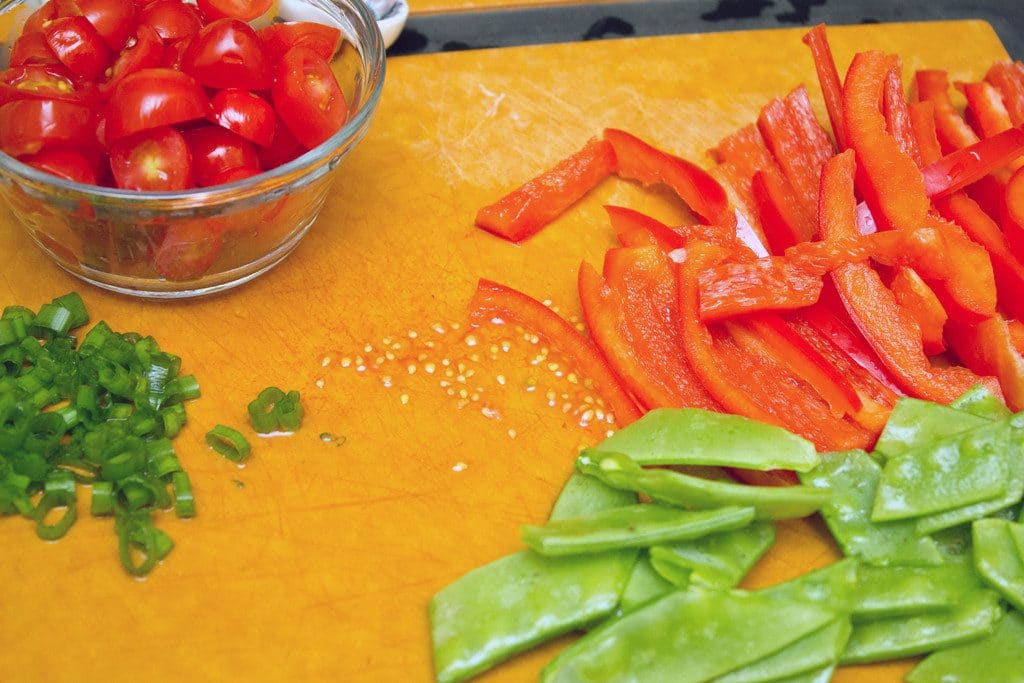 All that's left after that, is making with the dressing. And if you know how to mix some ingredients in a bowl (er, if you don't, I really have no recommendations for you). Seriously, take all the ingredients in the dressing list and stir them together really well.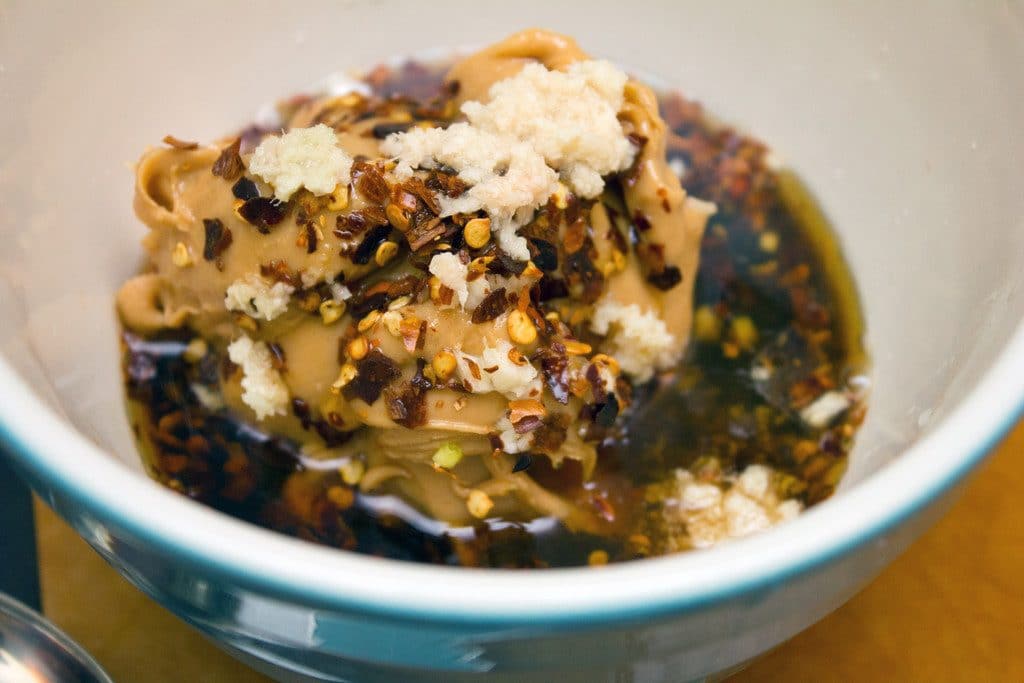 If you need to mix in more water to thin the dressing out a bit, you definitely can. I like a bit of a thicker peanut dressing.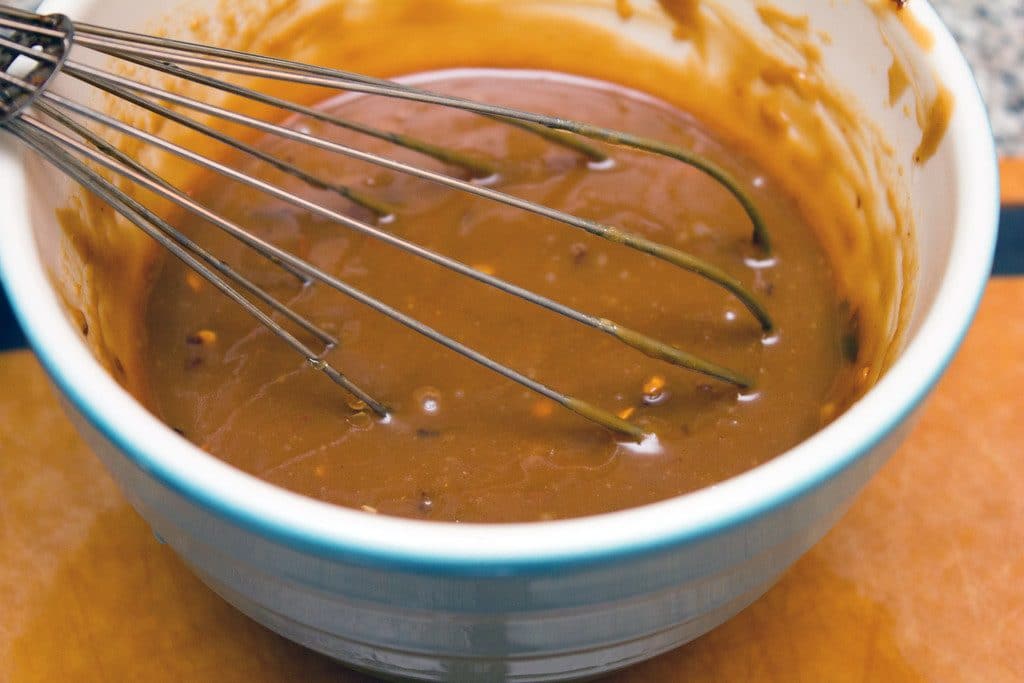 And now you know the drill. Fill a large bowl with all of the salad ingredients aside from the scallions, cilantro, and peanuts and toss well. Now, divide the salad into individual bowls and top with as much peanut dressing as you want. Toss again. And then sprinkle on top scallions, cilantro, and chopped peanuts.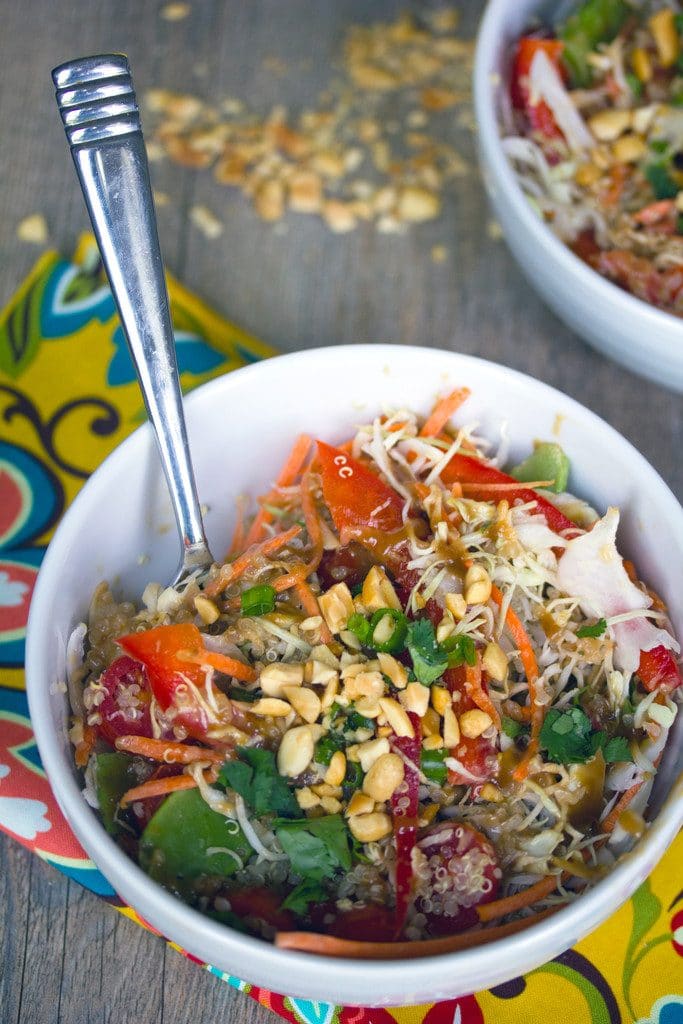 Because, like I mentioned, this salad makes for some fabulous leftovers, it's best to just dress it as you serve it, instead of putting peanut dressing over the entire salad. That way you can control the amount of dressing on your salad, too. Don't get me wrong; this Thai quinoa salad is delicious as is, but I also like A LOT of peanut dressing on my salad!
It's difficult for me to find a salad I get truly excited about, but I would honestly and truly choose this Thai quinoa salad over many, many other dinner and lunch options, both healthy and not. Strange because this salad doesn't even have any meat in it!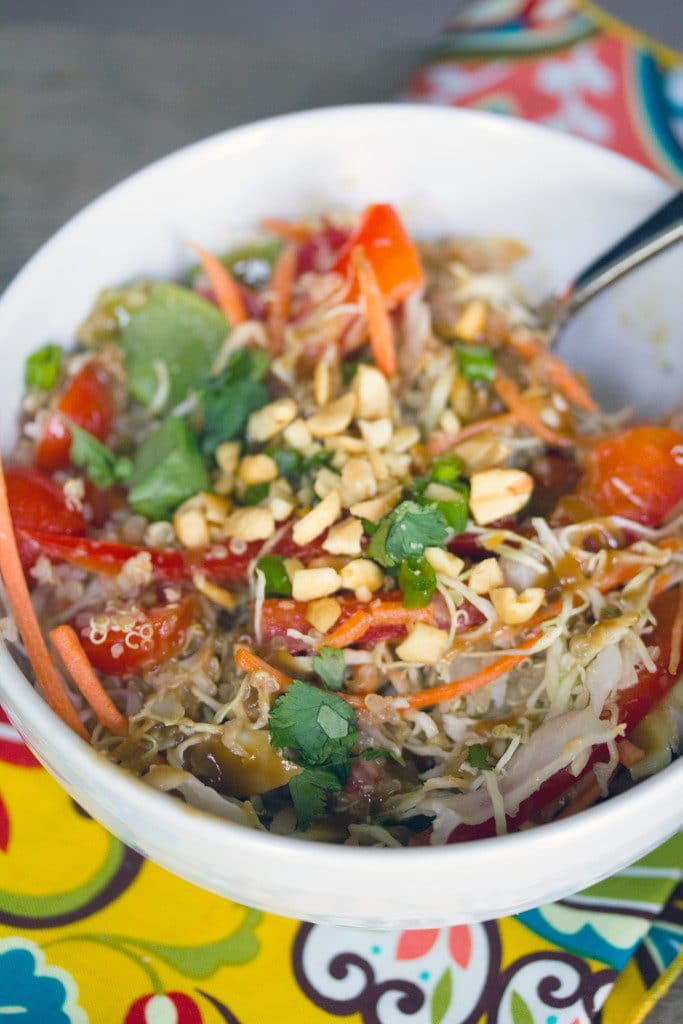 And also because it involves a lot of cabbage. I'm not generally a big cabbage lover, but the crunch that this brings, mixed with the cool quinoa and sweet and spicy dressing really is the best.
Seriously, I think the last 20 salads that I proclaimed to love involved kale in some way, shape, or form. But now we're making a return to the much less trendy cabbage. Could cabbage make a comeback?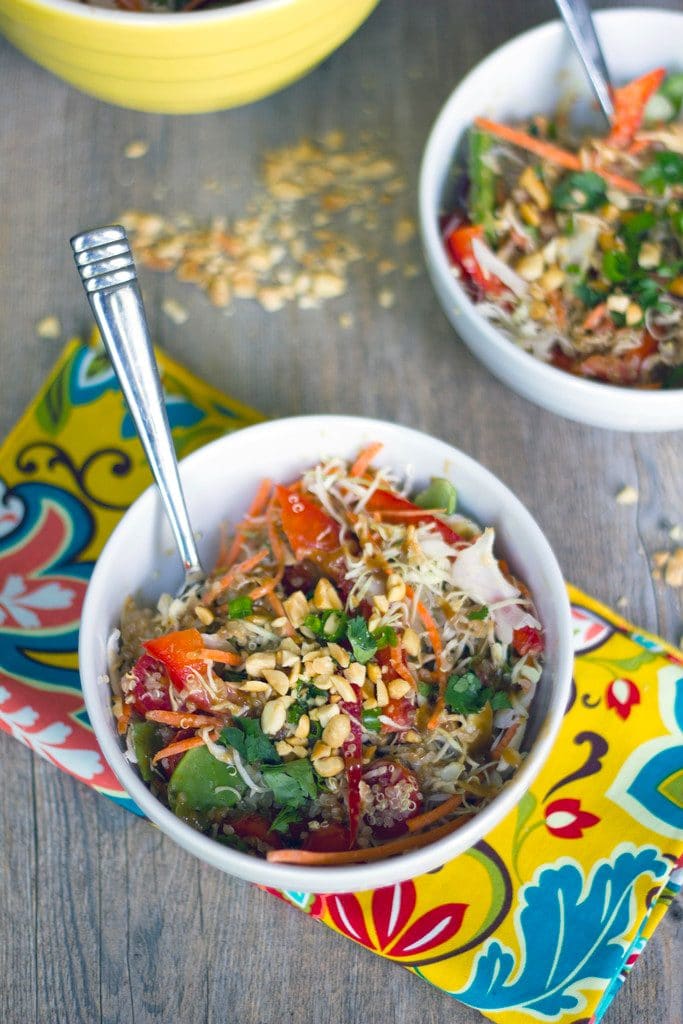 Probably not, but it can certainly dream. And to be honest, I might just love anything that had this peanut dressing drizzled over it. I may have also had a couple spoonfuls straight from the bowl. It was that addicting.
I think I'd recommend always having a rather large bowl of this Thai quinoa salad in your fridge. Though I'd be a bit too worried that you'd wake up in the middle of the night and find yourself licking the dressing off a spoon. But worth it? So worth it.
What's your favorite salad dressing??
If you're looking for more delicious salad recipes, check out my Brussels Sprouts Bacon Caesar Salad or my Asian Ginger Miso Salmon Salad. I also can't wait to try this Moroccan Quinoa Salad from Crazy Inspired Life!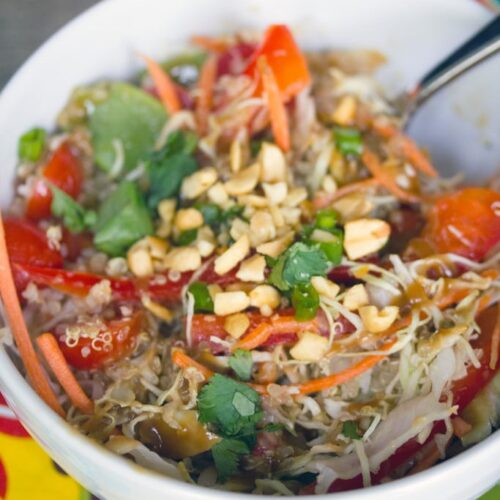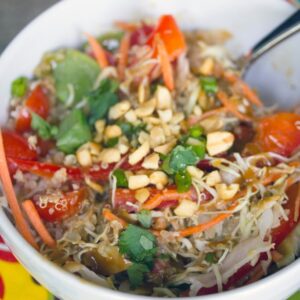 Thai Quinoa Salad with Peanut Dressing
This Thai Quinoa Salad is packed with veggies and couldn't be easier to put together... Though you may not be able to resist eating the peanut dressing with a spoon!
Print
Pin
Rate
Ingredients
3

cups

cooked quinoa

1

cup

chopped green cabbage

1

cup

shredded carrots

1

cup

sliced tomatoes

1

cup

sugar snap peas,

chopped

1

red pepper,

cut into strips

2-3

Thai chili peppers,

finely chopped

Peanut Dressing

(recipe below)

4

scallions,

chopped

1

small bunch

cilantro,

chopped

¼

cup

peanuts,

chopped
Peanut Dressing
½

cup

creamy peanut butter

3

Tbsp

honey

1 ½

Tbsp

rice vinegar

3

Tbsp

soy sauce

1

tsp

grated fresh ginger

1

clove

garlic,

minced

1

Tbsp

sesame oil

1

tsp

freshly squeezed lime juice

1

tsp

red pepper flakes

2

Tbsp

hot water
Instructions
Put quinoa, cabbage, carrots, tomatoes, snap peas, red pepper, and chili peppers in a large bowl and toss together.

Serve salad in individual bowls and toss with peanut dressing (as much as you want). Top each bowl with scallions, cilantro, and peanuts.
Peanut Dressing
Put all dressing ingredients in a medium bowl and whisk together. If you want a thinner dressing, you can whisk in more warm water.
Pin this Recipe for Later!
Mention @wearenotmartha and share a photo if you've made the recipe!