This Tropical Quinoa Salad with Spicy Lime Dressing is a healthy summer side dish or lunch option that's packed with bright flavors!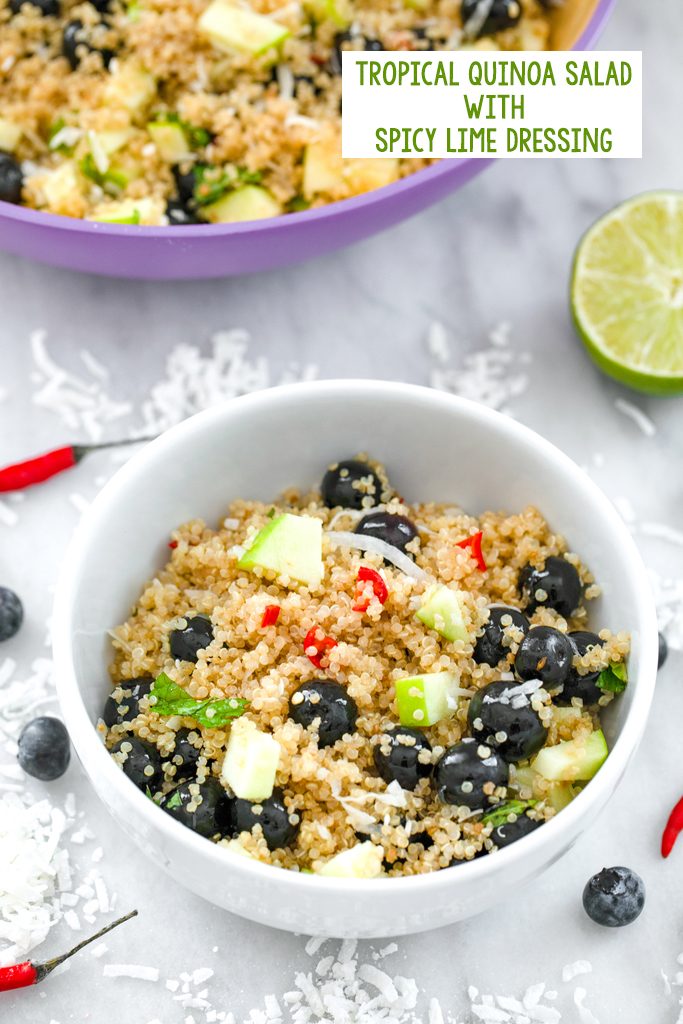 (This recipe for Tropical Quinoa Salad was originally published in August 2012, but was updated with new photos in 2019).
Well, then. After the other day's little doughnut episode, I'm thinking we all need something a little lighter, perhaps fresher, up in these parts. No? Just me? Well, you're not the one who ate 23 doughnut holes in one sitting, so I don't think you really have a say in this one. (fine, that was a slight exaggeration. Slight). If you know me, you know I absolutely love making ridiculous desserts packed with sugary goodness and way too many different junk foods combined into one. But you also know I'm a sucker for quinoa. And kale. And pretty much every fruit and veggie on this good Earth. So what if I like to experiment with Fruity Pebbles and Cinnamon Toast Crunch? I'm a firm believer in moderation.
Don't worry; this one is still a sweet one. I realize I have to wean you off slowly. But you can actually eat this as a meal… Unlike doughnuts (unless you're me). I've been seeing fruit-packed quinoa salads everywhere lately and was eager to get into the action. So, I threw together a tropical combination and added a little spice on top. Because everyone knows sweet and spicy is the best.
TROPICAL QUINOA SALAD WITH SPICY LIME DRESSING RECIPE
This recipe require minimal chopping and minimal work. You could probably do it in your sleep. Or half hungover from that vicious sugar high you got from too many doughnuts. Not that I'm talking from experience here. Obviously, you can switch things up to your own preference. I love the blueberry, green apple, and coconut combination here, but if there are fruits that you prefer, switch them out or add them in. Make this the tropical quinoa salad of your dreams. But please make the spicy lime dressing. It's really good.
Make sure your quinoa is cooled before tossing this salad together. Lucky for you, quinoa cools really quickly. Just put it in a bowl and stick it in the fridge.
Once the quinoa has cooled, throw in the blueberries, apple, coconut, and mint.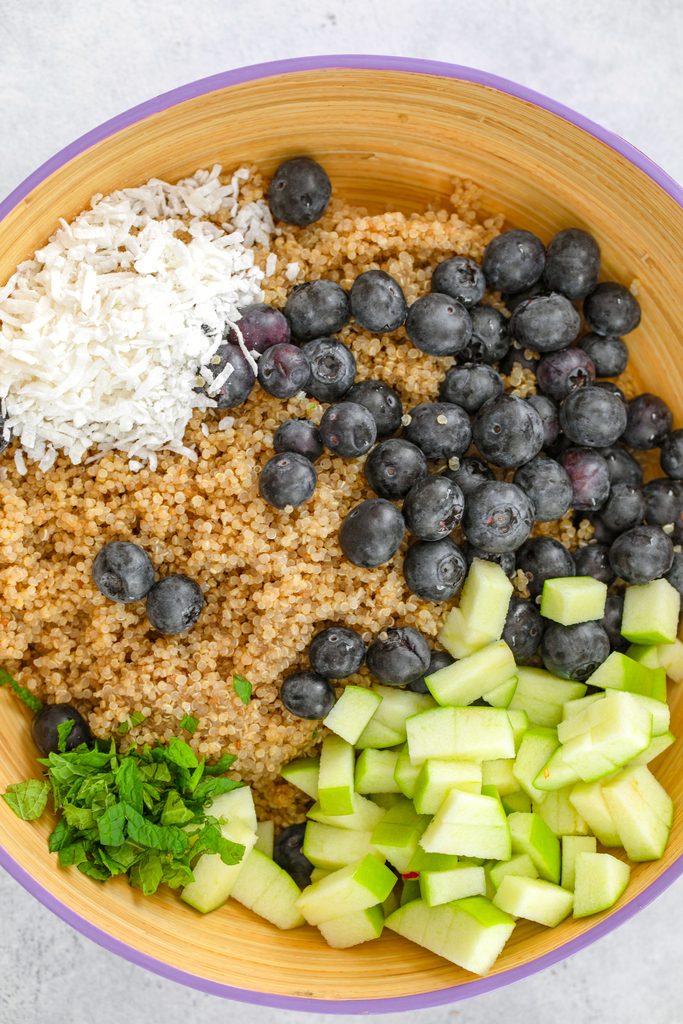 The dressing is also super easy to make. Simply combine your extra-virgin olive oil, lime juice, and chills. The chilis add a little kick, but nothing too crazy spicy, so don't worry!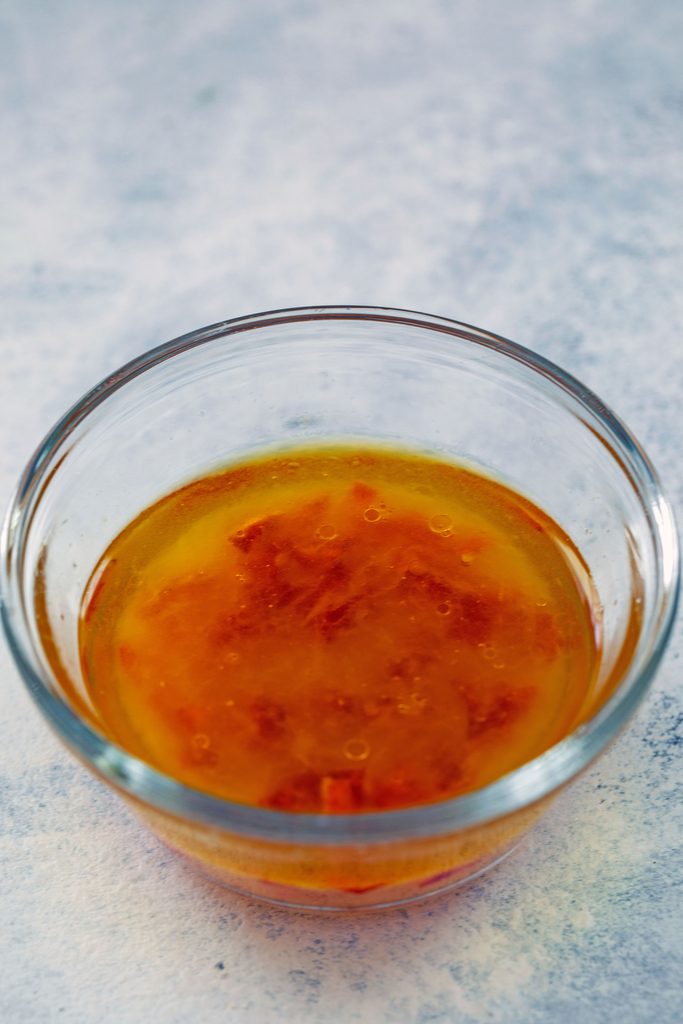 Mix the salad together and drizzle the dressing over the top.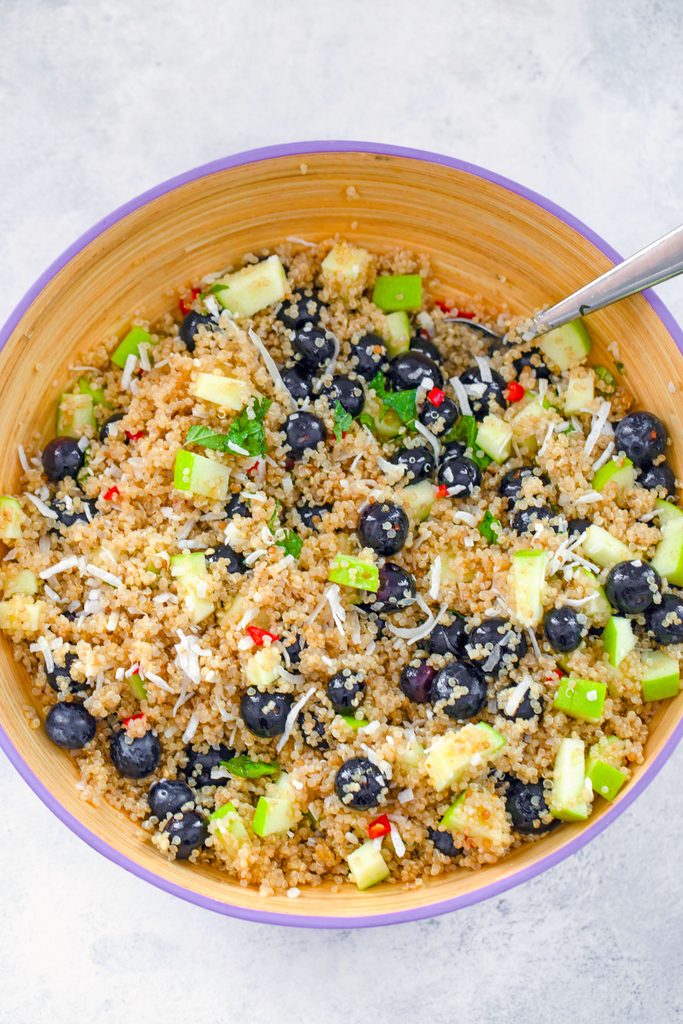 Shazam! I don't know; that's just what went through my head when I took my first bite. I love the earthiness of the quinoa combined with the sweet fruit and the kick from the hot peppers. What more could you ask for? I honestly can't think of a thing. And that's saying a lot, considering this is a meat-free recipe.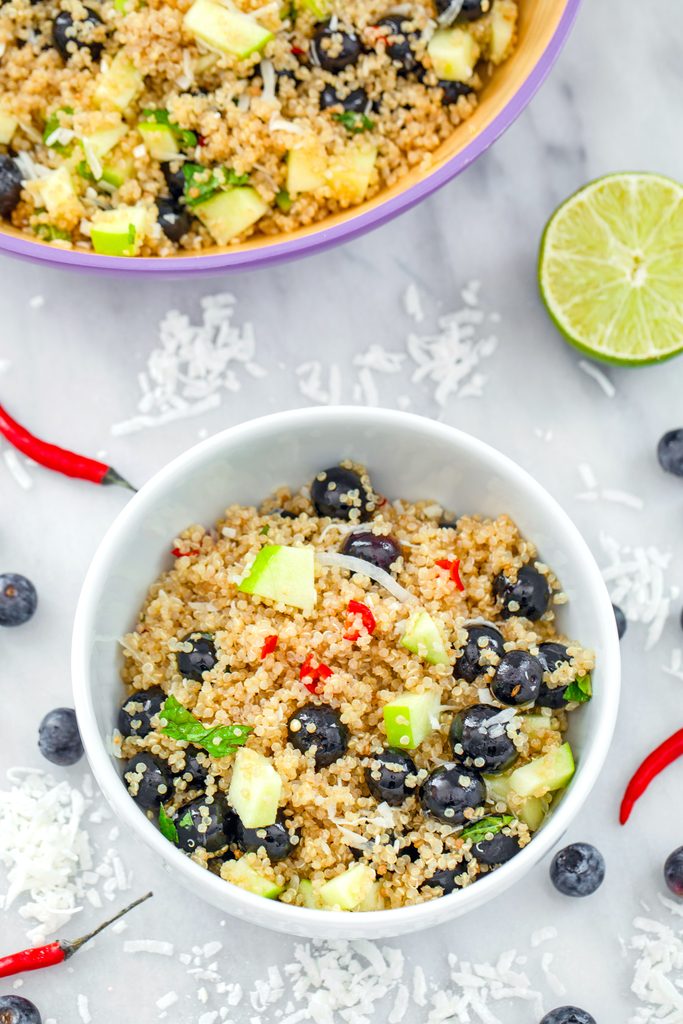 And also a donut-free recipe. OK, maybe I'd also ask for a donut. But pretend I didn't say that because today I'm trying to be healthy. Ahem. And so far I am succeeding. But in a really fun way. Quinoa is packed with protein and it's always a good idea to add fruit into your diet when possible. Blueberries have so many antioxidants and I buy them pretty much every time they're reasonably priced.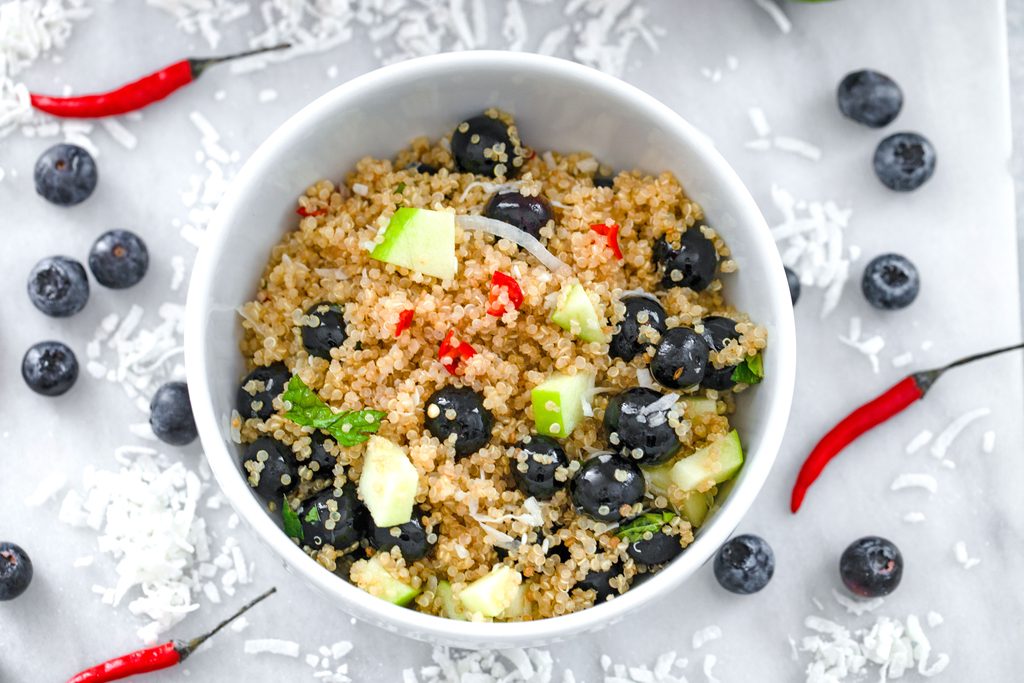 If you happen to be invited to a little outdoor soiree or summer pool party, bring this tropical quinoa salad along. I don't care if your host says they don't like coconut. Mix it all together and they'll eat it. And realize they actually do like coconut. And then you can say you changed their life. You're welcome.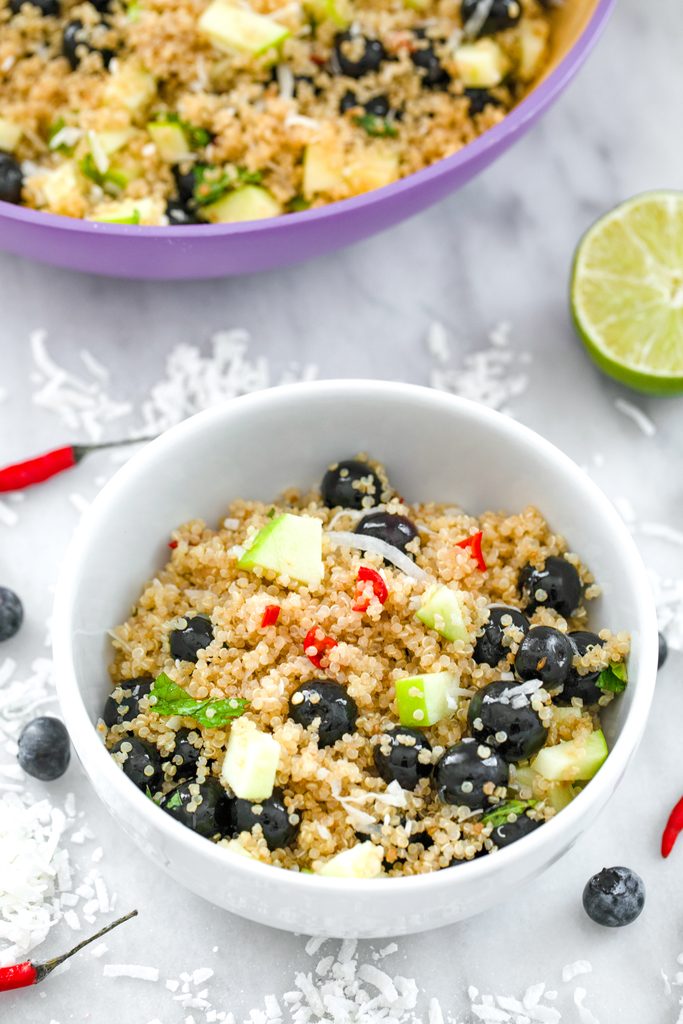 Would it be bad if I said I really want to make coconut doughnuts now? OK then, never mind.
How do you find balance in what you eat?
If you like this tropical quinoa salad, be sure to check out my recipes for Kale and Quinoa Salad and Lemony Kale, Quinoa, and Fig Salad. I also can't wait to try this Moroccan Quinoa Salad from Choosing Chia!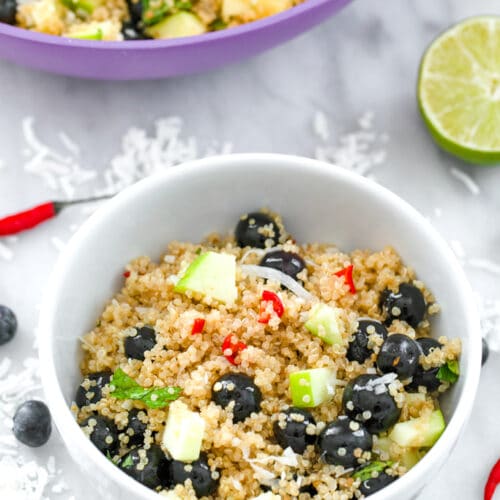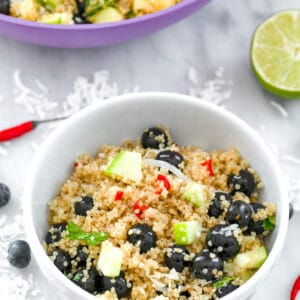 Tropical Quinoa Salad with Spicy Lime Dressing
This Tropical Quinoa Salad with Spicy Lime Dressing is a healthy summer side dish or lunch option that's packed with bright flavors!
Print
Pin
Rate
Ingredients
3

cups

cooked quinoa,

cooled

1 ½

cups

blueberries

1

green apple, chopped

⅓

cup

shredded coconut

1 ½

Tbsp

chopped mint

¼

cup

extra-virgin olive oil

¼

cup

freshly squeezed lime juice

2

Thai red chilis,

chopped
Instructions
Toss quinoa, blueberries, chopped apple, and shredded coconut together in a large bowl.

In a small bowl, whisk together olive oil, lime juice, and chopped chilis.

Drizzle dressing over the salad and toss to combine.
Share a Photo of Your Finished Recipe!
Mention @wearenotmartha and share a photo if you've made the recipe!