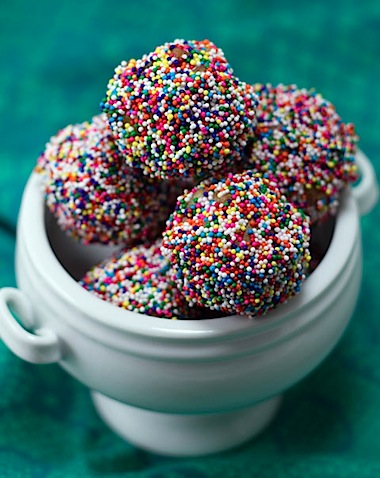 It's no secret that the world (or at least my little world filled with female food bloggers) is obsessed with cake batter recipes. From cake batter pancakes to cake batter truffles to cake batter ice cream (did it all start with Cold Stone Creamery??), it's everywhere. And it's delicious. Sometimes I even dream about it. So, when I decided to make doughnut holes- real doughnut holes (meaning FRIED)- I knew they would have to be cake batter flavored. Birthday cake batter to be exact, since there would be lots of rainbow sprinkles involved. I really didn't want to use boxed mix, so I decided to make my own cake batter flavors. Because, I mean, since when is cake batter only a thing you can get in a box? Cake batter to me is nice and buttery and packed with vanilla flavor, so I used buttermilk and duh, lots of homemade vanilla extract. I packed sprinkles inside the doughnut holes too, making them a bit Funfetti-ish.
I've been making lots of baked doughnuts lately, but they often leave me craving fried. And really, frying isn't all that bad if you bring the oil to the right temperature. The thing is, your food isn't going to soak up much of the oil, unless your oil isn't hot enough because right when you put your dough in the oil, the steam pushes itself out and creates a seal, not allowing oil to get in. Don't take my word for it, but when you're done frying, check out how much oil remains in your pan and you'll see that not much is stuck in your food! I liked King Arthur's method for shallow frying and decided to try it out with these doughnuts. It worked amazingly well!
Birthday cake doughnut holes (or Munchkins for you New Englanders) are the perfect remedy to a Monday. Who cares if it's actually anyone's birthday? I don't.
Birthday Cake Doughnut Holes (makes about 3 dozen):
Print this recipe!
About 5 C vegetable or canola oil
2 C all-purpose flour
4 T granulated sugar
1 1/2 T baking powder
1/2 t salt
1 C buttermilk
1 egg
2 T vanilla
1/4 C melted butter
1/3 C rainbow sprinkles (nonpareils)
Doughnut Hole Glaze:
1 1/2 C powdered sugar
4-5 T buttermilk
1 T vanilla
1 C rainbow sprinkled (nonpareils)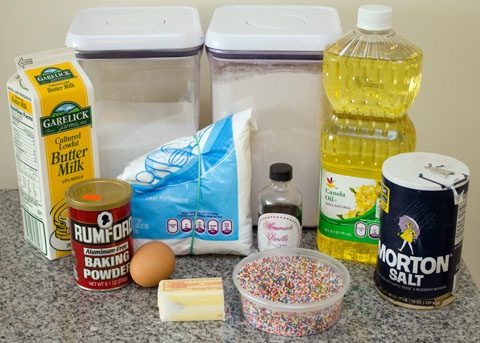 Pour your oil into a 10-inch skillet, so that you have about an inch of oil. Heat over medium-low heat. You want to bring the oil up to 350 degrees, but you should do this slowly. It will take a little while.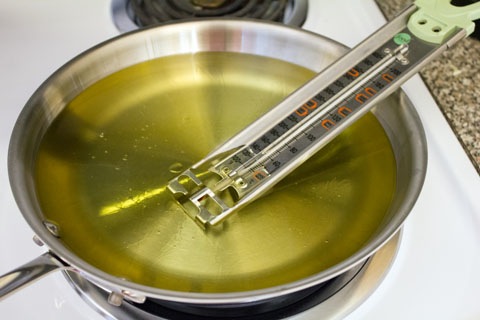 In the meantime, in a big bowl, whisk together flour, granulated sugar, baking powder, and salt.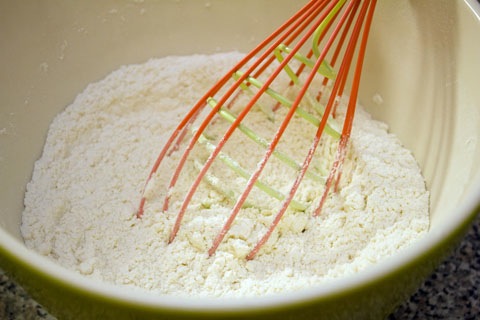 Is now a good time for me to say how excited I am to finally be using all the fabulous kitchen stuff we got for our shower and wedding? Seriously, it's amazing! While our kitchen is a bit smaller than our old one, we have lots of nice counter space and a great amount of storage (which is saying a lot because I have A LOT of stuff). I'm obsessed with the measuring cups our friends Ian and Windy got us. Pretty, right?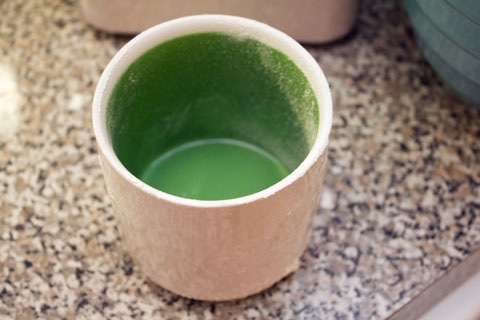 But, look! All the different sized measuring cups make up a milk bottle. LOVE! It's from Anthropologie and is one of those kitchen tools that definitely stays on my counter.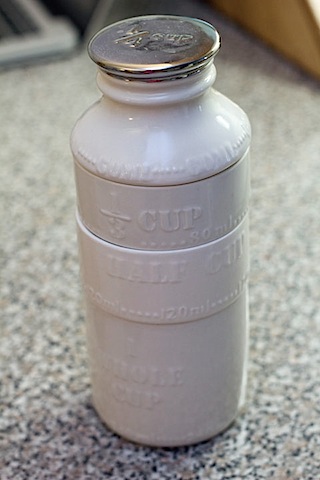 I'm also in love with these ceramic measuring spoons. In case you didn't know, I have a measuring cup and measuring spoon obsession and am working on a nice collection. These are from Anthro, too… Not only was this whole gift fantastic, but Windy actually got some ideas for what we'd like from looking at my Pinterest boards! Definitely the way more fun version of the wedding registry.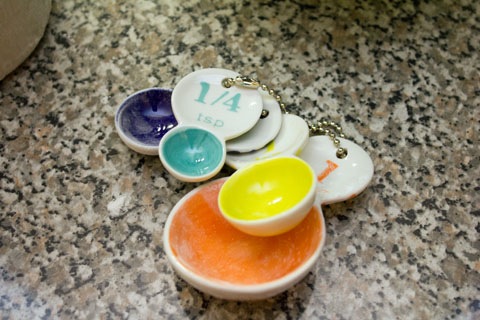 Anyway, back to the doughnuts!
In a separate, smaller bowl, mix together the buttermilk and egg.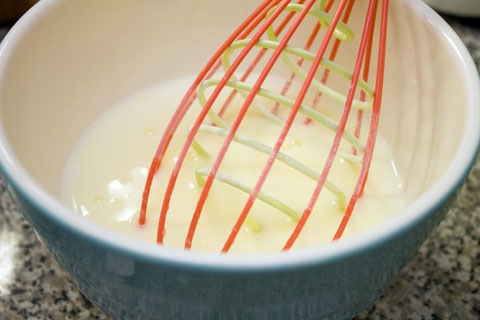 Now, pour the liquid ingredients into the dry ingredients and mix together (being careful not to over mix). Stir in the vanilla and melted butter.
And gently stir in the nonpareils.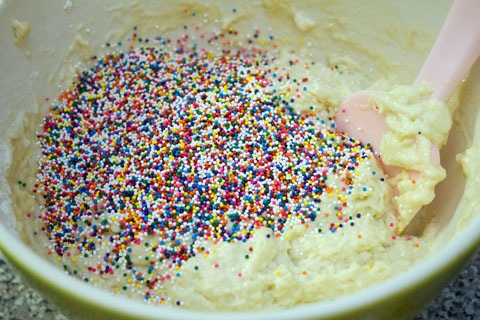 My favorite part.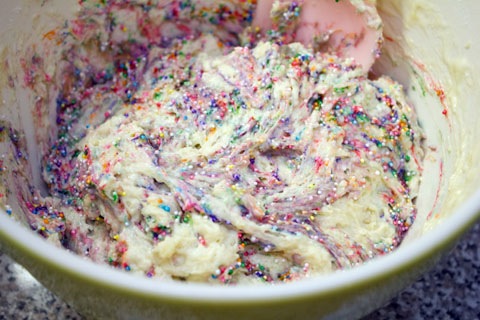 At this point, I realized just how pretty my kitchen counter looked!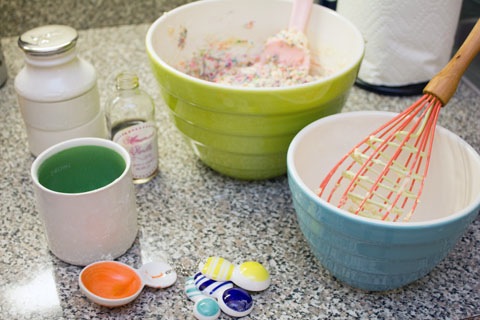 And then the oil was ready.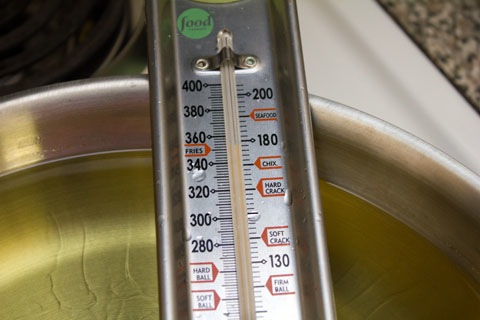 Now you'll drop balls of dough into the oil. The key is to use a very small amount of dough (my first few doughnut holes were way too large). I would use about a teaspoon of dough. But you can experiment and see what size you like best. Let them cook in the oil for about 1 1/2 minutes on one side.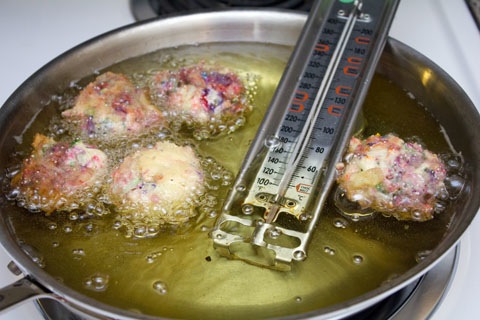 And then flip over and let cook for another 1 1/2 minute on the other side.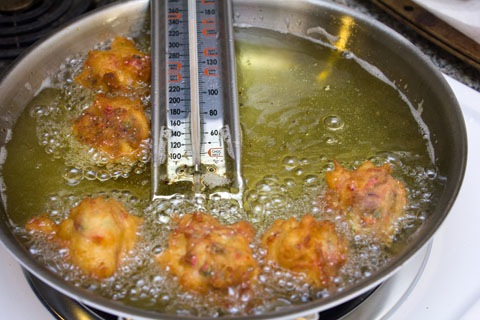 Remove doughnut holes from oil with tongs and place on paper towel-lined baking sheet to soak up some of the oil. They definitely aren't very pretty or birthday cake-ish without the glaze and sprinkles!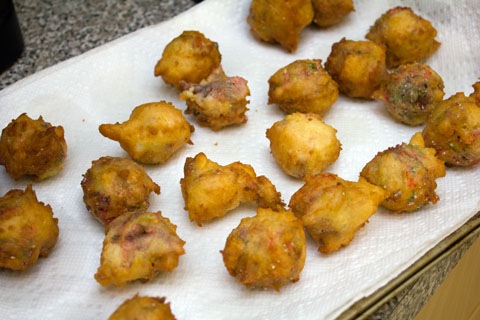 While your doughnut holes are cooling, you can whip up your glaze. Place 1 1/2 C of powdered sugar in a medium bowl. Whisk in 4 T buttermilk and vanilla. Add another T of buttermilk if your mixture is too thick.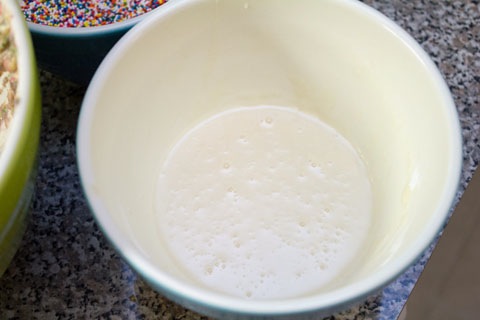 In a separate small bowl, pour in nonpareils.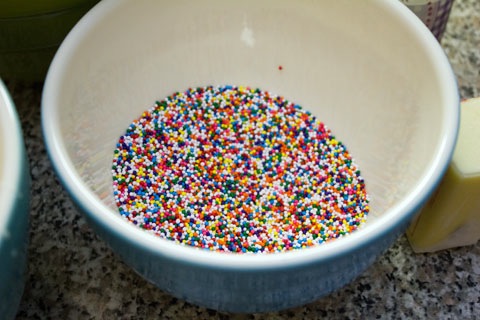 When the doughnut holes are cooled, you can glaze them. I started by dunking them, but then realized they were getting kind of saturated and that it made more sense to brush the glaze on with a pastry brush. Let any excess glaze drip off.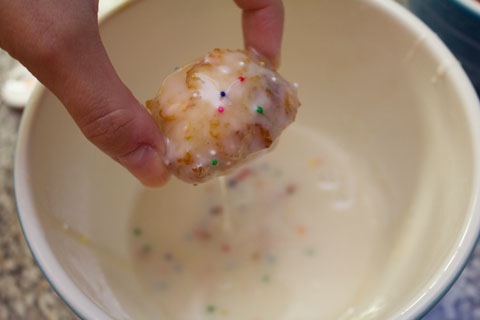 And then roll around in the sprinkles!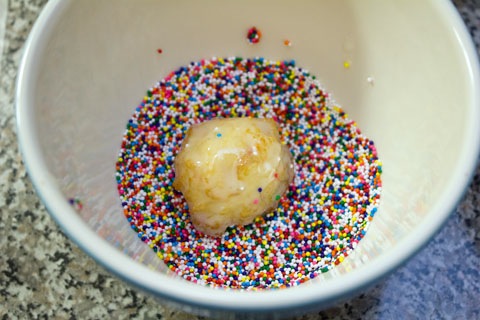 Until the doughnut hole is completely coated.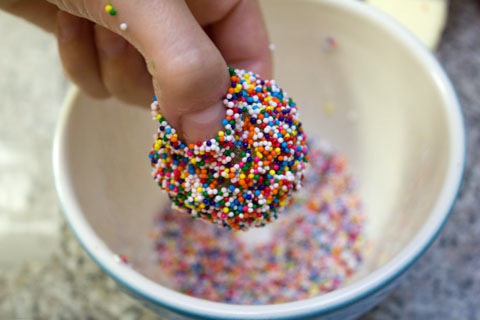 Set completed doughnuts on a sheet of waxed paper to dry.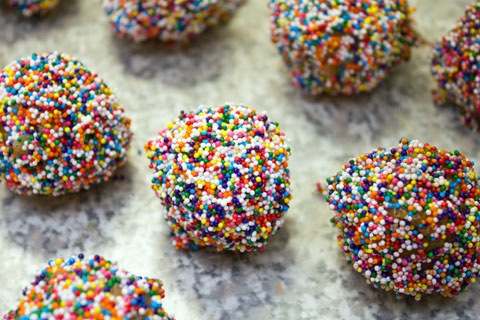 And you're ready to celebrate! Don't have anything to celebrate? That's OK; neither did I. But when is it ever a bad idea to indulge in birthday cake? Or birthday cake flavored treats?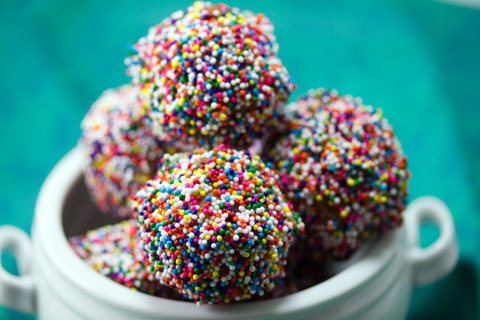 So we'll just celebrate life. And the fact that we're adults. And we can step into our kitchen and fry up doughnut holes whenever our little hearts desire. What would your 6-year-old self think of that?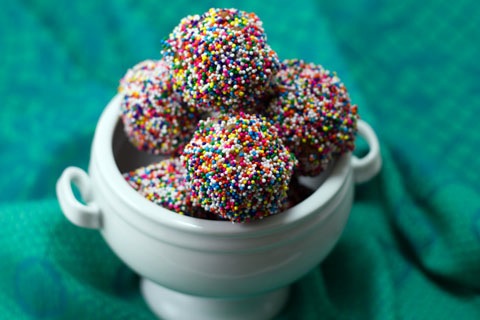 I equate sprinkles with glitter. Both make me wickedly happy and I would throw both them everywhere if I could. Someday I shall have a room where the walls are covered with glitter. But it has to be a secret room in the house that my husband doesn't know about. He is not quite the glitter enthusiast as I am.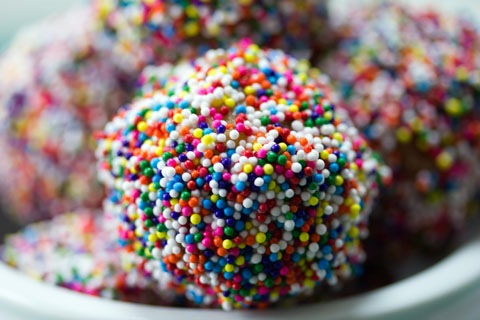 And while he may moan and groan when I get out the sprinkles (excuuuse me if I may have dropped an entire container of them on the floor once upon a time), he certainly doesn't complain when I make homemade doughnut holes and let him eat as many as he wants.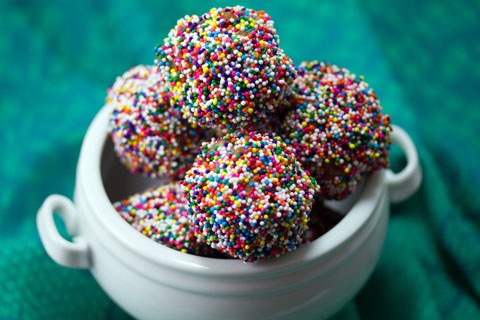 Unfortunately, I don't think there's any equivalent way to charm him with glitter… though glittered doughnuts would be pretty snazzy looking.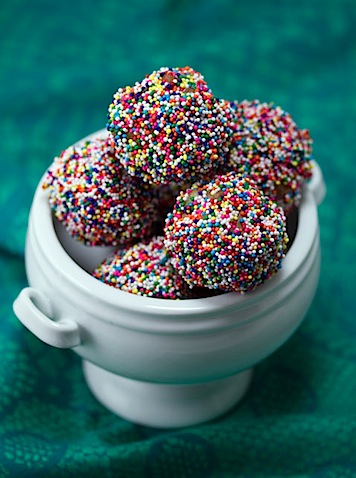 These doughnuts are definitely helping me get over my fear of frying. They were way too easy and barely any mess was made (I didn't spill a container of sprinkles this time…). Darn it, I thought frying was harder to do. This could be bad.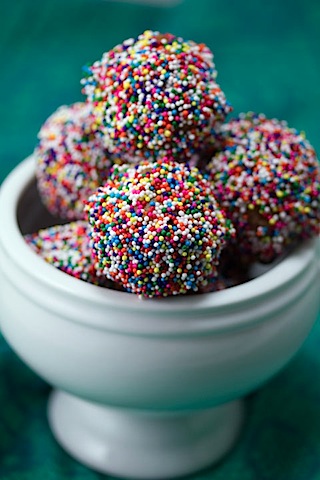 I do still want to whip up some cake batter pancakes and can't help think of a million things that would be be made so much better were they flavored with cake batter and covered in rainbow sprinkles. Wouldn't the world just be a better place?
Have you fallen into the cake batter craze yet?
[Sues]