Looking for an easy party recipe that will take no time at all and seriously impress your guests? These Turkey, Ham, and Swiss BBQ Reuben Sliders can be prepped in mere minutes and will be loved by everyone!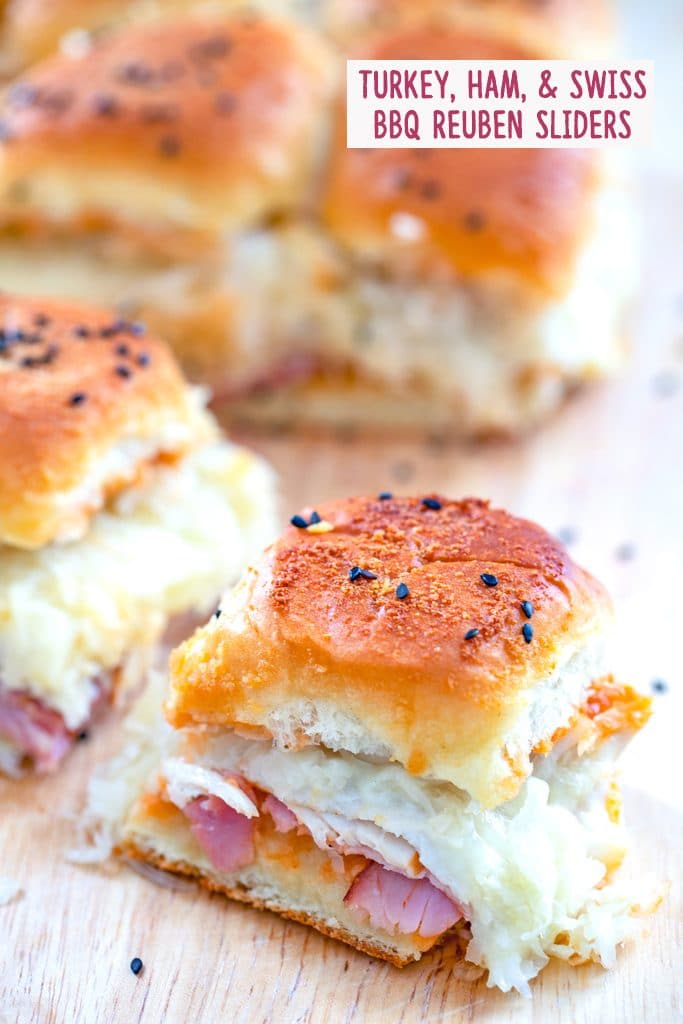 Thank you to McKenzie Natural Artisan Deli (available at Shaw's) for sponsoring this post. As always, all opinions are 100% my own. Thank you so much for supporting We are not Martha!
If I were to take one of those online quizzes with the theme "what kind of party planner are you?" I'm sure my result would be something like "frantic and frenzied" or "hot mess hostess." No matter how much planning I d or how much pre-prep I get done, I am inevitably standing at the kitchen counter assembling cheese plates or finger sandwiches, hair still unwashed, sweat pants on when my first guest rings the doorbell. The main reason for my frenzied behavior? I inevitably choose to make the most complicated, never-made-before, last minute dishes that make it basically impossible for me to be "party ready" by the time my guests arrive.
Solution? I've been working hard to find party-friendly dishes that are still impressive and delicious, but are easy to prepare. Or that will at least allow me a 30-minute block of time in which I can take a shower and get dressed. Enter Turkey, Ham, and Swiss BBQ Reuben Sliders: the extremely party-friendly appetizer that guests will love and you can prep in legit 10 minutes. Yes, 10. And when you use McKenzie Natural Artisan Deli meats and cheeses in your sliders, you can know that you're serving your guests all-natural and antibiotic free artisan products that taste amazing.
I know, I know; it's not like making sandwiches is overly difficult, right? But it's definitely tedious if you're making them for a crowd. When you make these easy BBQ reuben sliders, you are basically making one extra-large sandwich, baking it, and then breaking it into 12 individual servings. It legit couldn't be easier!
You're welcome to switch up the meats/cheese/sauce/etc. as you see fit, but I loved the combination of a BBQ mayo with McKenzie Black Forest Ham, McKenzie Oven Roasted Turkey, McKenzie Swiss Cheese, and sauerkraut. All on sweet slider rolls that are sliced in half horizontally (so the tops are separate from the bottoms) You just need to spread the BBQ mayo on both sides of the rolls and then layer on the ham, turkey, cheese, and sauerkraut. Yes, just layer it on over alllll the rolls; don't worry about the individual sandwiches.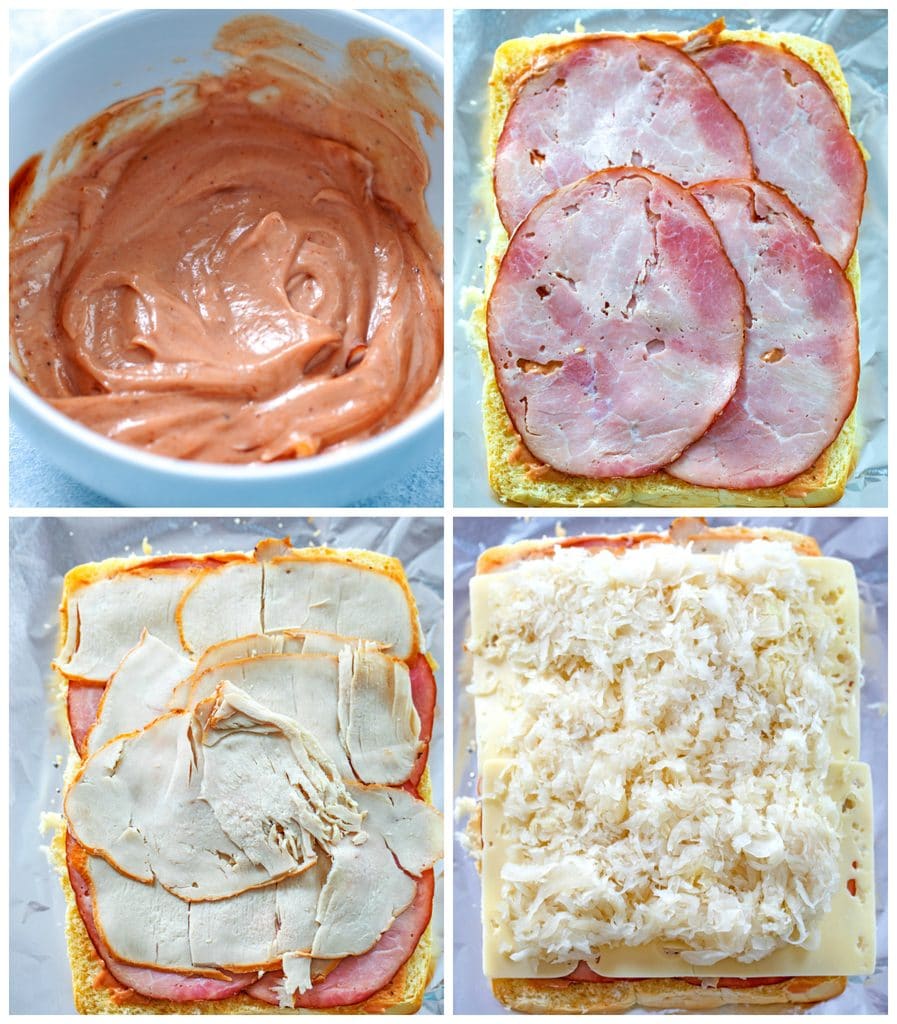 Place the slider tops on top and brush with a butter/garlic powder mixture and sprinkle black sesame seeds or poppy seeds over them.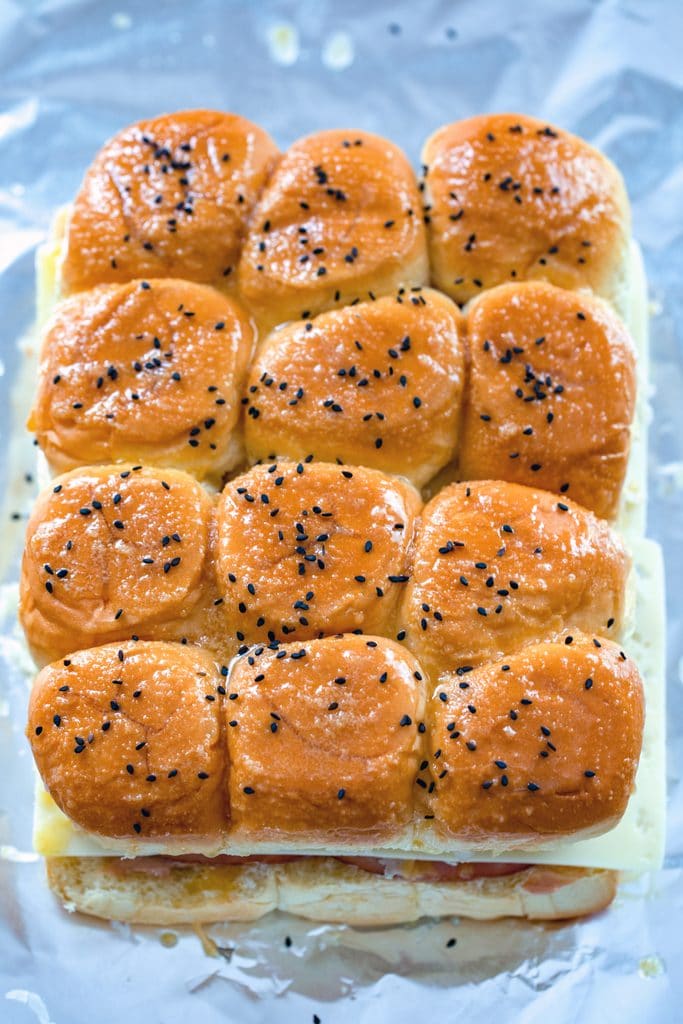 After baking the giant slider, remove them from the oven and slice into 12 individual sandwiches. The tops with be crispy and buttery, the cheese will be melty, the turkey and ham warm, and the sauerkraut nice and tangy. Basically my ideal sandwich.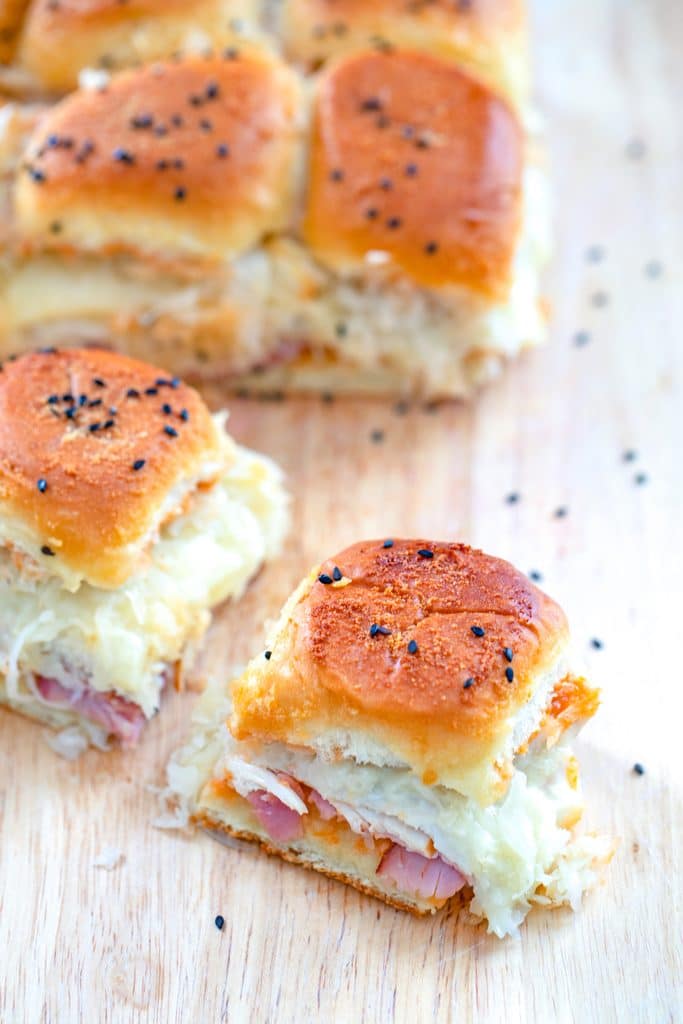 Something tells me your party guests will say the same. And they'll have no idea that you spent less than 10 minutes getting them ready (though I'm sure they'll appreciate the fact you're not wearing sweatpants to your party).
OK, I need to urge everyone to try these WITH the sauerkraut even if you don't like sauerkraut. I know that sounds crazy, but I promise you that there is just something so delicious about sauerkraut on a sandwich that you just don't get from sauerkraut in a bowl. It complements the deli meats and swiss so well and adds such a deliciously tangy taste.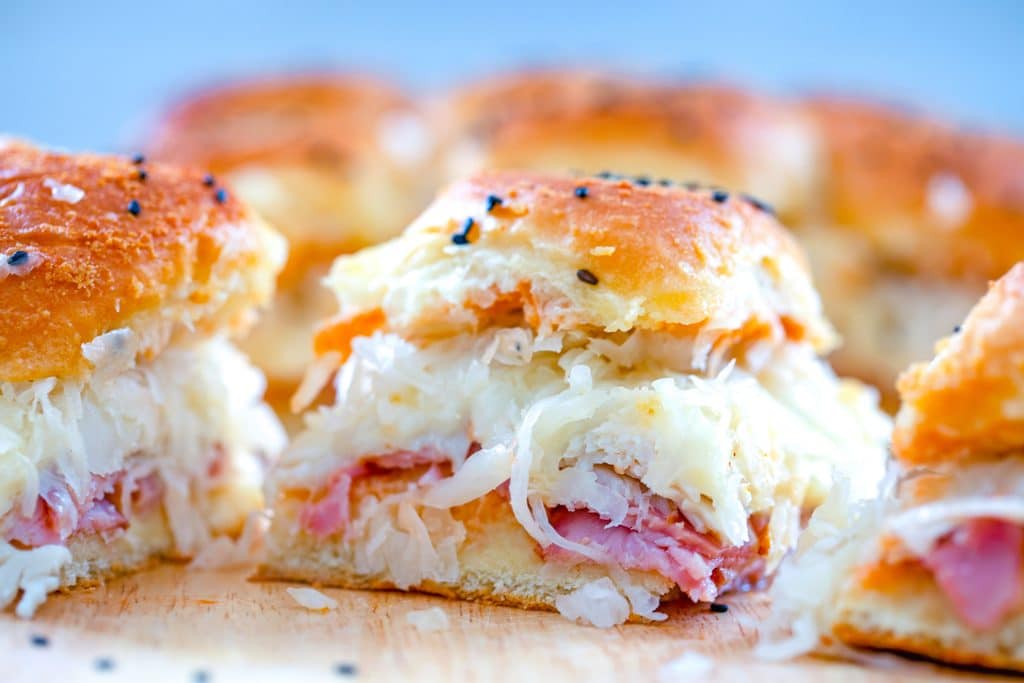 Want a really easy football party idea? Throw a slider party! Just plan 5-6 different types of sandwiches like these BBQ reuben sliders and your guests can sample them all throughout the evening. Throw in a couple easy salads, some fancy chips, and a couple delicious desserts and I can pretty much ensure nobody will be complaining.
It can be our little secret that it you barely had to spend any time prepping (in addition to showering and getting dressed, maybe you can even sleep in... And style your hair!).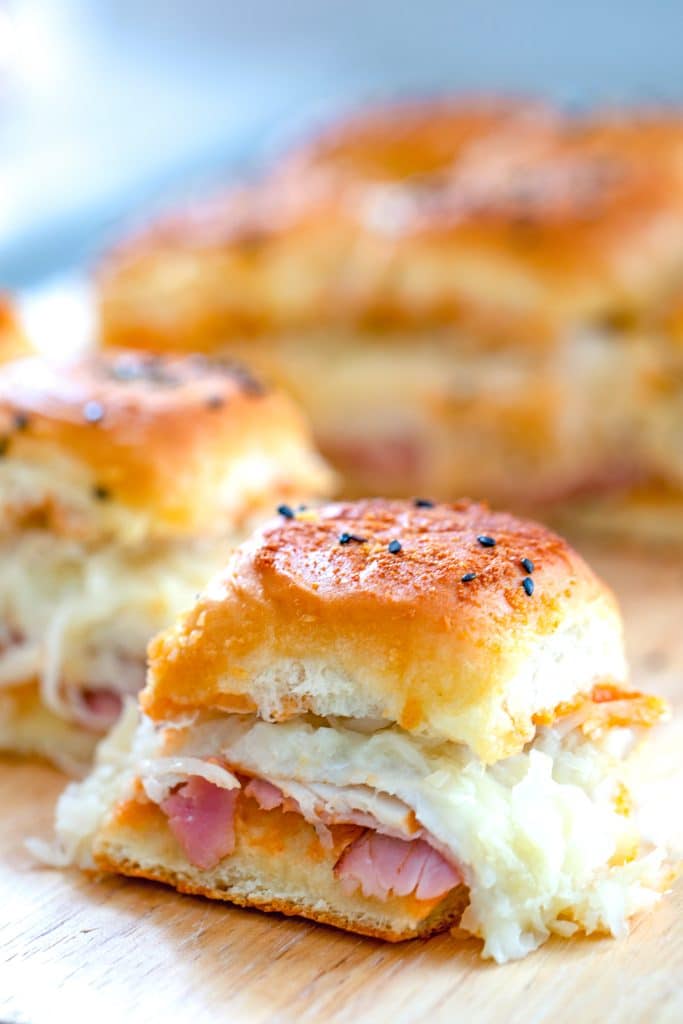 Lucky for you, you can get pretty much all your sandwich filling needs from McKenzie Natural Artisan Deli at Shaw's! In addition to several kinds of turkey, ham, chicken, and cheese, they also offer roast beef and bacon. I'm dying to try their Thanksgiving Gobbler Turkey for an epic stuffed Thanksgiving slider (with cranberry sauce and stuffing!).
Part of McKenzie's mission statement says, "We believe when you make it right it simply, honestly tastes better" and I so wholeheartedly believe this is true. After working with McKenzie for almost a year now, I can honestly say that it's the only deli meat I enjoy anymore and that you really can taste the difference. I had a seriously tough time making these sliders and not alternating the sandwich layering with bites of turkey and ham for myself!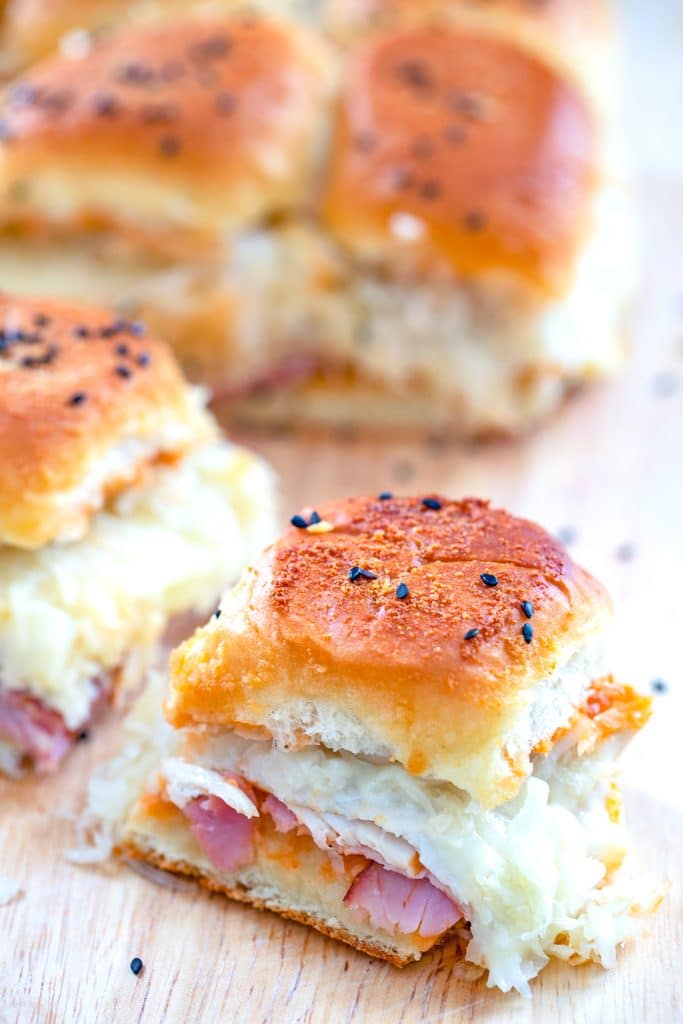 Now that football season is officially in full swing, we'll likely find ourselves with lots of opportunities to entertain and I hope these BBQ reuben sliders make your list!
Of course, they can also be enjoyed cold. And if you make these sliders on a Sunday evening, they'll be sitting at-the-ready in your fridge all week long. Just saying.
Be sure to check out all of McKenzie's products and see where they're available at a Shaw's near you!
What are your best easy party tricks?
To see my other recipes with McKenzie Natural Artisan Deli, check out my Lemon Waffle Sandwiches, Honey Lime Peach Salad, and Crispy Kale Turkey and Ham Sandwiches with Beet Mayo.
📖 Recipe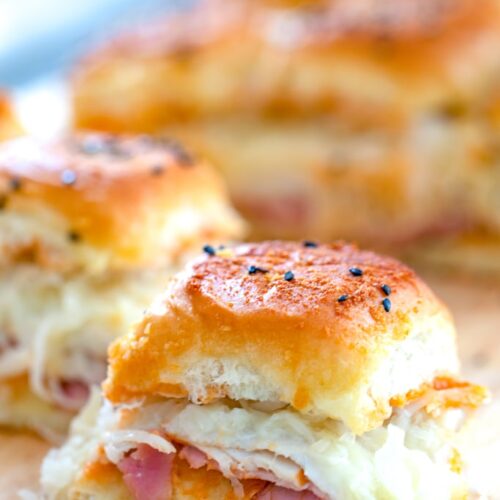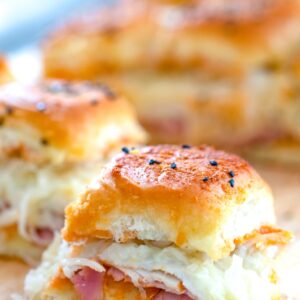 Turkey, Ham, and Swiss BBQ Reuben Sliders
Looking for an easy party recipe that will take no time at all and seriously impress your guests? These Turkey, Ham, and Swiss BBQ Reuben Sliders can be prepped in mere minutes and will be loved by everyone!
Print
Pin
Rate
Ingredients
⅓

cup

mayonnaise

(can use light mayo if desired)

¼

cup

BBQ sauce

12

sweet slider rolls

¼

lb.

McKenzie Black Forest Ham,

sliced

¼

lb.

McKenzie Oven Roasted Turkey,

sliced

5

slices

McKenzie Swiss Cheese

1 ¼

cup

sauerkraut,

drained with excess liquid squeezed out

2

Tbsp

unsalted butter,

melted

2

tsp

garlic powder

Black sesame seeds or poppy seeds,

for topping
Instructions
Pre-heat oven to 350 degrees.

In a small bowl, mix together mayonnaise and BBQ sauce.

Slice slider rolls horizontally, keeping rolls connected, but separating tops from bottoms. Spread BBQ mayo on the top and bottom portion and place on foil-lined baking sheet.

Layer ham, turkey, and cheese on the bottom rolls. Top with sauerkraut, spreading to cover the meats and cheeses. Place slider tops over sauerkraut.

In a small bowl, mix melted butter and garlic powder together. Brush over the top of the sliders. Sprinkle black sesame seeds or poppy seeds on top.

Cover sliders with foil and bake for 10 minutes. Remove foil and bake for another 10 minutes, until cheese is melting and tops of sliders are golden.

Slice into 12 sliders and serve.
Share a Photo of Your Finished Recipe!
Mention @wearenotmartha and share a photo if you've made the recipe!