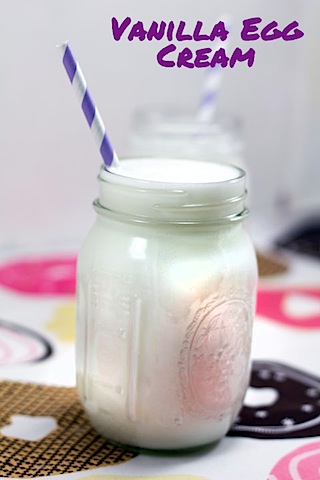 I owe much of who I am today to Harriet the Spy (affiliate link)
. Not even kidding. I could write volumes on good old Harriet and I truly believe she contributed greatly to making me, me. She was a truly independent and precocious girl; interested and observant. After reading Harriet the Spy, I started my own spy notebooks and I even tried to play her game "Town," which really is like your own made-up version of The Sims before The Sims existed. I filled notebooks with my observations. I kept my own journals from the day I turned seven straight through college. Then I started blogging; another method for me to share my observations. Unfortunately, my spy days didn't last long when I was a kid, since I lived in small town Massachusetts and not New York City like young Harriet. But my love of writing and being a constant observer remained. I'm pretty much downright nosy. Which I believe makes me an even better writer.
My point of telling you all this is egg creams. Harriet the Spy had a love of egg creams and I was intrigued with them for a long time. I'll never forget taking a trip to New York City with my family and seeing egg creams on the menu of a restaurant we were at. I had wanted to try them forever and it was finally my chance. I imagined an egg cream would be like a nice thick, creamy milkshake. But I was wrong. And I was shocked to learn that egg creams don't even have eggs in them anymore. But they do have club soda. It ended up being nothing like I imagined, but I still loved it, partly because it brought me closer to Harriet.
And now I'm going from this: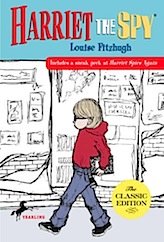 To this: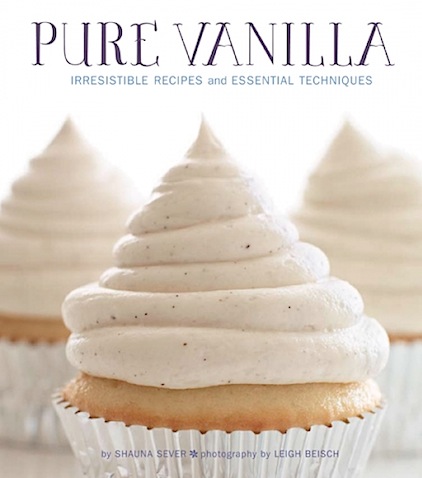 Quirk Books sent me a copy of Pure Vanilla (affiliate link) 
by Shauna Sever, a book I was incredibly excited to receive. I've mentioned this here before, but I used to find vanilla so boring. However, as I've gotten older, I've becomes more and more obsessed with the flavor, even often choosing it over chocolate. It's NOT boring and good vanilla is absolutely heavenly. Shauna's book is packed with 80 recipes that showcase vanilla in almost every way imaginable (and many I never imagined before seeing in the full-color book!). Recipes I most definitely will be making include vanilla bean marshmallows, vanilla bean-sea salt caramels, candied vanilla popcorn, creamy vanilla rice pudding, vanilla beurre blanc, floating islands, vanilla brown sugar and black pepper bacon, white hot fudge, etc. etc.  You guys, there's even a vanilla mojito. Yup. I could keep going. I never realized I could fall in love so deeply with vanilla!
But when I saw the Vanilla Egg Cream recipe, I was immediately all over it. I haven't returned to the egg cream in years and wanted to go back to my Harriet the Spy roots. So, I jumped right in to this simple simon, but necessary recipe.
Vanilla Simple Syrup:
1 C sugar
1 C water
1 vanilla bean, split lengthwise
Vanilla Egg Cream:
2 oz. vanilla simple syrup
2 1/2 oz. half and half
10 oz. club soda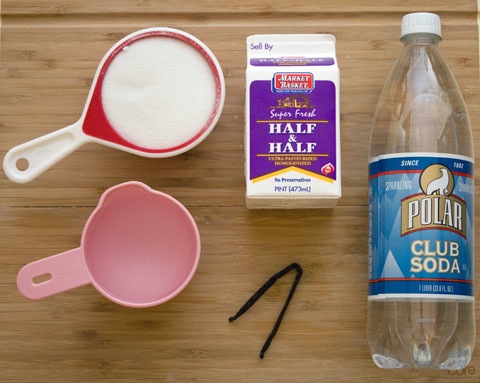 You're going to think I'm a really bad food blogger since earlier this week I told you I had never made mussels at home… And now I'm going to tell you I've never used real vanilla beans. Ack. To be fair, I get all my vanilla extract from my mom who makes it from scratch, so I know it's the best of the best. But still.
One of the things I love best about Pure Vanilla
 is that it doesn't just provide recipes; it actually offers lots of education on vanilla an teaches you how to work with it in many different forms.
I started by bringing my sugar and water to a boil and let it go for about a minute. Then I let it cool in the pan for 10 minutes.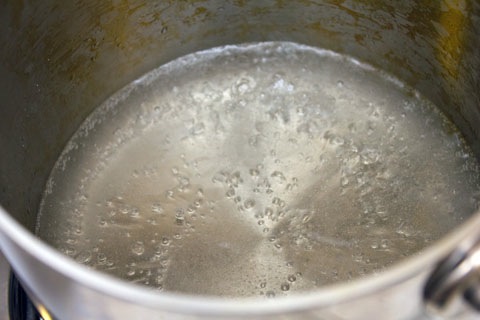 I was psyched to cut into my first vanilla bean. Oh and p.s. I bought my vanilla beans at Market Basket, 2 for $10. But then I found these

on Amazon at 10 for $12.99. Hello! Does anyone know any reason these wouldn't be as good? They have 13 5-star reviews!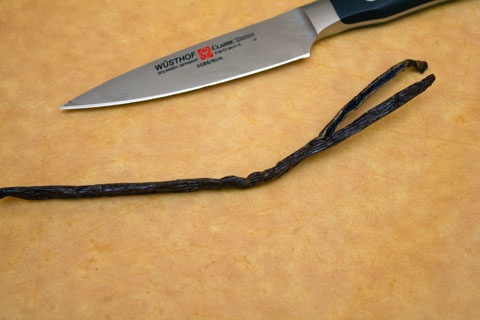 One thing Shauna taught me was that you don't have to scrape the vanilla "caviar" out ahead of time and that most of the flavor is in the pod. Once I had cooled my liquid, I poured it into a heat-proof jar and put the vanilla bean in there too.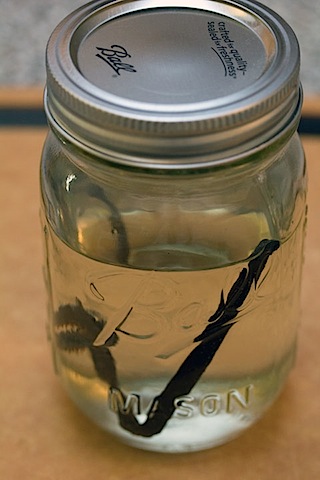 I let it steep for about 24 hours and then scraped some of the caviar into the mixture, mostly because I like the look. Then I rinsed and dried my vanilla bean and stored it away for more use later (yes, you can do this!). And then it was egg cream time.
Pour the vanilla simple syrup and half and half in a glass and then top with club soda. I don't have any soda shop-like glasses (no idea why!), so I used a mason jar instead.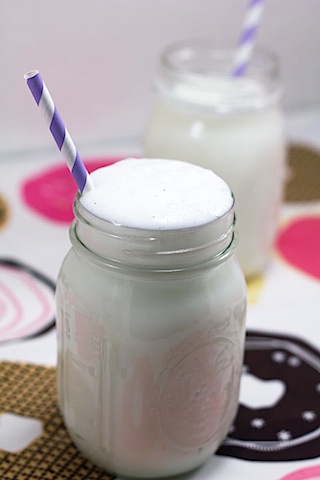 Though she generally drank chocolate egg creams, I think it's safe to say Harriet would be impressed with this drink. Perhaps we could even get her to move beyond tomato sandwiches and start baking with vanilla beans.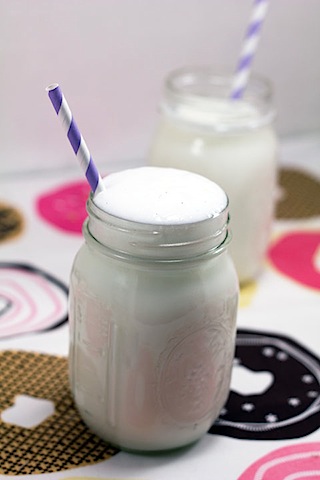 OK, now that I've thoroughly embarrassed myself by gushing about my obsession with Harriet the Spy, I'm going to shut up now. But come on, I can't be the only one, can I?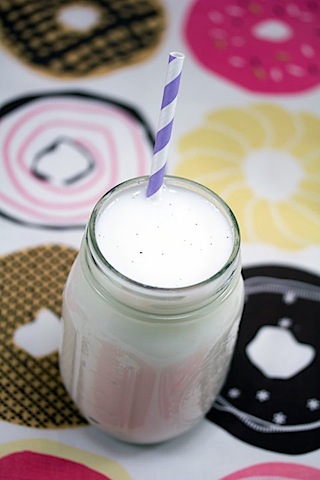 You should know that all food I photograph on WANM is 100% real. Which was difficult because the second I poured the soda into the egg cream, I attempted to take photos as quickly as possible, but only had about 5 seconds before the nice frothy fizz disappeared. I was so tempted to top this drink with something like soap for some extra foam.
But then I wouldn't be able to drink it. And what would be the point? I prefer delicious to beautiful any day.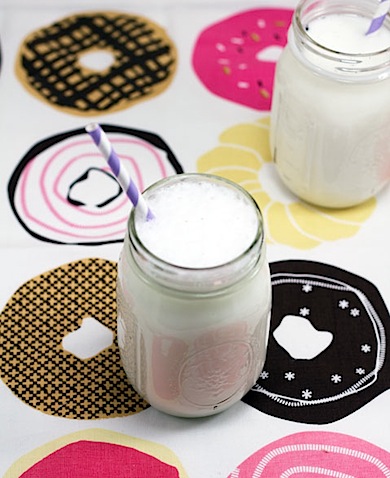 Oh, you wanted to hear about the vanilla? Um. I almost drank the simple syrup straight up out of the jar. Not even lying. I'm not a fan of fake-like syrups and hate when I order a flavored coffee and it's packed with lots of artificial overly sweet stuff. This? This tasted real. Because it was. Most definitely putting some in my coffee this week. And everything I make for the next year.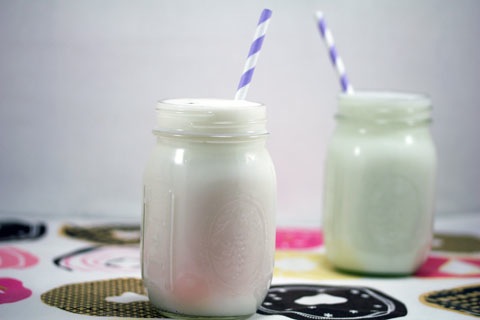 The egg cream was near perfection. Simple for sure, but refreshing and packed with perfect vanilla flavor and just a little bit of creaminess. And you know… you could totally add that vanilla simple syrup to some vodka and have your own homemade vanilla vodka. I'm loving that idea. Obviously. Also, egg creams are probably better without actual eggs in them, amiright?
I highly recommend putting Pure Vanilla
on your holiday list this year. I know I'll be putting Shauna's other book, Marshmallow Madness!
on mine! a) because I'm obsessed with marshmallows and b) because the cover is stunning and simply makes me happy.
Harriet the Spy, vanilla, and marshmallows. I'm a pretty simple person and these are the things that make me content.
What's your favorite vanilla-flavored recipe?
[Sues]