Can I just say how happy I am that it's Friday? I'm looking forward to an absolutely fabulous weekend that will involve hanging out with some of my favorite friends, having brunch with my sister and bro-in-law, and hopefully spending some quality time at the pool (yes! my apartment building has a pool. Swooon!) OK, OK and I'll also be doing lots of work on finishing all my unpacking, so I can show you a bit more of my apartment. Next week, I promise!
Now, summer Fridays call for margaritas, yes? I was going to throw this little recipe in with my post about what I had for dinner the other night. But then I determined that it needed its own post. Because it was easy, delicious, and absolutely necessary for all of you to make. Who doesn't need more margaritas in their life? Also, the drink section of WANM was sadly looking a little empty. It will be my goal in life to fill it up.
Seriously, one of my goals for my move was: MAKE MORE COCKTAILS. I'm not even kidding. I see tons and tons of cocktail recipes, but always find myself mixing Absolut Boston (or vanilla!) and sodas. Or just sipping on a glass of red wine. But it's summer and summer calls for fresh fruit in fun drinks. I came across 2 watermelon cocktail recipes on My Little Expat Kitchen and had a tough decision ahead of me. Margaritas or daiquiris? Margarita won out because I had a nice bottle of Jose Cuervo from the Margarita Cupcakes I made the other day.
Watermelon Margaritas (Serves 2):
1 1/2 C watermelon, chilled, seeded and cut into pieces
1/4 C lime juice, freshly squeezed
1/4 C silver (white) tequila
1/4 C Triple Sec (or Cointreau)
8 large ice cubes
Remember when I made my lentil cake dressing the other day and I said my limes were exceptionally juicy? Well, I know why. Limes that share my name are clearly the BEST limes in the world. I love that these limes are called "Susie" and I love even more that it's written in quotes.
First, I prepared the glasses! I rubbed the rims with some lemon and then put the glasses on a plate with coarse salt. Then I popped the glasses in the freezer so they could chill while I was preparing the margaritas.
I chopped up my watermelon into cubes. Tip: Buy seedless watermelon. It's so much easier!
And popped it in the blender with the limes and pureed the watermelon. If you're in the market for a good blender, this Cuisinart is a GEM. It actually came with a mini food processor, but I think you can buy just the blender, too.
I added in the tequila, Triple Sec, and ice cubes and blended it for about a minute straight, until it was nice and smooth.
And garnished with a lime, of course!
I had one of these suckers waiting for Chris when he got home from work. Which made him happy and me girlfriend of the year. Except now, every day I don't have a drink waiting for him, it's like "remember that time you had a watermelon margarita waiting for me when I got home from work?" Le sigh.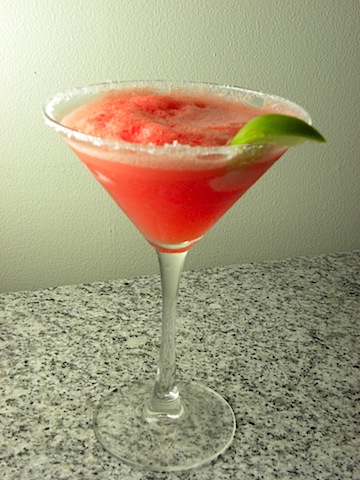 This watermelon margarita would probably run you at least $10 at any bar here in Boston. But making it at home cost less than $1. And like I said, it was incredibly simple! It was super refreshing and delicious… The watermelon wasn't overly sweet, and tasted totally natural (you can add sugar in if you want it sweeter… You can also add more tequila in to make it more boozy).
Now if you excuse me, I'm off to the pool with one of these in hand. OK, I'm totally lying. I'm off to finish a ton of work, so I can have some fun this weekend. But I might take a quick pool break. And a margarita may just be in order later tonight.
What are you up to this weekend? Will it involve any margaritas? 🙂
Make sure you enter our giveaway for a NeatReceipts Scanner!! Think about the possibilities of drinking margaritas while you scan!
[Sues]