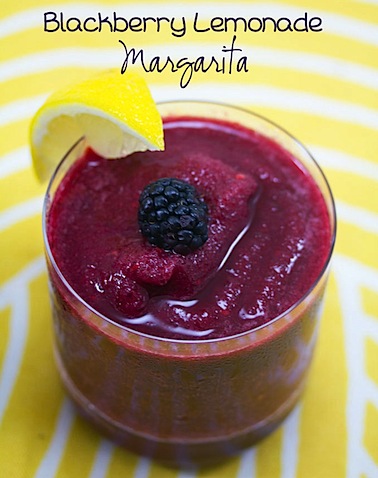 Friday. Long weekend. Enough said. Well, you know me and that's not true; I always have more to say. And though it's a long weekend, I certainly have plenty of work I need to get done. But at least it can be done with cocktails. Really, I'm over here busy counting down the days because in just a few short weeks, I'll be in Las Vegas. For my first time EVER. To say I'm excited is the understatement of the decade for many reasons. I hear it's a magical place and there's a ridiculous amount of things to do. Plus, we're going with two of my very favorite people on Earth and I can't wait to spend some serious quality time with them. And the food? Yup. I've heard things.
Having best friends who are major foodies is such a life bonus and, so we just happened to get reservations at José Andrés' "secret" Vegas restaurant, é. And when I say "just happened," I mean Jeff woke up at 2:00 a.m. and emailed the restaurant exactly one month before we were due to arrive (per the instructions) to see if we could get four seats in the eight seat restaurant. We're in, which means 23 courses of what is likely to be some of the best, most inventive food I've ever had the pleasure of enjoying. Which also means I'm pretty much the happiest girl in the world right now and would probably be fine if it was the only thing we did in Vegas. I hear they also make a mean gin and tonic.
I hear there's more to do in Vegas than eat, but I haven't quite been able to get past details of the food and cocktails. Is that so wrong?
In celebration of the long weekend and the countdown to Vegas, I'm having a margarita. When I'm out, I almost never order frozen margaritas and always get them on the rocks. But I've even craving them lately and decided to whip one up with some very fresh blackberries. And a whole lot of lemon juice. Blackberry Lemonade Margarita? Is now a new favorite drink of mine.
Blackberry Lemonade Margarita (makes 2 large margaritas):
Print this recipe!
1 C blackberries
3 T sugar
1/2 C fresh squeezed lemon juice
4 oz. high-quality tequila (I recommend Casa Noble)
2 oz. Cointreau (if you don't feel like buying Cointreau, you can use a cheaper Triple Sec or even a little splash of orange juice)
3 C ice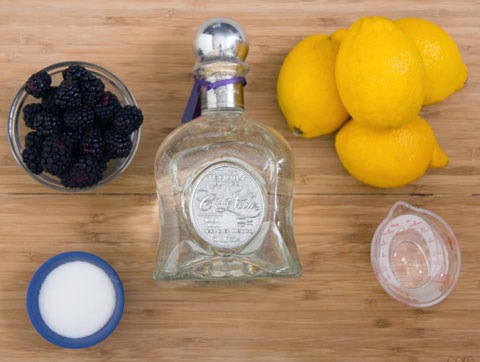 I was lucky enough to have three beautiful bottles of Casa Noble sent to me. Seriously, the bottles are beautiful. And the tequila has won some major awards. Also, Santana is one of the owners of the brand, so that's pretty awesome. I decided to use their Crystal Tequila (Tequila Blanco) for my margarita recipe. (disclaimer: the tequila was sent to me, but these opinions are definitely my own!).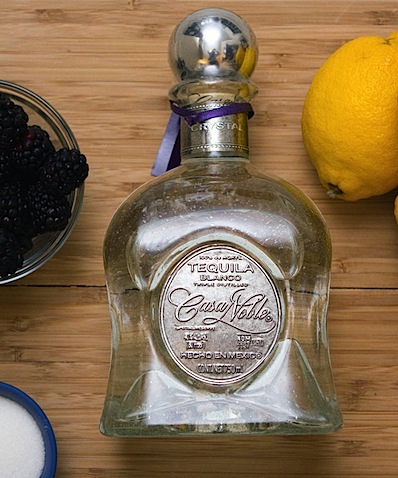 This is an easy, make when you get home from work and enjoy within minutes cocktail. Simply put blackberries, sugar, and lemon juice in a blender and blend until smooth.
If you hate seeds, I would push this puree through a strainer here and then put the puree back in the blender. I'm weird and I love seeds.
Add tequila, Cointreau, and ice to blender and blend until ice is crushed and mixture is smooth.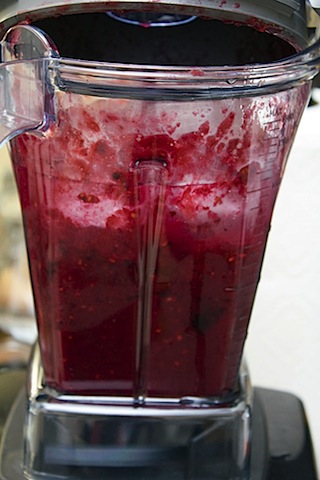 Pour into a glass (doesn't have to be a margarita glass!) and serve with a lemon garnish and blackberry on top.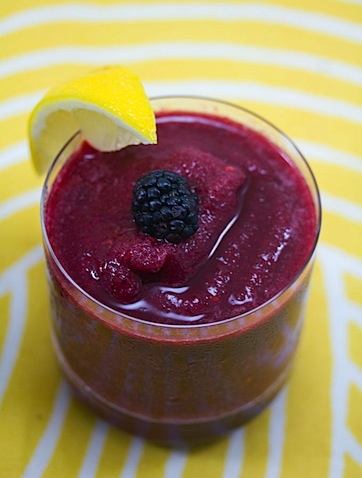 OK, fine, you totally caught me. It's purple drink week here on We are not Martha! I promised it wasn't planned, but 'tis the season for blue/purple fruits.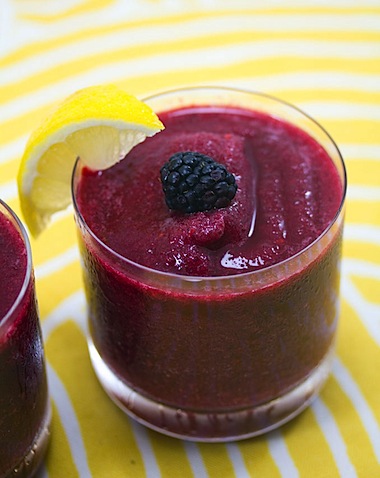 This Blackberry Lemonade Margarita totally hit the spot. It was perfectly icy and summery (though the weather in Boston… Not so much). It was definitely on the tart side, which I LOVED. If you don't, you could always add more sugar (my blackberries weren't especially sweet). I think the delightfully smooth Casa Noble tequila helped quite a bit. If you're not traditionally a tequila lover, I think this could get you to come around!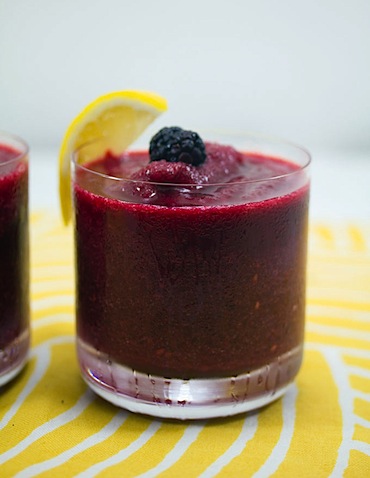 This might now be my official drink of summer. Or else I might just make a billion different variations of it (already thinking of a ton!) to get me through the entire summer. Though, in my humble opinion, there are not nearly enough Cocktail Fridays in the summer season.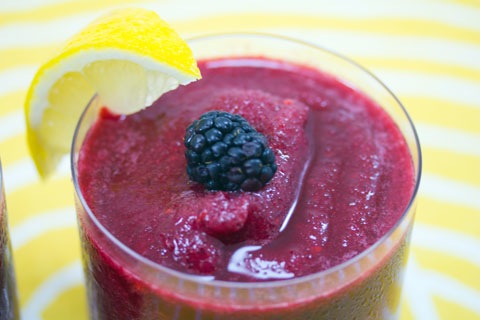 If this doesn't help me get that weekend work done, I don't know what will. Unless it's dreams of Las Vegas and the obnoxious amount of food I'm going to eat when I'm there. Want to know an embarrassing secret about me? I also have Vegas dreams of seeing Donny and Marie (yes, I'm a 30-year-old Donny Osmond lover… weird and… well, just weird), but have decided not to subject any of my traveling companions to my oddities. I think we'll find enough stuff to do anyway 🙂
Have you been to Vegas? What's your favorite thing to do there?
[Sues]