This Frozen Peach Margarita is made with fresh peaches and sweetened with honey... No peach schnapps necessary! The perfect summer margarita looks like sunshine in a glass.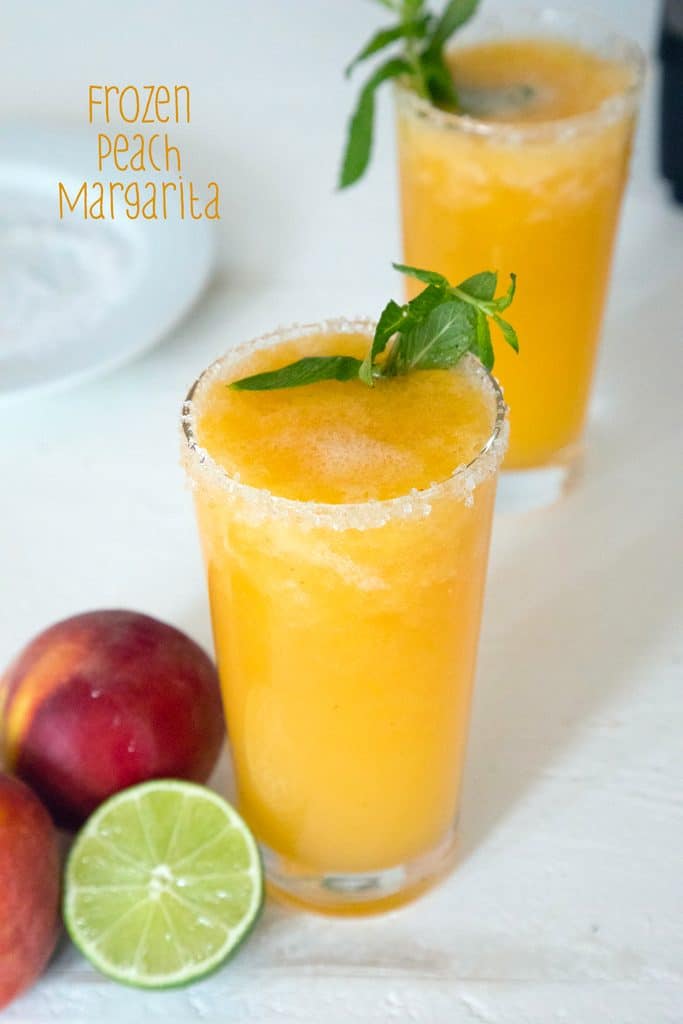 (This recipe for Frozen Peach Margaritas was originally published in 2011, but was updated with new photos and content in 2017).
Hello! If this Frozen Peach Margarita looks mildly familiar, that's because it's an oldie but goodie here at We are not Martha. From way back in 2011. Now that I've had this little space on the internet for almost 10 years (can you even believe that??), I figured it was high time for me to go back and update some of my most popular older posts that have images and copy that left much to be desired. If you haven't been reading since WAY back in 2008, you might not even realize that I was legit taking photos with my camera phone back at the start. My flip phone camera. Or it might have been a Blackberry? I can't remember. All I know is that it wasn't an iPhone and the photos were horrible and no I'm not linking back to anything, so you'll have to go find them yourself if you want to laugh at me.
Anyway, this Frozen Peach Margarita was first made at me and Chris's first little apartment together. We love our house, but sometimes miss being in the hustle and bustle of the city. And having a pool. But I really don't miss taking my food and cocktail photos outside on the deck with tons of other residents walking by wondering why the heck that weird girl is standing on a chair again. Also, there was the time our neighbor decided to set her dirty oven to "clean" and then leave for the day. Le sigh.
I made this drink again (such a struggle) and also made you a little video... Not that making this Frozen Peach Margarita is rocket science; you basically throw everything in your blender. But I wanted you to see just how easy it is.
FROZEN PEACH MARGARITA RECIPE
The whole reason this margarita was born was because I couldn't find a peach margarita made without peach schnapps. Which I am not a fan of. I can't be the only one who just thinks about college when I think about peach schnapps, right? Ugh. Fresh peaches all the way.
Of course, you need a little sweetness since you're not using schnapps, which is why you'll want to add a healthy dose of honey. The triple sec or cointreau helps a little, too.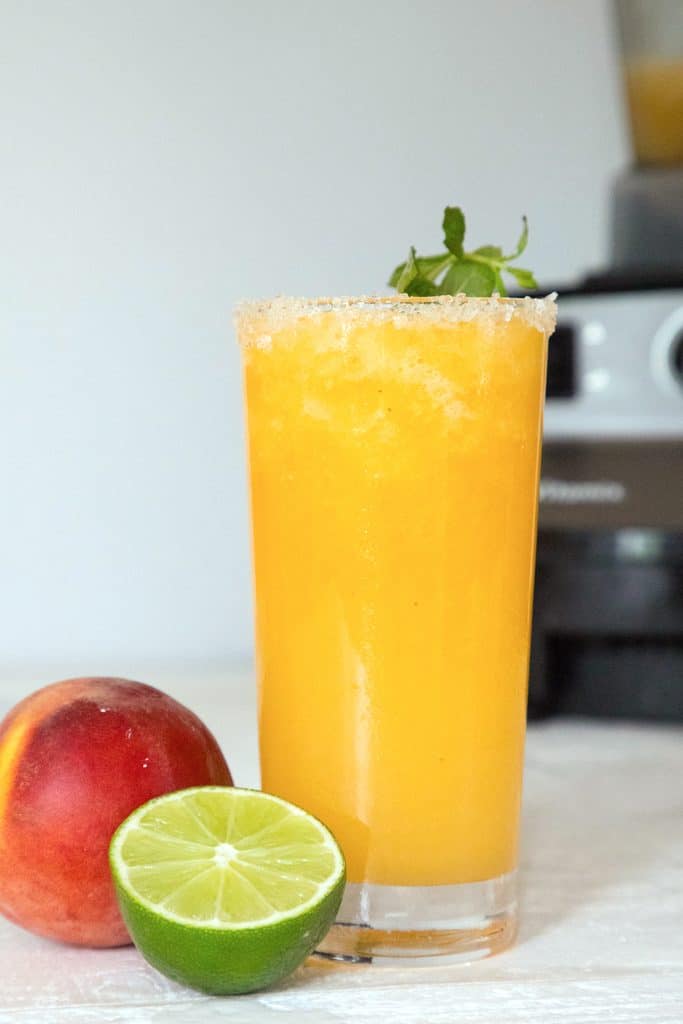 The first time I made these, I was wedding planning. Now I'm getting ready to celebrate my five year anniversary. Whoever said time flies when you're having fun certainly wasn't lying. I wish I could count the number of cocktails I made with Chris since this one way back in 2011. I also have a much nicer blender now as I now own a Vitamix (affiliate link!) and I can't recommend it enough. It's pricey, but I've used it nearly every day for years now and it works better than any blender I've ever owned.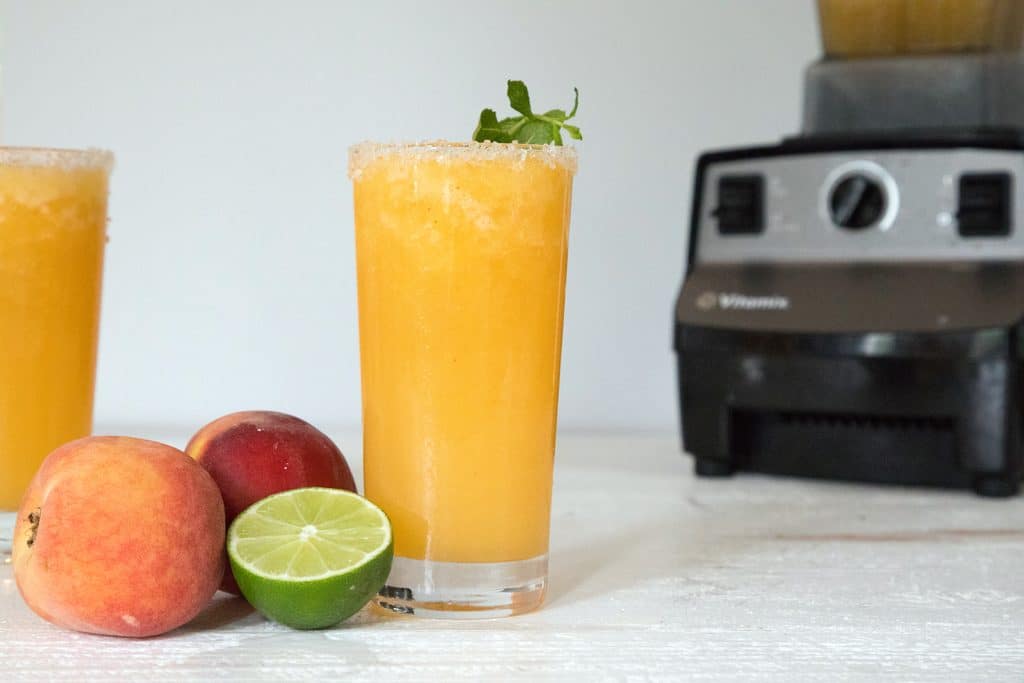 This margarita is so fresh-tasting and smooth, with just the right touch of sweetness. It looks like sunshine in a glass and tastes even better.
Sadly, this weekend's weather left much to be desired in Boston and the week ahead doesn't look much better. BUT I'm pretty sure it's just because Mother Nature wants to get all the cold and rain out of her system now so that the rest of the summer can be sunny and hot. Obviously margaritas are better enjoyed in the sunshine... But if you're lacking sunshine, they'll also help you imagine it exists.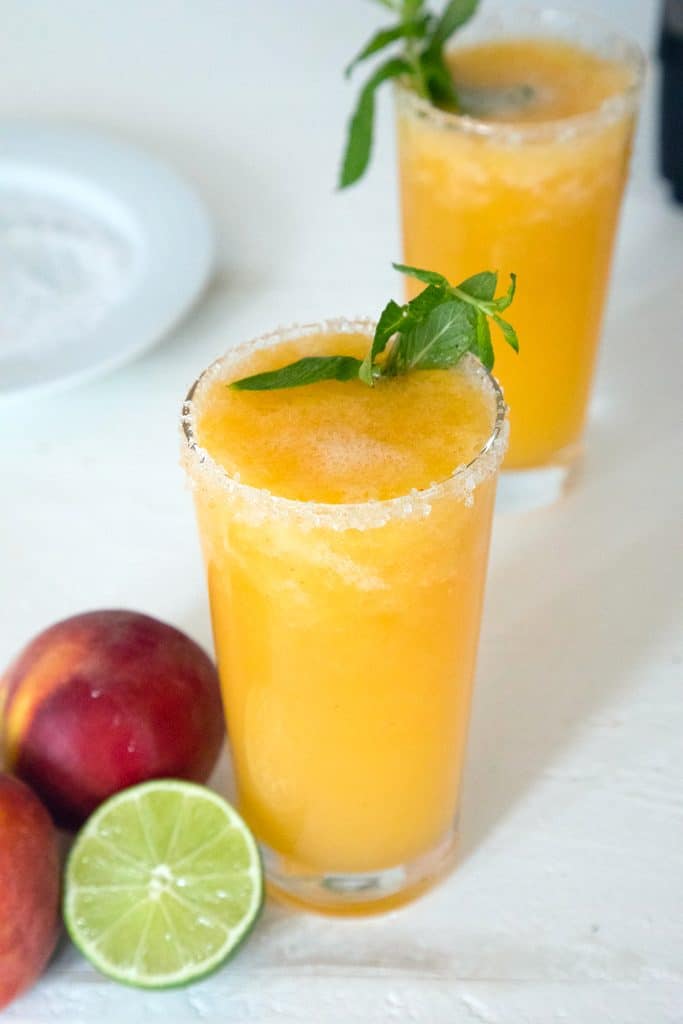 If you didn't get a chance to make these Frozen Peach Margaritas when I first introduced them to the world in 2011, I hope you'll try them now. The summer is just getting started (and only unofficially so far), so you've got plenty of time to make them your official cocktail of summer!
If you love margaritas, be sure to check out my Blackberry Lemonade Margaritas and my Grilled Pineapple Coconut Margaritas. I also can't wait to try these Mai Thai Margaritas from Wood and Spoon.
📖 Recipe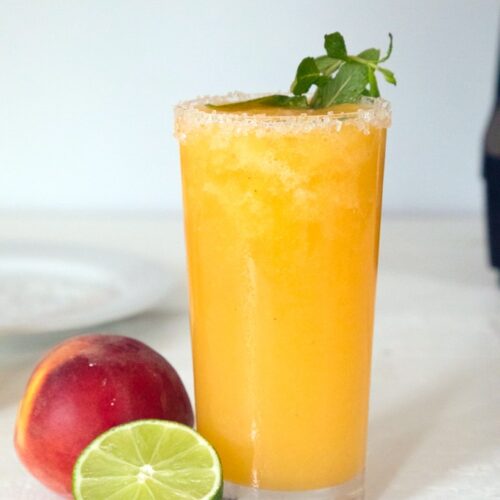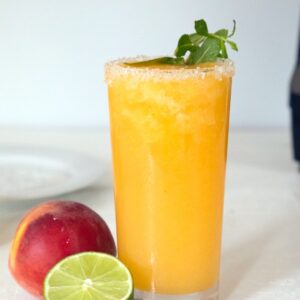 Frozen Peach Margarita
This Frozen Peach Margarita is made with fresh peaches and sweetened with honey... No peach schnapps allowed! The perfect summer margarita looks like sunshine in a glass.
Print
Pin
Rate
Makes:
2
large margaritas or 4 small margaritas
Ingredients
Coarse sea salt for rimming glass

Simple syrup for rimming glass

(can also use lime juice)

3

large peaches,

peeled and chopped

2

Tbsp

freshly squeezed lime juice

1

cup

tequila

½

cup

triple sec or cointreau

3

Tbsp

honey

3

cups

ice

Mint for garnish,

if desired
Instructions
Place sea salt on a small plate and lightly brush simple syrup or lime juice around rims of glasses.

Dip rims on the plate of sea salt to coat.

Put peaches, lime juice, tequila, triple sec, honey, and ice in blender and blend on high until smooth.

Pour into glasses and garnish with mint, if desired.
Share a Photo of Your Finished Recipe!
Mention @wearenotmartha and share a photo if you've made the recipe!