This Apple Pie Ice Cream has all the elements of your favorite seasonal treat: apple pie filling, apple cider caramel, and pie crust cookies. It will convince you to keep your ice cream machine out all fall and winter long!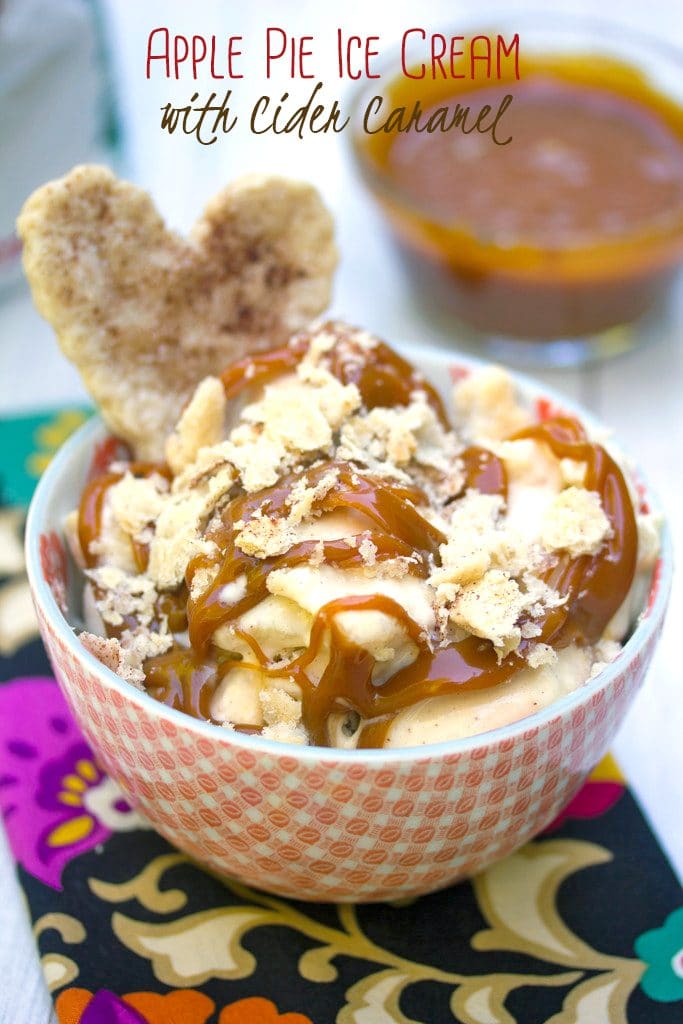 (This recipe for Apple Pie Ice Cream was originally published in November 2014, but has been updated in 2018).
There are some things about being an adult that are just no fun. For instance, no longer being able to stay up ridiculously late. Or having more than a couple glasses of wine in one sitting. I mean, I can obviously still do these things, but not without wanting to die for precisely 24 hours after following the event. And then feeling like I wasted an entire day of my life lying in bed recovering. It's just not fair. My biggest new "being an adult stinks" realization is that I can't eat spicy food the way I used to. And spicy food is pretty much my favorite thing in all the world. The whole world. Getting old is lame.
But I'm so, so thankful that I haven't developed any intolerances to lactose thus far in my life (I'm knocking on a giant piece of wood and silently freaking out over the possibility). Because that means that I can enjoy ice cream to the fullest extent and not have to worry about a thing… Besides gaining a bunch of pounds. I know "official ice cream season" is over (wah!), but I actually think I make the least amount of ice cream in the summer.
There are so many fall seasonal flavors I'm a fan of and I just can't resist keeping my ice cream maker churning throughout the colder months. One of my very favorite fall flavors is that of apple pie. So, I turned it into an ice cream with this Apple Pie Ice Cream with Cider Caramel and Pie Crust Cookies. This fed my ice cream and my apple obsession all at once.
APPLE PIE ICE CREAM WITH CIDER CARAMEL RECIPE
OK, let's get one thing straight before we start… This recipe has a lot of steps. A lot. But please don't be overwhelmed! First of all, homemade ice cream needs a longgg time in the freezer with two separate rounds of chilling. Also, you can easily make the caramel and pie crust cookies ahead if you want. The caramel should last a couple weeks in the fridge and the cookies a couple days in an airtight container. Also? All of the steps are totally worth it for this delicious goodness!!
But. If you really aren't into putting in all the work, I have a couple shortcuts for you! You can buy jarred caramel sauce… It probably won't be apple cider caramel (unless you know a store that sells it… If so, please inform me!), but it will work just fine. You can also buy pre-made pie crust dough and simply cut your own shapes in it. Or even just serve the ice cream with different cookies. Basically, just do whatever you need to do to get this ice cream on your table!
Firs things fist… Make the apple pie ice cream! This requires a few steps… The first is basically making an apple pie filling (yum!).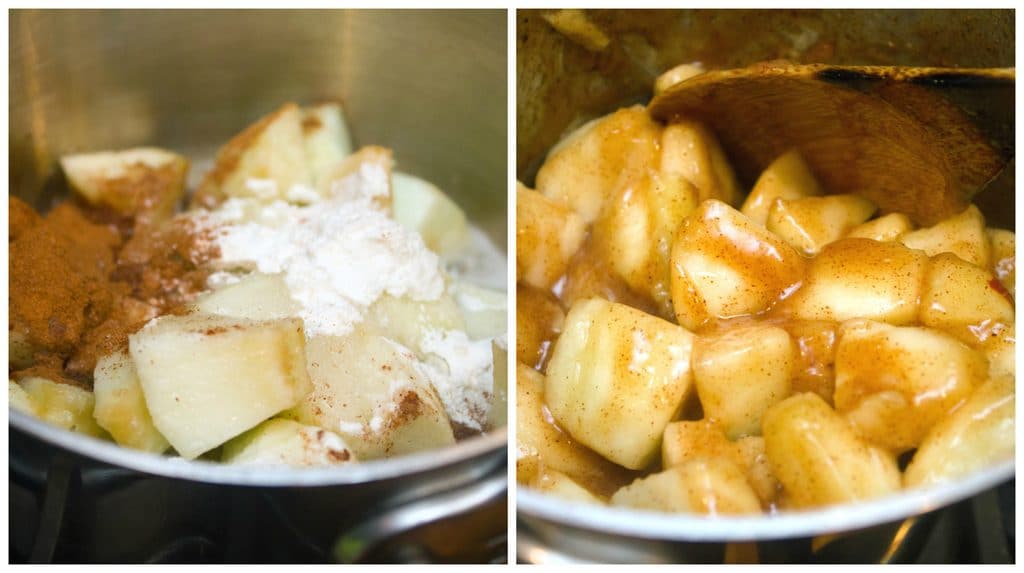 And then making the custard-based ice cream and stirring in the apple pie filling and the cider caramel as it's churning.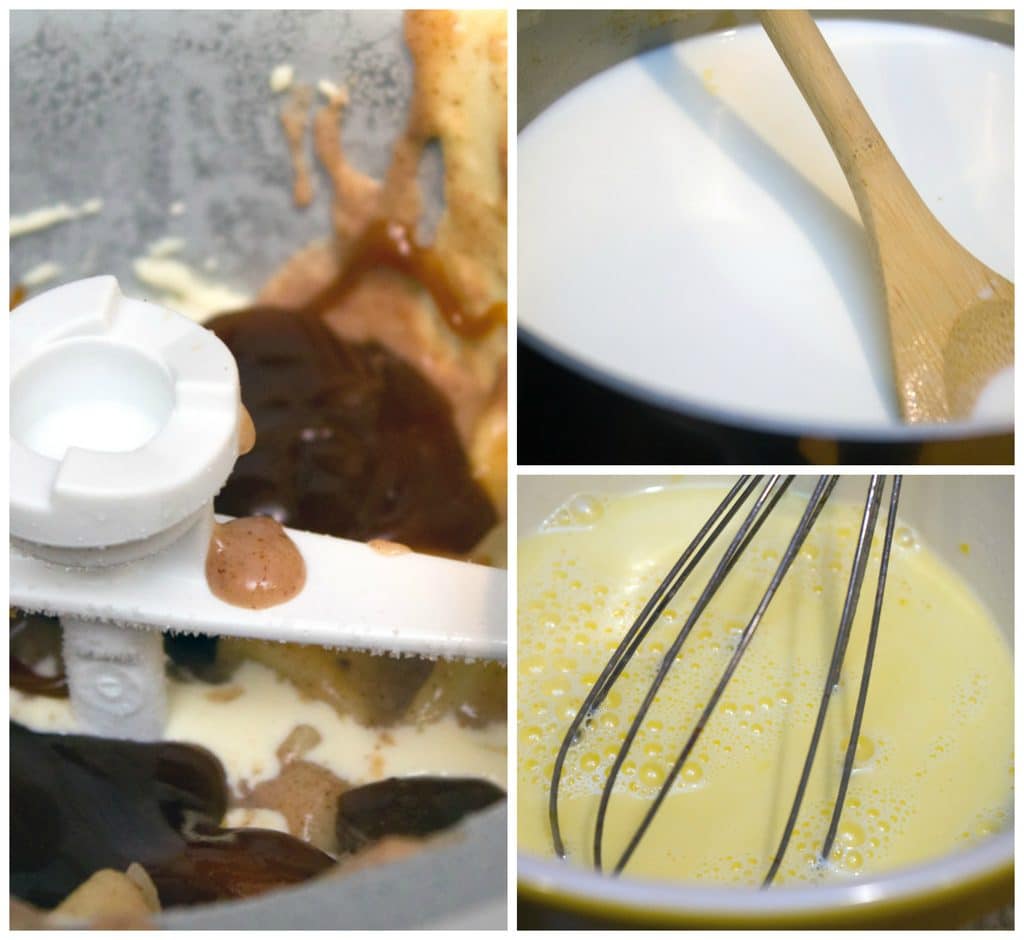 The caramel is a pretty basic recipe, but it includes stirring in cinnamon and a little bit of apple cider at the end. This turns a delicious caramel into an "omg I want to eat you with a spoon" caramel.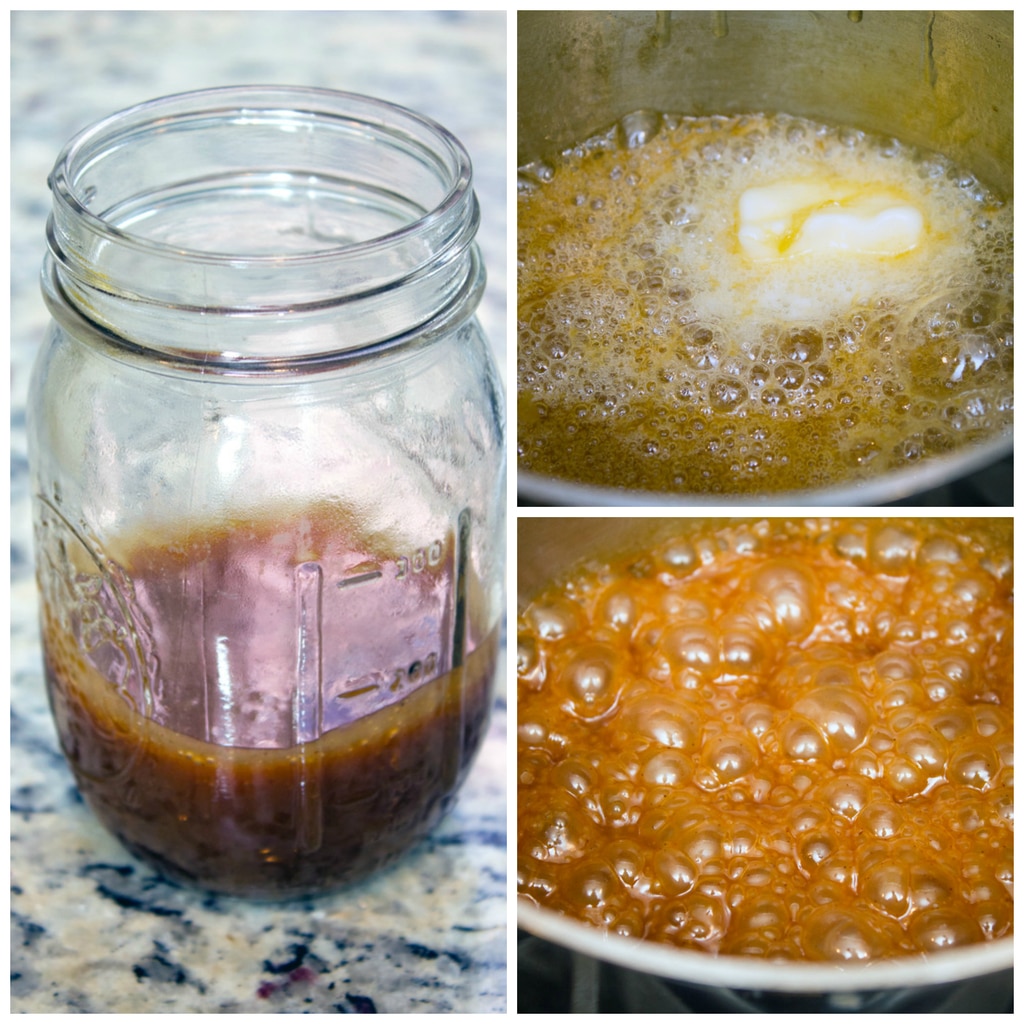 I love making pie crust; it's almost therapeutic to me. For this recipe, you make a basic pie dough, let it chill and then roll it out, cut out whatever shapes you want, sprinkle with some cinnamon sugar, and bake.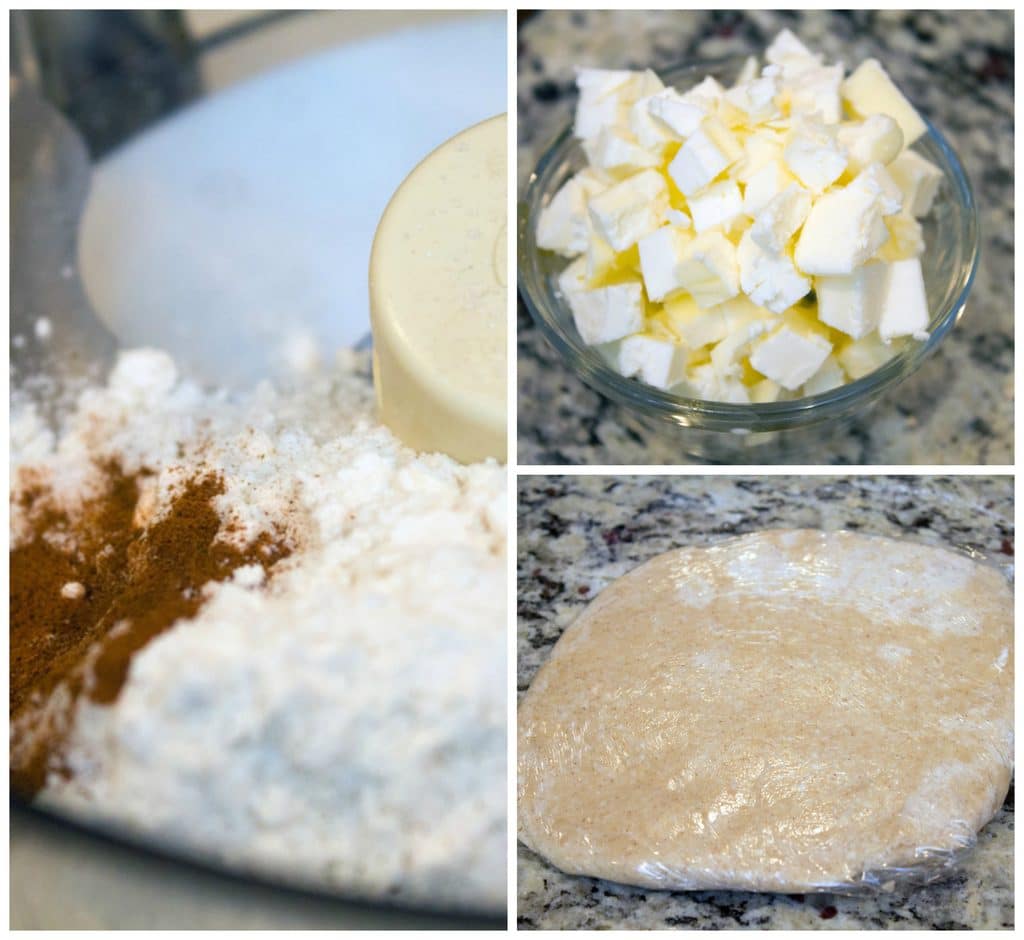 I made little hearts, but apples would also be cute. If this step is just one step too far for you, buy an already made pie crust dough and cut out your shapes. Or serve with any store-bought cookies you want (ahem, Oreo makes an Apple Pie variety)!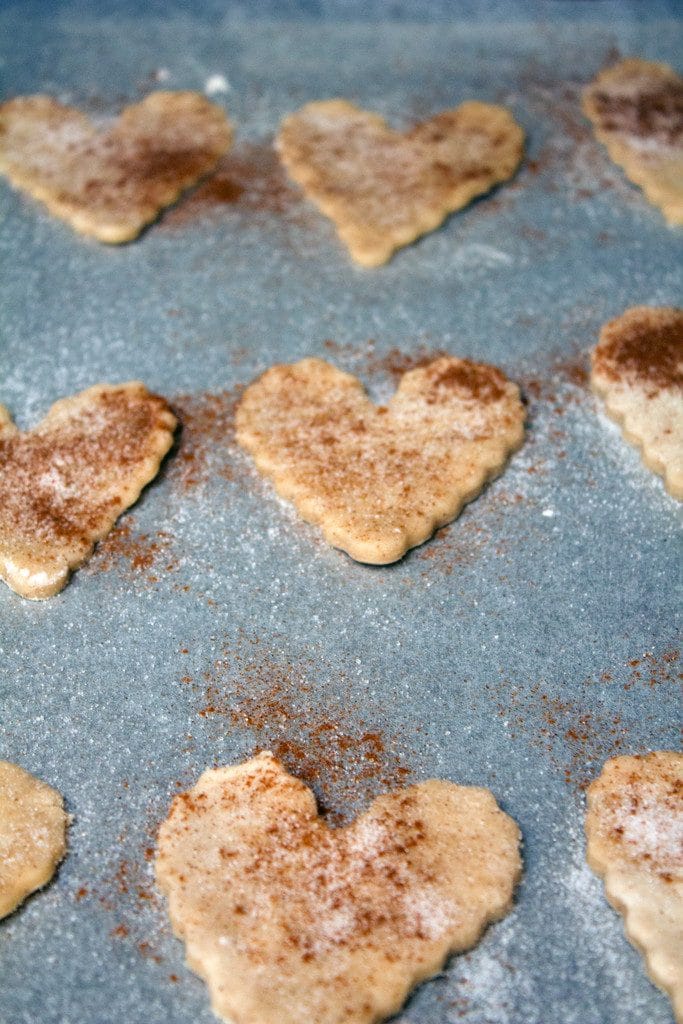 Um, are we ready to serve our ice cream yet? Please?? OK, sure!
Top every dish of apple pie ice cream with a little extra drizzle of caramel and a pie crust cookie. I crumble one of the cookies over the top, too. The results? You'll kind of feel like you're eating apple pie a'la mode. But even better? I'm actually not a big fan of apple pie a'la mode (I don't really have many weird food aversions, but for some reason, I just don't want ice cream near my pie, thank you very much) and I was a gigantic fan of this dish of ice cream.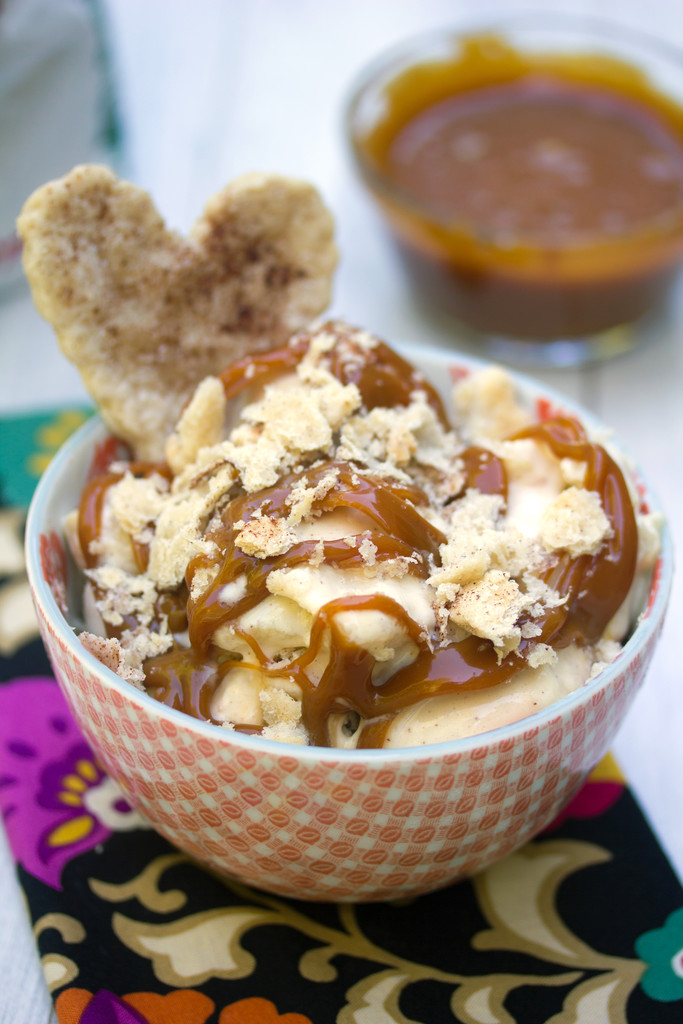 And then you'll need to thank your lucky stars that you're not lactose intolerant. Life could be so, so much worse. Unless, of course, you are lactose intolerant. And even then, I'm pretty sure there's a pill you can take for that. Because who could resist what this ice cream is all about?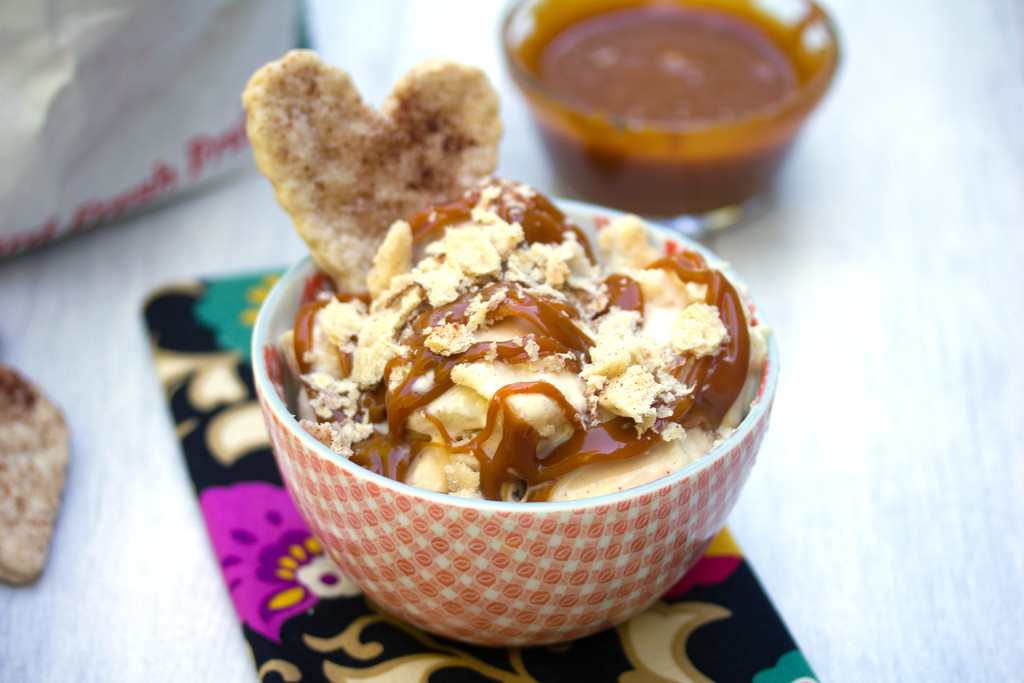 This apple pie ice cream really does have all the elements of an apple pie and truly tastes like one, too. How have I never made pie crust cookies before??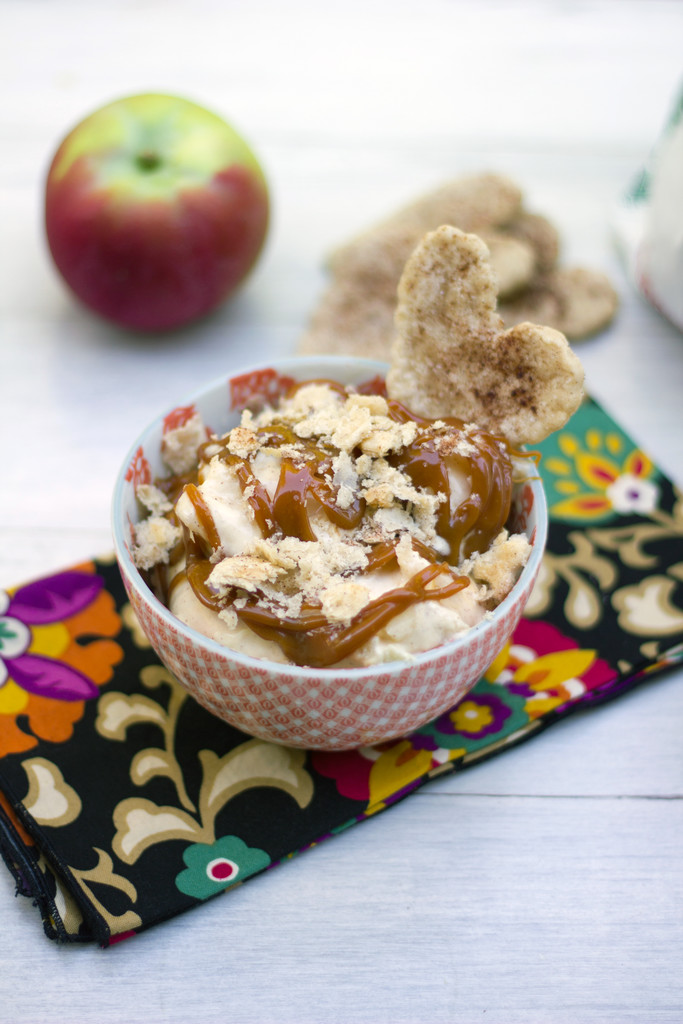 We're officially in festive ice cream season and I couldn't be more thrilled. Is it bad that I imagine a blizzard going on outside and while I'm snuggling up on the couch in front of the fireplace with a giant bowl of ice cream on my lap? Because to me, that is the life. I'll probably be wearing some type of long underwear, too.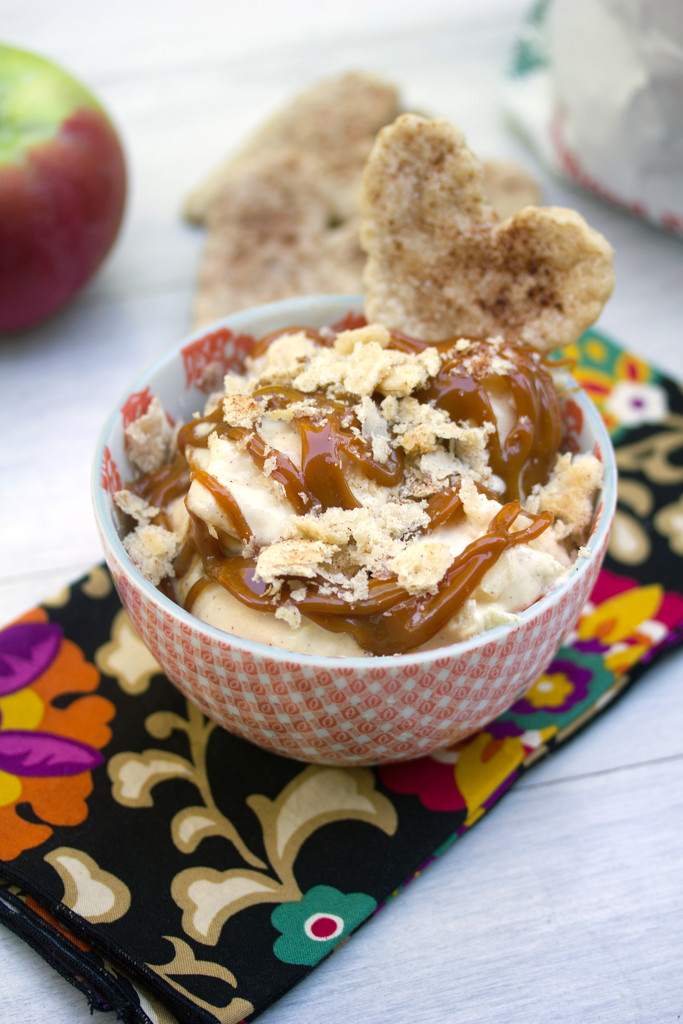 Does that sound like heaven to anyone else?? Heaven could also be that same scenario, but with a jar of apple cider caramel in my lap instead of a bowl of ice cream. And a spoon.
Do you have a favorite seasonal ice cream?
For more fall dessert recipes, check out my Apple Cider Cookies with Caramel or my Pumpkin Ice Cream with Pistachio Swirl. I'm also dying to try these Apple Pie Overnight Oats from Baking You Happier!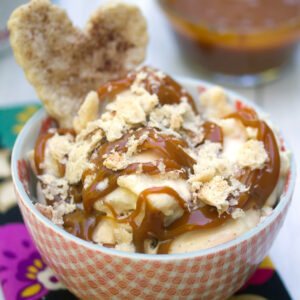 Print Recipe
Apple Pie Ice Cream with Cider Caramel and Pie Crust Cookies
This Apple Pie Ice Cream has all the elements of your favorite seasonal treat: apple pie filling, apple cider caramel, and pie crust cookies. It will convince you to keep your ice cream machine out all fall and winter long!
Ingredients
2

apples,

peeled, cored, and chopped

1

Tbsp

unsalted butter

1

Tbsp

all-purpose flour

1

cup

granulated sugar,

divided

1/2

tsp

cinnamon

Pinch

nutmeg

1

Tbsp

water

1/2

Tbsp

lemon juice

1 1/2

cups

whole milk

4

large egg yolks

2

cups

heavy cream

1/2

tsp

vanilla extract

1

batch

Apple Cider Caramel

(recipe below)

1

batch

Pie Crust Cookies

(recipe below)
Apple Cider Caramel
1/2

cup

granulated sugar

3

Tbsp

unsalted butter,

cut into 6 pieces

1/3

cup

heavy cream

1/4

tsp

cinnamon

Pinch

salt

1

Tbsp

apple cider
Pie Crust Cookies
1 1/4

cup

all-purpose flour

1

tsp

granulated sugar,

plus more for sprinkling

1/2

tsp

cinnamon,

plus more for sprinkling

1/2

tsp

salt

1/2

cup (1 stick)

unsalted butter,

chilled and cut into small pieces

1/8-1/4

cup

ice water
Instructions
In a medium saucepan, combine chopped apples, along with butter, flour, 1/4 cup sugar, cinnamon, nutmeg, water, and lemon juice over medium heat.

Cook, stirring occasionally for about 4-6 minutes until the apples are slightly softened.

Remove from heat and spoon apple mixture into a bowl. Cover and place in fridge to chill while preparing the rest of the ice cream.

Heat milk and remaining 3/4 cup sugar in a medium saucepan over medium heat. Stir constantly, until the mixture just reaches the point of simmer. Remove from heat.

Lightly whisk egg yolks in a separate medium bowl. P

our about half of the warm milk into the bowl with the egg yolks, whisking while you do so.

Pour the egg/milk mixture back into the saucepan with the rest of the milk.

Cook mixture over low heat, stirring constantly, until it thickens enough to coat the back of the spoon.

In a separate medium-sized bowl, pour the heavy cream. Strain the egg/milk mixture into the heavy cream, making sure to continue to whisk. Stir in the vanilla.

Cover with plastic wrap and place in the fridge for at least 4 hours.

Once mixture has been sufficiently chilled, process in ice cream maker according to manufacturer's directions.

When the ice cream is almost done hardening, mix in the apple mixture and cider caramel, making sure to reserve some of the caramel to drizzle over the finished ice cream.

Scoop ice cream in airtight containers and place in the freezer for another 4+ hours, but ideally overnight.

Serve ice cream in bowls with pie crust cookies and extra apple cider caramel drizzled over the top.
Apple Cider Caramel
In a medium saucepan, heat granulated sugar over medium heat. Stir frequently with a rubber spatula until sugar turns into a smooth amber-colored liquid.

Stir the butter into sugar. The mixture will bubble quite a bit. Stir for about 2 minutes, until the butter is completely melted.

Stir the cream into the mixture and let it come to a boil.

Remove the saucepan from the heat and stir in cinnamon, salt, and apple cider. Pour the mixture into an airtight container like a mason jar. Store in fridge until you're ready to use.
Pie Crust Cookies
Put flour, sugar, cinnamon, and salt in the bowl of a food processor, and pulse to combine.

Add small pieces of butter to the flour mixture. Process for about 10 seconds, until the butter resembles peas.

Slowly add 1/8 cup of the ice water to the mixture while continuing to process, just until the dough holds together. Take care not to over process. If more water is needed, slowly add remaining 1/8 cup.

Take dough from food processor, flatten on counter, wrap in plastic wrap, and chill for about an hour.

Pre-heat oven to 375 degrees.

On a lightly floured surface, roll the pie crust dough into a large round, about 1/4-inch thick. Cut dough into shapes of your choice and place them about 1/2-inch apart on a parchment paper-line cookie sheet. Gently beat the egg in a small bowl and brush egg wash on top cookie dough. Sprinkle additional sugar or cinnamon over the top. Bake for 10-12 minutes, until starting to turn golden brown.

Place on a wire rack to cool completely. Once cooled, store in airtight containers until ready to use.
Notes
If you want to enjoy this apple pie ice cream without all the steps, feel free to buy store-bought caramel and cookies. You can also purchase pre-made pie dough to cut shapes out of and bake.