This pumpkin ice cream is made even better with white chocolate chips and a pistachio swirl. You'll find yourself craving homemade ice cream all fall long!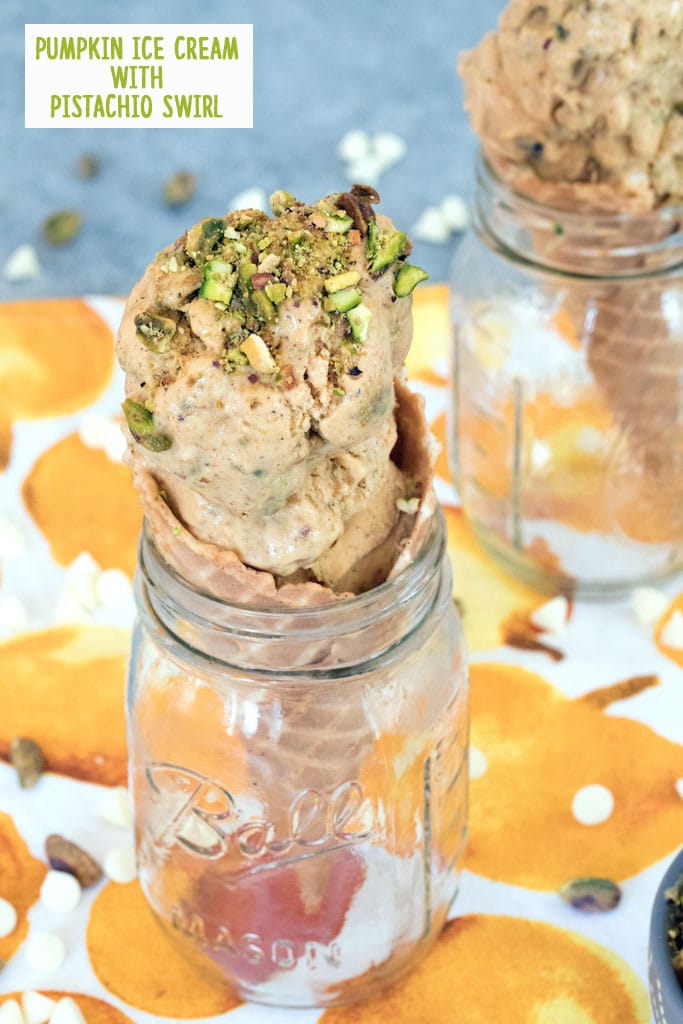 True life: I only eat ice cream out of an ice cream cone when I'm at home. Preferably alone. I have a serious anxiety about ordering ice cream cones when I'm out and while I know that might sound crazy, you should just trust me that eating ice cream out of a cup will save me a lot of embarrassment.
I'd rather sit and leisurely enjoy my dessert with a spoon than have to frantically lick ice cream as it's dripping down the cone and onto my hands and inevitably, my clothes, too. Because that's what ALWAYS happens. No matter how many napkins I wrap around it or how carefully I plan my attack.
But still, there's something so joyful and childlike about holding an ice cream cone that it makes me a little bit sad I don't enjoy them more. Hence, homemade ice cream out of a cone while at home.
As a kid, it's not very likely that I would have chosen this flavor of ice cream as my top choice. Pumpkin?? And nuts?? Why bother when I could have chocolate and sprinkles and marshmallow and yup… Bubblegum. You know bubblegum ice cream is pretty much the worst invention ever, but when you're a kid, it's so amazingly perfect.
But now that I'm a little bit older and pumpkin has become such a thing (isn't it crazy that pumpkin spice wasn't always so popular??), this ice cream is right up my alley. Once terrified of nuts coming anywhere near my ice cream, I'm now swirling them in and adding more on top. My 8-year-old self would be so disappointed (she'd be saying, "wow, you put nuts in your ice cream and eat it out of a cup?? You're lame.")
PUMPKIN ICE CREAM WITH PISTACHIO SWIRL RECIPE
I knew I wanted to incorporate pistachios into this pumpkin ice cream because pumpkin and pistachio felt like the perfect fall pairing. But I didn't want to just toss them in. So I made a sort of pistachio paste, with ground up pistachios, sugar, and milk, and swirled it into the ice cream. I also added in white chocolate chips because I wanted a little extra pizazz.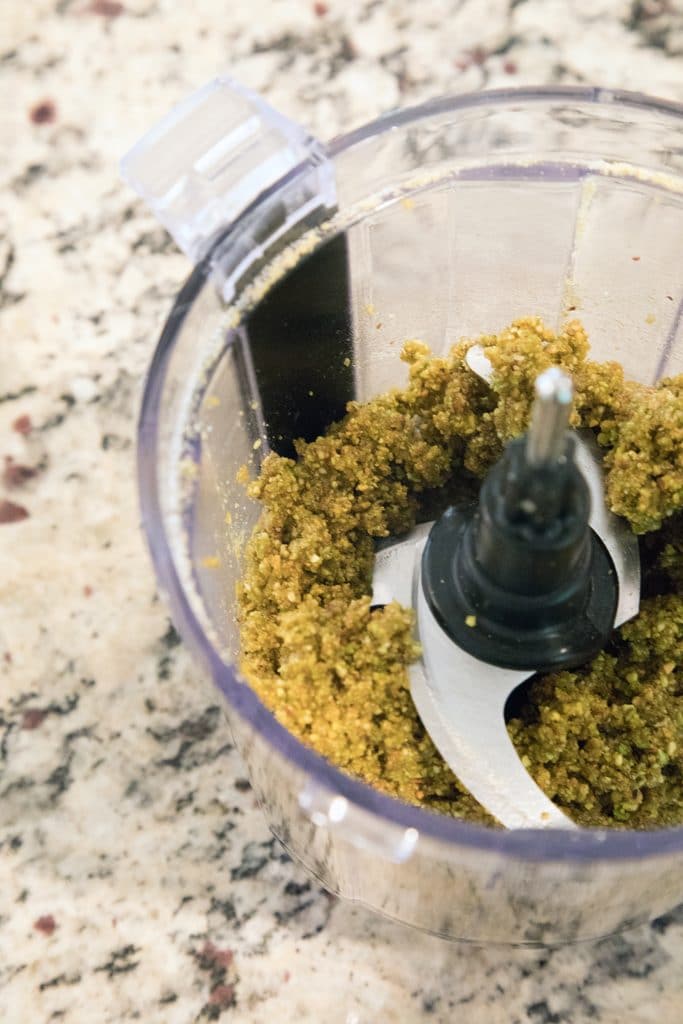 I truly believe that homemade ice cream is tastier than anything store-bought, but that sentiment is even more true for pumpkin ice cream than any other flavor. A lot of the pumpkin ice cream you buy in the store is artificial tasting and overly sweet. Who knows if there's even pumpkin involved! But homemade ice cream has such basic, simple ingredients… Really just cream, milk, sugar, eggs, spices, and actual pumpkin puree.
This one is easy to mix up and involves a simple custard base with pumpkin and lots of fall spices blended in.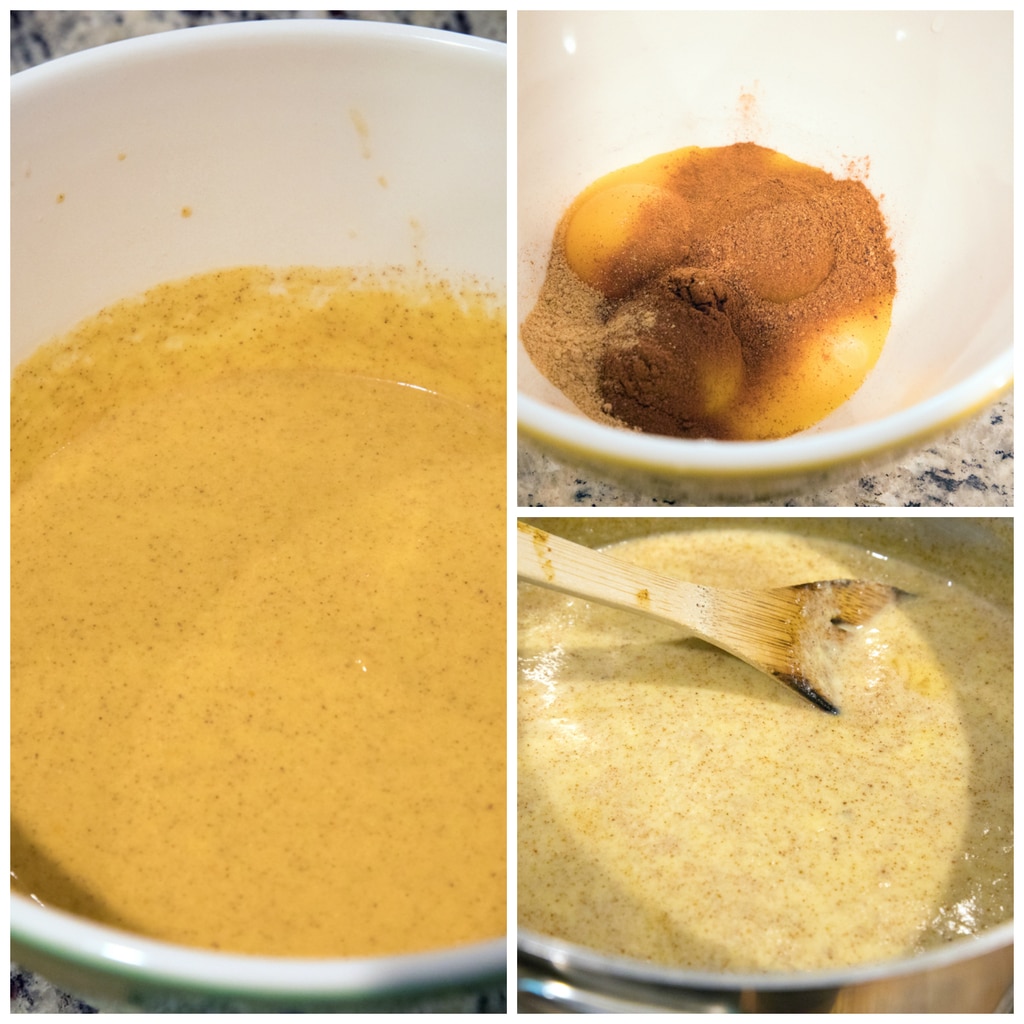 Like I always say, the most difficult part of making homemade ice cream is all the wait time involved. I need a freezer with super powers that will allow me to make ice cream in an instant. To be fair, my freezer does have some sort of super Arctic power setting, but I can't quite tell if it actually makes a difference.
In any event, just have a little patience and you will soon be awarded with a glorious cone of pumpkin ice cream with pistachio swirl.  With extra pistachios crumbled on top, of course.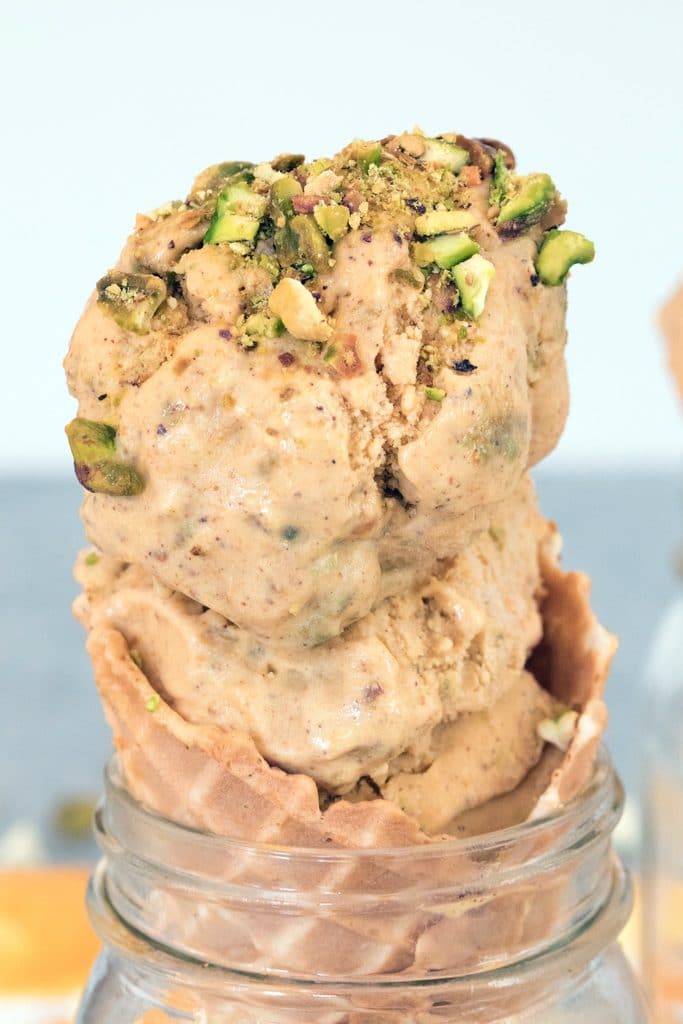 But I'll totally understand if you choose to enjoy this pumpkin ice cream from a cup with a spoon. Ice cream cones are especially rare in the colder months, but there's something so fun about sitting on the couch with a cone. Though I do recommend you also wear a bib or spread a tarp on your carpet. Just me? I can't be the only ridiculously messy eater around, right?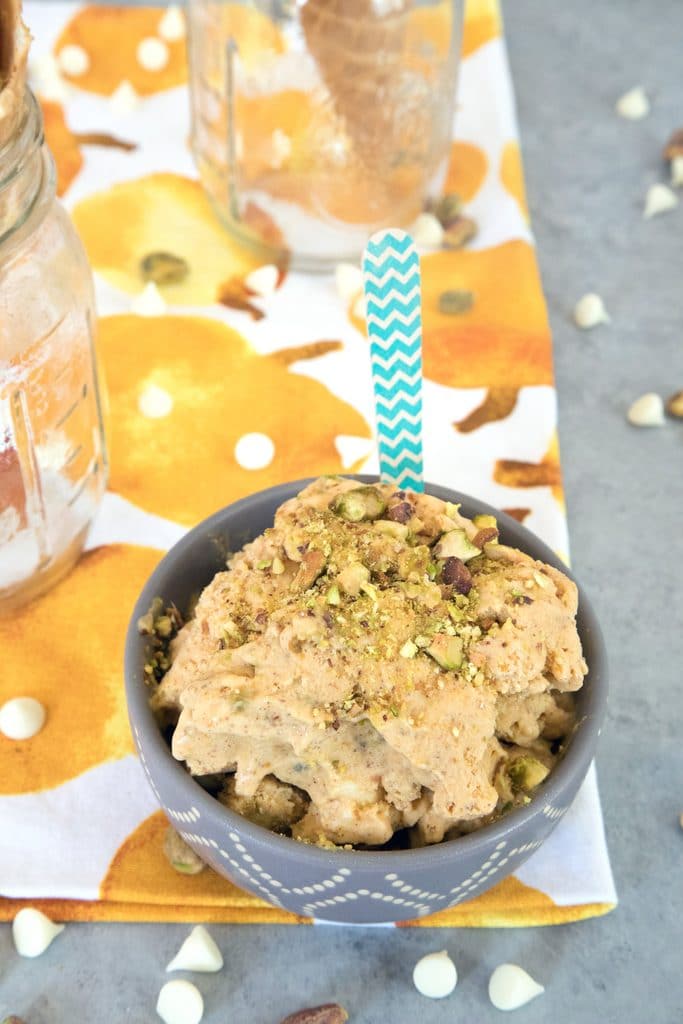 I'm pretty sure I end up making more homemade ice cream in the fall and winter months than in the summer months. There are just so many cold weather flavors that have me making sure my ice cream maker bowl is in my freezer and at the ready at all moments. Pumpkin ice cream is one of my favorites, but this Blood Orange Ginger Dark Chocolate Ice Cream is never far from my thoughts. And Apple Pie Ice Cream with Cider Caramel? Omg yes. Oh, and by the way, this Triple Gingerbread Ice Cream is on my list for an update in the very near future. Festive ice creams are life.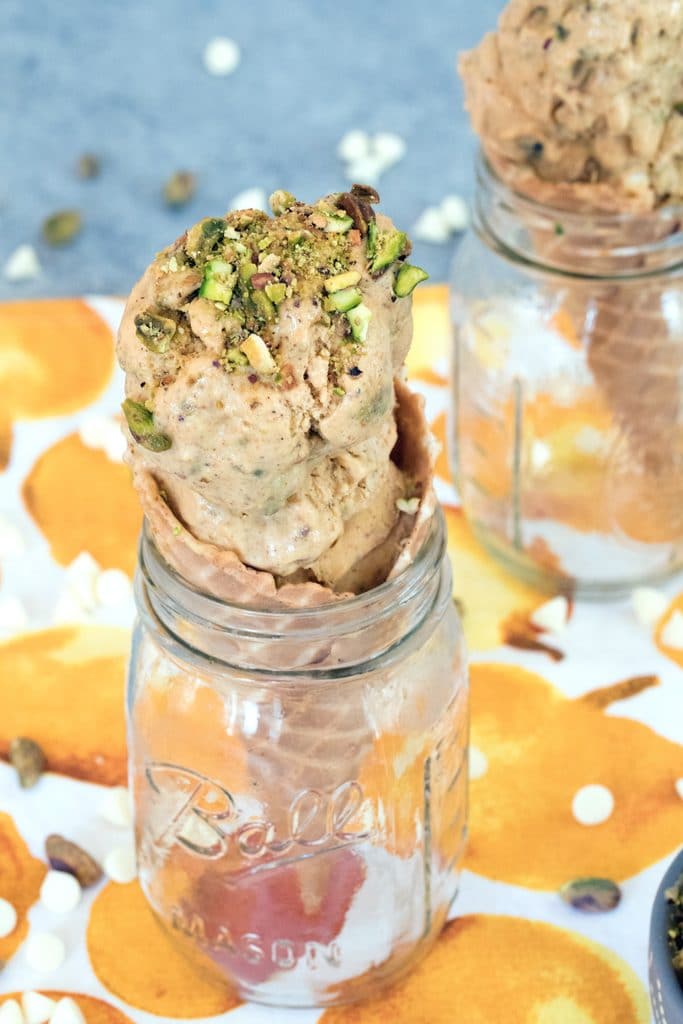 I feel like even if you think you don't like nuts, that there's a very high chance you'll still like pistachios. They're the best nut around and there's nothing better than obtaining a bag of already shelled pistachios and eating them by the handful. Or you know, making a pistachio paste and then crumbling the extra over giant scoops of pumpkin-y ice cream.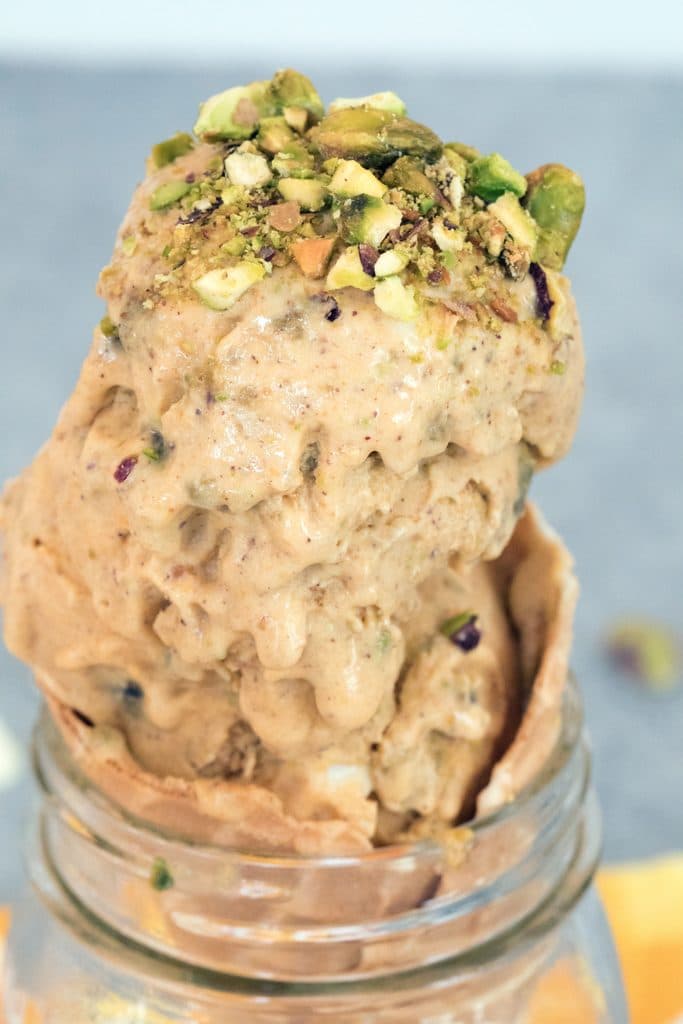 I hope that you're still enjoying pumpkin season just as much as I am, though I'm already gearing up for the holidays (believe it or not, Thanksgiving is just 4 weeks away!) and will have my first holiday recipe coming at you later this week! As far as I'm concerned, it's always ice cream season and there will be plenty more of that around these parts in the coming months… Especially in cones while I sit on the couch in my pajamas and try not to get ice cream on the rug.
Are you a cup or a cone person?
If you chose neither (lol), maybe you should check out these Pumpkin Spice Ice Cream Treats from House of Elyn Ryn… No cone or bowl required!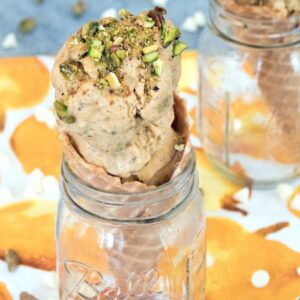 Print Recipe
Pumpkin Ice Cream with Pistachio Swirl
Pumpkin ice cream is made even better with white chocolate chips and a pistachio swirl. You'll find yourself craving homemade ice cream all fall long!
Ingredients
I ½ cups heavy cream

1

cup

whole milk

3/4

cup

granulated sugar

3

large egg yolks

1

tsp

cinnamon

¼

tsp

ginger

¼

tsp

nutmeg

¼

tsp

salt

1/2

cup

pumpkin puree

1/4

cup

white chocolate chips

1/3

cup

pistachio swirl

(recipe below)
Pistachio Swirl
3/4

cup

shelled pistachios

3

Tbsp

granulated sugar

1 1/2

Tbsp

whole milk
Instructions
In a medium saucepan, heat cream, milk, and sugar over medium heat. Stirring constantly, let mixture reach just the point of simmer before removing from heat.

Lightly whisk egg yolks, cinnamon, ginger, nutmeg, and salt in a separate bowl.

Slowly pour about half of the warm cream/milk mixture into the bowl with the yolks, whisking continuously. Then pour egg/cream mixture back into the saucepan with the rest of the cream mixture.

Continue to cook over low heat, while whisking. When the mixture thickens enough to coat the back of the spoon, after about 4-6 minutes, remove the saucepan from heat.

Strain cream mixture into a bowl.

Stir in pumpkin puree until completely blended.

Cover bowl with plastic wrap so that plastic is touching top of cream mixture (this will prevent a skin from forming). Refrigerate until chilled, at least 4 hours.

Once mixture is chilled, freeze in an ice cream maker according to the manufacturer's instructions. When ice cream is almost frozen, mix in white chocolate chips and pistachio swirl.

When ice cream is frozen, remove to airtight containers and place in freezer for at least 4 hours to continue to harden.
Pistachio Swirl
Pre-heat oven to 350 degrees.

On a foil-lined baking sheet, lay pistachios in a single layer and place in oven for about 8 minutes, until lightly toasted.

Remove from oven and let cool. Once cool, remove skins from pistachios.

Place pistachios and sugar in a food processor and pulse until finely ground.

Add milk and run food processor until mixture turns into a smooth paste.

Remove to a separate bowl until ready to use.