Though I'm somewhat of a creature of habit, I try really, really hard not to be. I believe in a healthy balance. Which means that while I may crave risotto every single week (along with flatbread), I try to make it different every time I make it. Variety is the spice of life after all, yes?
After realizing I had a plethora of bacon in the fridge (nothing wrong with that), I started wondering why I never made a risotto with bacon in it. I came across tons of BLT risotto recipes all over the interwebs and decided to make one of my own. Only, I figured basil would work better than lettuce. Just like it was the perfect night for Chels to make chili, it was the perfect night for me to make risotto. Chilly, rainy, and all-around gross.
Also, I say this EVERY TIME, but risotto is NOT hard to make. It's actually super duper easy and I made this after a long day when I really didn't feel like being in the kitchen. Sure, you have to stir it a bit, but other than that, it's incredibly simple. Do it. And then tell me I'm wrong. You won't. It's not possible.
Bacon, Basil, and Tomato Risotto (Serves 2 as meal or 4 as side):
3 slices thick-cut bacon
3 cloves garlic, chopped
1 jalapeno, chopped
3/4 C arborio rice
1/2 C dry white wine
2.5 C chicken broth
2 medium (or 3 small) tomatoes, chopped
Small bunch of basil, chopped
1/2 C parmesan cheese, grated
Chops your bacon into bite-sized pieces. But don't eat it yet. It's raw.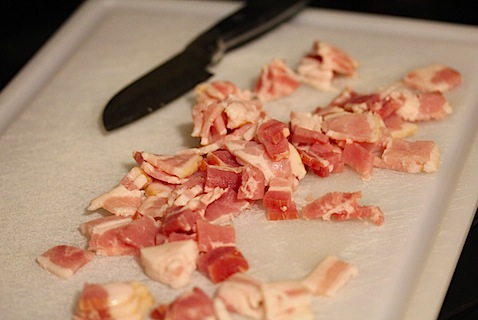 Put the bacon in the saucepan you're going to cook the risotto in. Cook the bacon until it's just about crispy. You'll probably want to stir it a bunch so it just doesn't burn.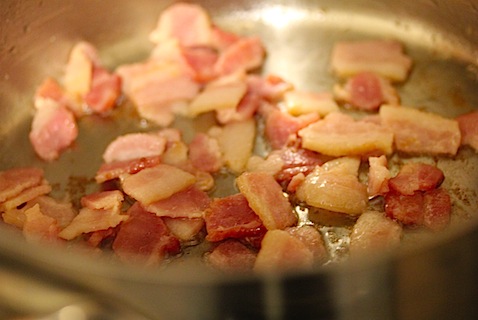 Once the bacon's done, remove it with a slotted spoon to a plate covered with a paper towel.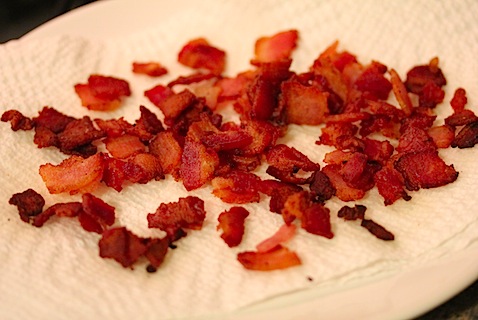 Drain oil from pot until you have about 1 T left. Turn your heat to medium-low and then throw in your garlic. Stir it or it will get a bit burnt, like mine did. You'll want it to cook for about 30 seconds to 1 minute.
I need to take the time to say- BRILLIANT. You won't have to add oil or butter to this risotto. Because you've got bacon fat!!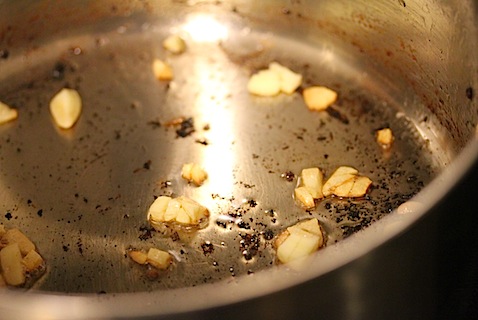 While the garlic was cooking, I threw in the chopped jalapenos, too.
At this point, you'll also want to pour your chicken broth into a separate saucepan and bring it to a boil. Once it's boiling, lower the heat and keep it at a simmer.
Now, measure out your arborio rice and put it in the saucepan with the garlic and jalapeno. I only did about 3/4 C, but next time I'm doing more (because it was really good!).
Cook the rice for about one minute, stirring a bit, until it's translucent around the edges.
Add in your 1/2 C of white wine. Then pour yourself a glass. You deserve it.
Scrape up all that good stuff from the bottom of the skillet. Stir a bit until the wine is totally absorbed.
Then add about 1/2 C chicken broth.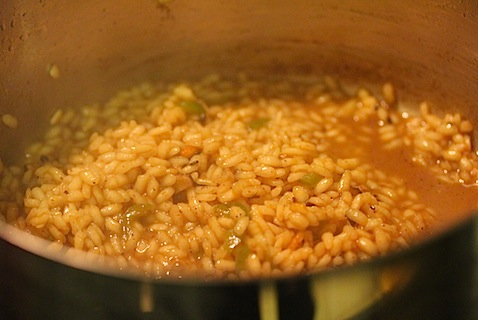 And let that absorb, too. Keep adding more chicken broth and letting it absorb. Make sure you stir occasionally, too, so the rice doesn't end up sticking to the pot.
Once you've used all the chicken broth, you can add in your tomatoes. Cook them for a couple minutes while stirring.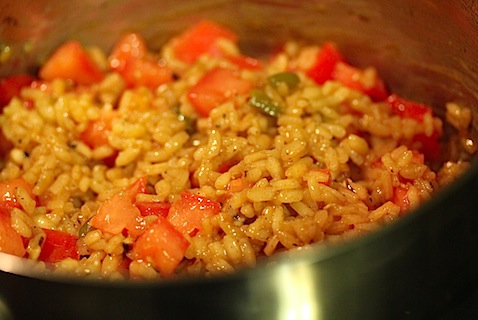 Then toss in the bacon, basil, and parmesan cheese.
And stir it all up!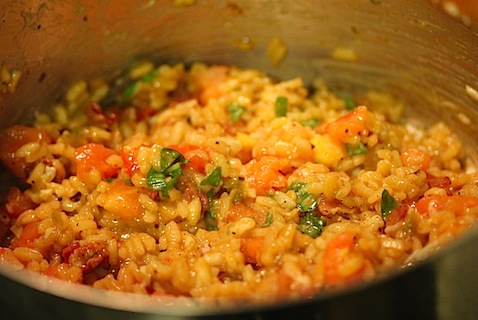 And that's all you need to do. That's it. Well, you might want to serve it in a bowl or on a plate. Because at this point, your kitchen is going to smell really, really good. And it might be weird if you're eating it out of the pot and someone walks in.
Oh, normally you would add a bunch of butter here too. But it's totally not necessary.
I honest to goodness could live off of risotto. Especially when there's a little meat and some veggies involved— It's a complete meal! But it also makes the most excellent side dish.
This was one of the best risottos I've made yet. I mean, it had bacon, how could it not be? But I loved how fragrant and creamy it was, with the perfect amount of heat from the jalapeno. It had some summer flavors from the tomatoes and basil, but also reminded me a lot of fall.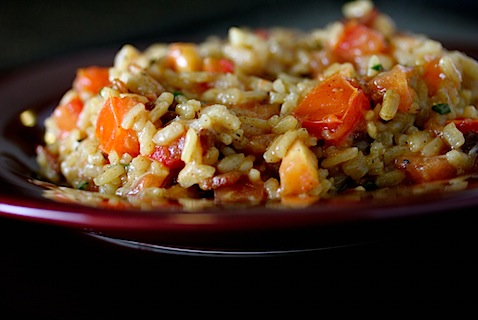 Not that the risotto isn't beautiful-looking, but in other, cuter news, I saw the lovely Mitzi today. I had to play around with the new camera a bit since Mitzi is the most photogenic dog ever.
I can't get over her cuteness!
Also, it's still rainy and gross and I my risotto leftovers again tonight. Just as delicious!
What's your favorite kind of risotto?
[Sues]