These jello shots are not what you remember from your college days... I scoured the internet to bring you the very best jello shots recipes perfect for making for New Year's Eve or for any celebratory occasion!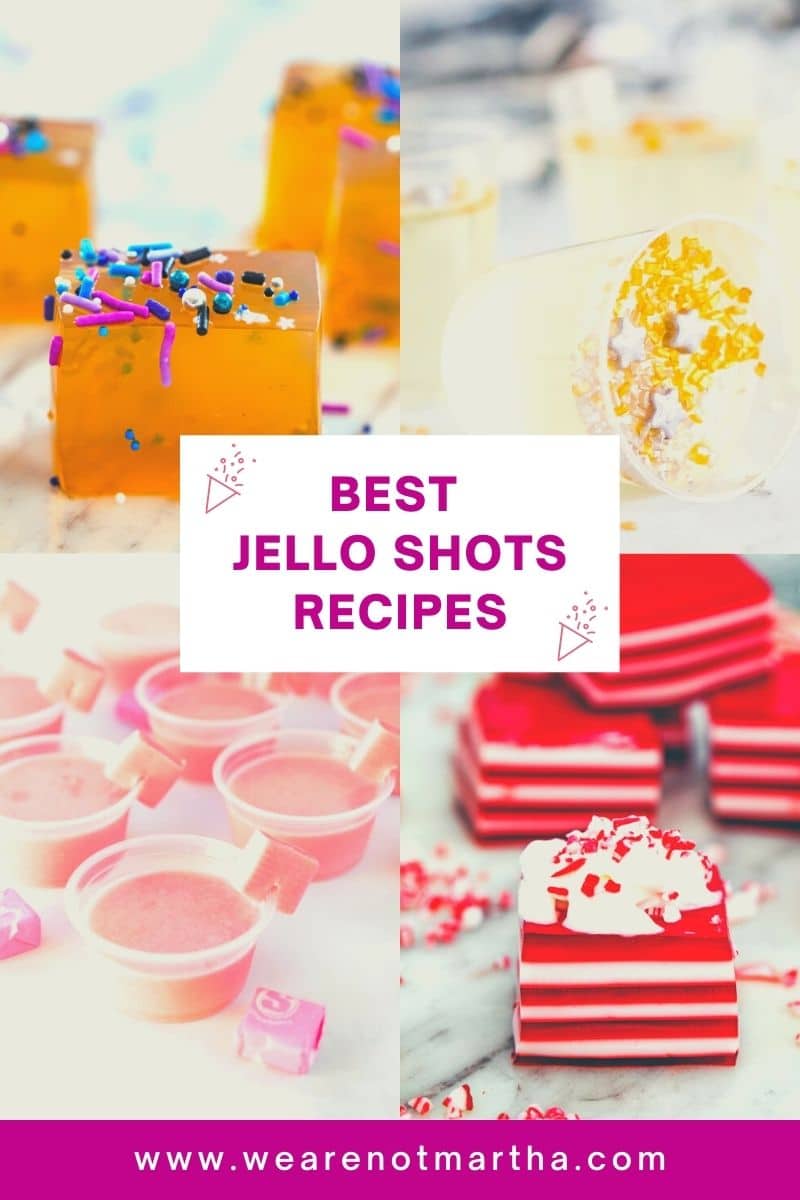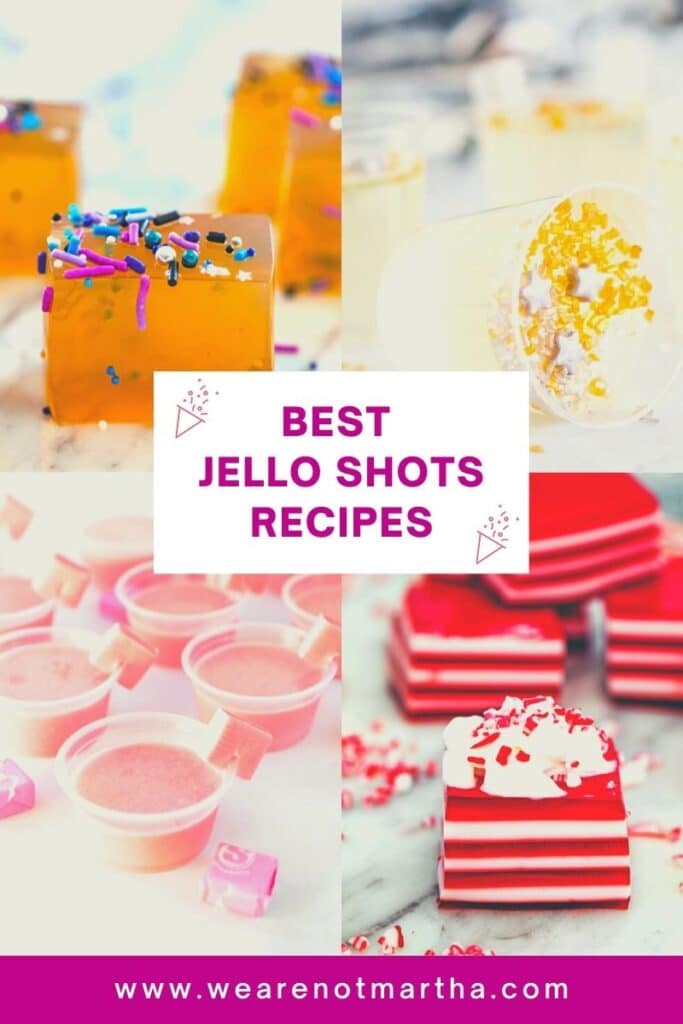 We're getting close to the end of the year and you know what that means... New Year's Eve celebrations! No matter how you're celebrating this year, homemade jello shots will add a little fun to your evening.
But wait! Before you click away, you should know that these jello shots recipes are not the jello shots you had in college. They're much classier, much more creative, and much more adult-like.
There are so many different ways to make jello shots and this collection of ideas should give you a great starting point for making the best jello shots ever.
All of the jello shots you see here are perfect for New Year's Eve... But most of them also work for any party you have throughout the year!
Which creative jello shot will be your first pick?
Butterscotch Jello Shots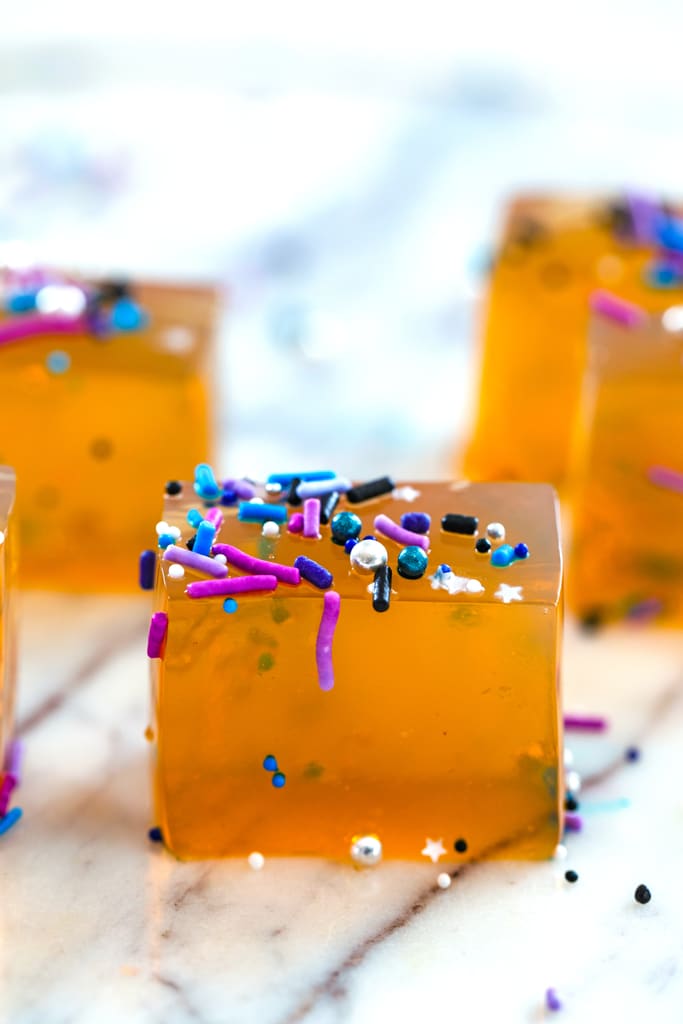 These Butterscotch Jello Shots taste just like the Butterbeer Harry Potter and friends enjoy from Hogsmeade. Made with cream soda, vanilla vodka, and butterscotch schnapps and topped with fun sprinkles, it's hard not to fall in love with these!
Champagne Jello Shots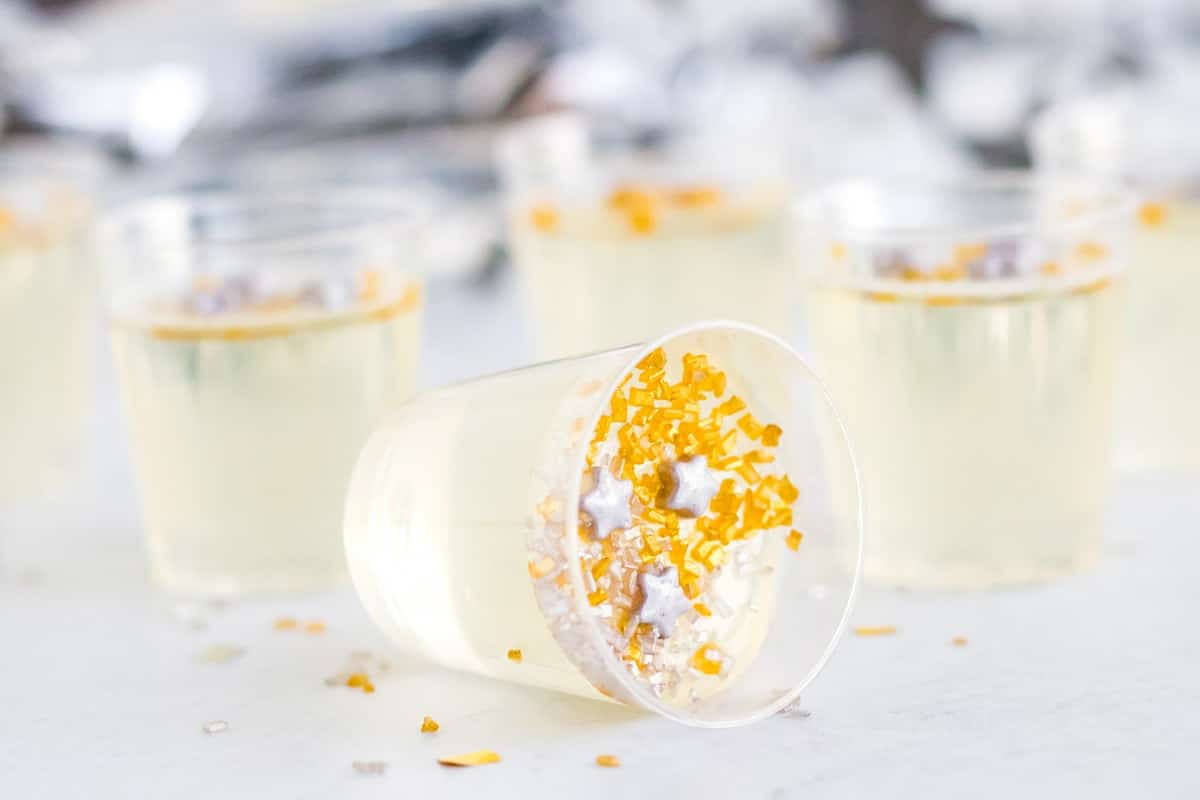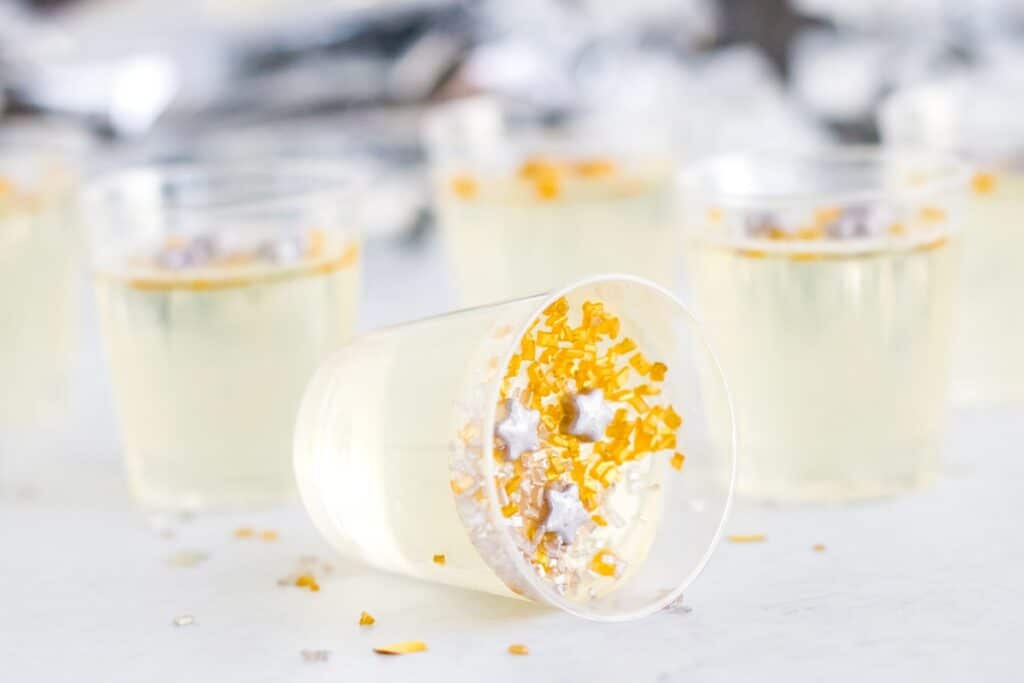 Could there be a more perfect jello shot for New Year's Eve? In addition to sparkling wine, these Champagne Jello Shots are made with lemon sparkling water and vodka. The perfect way to cheers come midnight!
Pink Starburst Jello Shots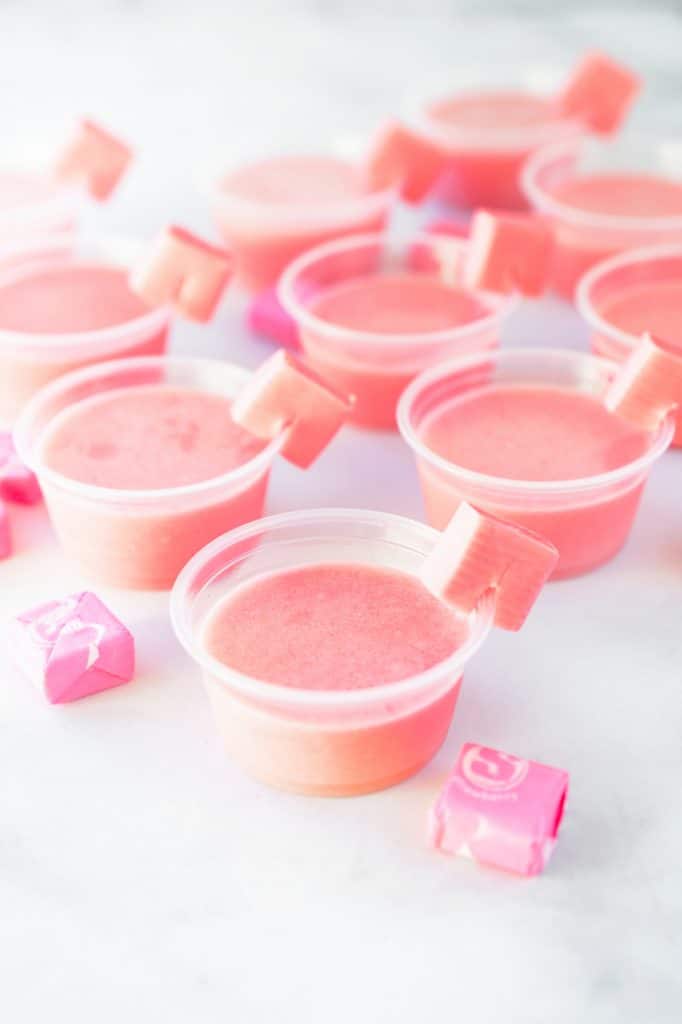 Everyone knows pink Starbursts are the best (OK fine, not everyone agrees, but many do!) and can you even imagine how delicious they are in jello shot form? These Pink Jello Starburst Jello Shots are made with strawberry jello and whipped vodka and something tells me I'd want to enjoy way too many of them!
Pumpkin Latte Jello Shots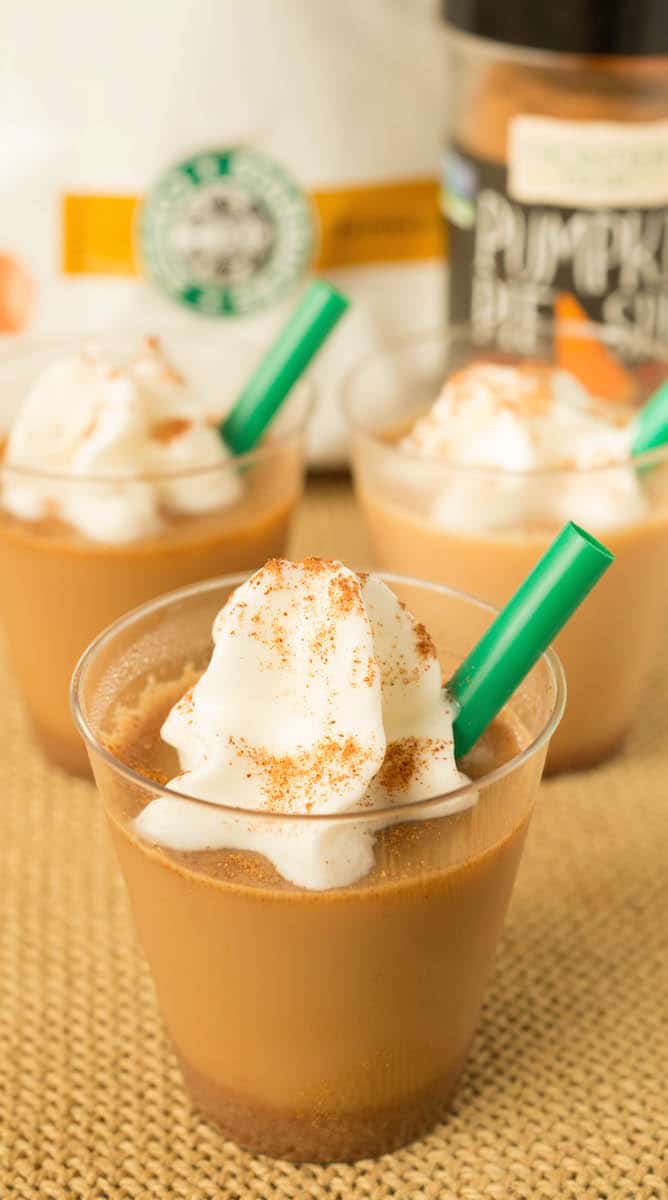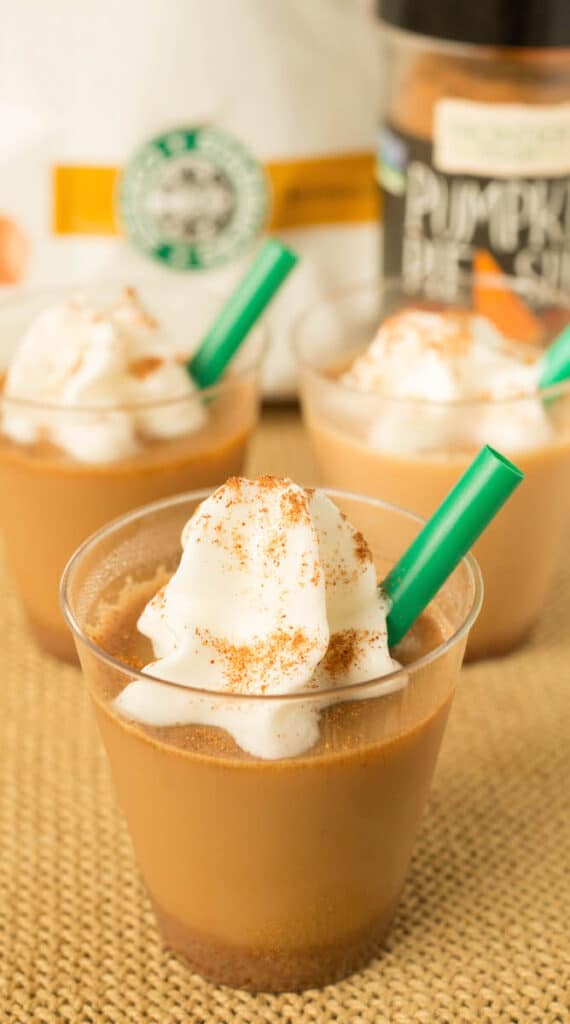 It doesn't matter that it's December... It's always a good time for a pumpkin spice latte! And these Pumpkin Spice Latte Jello Shots are absolutely adorable. Made with caramel coffee and plenty of pumpkin spices, these are even more fun than a typical PSL!
Watermelon Jello Shots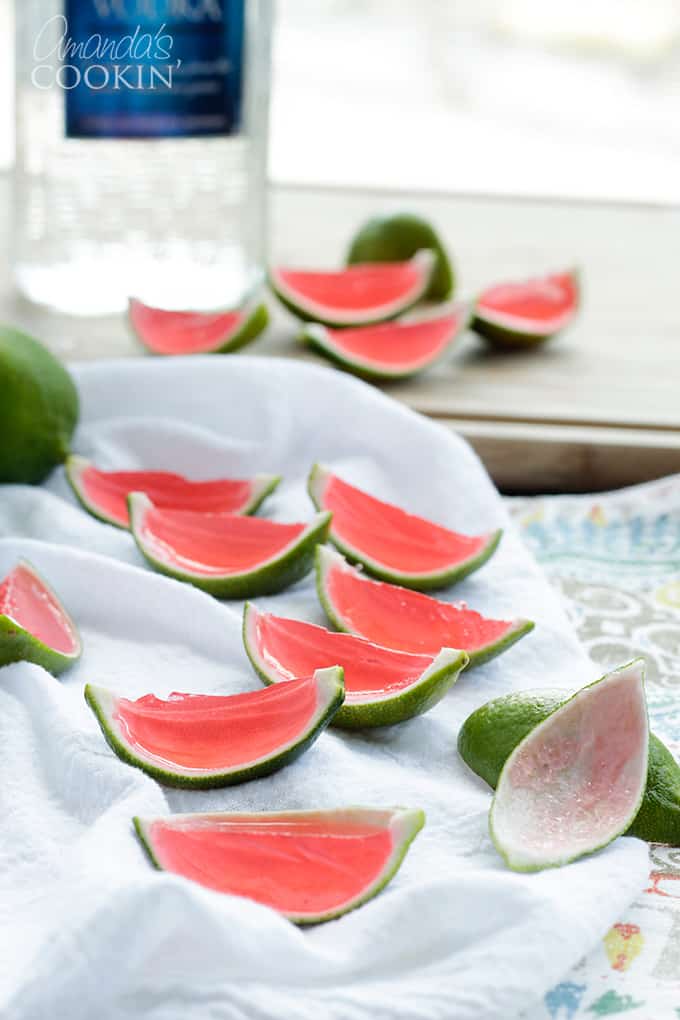 You can either make these pretty Watermelon Jello Shots in an actual watermelon (with the fruit scooped out) or in lime rinds. Either way, this jello shots recipe will bring a little touch of summer to your celebration.
Grinch Jello Shots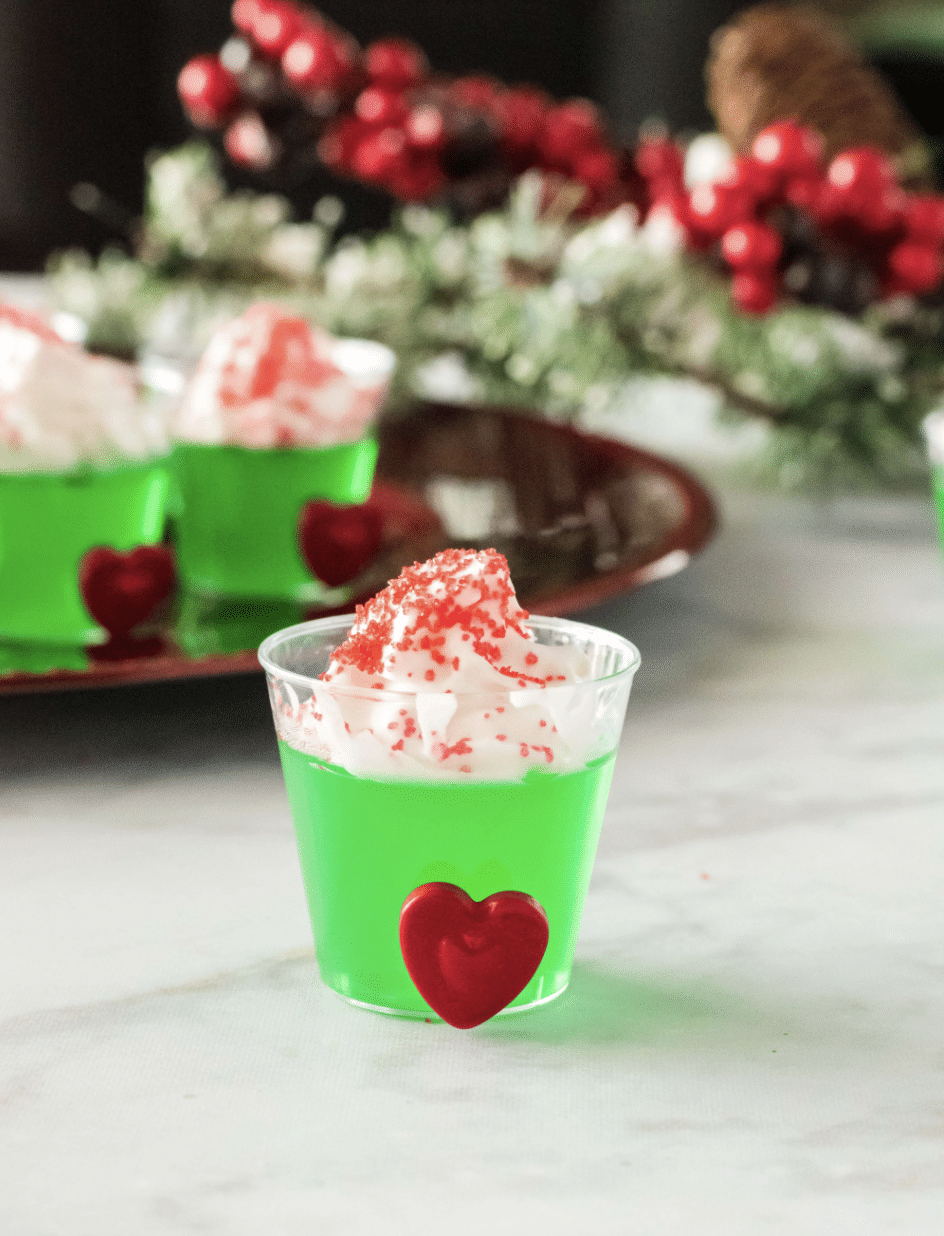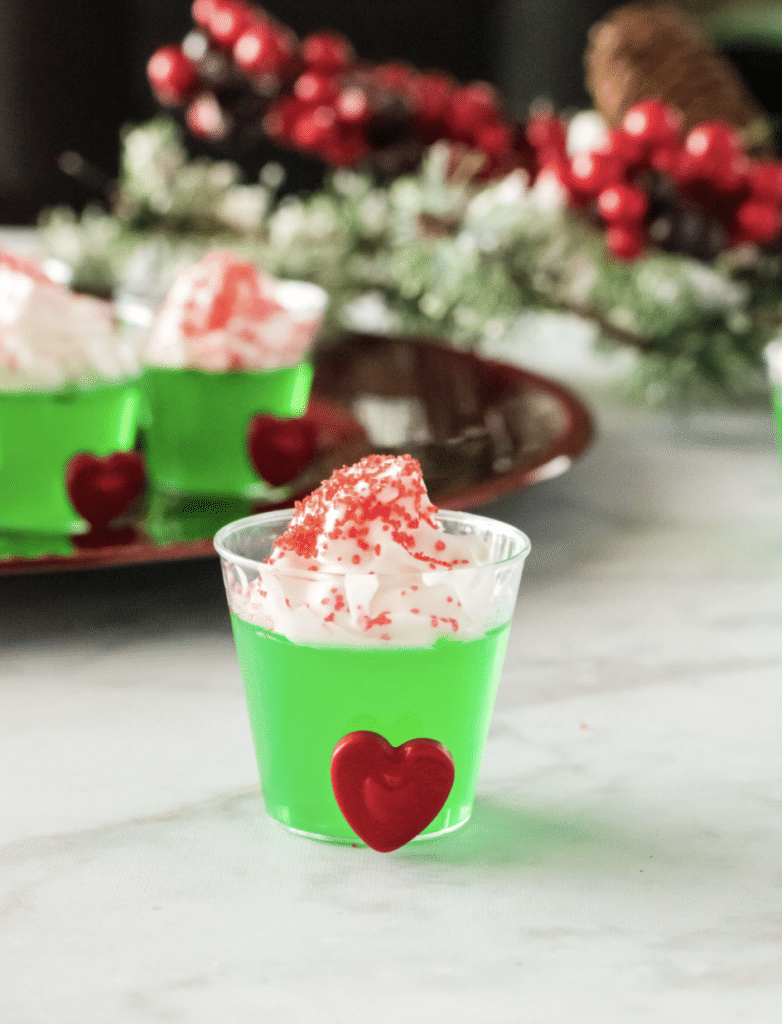 Of course, these Grinch Jello Shots aren't for kids (though they can be made without alcohol!), but they're just too cute to resist. They're made with green jello and will likely bring you much more joy than the Grinch would!
Candy Cane Jello Shots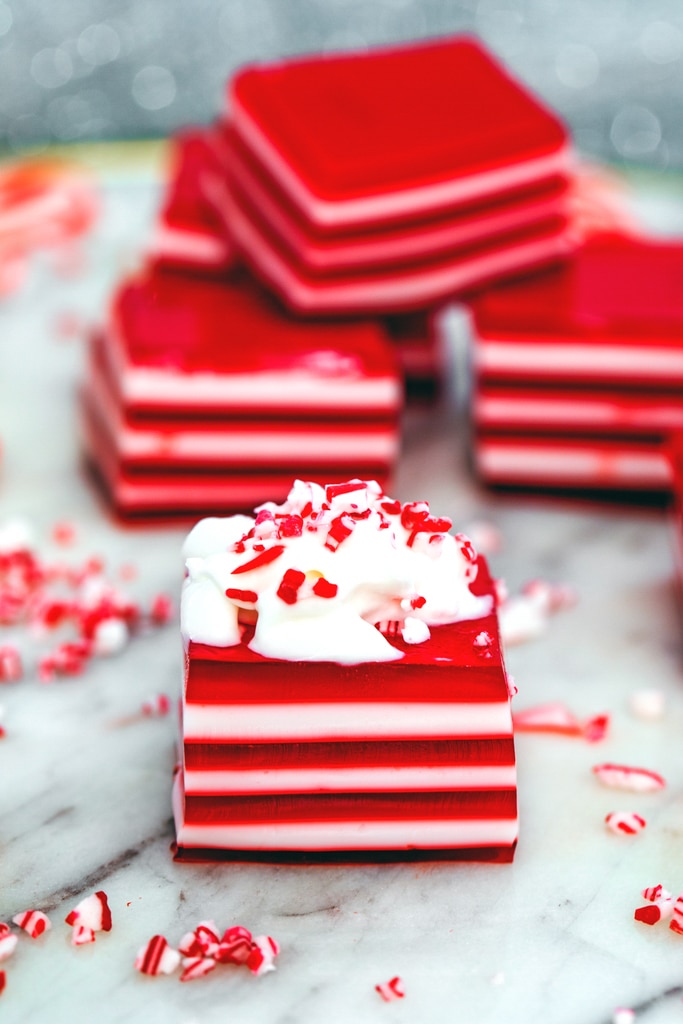 With Christmas over, chances are you have a lot of leftover candy canes lying around. Crush them up and use them to top these Candy Cane Jello Shots. I love a good layered jello shot and this jello shots recipes is easy and fun!
Margarita Jello Shots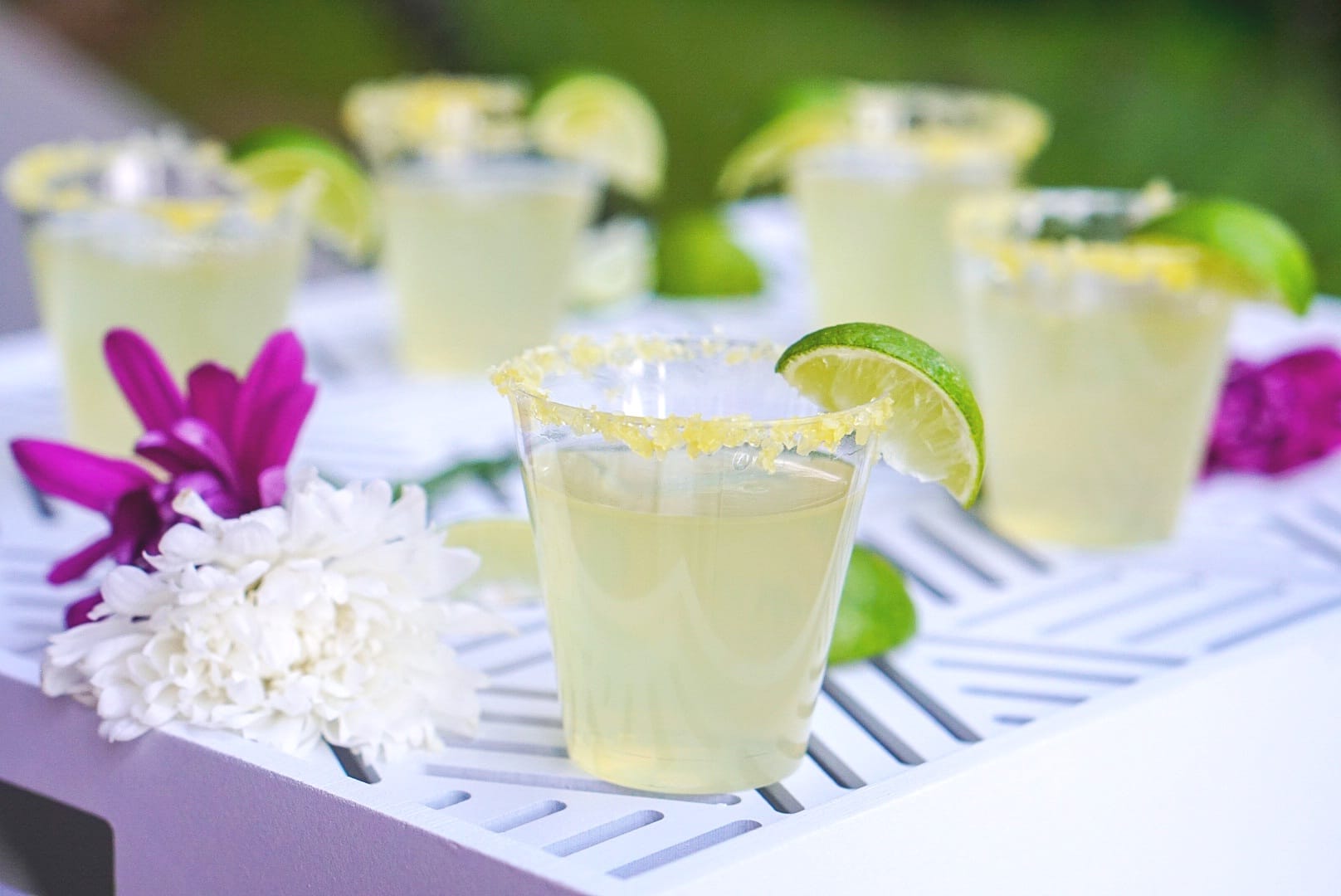 What's better than a margarita? Margarita Jello Shots! Made with margarita mix and tequila, these jello shots are made in cups with salted rims and are a nice departure from the typical vodka jello shots.
Bailey's Jello Shots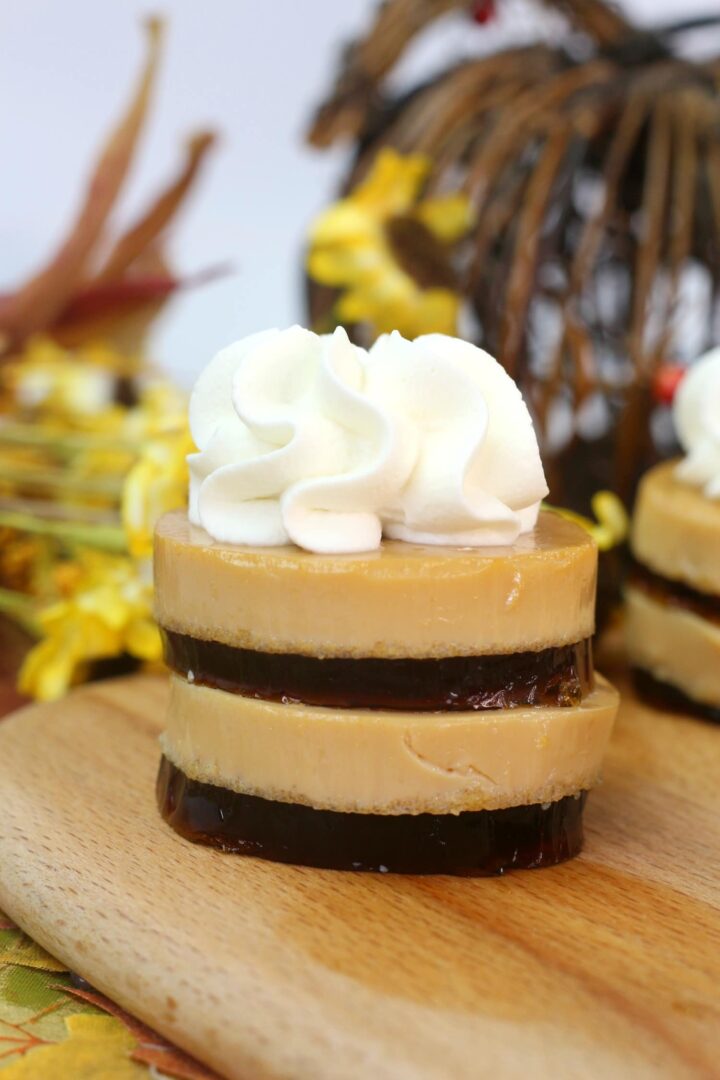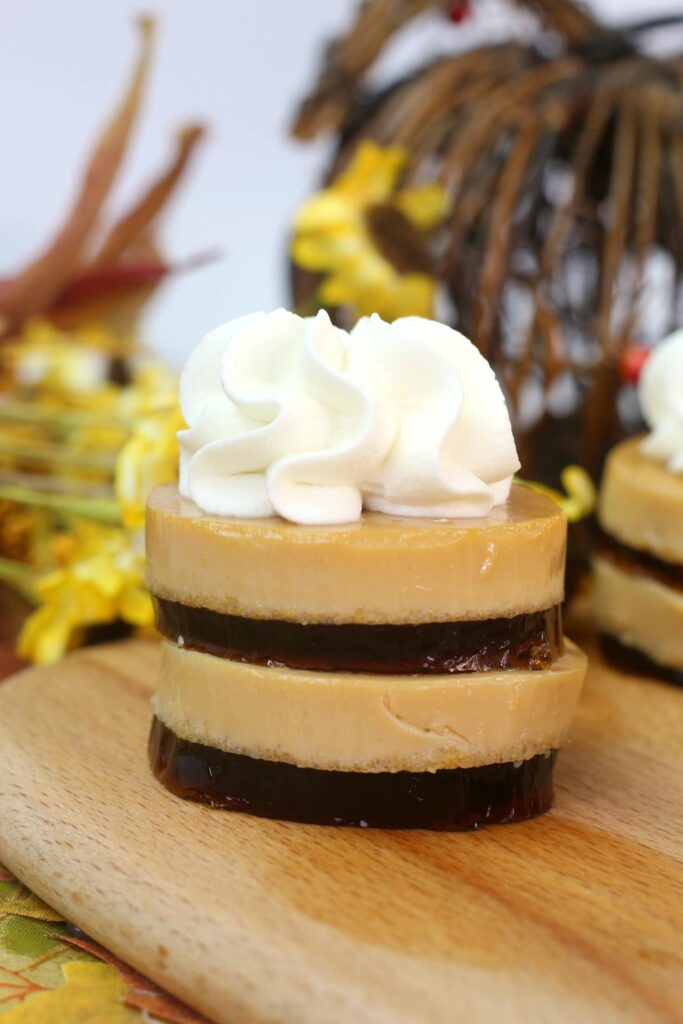 Bailey's Irish Cream is delicious in pretty much any cocktail, but have you ever had a Bailey's Jello Shot? They're a dessert and cocktail all in one and the perfect party treat!
Strawberry Jello Shots with Rosé and Lime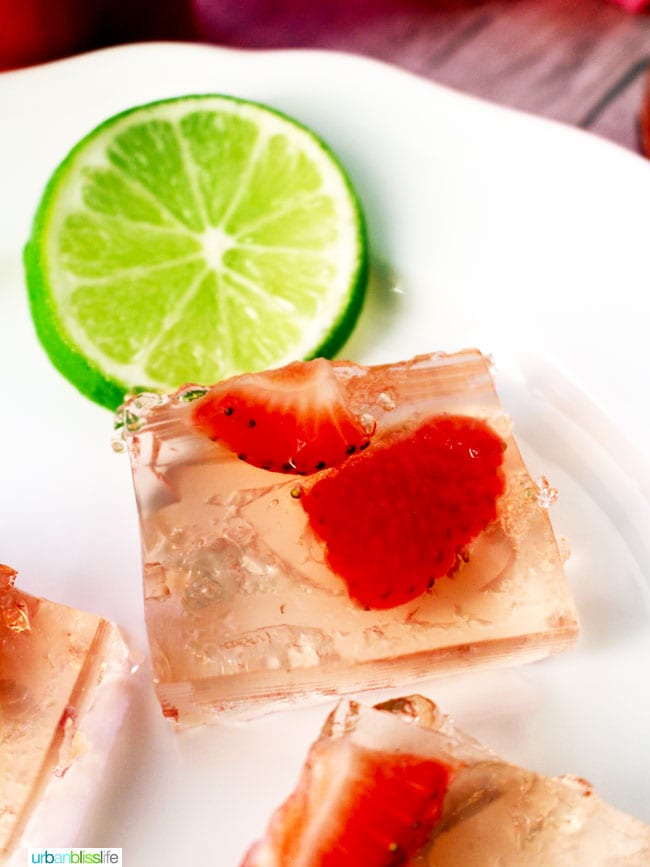 There's no better way to ring in the new year than with a glass of rosé... Unless that rosé is in jello shot form! These Strawberry Jello Shots with Rosé and Lime are the perfect combination of refreshing and festive!
Blue Hawaii Jello Shots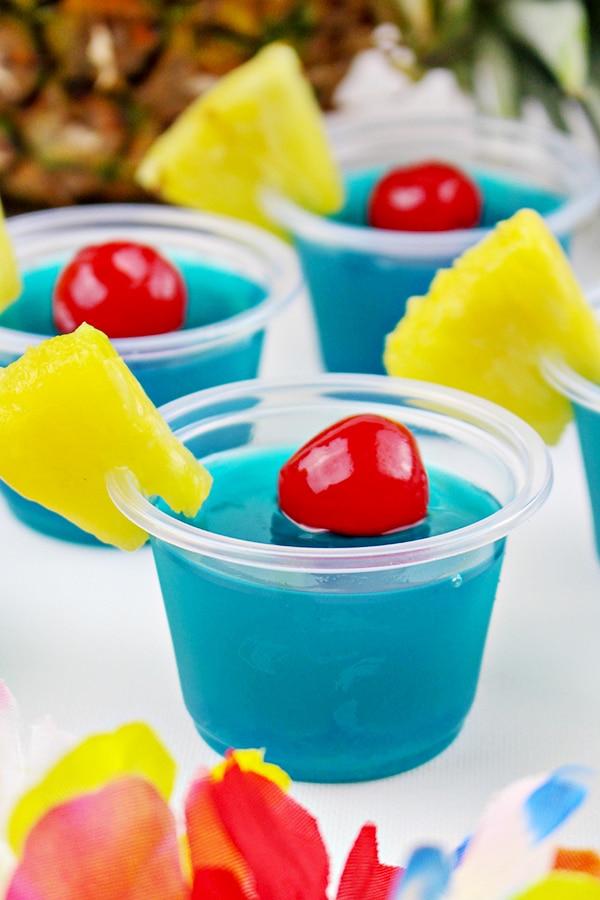 If you want to bring a little tropical feel to your celebration, these Blue Hawaii Jello Shots are perfect! With a combination of pineapple juice, Malibu, and Blue Curacao, you'll feel like you're on a beach with this jello shots recipe!
Cherry Cola Jello Shots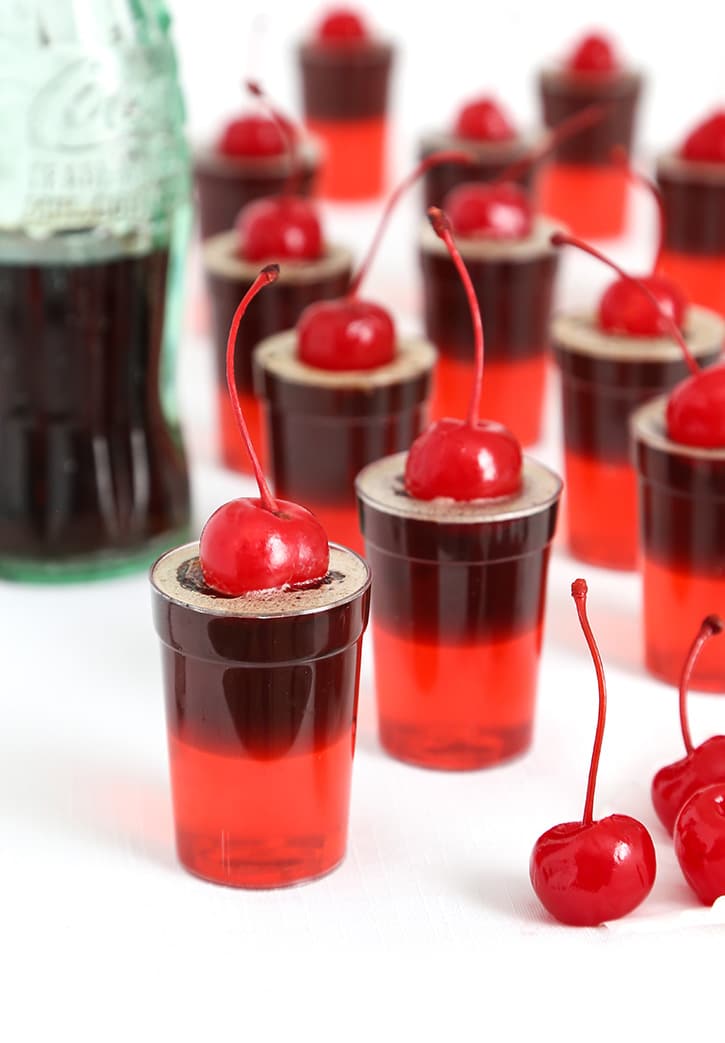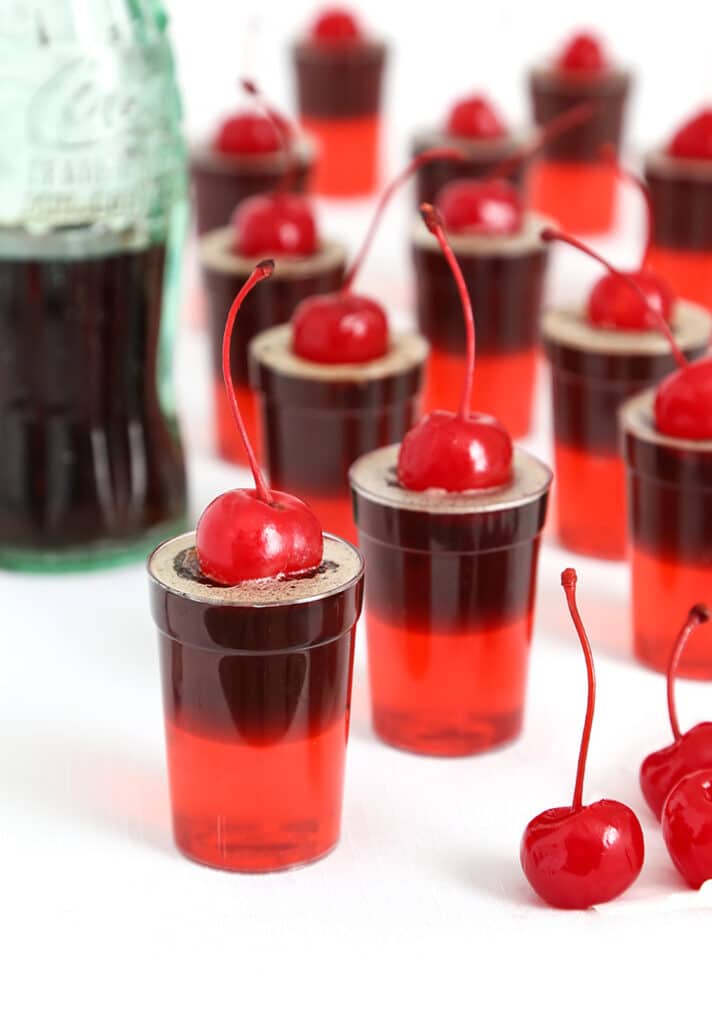 You could be sipping on cherry cola or you could be enjoying a Cherry Cola Jello Shot! With a cherry cola layer and a maraschino cherry layer, these jello shots are made with rum and cherry liqueur.
Peach Jello Shots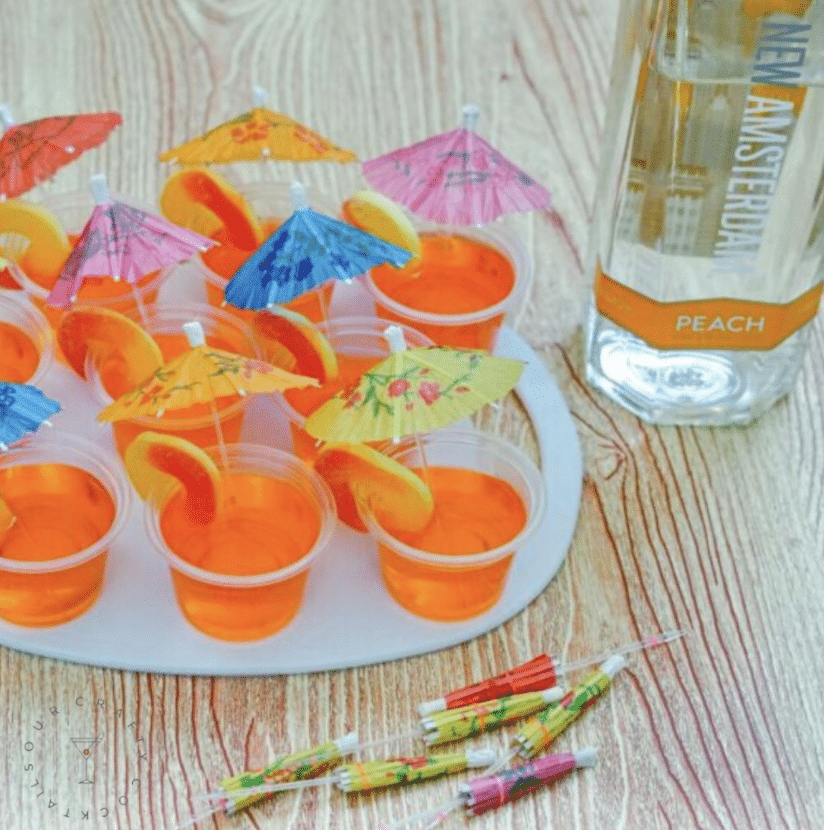 Peach jello, peach vodka, and peach rings (oh my!), these Perfectly Peach Jello Shots are clearly packed with peach flavor and are such a fun color.