Let's get right down to business. While eating this sweet potato chili for dinner last week, I happily exclaimed to Chris, "This is a super healthy meal!" He gave me a look and replied, "No, it's not. It can't be. It doesn't taste healthy. There's no way this is healthy!" Boom. When you make a meatless chili that's incredibly satisfying, filling, and delicious, you have a make over and over again dish on your hands. This sweet potato chili may not taste healthy, but it is! And that's the very best kind of healthy.
We woke up this morning to another big snowstorm on our hands here in Boston. The only good thing about more snow? Perfect chili eating weather! And this recipe makes plenty, so you can stick some in the freezer for a later, snowy date. Really, I don't mind the snow much at all since a) I work from home, b) I live in an apartment complex and don't need to shovel, or even go outside, c) I don't drive in Boston and we have a garage for Chris's car, and d) I have super warm, comfy Sorel Joan of Arctic boots and lots of other fabulous winter-gear. So really, I have no right whatsoever to complain. Plus, snow days are kind of fun when Chris gets to stay home and work with me!
This meal was seriously one of the easiest to make. Chop some veggies, open some cans of beans, throw everything in a pot, and let it simmer. I was inspired by this recipe, but made lots of alterations. Like adding jalapenos, which gave the chili just the kick it needed!
Sweet Potato Chili (serves 6):
• 2 large sweet potatoes, peeled and chopped
• 1 red bell pepper, diced
• 1 jalapeno, chopped
• 1 T olive oil
• 1 large onion, diced
• 3 garlic cloves, minced
• 2 T chili powder
• 1 t cumin
• 1/2 t dried oregano
• 2 C water
• 1 can diced tomatoes in juice (14.5 oz.)
• 2 T tomato paste
• 1 can black beans (15 oz.), rinsed and drained
• 1 can kidney beans (15 oz.), rinsed and drained
• 2 T cilantro, chopped (for garnish)
• 1/2 avocado, chopped (for garnish)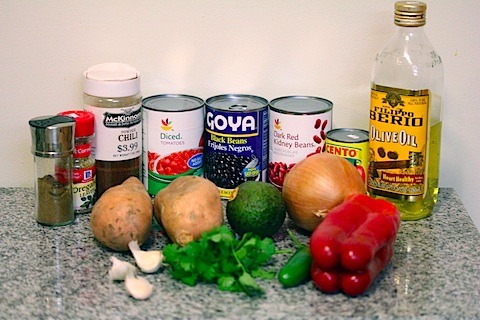 Really, the toughest part of this recipe was the chopping. I always like to get it out of the way before I begin anything else.
Sweet potatoes: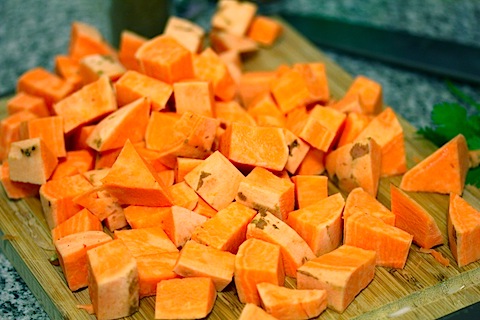 Peppers: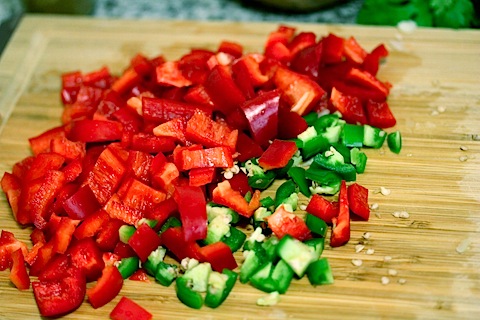 (and onion and garlic, too!)
Now, heat the oil in a large saucepan over medium heat and add the onion and garlic. Cook, while stirring, until the onions appear to be translucent, about 3 minutes.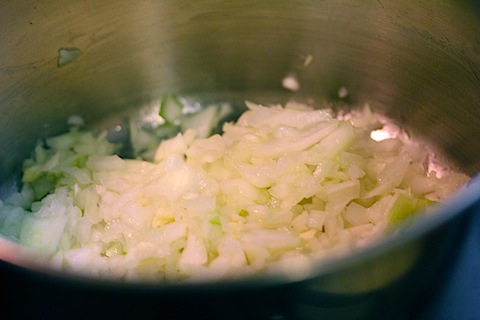 Then stir in the peppers and cook for about 10 more minutes. Don't forget to keep stirring! After 10 minutes, stir in the chili powder, cumin, and oregano and cook for another 2.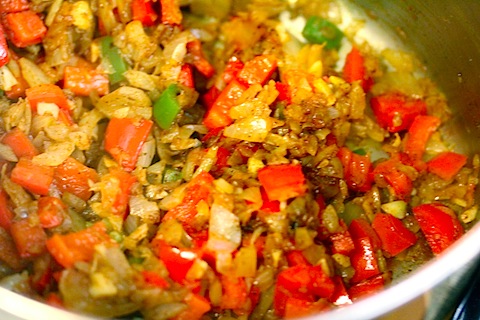 Ready for the next step? Add in ALL the other ingredients besides the garnish, obvi (cilantro and avocado). This includes (deep breath!) sweet potatoes, water, diced tomatoes, tomato paste, black beans, and kidney beans.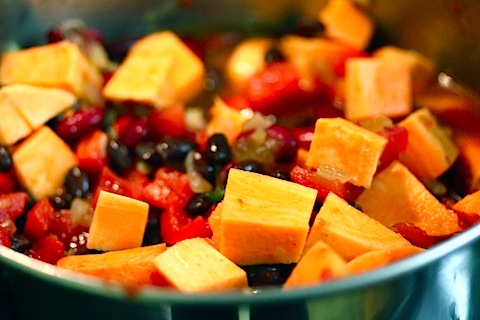 And bring the mixture to a boil. Hello, you just basically finished the whole recipe. I told you it was easy!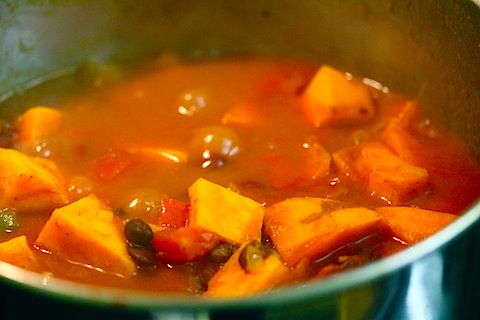 Then, lower to a simmer, cover, and cook it until the sweet potatoes are nice and tender. I simmered mine for about 25 minutes.
Serve and garnish!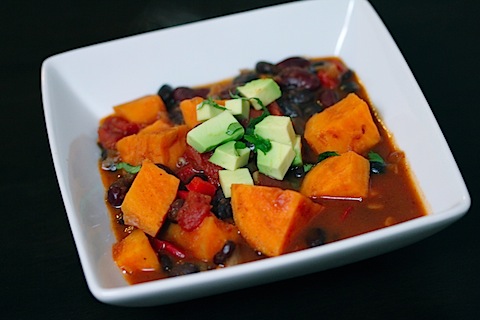 And enjoy the chili that is so good it just can't be healthy. But it is. I mean, do you see anything bad about this chili?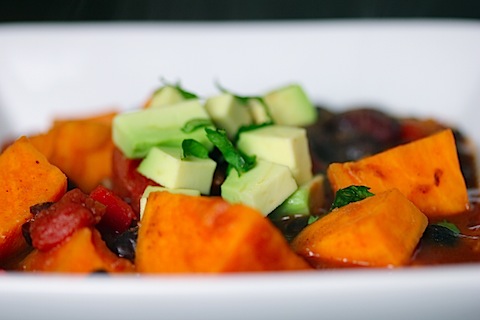 I don't want to say it tasted "meaty" because that might freak some people out, but it was totally hearty and tasted like so much more than just veggies. The flavors were out of this world and I honestly would make this over and over and over (next time I might even double the recipe so I can have some in the freezer for a long, long time).
I mean, you could even make this chili for the Super Bowl and have a whole lot of people oohing and ahhing over it before you tell them it's packed with antioxidants, fiber, and other good stuff. I mean, it kinda balances out all the buffalo wings and nachos, right? I'm going with yes.
Or maybe it actually balances out what I'll be posting later this week. Which I'm warning you is very dangerous. But also quite necessary in this weather. Trust me.
With so many people complaining about winter, I want to know what makes you HAPPY about winter?
I actually love the snow, especially the view from my window when I'm on the couch. I also love my Sorel Joan of Arctic Boots, my Ugg slippers, the beautiful and warm scarf my sister knitted for me, and lots and lots of hot tea. These are the things I'll totally miss come summer! Also, leggings under jeans. If you're not doing it, start. You'll thank me later.
[Sues]