This Buffalo Chicken Chili is a hearty and flavorful chili that packs the perfect amount of heat. Top with blue cheese and serve during your game day gatherings or on any day that calls for comfort food! 
(This recipe for Buffalo Chicken Chili was originally posted in October 2011, but was updated with new photos in 2018).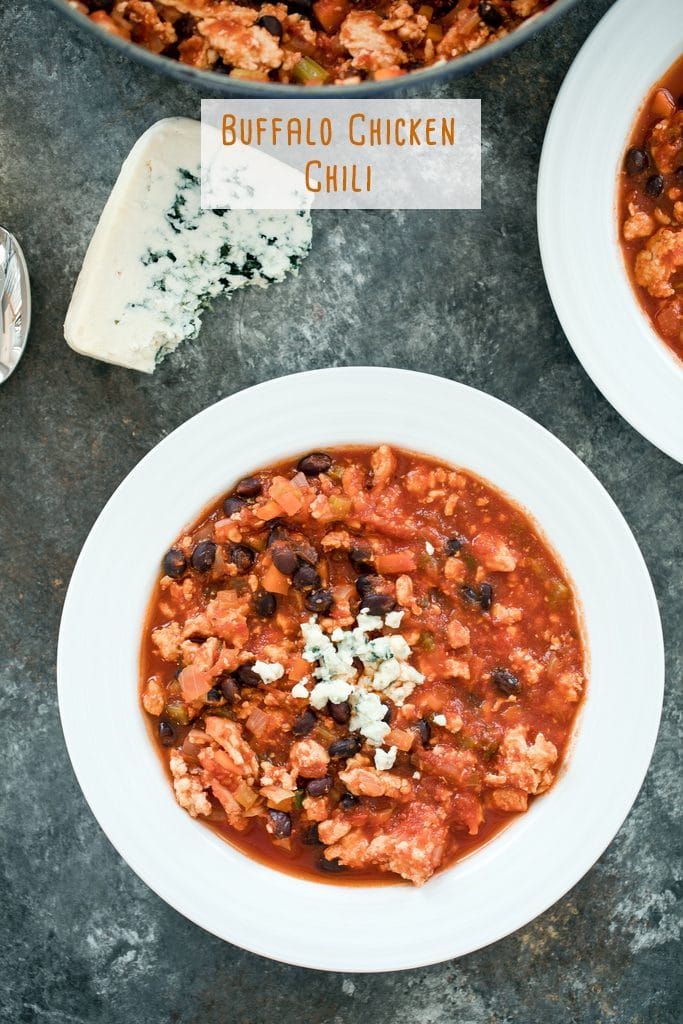 Suddenly I'm a working girl. Not that I wasn't before. But what I mean is that I recently headed back to working in an actual office after about 4 years spent working from home. I know. Talk about change! I'm actually loving my job and return to the "real world," but I'm not going to lie; I'm also still adjusting to the fact that I'm not home all the time anymore and when I do come home, I'm completely wiped out from all the things I learned and did over the day. And not only am I working an office job, but I'm also trying to keep up with a few of my writing gigs when I get home, which means lots of work all the time. They say starting a new job is one of the most stressful times in your life and whoever they are, they're not lying!
Lucky for me, I have an amazing support system packed with a fiancé who cleans the apartment while he's waiting for me to get home and literally waits at the door for me with a glass of wine in hand (now that I get home after him), a family who invites me over for the weekend to just relax (and a mom who understands when I go days without calling her), and friends who are all-around amazing and supportive and just lovely. Thank goodness.
What I'm trying to say here is that by the time I get home after spending a lovely hour on this city's wonderful public transportation system, I barely have time to write a couple freelance assignments, bust out a blog post, and hop in bed. Cooking? What's that? So, I'm majorly in the market for some meals that will leave me with leftovers. I want to just come home from work a couple days a week and already have dinner waiting for me. Really, this is big of me to say because in general, I am not at all a fan of leftovers. But I think I could get used to them.
This recipe for Buffalo Chicken Chili was born out of the fact that my pantry was overflowing with hot sauce. OK, so it still is. But now we're one bottle down. And we have a whole lot of delicious chili leftovers.
Now, what hot sauce you choose is totally up to you. I'm generally a Frank's Red Hot sauce girl through and through. But as I said, my pantry was literally overflowing with Anchor Bar hot sauce. And when I say literally, I mean literally. Like every time I open the door hot sauce falls out and nearly hits me on the head.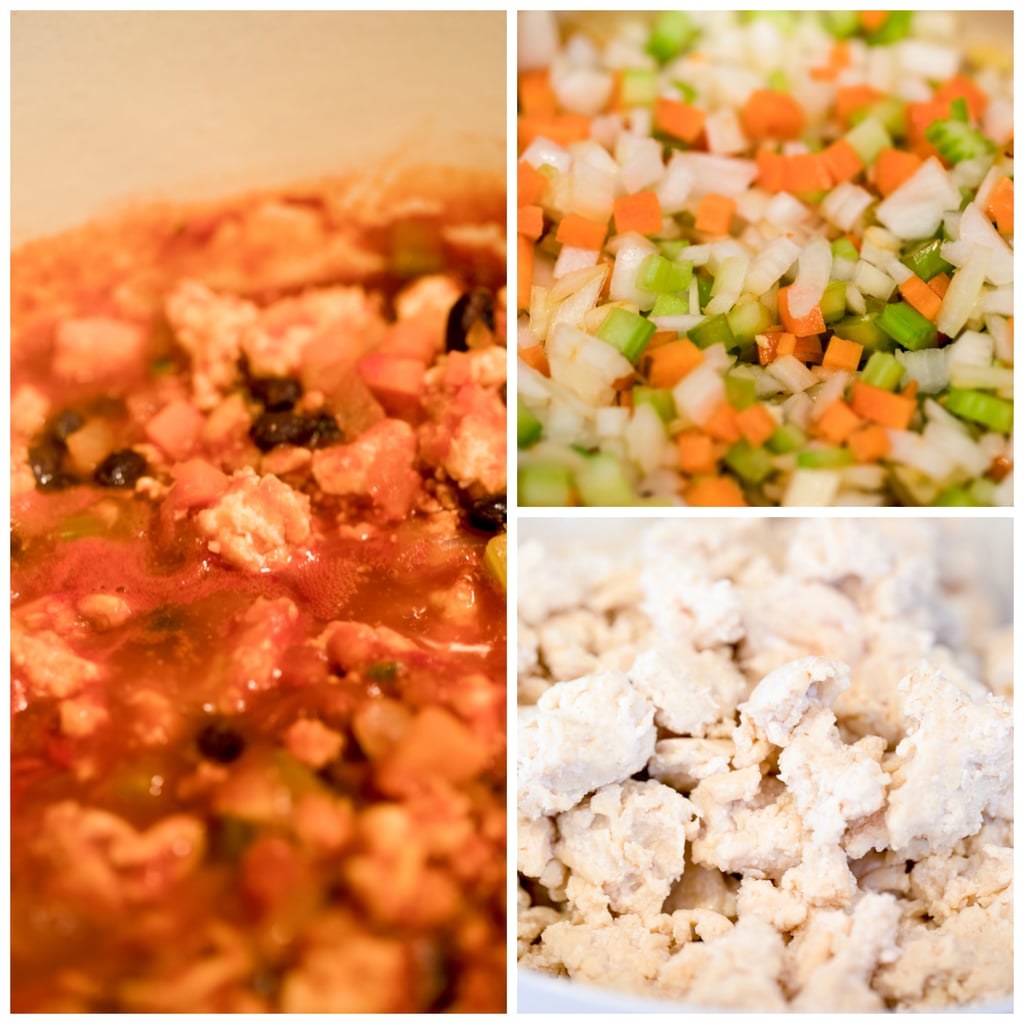 When we went to Buffalo this summer, my family packed us up with Anchor Bar hot sauce… Suicidal style, of course! I knew it was going to make for a really spicy chili. I knew Chris would love it, though I wasn't quite sure I could handle it; I love spicy, but suicidal? That sounds dangerous. In any event, choose the hot sauce you love best (and can most handle) for this buffalo chicken chili. I've made this recipe several times since my first and have used Frank's Red Hot all of the other times. Both sauces made for a delicious chili!
Serve and sprinkle with a little blue cheese or gorgonzola. Or a lot because you may need a strong cheese to balance out the heat of this buffalo chicken chili.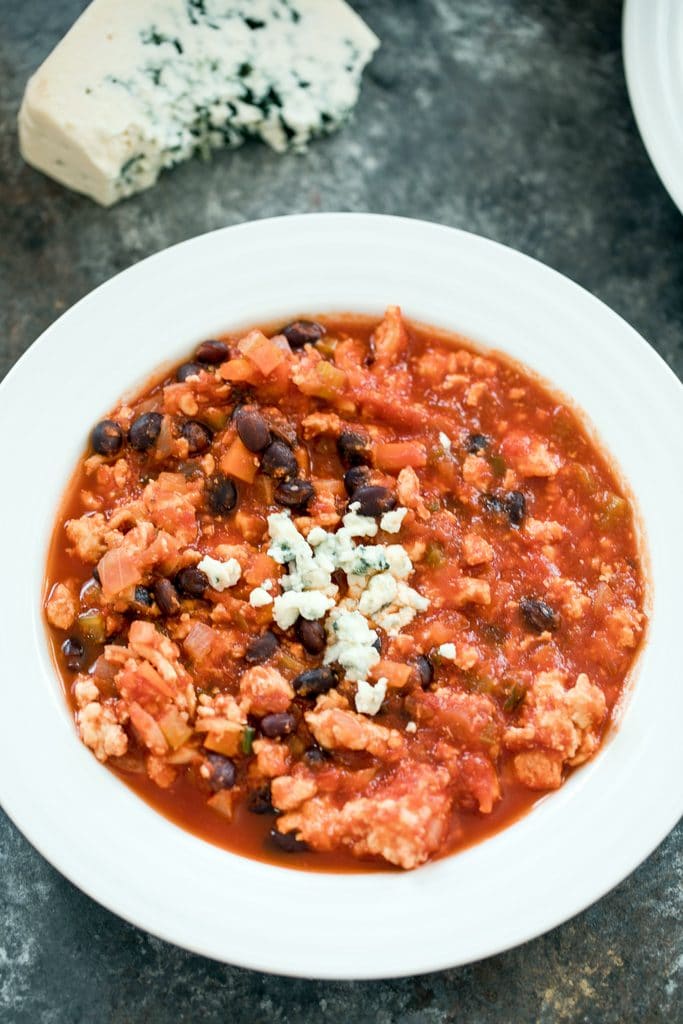 Tortilla chips work, too. Which also made me realize this would be the perfect dish to serve for a football game party. But seriously, tortilla chips absorb a lot of the heat.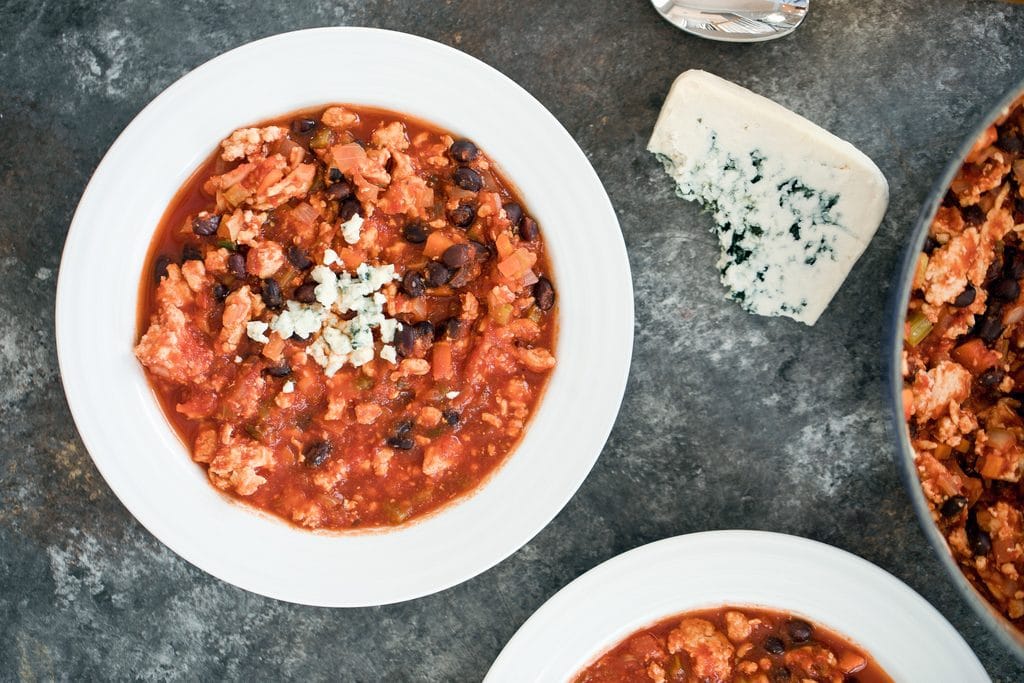 But I promise, this isn't too spicy. I'll admit that I played around with the ingredient ratios a bit each time I made this and made a few adjustments to tone down the heat. If you're like, "hey, I want this hotter!"  then first of all, go you! I love you! And second of all, add more hot peppers and make sure you choose a super hot sauce.
But if you just want a "normal" level of buffalo chicken heat (come on, you can't have buffalo chicken without any heat at all!), make this as is. Whether you're spicy obsessed or not, this chili is amazingly flavorful. And hearty. And absolutely perfect for the chilly, rainy weather we had earlier this week.
And yes, this buffalo chicken chili gave us about three meals. Which made me very happy. And meant I could actually go to bed at a semi-normal time a couple nights this week. Yays all around! I also know I have a meal that's a hit if my husband willingly (and happily) eats leftovers. He is not a leftovers guy, so when he asked me if we had any more buffalo chicken chili left, I was psyched!
What's your favorite meal to make that yields lots of leftovers? Gimme recipes!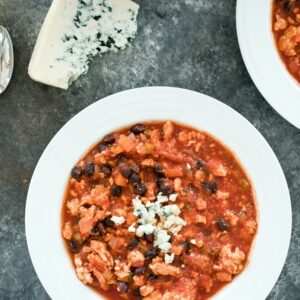 Buffalo Chicken Chili
This Buffalo Chicken Chili is a hearty and flavorful chili that packs the perfect amount of heat. Top with blue cheese and serve during your game day gatherings or on any day that calls for comfort food!
Ingredients
1

Tbsp

olive oil

2

lbs.

ground chicken

(alternatively, you can use rotisserie chicken)

1

medium onion,

chopped

1

medium carrot,

chopped

3

stalks celery,

chopped

6

cloves garlic,

chopped

2

spicy peppers (I recommend serranos or red chilis),

chopped (remove seeds if you want a milder chili)

1/4

tsp

salt

1/4

tsp

pepper

1

cup

low-sodium chicken stock

1

28-oz can

crushed tomatoes

1

15-oz can

black beans,

drained and rinsed

1

cup

hot sauce

1/4

cup

blue cheese,

for topping chili
Instructions
Pour olive oil into a large dutch oven or pot over medium heat. Add in the ground chicken and break it up with a wooden spoon while it cooks. When chicken is cooked through, remove it to separate plate or bowl and tent with aluminum foil to keep warm.

Add onions, carrots, and celery to the same pot you cooked the chicken in. Cook, while scraping the bottom of the pot to get the brown bits, for about 5 minutes. Add in garlic and hot peppers and cook for another 3 minutes. Sprinkle with salt and pepper.

Pour chicken stock into pot, along with the crushed tomatoes, black beans, and hot sauce. Let the mixture simmer for about 20 minutes. If your chili is too thick, add in a bit more chicken stock.

Serve in bowls and top with blue cheese.