This Apple Spice Glazed Ham with Baked Apples is perfect for serving to your holiday crowd, but you also might not be able to resist making it for your family on a random weeknight… It's that good (and the leftovers are a huge bonus!).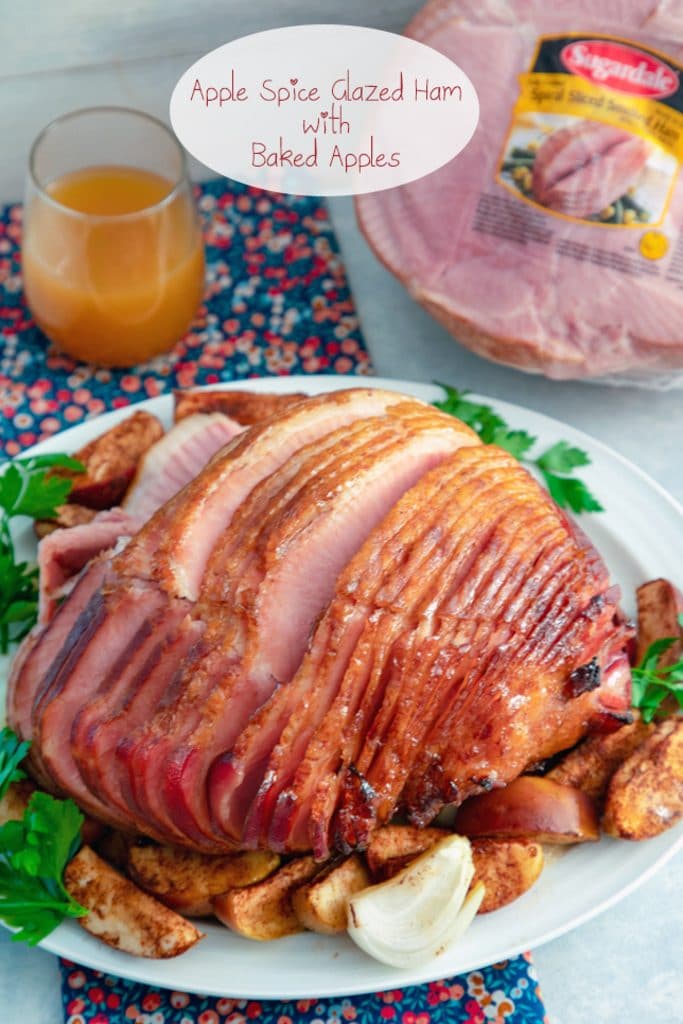 This post is sponsored by Sugardale Foods and SheKnows Media. As always, all opinions are 100% my own. Thank you so much for supporting We are not Martha!
True confession time: Until a few years ago, I had never made a ham myself before. That's bad enough in itself, but the really embarrassing part? It was just a couple days before Easter and I called my mom from the grocery store frantically saying, "Mom! They only have cooked hams here. What am I supposed to do??" She was like, "um, yes Susie… that is how most hams are sold."
I had no idea that you bought hams cooked and then heated them at home. At this point, I considered myself pretty handy in the kitchen, so I felt a little bit of shame over this and I admit, I quickly glanced around me to make sure no one in the grocery store overheard my conversation.
At the time, I thought hams were only a special occasion food. And since I had only just bought a house, I wasn't hosting any holidays or too many guests. But now that I know ham is so ridiculously easy to prepare and how versatile it is, I am all in for ham any time of the year!
I should also mention, it's one of my husband's very favorite foods and he gets ridiculously happy when he knows I'm making a ham. Because it means delicious dinners for days + new ham dishes + ham sandwiches for lunch. I'm excited to be working with Sugardale® for this post because their Spiral Sliced Hams are so easy to prepare. They've been crafting their hams the old-fashioned way for almost 100 years with the same secret blend of smoke and spices that they're famous for.
So, how do you make a Sugardale® ham? To be honest, there's not a whole lot you need to do to their Spiral Sliced Ham before popping it in the oven. It's delicious as is, especially because it's naturally smoked over real wood chips, rather than with liquid smoke. It even comes with a glaze packet that you can easily use when baking your ham for some extra sweetness.
But I wanted to do something a little different and a bit more seasonal, so I decided to make an apple spice glazed ham with baked apples. It's perfect to enjoy all fall long, straight into the holiday season. Even with the special glaze and baked apples, this ham is still incredibly easy to have on your table!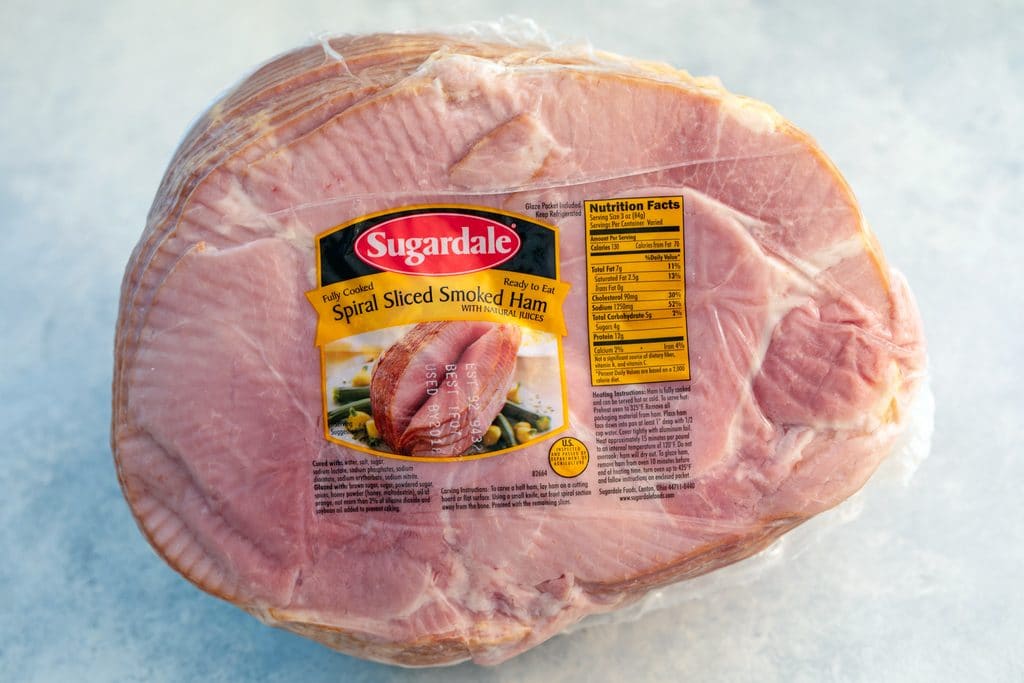 APPLE SPICE GLAZED HAM WITH BAKED APPLES RECIPE
The glaze for this apple ham is simply apple cider, brown sugar, all-spice, nutmeg, and cinnamon sticks. Once you bring the mixture to a boil, lower it to a simmer and cook until it thickens up a bit. I like to brush my Sugardale ham with half of the glaze and cover it in foil before putting it in the oven.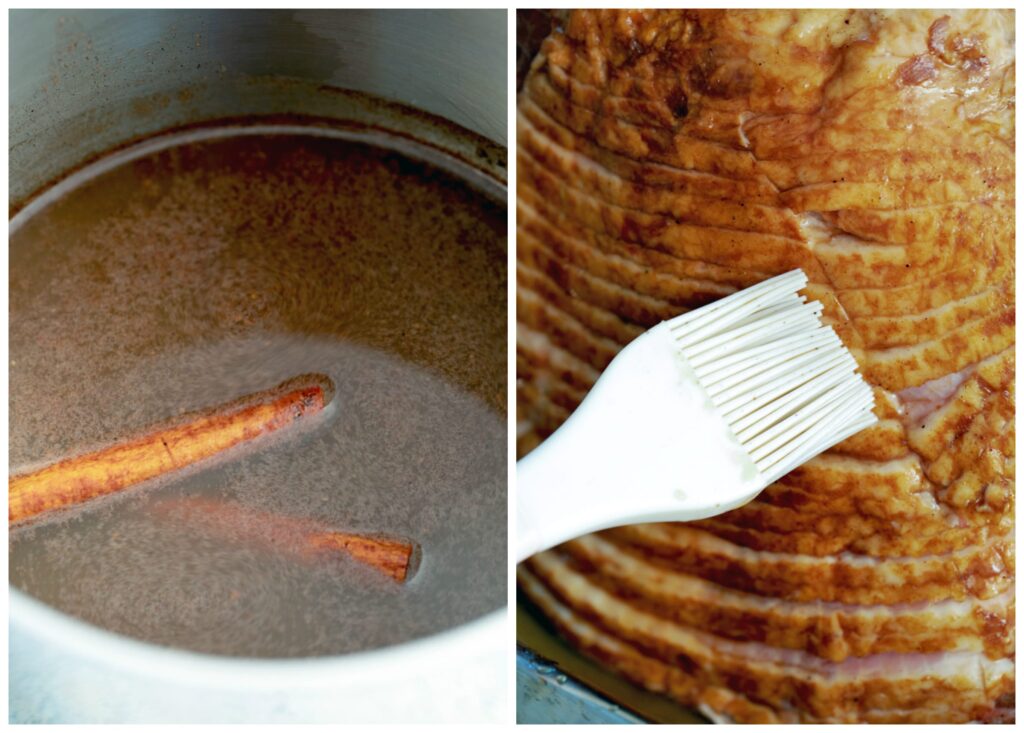 Then, when there are about 40 minutes left to cook it, take it out and brush it with the rest of the glaze, add your apples and onions to the pan, and put it back in the oven without foil. I knew the ham needed more time in the oven, but at this point, I already wanted to dig in!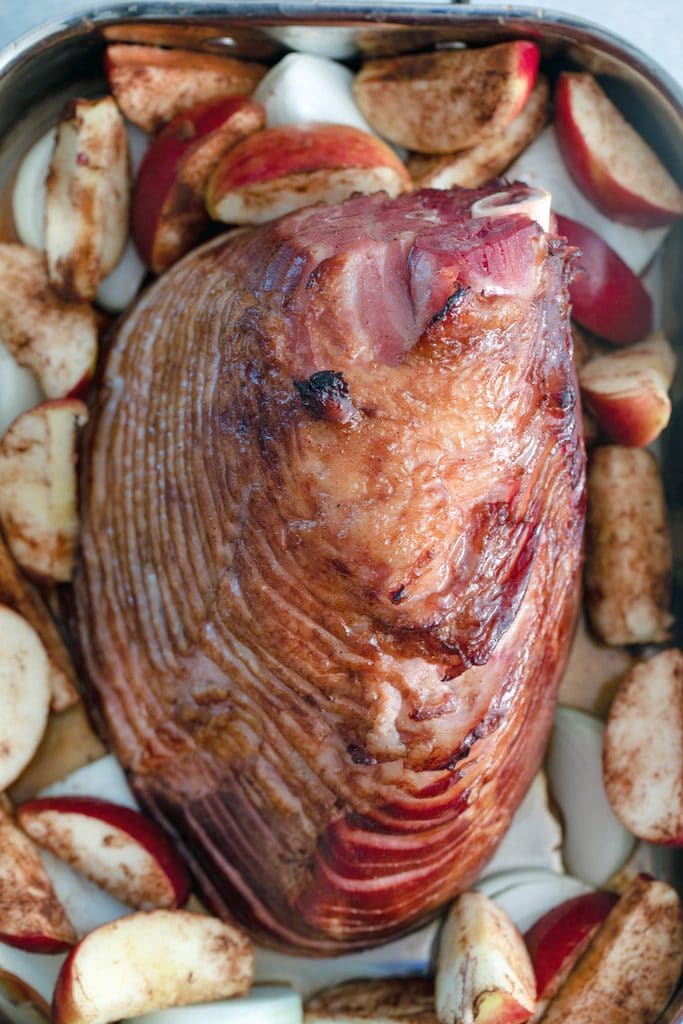 But let it heat a little more and the result is an absolutely beautiful and seasonal apple glaazed ham. Another result is that your house will smell SO SO delicious! And not only does this ham make for a meal (or three!), but it also makes for a gorgeous table centerpiece.
It's pretty much guaranteed that your guests will be ooh-ing and ahh-ing over this apple spice ham!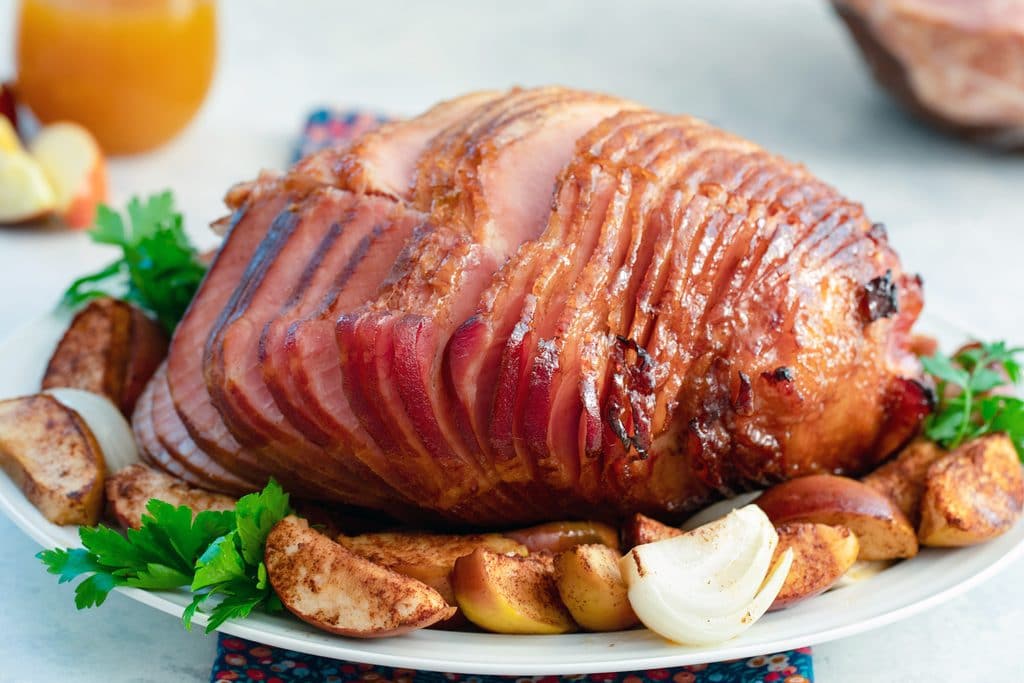 One of my favorite things about Sugardale's Spiral Sliced Ham is that the cut makes it so easy to serve. Of course, if you're like me and my husband, you need to get this ham to the table ASAP. Otherwise, you'll just stand at the counter, pulling off slices of apple ham and devouring them while your dog stares longingly at you whining loudly.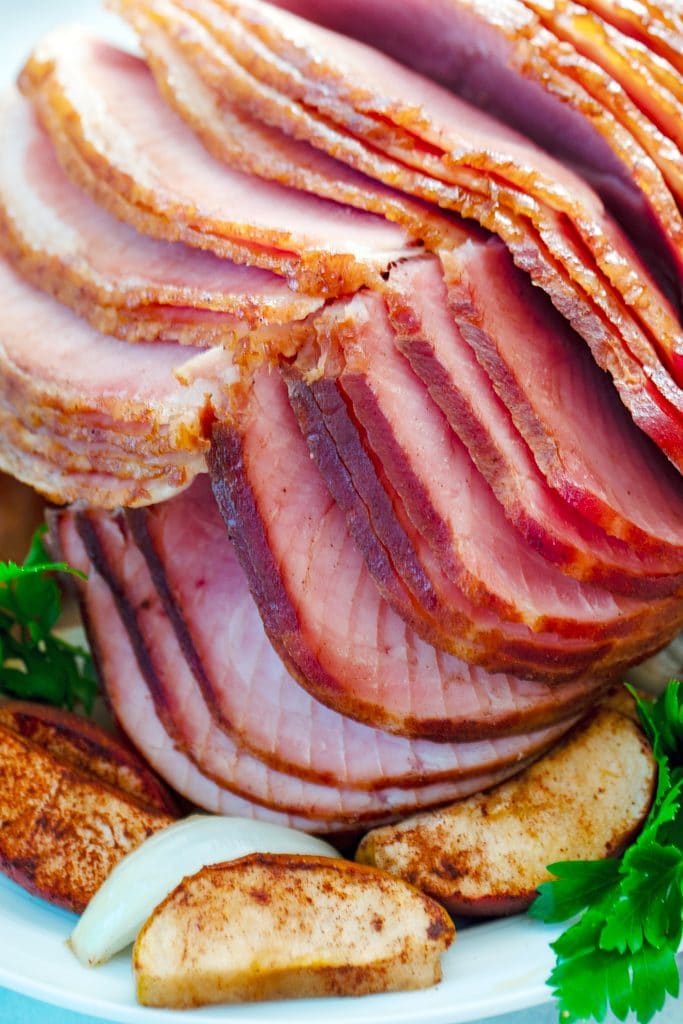 I also love that this apple spice glazed ham with baked apples is both an entree and a side dish. Make sure to serve everyone a few slices of ham AND some baked apples and onions.
I just hope you don't have too many guests over for dinner because you're certainly going to want some leftovers!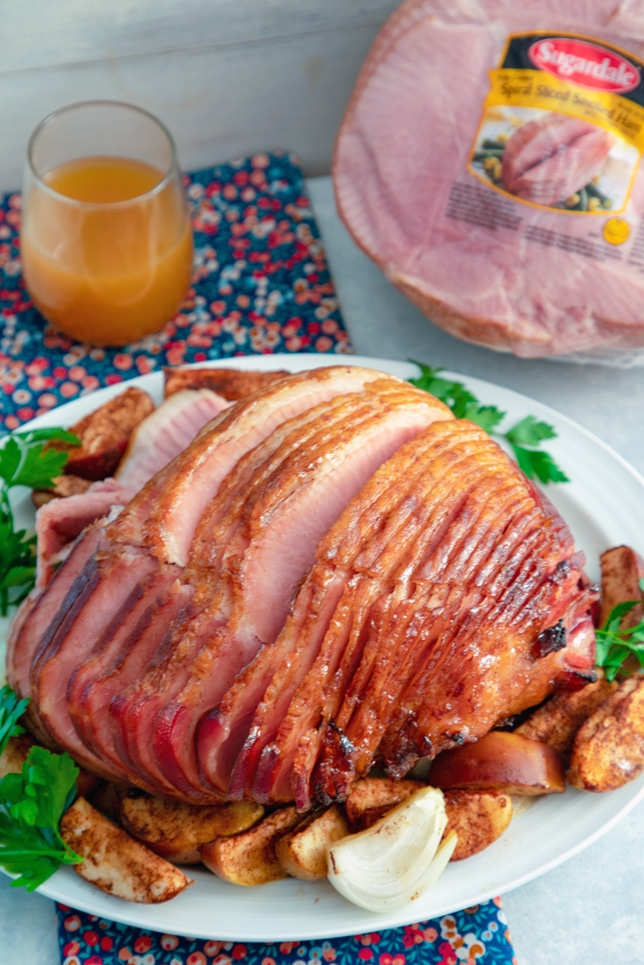 And now all I want on a slightly chilly evening is for my entire house to smell like apple spice ham and baked apples. Sooo, who wants to come over for dinner? To learn more about Sugardale® ham, check out their website and also their store locator to find out where you can get products in your area. In addition to ham, they're also known for their Natural Uncured Lunch Meats, pepperoni, salami, and bacon.
How often do you make ham at home?
If you're looking for more help with your holiday meals, check out my posts all about How to Cook a Butterball Turkey and How to Arrange the Perfect Holiday Cookie Platter. I also love this post on How to Make a Charcuterie Board from Delightful Mom Food.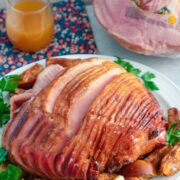 Print Recipe
Apple Spice Glazed Ham with Baked Apples
This Apple Spice Glazed Ham with Baked Apples is perfect for serving to your holiday crowd, but you also might not be able to resist making it for your family on a random weeknight
Ingredients
1 3/4

cup

apple cider,

divided (can substitute with apple juice if necessary)

1/3

cup

packed dark brown sugar

1

tsp

all-spice,

divided

Pinch

nutmeg

2

cinnamon sticks

1

8-10 lb.

Sugardale® Spiral Sliced Ham

3

apples,

sliced into wedges

1/2

tsp

cinnamon

1

vidalia onion,

sliced into wedges
Instructions
In a medium saucepan, combine 1 1/4 cup apple cider, brown sugar, 1/2 tsp all-spice, nutmeg, and cinnamon sticks and bring to a boil. Once boiling, lower heat and let mixture simmer for 12-15 minutes, until mixture thickens a bit.

Pre-heat oven to 325 degrees.

Place ham in a baking dish, fat side up and pour 1/2 cup apple cider on the bottom of the pan. Brush about half the apple spice glaze over the ham, making sure to get it into the slices. Cover ham with foil.

Bake ham at 325 degrees for 15 minutes per pound of ham. If your ham weighs 10 pounds, you'll want to bake it for about 2.5 hours. When the ham has about 40 minutes left to bake, remove from the oven.

Place sliced apples in a bowl and toss with 1/2 tsp of all-spice and cinnamon.

Add apples and onions to the bottom of the pan and brush the rest of the glaze on the ham, once again making sure to get in between the slices. Place back in the oven, uncovered, and bake until the ham registers at 130 degrees and the apples are tender.