My husband says that the worse a television show is, the more likely I am to fall in love with it. I can't even defend myself against this accusation because, well, it's true. The past month has been pretty miserable and I've been wondering how on Earth I'm going to survive until January before a new version of the Bachelor is back on television (#realworldproblems), but tonight I found my answer. It's called 90 Day Fiancé and I owe my thanks to TLC for this beauty of a show. Or I guess train wreck of a show is more like it. It's incredible in the most horrible way possible and the only way you'll enjoy it is if you too love ridiculously bad television. As if 90 Day Fiancé isn't bad enough, My Five Wives comes on after it… So, you can really see the kind of TV we're dealing with here.
But whatever; just because something doesn't necessarily have the best reputation doesn't mean it can't be totally enjoyable. Take brussels sprouts, for example. Lots of people can't stand them, my husband included. But when I fried them up for this pasta dish, he changed his mind. He also isn't a big squash lover… But claimed this pasta with butternut squash sauce was delicious. You know, it's kind of like that time I forced him to watch Rich Kids of Beverly Hills and he ended up getting addicted (but shhhh I didn't tell you that). There's a place in life for these sorts of things.
Butternut Squash Pasta with Fried Brussels Sprouts and Pancetta (serves 4):
Print this recipe! 
1 1/2 lb. butternut squash, chopped into cubes
3 T Olive oil
1 1/2 t finely chopped sage
3/4 T red pepper flakes
1 C milk
1C water
3/4 C parmesan cheese, plus more for topping
12 brussels Sprouts, ends trimmed and quartered
Canola oil
2 oz. pancetta, chopped
1/2 lb. whole wheat farfalle pasta
(pre-heat oven to 400 degrees)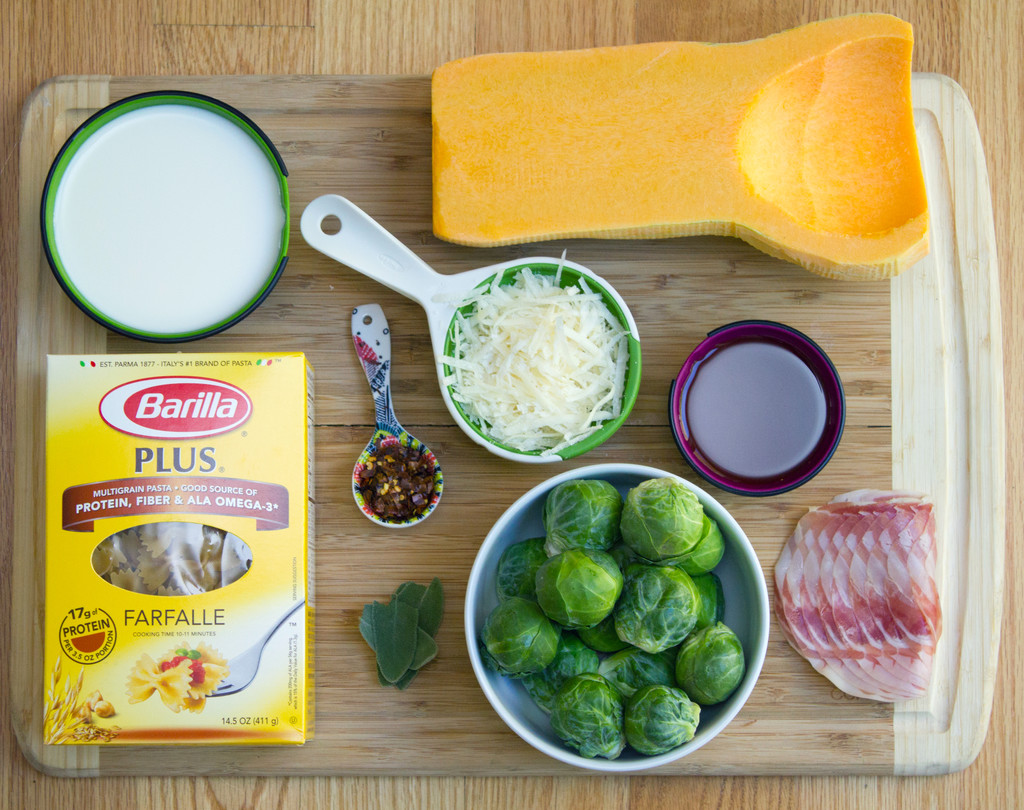 Toss butternut squash cubes with olive oil, sage, and red pepper flakes.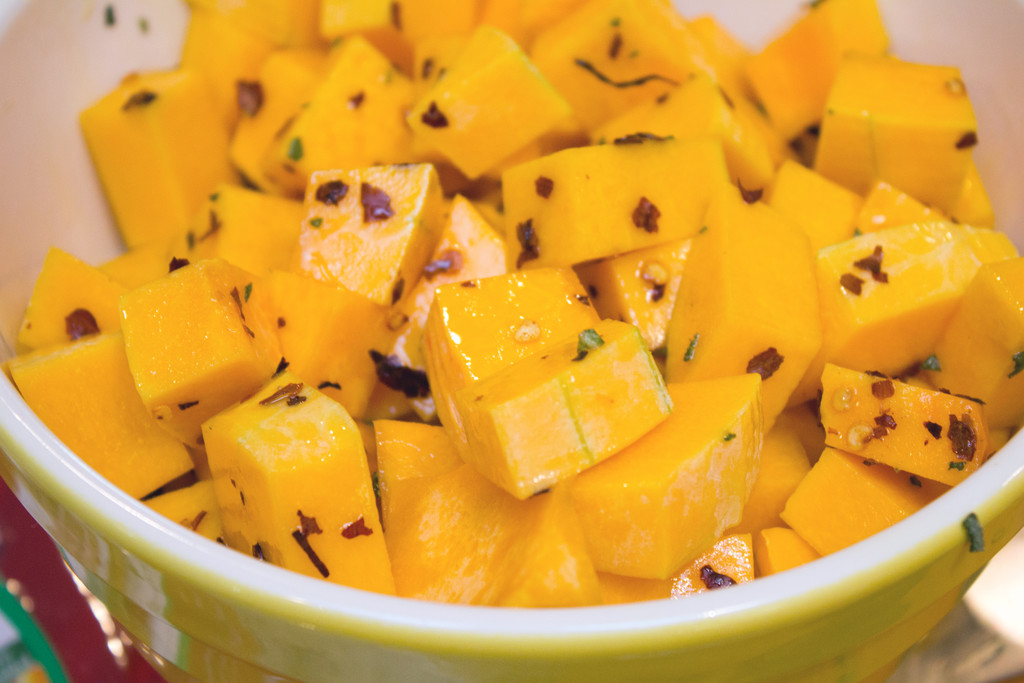 Spread the squash on a foil-lined baking sheet and roast at 400 degrees for 40-45 minutes minutes.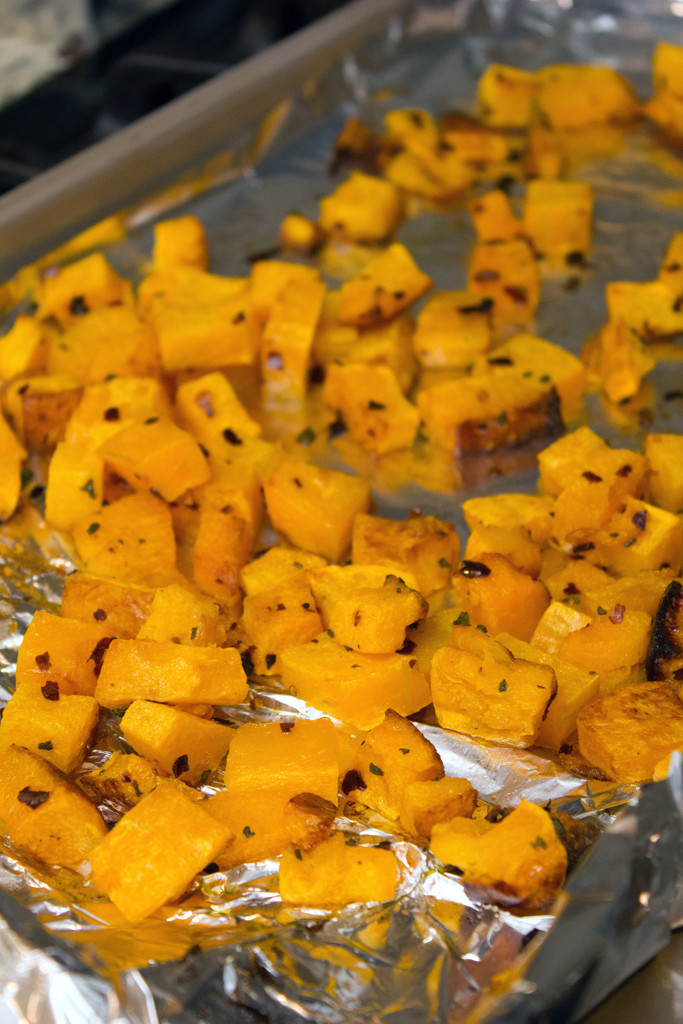 Puree squash in blender. Add milk, water, and 3/4 C parmesan and blend together.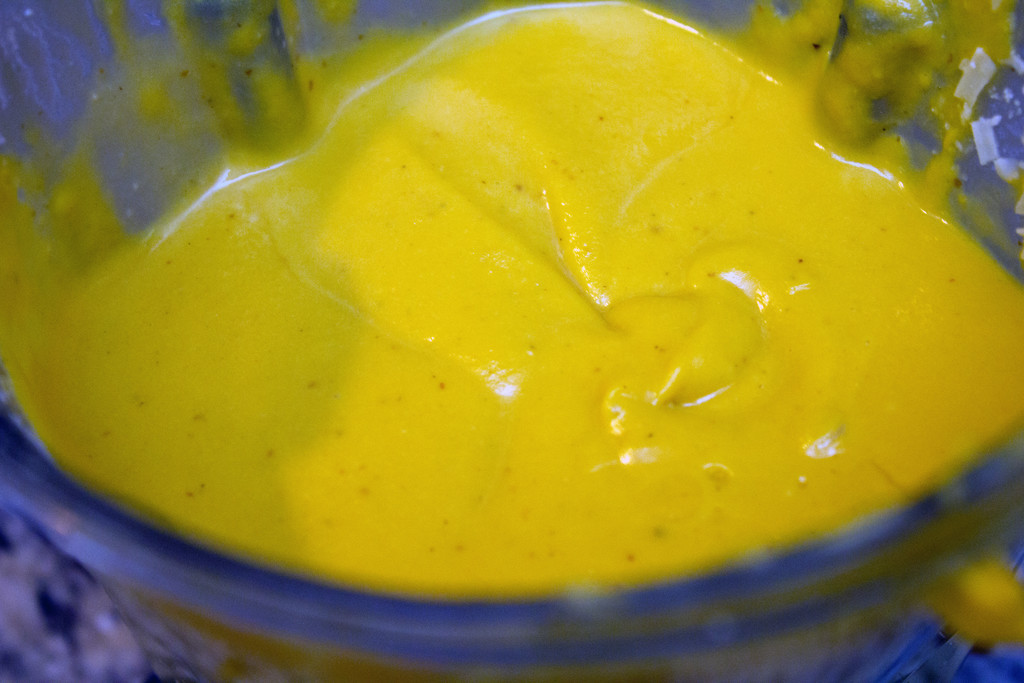 Put squash puree in a bowl and refrigerate until ready to use.
Next up, let's get those brussels sprouts fried! Pour about 2 inches of canola oil into a large pot or wok and heat canola to 350 degrees.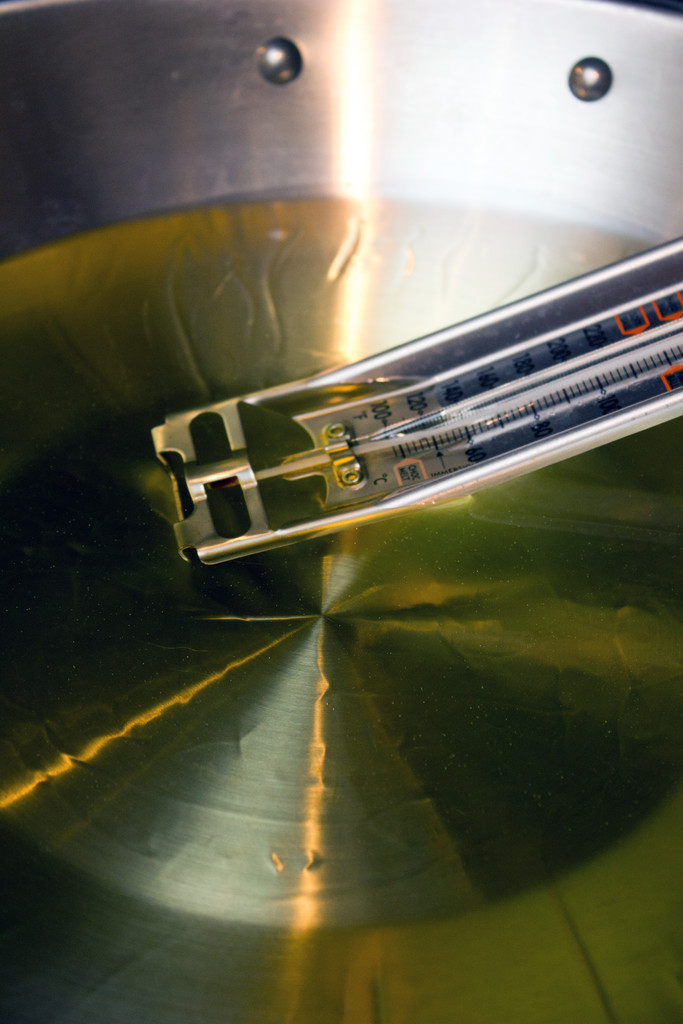 Once oil reaches 350 degrees, drop in about half the brussels sprouts, being sure not to overcrowd. Let fry until golden brown (this should only take about a minute). My sprouts definitely fell apart quite a bit, but it was no big deal.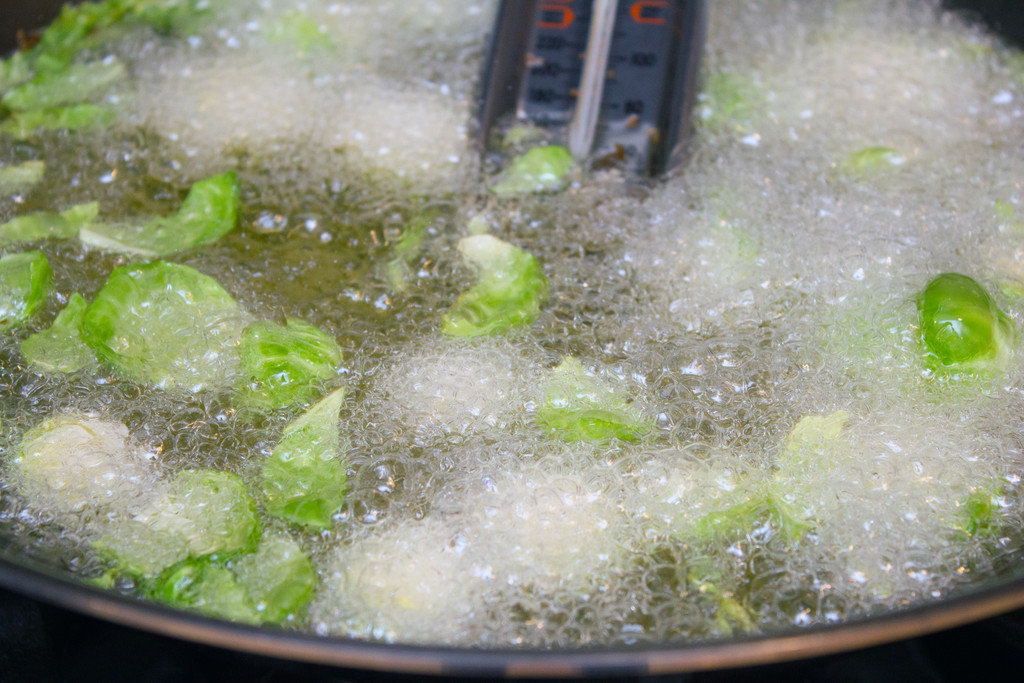 And remove to a paper towel-lined plate. Make sure the oil temperature is back up to 350 degrees before frying the second batch.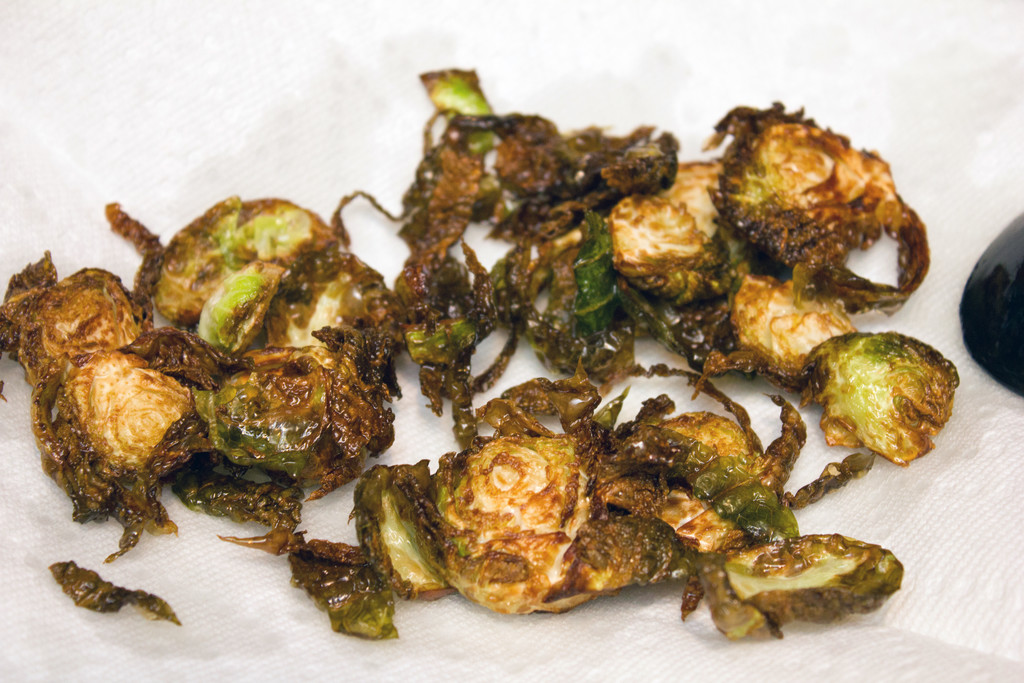 I decided to crisp up my pancetta in a frying pan for a few minutes.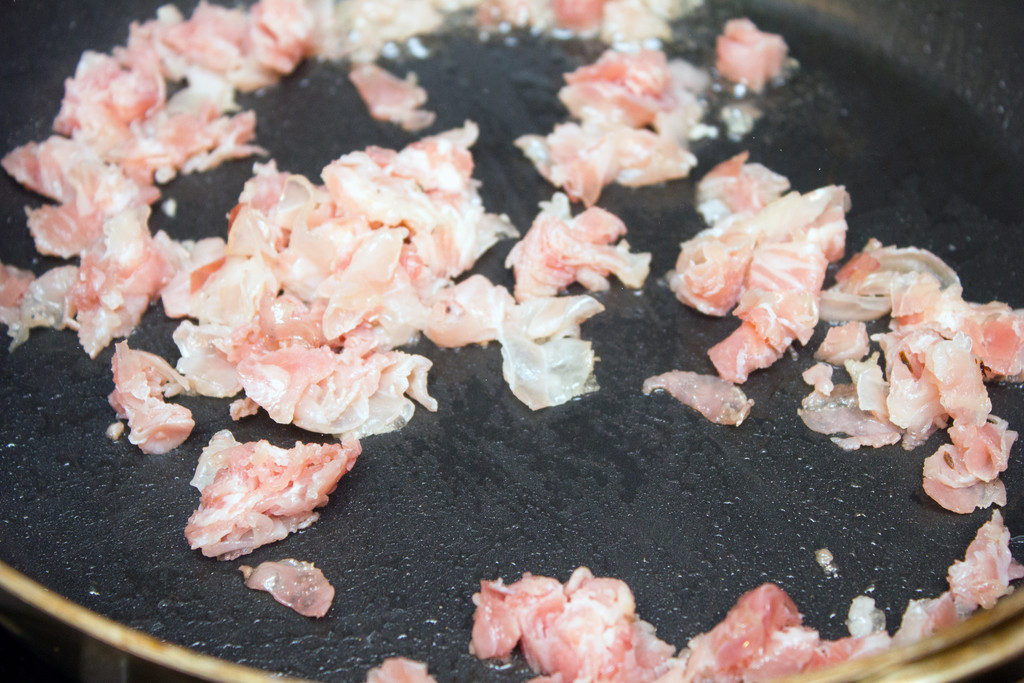 Then I boiled the pasta until it was al dente. I drained it and put it back in the pot.
And mixed in the fried brussels sprouts and pancetta.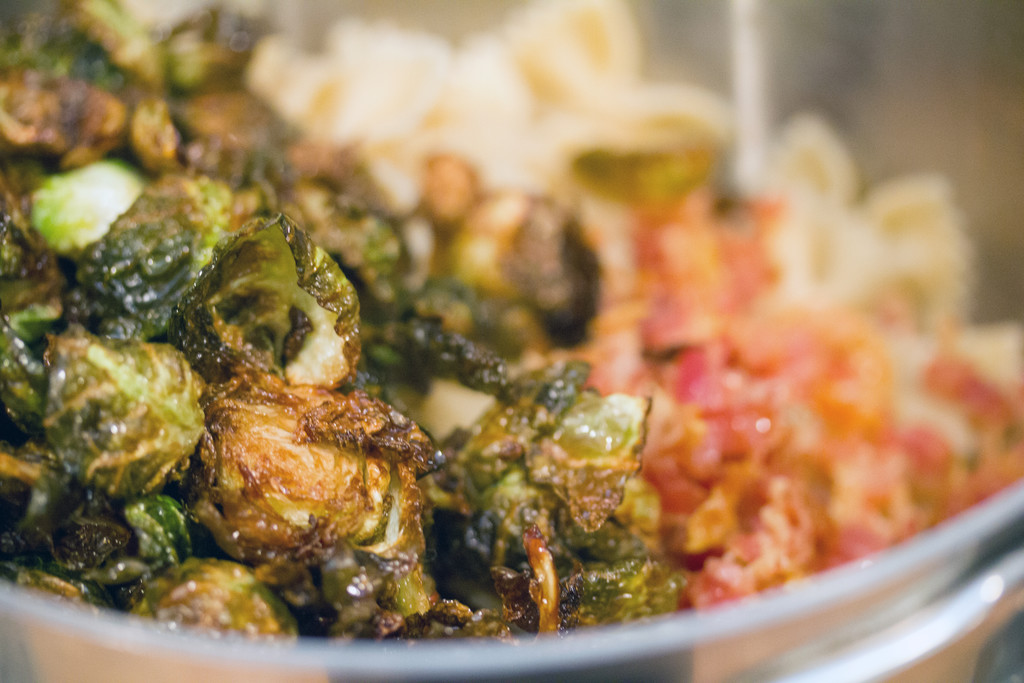 Coat the pasta in the butternut squash sauce, to your liking. You don't have to use all of it!
Sprinkle more parmesan cheese over the top. Because there's no such thing as too much.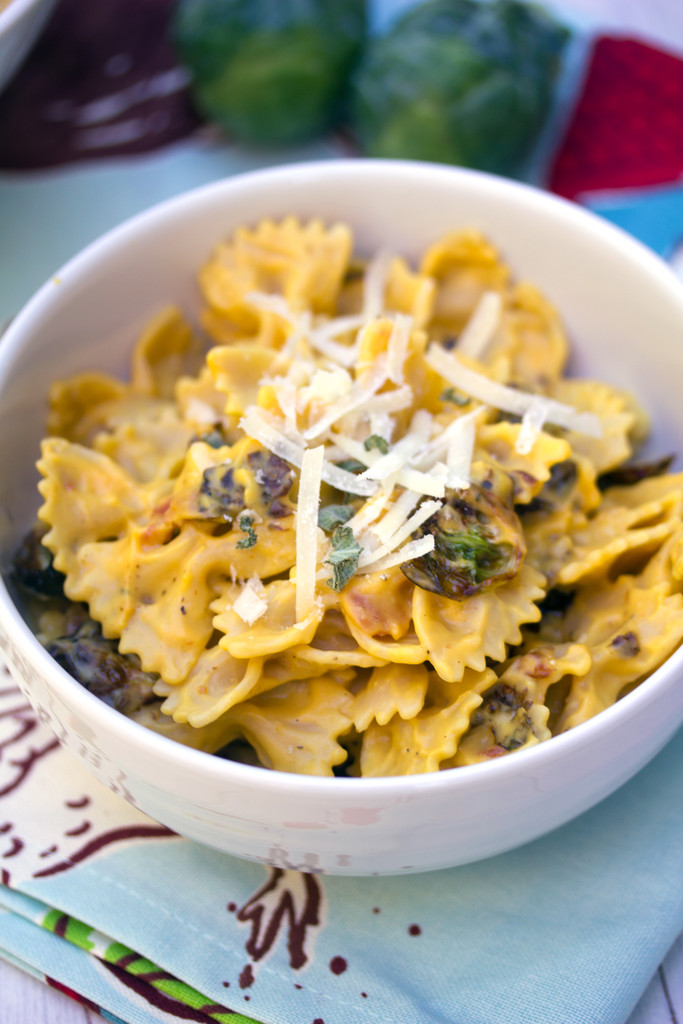 In fact, it's probably a good idea if you have some leftover butternut squash sauce because you're going to want to put it on everything. Then again, you'll probably want to sprinkle fried brussels sprouts all over everything, too.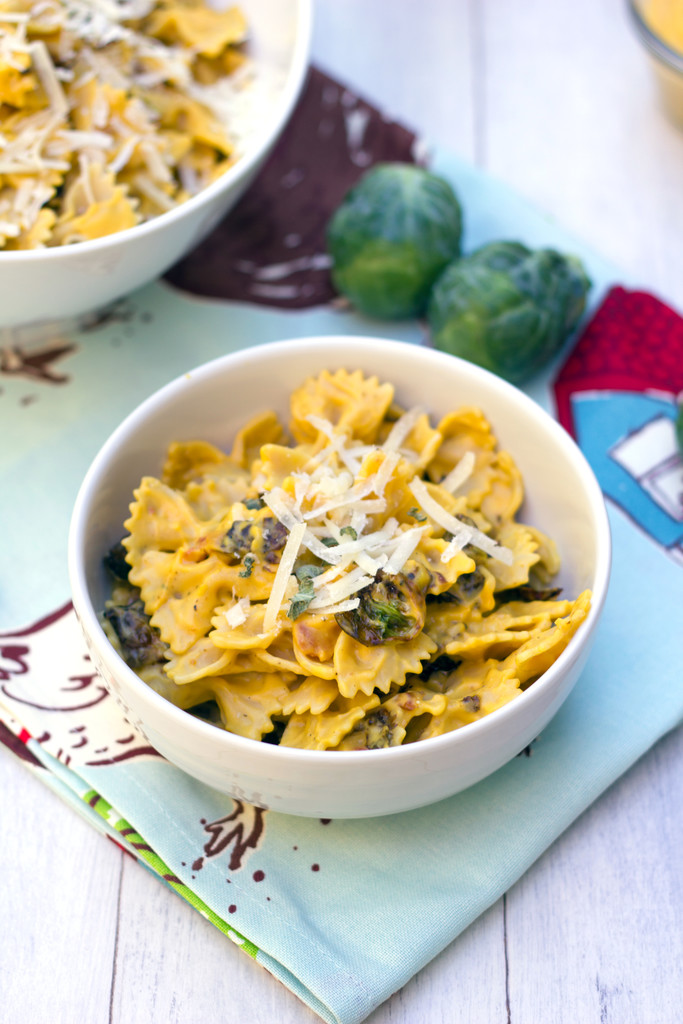 That sounds weird, though… Because you probably won't want to sprinkle fried brussels sprouts onto cereal or ice cream. Just into your mouth, basically.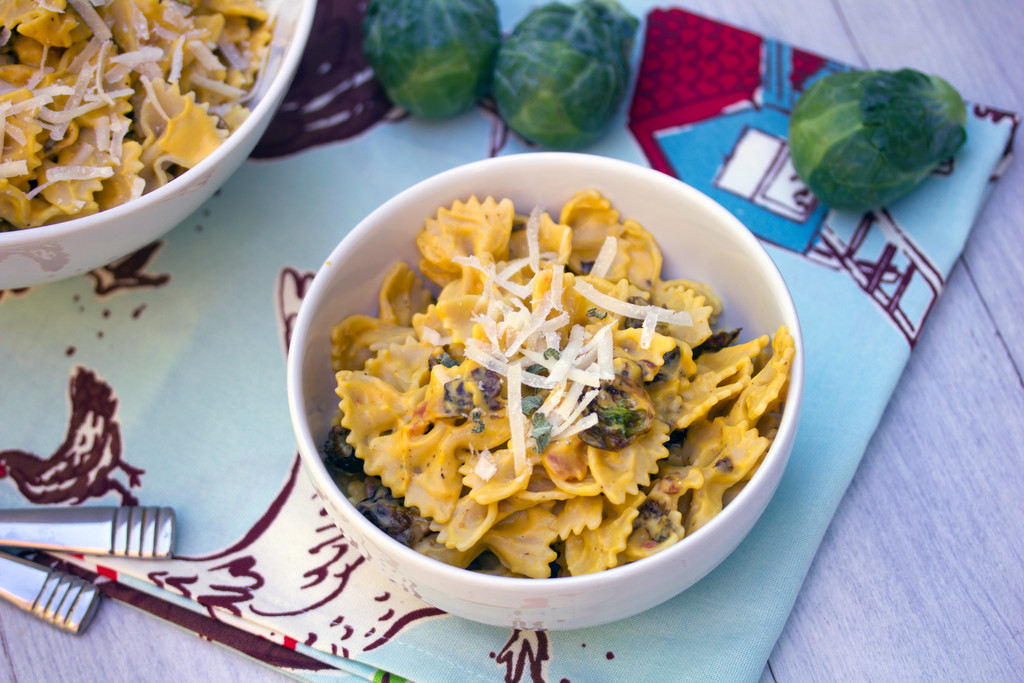 My idea of the best night ever is an evening on the couch watching really, really bad TV with a big bowl of this on my lap. Probably with a fire going, too, since this is clearly an autumn dish.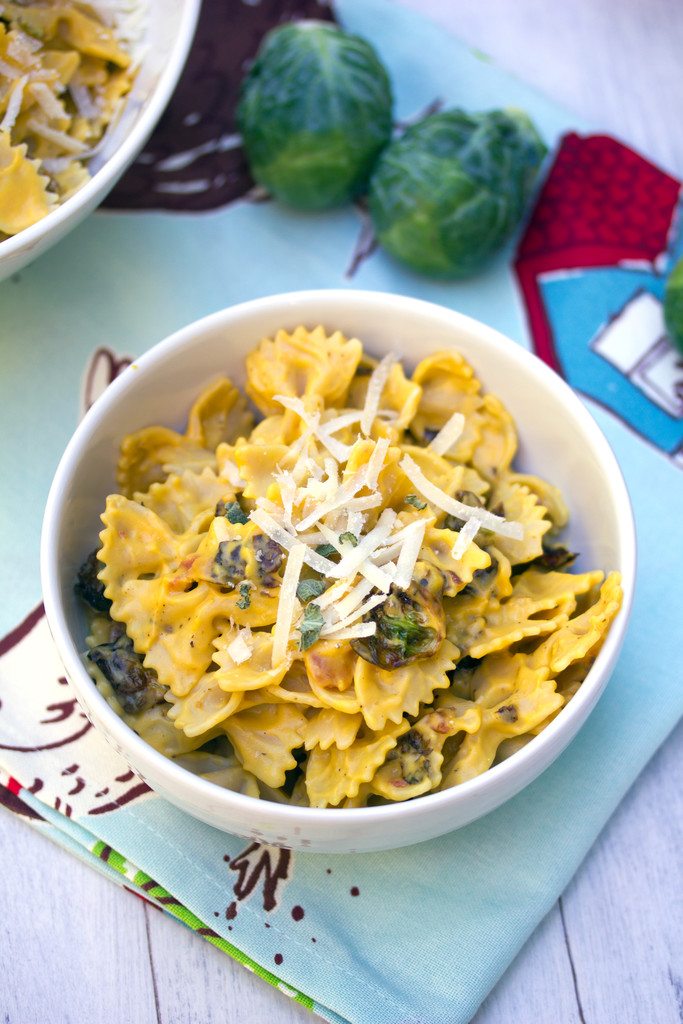 You can't leave out the awesomeness of the pancetta in this dish either. There wasn't a ton of it, but just enough to add a little bit of saltiness and some meat to an otherwise vegetarian dish. Big fan.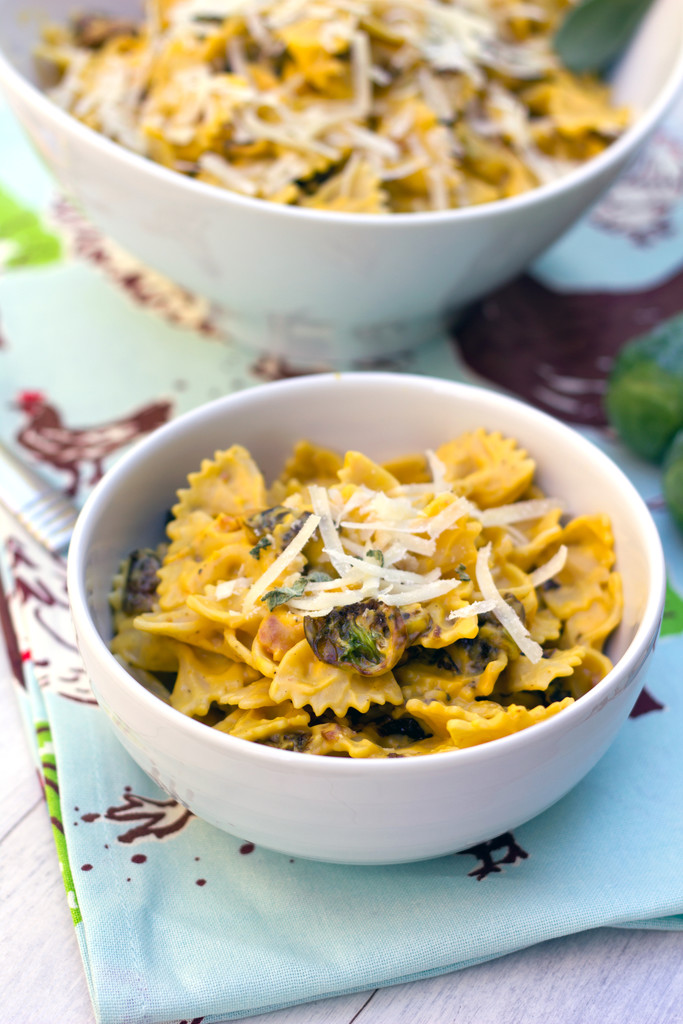 I honestly loved everything about this meal. I can't even remember the last time I made a pasta dish and it legit used to be the only thing I ever made. I have a feeling I'm going to have to re-introduce pasta dishes like this back into my life this winter since they're perfect for late nights at work and bringing to the office for lunch.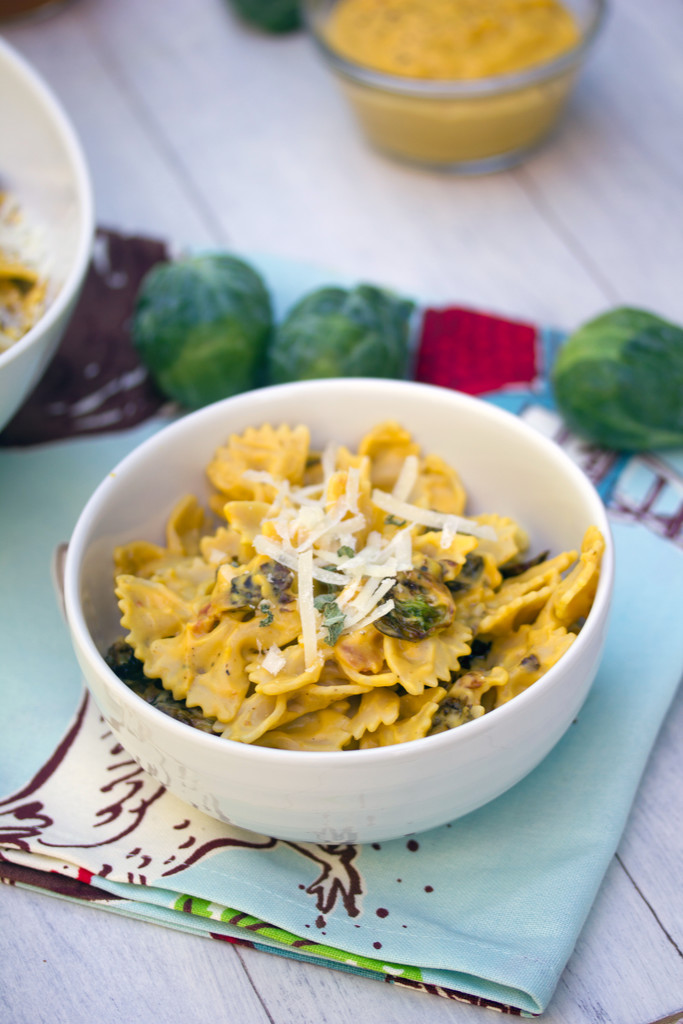 And when done right, they're anything but boring. I actually think I'm going to keep a mason jar of butternut squash sauce in my fridge from now on. And maybe even a tupperware full of fried brussels sprouts, too.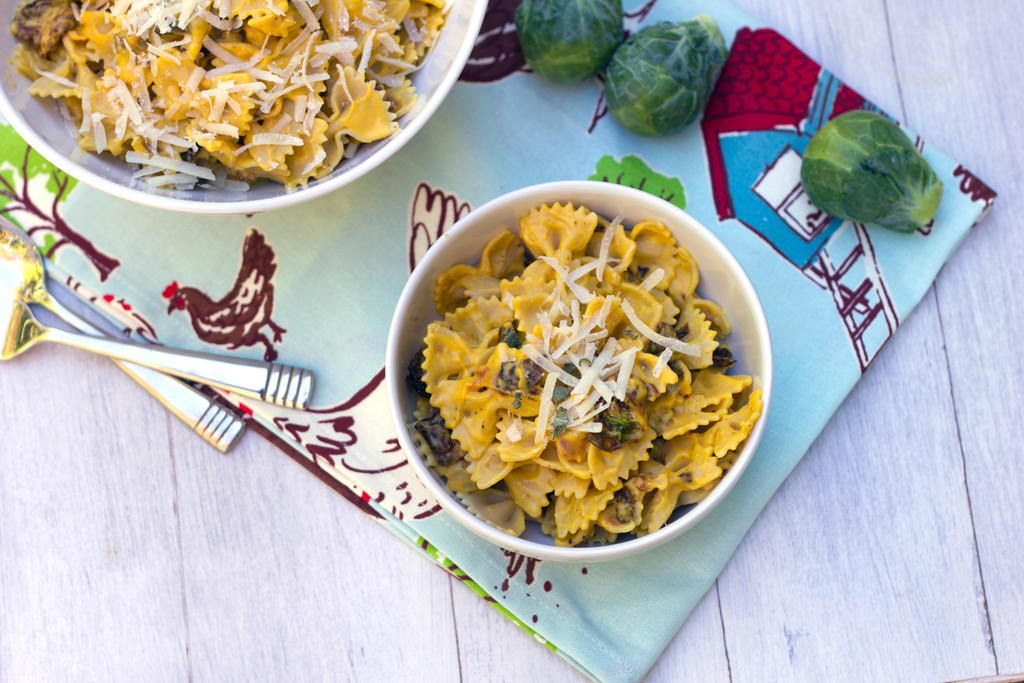 So, you see? Just because something has a not-so-great reputation doesn't necessarily mean it's not absolutely awesome. I guess it's not really fair for me to compare food like brussels sprouts to television shows like 90 Day Fiancé, but I'm doing it. You may think you're not a fan, but try them and I know you'll be sucked in. You'll never look back.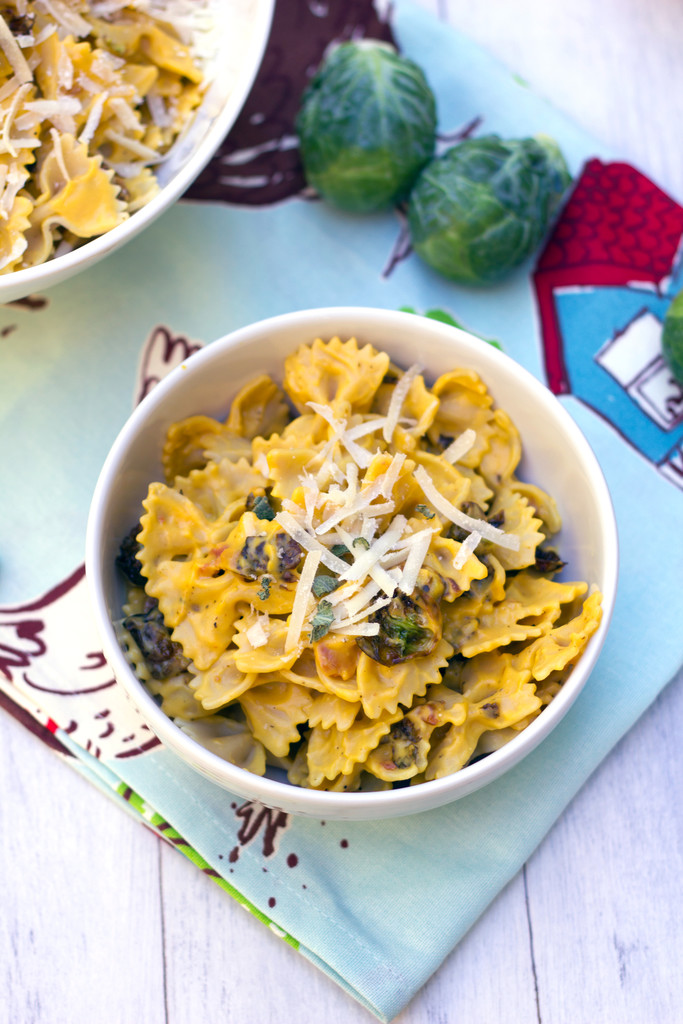 And your life will feel even more complete. I promise. Just watch TLC on Sunday's at 9:00 and you'll see what I'm talking about.
Are you obsessed with any really bad TV shows?
[Sues]