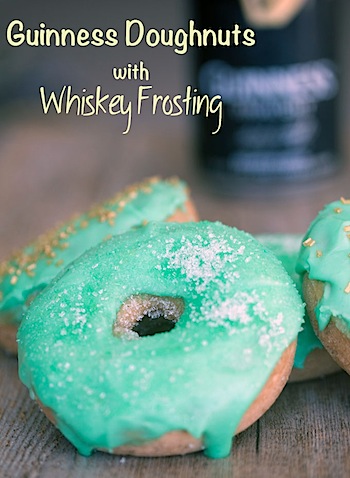 Am I a bad part Irish Bostonian if I say I'm not really a fan of St. Patrick's Day? Probably. I'm also probably a 93-year-old. Because I think it's really just that I don't like holidays on which people feel the need to get ridiculously drunk for no apparent reason. This St. Patrick's Day is especially horrible as it's conveniently the day VH1 has decided to premiere "Wicked Single," the new Jersey Shore-like show about Boston's finest young adults. It's bad. And I'm not even going to link to it. Because I don't want you to watch it and start hating Bostonians, too. I mean, I don't even want to watch it because I don't want to hate Bostonians and I am one. It makes me cringe to know that the world will have this view that Boston is filled with 30-year-olds who are drunken idiots wondering why they're not in healthy relationships.
Of course, this is not to say I can't get into the St. Patrick's Day eating (corned beef!) and drinking spirit. You know I enjoy a cocktail or five myself. And so you won't be surprised to hear that these doughnuts contain two types of alcohol between the cake and the frosting. And the frosting? Let's just say the whiskey was diluted by NOTHING, which is exactly how it should be. Potent. I'm not really sure what kind of transition I just made here. From talking about how I hate drunken Boston stereotypes to discussing the alcohol-laden doughnuts I just made. The green alcohol-laden doughnuts I just made. But come on, whether you're a St. Patrick's Day lover or not, you can enjoy one of these. Or ten.
Anywayyy, I wanted the Guinness flavor to come through in the cupcake, but knew they would need something else. So, I opted for some Silk Chocolate Soy Milk since I figured it would add a little chocolatey flavor without overpowering like cocoa powder might do.
Guinness Doughnuts with Irish Whiskey Frosting (makes 12):
Print this recipe!
2 C all-purpose flour
3/4 C sugar
2 t baking powder
1 t salt
2 large eggs
2 T melted butter
2/3 C Guinness
1/4 C chocolate soy milk
1 batch Irish whiskey frosting (see below)
pre-heat oven to 325 degrees.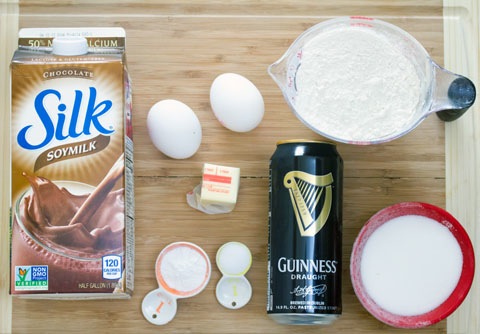 Irish Whiskey Frosting:
Print this recipe!
2 C confectioner sugar
1 1/2 T butter, softened
1/4 t salt
4-5 T Irish whiskeyG
Green food coloring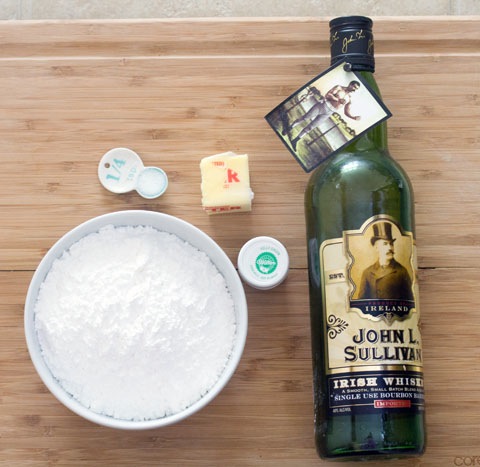 Baked doughnuts are like really ridiculously easy to make. I couldn't even believe how quickly these were made. And let me tell you, I am not speedy in the kitchen.
Start by whisking together flour, sugar, baking powder, and salt in a large bowl.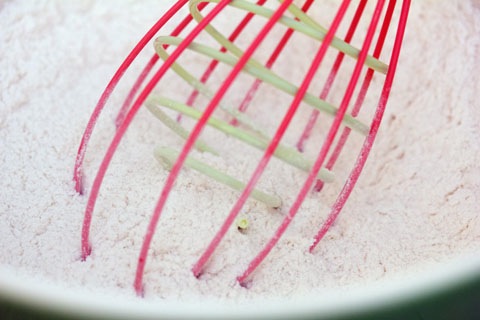 In a separate smaller bowl, whisk together eggs, melted butter, Guinness, and chocolate soy milk.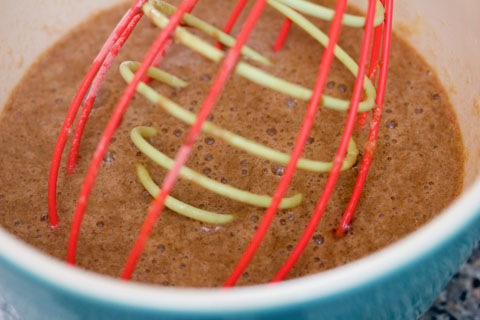 Now, stir the wet ingredients into the dry ingredients, taking care not to overmix. Overmixing will give you cakey doughnuts, which you generally want to avoid when baking!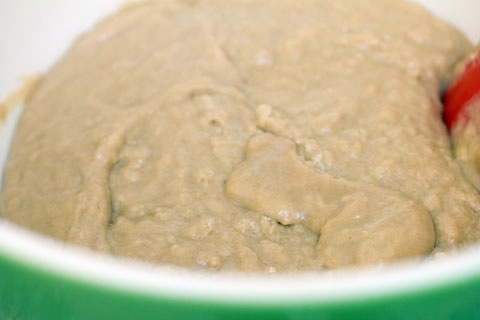 Spray your doughnut pan with oil and fill about 3/4 of the way full with batter.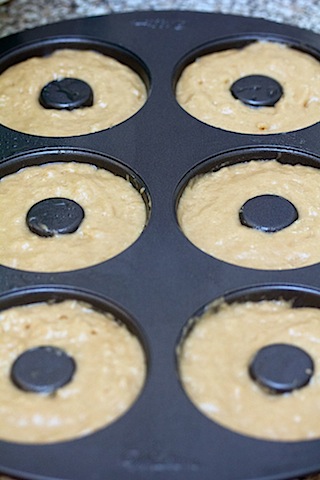 Bake doughnuts for 8-10 minutes at 325 degrees. Remove from oven and let cool in the pan for a few minutes before removing to cooling racks. Repeat with second batch of doughnuts (if your doughnut pan only holds six). Remember, you want your doughnuts to be completely cooled before frosting! Otherwise…. disaster.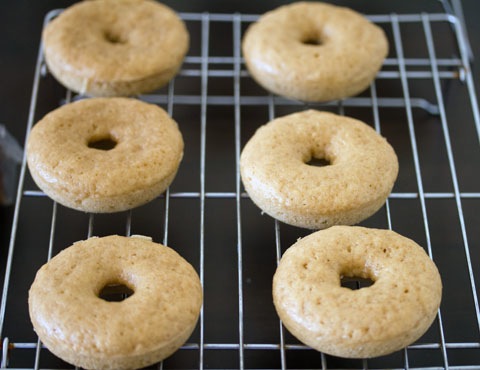 If you thought those doughnuts were easy, wait till you see this frosting. Basically you whisk all the ingredients together (aside from the food coloring).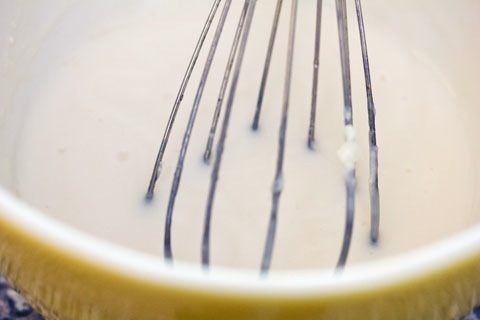 And then add a very tiny amount of food coloring and stir to combine.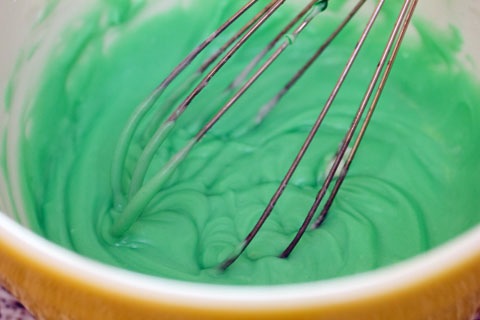 Done! Well, you still have to frost the doughnuts. Which is probably the most difficult part of this whole shenanigans.
The frosting is drippy and messy. And green. But in a really good way.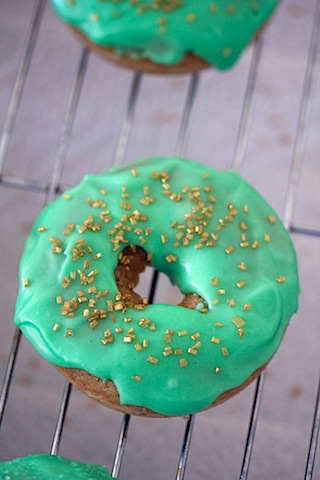 Smelling it might get you a little drunk though. So, I'm not sure what that says about tasting it? Yes, it's potent. I briefly considered mixing some vanilla or something into the frosting, but then said no. The Irish would not approve of that.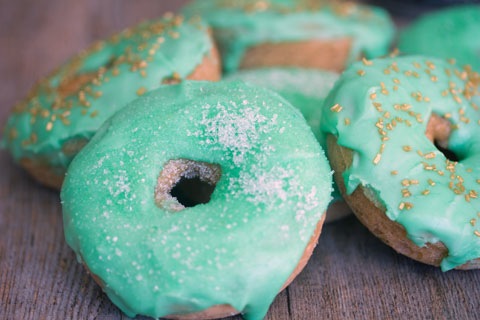 Not that the Irish would probably approve of adding chocolate soy milk to doughnuts. But oh well. Just focus on the Guinness people, BEER!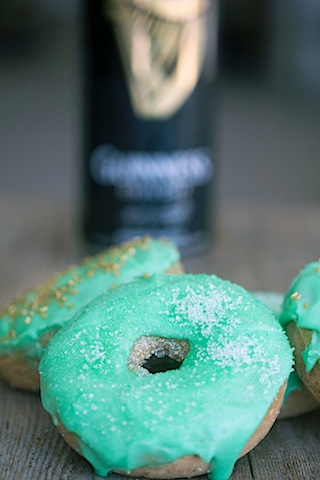 Whenever I make baked doughnuts, it's always my goal to make a doughnut that's super moist and not cakey and dense. These definitely succeeded. Thank you Guinness and soy milk. I mean, what else can you eat in which beer and milk would be an acceptable combination? Not much!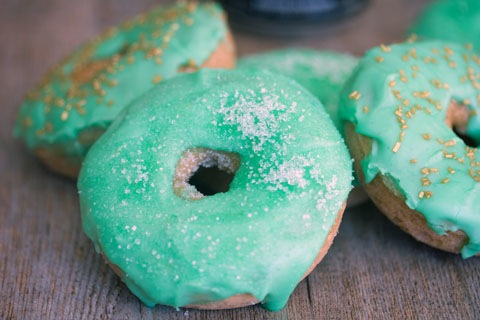 But the real star of these doughnuts were the frosting. For sure. Like I mentioned, it's pretty strong. So, I hope you like whiskey!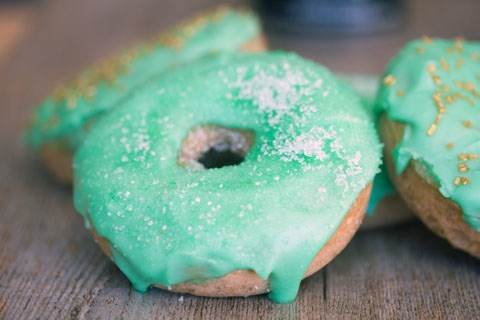 You can go out and drink a ton on St. Patrick's Day. Or you can sit home and eat these. Wait, I don't think either of those options is overly healthy. But maybe you could just go out for a little bit and then come home and eat ONE of these?
That sounds more reasonable.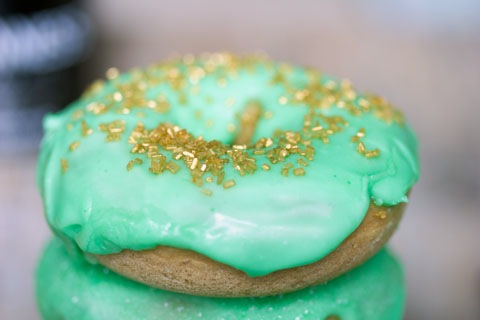 But you've got to make them. Because I'm pretty sure they don't sell anything like this at Boston's own Dunkin' Doughnuts. Although I did hear they just debuted an Irish coffee. Which both confuses and intrigues me. But mostly I think I need to go try it. And then probably add some Bailey's to it. Would that be wrong?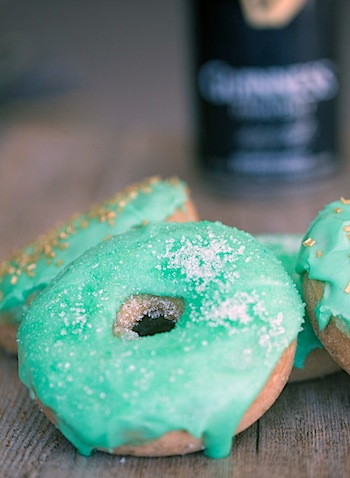 On second thought, if the cast of Wicked Single stayed home and baked these on St. Patrick's Day instead of going out and acting like hot messes, maybe they wouldn't stay single for long? Although who can really say what kind of crowd these doughnuts would attract. I guess it's debatable.
How are you celebrating St. Patrick's Day?
[Sues]