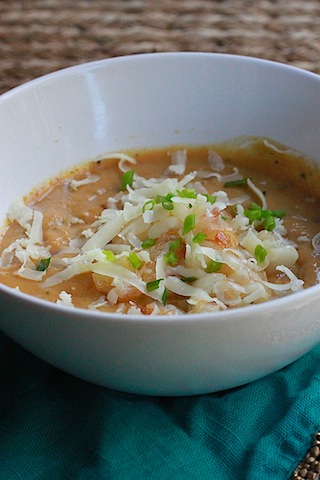 On days where I work at my gym, I almost always try to bring my own lunch to save some moolah. But some mornings I'm in such a rush trying to get out of the house on time (read: half asleep) that I completely forget to pack something to eat. Thankfully, my gym has quite a nice cafe. Such a nice cafe that oftentimes I find myself jotting down what I had for lunch so I can try to recreate it at home.
Last week the soup of the day was a butternut squash and apple, which on a crisp fall afternoon, was just what the doctor ordered. Creamy and flavorful, I couldn't help but continue thinking about the soup long after I finished eating lunch. So, I took matters into my own hands and found a similar-sounding recipe courtesy of Food and Wine.
Butternut Squash and Apple Soup with Cheddar Serves 4
Adapted from Food and Wine
Print this Recipe!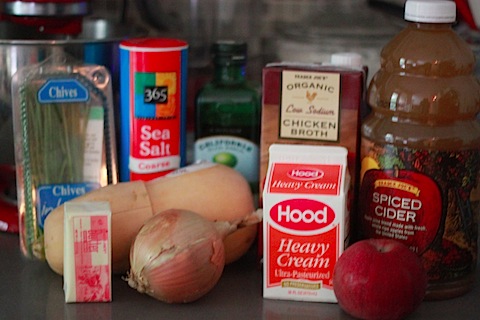 • 2 tablespoons extra-virgin olive oil
• 1 medium onion, thinly sliced
• ¾ cup apple cider or spiced cider
• one 1 ¾ pound butternut squash, peeled, seeded, and cut into 1-inch pieces
• 4 ½ cups chicken stock or low-sodium chicken broth
• ½ cup heavy cream
• 2 tablespoons unsalted butter
• salt and pepper
• 1 McIntosh apple, roughly diced
• cheddar cheese for garnish, grated
• chives, thinly sliced for garnish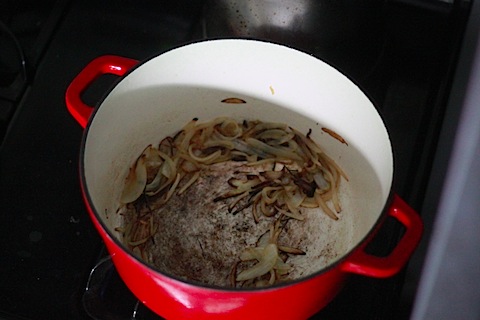 In a large pot, heat the olive oil. Add the onion and cook over medium high heat until golden brown, about 8 minutes. Add the cider to the pot and allow it to cook until it's syrupy, about 3-5 minutes.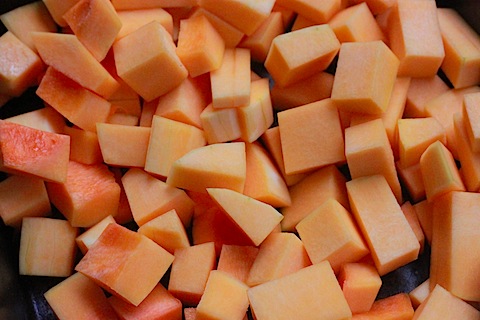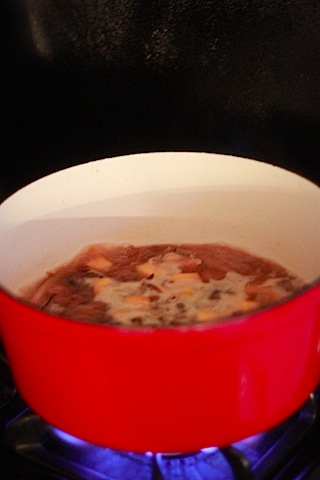 Next, add the butternut squash and broth and bring to a boil. Cover and allow to sit for about 40 minutes, until the butternut squash is tender.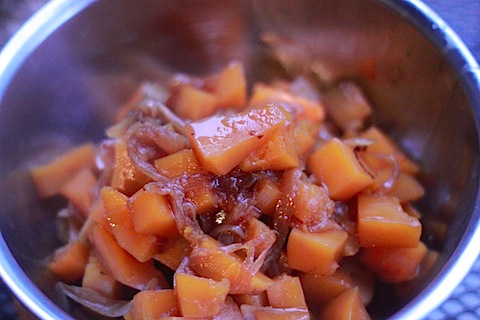 Now, transfer to your blender. I did this part in batches and spooned it from the pot into a smaller bowl then poured it into the blender so I'd have more control over it. My luck, I'd attempt to lift my heavy pot and dump all of the scalding hot soup all over myself! Makes for one extra dish to wash but it's worth it 😉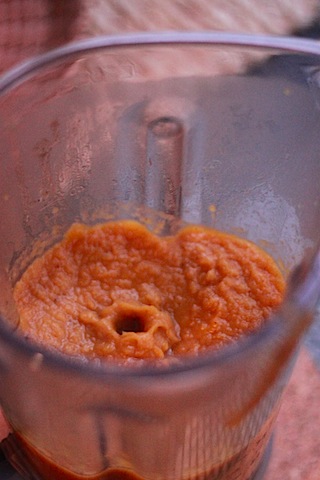 Puree the butternut squash then transfer back to the original pot and add the heavy cream.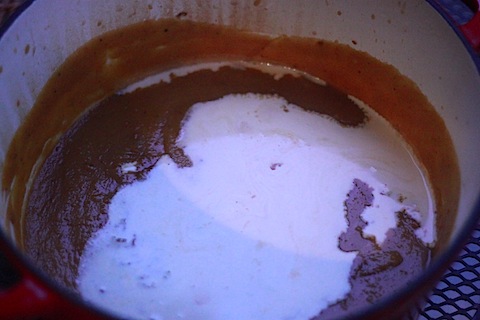 Season with a bit of salt and pepper. You'll want to keep the pot warm while you prepare the apples.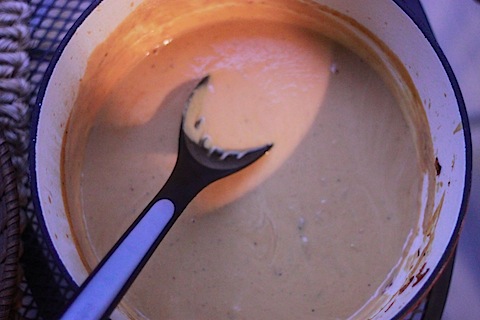 For the apples, you're first going to melt the butter in a skillet. Once warm, add the diced apples,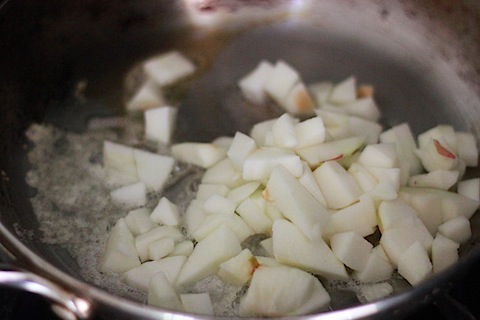 and allow to cook until lightly golden brown. Season with salt and pepper.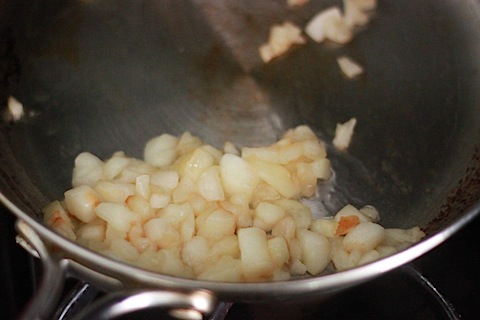 Now, you're almost ready to cozy up to a bowl of delicious soup. But first, you have to prepare each bowl, the fun part 🙂 First, garnish with cheddar. Naturally, I used Cabot's Seriously Sharp. It's always stocked in my fridge!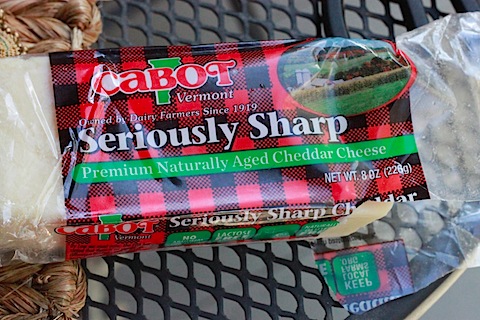 Then top with sauteed apples and chives.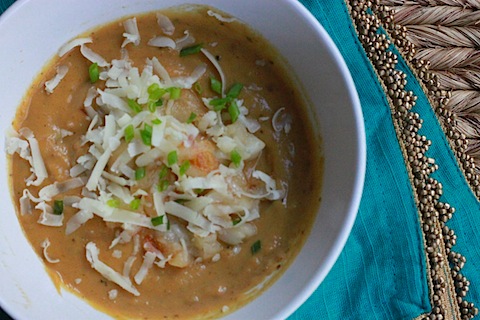 When I was younger, I never considered soup to be dinner. I was a weirdo. Because a hearty and filling soup like this is definitely the perfect way to end the day. And the perfect midday pick-me-up, too!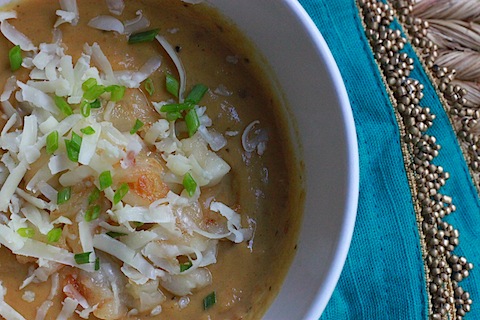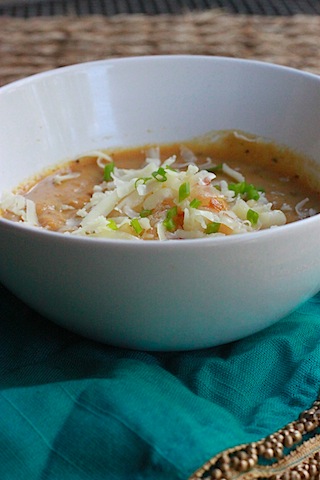 What's your favorite seasonal soup? I hear we're supposed to get snow (?!?!?!?!??!) in Massachusetts in a couple days? I need warm and comforting foods so I can happily hibernate this season 😉
[Chels]