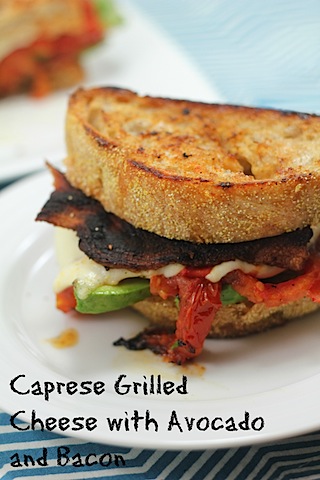 Hey, I have an idea. Let's combine all my favorite things on one sandwich, grill it up, and call it a night. OK? OK. Done. Those are the types conversations that go on inside my head on a regular basis. Sometimes the conversations are even weirder, like "I wonder how many confections I can top french toast with before it becomes totally unacceptable as either breakfast or dinner" and "If I eat an entire dozen cupcakes and nobody's around to see it happen, do the calories still count?" or "How many batches of homemade fluff do you have to make before you become a certified fluff-making expert? And where do I pick up my certificate?" I usually keep these conversations in my head because, let's be honest, they only make me look bad. But every so often, one of those conversations lands on the blog because I just can't help myself. And this is one of those times.
I love a good caprese sandwich. Or TBM, if you will. So, I planned on making one, but putting a twist on it by turning it into a grilled cheese and roasting up my fresh farm box tomatoes. But then I had a nice avocado just dying to be used. And I figured a little salty bacon never hurt any situation it walked into. So, the sandwich was born from there. And I don't regret any bit of it. Sometimes you just have to let your mind wander and carry on on its own path. You never know what kind of awesomeness it will stumble into.
Caprese Grilled Cheese with Avocado and Bacon (serves 2):
Print this recipe!
1 large or 2 small tomatoes, sliced
Olive oil
Sea salt
4 slices bacon
4 slices good bread
6 slices fresh mozzarella
Half avocado, sliced
Bunch of basil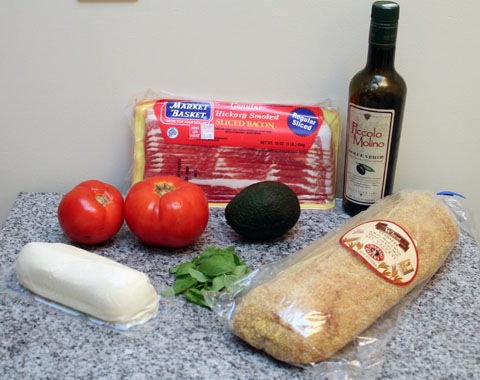 While this is a fairly quick grilled cheese sandwich, there are a few very important things you need to do to prep. One of those is roast the tomatoes. You really must roast the tomatoes. Fine, you don't have to. But you really should. Because the roast tomato will add a whole different depth to this sandwich.
Pre-heat oven to 450 degrees. Brush a baking sheet with olive oil and layer tomatoes on sheet. Brush tomatoes with a little bit of olive oil and sprinkle with sea salt.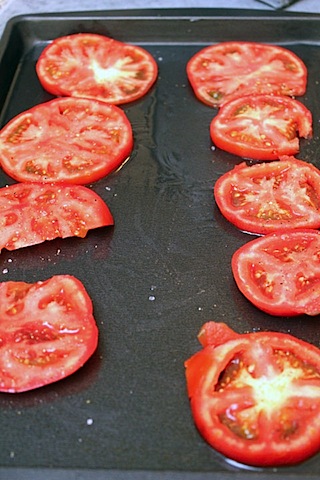 Pop them in the oven for about 20 minutes, until they're nice and roast-y looking. Yes, that's a word. In my weird head, anyway.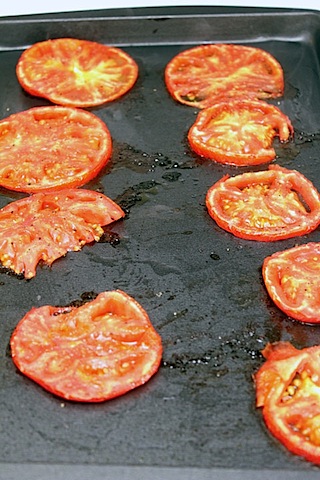 So, tomatoes are the first prep item you need to accomplish. The other? Cooking the bacon, of course! I'm a huge fan of slow-cooked bacon, but cook yours however you most enjoy it. But you must sprinkle some fresh-cracked pepper over it!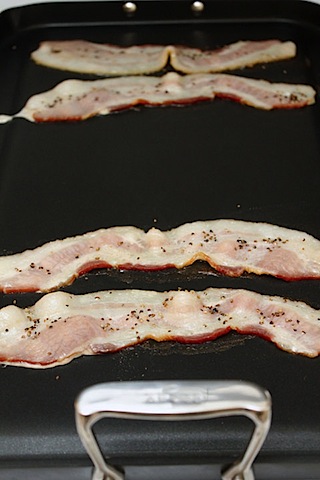 I crisped mine right up! Remove bacon to a paper towel-lined plate.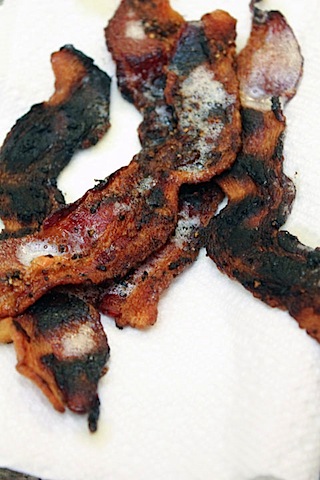 Of course you'll also want to slice your bread, along with the fresh mozzarella cheese and avocado. Clean your basil, too.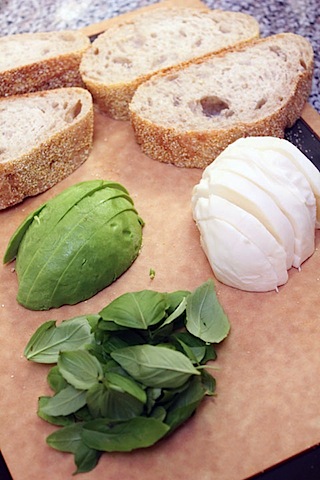 Like I said, adding the avocado to this was kind of an afterthought. But I kinda sorta have this avocado addiction that I can't shake. And I'd slice it up and put it on everything if it were socially acceptable. And if avocados could always be perfectly ripe whenever I wanted them to be. Seriously, one of my biggest pet peeves in life. I guess this just means my life is not that hard. I accept that.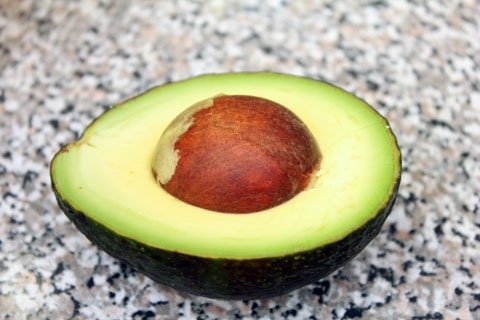 Once you have these things out of the way, you're ready to build your grilled cheese. Now, normally, I'd slather some butter on my bread slices and put them on the grill pan. BUT as I was getting the butter out, I noticed all that leftover bacon grease. Hmmm.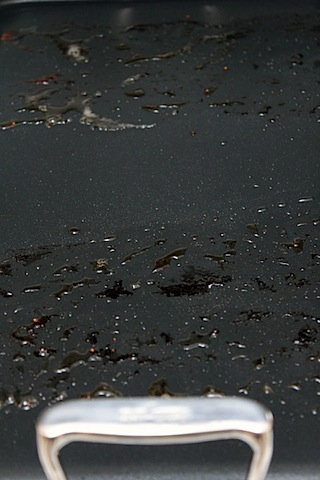 Nah… that would just be wrong, wouldn't it? But wouldn't it also be a shame to waste that perfectly good bacon grease? Yup.
So, I just went for it. And here's what I did:
I placed a piece of nice crusty bread right in the bacon grease on my skillet. Then I layered some mozzarella cheese on, followed by a few roasted tomatoes.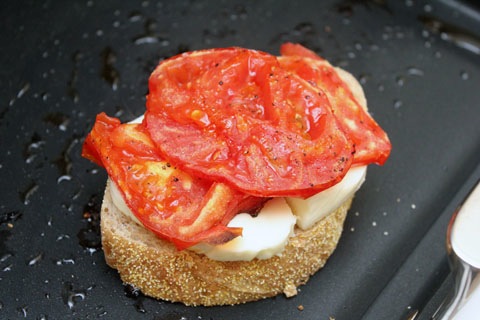 On went the basil.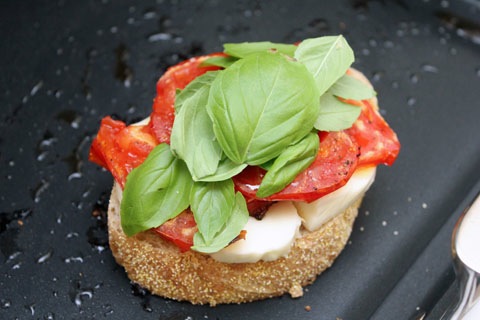 And the avocado.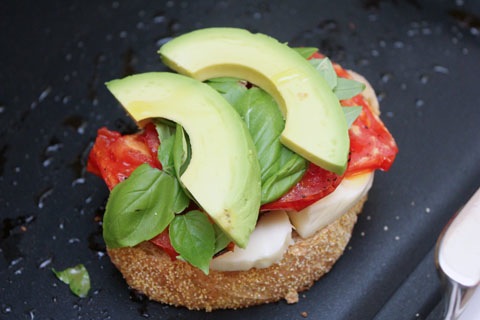 Followed by some super crispy bacon. Just call it a tower of deliciousness.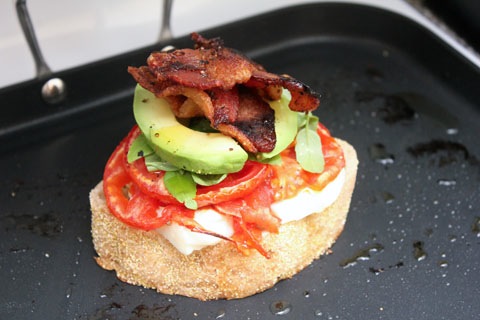 Then I put the other sides of bread on top and (very, very, very carefully) flipped them.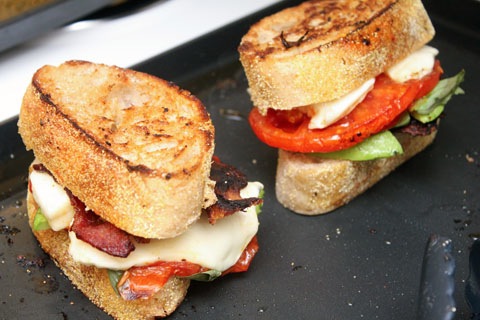 When the bread was nice and toasty and the cheese is melty, I removed from the heat.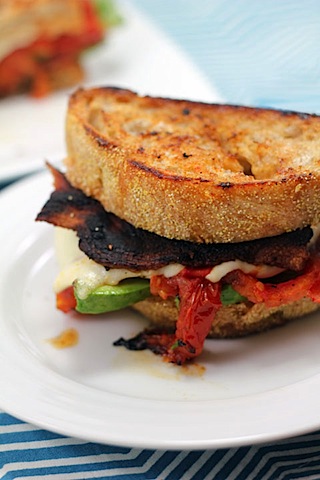 This sandwich looks a little bit like a hot mess. But in the best way possible.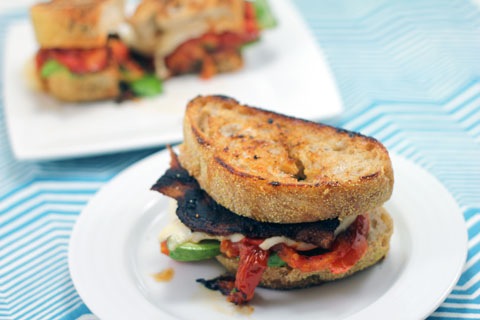 I like to equate it to my life. I'm a horrible decision maker and often try to do way too many things at one time. The result is that there's always A LOT going on and you're not always so sure all of the things make sense together. They can get a little messy. But then you quickly realize that in some weird way, everything really does make sense and is just meant to be. It all works.
Yes, I just compared my life to a grilled cheese sandwich and I'm really not sure what that says about me.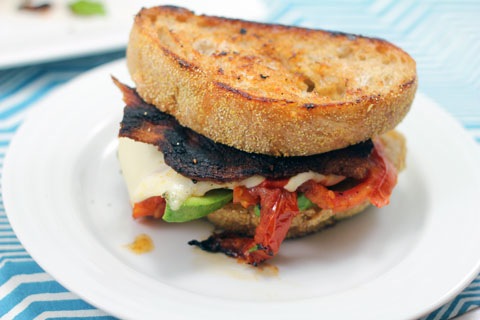 It's kind of scary how much I feel like that made sense. In my head, at least.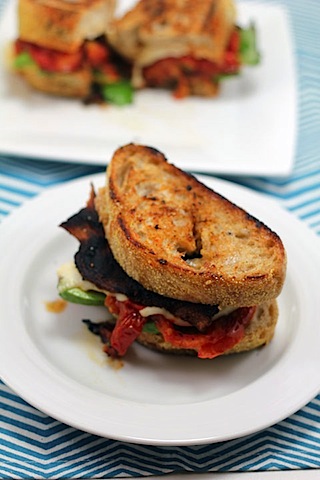 Let's just go with it.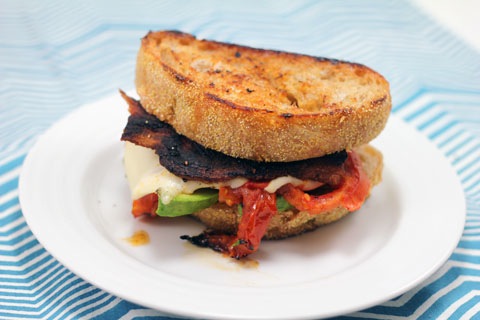 The bottom line is, I loved everything about this sandwich and think if I removed any of the ingredients, it wouldn't be nearly as good. The roasted tomatoes were heavenly (and I ate the few leftovers right off the pan when I finished the sandwich) and the basil and avocado added a little zing that made the grilled cheese taste incredibly summery and fresh.
I wouldn't change a thing about it. Or my weird little mind.
Do you sometimes feel like your recipes get out of hand? In a good way, of course 🙂
[Sues]