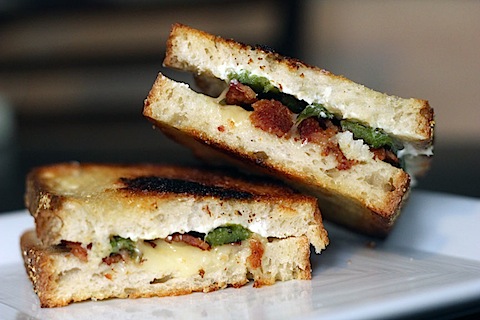 Happy Monday! See? I'm trying to be pleasant about it, but in truth, I'm feeling a bit sluggish. I actually generally enjoy Mondays, simply because they bring with them so much potential. Anything can happen with a whole week spread out in front of you. And this Monday is especially promising because, not only is it the start of the week, it's also the start of the month.
I tend to waver between cooking complicated, ambitious meals on Monday evenings and simple, "let's please ease into this week slowly" meals. I can already tell I'm going to need to ease into this week/month nice and gently and this sandwich is the perfect way to do so. Sure, it's a simple grilled cheese. But really, it's so much more than that.
As you probably know by now, I like to add spice to my meals whenever possible. So, what's better than a jalapeño-packed grilled cheese sandwich? And since jalapeño poppers are just about the best party appetizer ever, I decided to recreate them into a sandwich. Bacon-wrapped jalapeño poppers, of course. Because until recently, I didn't even realize people ate jalapeño poppers without bacon. Huh.
Jalapeño Popper Grilled Cheese (makes 2 sandwiches):
3 jalapeño peppers
1 t olive oil
4 strips bacon
4 slices crusty bread
1.5 T butter
1 oz. reduced-fat cream cheese
3 oz. pepperjack cheese(I used Cabot's 50% reduced fat)
(Turn broiler on high)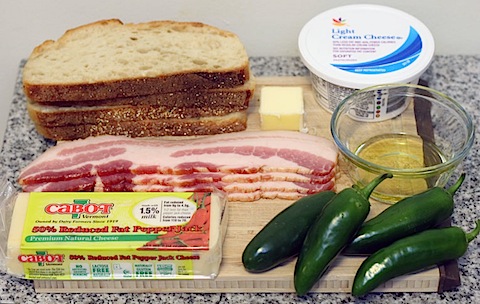 Start by cutting the jalapeños into strips and getting rid of that membrane. I disposed of many of the seeds, but left some since I knew I wanted the sandwich to have a kick.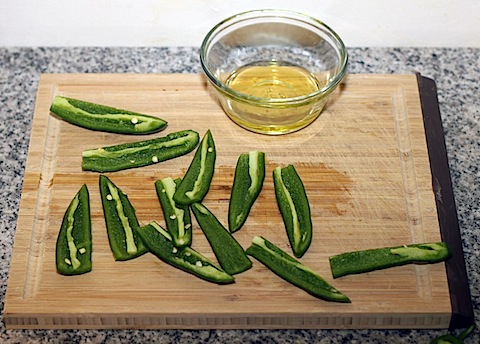 Brush the jalapeños lightly with olive oil and place on a foil-covered baking sheet.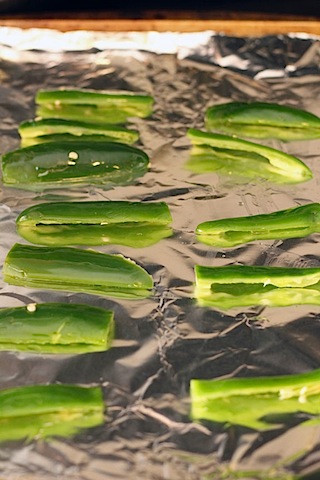 Broil the peppers for about 5-7 minutes, until nice and blackened. Put the peppers in a bowl and immediately cover, so they can steam. Once they're cooled, remove from bowl and take the skin off. It should come off from the pepper easily.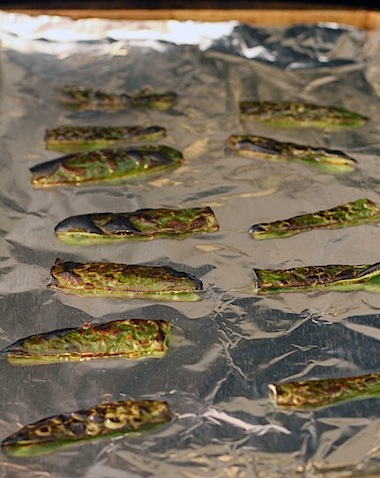 While the peppers are broiling, you can start cooking the bacon. Cook it until it's nice and crispy.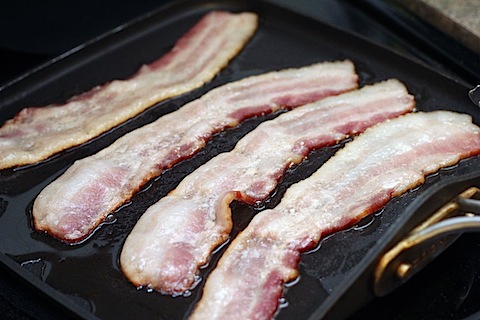 Divide 1.5 T butter between each slice of bread. Slather the tops of two of the slices with cream cheese. Place bread slices butter-side down on cooking surface over medium-low heat.
Put jalapeño peppers on top of cream cheese. On the other two slices of bread, lay out cheese.
Cook open-face for about 5 minutes, until the cheese is nice and melty and the bread is crisping up (but not burning).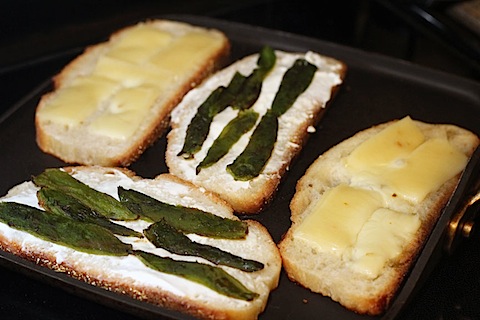 Remove bread slices from pan and put bacon on top of the cheese.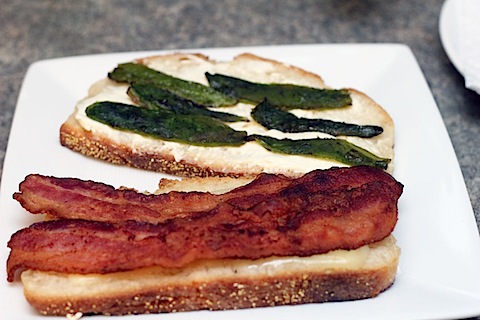 And your grilled cheese sandwich is complete! I love that it's basically a deconstructed jalapeño popper snuggled in between bread.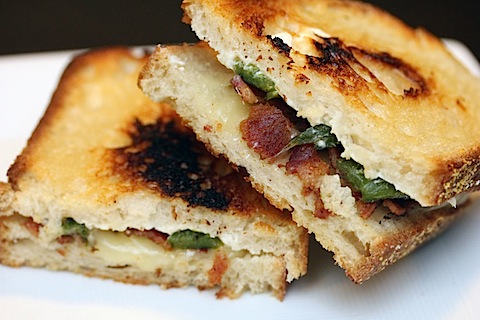 I honestly don't think I'll be able to look at "normal" grilled cheese sandwiches the same way ever again.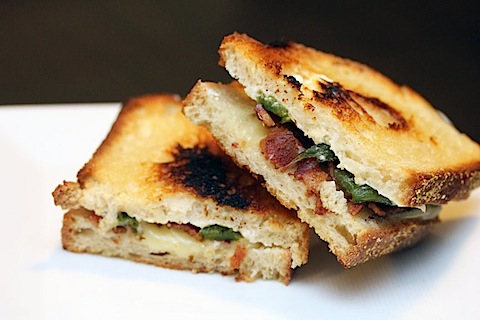 OK, Monday, you're really not so bad when you get started off this way. And I have a feeling this sandwich bodes really well for what the rest of August will bring. Fingers crossed.
Now, it's time for me to get this week started in the best way possible. With the new Bon Iver blasting on Spotify (seeing Bon Iver on Friday and I can't wait!!) and a nice mug of hot Starbucks coffee in hand. Plus, it's the season finale of The Bachelorette tonight. Yes, I watch and I have no shame 🙂 Who are you rooting for? I'm Team JP all the way. But I have to say, I'm quite excited for the upcoming Bachelor Pad… It's going to be scandalous!
I hope you all have a fabulous first day of the week and month and that August is your best month yet. I can't believe that summer is flying by so quickly and that before long, pumpkin recipes will be back in regular rotation! Sorry, I won't get ahead of myself 🙂
What are you looking forward to this week/month?
[Sues]