This Jalapeño Popper Grilled Cheese takes everyone's favorite jalapeño popper appetizer and turns it into a grilled cheese sandwich fit for a meal!
(This recipe for Jalapeño Popper Grilled Cheese was originally posted in August 2011, but has been updated with new photos and content in 2018).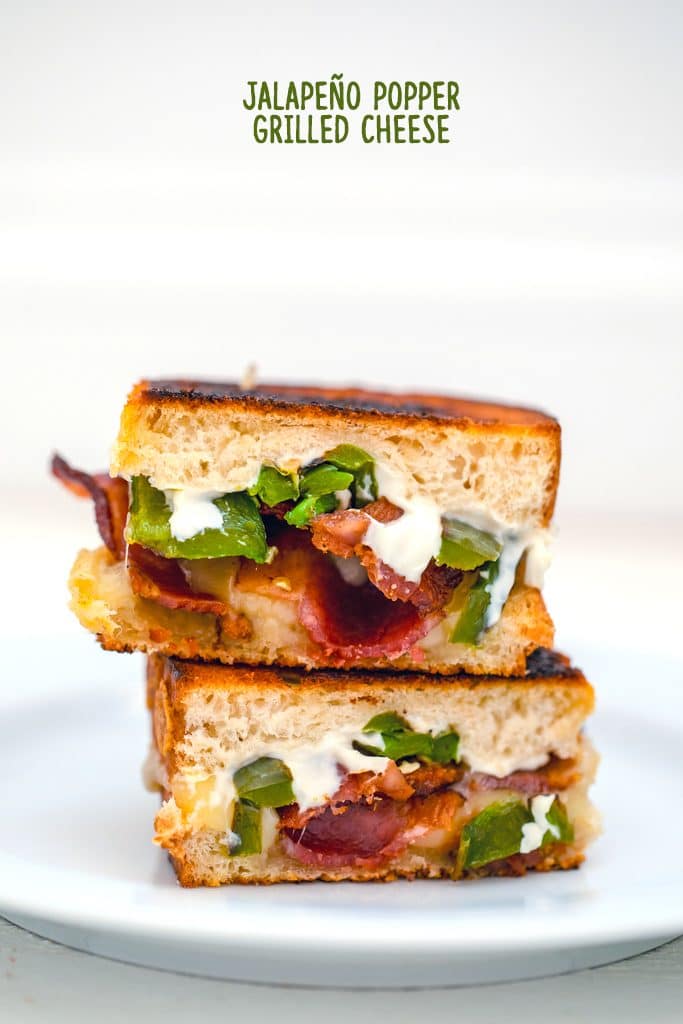 Grilled cheese is one of life's magical foods. But really, isn't it kind of amazing that a cheese sandwich sounds so "blah," but a grilled cheese sandwich sounds like heaven on Earth? It just goes to show you what a difference a little bit of butter and a griddle can make. I am always in the mood for a grilled cheese. I probably love cooking more than most people, but there are still nights where I just don't feel like cooking dinner. And those are often grilled cheese nights. Because we always have bread and cheese in the house (SO much cheese!) and it takes a grand total of 10 minutes to prepare (which means I can get back to the couch quickly).
But sometimes it's fun to jazz up a typical grilled sandwich. And sometimes it's fun to combine it with one of your all-time favorite appetizers and call it a day. And that's how this jalapeño popper grilled cheese was born.
JALAPEÑO POPPER GRILLED CHEESE RECIPE
As you probably know by now, I like to add spice to my meals whenever possible. So, what's better than a jalapeño-packed grilled cheese sandwich? And since jalapeño poppers are just about the best party appetizer ever, I decided to recreate them into a sandwich. Bacon-wrapped jalapeño poppers, of course. Because until recently, I didn't even realize people ate jalapeño poppers without bacon. Huh.
You'll start by cutting the jalapeños into strips and broiling them until they're nice and blackened. The first time I made this recipe, I peeled the peppers once they cooled a bit, but then I realized this wasn't really necessary. If you don't mind the skin, keep it on; otherwise, when you take the peppers out of the oven, place in a bowl and cover. Once the peppers are cool enough to touch, peel the skin off. Of course, you'll want to cook your bacon until it's very crispy, too.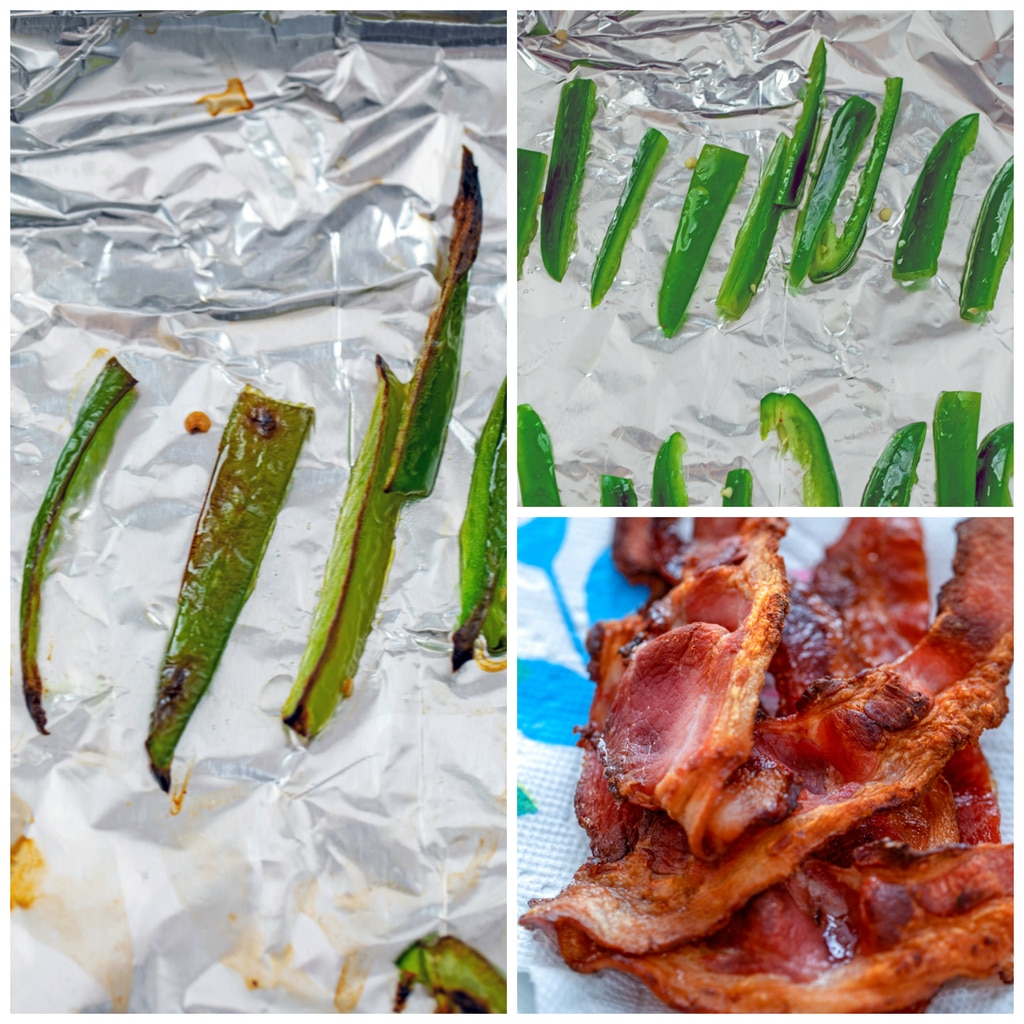 After that, comes the assembly! Butter one side of each slice of bread and then coat one side of two of the slices with cream cheese (for two sandwiches). Pile the peppers over the cream cheese and then top the other slices of bread with sliced cheese. I used pepper jack because it's especially fun with jalapeño poppers, but cheddar would work here, too.
Place each slice of bread butter-down on a lightly buttered griddle or skillet and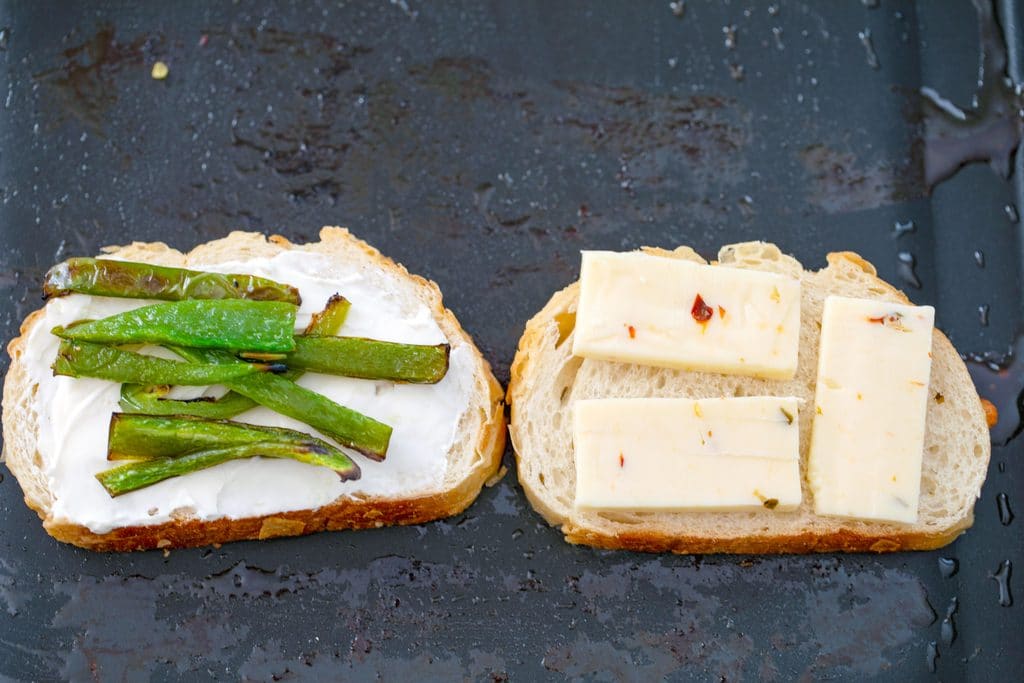 And your jalapeño popper grilled cheese sandwich is complete! I love that it's basically a deconstructed jalapeño popper snuggled in between bread. But, in my opinion, it's a whole lot easier to make than actual jalapeño poppers since you simply slice and broil the jalapeños and don't have to worry about soaking them, stuffing them, and wrapping bacon around them.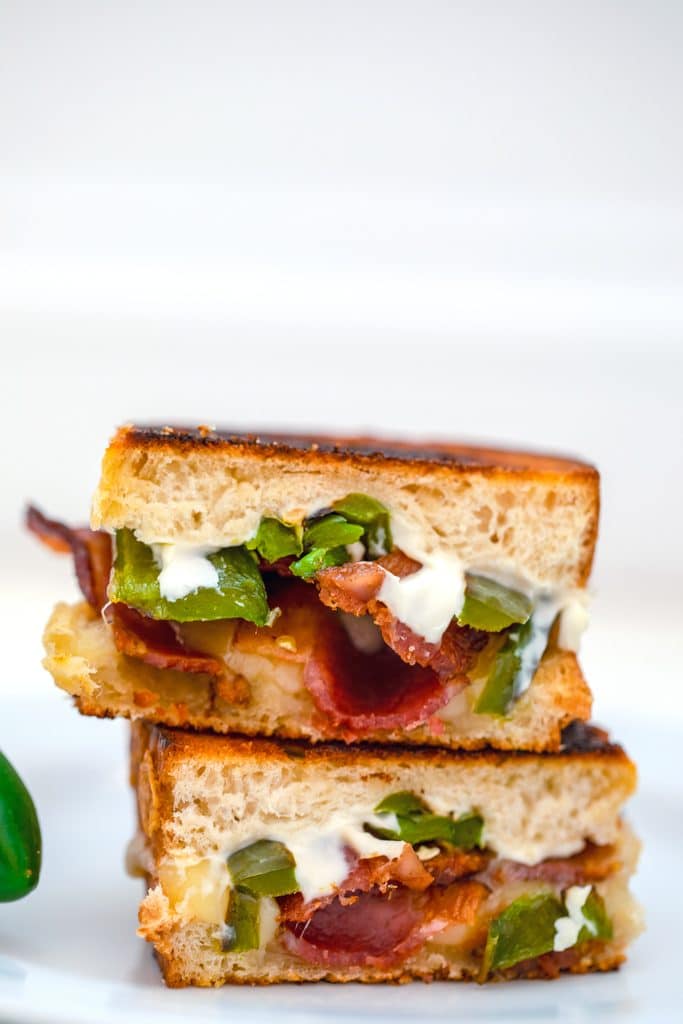 Plus? There's bread involved. I recommend using a nice crusty bread... I used brioche and it absolutely hit the spot.
If you're worried about too much spiciness, don't be! Since the jalapeños are seeded and broiled, they don't have too much heat left in them. And when mixed with cheese and bacon, the heat is not overwhelming at all and you get more of the actual flavor of jalapeño instead.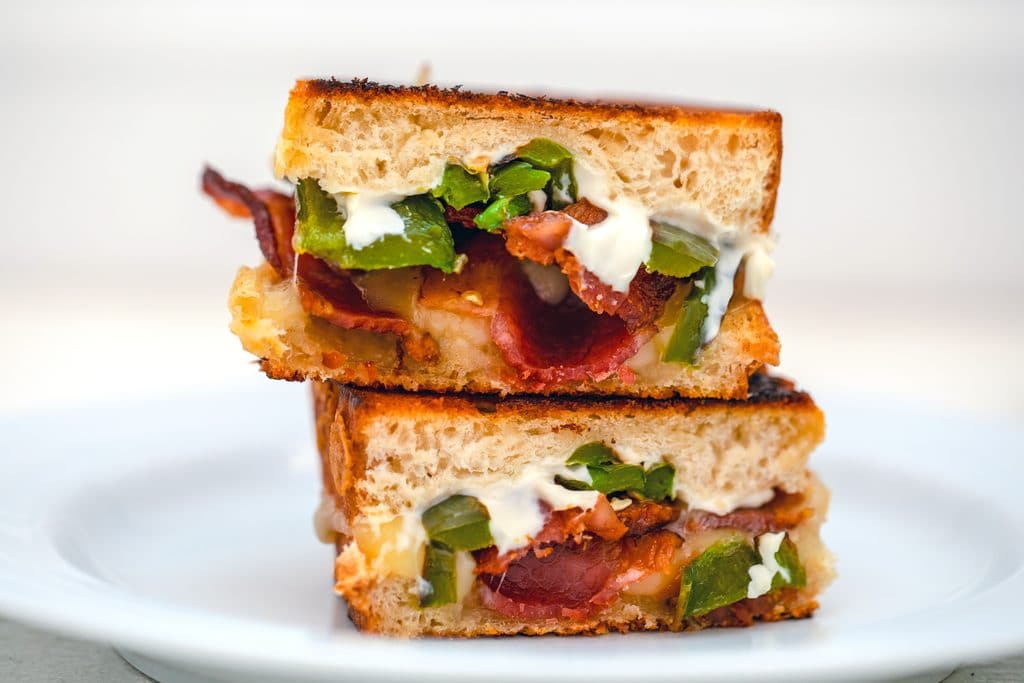 I honestly don't know that I'll be able to eat a "normal" grilled cheese sandwich again now that I've had this jalapeño popper grilled cheese! Fine, I'm not fooling anyone; any grilled cheese is welcome in my life, but this one is definitely going to be my #1 choice.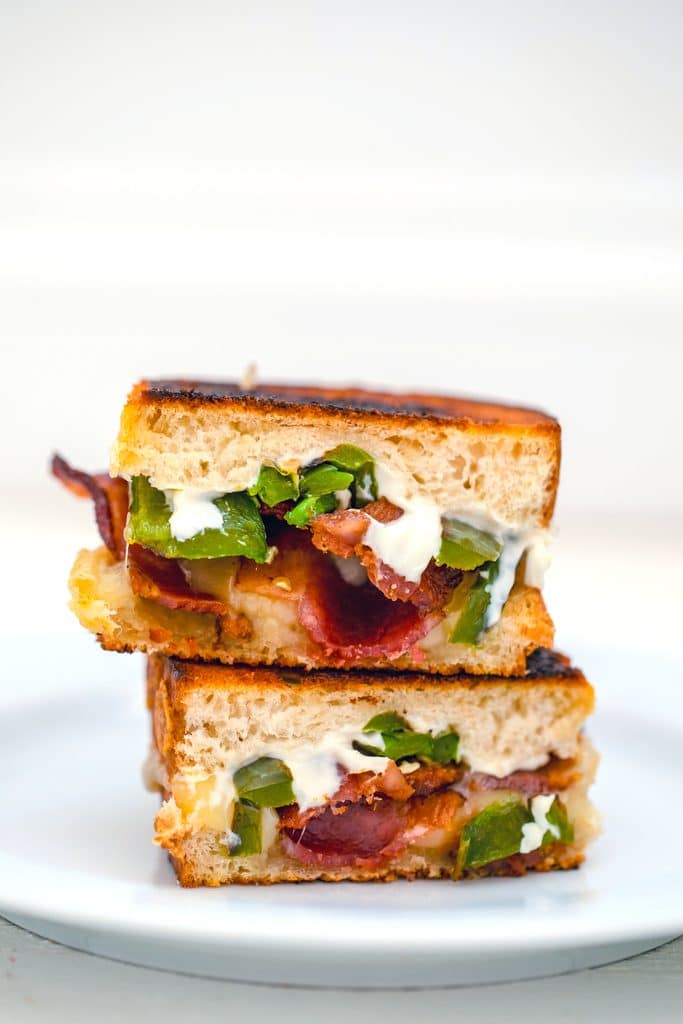 This jalapeño popper grilled cheese is the perfect Monday "dinner sandwich," but it's also a wonderful way to celebrate the end of the week. Who wants to be stuck in the kitchen cooking dinner on Friday night anyway?? Plus, you deserve lots of cheese. And bacon. I know I'm not alone when I say this week has been a doozy (to put it mildly). I can't fix the world's problems (oh how I wish I could!), but I can provide you with some recipes for delicious food so you can maybe feel just a little bit of comfort and love.
Do you ever have grilled cheese dinner nights?
If you're looking for more delicious grilled cheese recipes, check out my Buffalo Chicken Grilled Cheese or my Brie Grilled Cheese with Fig Spread, Green Apple, and Prosciutto.
📖 Recipe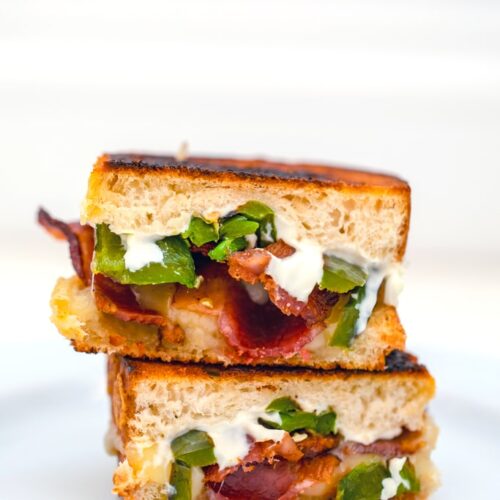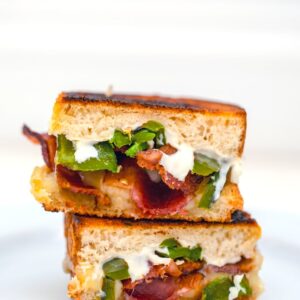 Jalapeño Popper Grilled Cheese
This Jalapeño Popper Grilled Cheese takes everyone's favorite jalapeño popper appetizer and turns it into a grilled cheese sandwich fit for a meal!

Print
Pin
Rate
Ingredients
3

medium jalapeño peppers,

thinly sliced

1

tsp

olive oil

4

strips

bacon

4

slices

crusty bread

2

Tbsp

unsalted butter,

plus more for pan

3

Tbsp

cream cheese

(can use reduced-fat if you prefer)

3

oz.

pepper jack or cheddar cheese,

sliced
Instructions
Pre-heat broiler and line a small baking sheet in foil.

Cut jalapeños into strips, removing membrane and seeds.

Brush jalapeño strips lightly with olive oil and place on a foil-covered baking sheet.

Broil peppers for about 5-7 minutes, until nice and blackened. If you want to remove the skins from the peppers (not required), immediately put the peppers in a bowl and cover, so they can steam. Once they're cooled, remove from bowl and take the skin off. It should come off from the pepper easily.

While peppers are in oven, cook bacon on a griddle or skillet until it's crispy.

Butter one side of each of the four slices of bread. Slather the tops of two of the slices with cream cheese.

Pile jalapeño peppers on top of cream cheese. On the other two slices of bread, lay out cheese (on the non-buttered side).

Place bread slices butter-side down on lightly buttered griddle or skillet over medium-low heat.

Cook open-face for about 3 minutes, until the cheese is nice and melty and the bread is crisping up (but not burning). Place bacon on top of jalapeños and top with cheese-covered slice of bread. Press together and let cook for another minute, flipping once.
Share a Photo of Your Finished Recipe!
Mention @wearenotmartha and share a photo if you've made the recipe!