This simple drink is just the thing when you don't have the time or the ingredients to make a traditional margarita. Tequila and Sprite is a delicious cocktail combination that's so easy to make!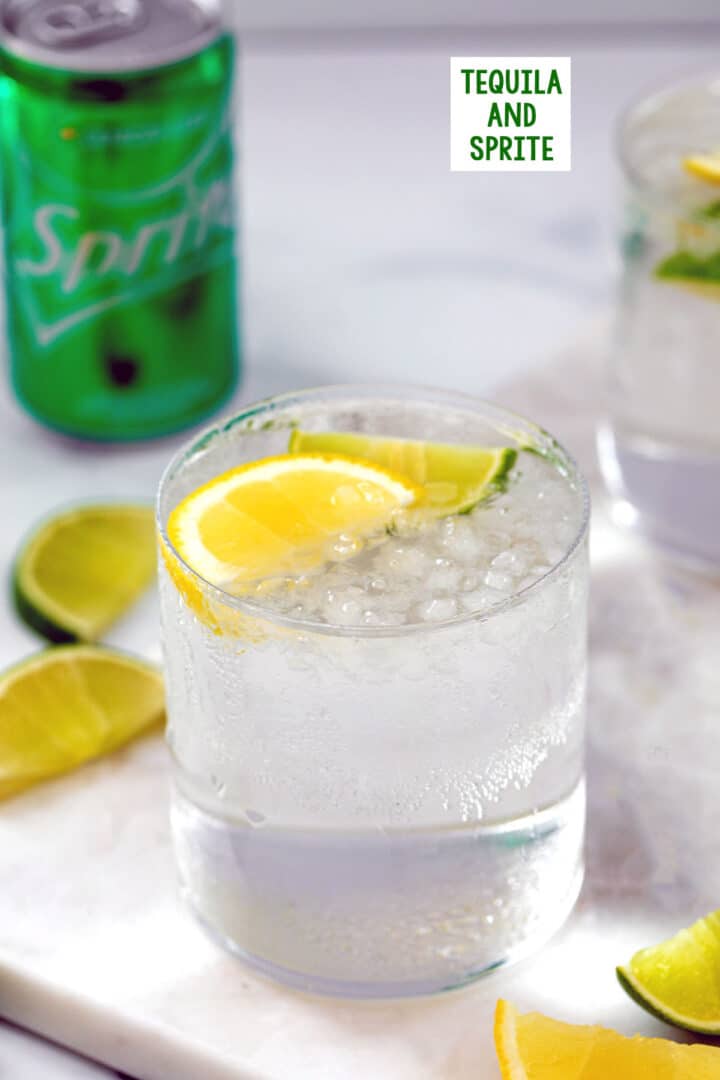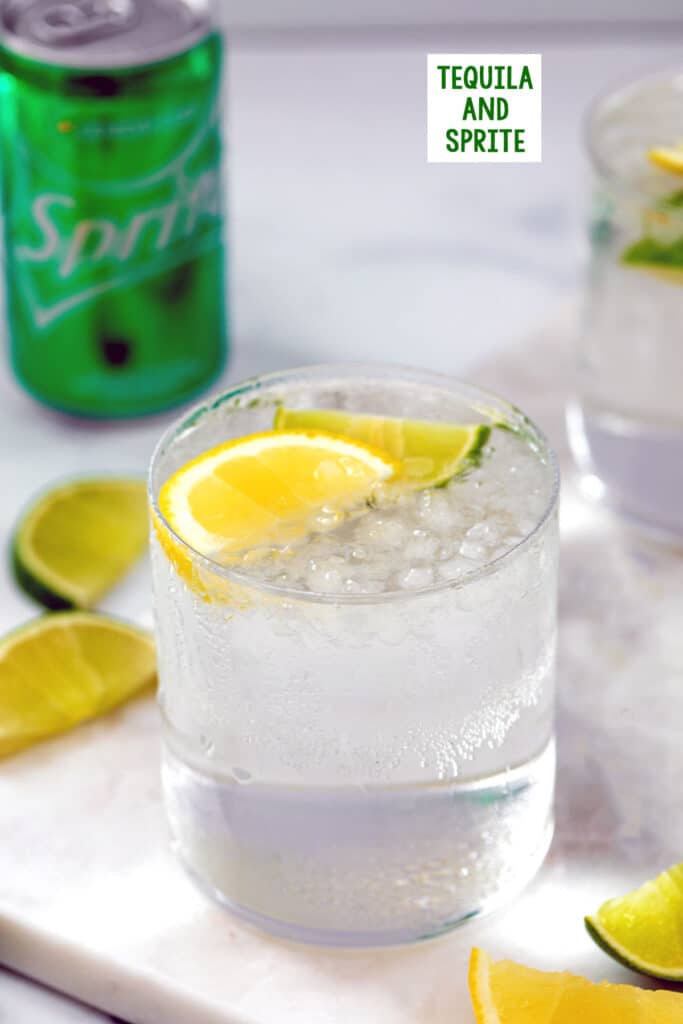 Jump to:
If you know me, you know I love creating elaborate cocktail recipes. I'll make crazy simple syrups, roast fruit, and even infuse liquor.
But sometimes? Especially after a long week where I don't have any energy to squeeze the juice out of limes, much less roast a grapefruit, sometimes a simple cocktail really is the best.
You might think this drink is too simple. Why am I sharing a 2-ingredient cocktail recipe that is pretty self-explanatory? Because it's delicious and, I think, incredibly underrated when you're looking for an easy cocktail recipe.
❤️ Why you'll love this drink
You'll love this tequila and Sprite drink because it's incredibly easy and quick to make. You literally just have to pour two ingredients into an ice-filled glass!
But there are also lots of ways you can make it more special (see the "alterations" section of this post).
While fancy homemade margaritas are perfect for some occasions, this cocktail is just what you need after a long hard day when you don't want to spend another minute in the kitchen.
🗒 Ingredients
The ingredients for this drink are pretty self explanatory... It's all in the name! All you really need for this cocktail are:
It's also nice to garnish the drink with fresh lemon and/or lime wedges. But if you don't have any, this will still be delicious.
In terms of the Sprite, you can use any kind you want. I generally make this with regular Sprite, but you can also use Diet Sprite or Sprite Zero.
🧊 How to make tequila and Sprite
Of course, this cocktail is also quite easy to make.
Simply fill a glass with ice and add about 2 oz. of tequila to it.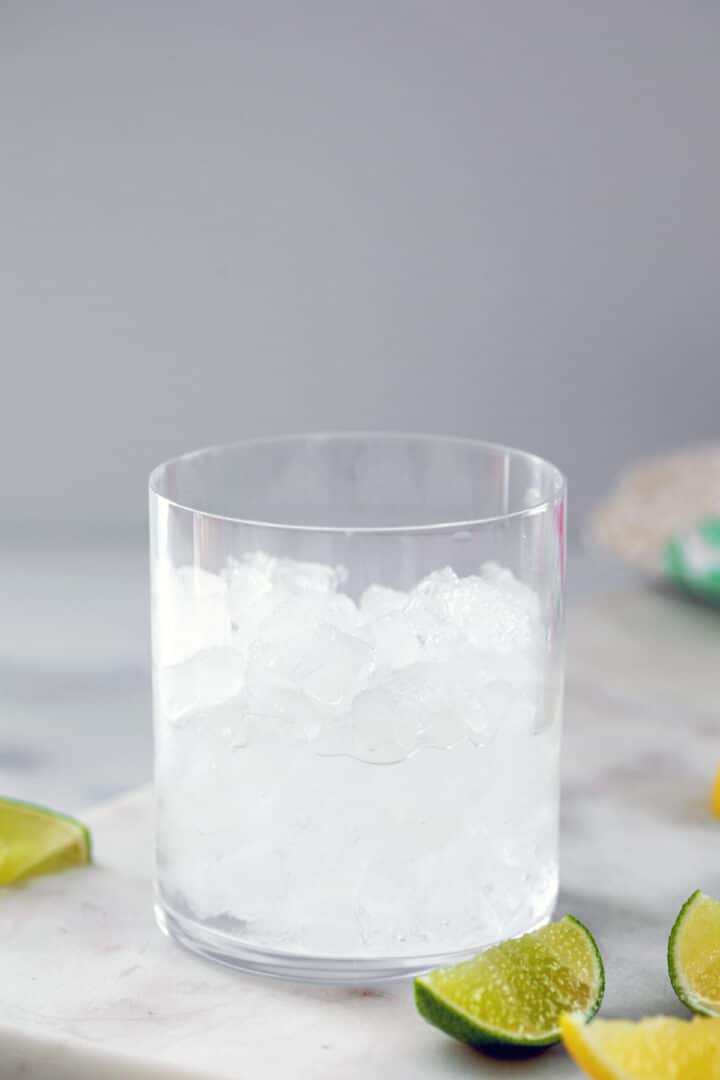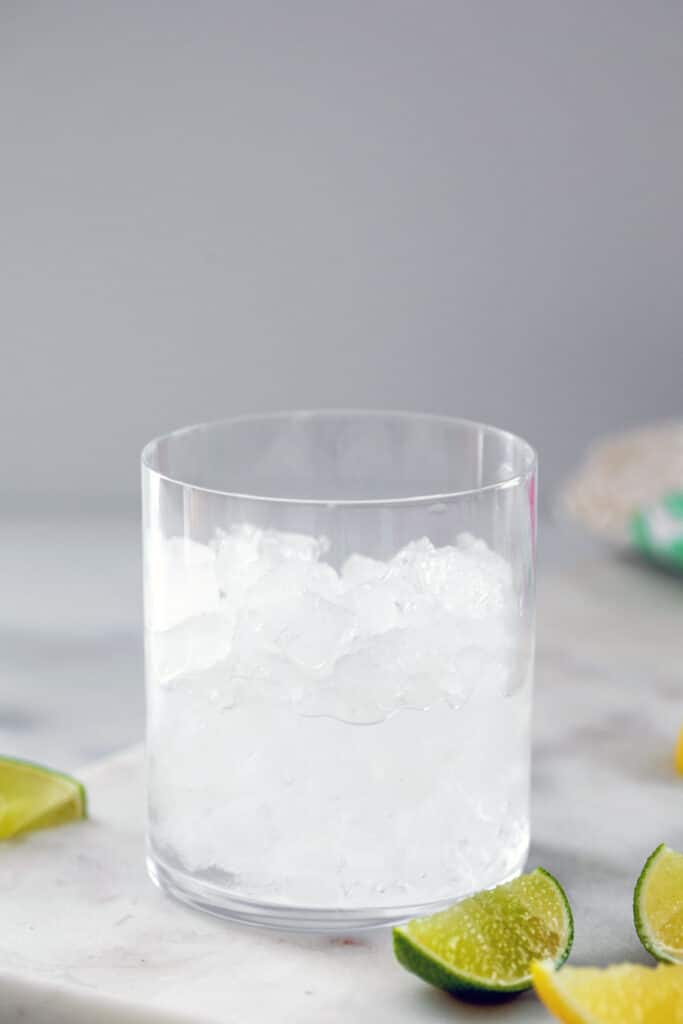 And then top off with about 4 oz. of Sprite.
Add lemon and/or lime wedges for garnish.
And you're ready to sip!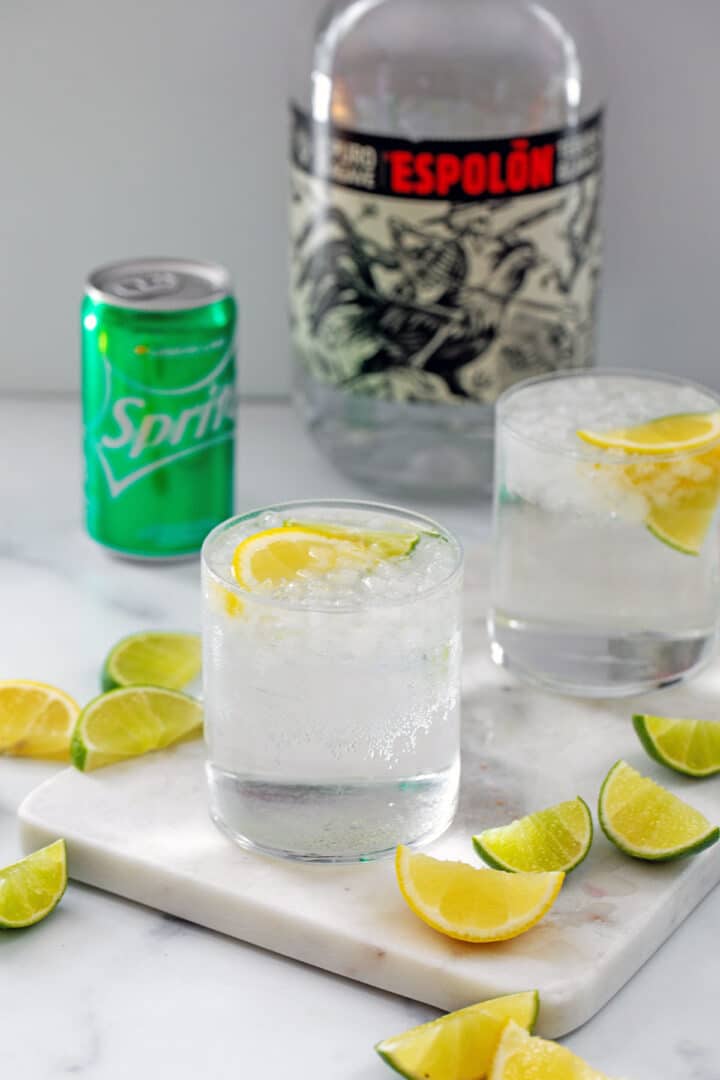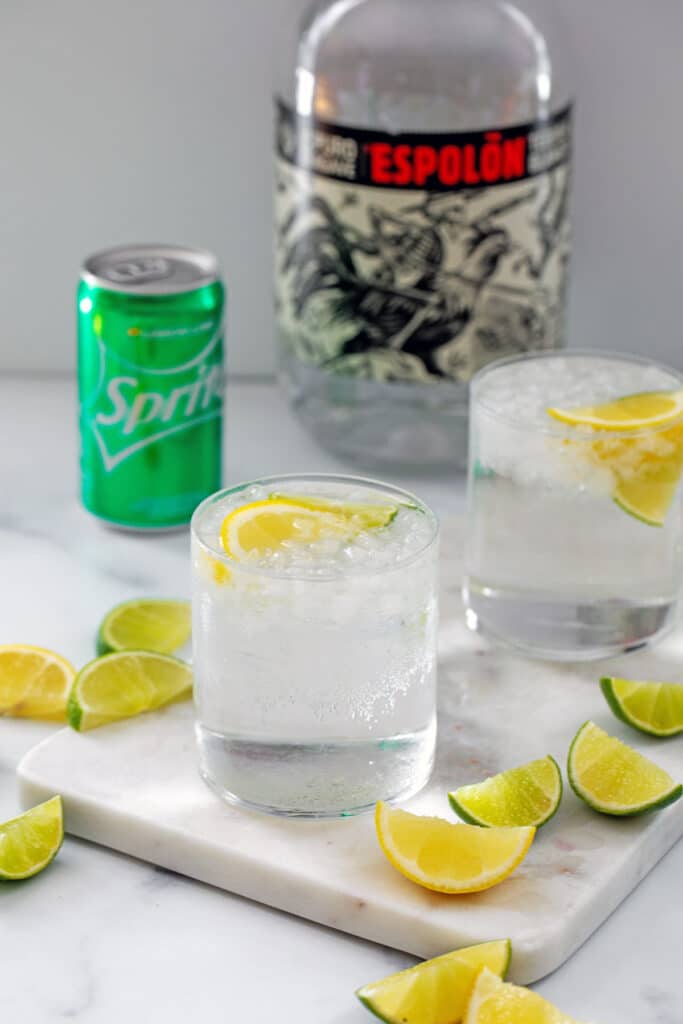 You are obviously welcome to play around with the ratios of this drink... Want something stronger? Add more tequila! Or add less if you just want a little kick.
💡 Alterations
There's so much you can do to a tequila and Sprite to make it more special! Here are a few ideas:
Squeeze some fresh lemon and/or lime juice into the drink for extra citrus flavor.
Add a little orange cointreau, triple sec, or orange juice to make this even closer to a margarita.
Add a splash of grapefruit juice to make it paloma-like or add your favorite fruit juice.
Add some grenadine to make this a Shirley Temple type tequila drink.
Stir in a little simple syrup in the flavor of you choice. I recommend jalapeño or watermelon.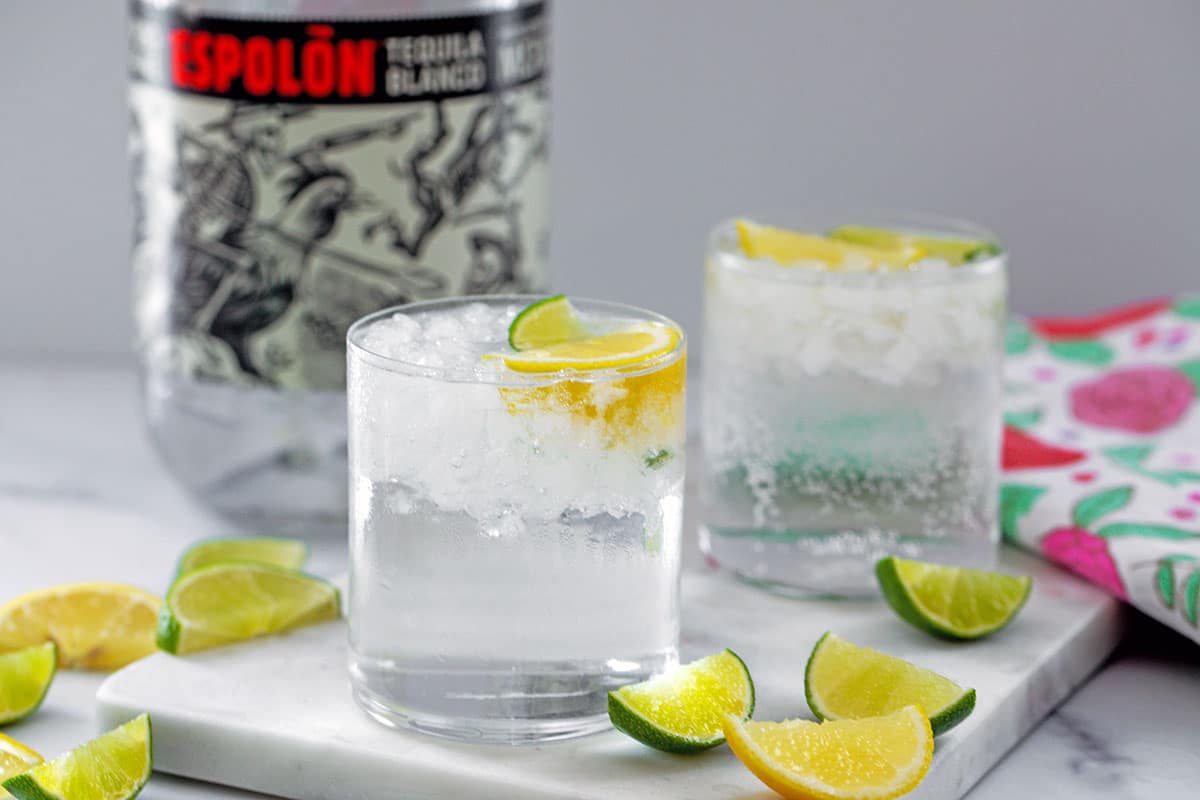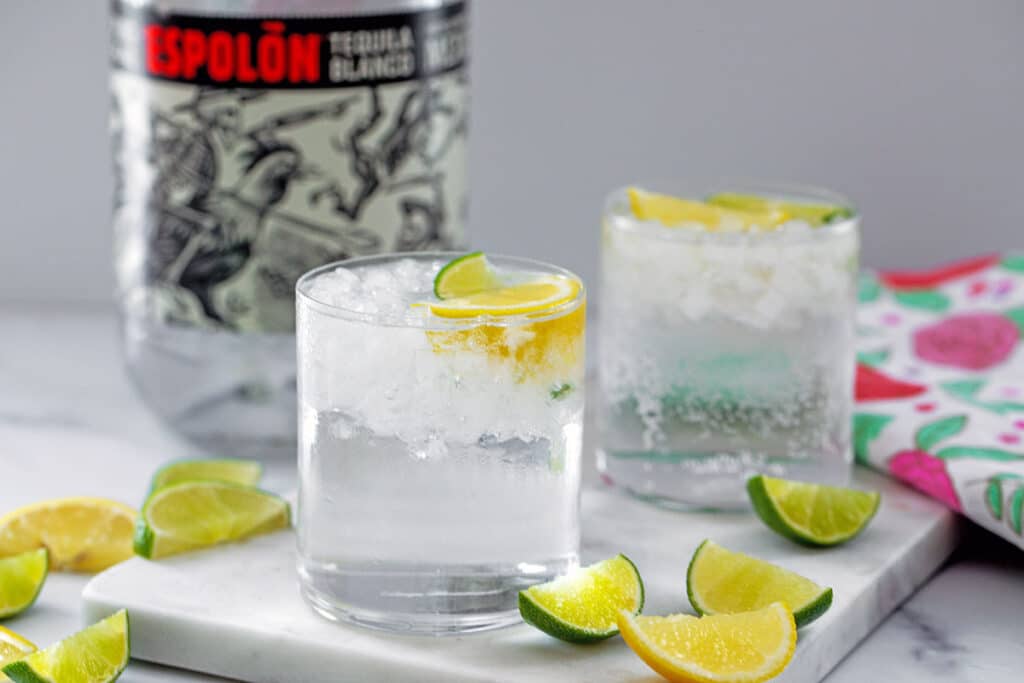 🥃 What kind of tequila to use
You can really use whatever kind of tequila you want, but note that because there aren't a lot of ingredients in this drink, the tequila really shines. Because of this, I like using a mid-shelf tequila (as opposed to what I'd recommend using in a margarita made with mix).
Of course, you're still mixing it with Sprite and not sipping it, so no need to use a tequila that's top-shelf or too pricey.
Some of my favorite mid-range tequilas are Casamigos Blanco, Herradura Silver. Esponlõn Blanco is also a really good tasting tequila that is a good value.
You can even try using Tequila Rose for a really tasty, creamy Tequila Rose and Sprite.
At the end of the day, whatever tequila is your favorite will work in this cocktail!
🥤 What if I don't have Sprite?
If you're all out of Sprite, there are several sodas that make a good substitute, including:
7-Up
Sierra Mist
Fresca
Store brand lemon lime soda
A soda like Mountain Dew will be a lot more intense/sweet and may mask the tequila taste a bit. more, but can still be used if you like.
You can also use a lemon or lime seltzer water or plain soda/seltzer water with your own lemon/lime juice added in, but the drink will be missing a little sweetness. You can always stir in some simple syrup!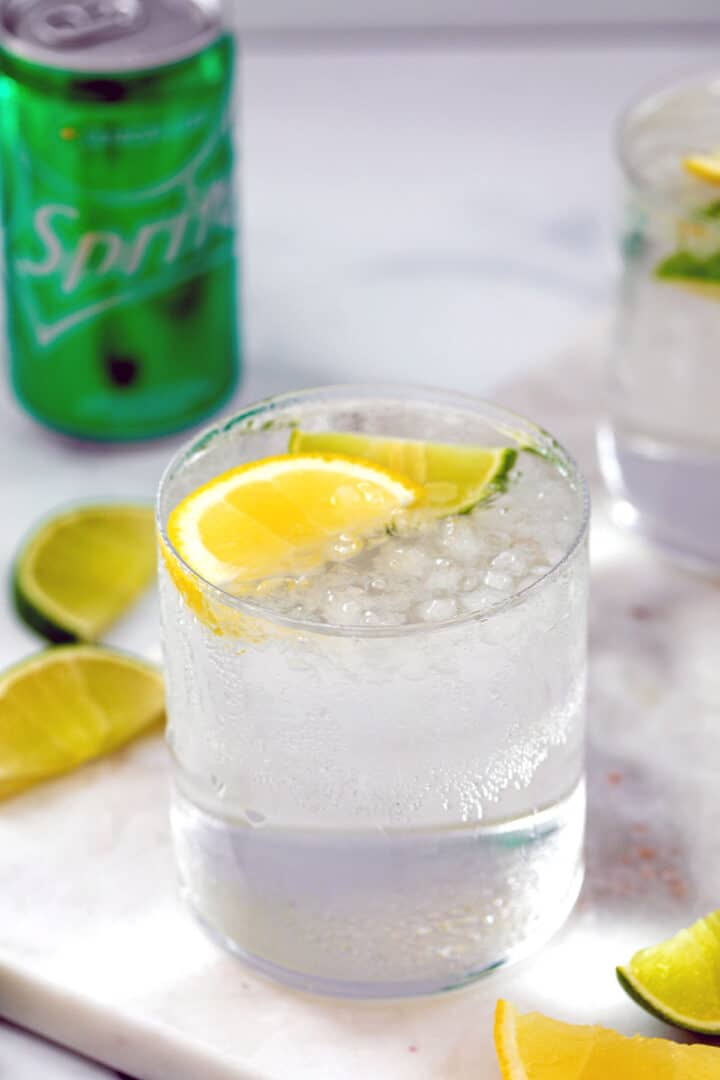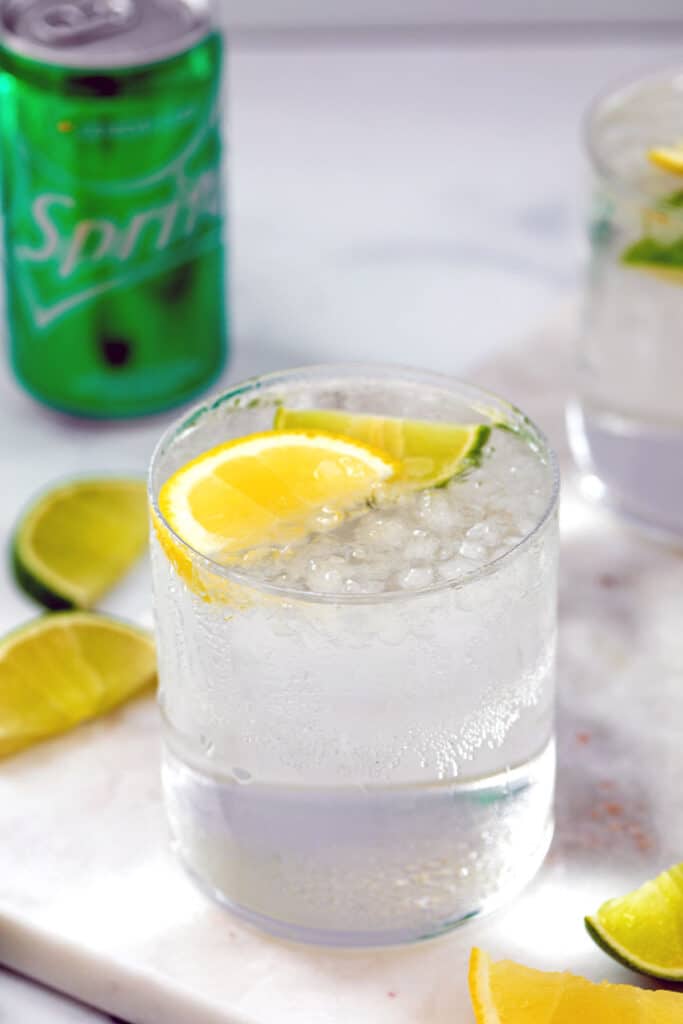 🍹 More tequila drinks
If you're looking for more creative drinks to make with your bottle of tequila, I'm sharing some of my favorites below!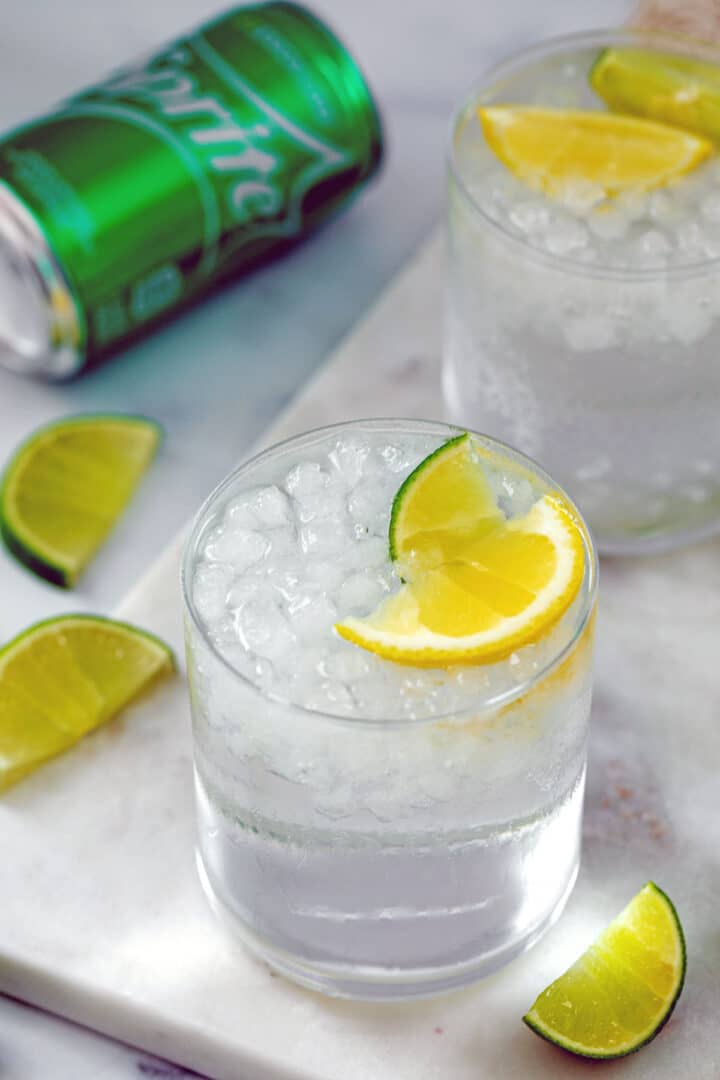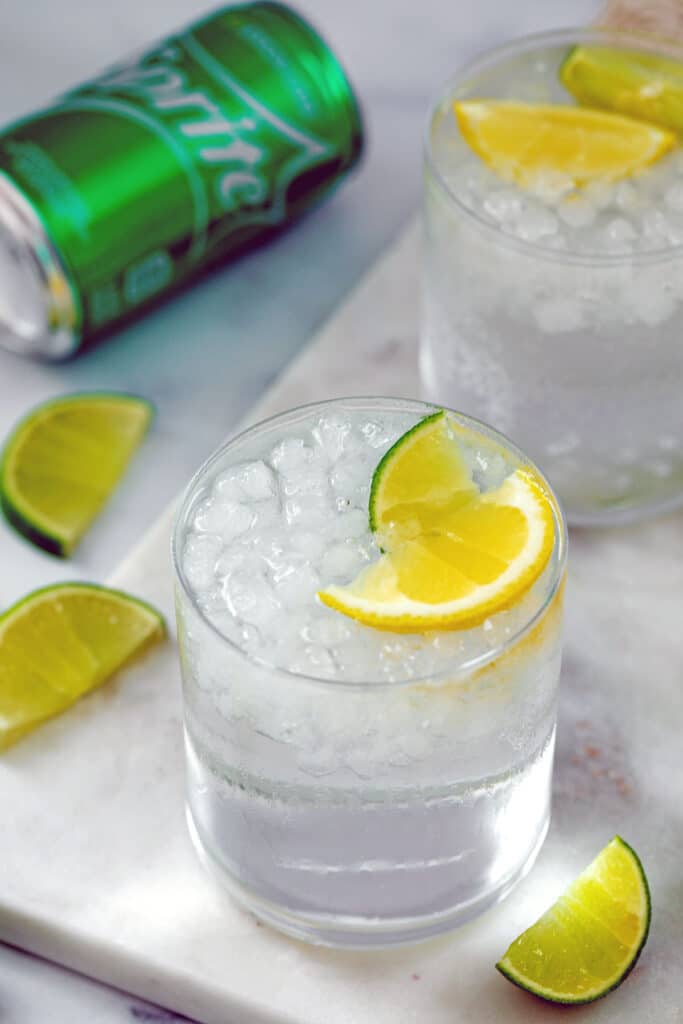 No matter how you enjoy your tequila Sprite, it's the kind of silly easy cocktail you need in your life right now!
Comment below to let me know how you drink yours!
Are tequila and Sprite good together?
Yes! The lemon lime soda complements tequila perfectly. The drink has a similar flavor to a margarita and the crisp citrus flavors are refreshing and delicious.
What is tequila and Sprite called?
There's no official name for a tequila and Sprite cocktail, but some people refer to it as a "budget margarita" or a "poor man's margarita" since it's much less expensive to make than a traditional margarita.
How many calories are in tequila and Sprite?
It depends on what kind of Sprite you use, but if using regular Sprite, there are about 177 calories in a tequila and Sprite using 4 oz. of Sprite and 2 oz. of tequila.
📖 Recipe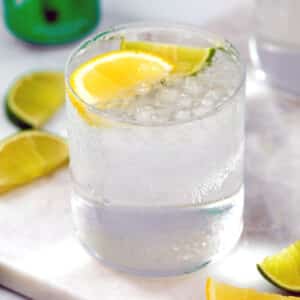 Tequila and Sprite
This simple drink is just the thing when you don't have the time or the ingredients to make a traditional margarita. Tequila and Sprite is a delicious cocktail combination that's so easy to make!
Print
Pin
Rate
Ingredients
2

oz

tequila

Ice

4

oz

Sprite

Lemon and lime wedges for garnish,

if desired
Instructions
Pour tequila into an ice-filled glass.

Garnish with lemon and lime wedges if desired.
Notes
You can feel free to adjust the amount of tequila and Sprite that you use to suit your own tastes!
See "alterations" section in post body for more ideas on what you can add to this cocktail.
Nutrition
Calories:
177
kcal
|
Carbohydrates:
12
g
|
Sodium:
12
mg
|
Sugar:
12
g
Share a Photo of Your Finished Recipe!
Mention @wearenotmartha and share a photo if you've made the recipe!