Made with homemade strawberry jam and an easy-to-prep dough, these Strawberry Breakfast Tarts are way more delicious than regular old Pop-Tarts!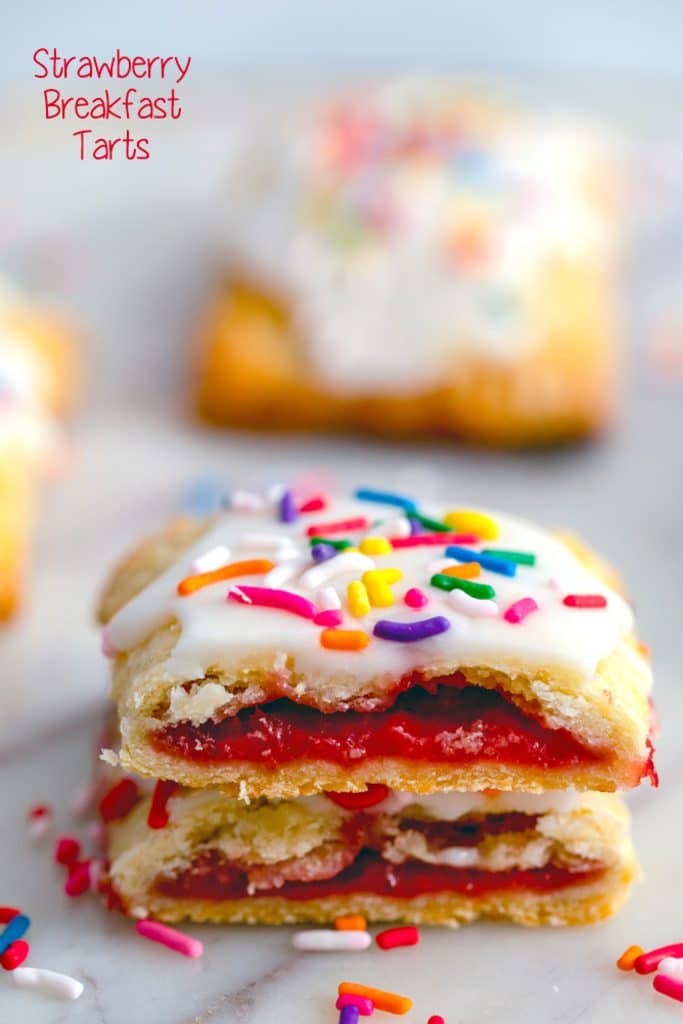 Do you remember your first cookbook? Mine was the 12th edition of the Better Homes and Gardens New Cook Book back when I was in college in 2003. My mom always dates and writes notes in books that she gifts me, which I absolutely love because it helps me remember a little bit of the gift's history.
In this one, she wrote, "May you always live with love, eat with love, and cook with love- these are life's greatest pleasures." Considering pasta with butter and parmesan cheese is pretty much the ONLY thing I cooked in college and neither my mom nor I had any idea I would some day start a food blog, the "cooking" part of these words probably didn't mean a ton to me at the time (ugh, does this mean you're going to take away my college meal plan??).
But reading them back 15 years later (omg how old am I?!), it brings me so much happiness to know that I'm doing all of these things in a major way.
I actually made quite a few recipes from the cookbook- mostly when I graduated college and really did need to start cooking on my own. And now 15 years later (OK, let's stop saying that now), the 17 edition of the Better Homes and Gardens New Cook Book [affiliate link] is out (note that I received a complimentary copy of the book) and I can't even tell you how excited I am about it.
This book has come a LONG way in 15 years (I swear I'm really done saying that now) to the point where I literally bookmarked 100 recipes I want to make. No joke. The photos are gorgeous and while there are still plenty of recipes that will teach you basic techniques and kitchen skills, there are also a lot of super creative, exciting and modern recipes. It's way "cooler" than I ever expected and definitely the kind of cookbook I can see myself "cooking my way through."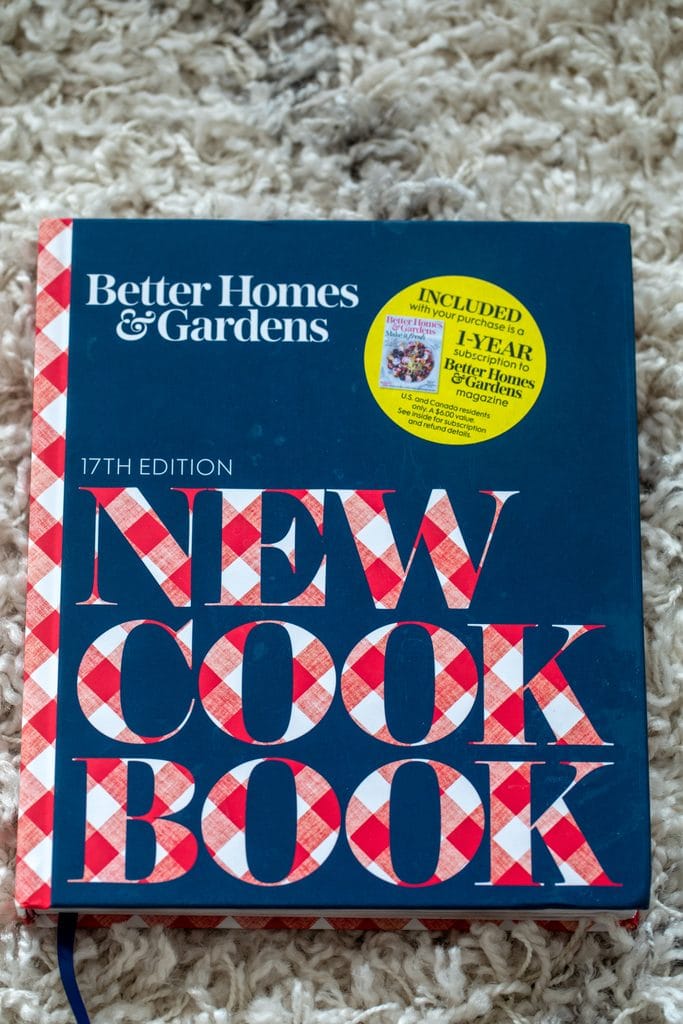 STRAWBERRY BREAKFAST TARTS RECIPE
When I saw a photo of breakfast tarts, I immediately knew I would be making them. One of the great things about this new edition is that it takes recipes throughout the book and recommends ways to combine them into new recipes.
So, the breakfast tarts recipe actually combine three recipes: 1) strawberry jam, 2) hand pies, and 3) icing.
HOMEMADE STRAWBERRY JAM RECIPE
First things first, you need to make the strawberry jam. You guys, this stuff is SO good that I've already made it a second time (strawberries were on sale and I couldn't resist) and have been putting it on everything.
The recipe is super easy. The first time, I only made half a batch because it's all you need for the breakfast tarts and strawberries were a bit too expensive for me to buy 11 cups. I did need to order pectin online [affiliate link] since I couldn't find it in any grocery store- I used low-sugar pectin and will share how I adjusted the recipe in my recipe notes below. But all you need for this homemade jam is fruit, pectin, sugar, and butter.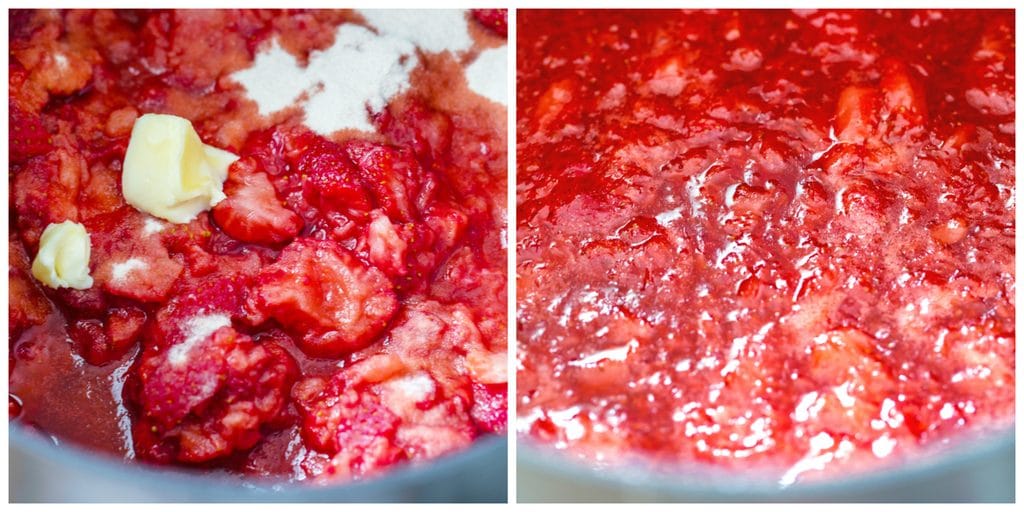 How gorgeous?! I still can't get over how easy and quick it was to make this. You could really use any fruit you want, making the flavor opportunities endless (hello, I'm gonna need a bigger fridge).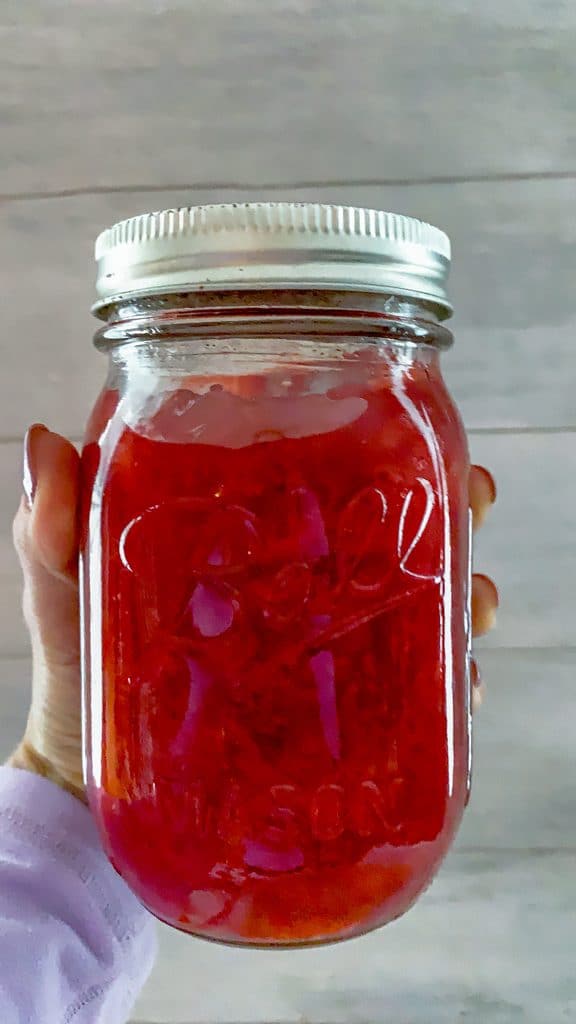 HAND PIE DOUGH RECIPE
The dough for the breakfast tarts is also pretty simple. If you've ever made pie crust or scones, it will be very familiar to you. You basically just need to cut cold butter into a flour mixture and then add egg and milk.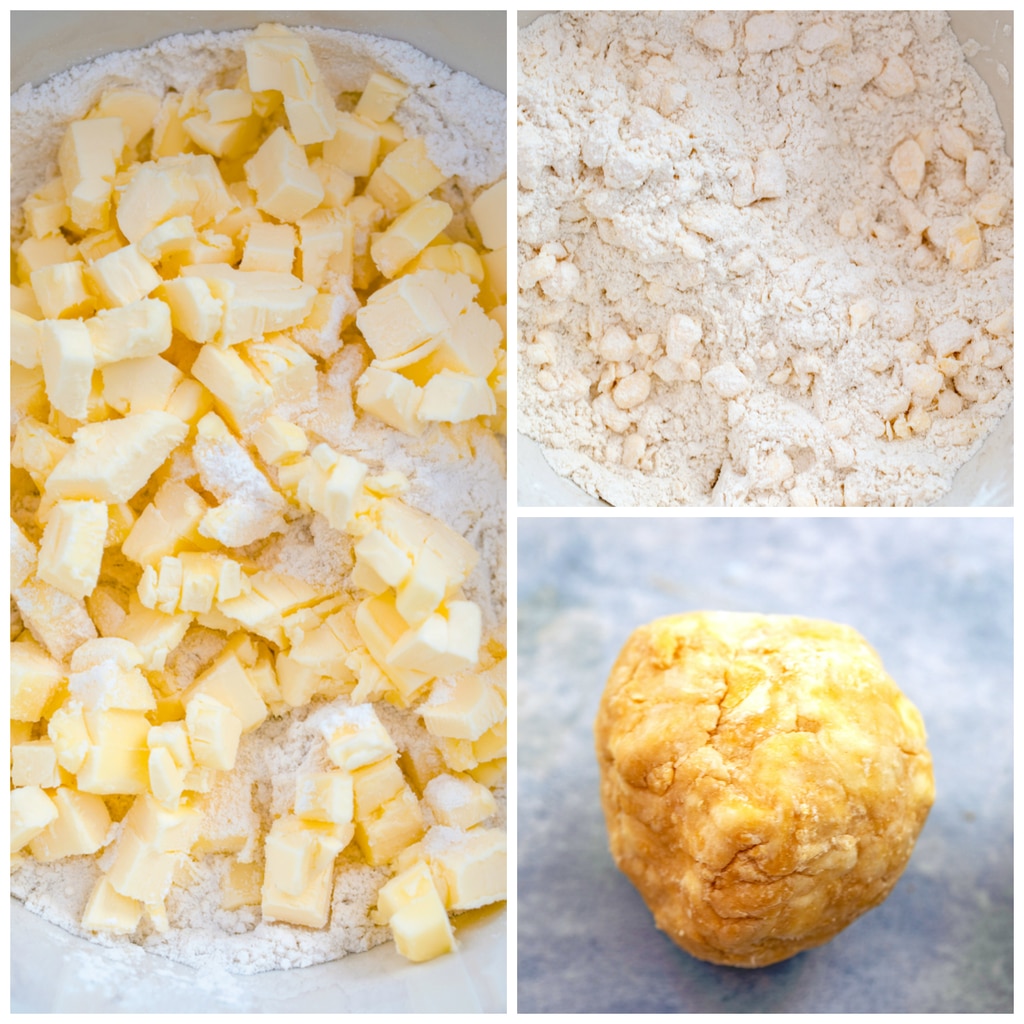 I'm not the best at rolling dough out evenly, so I welcome all the practice I can get. For this breakfast pastry recipe, you need to roll the dough into a rectangle and then cut that into four smaller rectangles. Place a little strawberry jam into the center of each and fold over.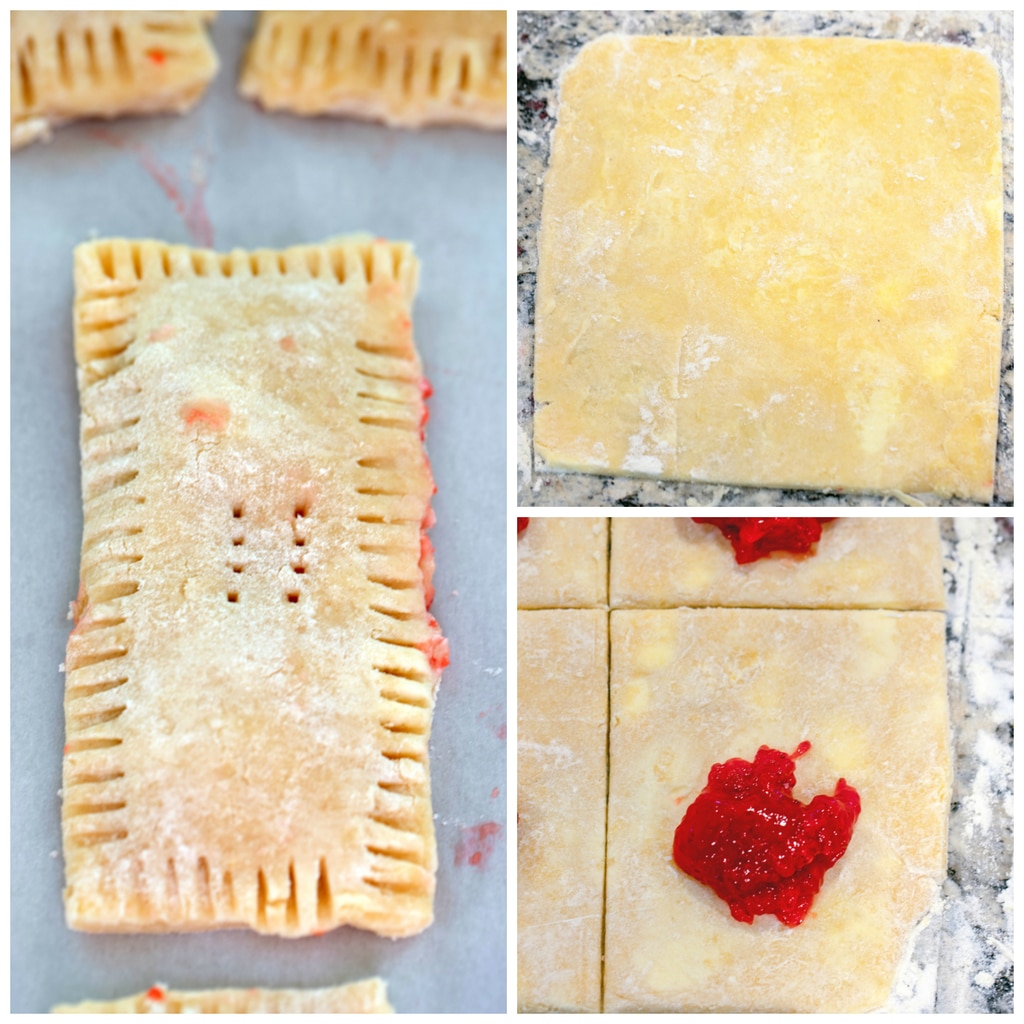 Bake the breakfast pastries for about 20 minutes... My strawberry jam got a little oozy (I overfilled them a bit) and the pastry got nice and flaky. They'll need to cool for a bit and then comes the last step!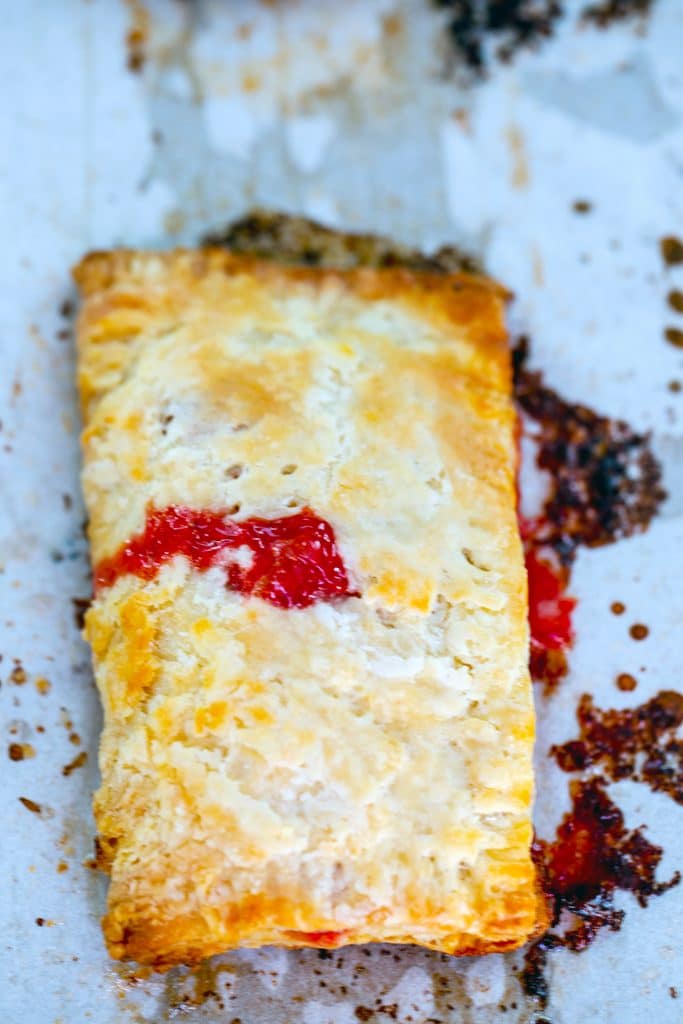 BREAKFAST TART ICING RECIPE
Luckily, this is also the easiest step... the icing! It's simply confectioners' sugar, milk, and vanilla all whisked together and then drizzled generously over the breakfast tarts.
Plenty of sprinkles are necessary, too. Because when you start your day with sprinkles, you are almost guaranteed to have the best day ever.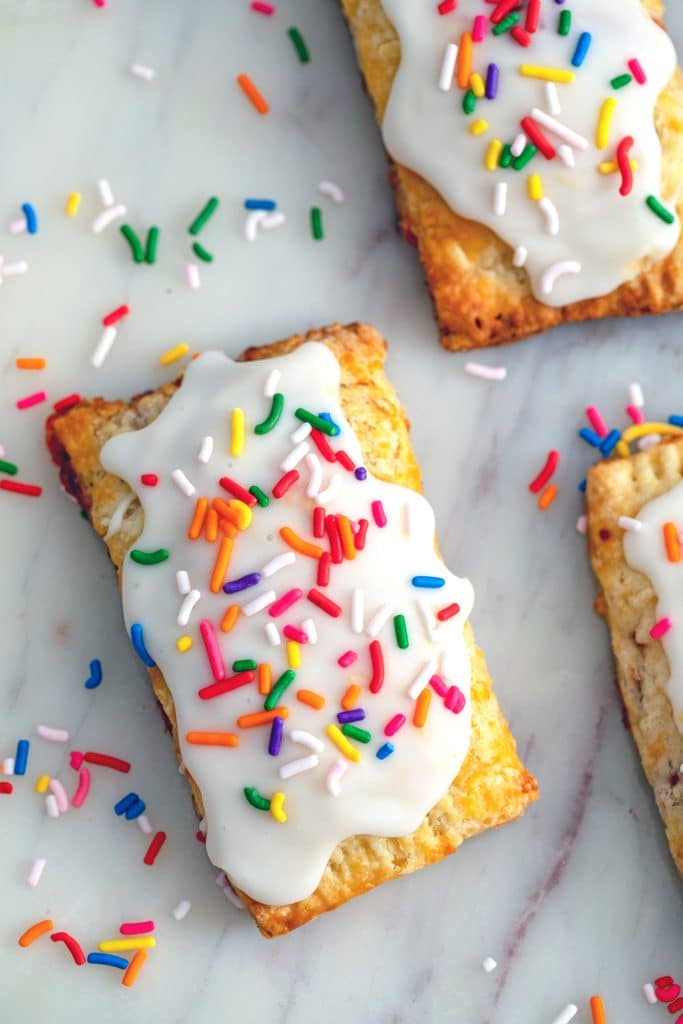 I love everything about these breakfast pastries, but that strawberry jam? OMG. I may have eaten some right out of the jar with a spoon. I honestly don't know how I'll ever buy store-bought jam again. I just need to learn more about canning, so I can continue making homemade jam and keep it fresh for as long as possible.
Yes, I am totally going to be that person with jars and jars of jam sitting on my basement shelves and am already envisioning about a million different flavors I want to make.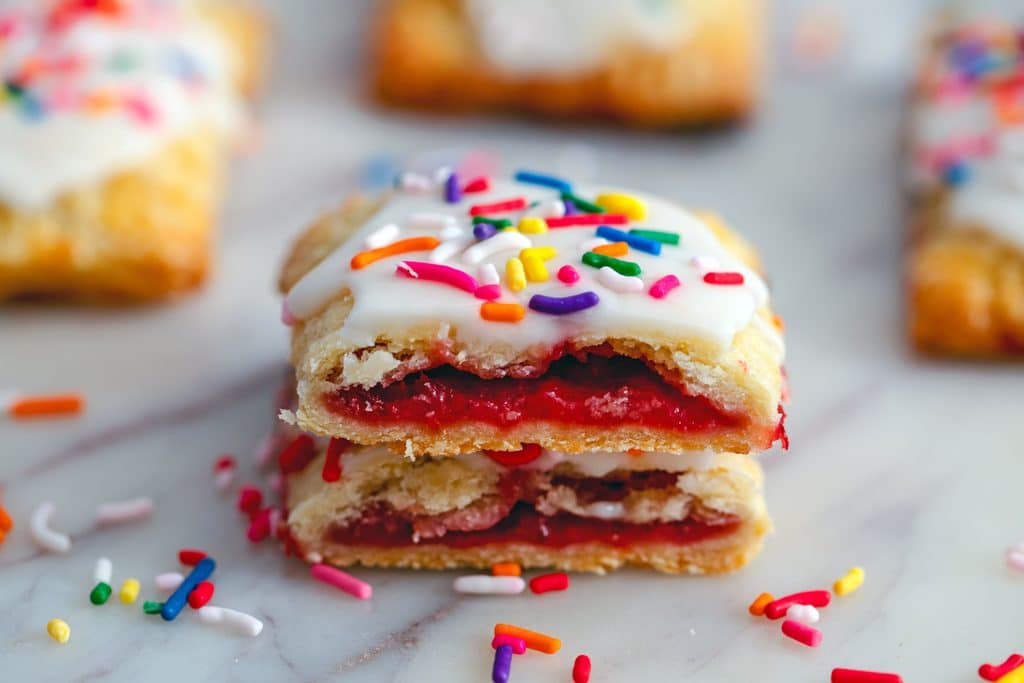 While I probably shouldn't start every day with a strawberry breakfast tart, theses are such fun treats for special occasions or for a brunch party. And even though they're technically called "breakfast tarts," you can feel free to save yours for after dinner and make it a dessert pastry.
I opted for both... One pastry in the morning and one in the evening!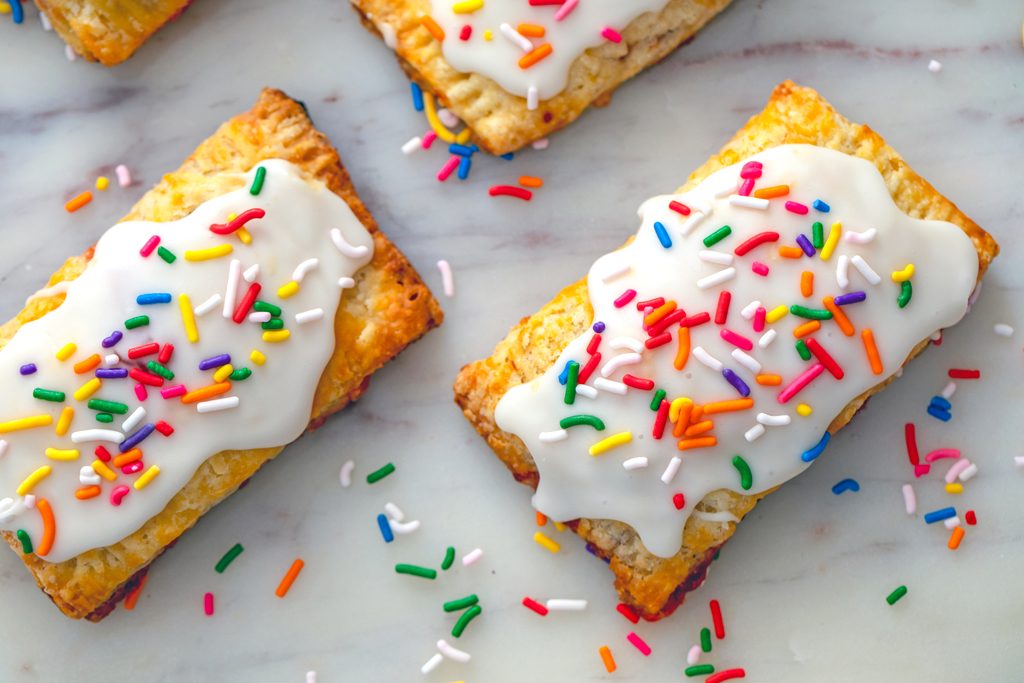 Can you blame me? I know they look quite a bit like Pop-Tarts, but it should come to you as no surprise that these are way better. They're delicate and flaky and incredibly jammy (as opposed to being hard and lacking in filling like Pop-Tarts).
And once you have the breakfast tart recipe down, the options are endless with all the kinds of hand pies you can make. You really can fill these little pastries with anything you want... You can even make them savory! But man, then you'd have to leave off the sprinkles.
I want to keep practicing these breakfast pastries so I can make them more and more perfect each time. OK fine, and so I can always have them sitting in my kitchen waiting for me.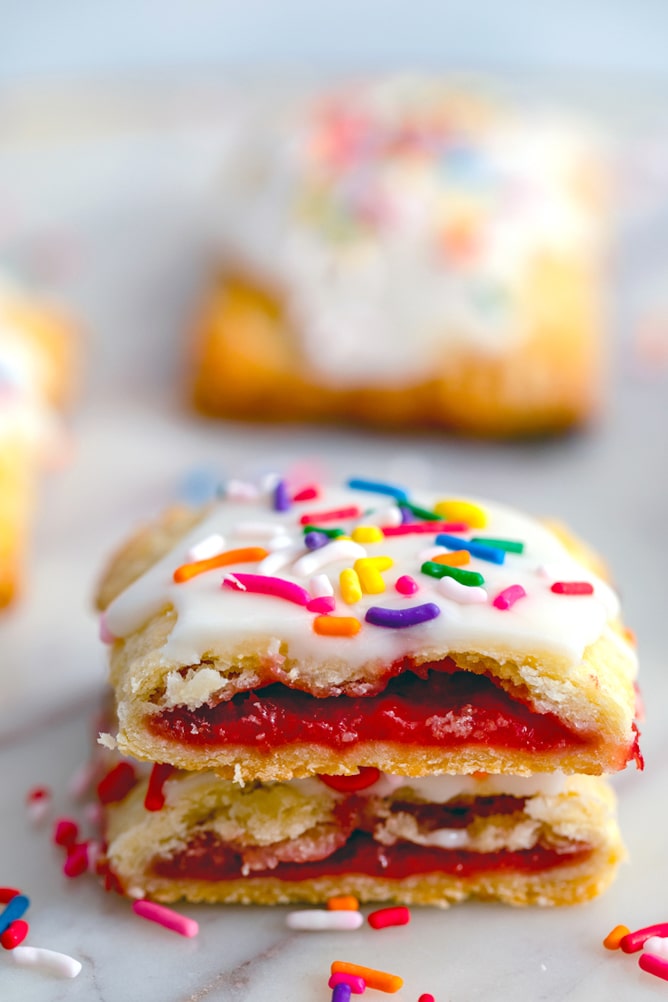 I'm super excited by how my first recipe from the latest Better Homes and Gardens New Cook Book turned out and I can't wait to continue cooking from it. I'm sure I'll be sharing more meals on Instagram, so be sure to follow me there!
Here's to living with love, eating with love, and cooking with love for the next 15 years and beyond!
How often do you cook from cookbooks?
For more breakfast treat ideas, check out my recipes for Blueberry Funfetti Cinnamon Rolls and Grapefruit Donuts. And now I really want to make these Cinnamon Coffee Rings from One Sarcastic Baker!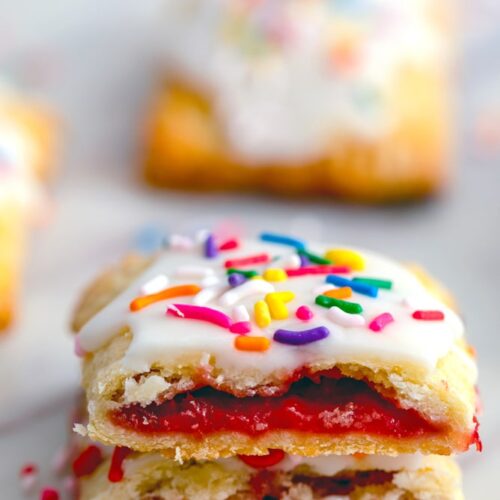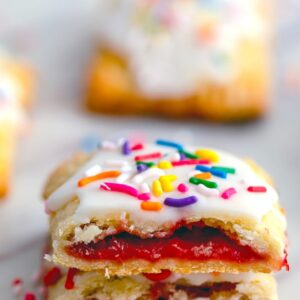 Strawberry Breakfast Tarts
Made with homemade strawberry jam and an easy-to-prep dough, these Strawberry Breakfast Tarts are way more delicious than regular old Pop-Tarts!
Print
Pin
Rate
Ingredients
Strawberry Jam
6

cups

hulled strawberries

½

1.75-oz package

regular powdered fruit pectin or 3 Tbsp classic powdered fruit pectin

(see recipe notes for low-sugar option)

¼

tsp

unsalted butter

3 ½

cups

granulated sugar

(see recipe notes for low-sugar option)
Hand Pie Dough
3 ½

cups

all-purpose flour

2

Tbsp

granulated sugar

1

tsp

salt

1 ½

cups (3 sticks)

unsalted butter,

chilled and cut into small pieces

2

eggs,

lightly beaten

½

cup

whole milk,

plus more for brushing
Icing
2

cups

confectioners' sugar

3

Tbsp

whole milk,

divided

1

tsp

vanilla extract
Instructions
Strawberry Jam
Place 1 cup of the strawberries in a large heavy pot. Using a potato masher, crush berries. Keep adding more berries to the pot and crushing them until all berries are crushed and you have 2 ½ cups total crushed.

Stir in pectin and butter. Bring to a full rolling boil, stirring constantly. Boil hard for 1 minute, continuing to stir constantly. Remove from heat and skim off any foam from the top with a metal spoon.

Ladle the jam into mason jars and place in fridge to chill. You will have some jam leftover. If you're not planning to use it within about 3 weeks, see recipe notes for processing jars.
Hand Pie Dough
In a large bowl, whisk together flour, sugar, and salt. Using a pastry blender or your fingers, cut in butter until the mixture resembles fine crumbs. Stir in eggs. Sprinkle 1 Tbsp of the milk over part of the flour mixture; toss with a fork. Push moistened pastry to side of bowl. Repeat moistening flour mixture, gradually adding milk until mixture begins to come together. You may not need to use all the milk.

Gather pastry into a ball, kneading gently just until it holds together. Divide dough into fourths and form four balls. Cover with plastic wrap until dough is easy to handle (up to 1 hour)

Pre-heat oven to 375 degrees and line two large baking sheets with parchment paper. On a lightly floured surface, roll each pastry ball into a 9x8-inch rectangle and then cut the rectangle into four 4 ½x4-inch rectangles.

Brush edges of dough with additional milk. Spoon 1 well-rounded Tbsp of strawberry jam onto half of each rectangle and then fold the other half over the filling. Seal edges with a fork and prick tops. Place on baking sheet and brush with additional milk.

Bake 20-25 minutes, until tarts are turning golden. Remove and cool on metal racks.
Icing
In a small bowl, combine confectioners' sugar, 2 Tbsp milk, and vanilla. Continue to add milk a little bit at a time until desired consistency is reached.
Assembly
When breakfast tarts are cooled, drizzle generously with icing and top with sprinkles, if desired.
Notes
Recipe adapted from Better Homes and Gardens New Cook Book (17th Edition)
If you're using low-sugar pectin in the strawberry jam, use 1 ½ Tbsp of the pectin and 1 cup of sugar (you can feel free to use even less sugar, but this is the ratio I liked best).
Note that you will have some leftover jam with this recipe. If you aren't planning to use it within a few weeks, make sure to process ("can") the jars to give them a longer shelf-life. To do this, use hot, sterilized jars and leave ¼-inch of headspace. Wipe jar rims and adjust lids and screw bands. Process filled jars in water canner for 5 minutes (beginning timer when water returns to boiling). Remove jars from canner and cool on wire racks.
Share a Photo of Your Finished Recipe!
Mention @wearenotmartha and share a photo if you've made the recipe!