My biscuit obsession knows no bounds. OK, that sounds a little creepy, but it's true. In an ideal word, I'd have a new batch of biscuits made every Sunday night that would last me through the week. A different variety each week, of course. But we all know what would happen. I'd make the biscuits on Sunday and they'd be gone by Tuesday. So would a stick of butter (warm biscuit with butter? YUM). And I'd be 40 pounds heavier. It wouldn't be pretty.
The other day, I decided to make chipotle cheddar biscuits because they sounded grand and I spotted them on Serious Eats, which is one of my all-time favorite food websites (Go check it out, but don't get so sucked in your stop reading this!). I couldn't get any chipotle powder, so I bought some chipotles in adobo and used those instead. Excellent substitution if I do say so myself.
Chipotle Cheddar Biscuits (makes 15-20):
2 1/3 C all-purpose flour
1 t freshly ground black pepper
1 T chipotle powder (or 3 chipotle peppers like I used)
1 T sugar
1 T baking powder
1 t cream of tartar
1 t salt
1/2 C (1 stick) unsalted butter, chilled and cut into 1-inch pieces
2 C grated and tightly packed sharp cheddar cheese
1 1/4 C buttermilk
1 large egg
Kosher salt for topping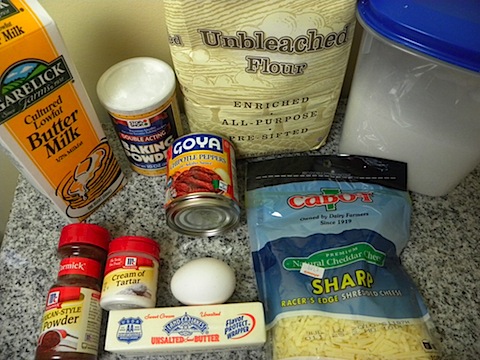 In a large bowl, whisk together flour, pepper, chipotle powder (or chipotle peppers), sugar, making powder, cream of tartar, and salt.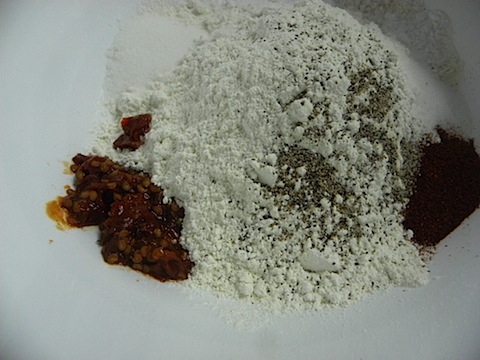 Whisk until it's all nice and blended.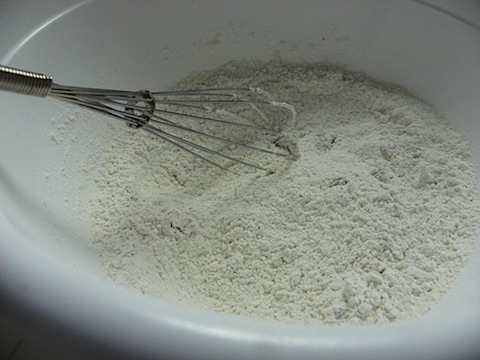 Add the butter and work it into the dough using your hands or the back of a wooden spoon. Or your new pastry bender like I did! I love this thing. Though I'm totally not opposed to using my hands.
The mixture should look like coarse sand.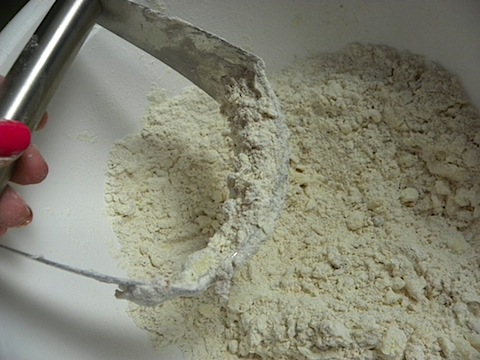 Add the cheese and stir it to incorporate into the dough.
In a separate small bowl, whisk together the buttermilk and egg. Then add it to the flour mixture and stir it until just incorporated. It's important not to overmix.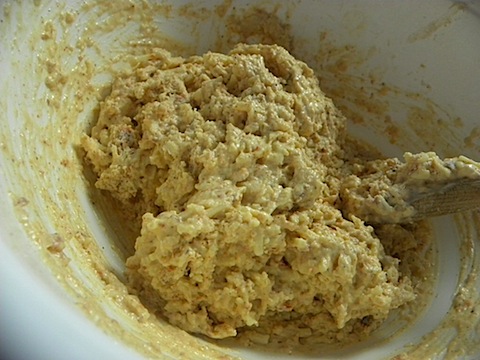 Now, scoop about 1/4 C of the dough with a measuring cup or a small ice cream scoop. I used one of my biscuit cutters, but it definitely wasn't necessary. In fact, the dough was so wet and gooey, it would have been easier just to scoop it. Buuut I'm pretty obsessed with my biscuit cutters and live for opportunities to use them!
Place the biscuits on a cookie sheet covered in parchment paper, about 2 inches apart.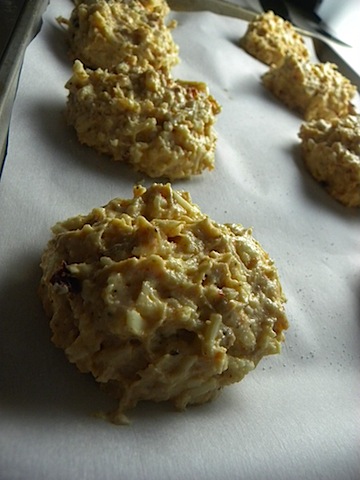 Sprinkle the biscuits with kosher salt. And bake them at 400 degrees for about 20 minutes, making sure to rotate the pan about halfway through.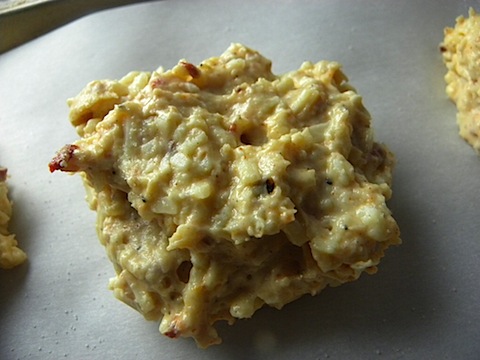 They should be a beautiful golden brown.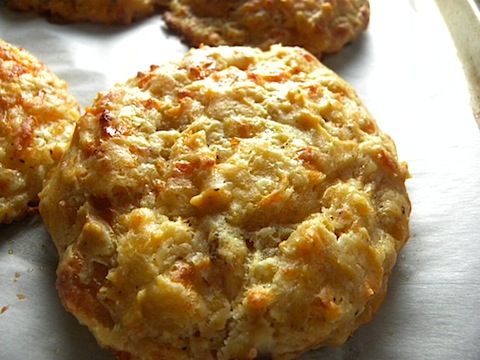 Oops, mine were a little too close together. But no matter; they split apart quite nicely.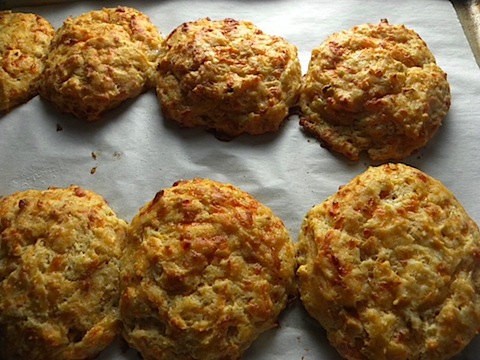 The biscuits were a bit flat, but that's just the way I like them.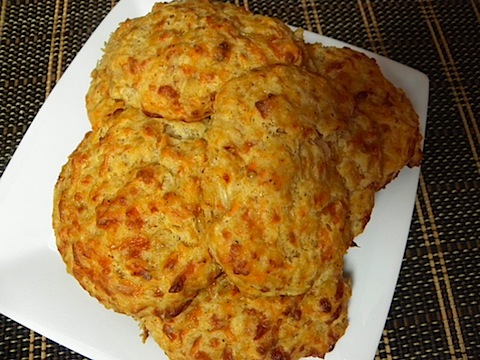 And then I realized that I was so into my biscuit making, I neglected to think about the rest of dinner. Uhhh biscuits alone can't be dinner (Well, technically THEY CAN BE. And have been before. Shhh. But I figured some protein might be good too).
So I just cooked up some eggs and bacon to have breakfast for dinner!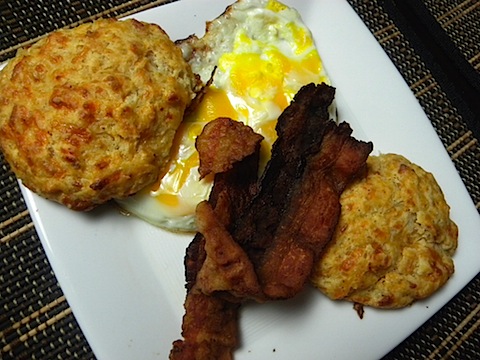 Really you should serve this with some veggies too (carrots and celery here) or a side salad. Or even some fruit. You know, for the vitamins and all that.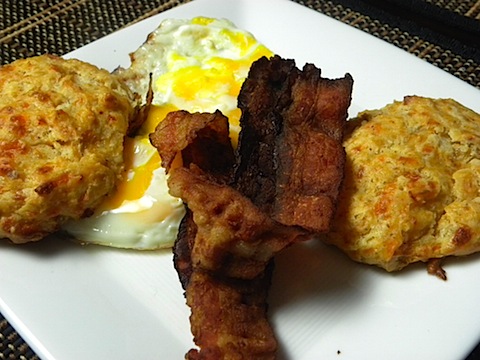 This biscuits were nearly perfect. Not overly spicy but with a little kick and whole lot of flavor. I love that toasted cheese that got a bit browned. Best ever. They were also amazing next day warmed up a bit with a nice pat of butter.
Halfway through my meal, I realized I should have made a biscuit/egg sandwich out of this.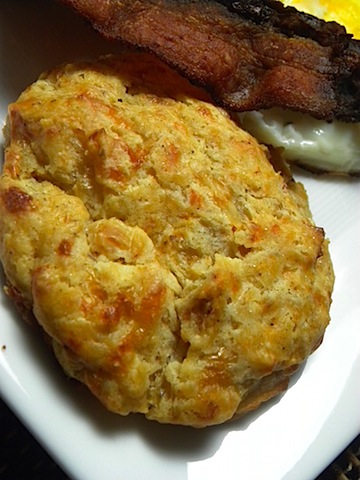 I also realized it would have been even more awesome if I had put bacon in the biscuits. Yes? But I'm sure I'll have plenty more time for making biscuits of all kinds. And that makes me really, incredibly happy.
Sometimes it's the small things in life.
But if you're one of those few who's thinking, "this is not a proper dinner!" tomorrow is Saturday. Make someone happy with breakfast in bed 🙂
[Sues]