These simple peanut butter heart cookies are dipped in chocolate and glammed up for Valentine's Day, but perfect for any time of year!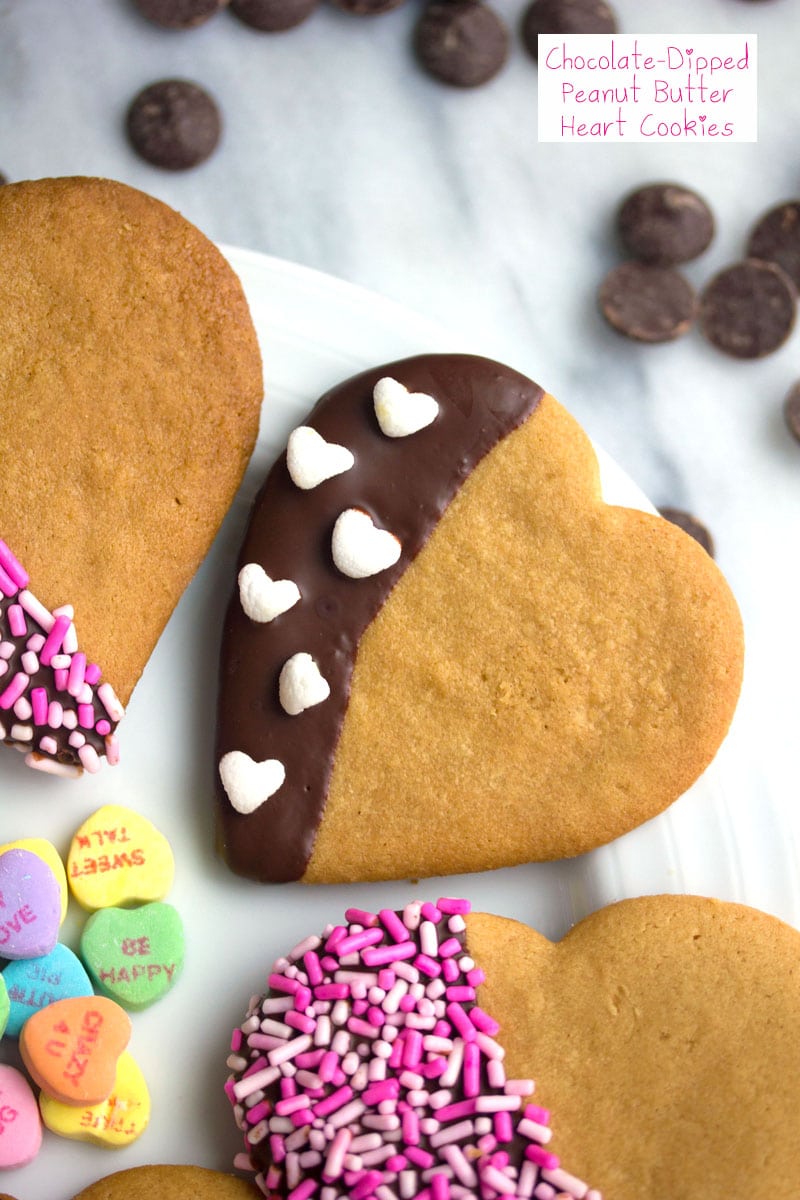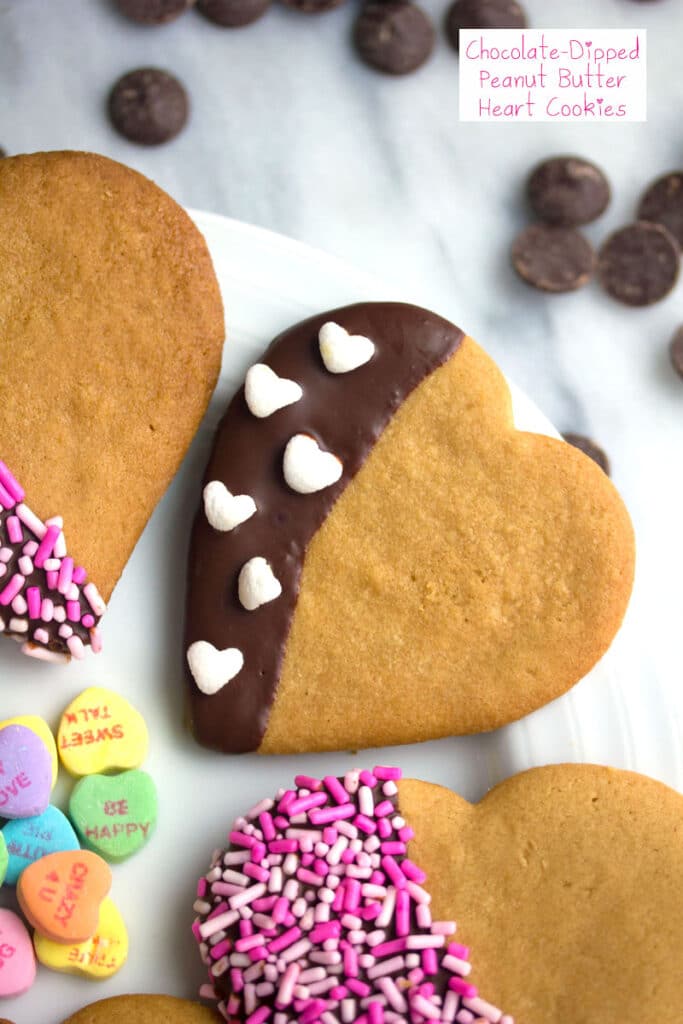 This post was sponsored by Ghirardelli. As usual, all opinions are my own!
I've said it a million time before, but I freaking love Valentine's Day. Tell me I'm a sucker, I don't care. To me, February 14th is all about hearts, love, flowers, pink, red, and CHOCOLATE. AKA happiness. How can you not love that??
No matter if you have a significant other or not, you likely have some sort of love in your life and though you should appreciate that every day, Valentine's Day just gives you an extra reason to. So, let's celebrate that, OK? Stop fighting it.
Plus, this holiday of love is the perfect excuse for heart-shaped cookies, which is always a good thing. However, in my world, it wouldn't be Valentine's Day unless you dipped those cookies in chocolate and covered them with fun sprinkles and other decorations…. So, I did. This is my world, after all. At least in my kitchen it is. And on my blog.
If I could only eat one kind of cookie for the rest of my life, I would have a horribly difficult time deciding what that cookie would be. I mean, oatmeal raisin cookies are my life, but I couldn't live a life without chocolate in my cookies.
Peanut butter cookies are one of the greatest inventions of all-time and unlike oatmeal raisin, peanut butter always goes with chocolate. For Valentine's Day, I opted to make a heart-shaped peanut butter cookie. And dip it in chocolate. And yes, I think I could be happy eating this cookie for the rest of my life.
Also, all cookies should be heart cookies.
CHOCOLATE -DIPPED PEANUT BUTTER HEART COOKIES RECIPE
I dipped these peanut butter heart cookies in Ghirardelli 60% Cacao Bittersweet Chocolate (affiliate link). While Ghirardelli is the sponsor of this post, you've probably noticed they've long been my baking chocolate of choice here on this blog. They're the only chocolate chip that I'll use for melting because they melt so smoothly, unlike many other chips.
I'm a fan of this peanut butter heart cookie recipe because it's a simple one, but is totally customizable and fun no matter what you do. I like a good soft peanut butter cookie, so my recipe is just that. SO peanut buttery and it basically just crumbles in your mouth.
Start by pre-heating your oven to 350 degrees. In a medium bowl, whisk together the flour, baking soda, and salt. Set aside.
In a stand mixer (or in a large bowl with a hand mixer), cream together the stick of butter and two kinds of sugar.
Add the peanut butter and vanilla and blend together.
Mix in the flour mixture until just combined (taking care not to over mix).
Place dough on a large sheet of parchment paper. And then place another sheet of parchment paper over the top. Roll the dough out until it's about ¼-inch thick. And put it in the fridge to chill for at least 30 minutes.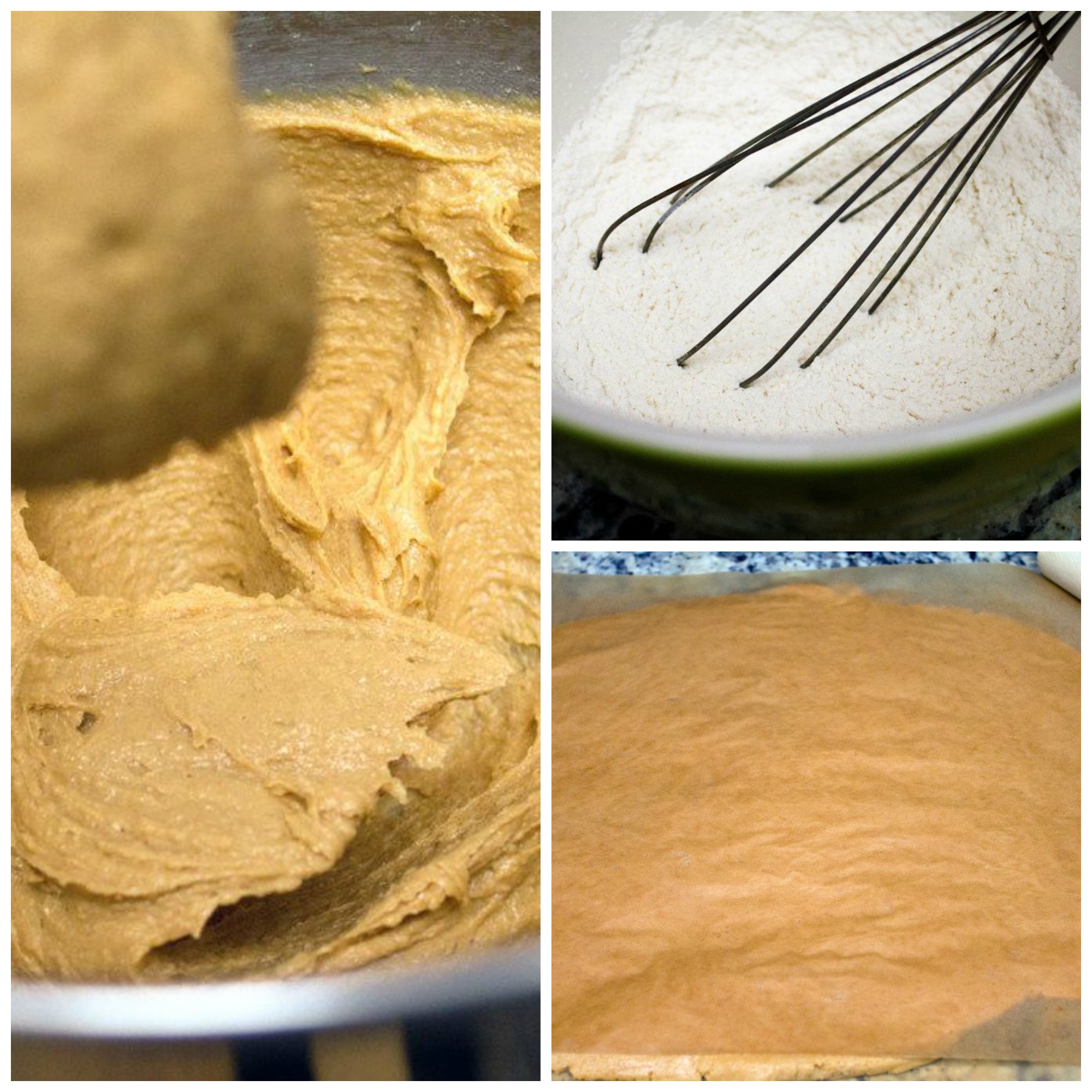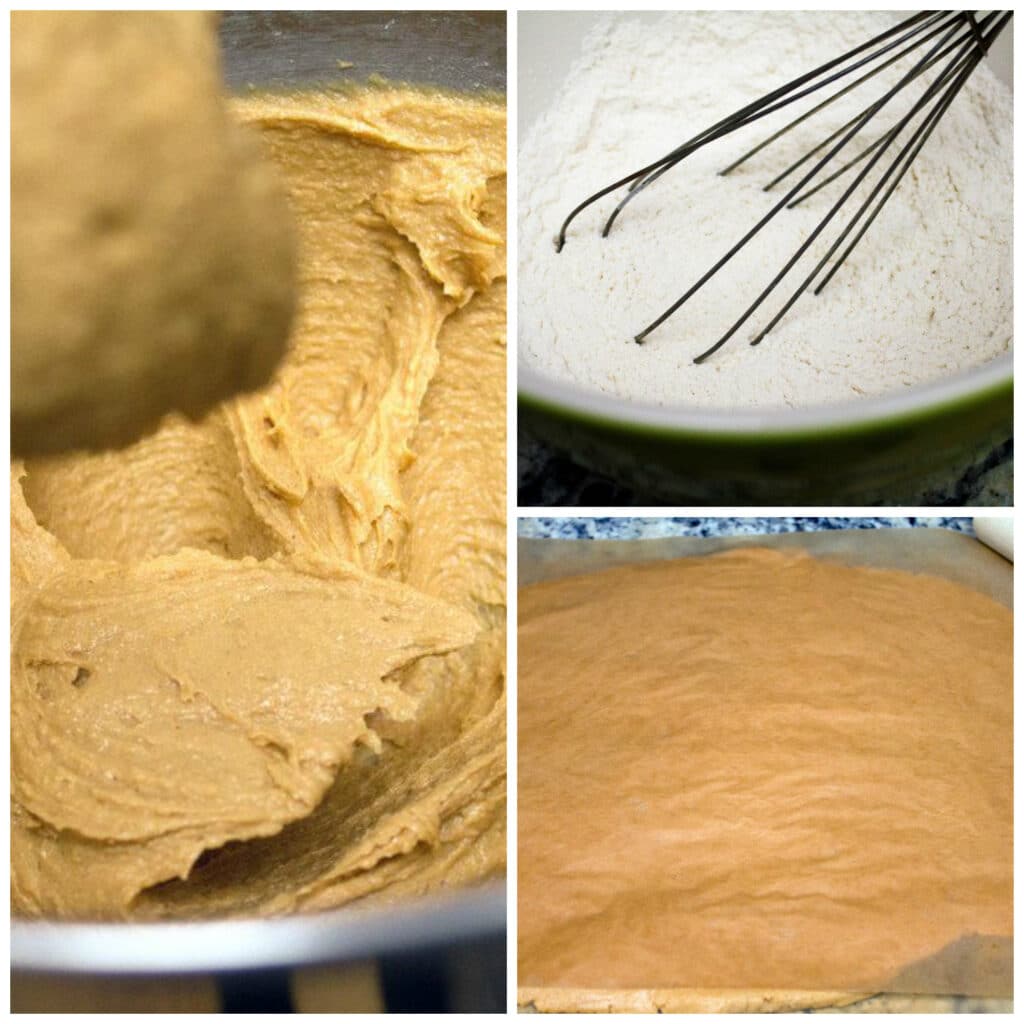 Once it's chilled, place dough on counter and remove top layer of parchment paper. Cut hearts (or whatever shape you want!) out of the dough with a cookie cutter.
You may have to take the scraps and re-roll them to maximize the number of heart cookies you get. You should chill the dough again once you do this. In total, you should get about 24 hearts.
On a parchment paper-lined baking sheet, place hearts about one inch apart.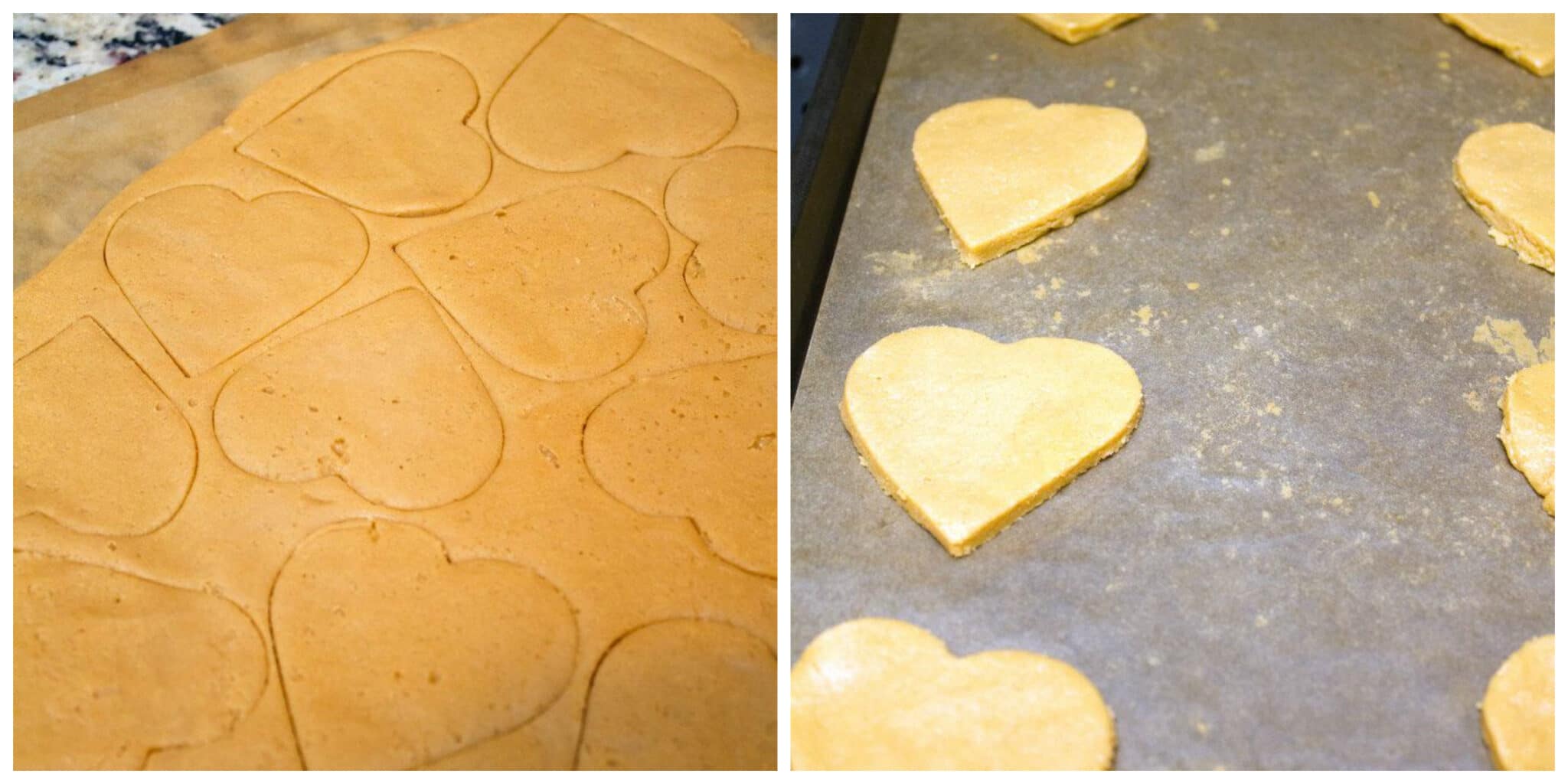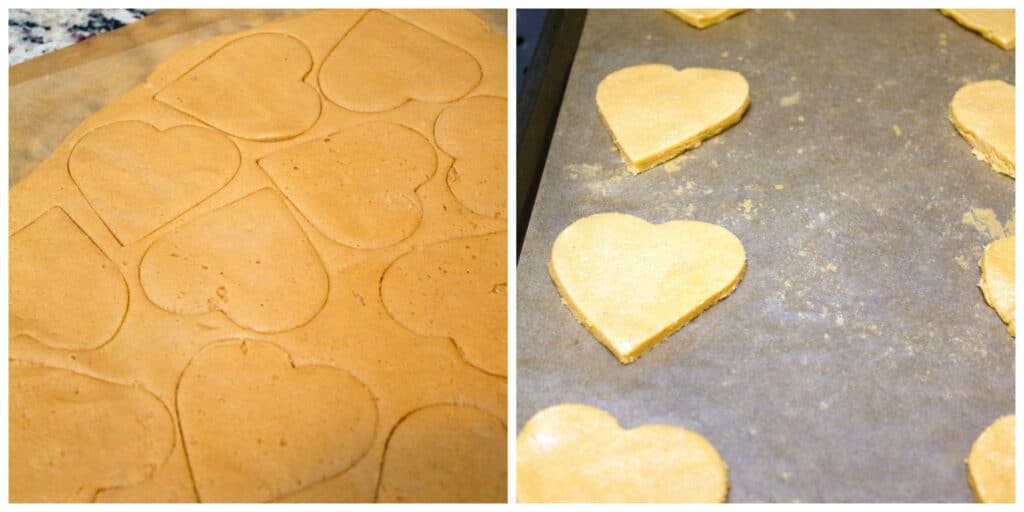 And bake at 350 degrees for about 7-9 minutes, until cookies are lightly golden at edges.
Remove from oven, let cool a bit on baking sheet, and then move to a wire rack to cool completely.
Once they're cooled completely, you can dip them! First, melt that chocolate.
Put the chips in a double boiler or in a heat-proof bowl over a saucepan filled with water) and bring the water in the bottom to a boil.
Stir the chocolate with a wooden spoon until it's nicely melted.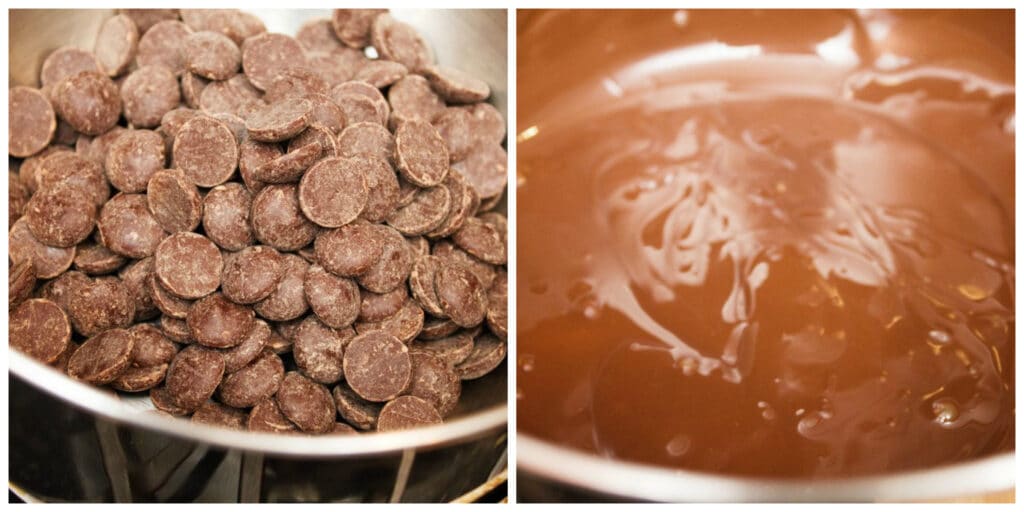 Now for the dipping! I dipped each of the heart cookies in the chocolate, covering about half of each of them. Then I immediately dipped the chocolate side in sprinkles.
I also used a really tiny heart cutter to cut out baby hearts out of larger marshmallows. Not all perfect, but totally adorable.
I used those little baby hearts to decorate some of my cookies. So fun!
Everyone loves chocolate-covered strawberries, but wouldn't you so rather have a chocolate-dipped peanut butter cookie? Be honest. I'd much rather have cookies!
I couldn't decide if I liked the sprinkles-covered cookies better. Or the marshmallow-topped cookies. I had to eat several of both to make my grand decision, but I'm still stuck. Guess I need to bake another batch?
The chocolate-dipped peanut butter heart cookies? They won't likely last for long in your house. Or your loved one's house. Because, uh, you should obviously be making cookies for your loved ones and not for yourself this Valentine's Day. Right??
But maybe you live WITH your loved ones? Or maybe you accidentally baked too big a batch (oops!) or maybe, just maybe you are your own Valentine this year. And you totally deserve a batch of chocolate-dipped peanut butter heart cookies. You really do.
What's your favorite part about Valentine's Day? Would Peanut Butter Heart Cookies make your heart sing?
If you're looking for more fun recipes to make this Valentine's Day, check out my Very Berry Cheerios Marshmallow Treat Pops and my Conversation Heart Cookies with Marshmallow Fluff. And I'm obsessed with these adorable Pink Champagne Cupcakes from Kickass Baker!
📖 Recipe
I was selected for this opportunity as a member of Clever Girls and the content and opinions expressed here are all my own.