I can't remember the last time I was this tired. Like, if I hold a blink too long, I'll instantly be out for the rest of the night. Every time I see a bed on a television show or commercial, I think "Awww doesn't that look nice?" I just saw 3 different people on Twitter say something about hitting the sack, and I got insanely jealous. I'll probably wake up tomorrow and think, "Oh no! I forgot to write a blog post!" And then I'll run to my computer to check it out, only to see a whole post on cupcakes. It's that kind of tired.
In case you haven't noticed, cupcakes are my go-to, my support, my best friend and confidante. OK, that's getting weird. But really:
Me especially. And writing about cupcakes is about the only thing that will keep me up right now. So, just go with it, OK? Thank you. You're the best. By the way, the mug is from Swirlz in Chicago. It makes my morning coffee taste better.
I actually made these cupcakes for Chels's birthday last week. She's not super into chocolate and I wanted something more fun than vanilla. But Chels loves all things strawberry, so, when I spotted a recipe for strawberry cupcakes, I knew they were perfect. And so pretty, too!
Allegedly, this recipe is the same as the one from Sprinkles. I dunno. I've never had the pleasure of tasting Sprinkles strawberry cupcakes, but if someone wants to send me some, I'll let you know. Until then, I'm trusting Martha Stewart's opinion that they are, in fact, Sprinkles' strawberry cupcakes. Because what Martha says goes.
Strawberry Cupcakes (makes 1 dozen):
1 C whole fresh or frozen strawberries
1 1/2 C all-purpose flour
1 t baking powder
1/4 t coarse salt
1/4 C whole milk, room temperature
1 t vanilla extract
1/2 C (1 stick) unsalted butter, room temperature
1 C sugar
1 large egg, room temperature
2 large egg whites, room temperature
2-4 drops red food coloring, optional
Strawberry Frosting:
1 C (2 sticks) unsalted butter, firm and slightly cold
Pinch of coarse salt
3 1/2 C confectioners' sugar
1/2 t vanilla extract
3 T strawberry puree (leftover from cupcakes)
I used my mini food processor to make the strawberry puree. I simply popped the strawberries in the food processor and pureed them!
In a medium bowl, I mixed together my flour, baking powder, and salt. And set it aside.
In a small bowl, I mixed together milk, vanilla, and 1/3 C of the strawberry puree. And set that aside, too.
Then I put the butter in my mixer and creamed it with the paddle attachment until it was light and fluffy. I gradually added the sugar and continued to beat until well-combined and fluffy. Then I slowed the mixer to medium speed and added the egg and egg whites one by one, mixing after each addition.
With the mixture on low, I slowly added half the flour mixture and mixed until just blended. Then I added the milk mixture and mixed that until blended. Then the rest of the flour, until just blended.
I added a couple drops of red food coloring too, because my mixture wasn't quite red enough.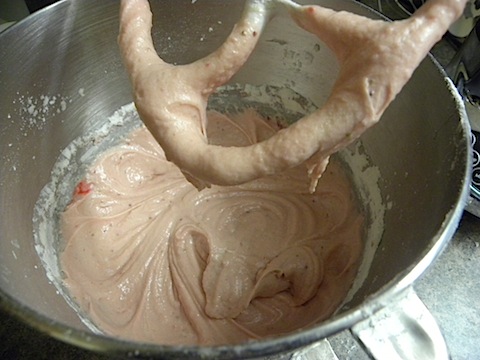 I divided the batter evenly among the prepared muffin cups.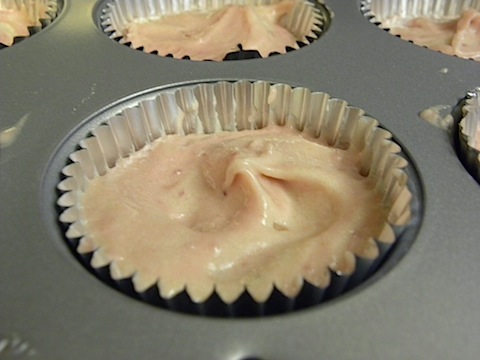 And baked them at 350 degrees for about 22-25 minutes.
Oh yum.
I let the cupcakes cool on a wire rack.
Well, kind of.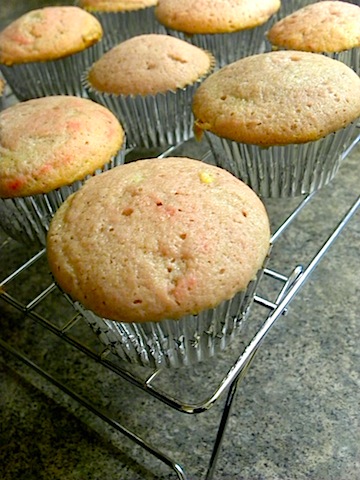 While the cupcakes were baking/cooling, I made the frosting. Super easy!
I beat the butter and salt in an electric mixer on medium speed until light and fluffy. Then reduced the speed and add confectioners' sugar and beat until well combined.
I added the vanilla and 3 T strawberry puree. Don't overmix! Martha claims the frosting should dense and creamy, like ice cream.
Then frost the cupcakes! But wait until the cupcakes are a little cooler than I did. I was running off to brunch and didn't let them fully cool. So the frosting got a little drippy.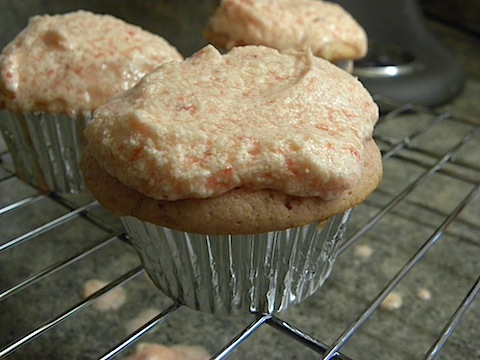 I just popped them in the fridge before I went out. But not before adding on some pink sprinkles, of course!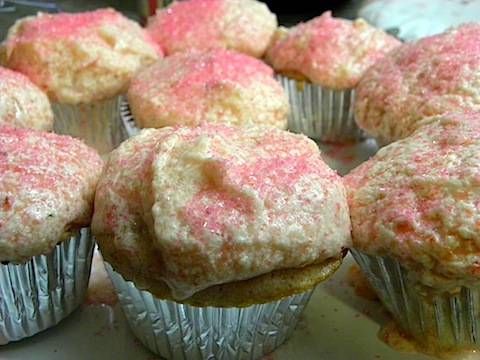 And then? We came home from brunch and indulged. And the cupcakes were just fine. Delicious, in fact. They were moist and full of real strawberry flavor. And they may have even tasted like Sprinkles' strawberry cupcakes. For all I know, they were even better!
Now I'm just sad these are no longer sitting in my fridge. Especially since tomorrow is Friday and, well, Friday calls for cupcakes.
But I have a glorious weekend ahead of me and may even take the time to make some new cupcakes. Seriously though, I haven't looked forward to a weekend this much in a long, long time. This crazy week of work hasn't allowed me enough time to do things like sleep. So, this weekend will be sleep, pool, relax, sun, cupcakes. You know the drill. And since tomorrow's Friday night, that obviously calls for some red wine and Dateline (which, by the way, y'all made me feel so much better about my Friday night routine by saying you do basically the same thing).
BUT I might switch up the routine as Chris and I just started watching Glee (um, why didn't we start sooner?) And I discovered this lovely gem:
Skyy Vodka Ginger? Hello LOVE! I'm pretty sure you need to try this and fall in love, too.
And with that, I fall into bed and hope to have sweet dreams of cupcakes. But waking up to Friday will certainly be sweet enough.
What's your favorite Friday night drink?
[Sues]