These Very Berry Cheerios Marshmallow Treat Pops are heart-shaped Rice Krispies treats style pops perfect for Valentine's Day or any time you want to show your love!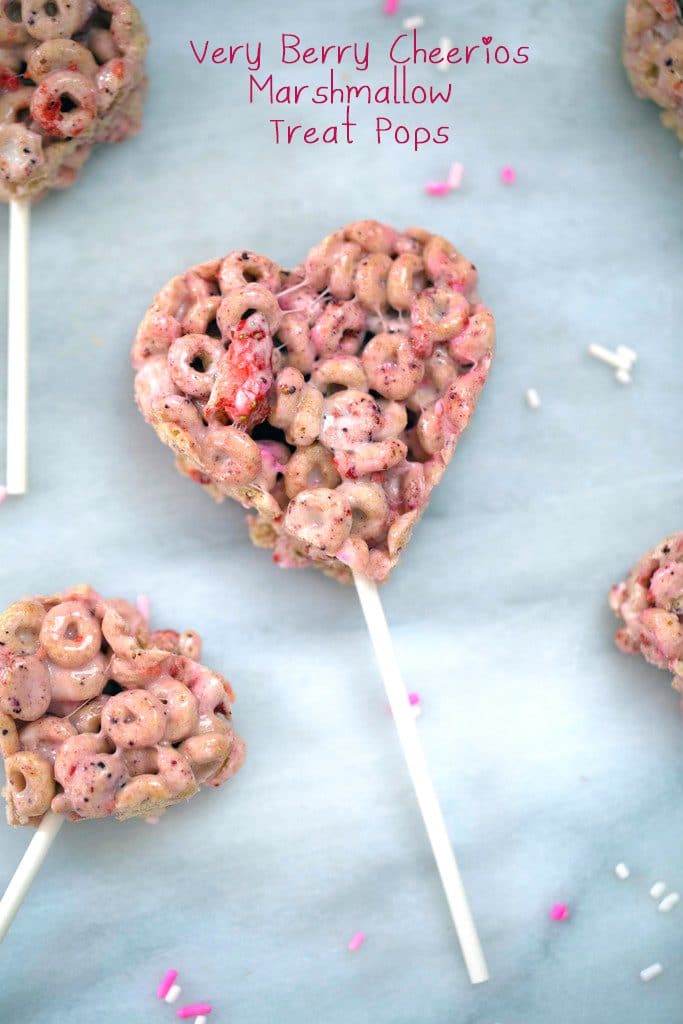 Happy Valentine's Day!! I'm half sad that handing out valentines isn't a thing for adults and part totally grateful that I no longer have to go through the stress of picking out the perfect valentines cards and then sitting down and filling them all out.
My favorite valentines cards as a child (that I can remember... I admittedly forget many years!) include scratch and sniff (those were the jackpot!), Berenstain Bears, The Lion King, and Alf. Ugh I'm totally aging myself right now, huh?
I think it was Alf that did it. But man, wasn't Alf the best show?? Small Wonder was my other favorite show at that time in my life. Please tell me you've heard of Small Wonder! Though if you're under 30, the chances are probably pretty low. But when those kids try to convince Vicki to buy drugs? Best episode ever. Even better is the fact that I just looked it up and the episode is literally called "Vicki and the Pusher."
Anyway, please stop me before I fall deeper into that dark hole that is my childhood (not saying my childhood was a dark hole; just that the Internet is a deep, dark hole of 80s nostalgia). Let's talk about something that was also cool in the 80s, but is equally as cool now: Cheerios.
In case you haven't noticed, I'm a big fan of baking with cereal and love nothing more than when I spot new cereals at the grocery store. Usually Target has the best of fun new cereals, but my local grocery store has been stepping up its game lately and I spotted these Very Berry Cheerios a couple weeks ago. I instantly wanted to try them, but also knew they'd make a fab Valentine's Day dessert.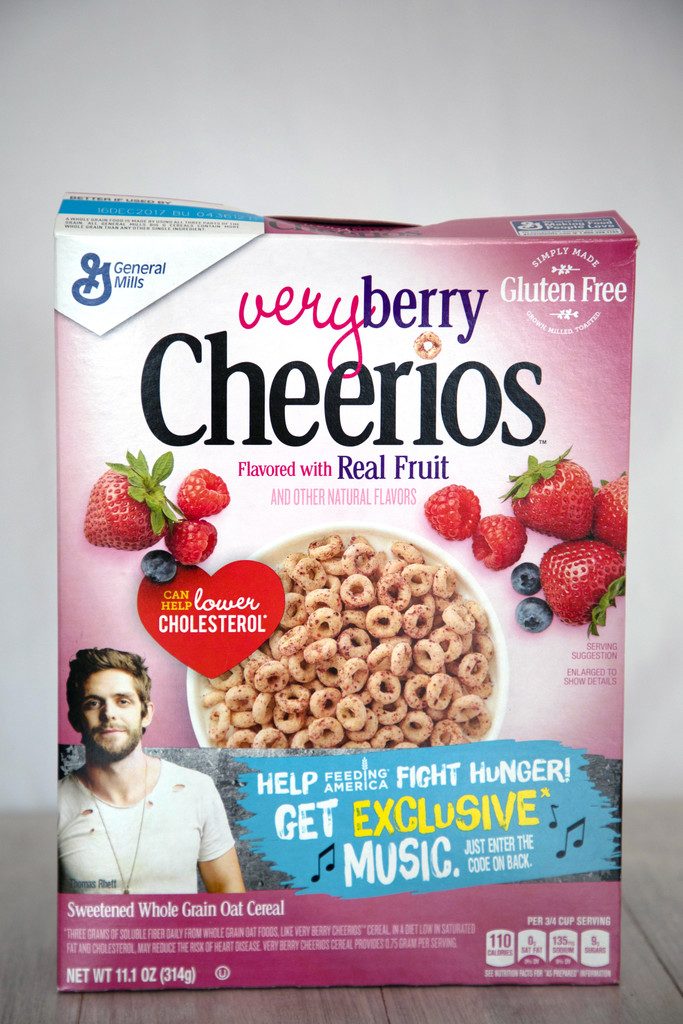 VERY BERRY CHEERIOS MARSHMALLOW TREAT POPS RECIPE
Since I recently discovered that I actually really like Rice Krispies treats when they're made with Cheerios, I decided to make a berry version of Cheerios treats. They're pretty simple and you really only need a few ingredients, including butter, marshmallows, Cheerios, freeze-dried strawberries, and sprinkles.
And honestly, the freeze dried strawberries and sprinkles are pretty optional. But highly recommended. I'm just saying it you don't have them, don't let that stop you from making these (but if you're interested, I bought these freeze dried strawberries in bulk on Amazon a while back, so I always have them in stock!). The treats come together in a saucepan in just minutes and then need about an hour to cool in a 9x13 dish.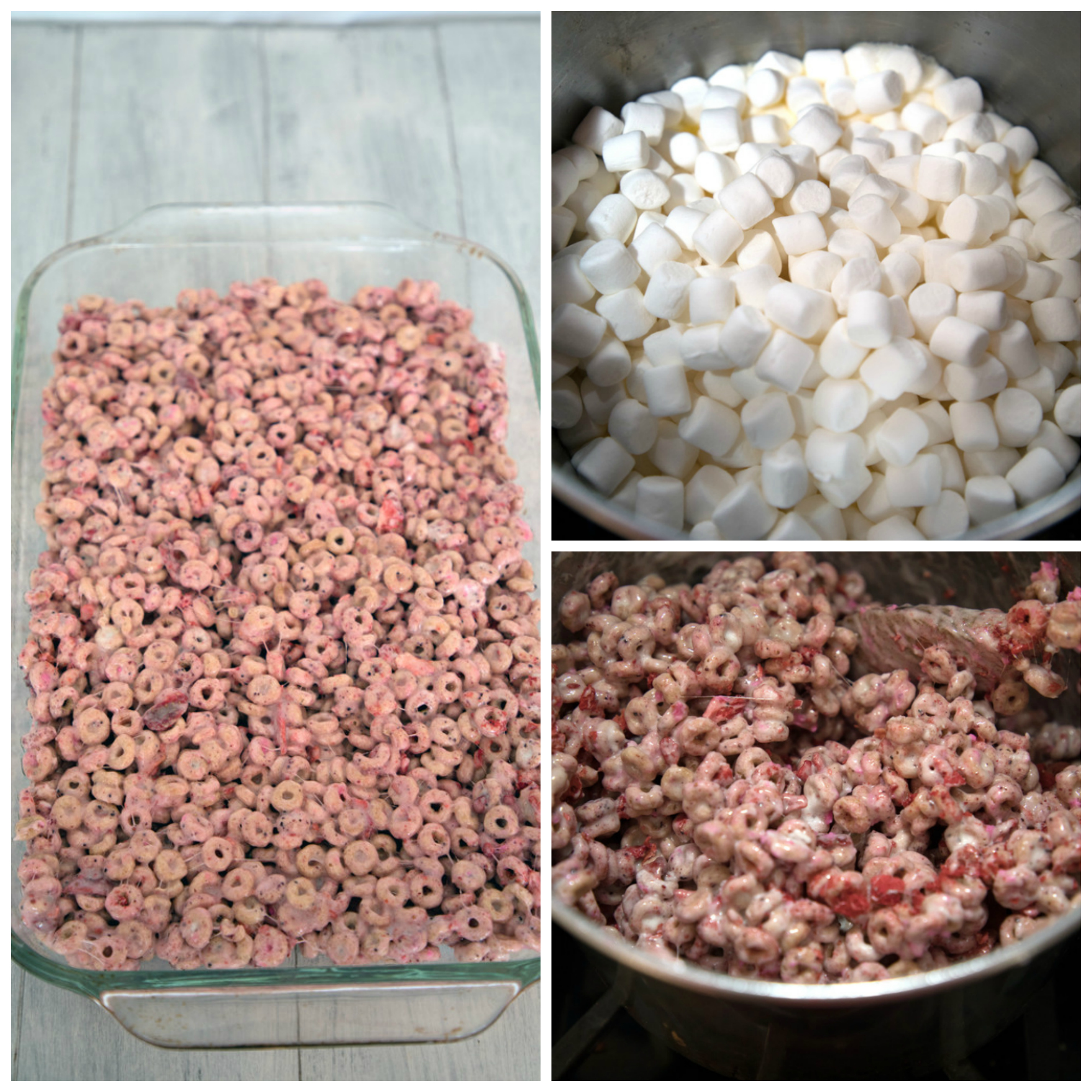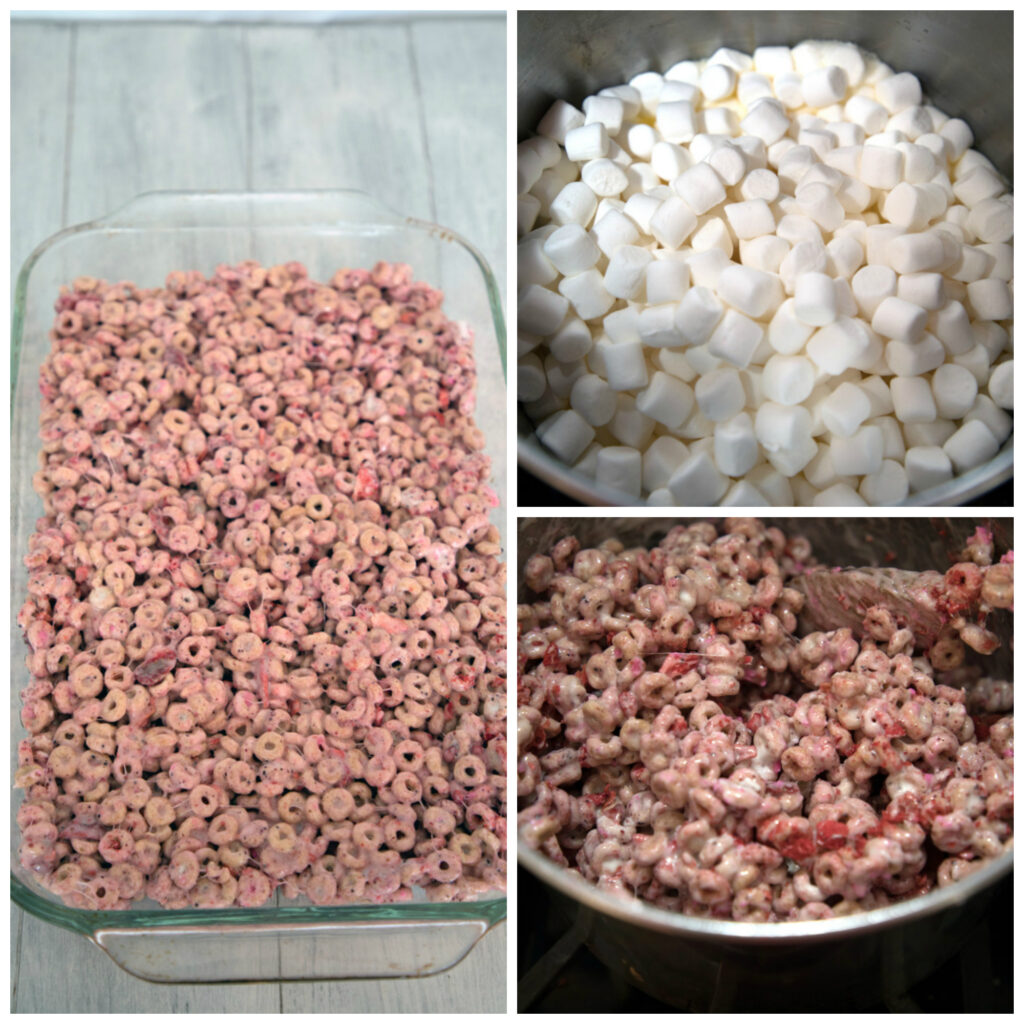 You'll also want a heart cookie cutter. I recommend you get a set like this, so you have lots of different sizes to choose from. After I cut my Cheerios hearts out, I put them on lollipop sticks to make them a little bit more fun.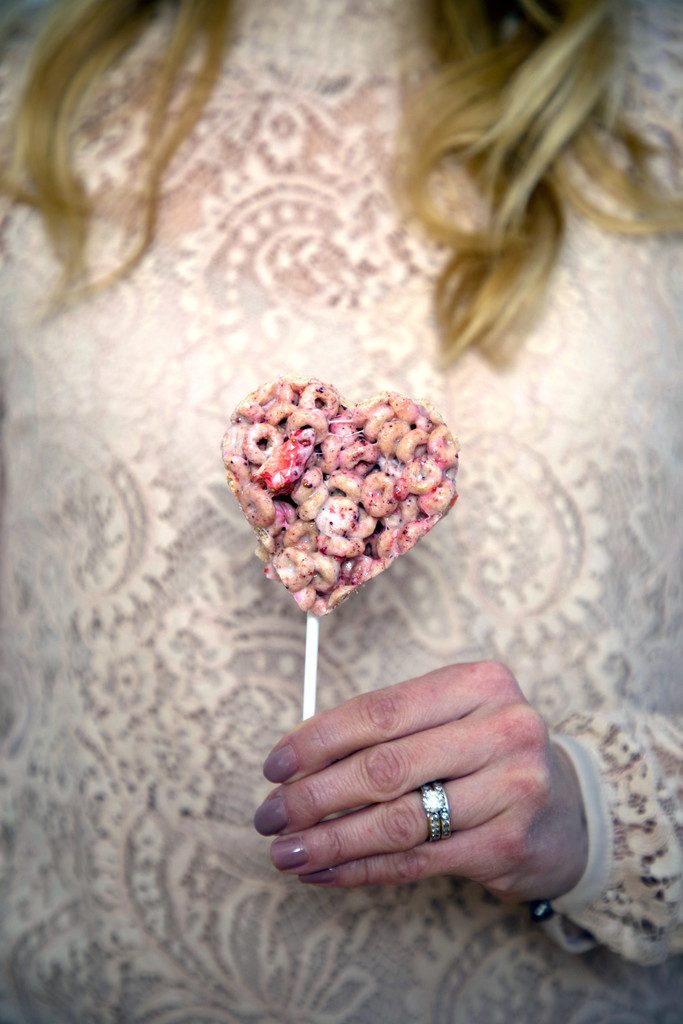 These are totally the kind of thing that you'll want to pass out with your valentines cards. Remember some cards came with those little red lollipops? I have a feeling Very Berry Cheerios Marshmallow Treat Pops would be a tad bit more fun to get.
As long as they come with a super cute valentines cards, preferably of the Alf variety.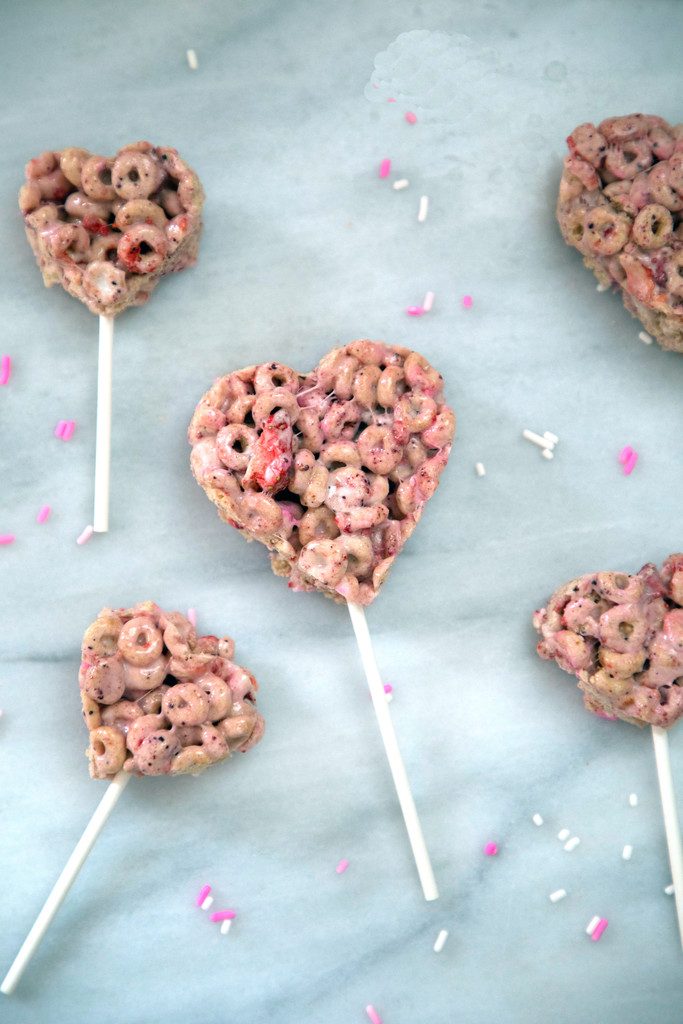 These little heart pops are filled with berry flavor, in part because of the Very Berry (very berry!!) Cheerios and in part because of the added freeze dried strawberries. I'm very thankful for berry Cheerios treats in February in the middle of snow storms and
I'm pretty sure berries and pink and love are the whole reason Valentine's Day is in February in the first place. Cupid knew we needed a little happiness right about now!
And obviously General Mills knew we needed these Very Berry Cheerios in our lives. It's the kind of cereal that's super fun, but still acceptable for breakfast since it's not completely sugared up like some other cereals.
Plus, it turns your milk pink and really, what more could you want in life? And especially on Valentine's Day?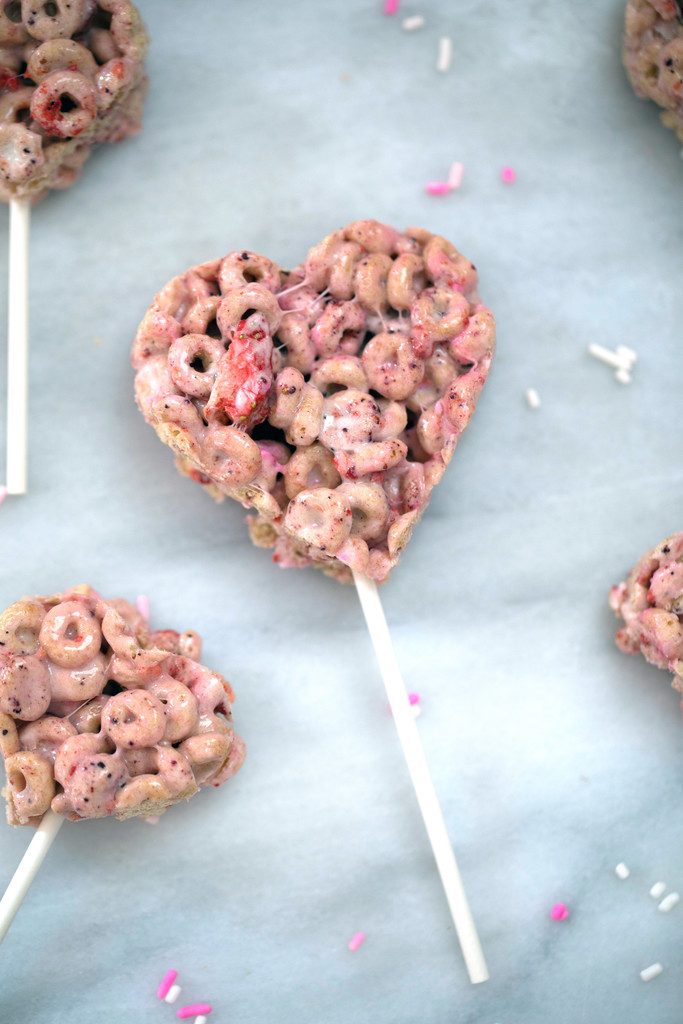 These gooey Cheerios treats are so much fun and, in my mind, are so much better than Rice Krispies treats.
By the way, this is what happens when you ask your husband to take pictures of the heart pops while you hold them and then you look at the camera and realize your face is in all of them. This would totally be my mugshot. Though I'm not sure what crime I'd be committing in which I'll be carrying a heart-shaped Cheerios Marshmallow Treat Pop... But probably a good one!!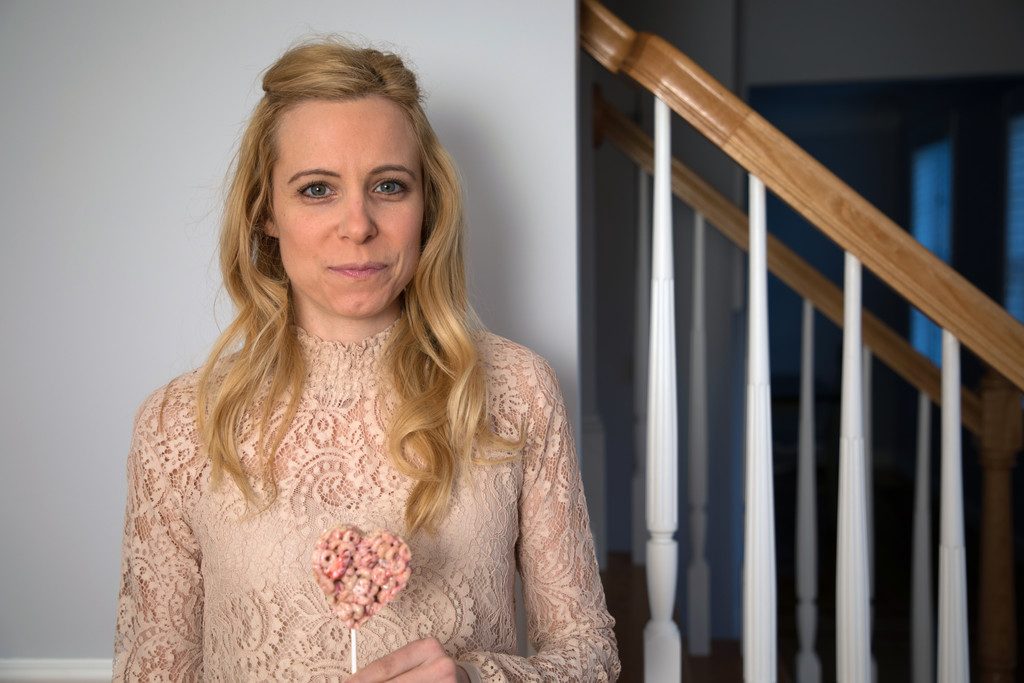 I know it's Tuesday and you're probably spending the day at work and not hanging out with your Valentines (and if you are, then I'm totally #jealous), but I hope your day is still filled with love and hopefully a sweet treat or two.
But really, who are we kidding... We all know tomorrow is the real holiday, when all Valentine's Day candy is 50% off!!
How are you treating yourself today?
If you're looking for some other fun Cheerios recipes (especially Cheerios treats!), check out these Chocolate Peanut Butter Cheerios Bars I made with Chocolate Peanut Butter Cheerios and these Pumpkin Cheerios Marshmallow Treats I made with Pumpkin Spice Cheerios.
I'm also a fan of these Honey Nut Cheerios Cupcakes from Bakerita!
📖 Recipe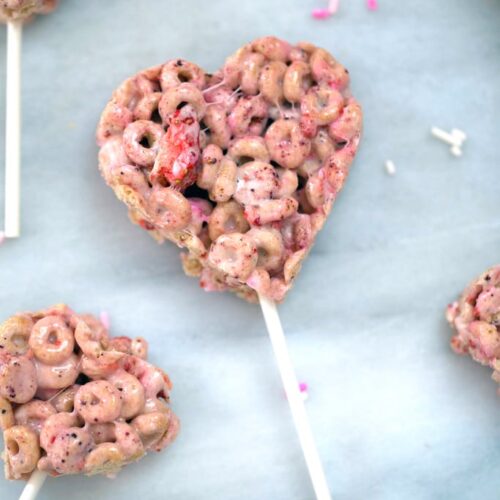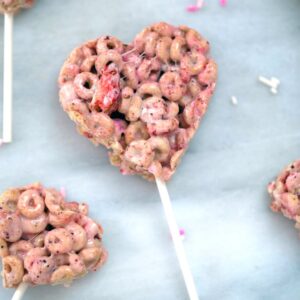 Very Berry Cheerios Marshmallow Treat Pops
These Very Berry Cheerios Marshmallow Treat Pops are heart shaped Rice Krispies treats style pops perfect for Valentine's Day or any time you want to show your love!
Print
Pin
Rate
Ingredients
½

stick (4 Tbsp)

unsalted butter

10.5

oz.

bag marshmallows

(I used mini marshmallows)

6

cups

Very Berry Cheerios

¾

cup

crumbled freeze dried strawberries

¼

cup

sprinkles

(I used pink and white)
Instructions
Spray 9x13 inch baking dish with cooking spray.

In a large saucepan, melt butter over medium-low heat.

Add marshmallows to saucepan and stir until melted.

Turn off heat and add in Very Berry Cheerios. Stir until Cheerios are completed coated in marshmallow.

Fold in freeze dried strawberries and sprinkles.

Pour mixture into prepared baking dish and let sit for about an hour to cool and harden.

Cut out heart shapes with heart cookie cutter and add a lollipop stick to the bottom of each heart.
Share a Photo of Your Finished Recipe!
Mention @wearenotmartha and share a photo if you've made the recipe!