Perfect for showing your love this Valentine's Day, these no-bake Red Velvet Cookie Dough Bars are composed of a pink cookie crust, a luscious layer of chocolate chip red velvet cookie dough, and a white chocolate ganache topping. And don't forget the sprinkles!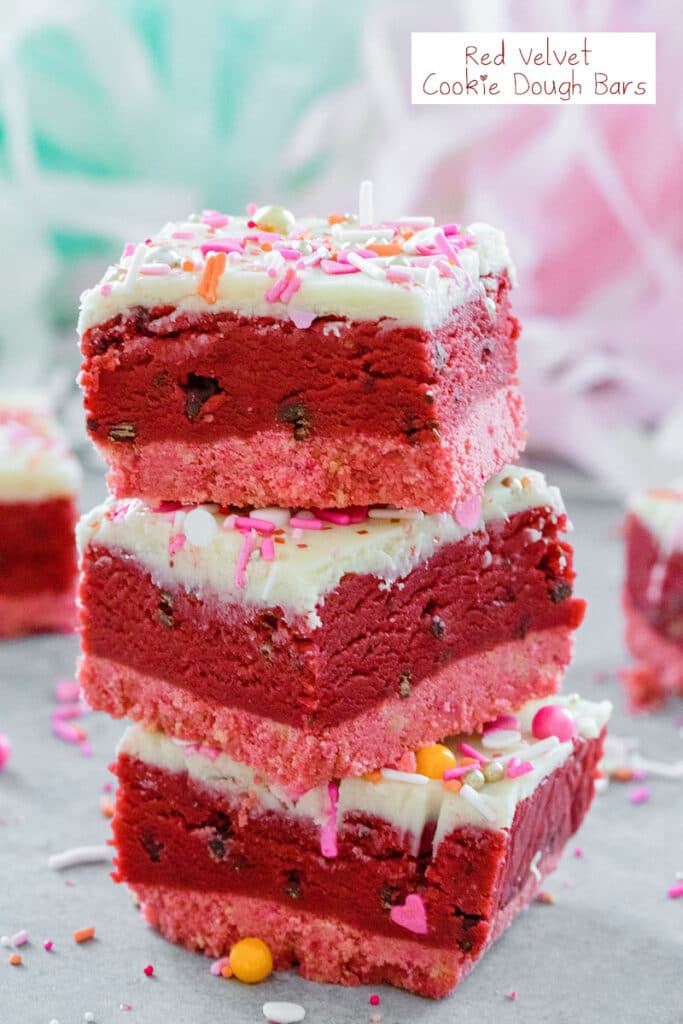 There's never a time when I feel older than when I'm watching the Grammy Awards. Holy moly. Am I that out of touch that I don't know about 50% of the nominees? And that I actually have to Google people to determine if they're male or female or not even just one person but a group?
I've always considered myself pretty astute when it comes to music, so this makes me incredibly sad. But I'm just going to blame it on the fact that a) yes, I am old now and b) technology makes it way too easy to stick with your fave music genres instead of just listening to "what's popular." And really, it's probably better that way.
I try to keep up to date on current millennial trends (technically, I am a millennial…), but it seems to get harder and harder. The only consolation I have is that Chris is generally even more out of touch than me (sorry, honey)… I recently had to teach him what #SquadGoals were and what "Cash me ousside" is from. If any young person could overhear our conversations, they'd definitely be rolling their eyes and LOLing big time.
BUT I think I make up for it by staying on top of food trends and basically having the shelves of my grocery store memorized. Yup, I am my 12-year-old self's nightmare. So, if I'm feeling totally out of touch watching music awards or movie awards (let's face it, I've never seen any of the movies and don't know who most of the actors/actresses are), I can at least distract myself with snacks.
Same goes for the Super Bowl, though I'm a little more invested this year (go Patriots!)… Then again, after years of watching football games, I still only have a loose idea of the rules and only really know what's going on about 50% of the time. Probably because I'm running to the kitchen to refill the chip bowls, get the chicken out of the oven, or get a plate of these cookie bars ready. Priorities.
RED VELVET COOKIE DOUGH BARS RECIPE
While I made these Red Velvet Cookie Dough Bars specifically for Valentine's Day festivities, they're also quite suitable for awards show season, Super Bowl watching, and more. They're a very good distraction when you have no idea what's going on and are a good conversation starter when you can't comment on that football penalty or pop star.
I made the cookie crust with Golden Oreos, but added a little food coloring when I crumbled them up to get to a nice shade of pink. If you're looking for a good food coloring, I've been using Wilton's Color Right System (affiliate link!) for the last few years and can't recommend it enough. It seriously makes it so easy to get your baked goods the perfect shade.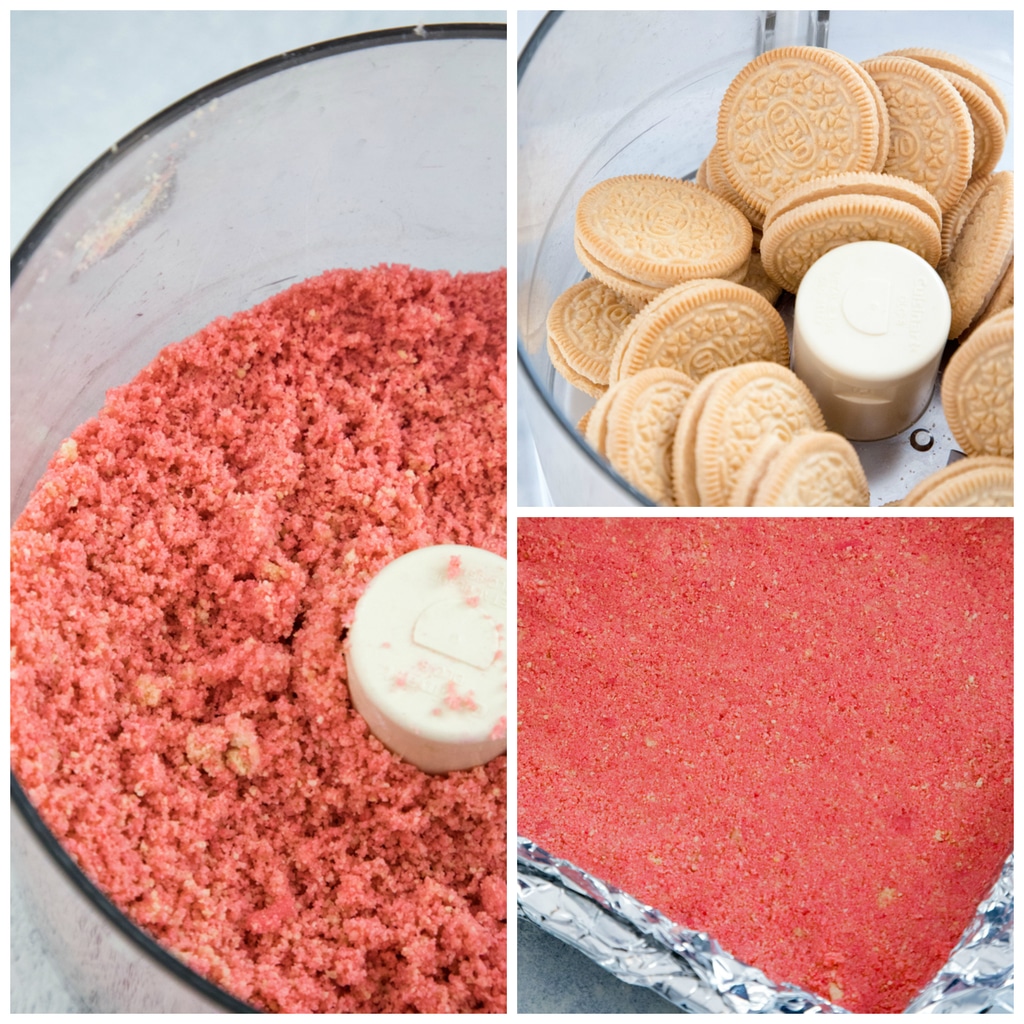 The red velvet cookie dough is basically a big batch of edible cookie dough with mini chocolate chips and red food coloring mixed in. It's similar to the red velvet cookie dough I made for my Red Velvet Cookie Dough Ice Cream, but with a little more flour to stabilize it a bit more for the purpose of these bars.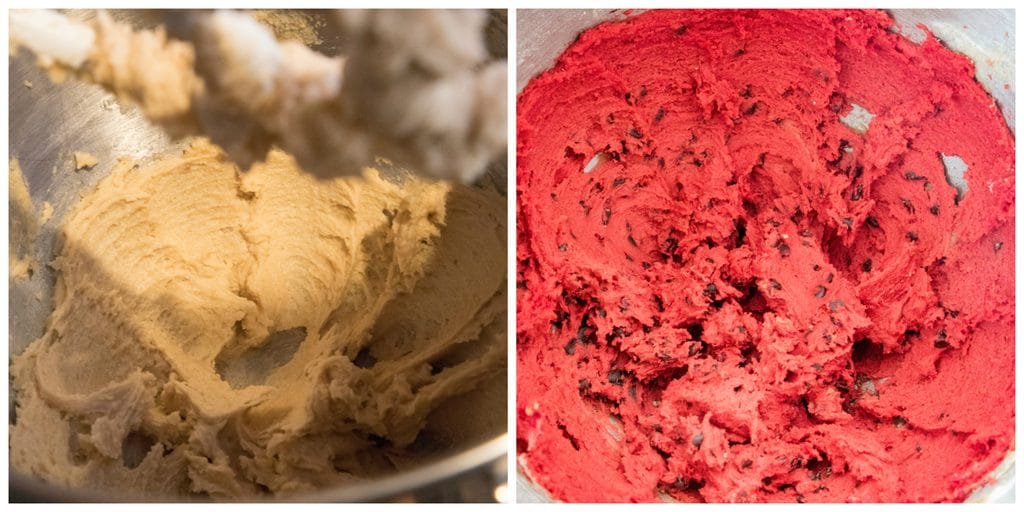 I made a white chocolate ganache to spread over the top of the bars and added a healthy amount of sprinkles on top.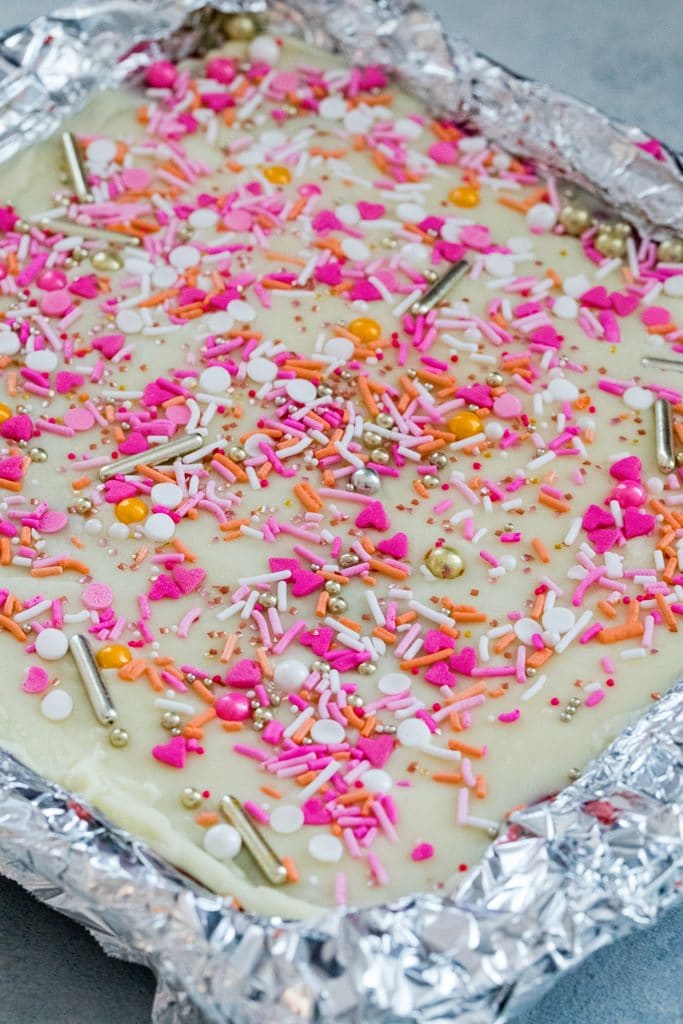 In case you're wondering, I used my Sweetapolita Twinkle Sprinkle Medley for this. Her sprinkles are the BEST ever and I only use them when it really, really counts. Like on these red velvet cookie dough bars.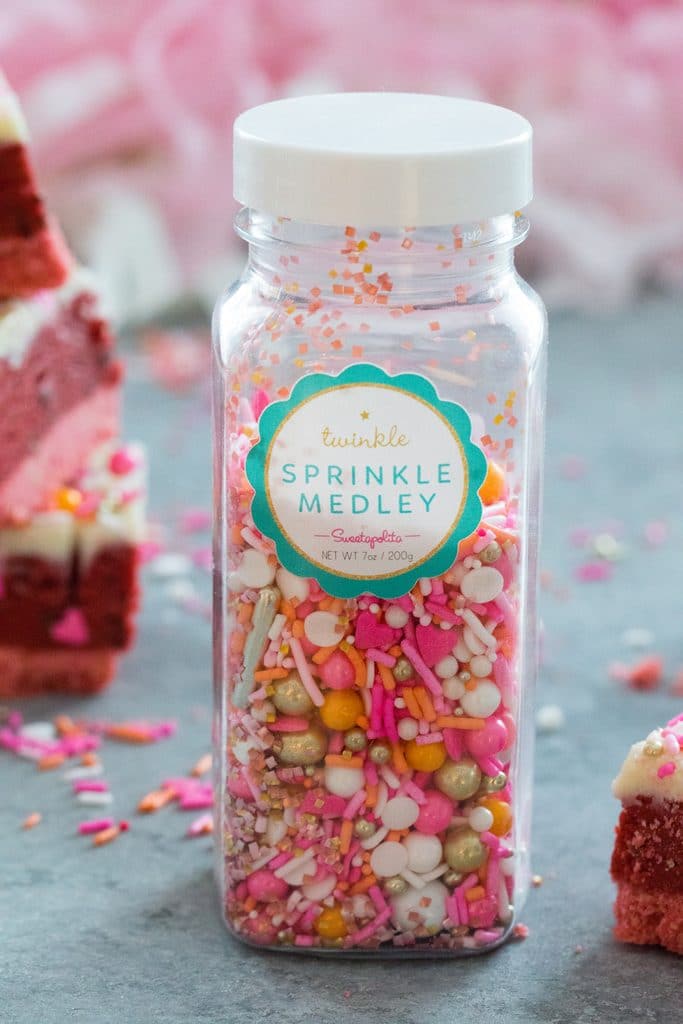 Hello, lover. But seriously. If you don't have a valentine this February 14, these red velvet cookie dough bars would be very happy to be your valentine. And if you do have one, I'm sure they'd appreciate a batch of these on the day of love.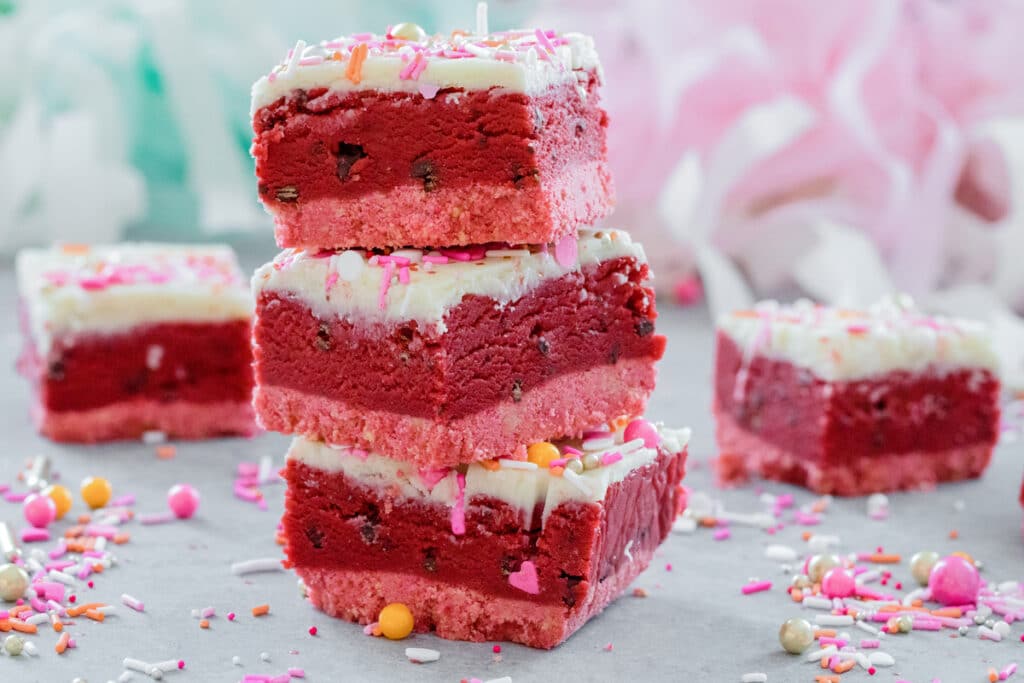 Chris and I don't do gifts or dinner out on Valentine's Day anymore (way too many bad experiences with overly crowded restaurants and "special" menus that aren't actually special at all), but we try to do something a little nicer at home with dinner and treats like these.
Though, who am I kidding, you know Chris gets cookies and brownies pretty much on a weekly basis, so Valentine's Day is no different!
When I first taste tested these, I was worried they were too sweet. So, when Chris got home, I asked him to try one. He immediately sat down and ate one in about three bites, assuring me they were not, in fact, too sweet. But he does have a very big sweet tooth, so beware if you're making these that they are indulgently sweet.
A lot of it is due to the white chocolate ganache. I actually recipe tested these several times and during one round, I used milk chocolate instead of white and it was also delicious. I bet dark chocolate would be amazing, too. They won't have the same look with the sprinkles popping, but just know you can use whatever kind of chocolate you prefer.
White chocolate isn't my favorite, but Chris LOVES it and since he is my valentine and all…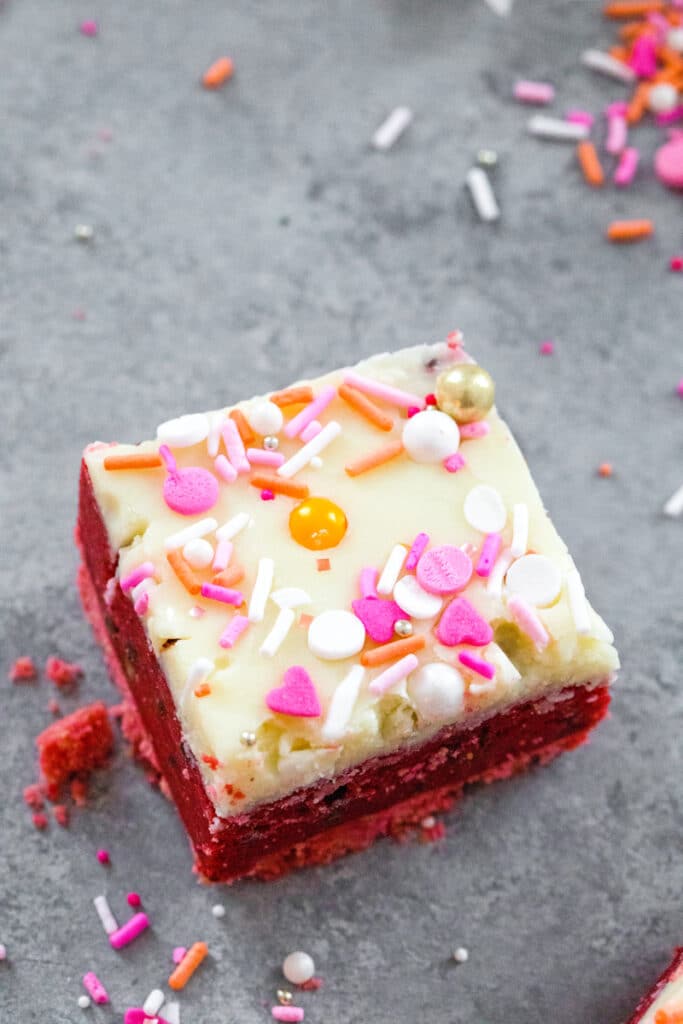 With these in hand, I don't care who the heck is playing on the radio. I'm just over here nerdily rocking out to the Hamilton soundtrack (and the remixes!) and chowing down on red velvet cookie dough bars.
Really not sure how we existed before edible cookie dough was a thing and that's certainly not a time I'd ever want to go back to.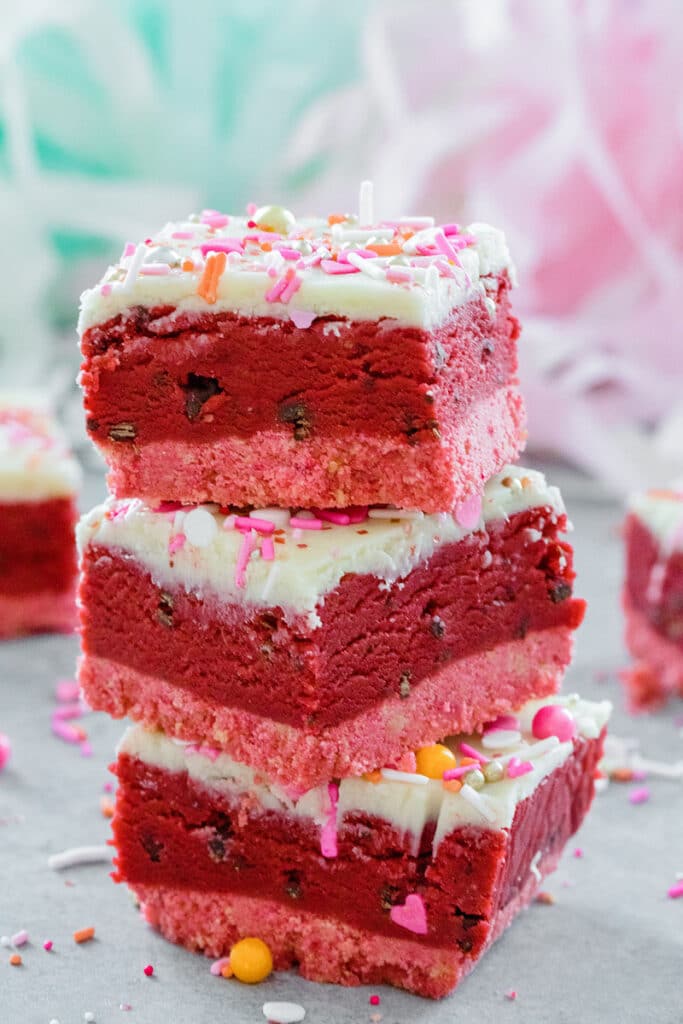 And this is officially your call to start celebrating Valentine's Day- it's February in 3 days, after all (eeek! I still haven't finished writing out my 2018 goal journal. Oops?). And the holiday is always a wonderful excuse to have a few extra baked goods in your house.
Even though I've made them several times already, I might just have to make these red velvet cookie dough bars one more time!
How do you celebrate Valentine's Day?
For more deliciously fun Valentine's Day desserts, check out my Very Berry Cheerios Marshmallow Bars and my Conversation Heart Cookies with Marshmallow Fluff. I also want to make these Red Velvet Cheesecake Cupcakes from The Itsy Bitsy Kitchen!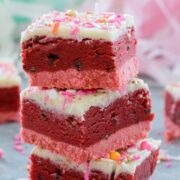 Print Recipe
Red Velvet Cookie Dough Bars
Perfect for showing your love this Valentine's Day, these Red Velvet Cookie Dough Bars are composed of a pink cookie crust, a luscious layer of chocolate chip red velvet cookie dough, and a white chocolate ganache topping. And don't forget the sprinkles!
Servings:
25
small squares (or 12 large)
Ingredients
Pink Cookie Crust
26

Golden Oreo Cookies

4

Tbsp

unsalted butter, melted

6-7

drops

pink food coloring
Red Velvet Cookie Dough
1 1/2

sticks

unsalted butter, room temperature

1

cup + 2 Tbsp

light brown sugar, packed

2

tsp

vanilla extract

1/4

tsp

salt

2

cups

all-purpose flour

2

tsp

cocoa powder

1/4

cups + 1 Tbsp

whole milk

8-10

drops

red food coloring

1/2

cup

mini chocolate chips

Sprinkles of your choice
White Chocolate Ganache
8

oz.

white chocolate,

roughly chopped

1/3

cup

heavy cream
Instructions
Pink Cookie Crust
Put Oreo Cookies in a food processor and blend until they turn into fine crumbs. Pour in melted butter and food coloring and pulse a few times until well blended.

Line an 8×8 baking pan with foil and lightly coat with cooking spray. Pour cookie crumbs into baking pan and press down into even layer on bottom of pan.

Place pan in freezer for 30 minutes while you prepare the cookie dough.
Red Velvet Cookie Dough and Assembly
In the bowl of a mixer or in a large bowl with a hand mixer, cream butter and brown sugar on medium speed until light and fluffy, 3-4 minutes.

Add vanilla and salt and blend until combined.

With mixer on low, slowly add flour and cocoa powder to bowl until well combined. Mixture will likely look crumbly.

Keep mixer on low and add milk in until dough comes together. Mix in red food coloring and mini chocolate chips until just combined.

Remove pan with cookie crust from freezer and press cookie dough into an even layer over cookie crust.

Pour white chocolate ganache over the top of the dough and smooth evenly with a spatula. Sprinkle sprinkles over ganache.

Place pan in fridge chill for at least 45 minutes. Once chilled, remove bars from pan by lifting foil. Using a sharp knife, slice into squares.
White Chocolate Ganache
Place white chocolate in a heat-proof bowl. Heat the cream in the microwave util near boiling.

Pour cream over chocolate and let sit for about 1 minute before whisking until the chocolate is completely melted and the ganache is smooth.
Notes
If you are wary of eating raw flour, you can toast it. Just spread flour on a baking sheet and bake at 350 degrees for about 5 minutes.