Packed with crisp white wine, vodka, fresh pears and a cinnamon pear simple syrup, this Cinnamon Pear Sangria is like fall in a glass!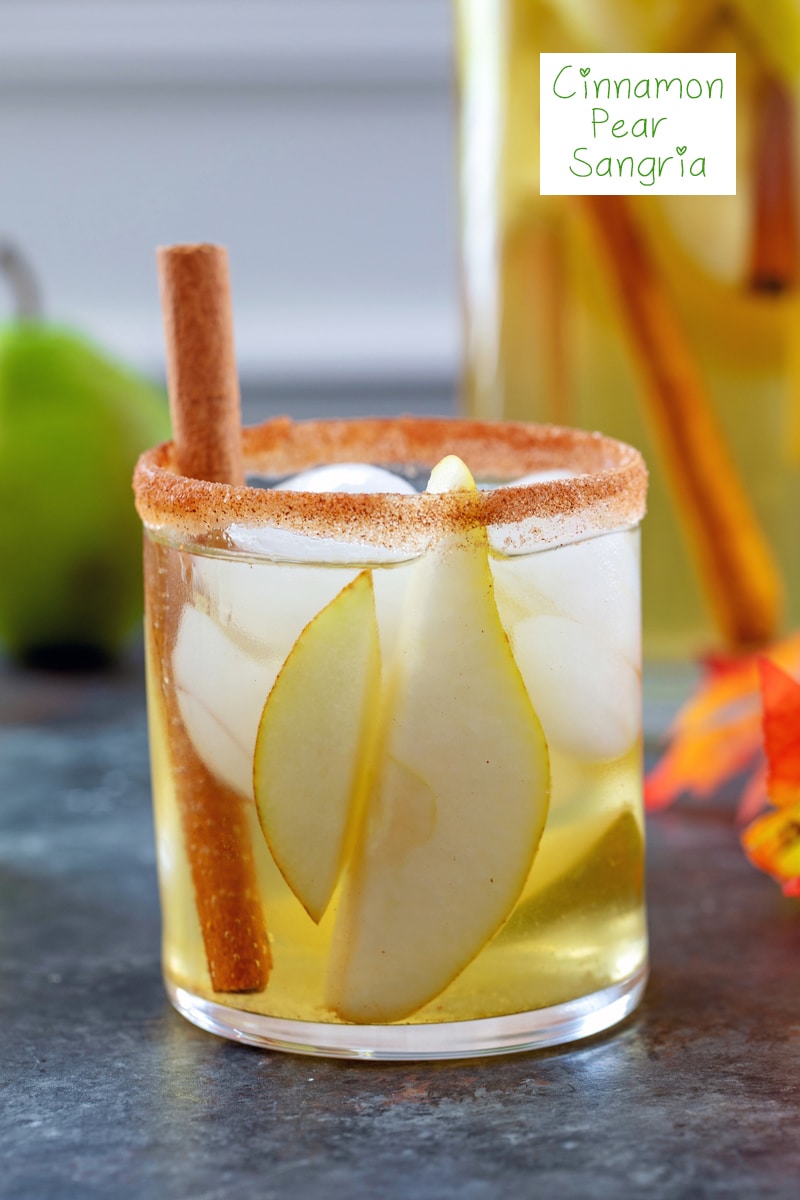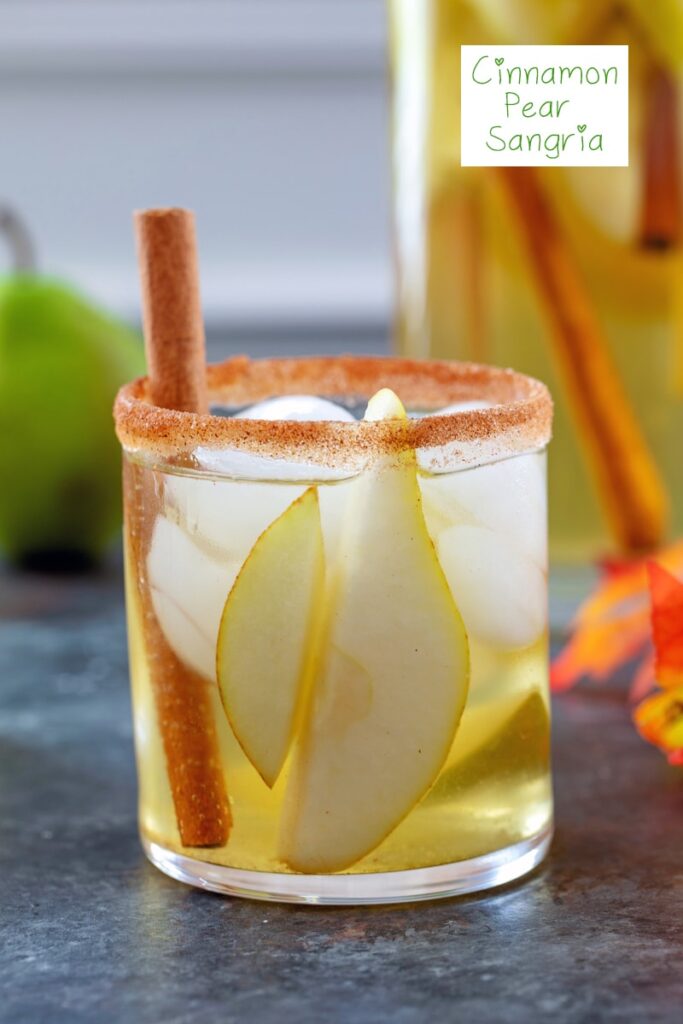 I'm back again to demand that pears get more attention. They deserve so much more love! I mean, it's clear that apples and pumpkins are fall's favorite children... but I'm going to keep fighting the good fight for pears.
There's nothing quite like a perfectly ripe juicy pear. Yes, I'm even putting them above apples. And while there's no shortage of apple cocktail recipes out in the world, pear cocktails are a little more rare.
This cinnamon pear sangria is easy to make and great for serving to a crowd. It would certainly be gorgeous on your Thanksgiving dinner table... But is also perfect for simply enjoying as a casual fall weekend cocktail.
Ingredients in Cinnamon Pear Sangria
One of the wonderful things about sangria is that you can add anything to it and adjust it to be what you like best. Here's what I used in this pear sangria:
White wine
Vodka
Cinnamon pear sangria (the recipe for this is included below)
Fresh pears
Cinnamon sticks
Soda water
What Kind of Wine to use for White Sangria
Honestly, you can use whatever kind of white wine you want, but I recommend a dry acidic wine. For this particular white wine sangria, I would stay away from a sweeter wine since you'll be adding simple syrup in.
For that reason, a pinot grigio or sauvignon blanc are my favorite choices for this pear sangria. Chardonnay works, too, but make sure it's an unoaked sangria as oakiness won't work well with the other flavors.
How Long Should Pear Sangria Chill?
I generally recommend chilling sangria for about 2 hours to let the flavors meld together, but if you're making this last minute, it should be perfectly fine to serve right away (just try to chill your white wine in advance and make sure to pour the sangria over lots of ice!).
How Long Will Sangria Keep in the Fridge?
I personally think this sangria is best when consumed within 8 hours of making it, but it will certainly last in your fridge for a couple days. The pears may just soften and brown up a bit, making it not quite as pretty.
If you are planning to keep this sangria in your fridge for more than a day, I wouldn't add the soda water to the pitcher and would instead add a splash of soda water to each glass of sangria immediately before serving.
What Kind of Pears Should I Use?
While you can really use any type of pear for this pear sangria, I recommend a green pear for the prettiest look. For this reason, I like using anjou pears, which should be pretty easy to find as they're quite common.
If you can't find anjou, you can use comice or bartlett (bartlett pears are generally green before they turn more brown as they ripen).
How to Make Cinnamon Pear Simple Syrup
OK this simple syrup is super important to this sangria, so don't skip this step! It's very easy, but does require a little time cooling in the fridge.
Put granulated sugar, chopped pears, vanilla, cinnamon stick, and water in a saucepan and bring to a boil over medium heat.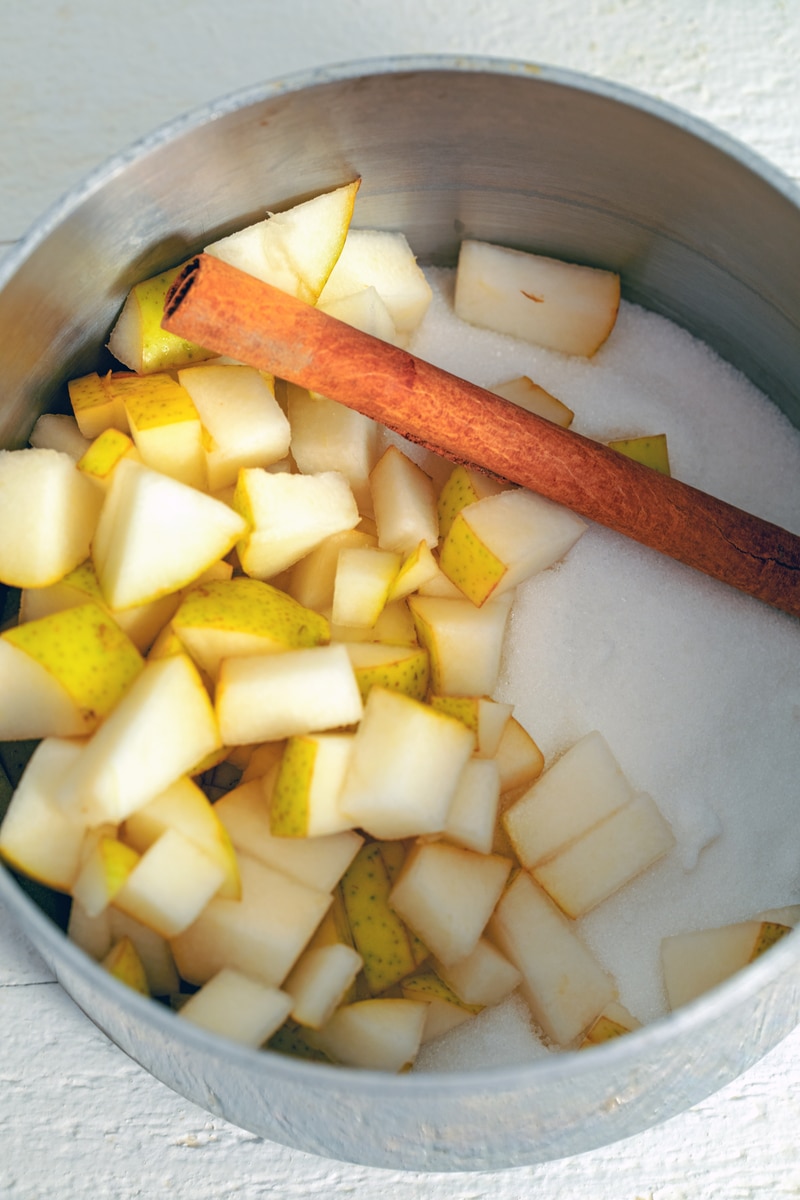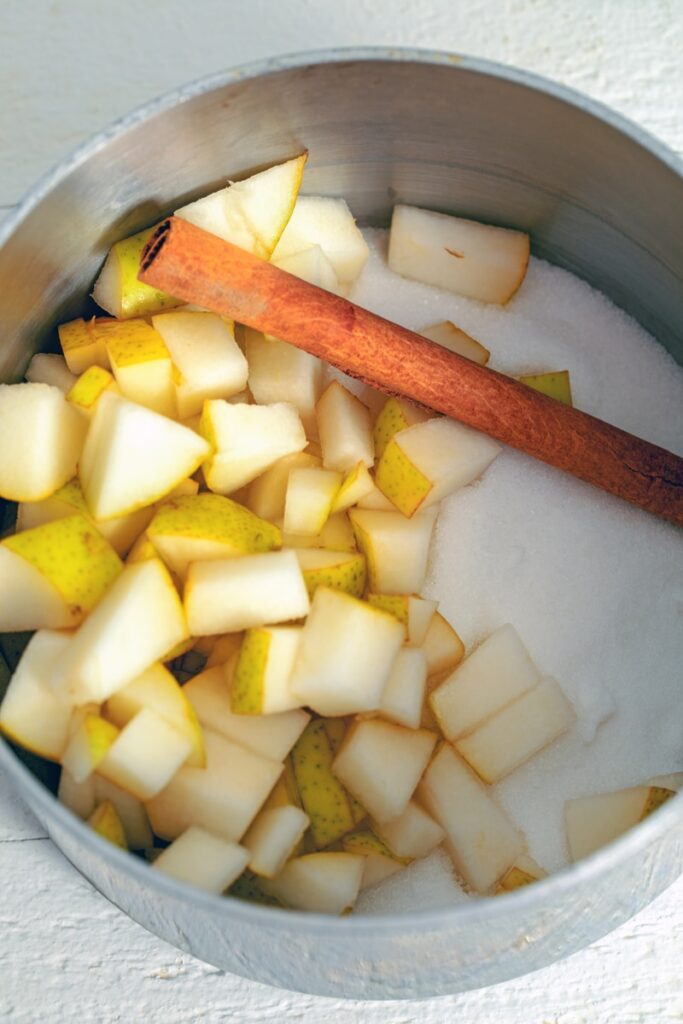 Lower to a simmer and let cook for about 15 minutes.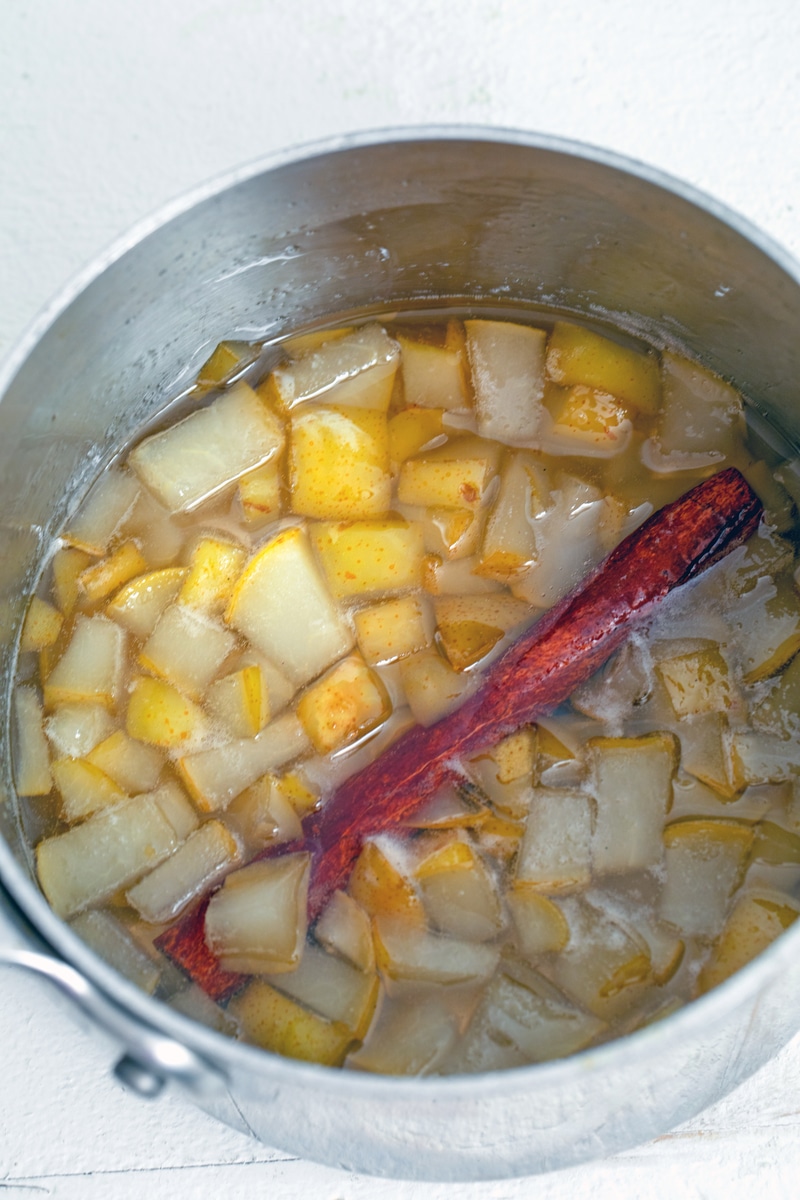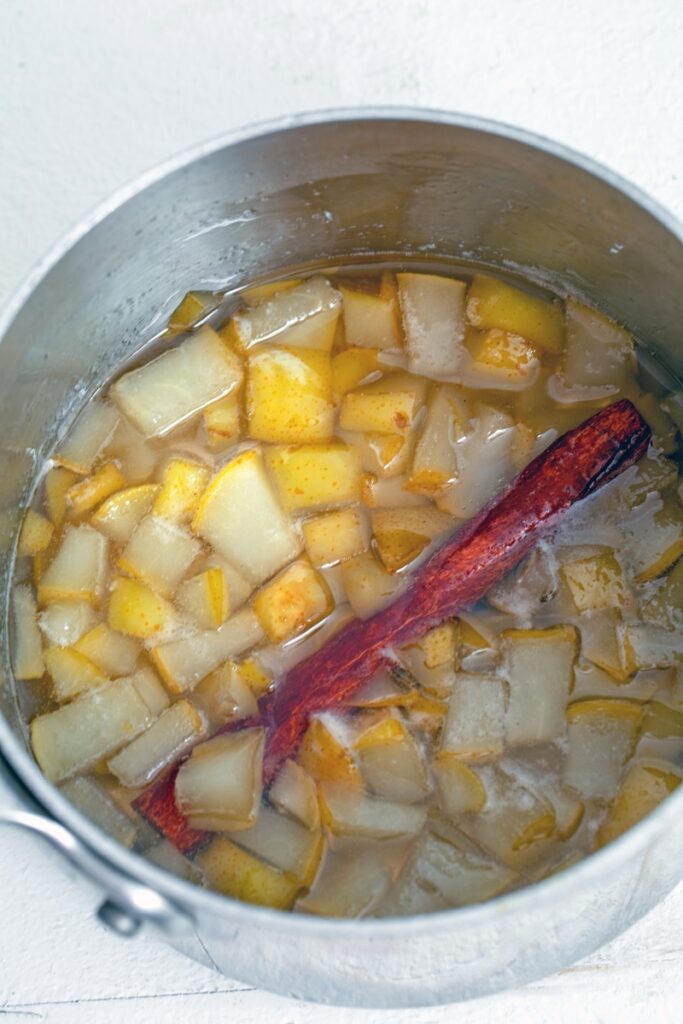 Pour syrup over a fine mesh sieve to strain out the pears and cinnamon stick and let syrup cool completely before using. You can pop it in the fridge to speed it up.
I always store my simple syrups in a mason jar.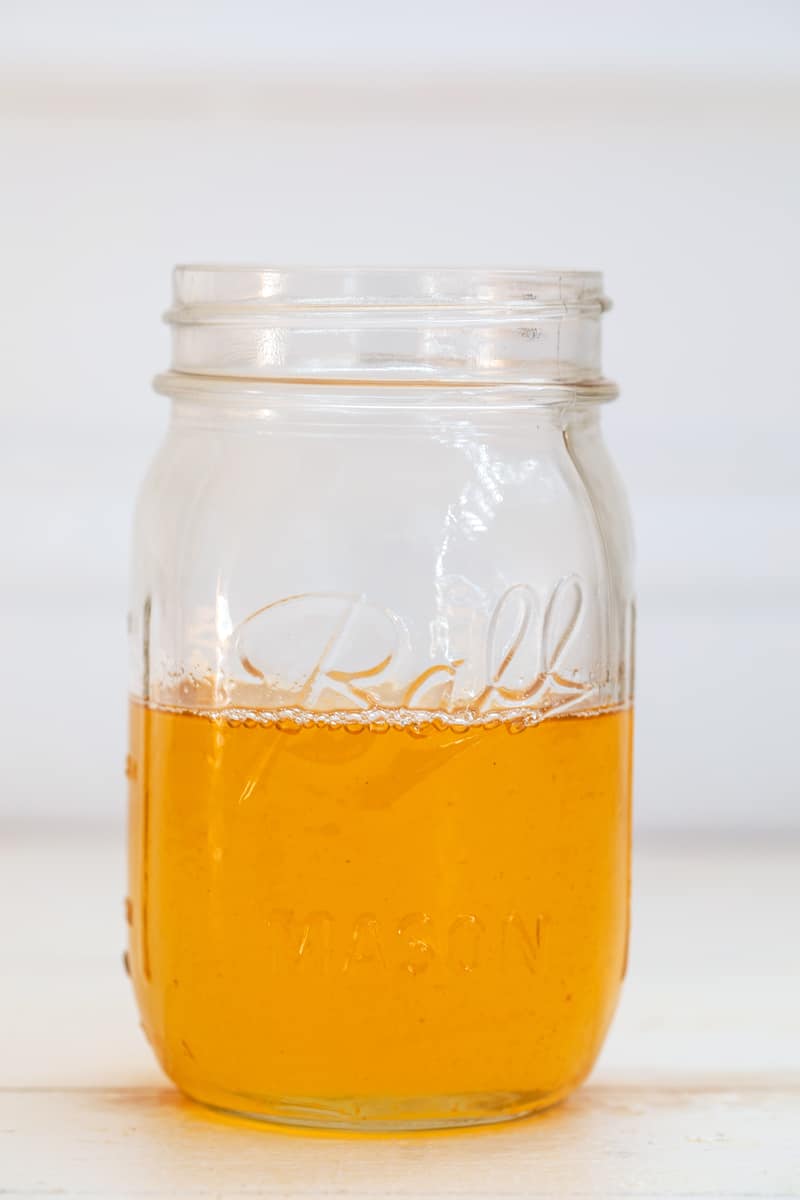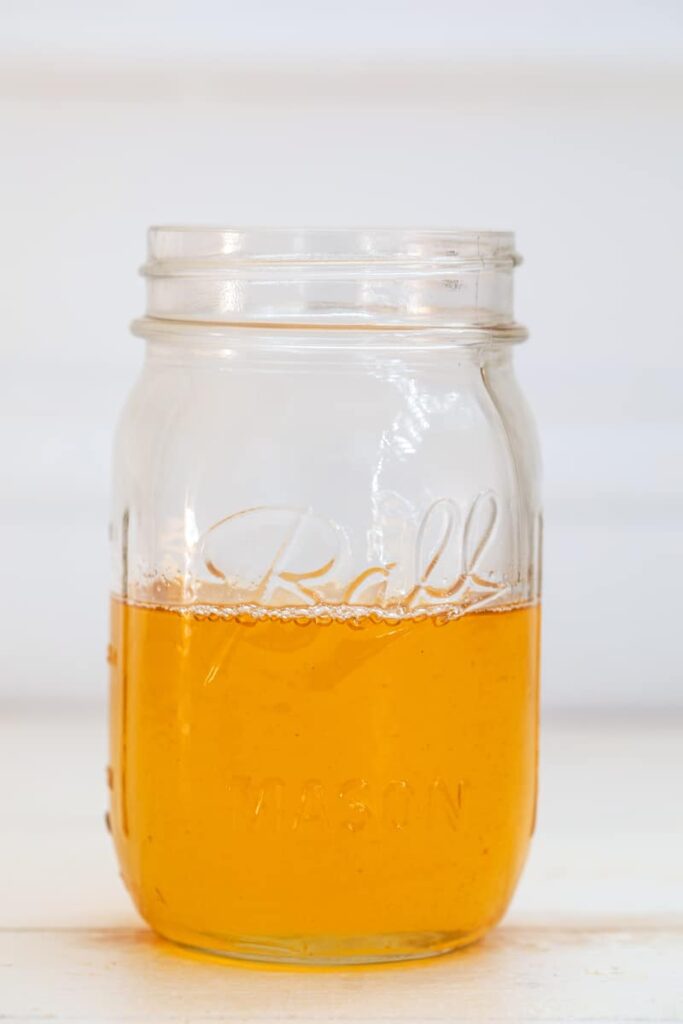 How to Make Cinnamon Pear Sangria
Once your simple syrup has cooled, you're ready to make the sangria... It should only take you a few minutes to mix together.
Pour the entire bottle of white wine into a large pitcher. Add vodka, simple syrup, sliced pears, and cinnamon sticks and place the pitcher in the fridge for about 2 hours to let the flavors meld together.
Like I mentioned above, if you're short on time, you can serve the sangria right away; you'll just want to serve it over a lot of ice.
Right before you're ready to serve, stir in soda water.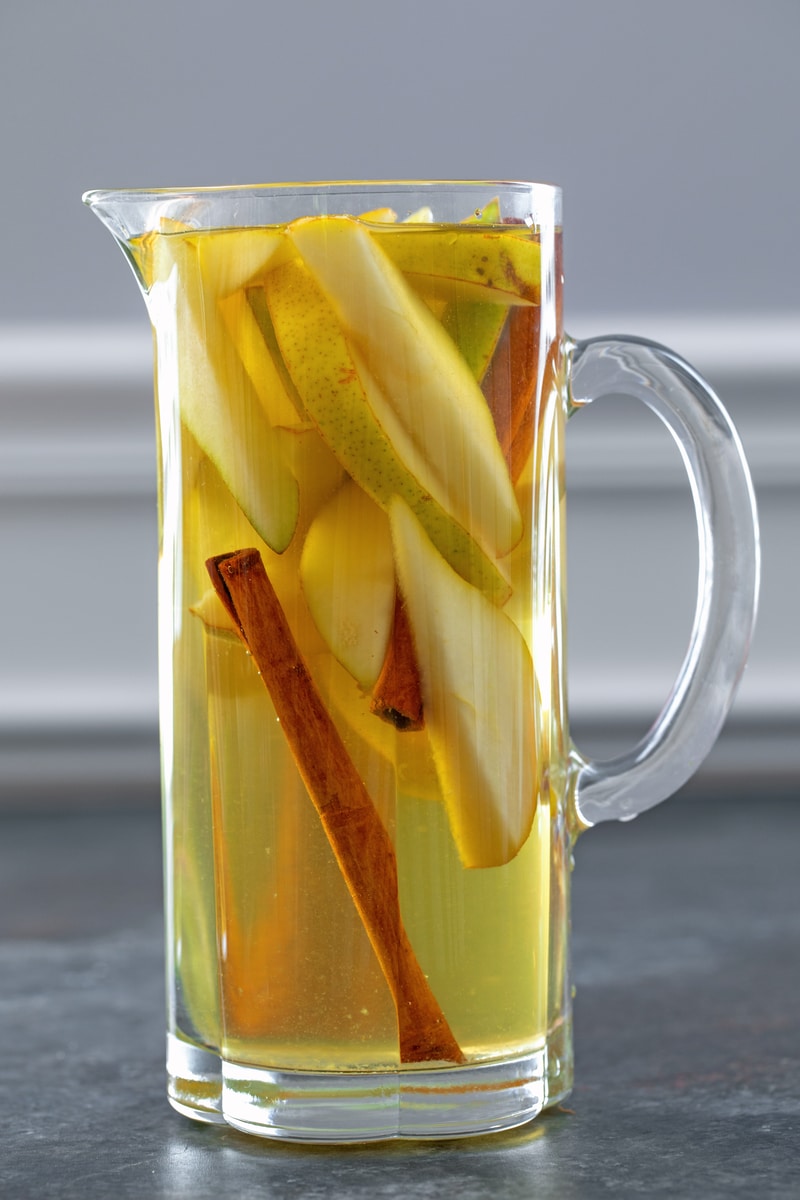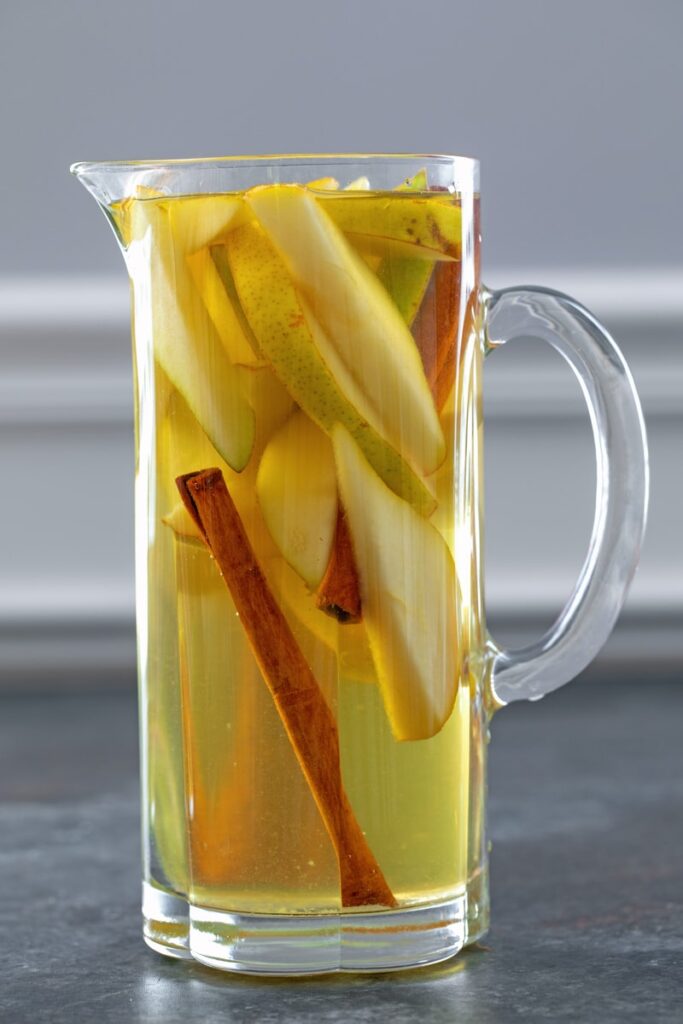 I highly, highly recommend serving this cinnamon pear sangria in a glass with a cinnamon sugar rim. It adds an extra little yumminess to every sip.
Make sure to also add lots of ice to the glass and to add a cinnamon stick garnish.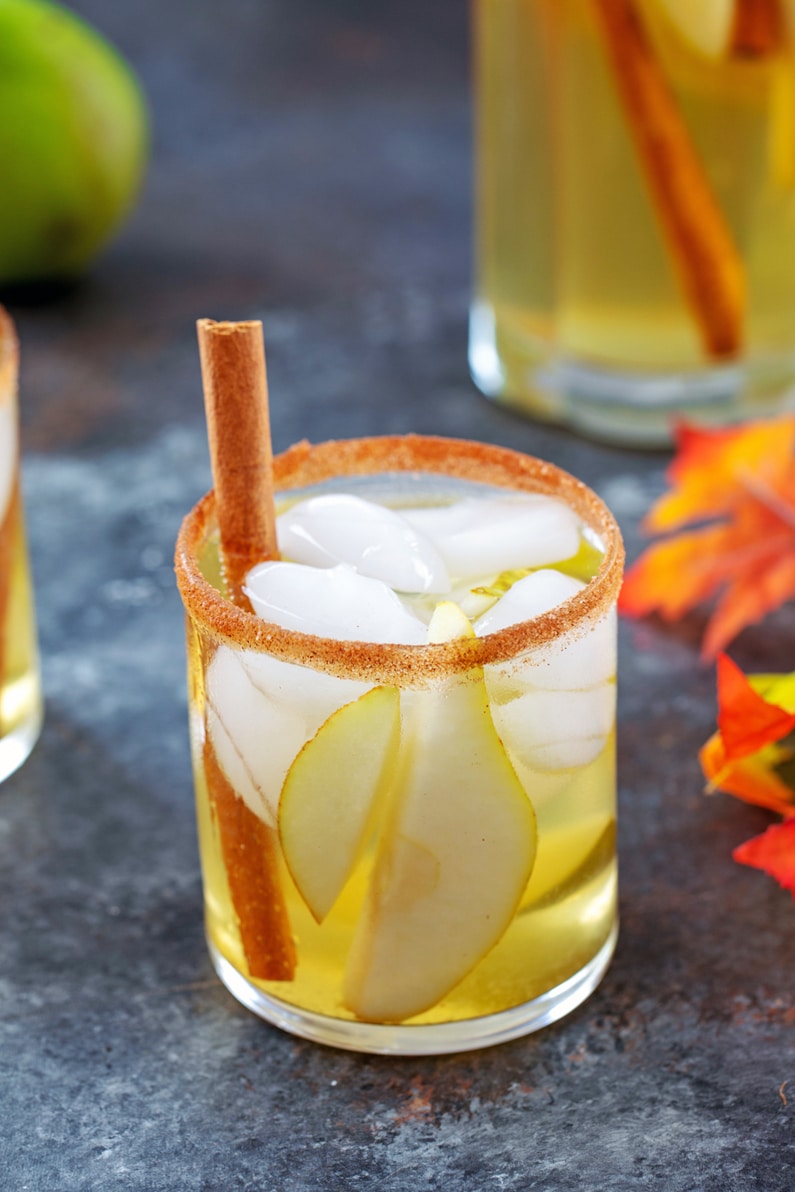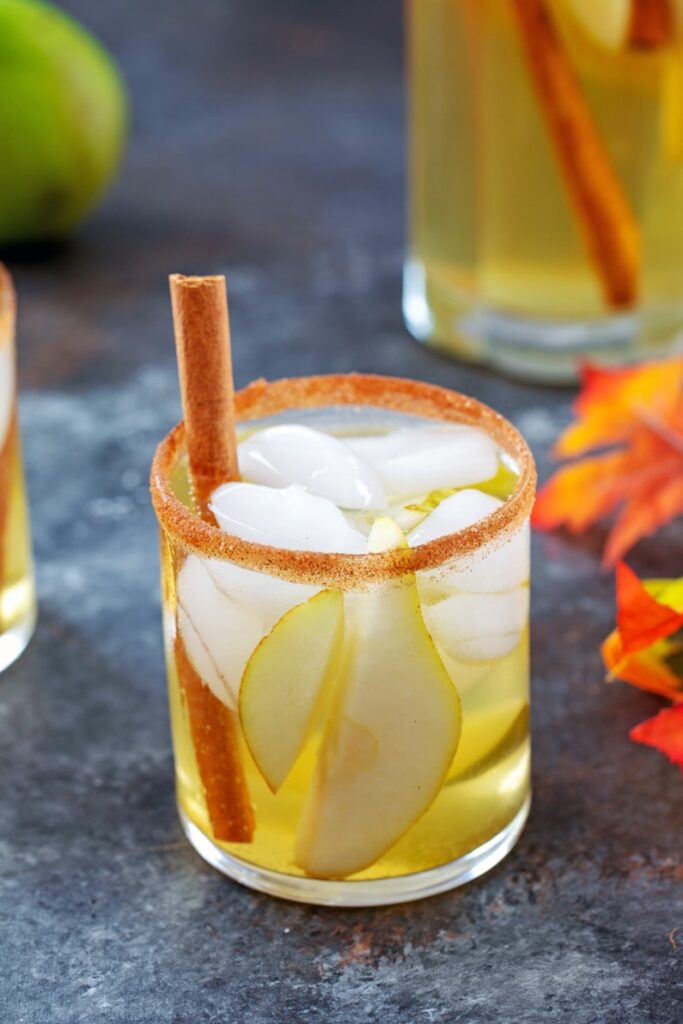 Serve and sip away!
If you are a pear lover, I promise this cocktail will be right up your alley. Thanks to the simple syrup and sliced fruit, the pear flavor is super prominent in the best possible way.
Chris and I enjoyed the pear sangria during an outdoor dinner with our neighbors, along with lobster rolls, steak, and a tomato and mozzarella salad. We're holding onto summer foods and outdoor dining as long as possible here, while also jumping full on into fall flavors!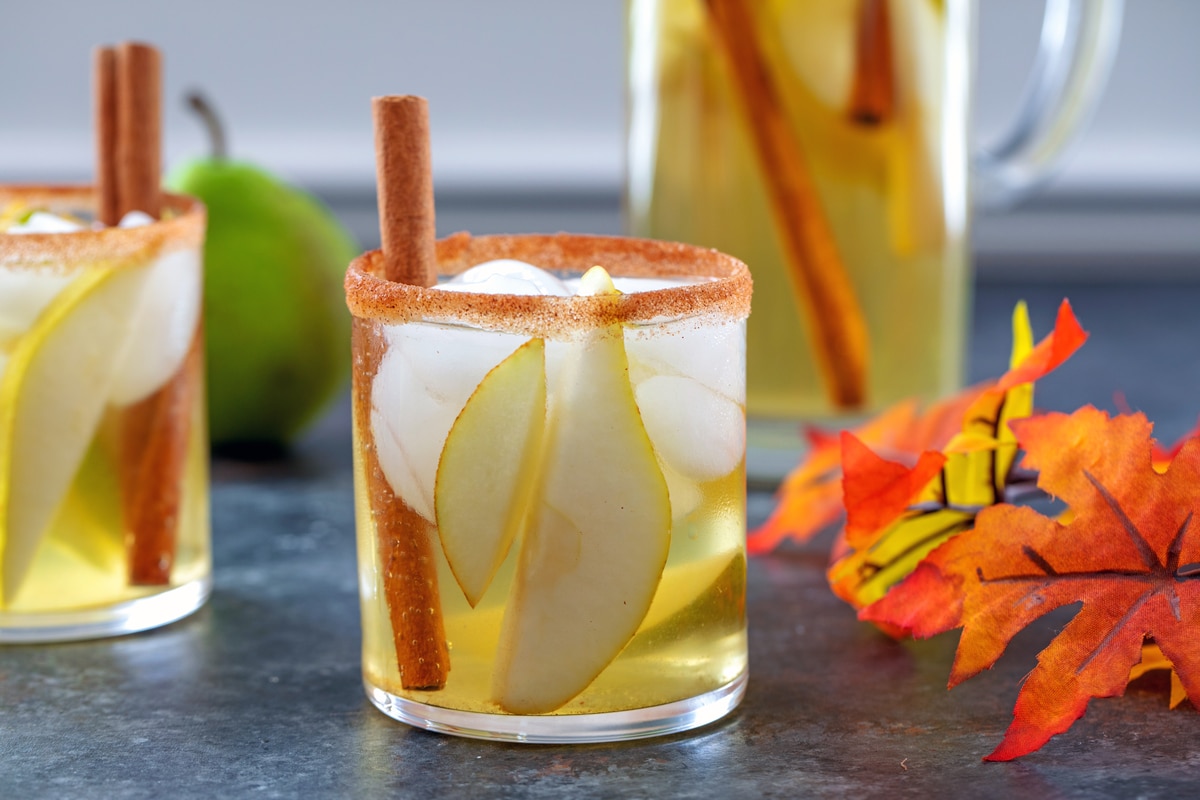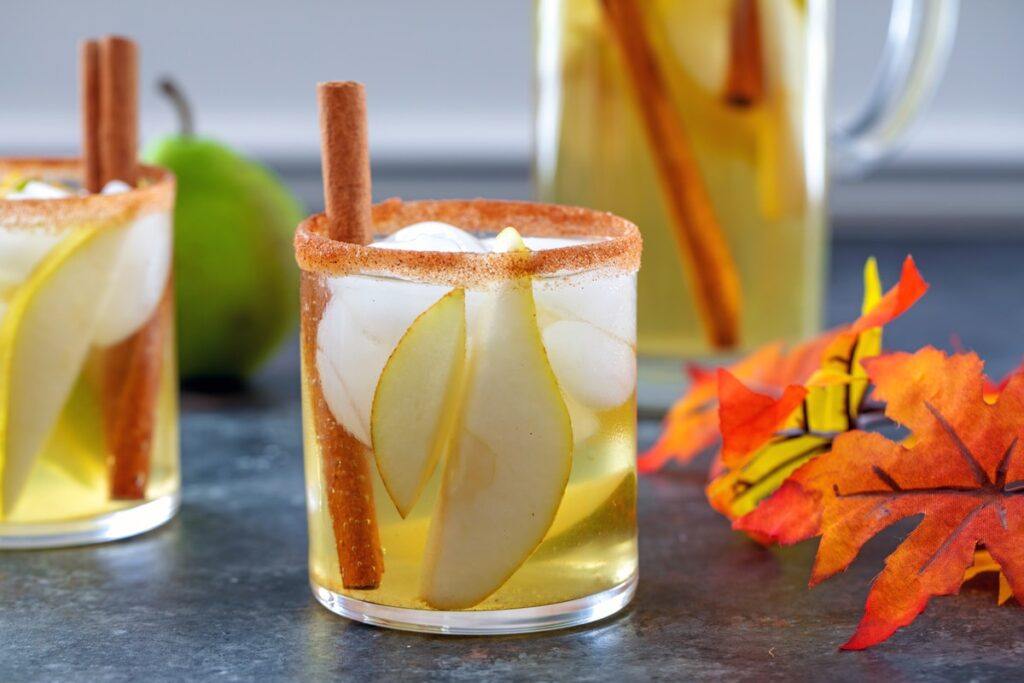 I've also been stirring a little bit of the leftover pear simple syrup into soda water for a tasty nonalcoholic weekday drink. While delicious, I have to admit it's definitely way better in sangria form!
It's pretty rare for me to make or drink white wine sangria since I'm more of a red wine drinker, but I think I'd drink white sangria always and forever if it was this cinnamon pear sangria.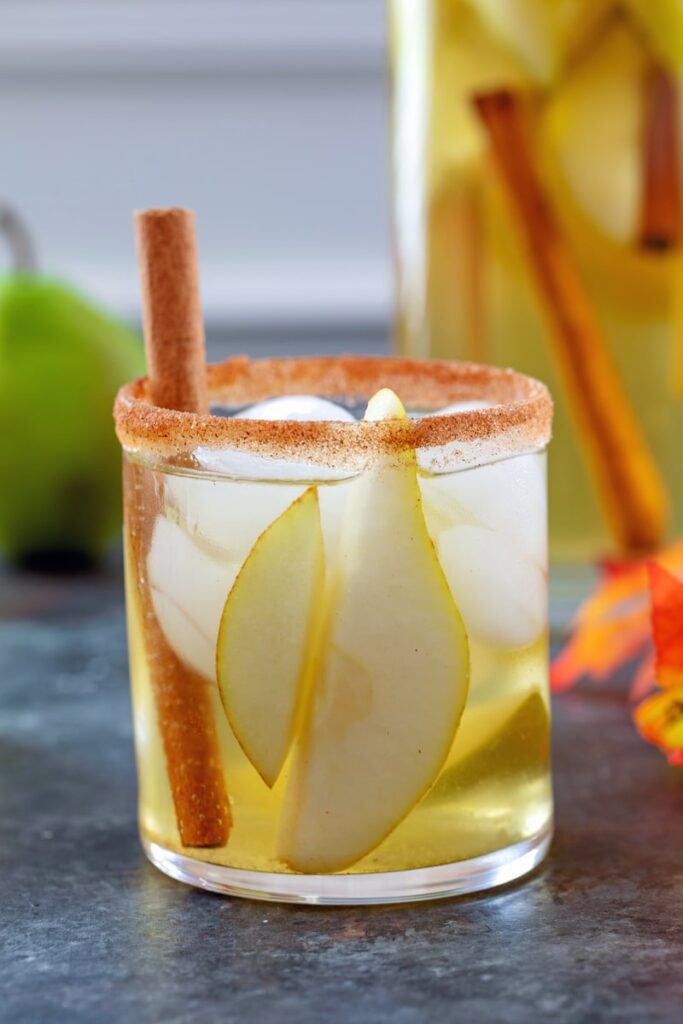 It really is fall in a glass, but I'm pretty sure I'll drink it all winter long, as well. Cinnamon pear sangria would also be a beautiful and delicious addition to your Thanksgiving table!
Do you love pears as much as apples and pumpkin?
If you're looking for more seasonal pear recipes, check out my Pear Old Cubans (another yummy cocktail!) and my Lime Ginger Pear Sauce. I also can't wait to make this Pear Jam from Caroline's Cooking!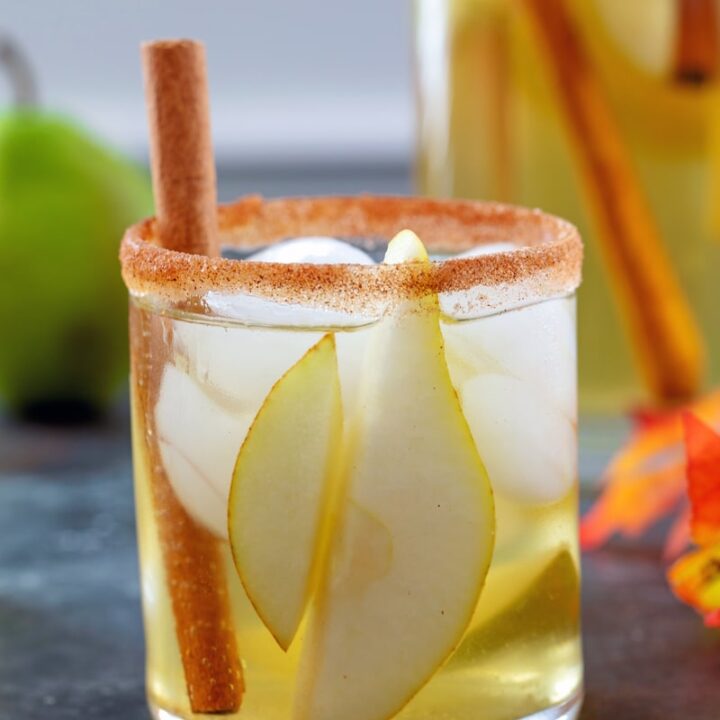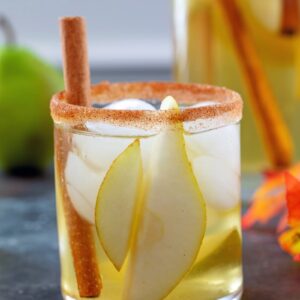 Cinnamon Pear Sangria
Packed with crisp white wine, vodka, fresh pears and a cinnamon pear simple syrup, this Cinnamon Pear Sangria is like fall in a glass!
Print
Pin
Rate
Ingredients
1

bottle

white wine

(I recommend sauvignon blanc, pinot grigio, or an unoaked chardonnay)

1

cup

vodka

¾

cup

cinnamon pear simple syrup

(recipe below)

3

pears,

sliced (I recommend anjou pears)

4

cinnamon sticks

2

cups

soda water
Cinnamon Pear Simple Syrup
1

cup

chopped pear

(from about 2 medium pears)

1

cup

granulated sugar

1 ¼

cups

water

1

cinnamon stick

2

tsp

vanilla extract
Instructions
Add white wine, vodka, cinnamon pear simple syrup, and cinnamon sticks to a large pitcher. Place in fridge for about 2 hours to let flavors meld together.

Right before serving, stir soda water into pitcher (see notes if you're planning to consume sangria over a couple days).

Pour sangria into ice-filled glasses with cinnamon sugar rims (see notes for instructions).
Cinnamon Pear Simple Syrup
Put chopped pear, sugar, water, cinnamon stick, and vanilla extract in a medium-size saucepan and bring mixture to a boil. Once boiling, lower heat and let simmer for about 15 minutes, until the mixture thickens.

Strain the mixture into a bowl, leaving behind the pears and cinnamon stick. Keep syrup in bowl or pour into a mason jar and place in fridge to cool completely before using.
Notes
If y

ou want to keep sangria in your fridge to enjoy over a couple days, I recommend not adding the soda water to the pitcher and instead adding a splash of soda water to each glass of sangria immediately before serving.

F

or cinnamon sugar rim, brush a little of the simple syrup all around the rim of the glass and then place glass upside down on a small plate with cinnamon sugar mixture