If you love making homemade applesauce in the fall, you need to try this Lime Ginger Pear Sauce. It's easy to make and packed with a delicious tropical flavor that will add a little flair to your fall!
Can someone please tell me why pears are so underrated? Why is everyone so obsessed with apples and apple season while pears totally get the shaft? And furthermore, why is apple picking so popular, but nobody ever talks about going pear picking? This is just one of life's many injustices that keeps me up at night.
In some ways, I get it. Finding the perfectly ripened pear can be a lot more difficult than finding an amazing apple. But that's part of the fun of it. When you bite into a pear and discover that it's amazingly juicy and flavorful and like the stuff dreams are made of, there's nothing better. No apple can compare.
I'm vowing to make this, not only the season of the apple, but also the season of the pear. While I love making homemade applesauce, I never considered homemade pear sauce before... Until now. And I still can't decide if I want it to be one or two words. Pear sauce or pearsauce?
In the end, all that really matters is that you join me in embracing pears and try this lime ginger pear sauce for yourself!
I briefly considered making a very basic pear sauce with just a little cinnamon mixed in. But I couldn't stop thinking about how lime and ginger complement pears so beautifully.
This is still a simple recipe to make, but has a bit of a tropical flair to it thanks to the ginger and lime. It's perfect for when you want to bring fall into your home, but aren't quite ready to fully let go of that summer feeling.
What Kinds of Pears Should I Use?
Great question! And the answer is easy; you can use any type of pear you want for this pear sauce. I use Green Anjou pears for mine, but think Red Anjou, Bartlett, Bosc, or anything else would also work well.
Simmering the pears with sugar and other flavorings will soften and sweeten them no matter what variety you use... So use your favorite!
How to Make Lime Ginger Pear Sauce
Once you've chosen your pears and peeled and chopped them into chunks, all you have to do is put them in a large saucepan, along with all the other ingredients (water, lime juice, sugar, fresh ginger, and salt).
Bring the mixture to a boil and then lower heat to a simmer and let simmer for about 20 minutes. Pears should be tender.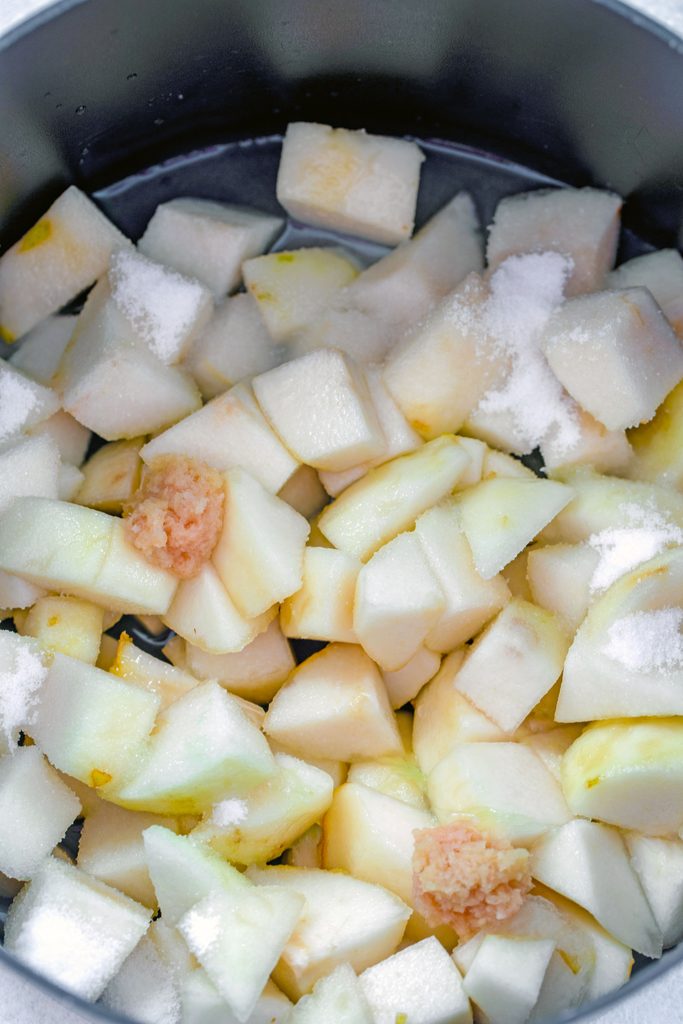 Remove the saucepan from the heat, and gently mash the pears with a potato masher. I like my applesauce and pear sauce a little bit chunky, but if you want a super smooth sauce, you can use an immersion blender or put the mixture in a blender and puree it.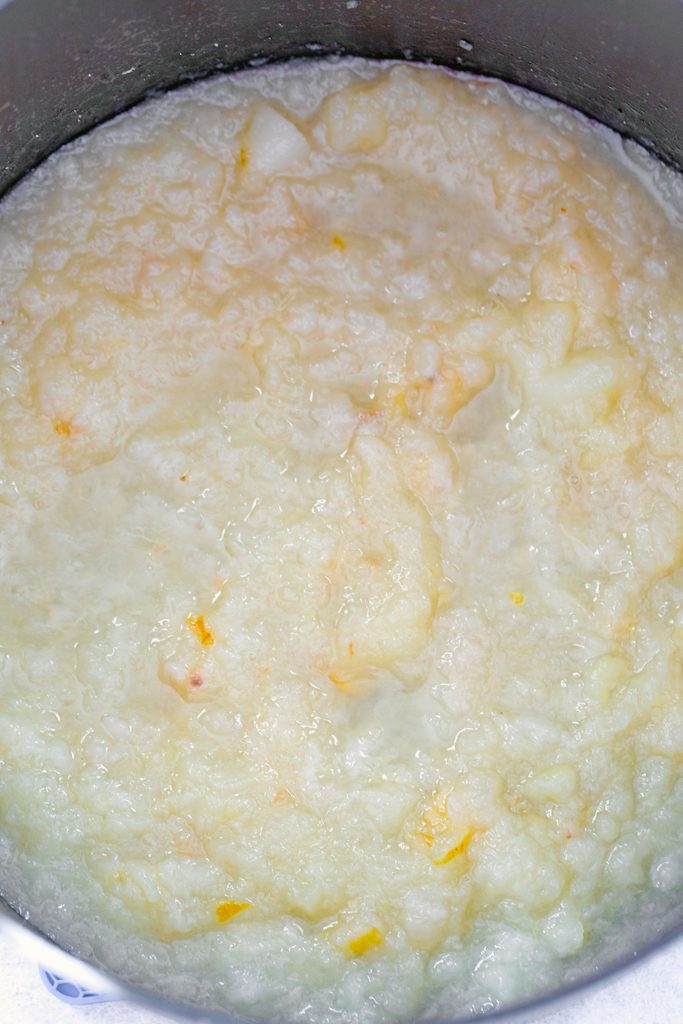 Refrigerate the pear sauce until cold. It will thicken up a bit more as it cools. You can leave it in your fridge in an airtight container for about 5 days or just dig in as soon as it cools.
How easy is that??
You can also sprinkle a little ground ginger over the top if you want.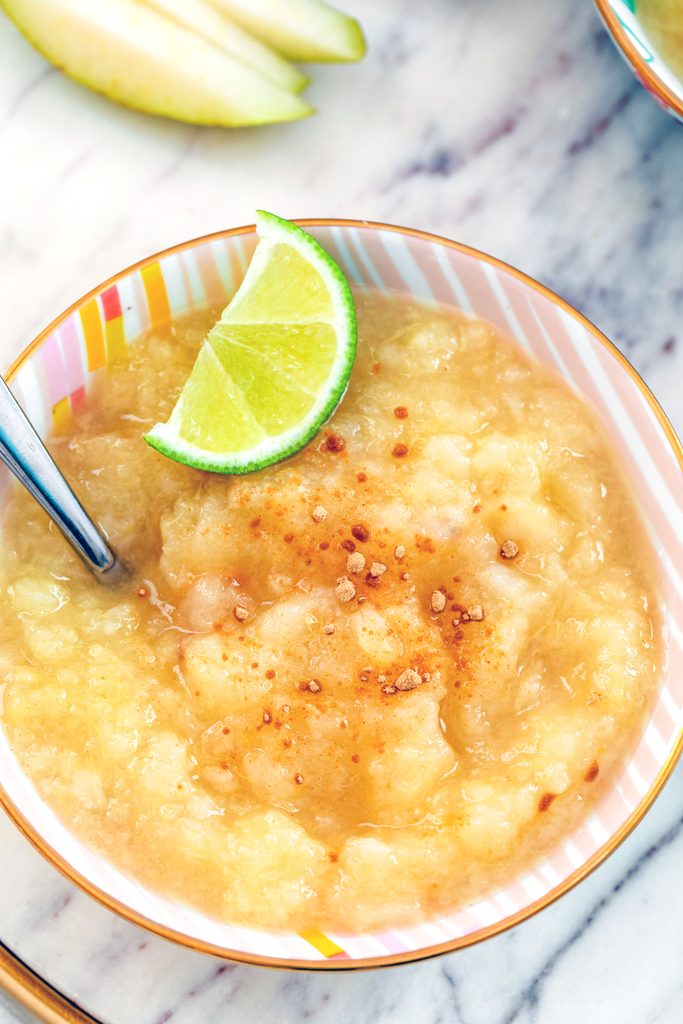 I have a really tough time categorizing things like pear sauce in terms of when they're best eaten. I think that means it's perfect for any time! It makes a delicious side to pork (much like how you'd serve applesauce), but I also love it as a dessert.
And I even enjoyed this lime ginger pear sauce a couple times for breakfast with a side of toast. It would also be delicious stirred into a bowl of plain oatmeal.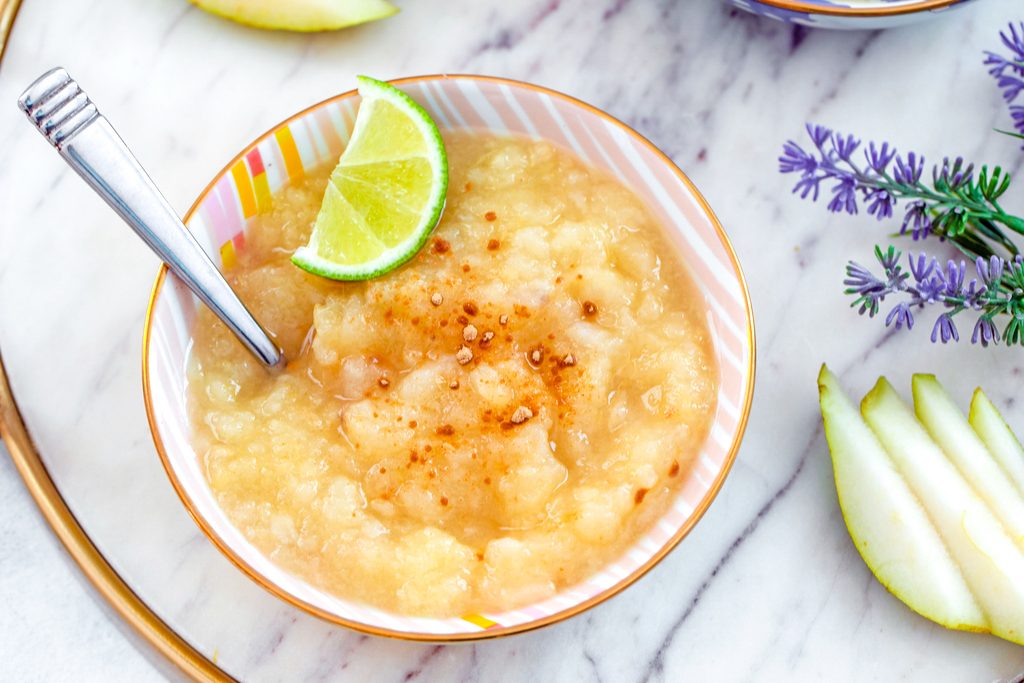 Bonus points for the fact that it will make your kitchen (and potentially entire house) smell like a little piece of fall heaven. A super easy-to-make recipes that doubles as an automatic fall cheer spreader? It doesn't get any better than that!
Personally, I absolutely love the way the lime and ginger flavors complement the pears natural flavors and think this combination really is a fabulous match. Fall with a tart tropical touch might be my new personal aesthetic.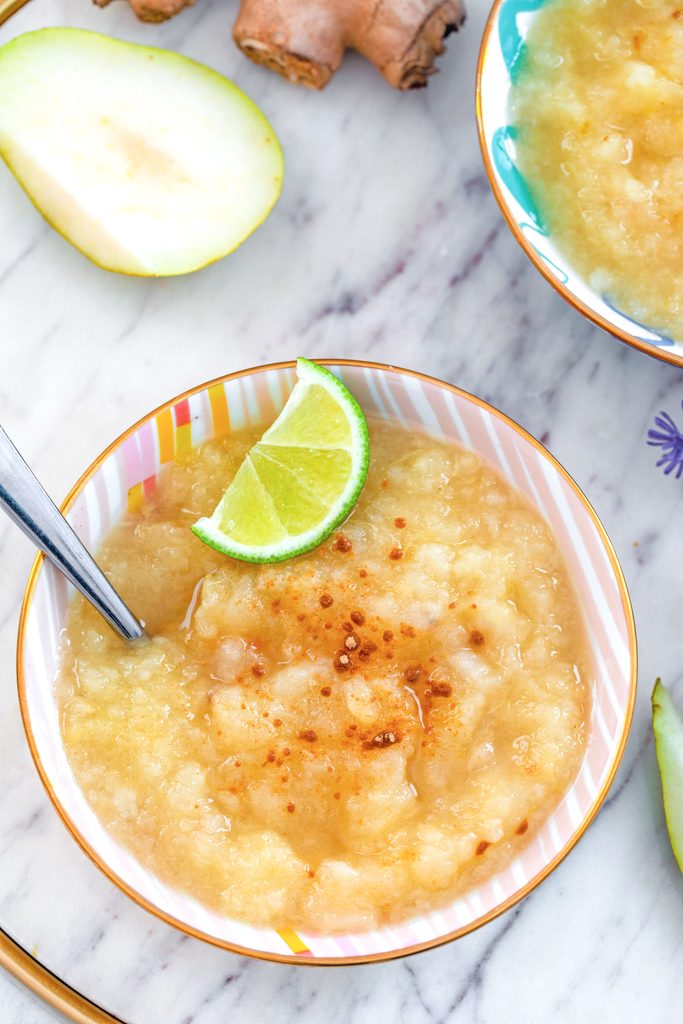 Don't get me wrong; I know apples will always be the true fall standard, but can't we all join together and give pears a little love, too? Try this lime ginger pear sauce and then make a pear pie and let's start a pear revolution together.
Oh, and if you haven't enjoyed pears with cheddar cheese, please go do so and then give me a call to discuss.
What's your favorite recipe that features pears?
If you like the idea of a pear cocktail, try my recipe for Pear Old Cubans or my Cinnamon Pear Sangria. And if you're just not ready to get off the apple train yet, try my Pumpkin Pie Applesauce for something a little different. I'm very excited to try this Maple Ginger Pear Pie from Sweet Little Baker!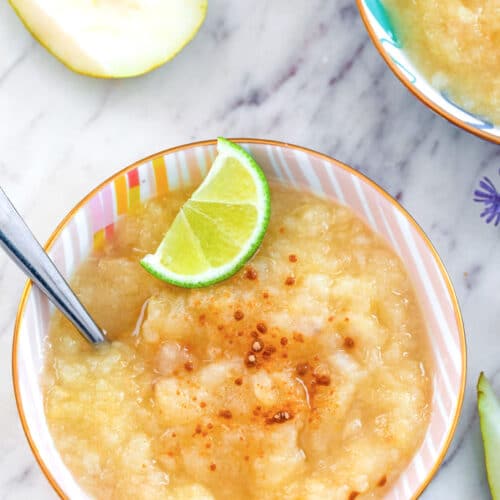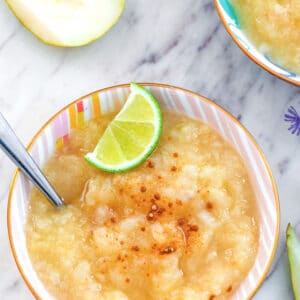 Lime Ginger Pear Sauce
If you love making homemade applesauce in the fall, you need to try this Lime Ginger Pear Sauce. It's easy to make and packed with a delicious tropical flavor that will add a little flair to your fall!
Print
Pin
Rate
Ingredients
3

lbs

pears

(about 6 medium pears), peeled and chopped into chunks

3

Tbsp

water

3

Tbsp

freshly squeezed lime juice

¼

cup

granulated sugar

2

tsp

minced fresh ginger

¼

tsp

salt
Instructions
Place all ingredients in a large saucepan and bring to a boil. Once boiling, lower heat to a simmer and cover. Let mixture cook for about 20 minutes, until pears are cooked through and very tender.

Remove from heat and mash pears with a potato masher or fork. If you want a completely smooth sauce, you can put it in a blender and puree.

Transfer pear sauce to a bowl and refrigerate until cool. Sauce will thicken a bit as it chills.

Serve as a side to a pork dish or as dessert, a snack, or breakfast. I like to serve with a little ground ginger sprinkled over the top.
Notes
Kept in an airtight container, this pear sauce should keep in your fridge for up to 5 days.
Pin this Recipe for Later!
Mention @wearenotmartha and share a photo if you've made the recipe!