You know cheese and wine are a match made in heaven, but did you know cheese and cocktails pair perfectly, too? This Pear Old Cuban cocktail is delicious alongside cheddar cheese!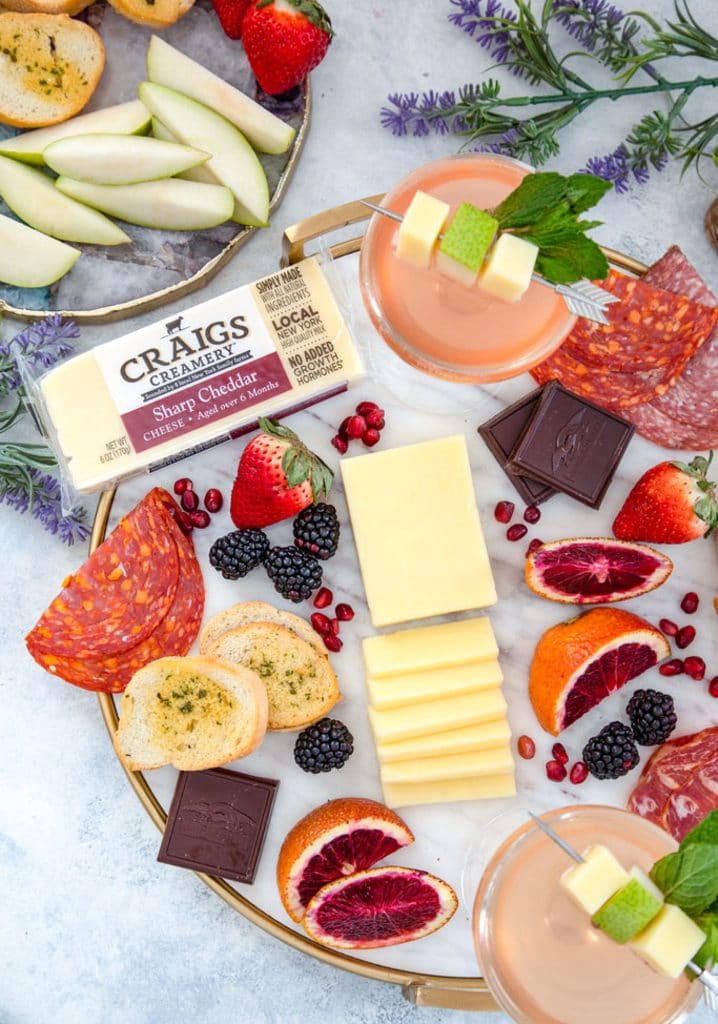 Thank you to Craigs Creamery for sponsoring this post. As always, all opinions are 100% my own and I really appreciate you supporting We are not Martha!
What pairs best with cheese? I bet you instinctively want to shout out "wine!" right?? Cheese and wine pairings are talked about all the time and people are always throwing wine and cheese parties. But why is nobody talking about cheese and cocktail pairings? Liquor can pair with cheese just as well as wine can and, in my opinion, it can be a lot more fun!
I'm super excited to work with Craigs Creamery on this cheese and cocktail pairing post, featuring my Pear Old Cuban that matches perfectly with Craigs Creamery Cheddar cheese. I'm also including some tips below for how to throw your own cheese and cocktail pairing party. In case you haven't heard about it yet, Craigs Creamery is a new cheese brand founded by eight family-run dairy farms in upstate New York. All of its products are crafted with high-quality milk, all-natural ingredients and no added hormones. The brand is also committed to producing natural, nutritious food while conserving natural resources. How awesome is that??
Craigs Creamery offers a wide variety of cheeses including Whole Milk Mozzarella, Swiss, Mild Cheddar, Medium Cheddar, Sharp Cheddar and Muenster. I focused on cheddars for this post and found them at my local Stop & Shop in both block and snack bar form. I was especially excited for the Mild Cheddar and Medium Cheddar as they won an Award of Excellence at the New York State Fair!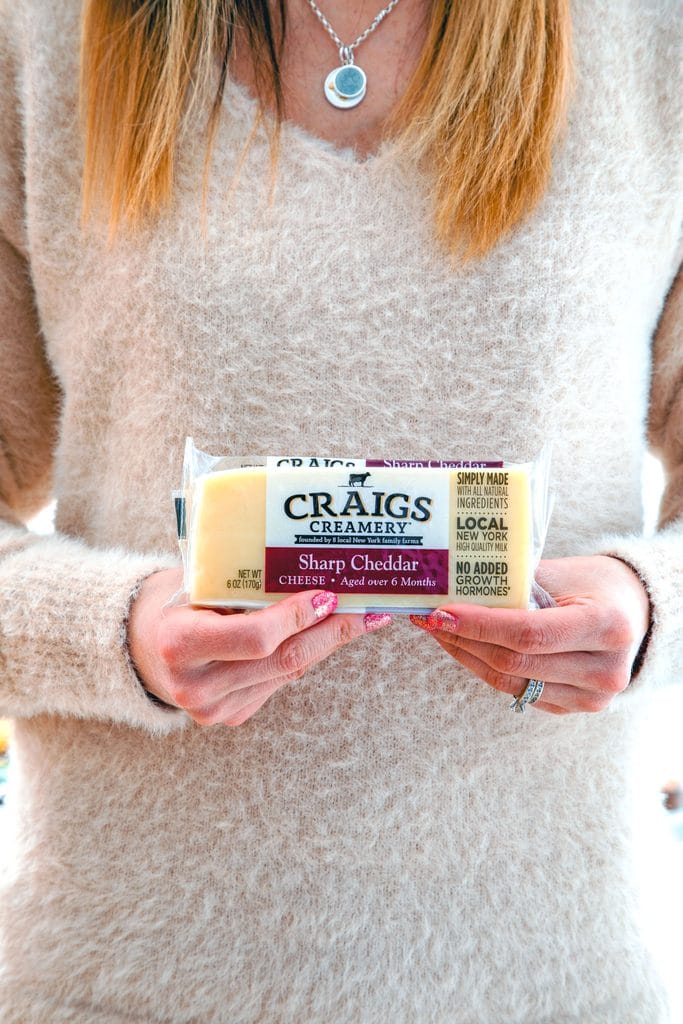 I paired the cheeses with some cocktails and researched what liquors and ingredients go best with what cheeses. While there are various opinions floating around, the general consensus is to pair whatever you like best! I decided that the caramel nutty taste of rum would go well with cheddar, so I chose that as my main liquor. And since I love how cheddar and pears go together (most people have had cheese and apples together but try pears next time instead... so good!), I went with a rum-based pear cocktail and came up with this Pear Old Cuban!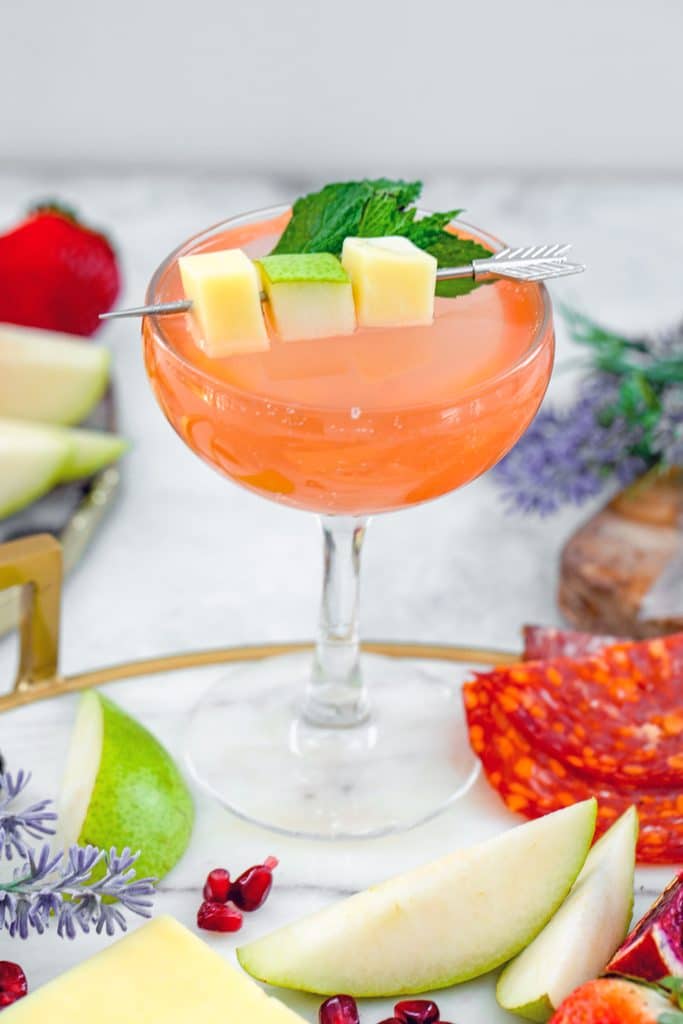 I also mixed a few blood orange rum cocktails and included a whole array of fun "eats" for guests to nibble on.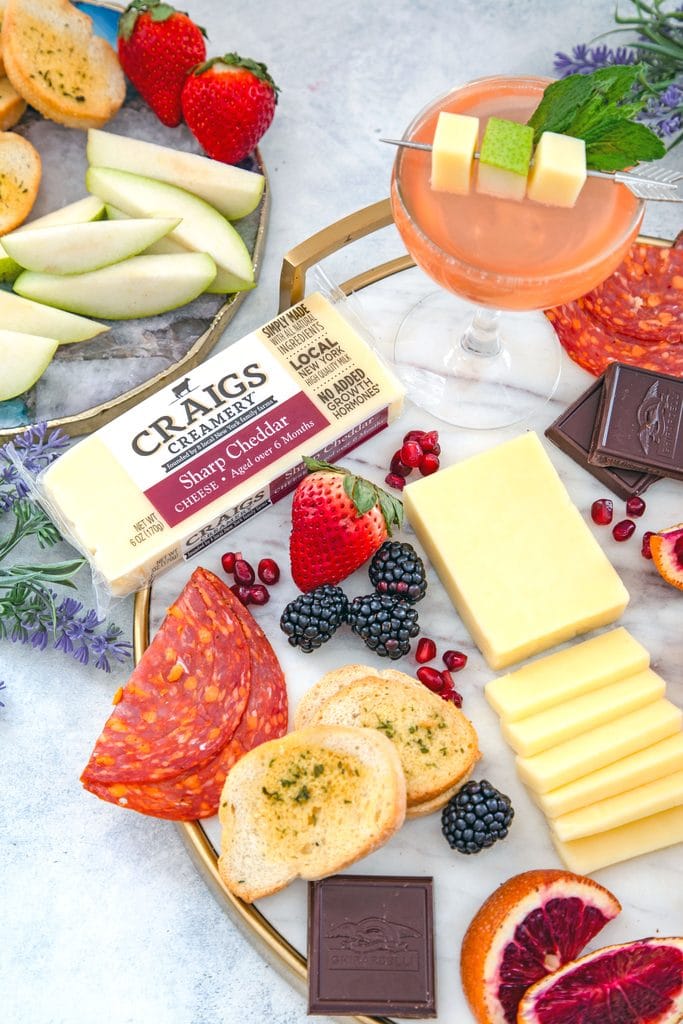 Honestly, wine and cheese will never be the same for me... I want my cheese with rum and fruit! And now I want to try all kinds of different cheeses with various combinations of liquor and fruit. But before things get too wild, I want to share a few tips I've compiled on how to plan the best cheese and cocktail pairing.
TIPS FOR PLANNING A CHEESE AND COCKTAIL PAIRING
Keep things simple: I have a tendency to go a little wild when it comes to party planning, but when you're pairing cocktails and cheese, it's best to keep things simple! Focus on 1-3 varieties of cheese and pair them with a couple different cocktails. Things will quickly get out of control if you try to pair too many cheeses with too many liquors. If you want to go all out (and you should!), plan a series of cheese and cocktail pairings and focus on one cheese and one cocktail each time... An excuse to keep the cheese and cocktail pairings going? I'm in!
Plan a date night: Cheese and cocktail pairings are the perfect party idea... But they're also a wonderful Friday date night option. Skip the big dinner and build a grand cheeseboard to serve with a featured cocktail instead.
Do research, but also experiment: Of course, you can do research into what cheeses, liquors and fruits traditionally go well together; but also use your taste buds! Find pairings that work for you and that are interesting to talk about.
Only use high-quality cheese, like Craigs Creamery: Since your gathering is focused on the cheese and the cocktails, you need to be serve really good cheese. Craigs Creamery cheese is produced with milk sourced only from its family-run farms. Each day, fresh milk is picked up from the family farms and delivered to the creamery within hours, which is located less than 20 miles away. Not only that, but the cows are fed special diets of primarily locally-sourced feed. Local tastes better! And like I mentioned earlier, Craigs Creamery cheese is made with all-natural ingredients and contains no added hormones.
Include other accouterments with the cheese and cocktails: Your featured cheese and special cocktail should be the star of the show, but introduce other fruits, meats, bread/crackers, etc. You don't want your guests to go hungry!
Don't forget the chocolate: No need to worry about making dessert when you're hosting a cheese and cocktail pairing. Simple dark chocolate pairs well with pretty much ALL types of cheese and all types of liquor. Just include dark chocolate squares on your cheese board and you're good to go.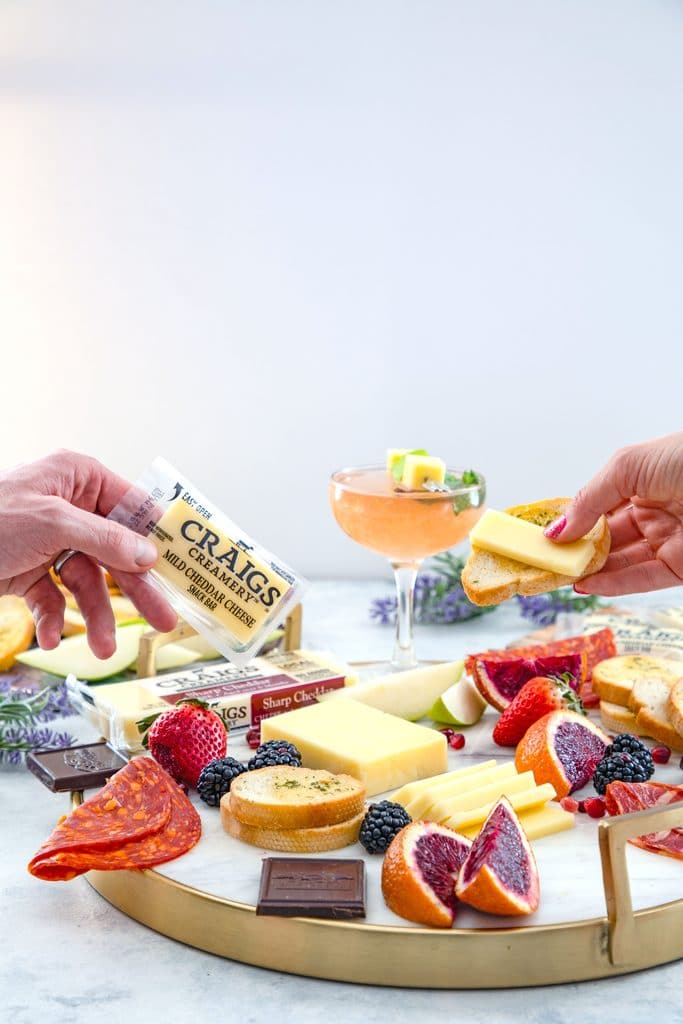 Bite of cheese. Sip of cocktail. Bite of cheese. Sip of cocktail. The way life should be!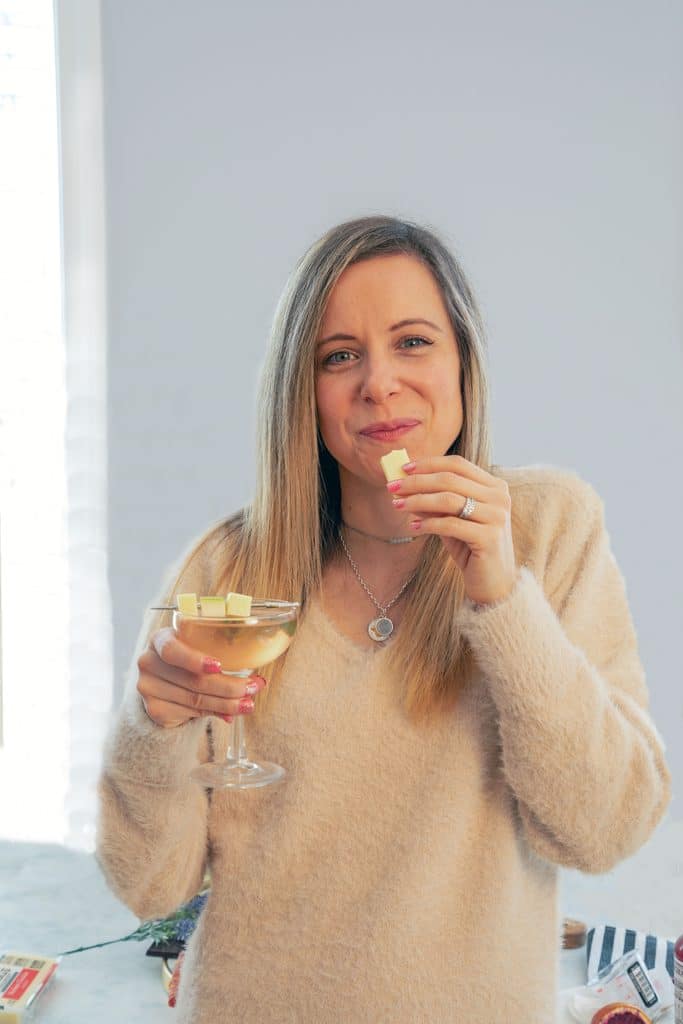 I also want to share a few more facts about Craigs Creamery that made me fall in love with this new brand!
The brand is the perfect balance of two worlds- it is focused on family farming, but also has the resources of a leading dairy company and ability to use cutting edge technology.
Craigs Creamery is committed to conserving natural resources and investing in sustainable energy sources, partaking in methods like composting, recycling water, and using solar panels.
One of its family-run farms has a state-of-the-art bio-digester that powers the creamery. It's the only digester in the country that fuels an on-site plant! That's cool enough as is, but even cooler is the fact that the digester is powered in part by animal waste, which is also used to fertilize the fields. It's also powered by food waste from the local community and in the past 5 years, the farm has upcycled nearly 20 million pounds of food scraps that would have gone to a landfill. This makes my heart so happy!
I love these little snack bars and like to keep them in my fridge at all times for a quick and easy bite to eat. They're fun for serving at parties, but they're also the ideal grab-and-go snack.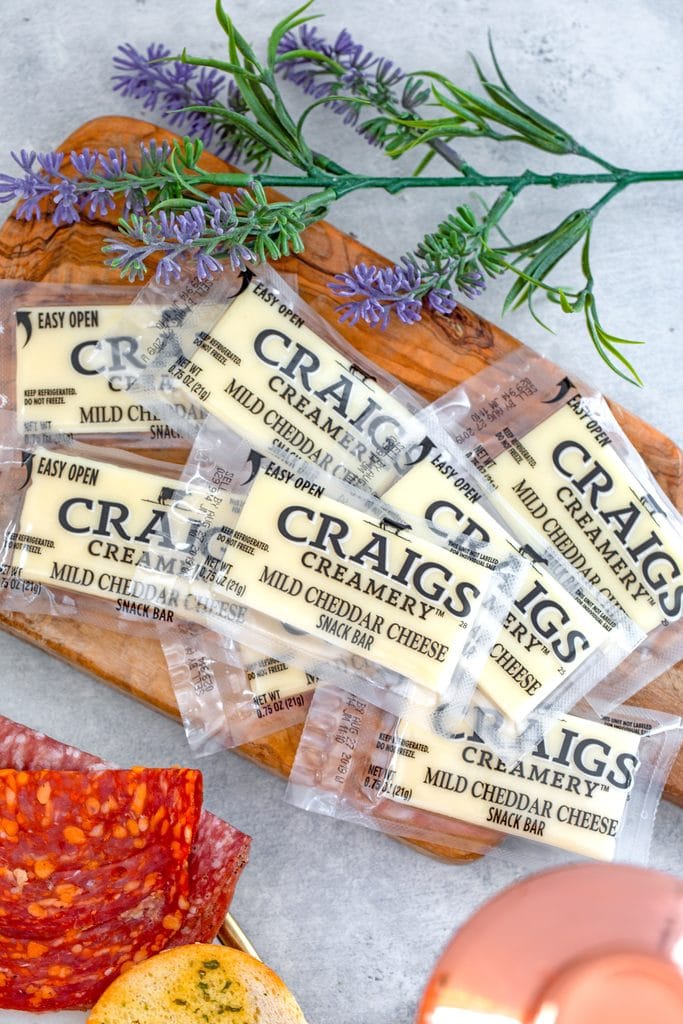 PEAR OLD CUBAN COCKTAIL RECIPE
And now for the featured cocktail! This Pear Old Cuban is super easy to makes and just requires a little advance planning to get the pear simple syrup cooked and cooled. All you need to do is bring sugar, water, and chopped pears to a boil and then let simmer until a syrup forms. Strain the pears out and give the syrup a little time to cool.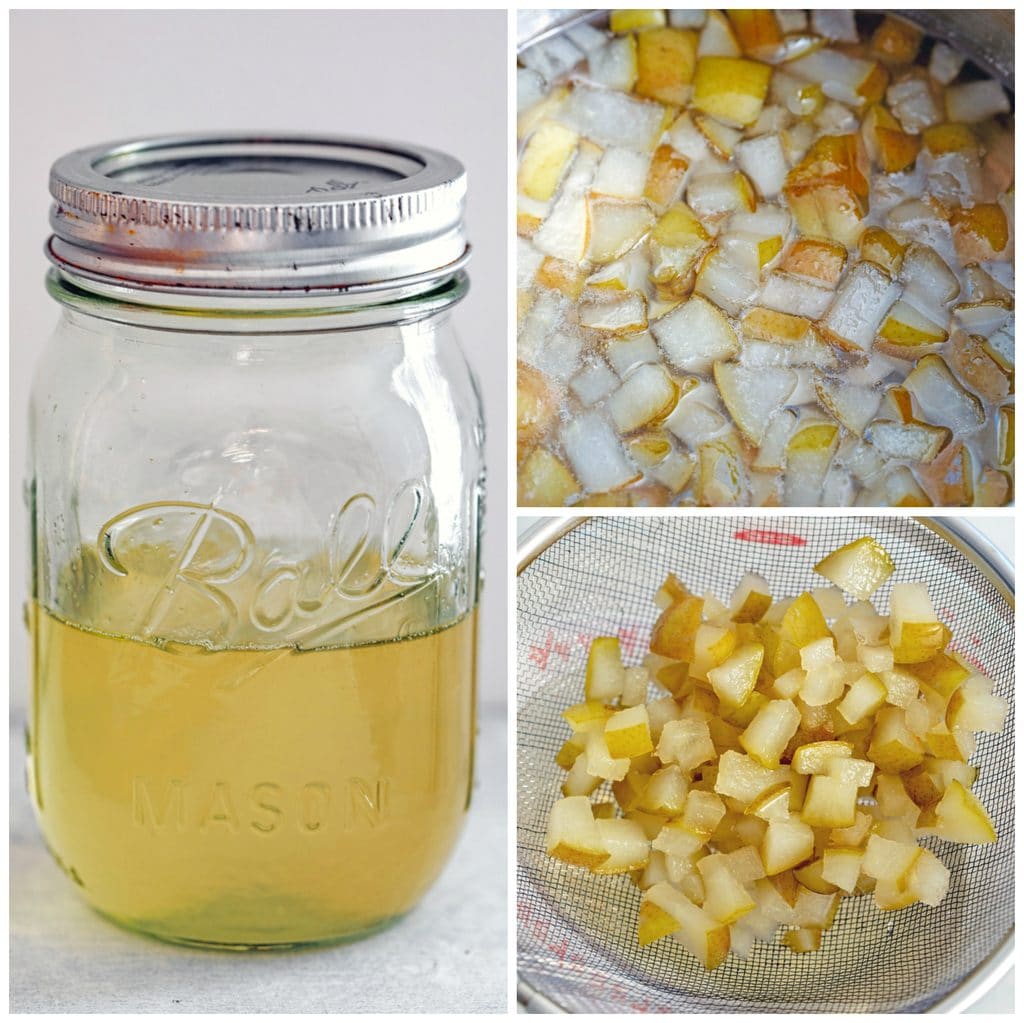 Then muddle mint, pear simple syrup, and lime juice in a cocktail shaker. Add in rum, bitters, and ice and shake away.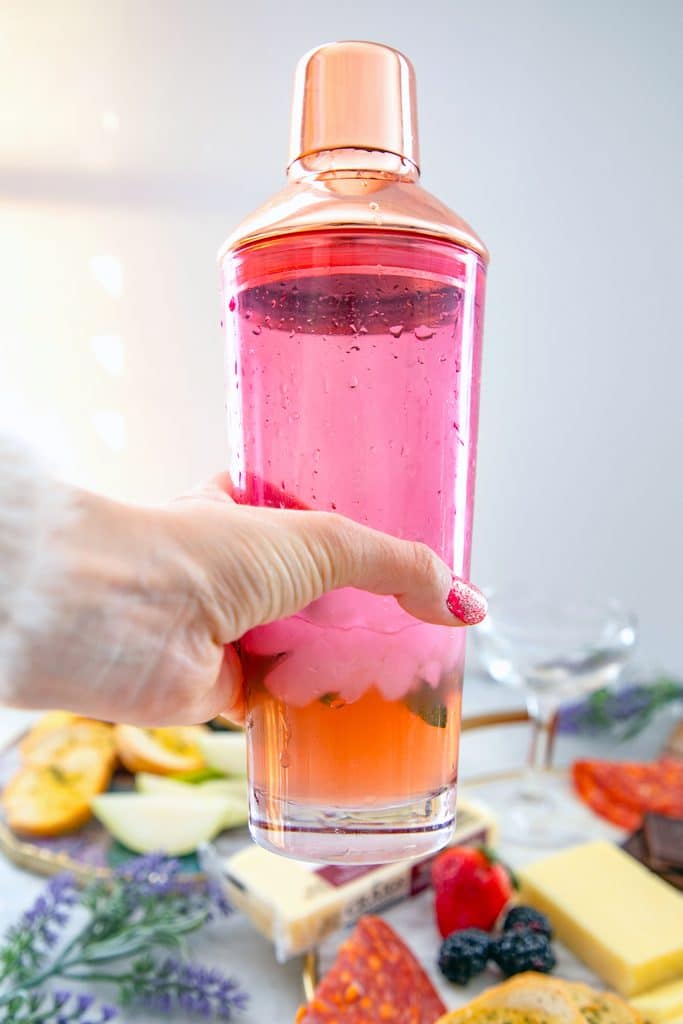 Pour into a coup glass and top it off with prosecco. And obviously serve it with a sprig of mint and a cheese and pear garnish! How have I never used cheese as a cocktail garnish before??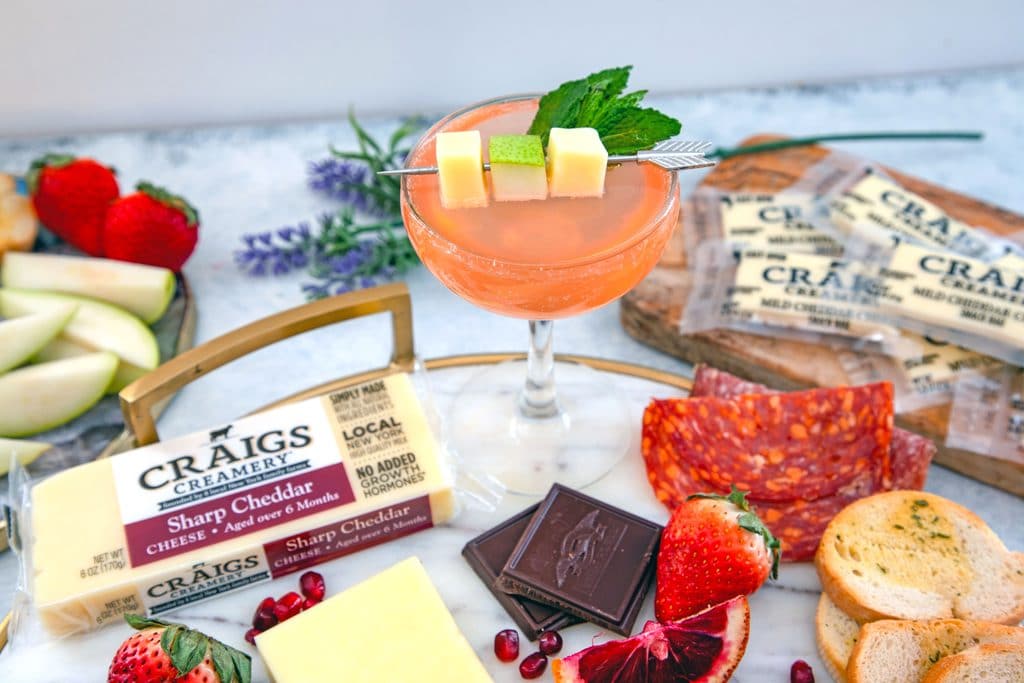 And I can say with 100% certainty that this won't be the last cheese and cocktail pairing I do. Pretty sure I need to try Craigs Creamery's Swiss next... And maybe pair it with a whisky??
Be sure to look for Craigs Creamery cheeses at your local grocery store. They're currently available at select Giant Landover, Stop & Shop, and ShopRite stores in New York, New Jersey, Pennsylvania, Delaware, Massachusetts, Rhode Island, Connecticut, Washington DC, Virginia, and Maryland. In the meantime, you can learn more on the brand's website!
What's your dream cheese and cocktail pairing?
📖 Recipe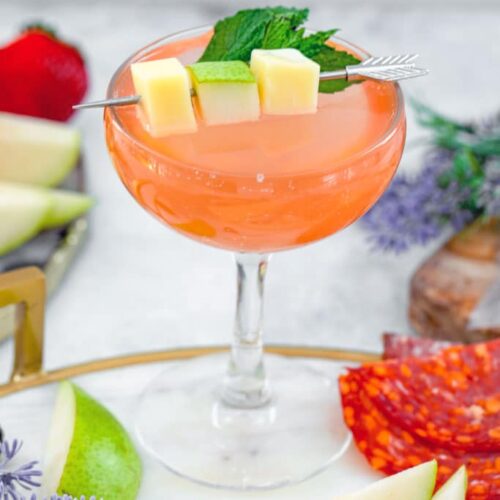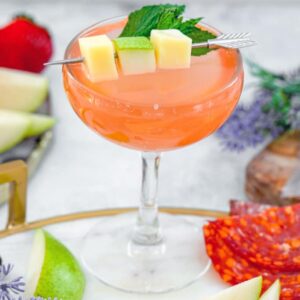 Pear Old Cuban
Made with rum and a pear simple syrup, this Pear Old Cuban pairs perfectly with cheddar cheese, but is also delightful all on its own!
Print
Pin
Rate
Ingredients
4

mint leaves

1 ½

oz.

pear simple syrup

(recipe below)

½

oz

freshly squeezed lime juice

1 ½

oz.

dark rum

1-2

dashes

Angostura bitters

1

oz.

prosecco

2

cubes

Craigs Creamery Sharp Cheddar Cheese,

for garnish

1

cube

pear,

for garnish
Pear Simple Syrup
1

pear,

chopped (I used Barlett)

1

cup

granulated sugar

1

cup

water
Instructions
In the bottom of a shaker, muddle together mint leaves, simple syrup, and lime juice.

Add rum and bitters to shaker, along with ice cubes. Shake well and strain into cocktail glasses (I recommend coup glasses).

Top glasses off with prosecco and garnish with cheese and pears cubes.
Pear Simple Syrup
Put chopped pears, sugar, and water in a medium saucepan and bring to a boil. Lower heat and let simmer for about 15 minutes, until mixture is thickened.

Strain the mixture into a bowl, being sure to press down on the pears to extract as much juice as possible. Keep syrup in bowl or pour into a mason jar and place in fridge to cool completely before using.
Notes
Pear simple syrup recipe makes enough for 4 Pear Old Cuban cocktails. Recipe can be easily doubled or tripled.
Share a Photo of Your Finished Recipe!
Mention @wearenotmartha and share a photo if you've made the recipe!