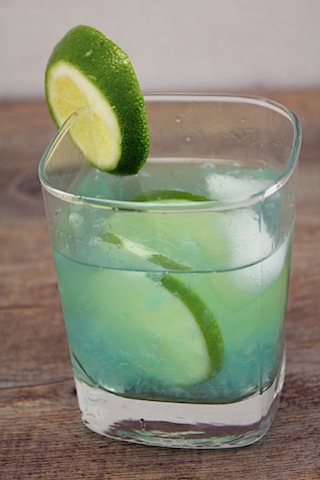 You know how I am about my Cocktail Fridays. I love 'em. And I love trying new and different recipes all the time. So, when Molecule-R asked me if I wanted to try their Cocktail R-Evolution kit, I jumped at the chance. Molecule-R's kits are all about molecular gastronomy, so I knew I'd be able to whip up some pretty snazzy cocktails that were completely out of the ordinary.
I loved the look of the kit right away. The box was sleek with illustrations that immediately made me thirsty. And intrigued.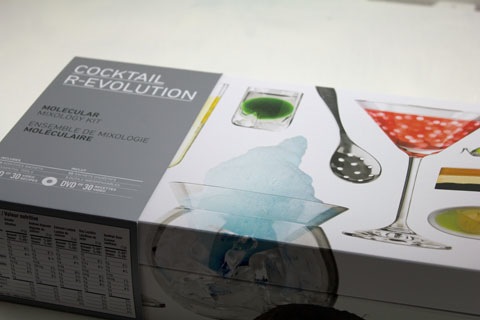 Cocktail R-Evolution comes with a DVD containing 30 recipes, along with 50 sachets of the food additives you need to conduct the drink-making science, and a bunch of tools that will help you in the process.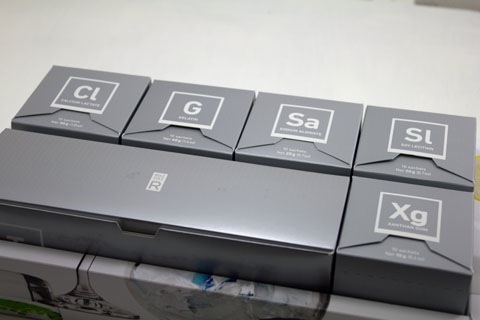 If there's one thing I regret, it's not caring a bit about science when I was in high school. To be fair, if chemistry had been taught with any sort of focus on food, I might have paid a bit more attention. I was just never science-minded and cared a lot more about words and literature. Now, Alton Brown is my idol and I try my best to learn everything I can about why things happen in cooking and baking as it only makes you a better cook. I figured I could learn a little bit more with Cocktail R-Evolution.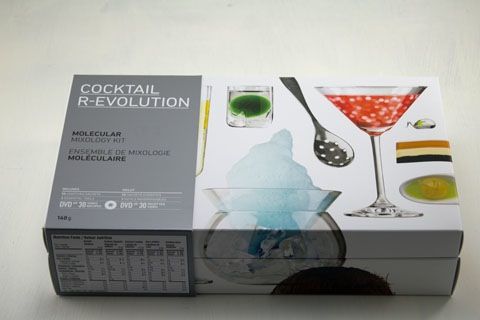 The first drink I attempted was the Gin Tonic. Gin and tonics are one of Chris's favorites and this cocktail look beautiful in the photo on the DVD. Plus, it seemed simple enough, using the process of spherification. I was a little perturbed by the fact that nowhere in the kit does it actually explain what the different processes are and what's going on with the reactions that cause them. If I'm going to be working with molecular gastronomy, I want to know what I'm doing! Luckily, there's a lot more information if you head to Molecule-R's website.
Spherification is the culinary process of shaping a liquid into spheres of liquid held by a thin gel membrane, which visually and texturally resemble caviar. You've likely seen this process in some trendy restaurants that experiment with molecular gastronomy.
I started by combining tonic soda, blue curaçao, and sodium alginate in a container. What is sodium alginate, you ask? It's an algae-extracted gelling agent that forms a gel when brought into contact with a calcium solution.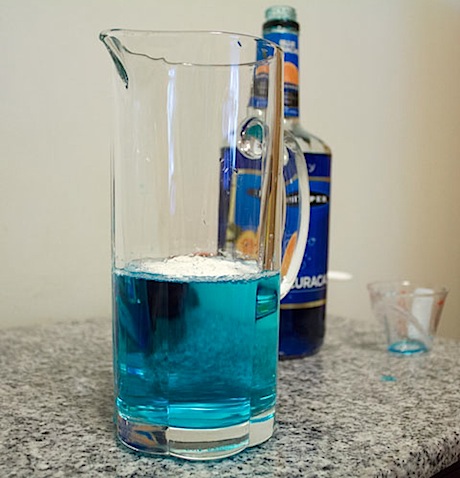 Using my immersion blender, I foamed it up.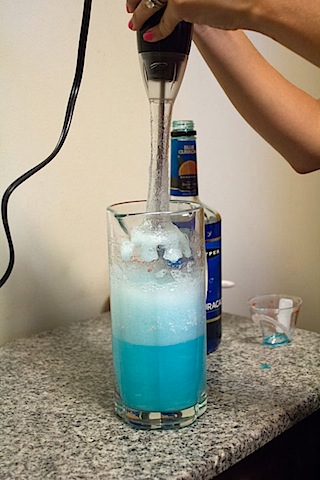 So far so good.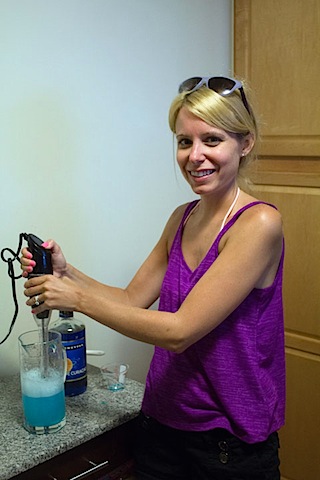 In another container, I combined water and calcium lactate. Through a cold process, gelling will occur when sodium alginate is brought into contact with a calcium lactate bath. The gel balls that are formed are meant to be gel on the outside and liquid on the inside, so when you bite into them, the liquid comes out (anyone else thinking of Gushers?).
Using a pipette, I dropped the blue sodium alginate solution into the calcium lactate solution.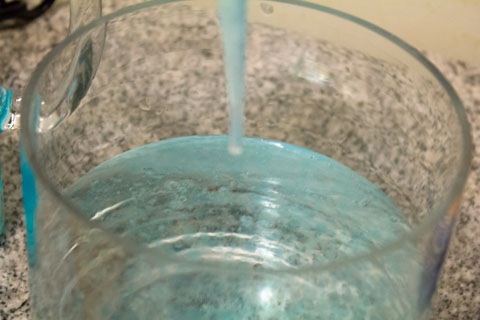 This took quite a while, but I kept trudging on.
When I was done (fine, nearly done; I didn't have it in me to transfer ALL of the solution and I knew I had enough), some of the blue drops had sunk and others had risen. But I could definitely tell they had formed gel.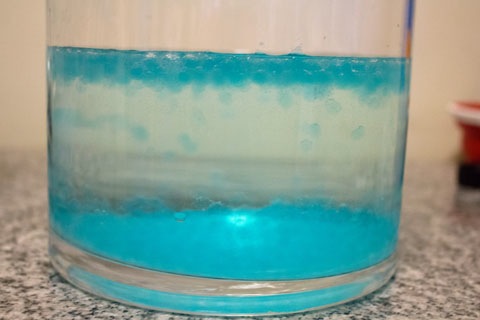 I stirred them up a bit.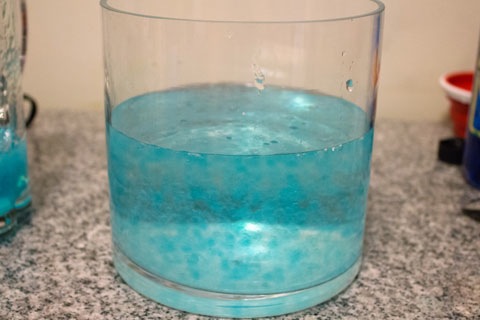 And then scooped some out into a glass.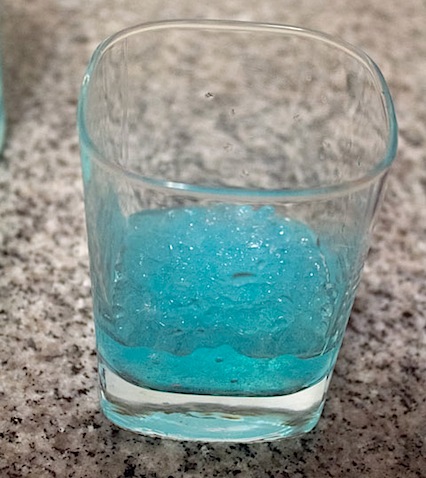 I added some limes to the glass.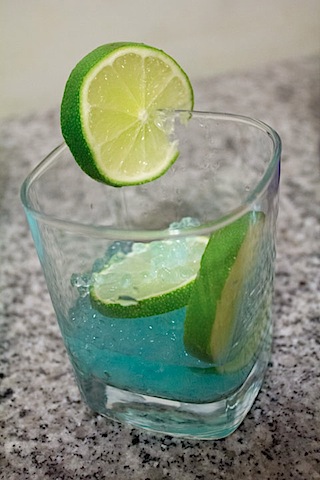 And a few ounces of gin.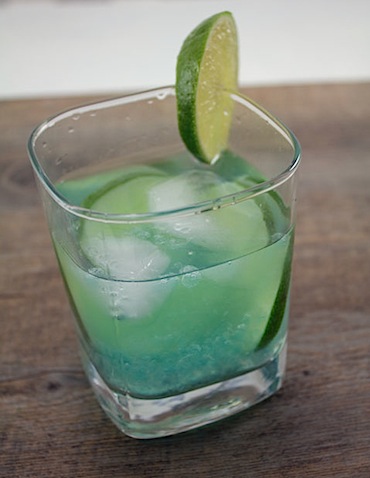 Right away, the drink seemed to have a glowing quality to it. Like nothing I've ever made before.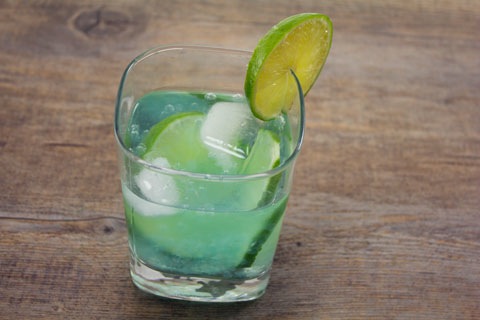 I loved that the drink was basically a gin in tonic, but with the gin in the glass and the tonic floating around in little gel balls. The batch of "tonic balls" I made was far more than needed for one drink, so you could essentially make one batch of the gel and make gin and tonics for a whole party.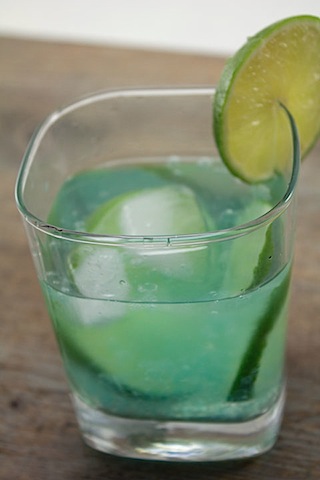 Hello, new gin and tonic of 2012!
I also tried out a little bit of gelification with the screwdriver recipe. Gelification is the process of turning a liquid into gel, which is a solid, jelly-like material that can have properties ranging from soft and weak to hard and tough. To make the screwdriver, I had to mix vodka and orange juice with gelatin. I was about halfway into this process when I remembered I've totally conducted cocktail gelification before: when I made my Peach Bellini Jelly. For that one, I had to heat my mixture before chilling it so it set.
Molecular-R's kit comes with hydrolyzed gelatin, which meant it can dissolve in a cold water solution. No dirtying pots and pans when making cocktails is always a plus in my book.
My final drink didn't turn out quite as pretty as the one on the DVD, but it was still pretty cool-looking.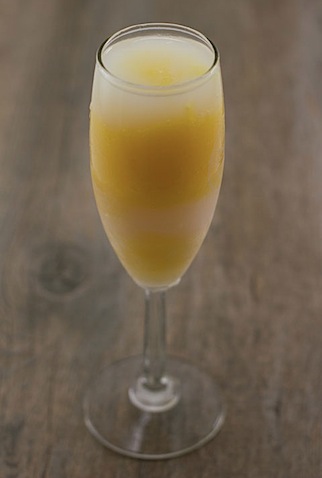 I think I didn't process my sugar enough (the recipe called for caster sugar, so I put granulated sugar in a food processor in an attempt to make it a bit more fine. But I found I had to keep each layer in the freezer for way longer than 15 minutes (what the recipe suggested), which made the drink a bit more icy than gel-like.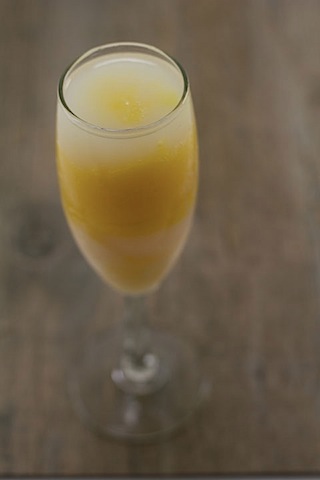 But this is one of those cocktails that's super fun to serve at a dinner party with a spoon... Nobody is used to drinking cocktails with a spoon! All the elements of a screwdriver are there and there's nothing quite like vodka jelly.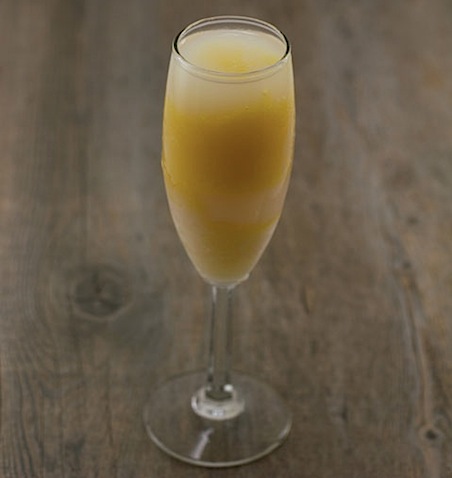 I'm excited to try out more of the drink recipes in Cocktail R-Evolution and since the kit provided me with plenty of food additive sachets, I'll definitely have the opportunity to. In fact, there are a few I'm super excited to try for my next dinner party (now that the wedding planning craziness is over, I want to have many more dinner parties!).
My biggest issue with the kit is that there were no written instructions of explanations of recipes. The DVD was cool and definitely helped seeing someone take the actual steps; but it also didn't explain a whole lot. I found myself guessing at times, "Is that a new container they're using?" "How much did they add?" etc. Some people do better visually and some like to read their instructions and I think it makes sense to cater to both types of people. And these are this is the kind of cooking that could use lots and lots of explanations. But after watching the videos a couple times and checking out the Molecule-R website, you will likely be able to figure things. And you have 10 sachets of each food additive in case you take a few times to perfect your recipe (you can always purchase more, too).
Molecule-R also makes a Cuisine R-Evolution kit , so you can whip up the types of food Ferran Adria is best known for. Talk about impressing a dinner party! Both kits retail for $58.95 each (or you can buy both kits, plus some fun extras for $116.45) and come recommended by me for many evenings of fun experimentation. They'd also make the perfect gift for the food lover in your life who has everything. While the kits are made for adults, it would also be fun to have kids involved in the experimenting (well, maybe not with the Cocktail kit...). In fact, if Molecule-R had been around when I was a kid, maybe I would have paid a little bit more attention in science class.
Have you ever attempted any sort of molecular gastronomy?
[Sues]
Disclaimer: Molecule-R provided me with the Cocktail R-Evolution molecular gastronomy kit free of charge, but all opinions are my own. I never write about products that I don't love (no matter what is sent to me!), so if you see it here, you know it's recommended!