Put those conversation hearts to good use this Valentine's Day by baking Conversation Heart Cookies with Marshmallow Fluff. The fluff is sandwiched between two colorful candy confetti-packed sugar cookies and will instantly have you falling in love.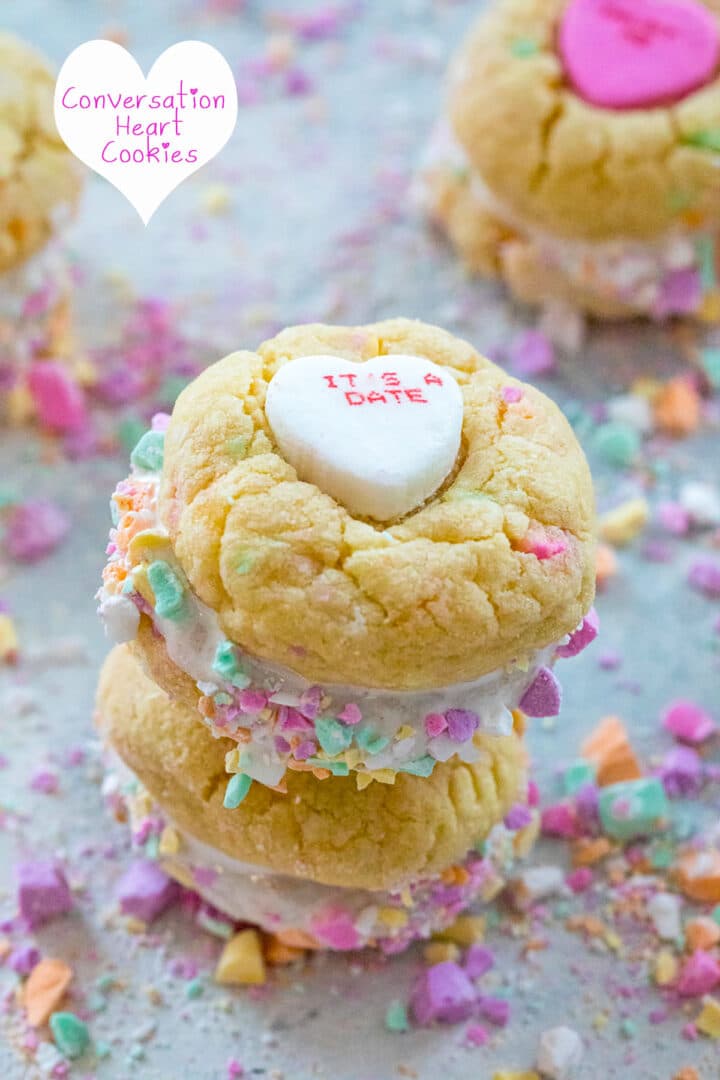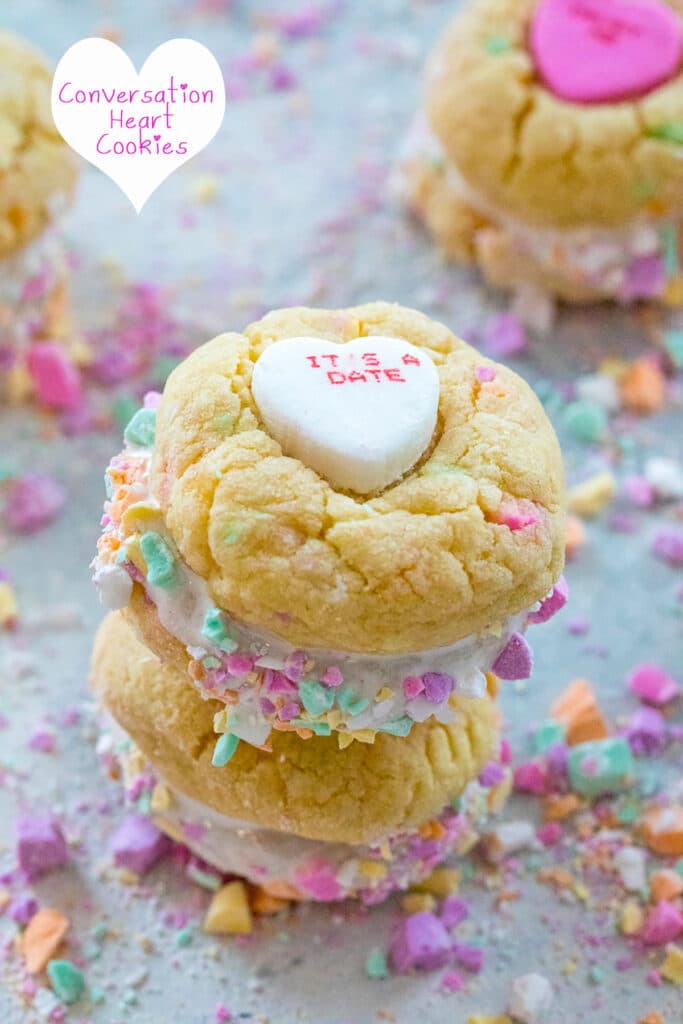 (This recipe for these Conversation Heart Cookies was originally published in January 2013, but has been updated with new photos and content in 2021)
I swear conversation hearts get weirder every year. And harder to read. Or maybe that's just me getting older and having failing eyesight? But seriously, if the m&m people can so perfectly transcribe little "m"s on each of those tiny candies, why can't the conversation heart people transcribe their witty little sayings in a legible manner?
Isn't there a machine that does things like that in 2018? Or do they seriously think I find joy in spending an hour sorting through a bag of conversation hearts separating the legible ones from the "huh?!" ones? OK, maybe I do. There is something oddly calming about it, after all.
Plus, I get to see all the weird sayings… Like, why are there conversation hearts that say, "no way" and "get real" and "see ya"? I thought they were supposed to be loving and sweet. I guess these really are real life conversations, yo.
In case you don't know by now, Valentine's Day season is one of my favorite parts of life. Mainly because there's so much prettiness around. And hearts and pink. It just makes me happy in this dead of winter. And conversation hearts fill my heart with joy. Sugary artificial joy.
I'm actually kind of surprised they don't have a better reputation. You know, why haven't celebrities started coming out with their own lines of conversation hearts? Justin Bieber's could all be purple and say things like "baby, baby, baby, ohhh." and "never say never." Taylor Swift could have a breakup anti-love conversation heart collection, featuring sayings like "bad blood" and "look what you made me do" (probs too long for a conversation heart, but whatevs). I think I just came up with a whole new business plan.
But for now, we'll do cookies.
Honestly, I feel like people buy conversation hearts for fun, but rarely sit around eating them. That's why I made these Conversation Heart Cookies. Let's put those conversation hearts to work! And since you can't read them very well, you may as well just crush them up and make confetti out of them. Done.
Conversation Heart Cookies Recipe
I realized that in an Internet search for "conversation heart cookies," you're going to find a lot of cookies that look just like conversation hearts. These aren't those. These cookies actually have conversation hearts IN them.
Yes, you're going to crush conversation hearts up and mix them into your sugar cookie dough. Just trust me on this (I'll even give you a conversation heart that says "trust me.").
I recommend putting your candies in a sturdy plastic bag and placing a towel over and under the bag before crushing them. Hello, pretty conversation heart candies (except when you get up close), you are about to be demolished.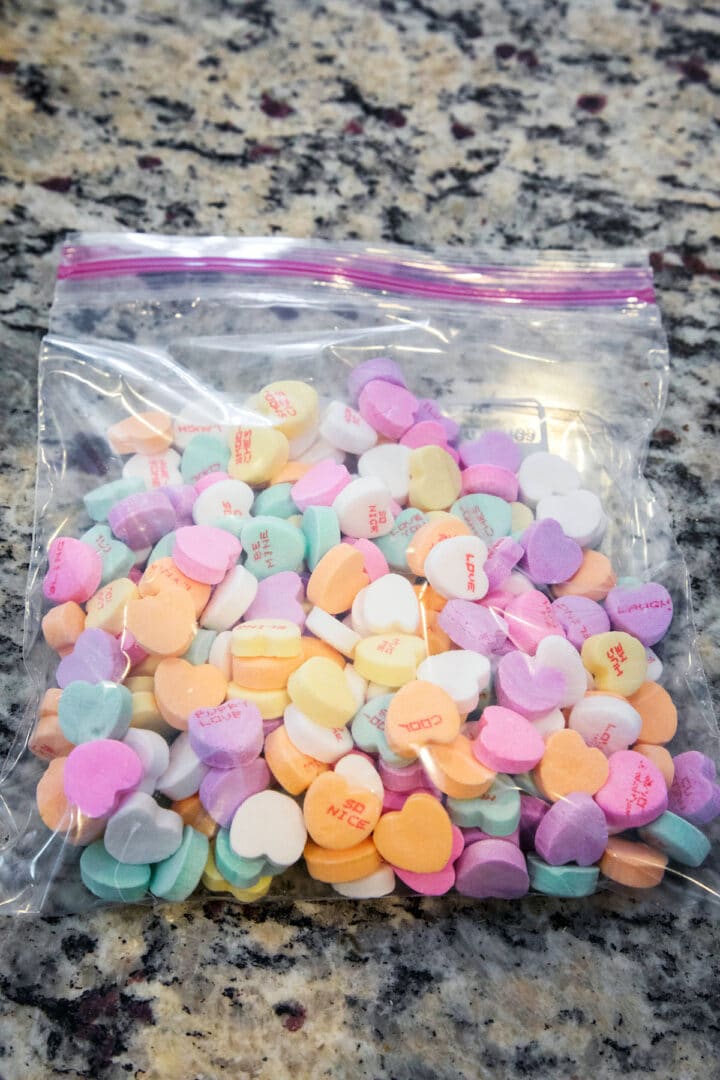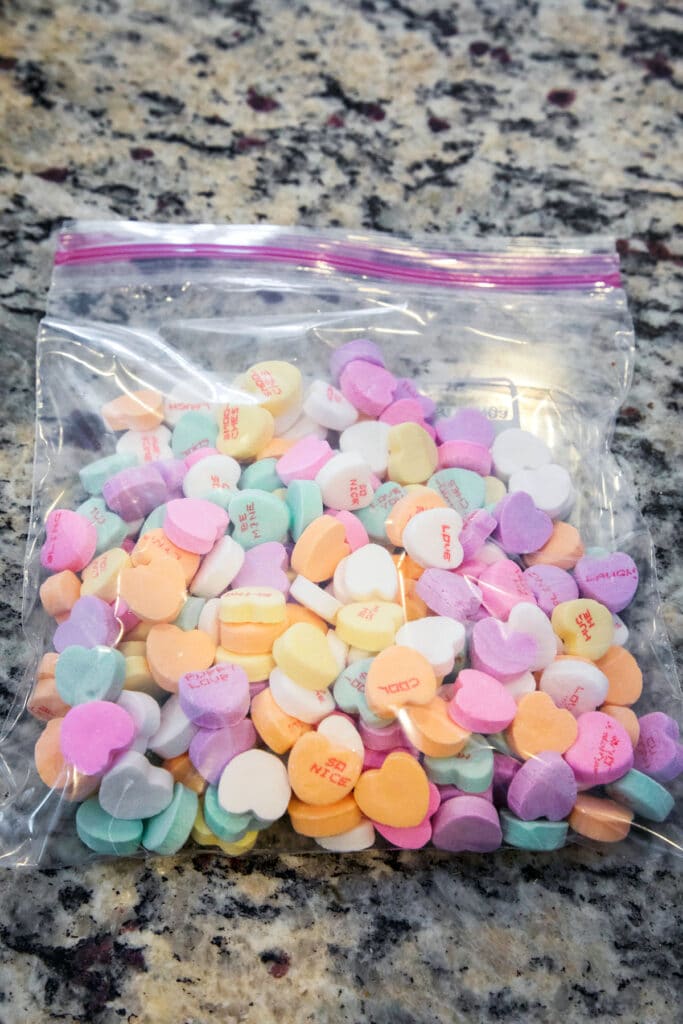 With a meat mallet. That was fun. Only not really because there's nothing I hate more than crushing candies. I'm just really bad at it.
I wanted to crush these conversation hearts even more, but I was just so tired. Not to mention, I'm pretty sure I came close to splitting my kitchen counter into two. End scene.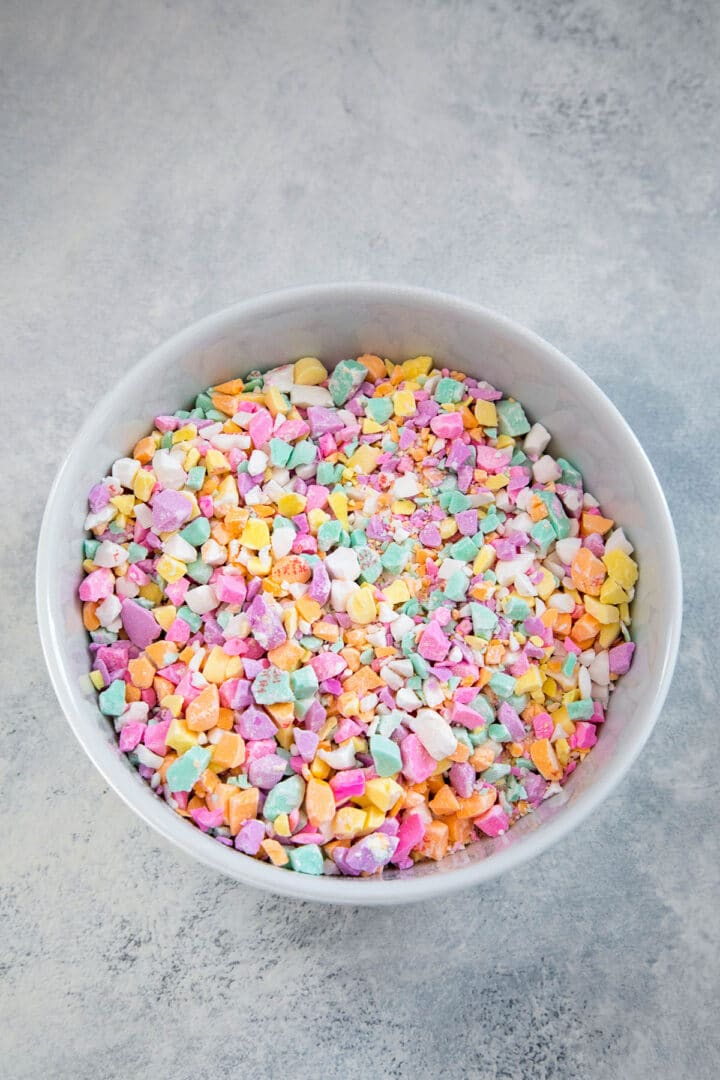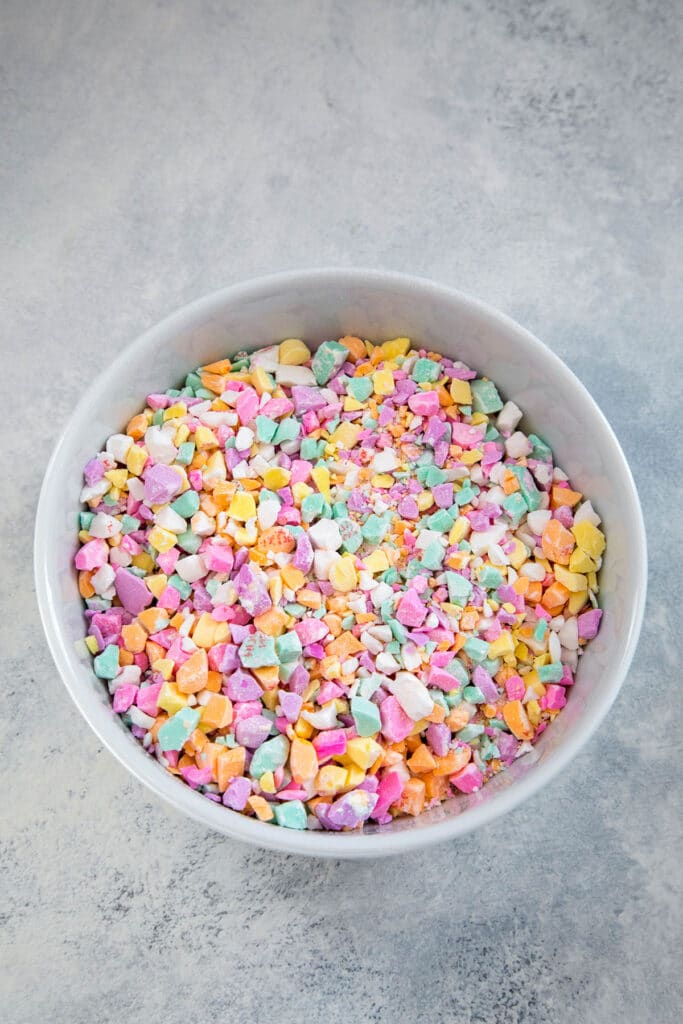 Luckily, that's the most difficult part about making these conversation heart cookies. The rest is easy peazy. Just mix up the cookie batter with crushed conversation hearts and place rounded tablespoons of dough on a cookie sheet.
And bake! In addition to the crushed conversation hearts, I also pressed a large conversation heart into my cookies when they were almost done baking for a little extra fun.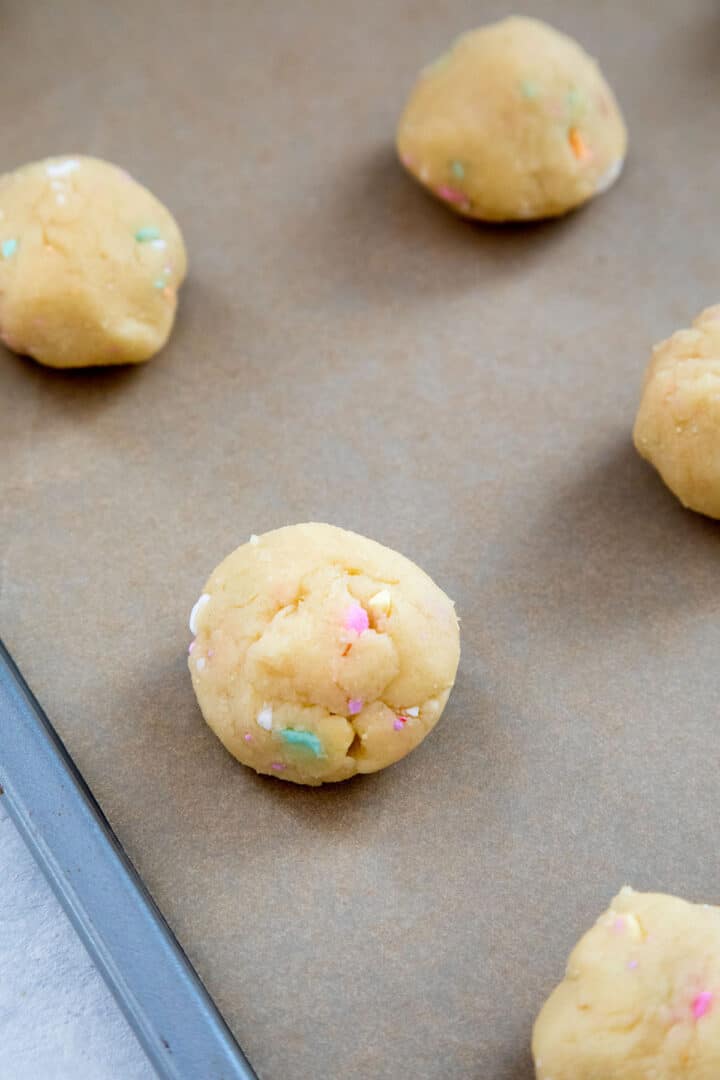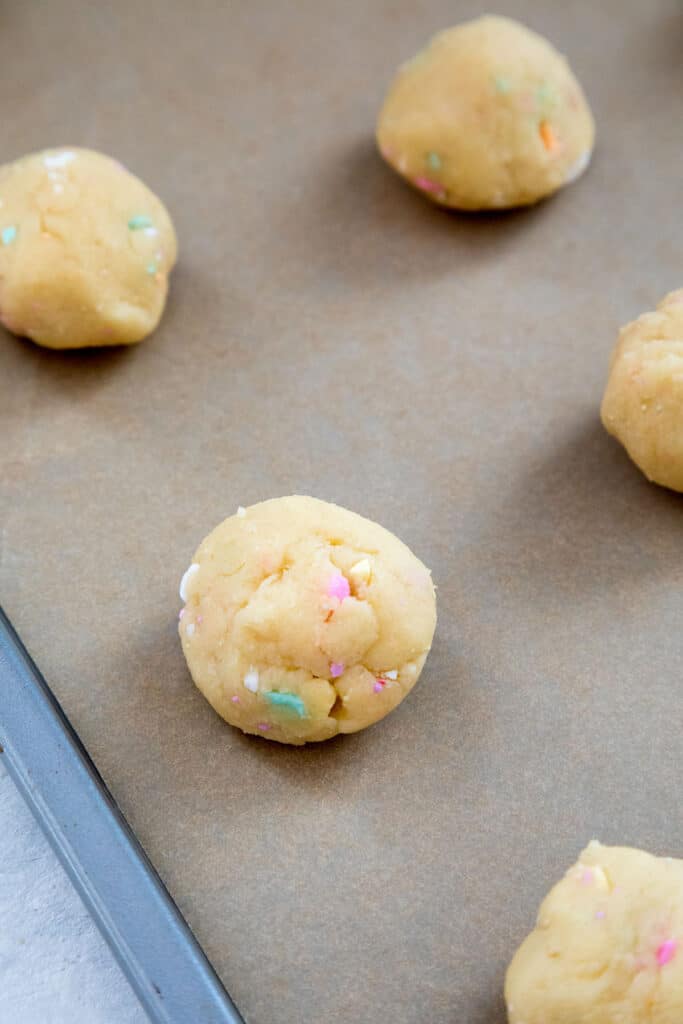 How to Make Marshmallow Fluff Filling
Even the fluff making is easy. Have you made your own fluff before? If not, you need to do it ASAP! Wait, do you even like fluff? Do you even know what fluff is or do you just call it marshmallow creme or something like that?
I'm from Massachusetts, so it will always be fluff to me and when I discovered how easy it is to make a few years ago, I never stopped.
I promise it really is ridiculously easy. All you do is beat egg whites, light corn syrup, and salt together for a few minutes.
And then mix in confectioners' sugar, vanilla, and cream of tartar. And you'll never buy fluff again.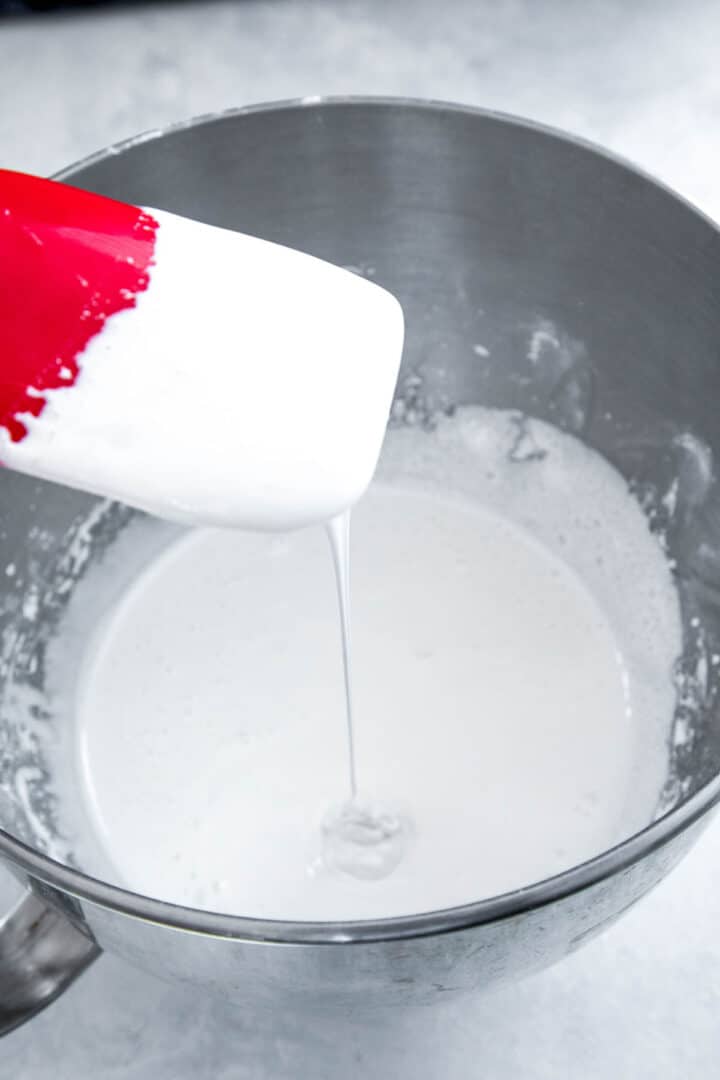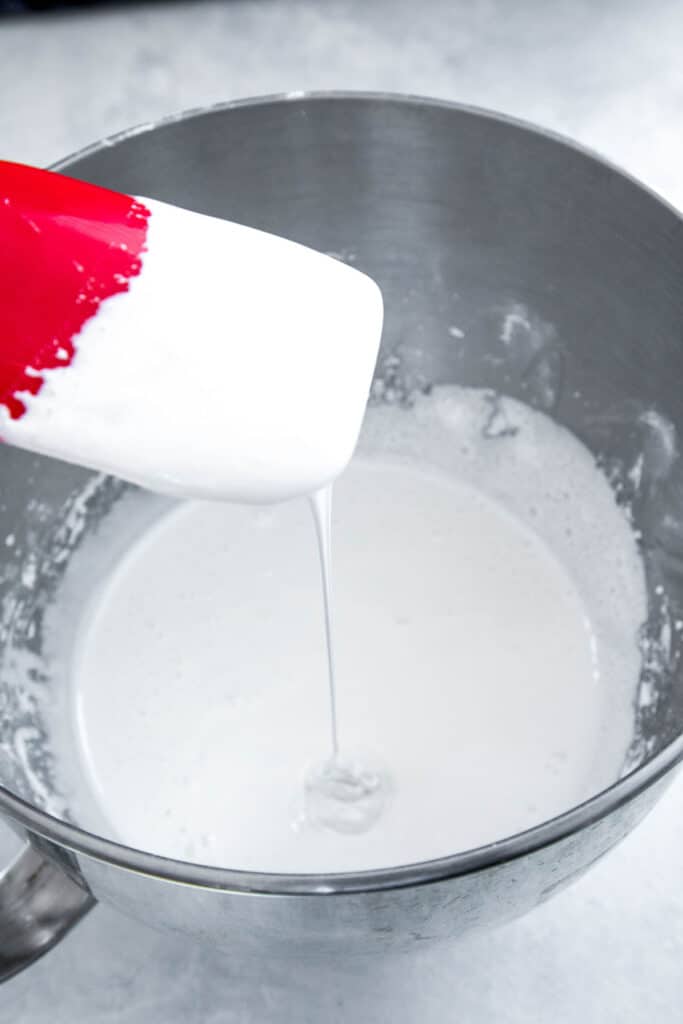 If you prefer to just make the conversation heart cookies and be done with it, that's your prerogative. But I recommending using two of the cookies to sandwich a layer of marshmallow fluff.
Then you can roll the cookie sandwich in more crushed conversation hearts, which makes it totally worth it.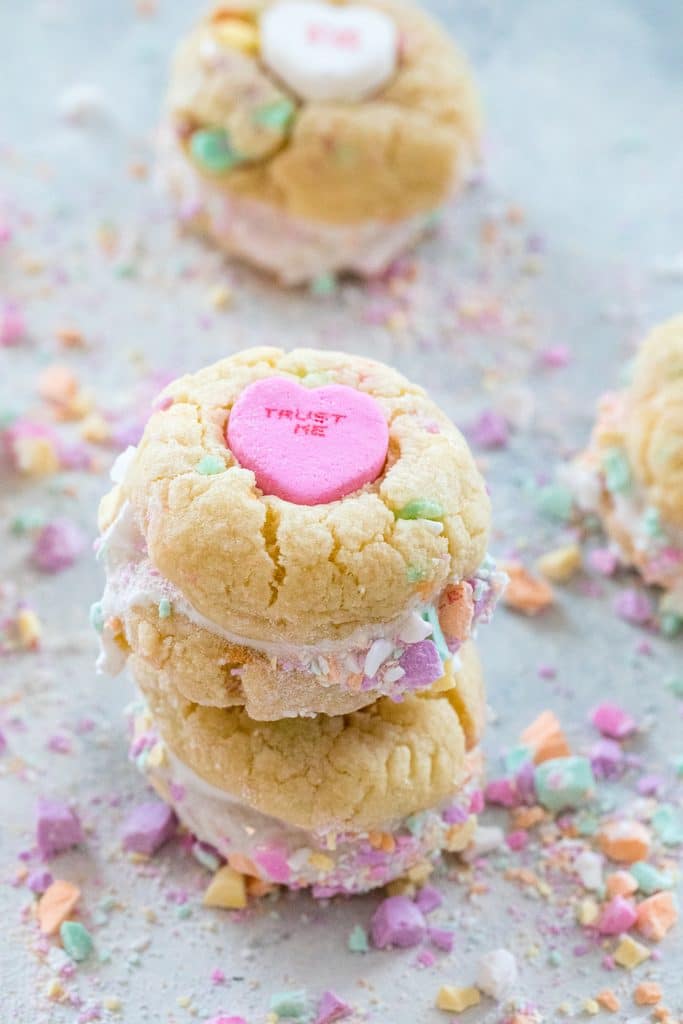 100%. The added conversation heart on top is also totally optional as the cookies look kind of pretty without it, too. It's really all about that conversation heart confetti!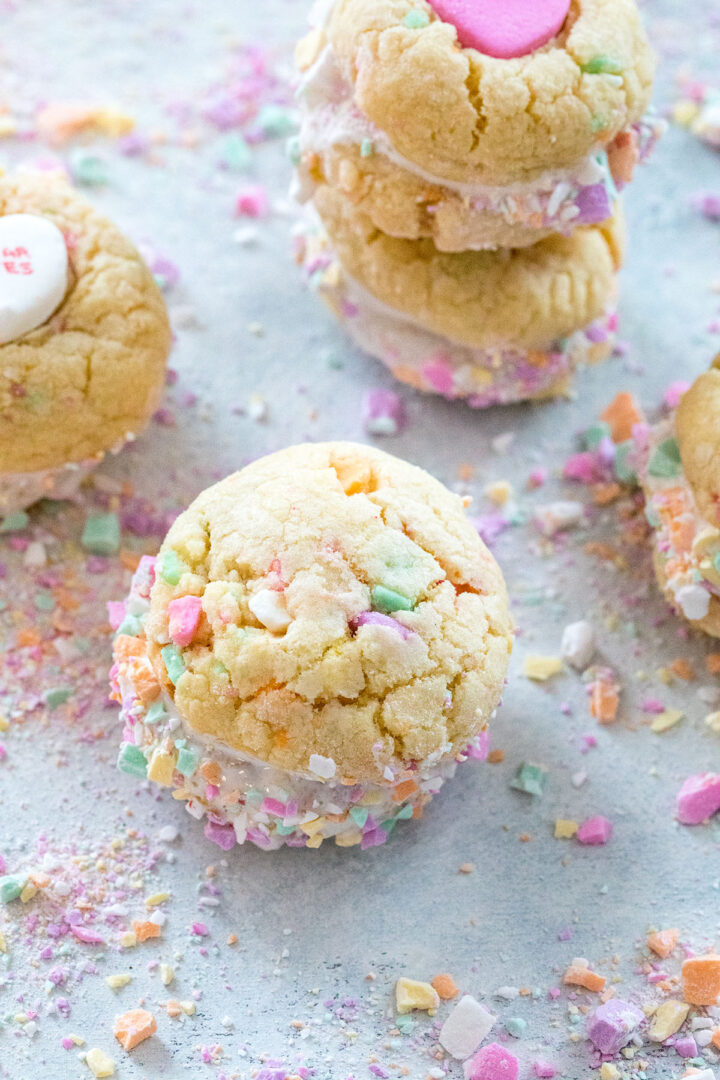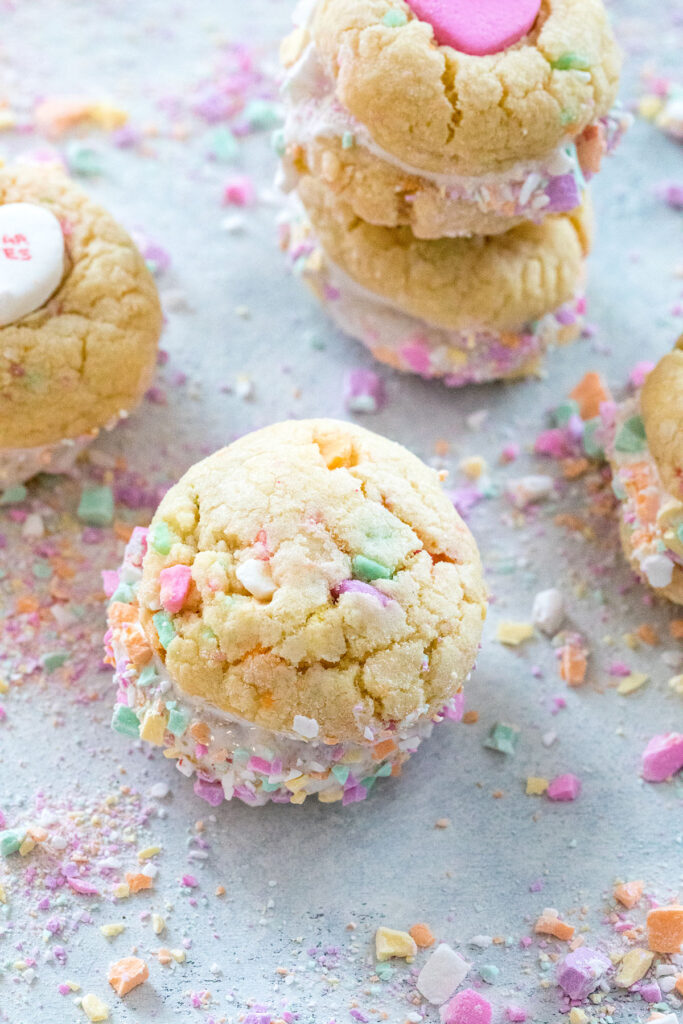 I actually never realized how fruity conversation hearts are until I made these conversation heart cookies. I think they're a little odd because they have a kind of powdery consistency, which makes them a not very ideal candy.
But crush them up and put them in sugar cookies and I'm all in.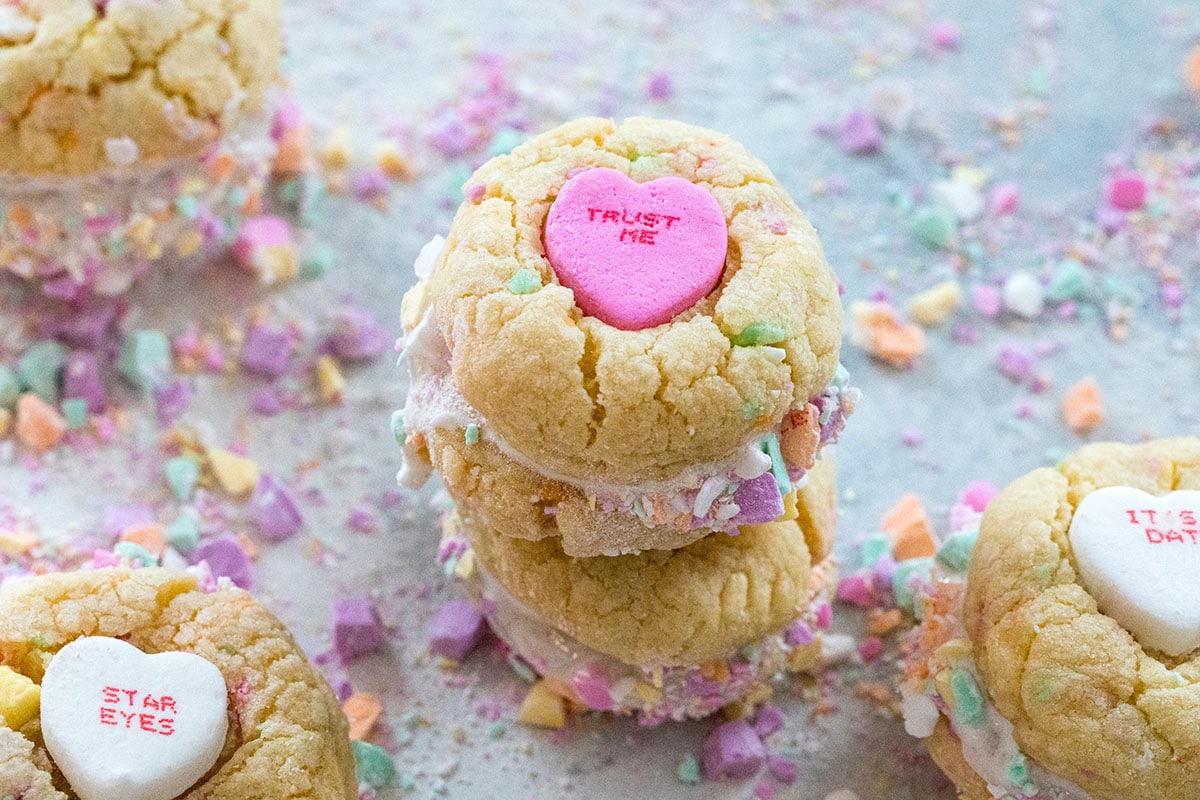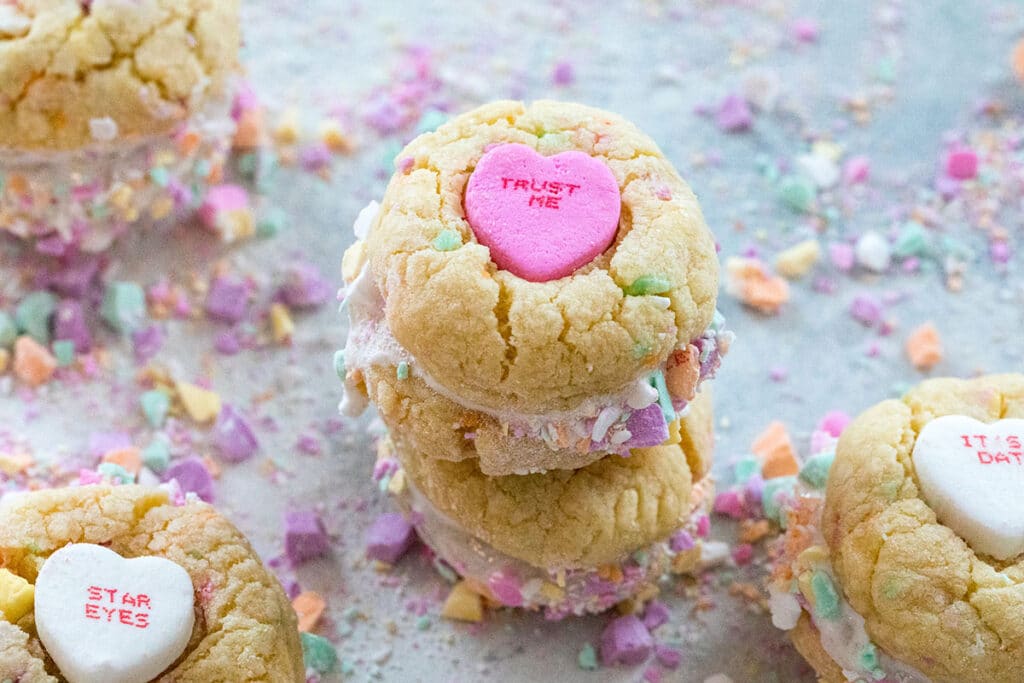 omg remember when conversation hearts got all tech-y back in 2007 or so? They had hearts that said "LOL" and "text me..." because let's be real, nobody really wants you to call them anymore.
They even had a mustache. A MUSTACHE for crying out loud!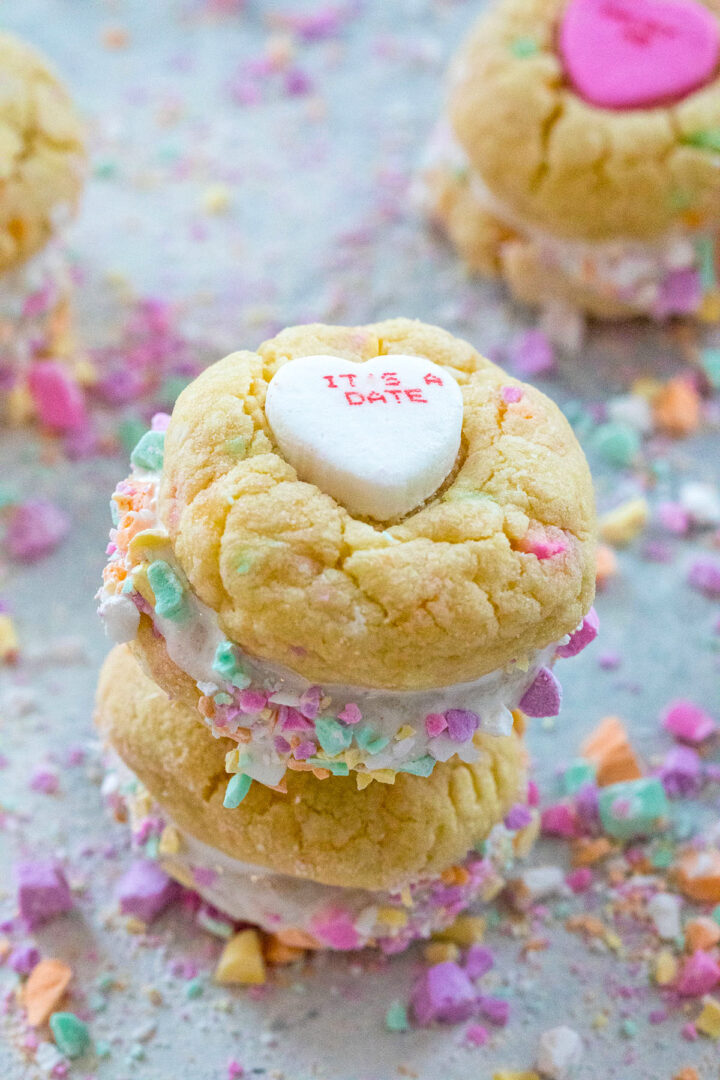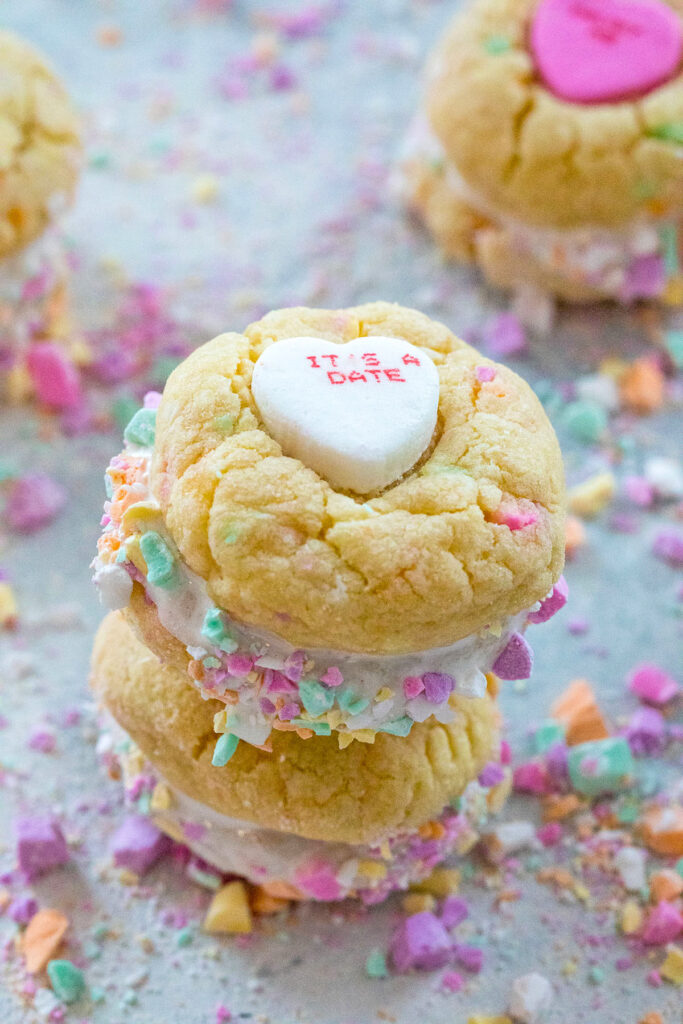 Kind of makes you wonder what conversation hearts will be like in the years to come... I'm imaging "Alexa, turn out the lights." and "you got 10,000 steps" and "swipe right." Man, why has nobody put me in charge of conversation heart production yet? I'd be so good at it.
No offense, conversation heart people, but if a guy ever says "trust me" to me, I pretty much know I should be doing the opposite. And please don't call me "dear." Ugh.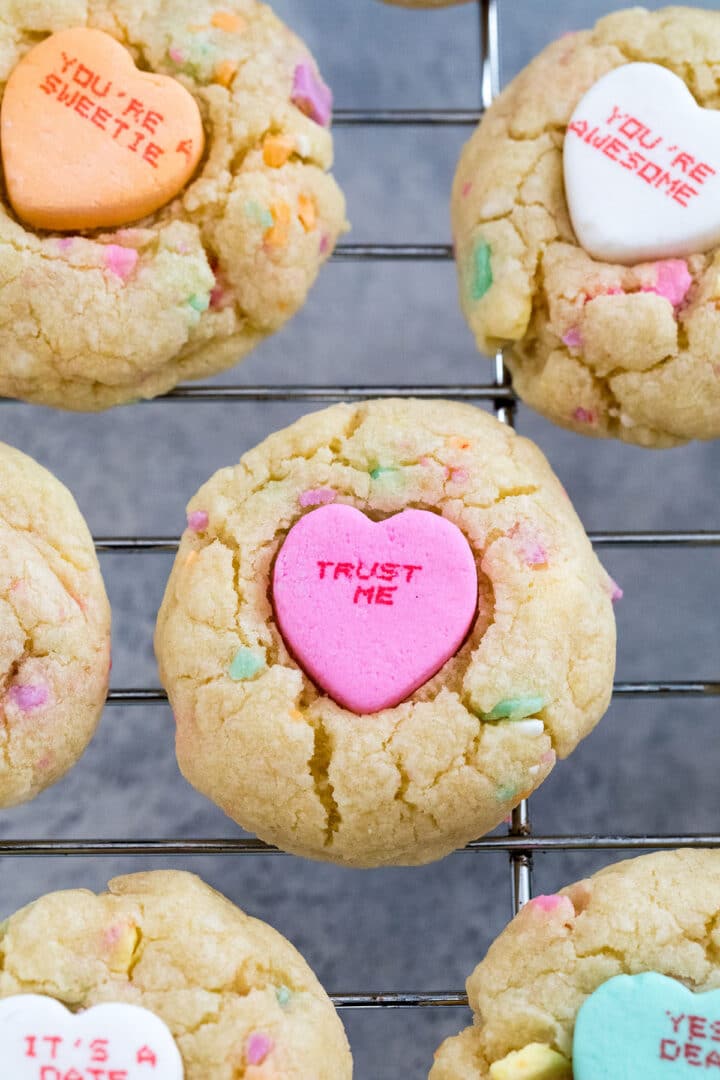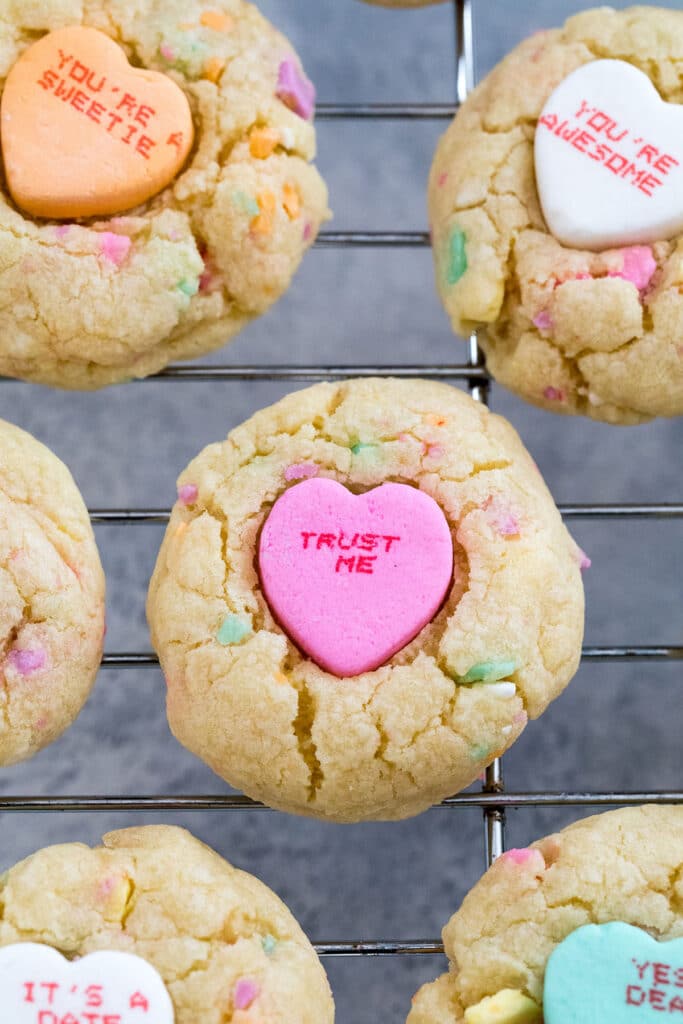 More Valentine's Day Dessert Recipes
In case you couldn't tell, I love all things conversation hearts, but really, all things Valentine's Day. Valentine's Day desserts are my absolute favorites and here are some of the best recipes:
Do I have way too many feelings about conversation hearts? Should I stick to just crushing them up and making cookies out of them?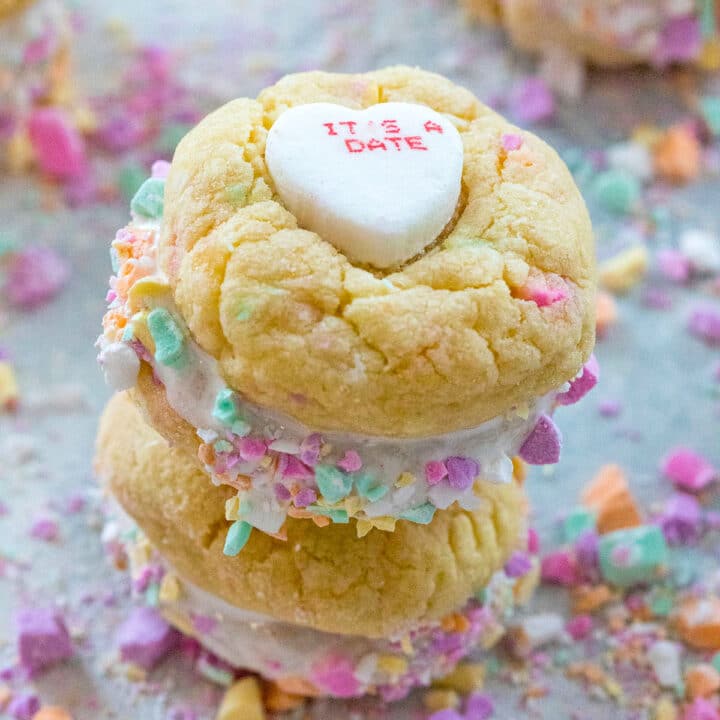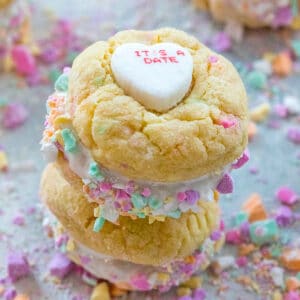 Conversation Heart Cookies with Marshmallow Fluff
Put those conversation hearts to good use this Valentine's Day by baking Conversation Heart Cookies with Marshmallow Fluff. The fluff is sandwiched between two colorful candy confetti-packed sugar cookies and will instantly have you falling in love.
Print
Pin
Rate
Makes:
9
sandwiches (or 18 cookies)
Ingredients
½

cup (1 stick)

unsalted butter,

room temperature

¾

cup

granulated sugar

2

large eggs

2

tsp

vanilla extract

1 ⅔

cups

all-purpose flour

1 ½

tsp

baking powder

¼

tsp

salt

1

cup

crushed conversation hearts,

divided

½

cup

marshmallow fluff

(recipe below)
Marshmallow Fluff
2

large egg whites

1

cup

light corn syrup

¼

tsp

salt

1 ½

cups

confectioners' sugar

1

Tbsp

vanilla extract

¼

tsp

cream of tarter
Instructions
Cream sugar and butter together in a stand mixer (or a large bowl with a hand mixer) until light and fluffy. Add eggs and vanilla and mix to combine.

In a separate large bowl, whisk together flour, baking powder, and salt. Stir in ½ cup crushed conversation hearts.

Slowly pour the flour mixture into the wet mixture, mixing on low all the time. Stop mixer when dough is just combined taking care not to over-mix.

Pre-heat oven to 350 degrees and line cookie sheet with parchment paper or a Silpat.

Place rounded tablespoons of dough on prepared cookie sheet about 1 ½ inches apart. Bake for about 14 minutes, until edges are just starting to turn golden. If you're using the large conversation hearts, take baking sheets out of the oven after about 10 minutes, push the hearts in the center of each cookie, and return baking sheets to the oven.

Let cookies rest on baking sheets for about 5 minutes before moving them to wire racks to cool completely.

Once the cookies are cool, spread one with a thin layer of marshmallow fluff and then top with another cookie. Roll the cookie on its side in the bowl of remaining crushed conversation hearts.

Place cookies in the fridge for about 10 minutes to let marshmallow fluff firm up.
Marshmallow Fluff
In the bowl of a stand mixer beat together egg whites, corn syrup, and salt on high speed for 4-5 minutes until the mixture thickens quite a bit. Your mixture will have started clear, but after beating, it will turn bright white

Mix in the confectioners' sugar, vanilla, and cream of tartar on low speed, until combined.

Store in an airtight container in the fridge for up to ten days.
Share a Photo of Your Finished Recipe!
Mention @wearenotmartha and share a photo if you've made the recipe!
View my web story for these cookies here.