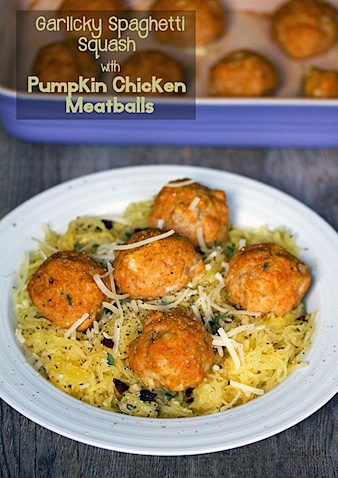 When I'm at work and I really want to get in the zone, I put on my headphones and listen to whatever I feel like playing on my Rdio (like Spotify). I'll be honest, about 75% of the time it's country music (sorry I'm not sorry), but I've also been mixing in some Lana del Rey, Passenger, Lorde, Jason Isbell, Haim, and others lately. I always check out the new releases on Tuesdays to make sure I'm not missing anything new and awesome. And last week… well, last week was new and interesting. In a rough sort of way. First, I listened to the new KC and JoJo album. Only because when you come out with a song like "All My Life," I will respect you forever and follow your career into eternity. Except maybe not. Because the new KC and JoJo album is pretty bad. Like really bad. Like I was laughing out loud at my desk bad. But the best gem of the week? At the top of my new music list was an album called "Calming Music for Cats." How could I not listen to that?? Especially with tracks with names like "Soft Cushion" and "Anxiety is Floating Away." If I had cats (that's a big IF), I would totally play this music for them. For me? It just made me feel like I was going to fall asleep at my desk. Which I try to avoid as much as possible. The cats can keep their music. They can have KC and JoJo's new music, too.
What does that have to do with this recipe? Well, trying new things is fun even if it doesn't always work out, right? Luckily, this dish worked out big time… Despite the fact that I have never ever made spaghetti squash. But, I mean, could it be any easier? Probably not even if it tried. I'm kind of tempted to make it every single night except I think I need to ease Chris into the idea of spaghetti squash a little bit more. However, pumpkin chicken meatballs? Definitely didn't need to ease him into that one. This meal is no Calming Music for Cats. It's a keeper.
Can we talk about how easy spaghetti squash is to prepare? Yes, let's talk about it.
Garlicky Spaghetti Squash with Pumpkin Chicken Meatballs (serves 6):
Print this recipe!
1 spaghetti squash
2 T Star Butter Olive Oil (if you don't have, you can use 2 T butter instead)
1 T garlic (from about 3 cloves)
1 t sage
4 strips turkey bacon, cooked (I used Butterball!)
Parmesan cheese for topping
1 batch Pumpkin Chicken Meatballs (see recipe below)
Pre-heat oven to 375 degrees
Star Fine Foods was kind enough to send me a HUGE box of their products and I was so super excited to try out the Butter Flavored Olive Oil. I figured this was the perfect recipe since I wanted my spaghetti squash to be nice and buttery.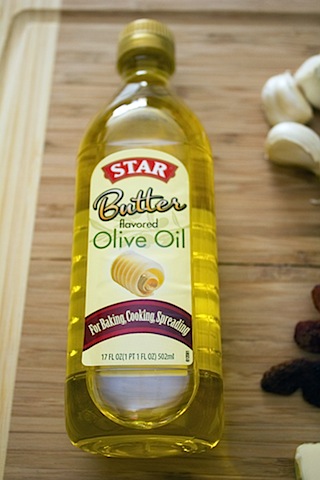 Since it was my first time making spaghetti squash, I did a bunch of research beforehand and determined that the best way to do it was to prick a bunch of holes in the squash with a sharp knife, place the entire squash on a baking sheet, and to pop in the oven at 375 degrees for about an hour and 20 minutes, rotating the baking sheet halfway through (this was Martha's advice). When the squash was cool enough, I cut it in half (lengthwise).
And then I was able to scoop out all the seeds.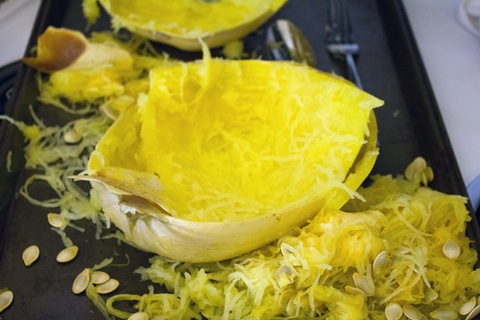 And remove the stringy, squashy spaghetti from it.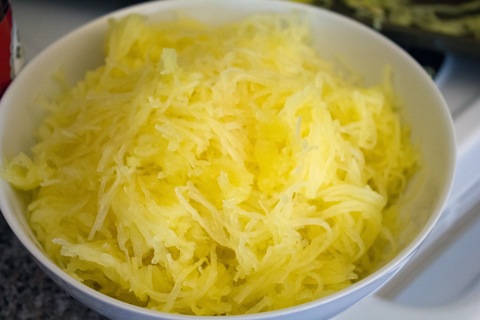 I poured my buttery olive oil into a large skillet over medium heat.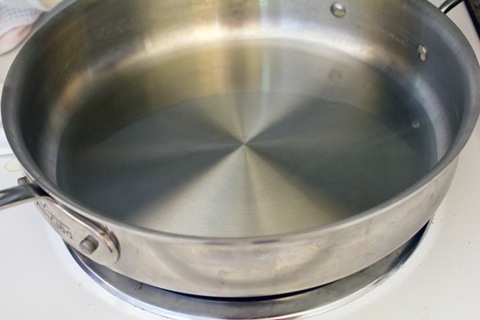 And cooked my garlic for about one minute.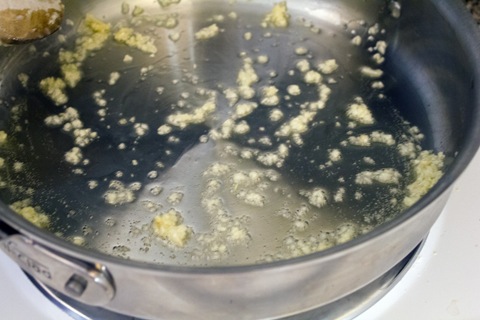 Before adding in the squash, sage, and crumbled bacon.
I cooked this mixture for about 3 minutes until it was nice and tender.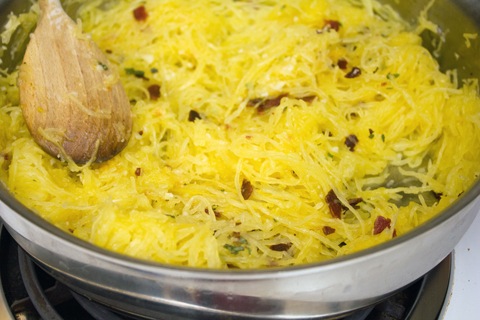 Pumpkin Chicken Meatballs (makes about 16 meatballs):
Print this recipe!
1 lb. ground chicken
3/4 C pumpkin puree
1/4 t ginger
1/2 t dried thyme
1 C panko
1/4 C parmesan cheese, plus more for topping
1 egg, lightly beaten
Pre-heat oven to 375 degrees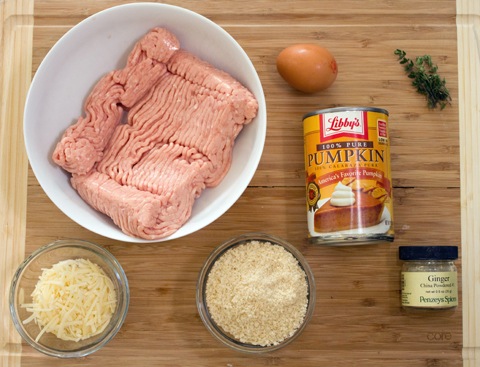 I crave meatballs basically ALL OF THE TIME. They're so super easy to make and so delicious. Chicken meatballs can tend to be a little boring (but healthy!), so I decided to add some pumpkin and fall spices in for fun.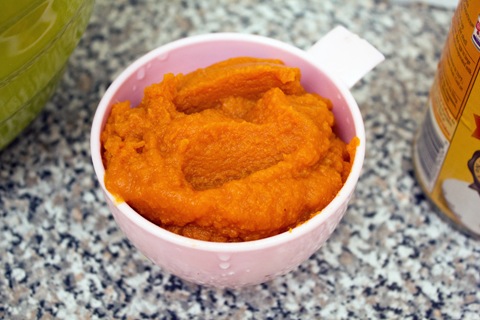 In a large bowl, combine ground chicken, pumpkin puree, ginger, thyme, panko, parmesan cheese, and egg.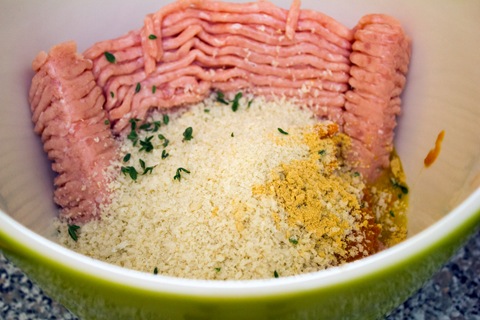 Mix by hand until fully incorporated.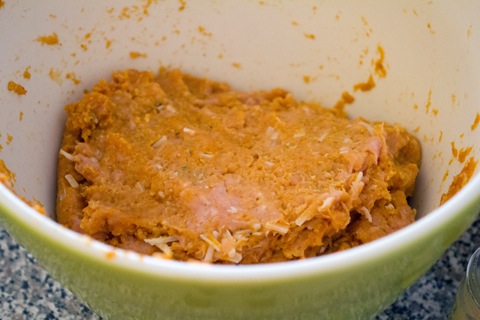 Using your hands, roll mixture into golfball size balls and place in a baking dish (I would lightly spray your baking dish with oil first).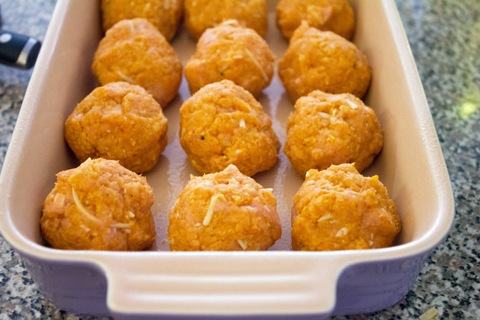 Bake at 375 degrees for about 25-30 minutes. I went by the rule that the inside of the meatballs should be at 165 degrees, but since I mixed so much pumpkin into these, I'm not even sure the rule applied. The good thing is, if you overcook these meatballs a bit, they're still incredibly moist. It's nice to have them a little bit crispy on the outside, too.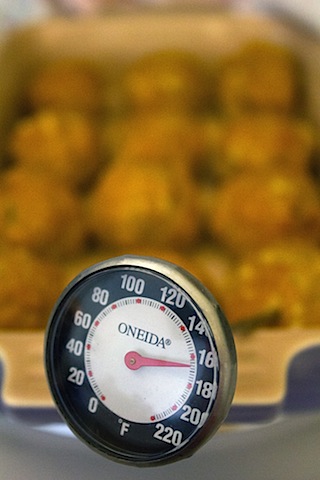 I served the pumpkin chicken meatballs over a big serving of the garlicky spaghetti squash, with a little extra parmesan sprinkled over the top.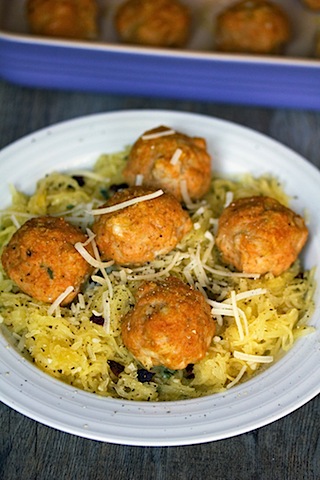 Hooray for everything about this meal. Every single thing.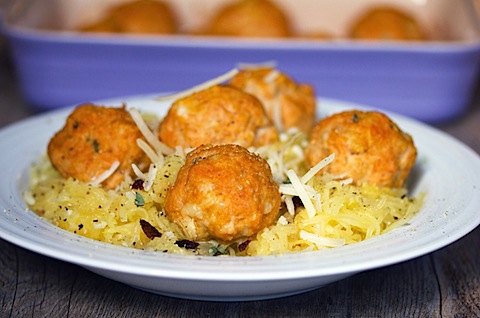 Thanks to my fab new olive oil, the "pasta" had a super nice buttery taste and the garlic gave plenty of extra zing (I'll be honest… my original recipe had A LOT more garlic in it than I've recorded here… Because it was a big overboard).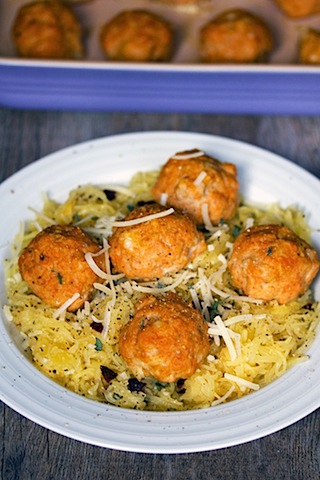 I'm not going to lie and tell you spaghetti squash will fool you into thinking you're eating pasta… But it is delicious. And this one was packed with flavor thanks to the buttery olive oil, lots of garlic, turkey bacon, and sage.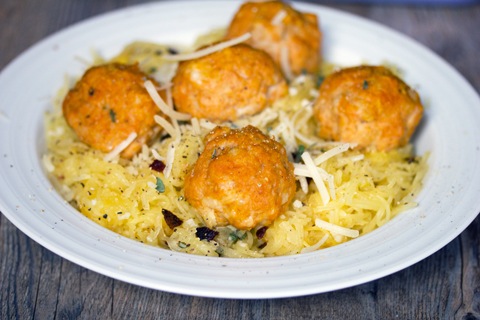 I've always been a fan of chicken meatballs, but the addition of pumpkin made them about a trillion times better and a billion times more exciting than regular old chicken meatballs.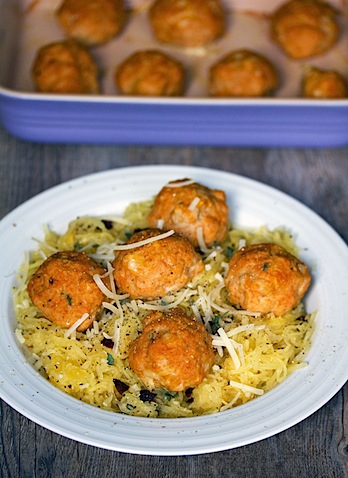 This is a meal that will definitely make another appearance in my kitchen soon. In fact, I already have another spaghetti squash sitting in my fridge. And lots and lots of pumpkin.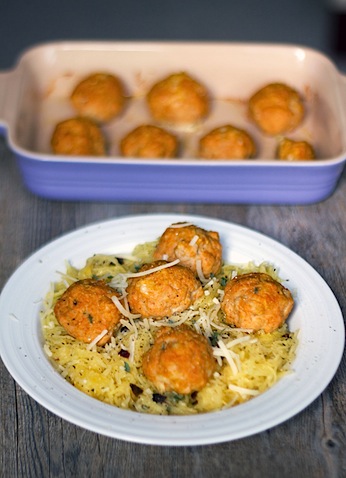 Pssst… this also makes for some pretty fantastic leftovers and will make your workday Monday a little bit easier when you know you have this waiting for you for lunch. It might even give you the energy boost you need after listening to Calming Music for Cats. Zzzzzz.
What music are you listening to this week?
[Sues]