My parents' anniversary (33 years!!) was a couple weeks ago and my sister, Adam (my sister's fiance), and I decided to make my parents dinner in celebration. My parents are always commenting on the fact that my sister and I cook a lot, but we never cook for them. And they're right, so we finally put an end to that. My mom got both my sister and me Martha Stewart's Cooking School cookbook for Christmas (which by the way is a fabulously educational and informative cookbook), so we starting looking through that for recipes and came up with the perfect dinner.
We started with Pan-Seared Scallops with Fennel Puree for an appetizer, mainly because our parents LOVE fennel. Adam chopped the fennel and worked on the puree.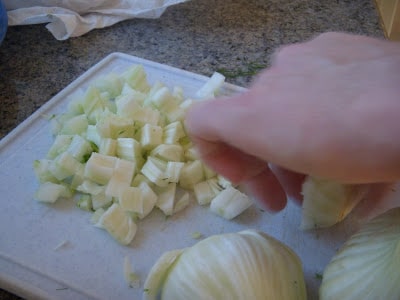 It had to sit over a sieve for an hour, so we made sure to get that started first.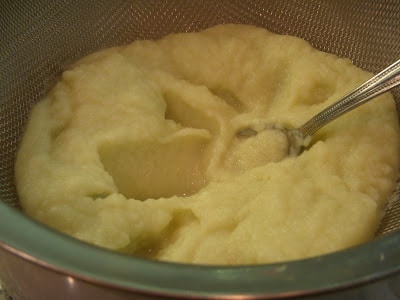 The scallops were just seared quickly in a pan.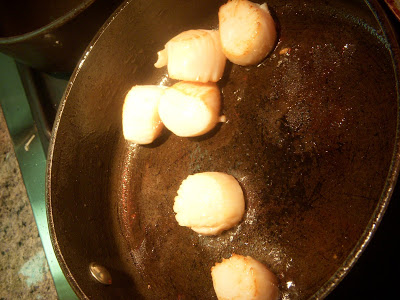 And placed atop a bit of the fennel puree, garnished with some of the fennel leaf.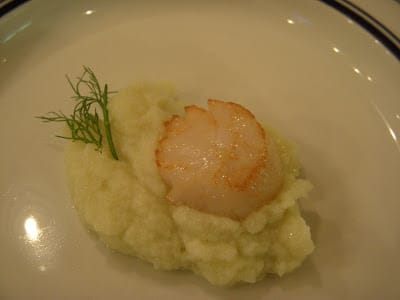 As a side dish, we decided to make Martha Stewart's macaroni and cheese. A while ago, I made a similar dish, but a lighter version. It was absolutely delicious, but we decided since it was a special occasion, we wouldn't bother being healthy. So yes, this mac and cheese had 4 kinds of cheese in it (fontina, gruyere, extra-sharp white cheddar, and parm) and was absolutely amazing.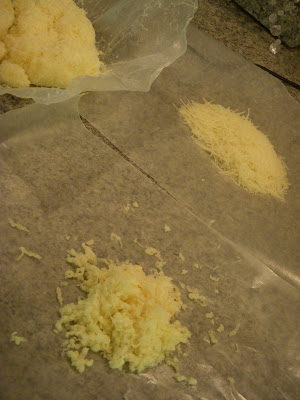 And we served it in cute little ramekins.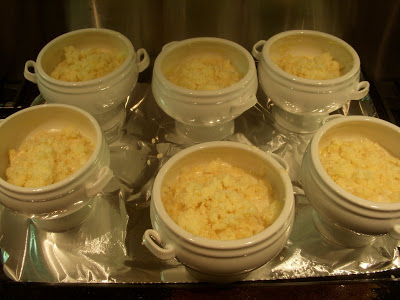 But we put roasted tomatoes on top, so that makes it healthy, right? Right??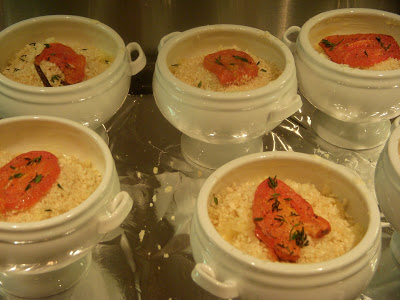 Yup, it tasted as good as it looks.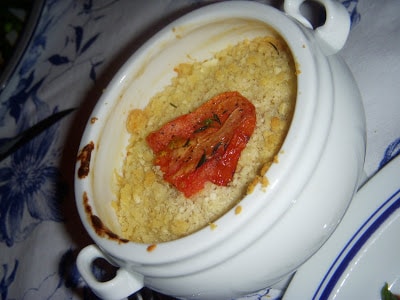 While the mac and cheese was baking, it came time to cook the steaks. None of us were too experienced with preparing steak, so we were a bit nervous. We made Martha's pan-seared strip steak with red wine-shallot sauce and bought the perfect steaks at Butcher Boy in North Andover (one of the most fabulous grocery stores ever).
After heating the skillets (we needed 2) and the butter, we placed the steaks in . They cooked really quickly and since our family likes them rare, they were ready in no time at all.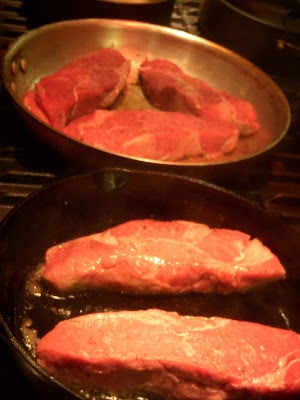 We had cute little instant-read thermometers, but for some reason, the temperatures on them didn't start until way too high.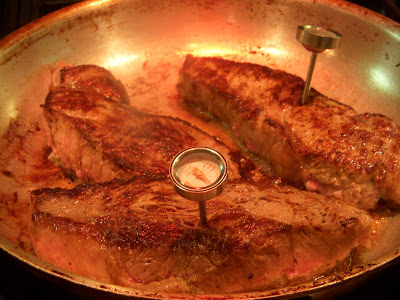 We also cooked up some asparagus and served the final meal.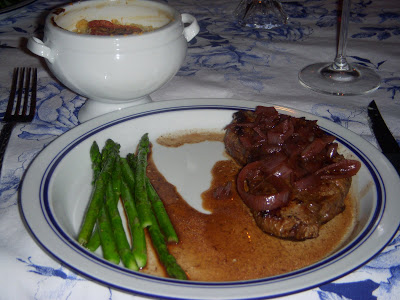 And since our family also loves Malbec (especially with steak), we enjoyed dinner with a couple bottles of Layer Cake Malbec.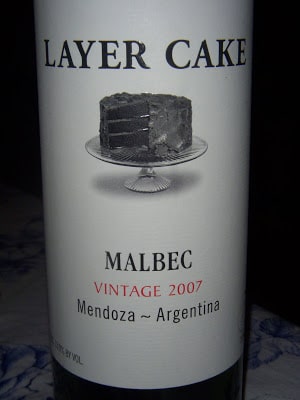 And then of course, it was time for dessert. We decided to make Martha's flourless chocolate cake with espresso glaze (yes, it was a very Martha dinner). We chopped up a glorious amount of bittersweet chocolate.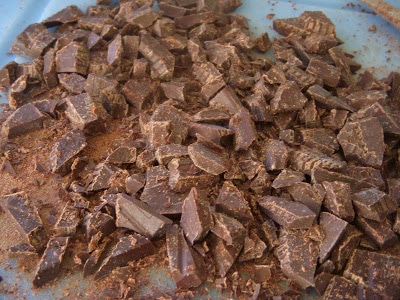 The cake basically consists of chocolate and eggs. With a little bit of butter thrown in.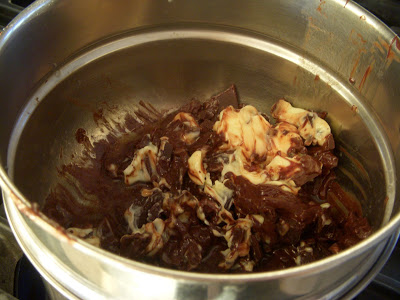 It's not the prettiest thing in the world, but I'm pretty sure it's because the cake doesn't involve any flour (and mine looks just like Martha's!).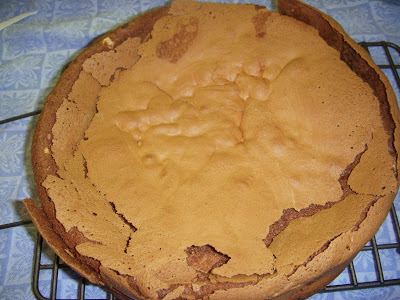 And the espresso glaze made it a lot prettier. The cake was perfectly moist and extremely rich.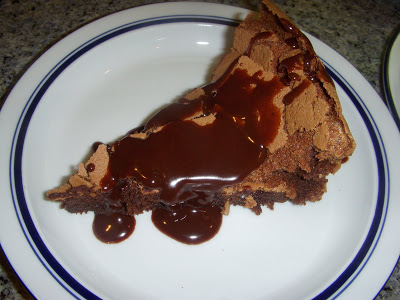 I was a bit disheveled by the time the cooking process was over.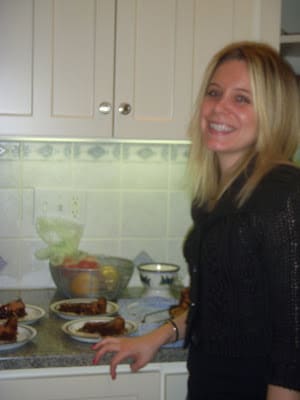 The other two cooks. I was pleasantly surprised by how well we all worked together. The hardest part of making the meal was definitely the timing, but we came up with a great game plan before we started and everything worked out almost flawlessly. I think we were all impressed by how we collaborated and how well everything turned out. I'm lucky to have such a fabulous sister who's marrying someone who already feels like a brother to me.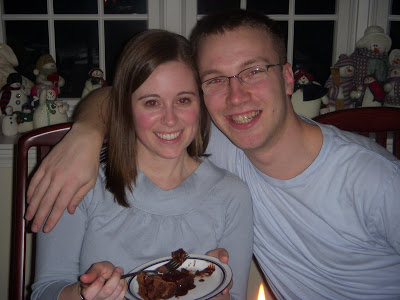 And the anniversary couple and best parents ever. They're both the most amazing cooks I've ever known and also the reason my sister and I love cooking so much. We're so glad they enjoyed their dinner and might even consider cooking for them again sometime. God knows they've cooked enough for us throughout the years!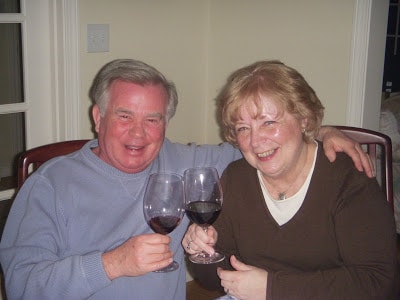 Happy Anniversary, Mom and Dad!
[Sues]