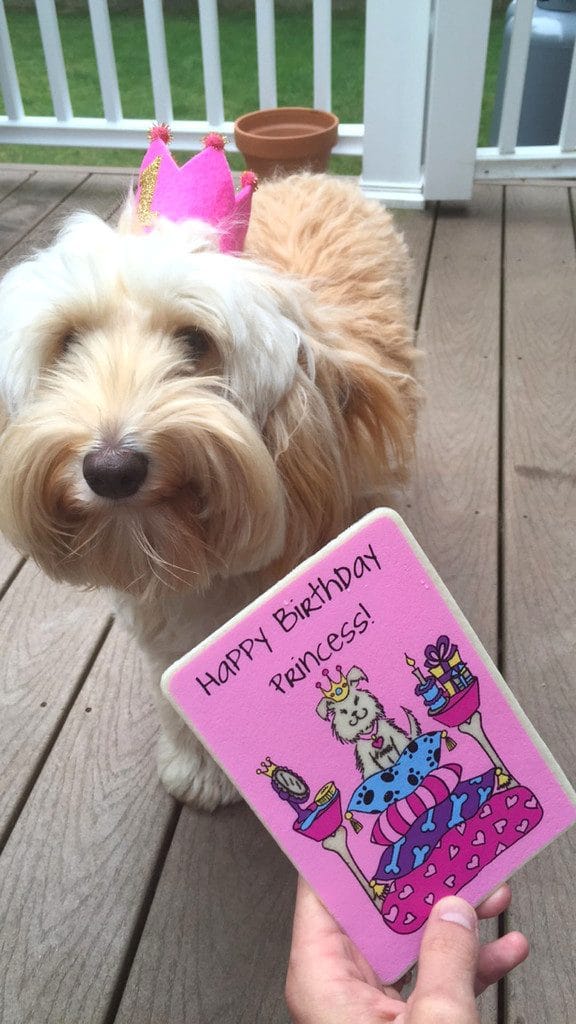 Happy 1st birthday to my sweet, sweet pup Winnie! Who ever thought I'd be the kind of person who would bake cupcakes (sorry, I mean pupcakes) for her dog's birthday and then write an entire post about them? Well, to be fair, anyone who knows me well probably could have predicted that one. But honestly, when we made the decision to get a dog just a little over a year ago, I never realized how much personality she would have or how freaking much I would love her. She is the absolute best companion and so incredibly adorable and sweet. Her extreme anxiety and obsessive tendencies drive us a little nutty sometimes, but I'm proud of how hard she's working (or really, we're working her) to overcome it. This is the photo that first made us fall in love with Winnie the labradoodle (back when her name was Hermione):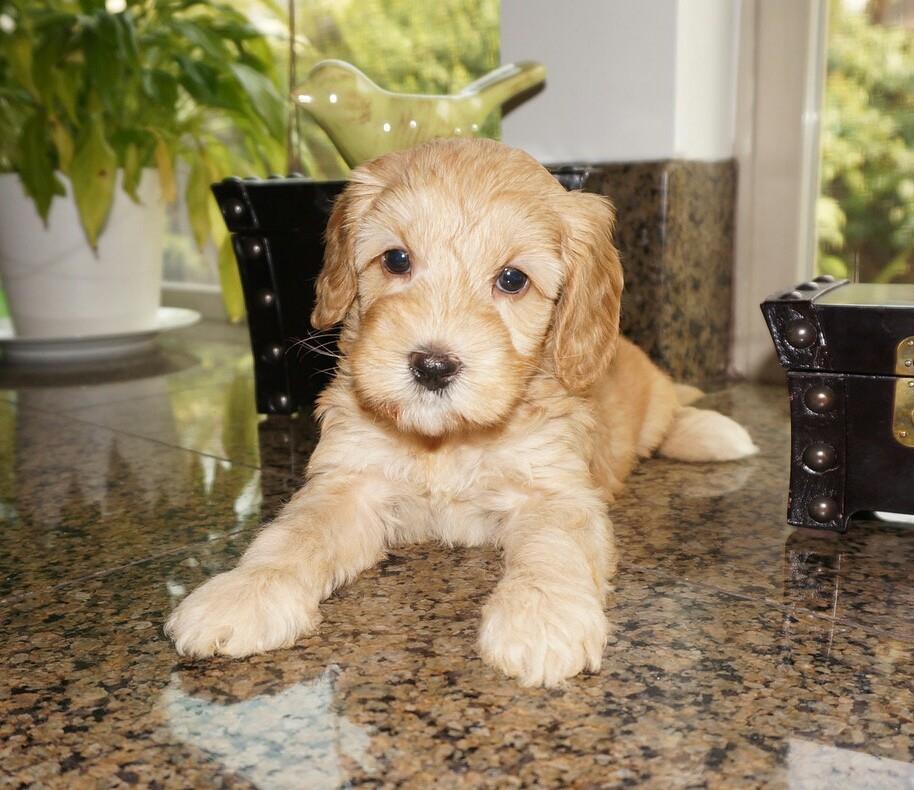 We're so glad we chose her! Now she's a whopping 19 pounds and celebrating her 1st birthday in style.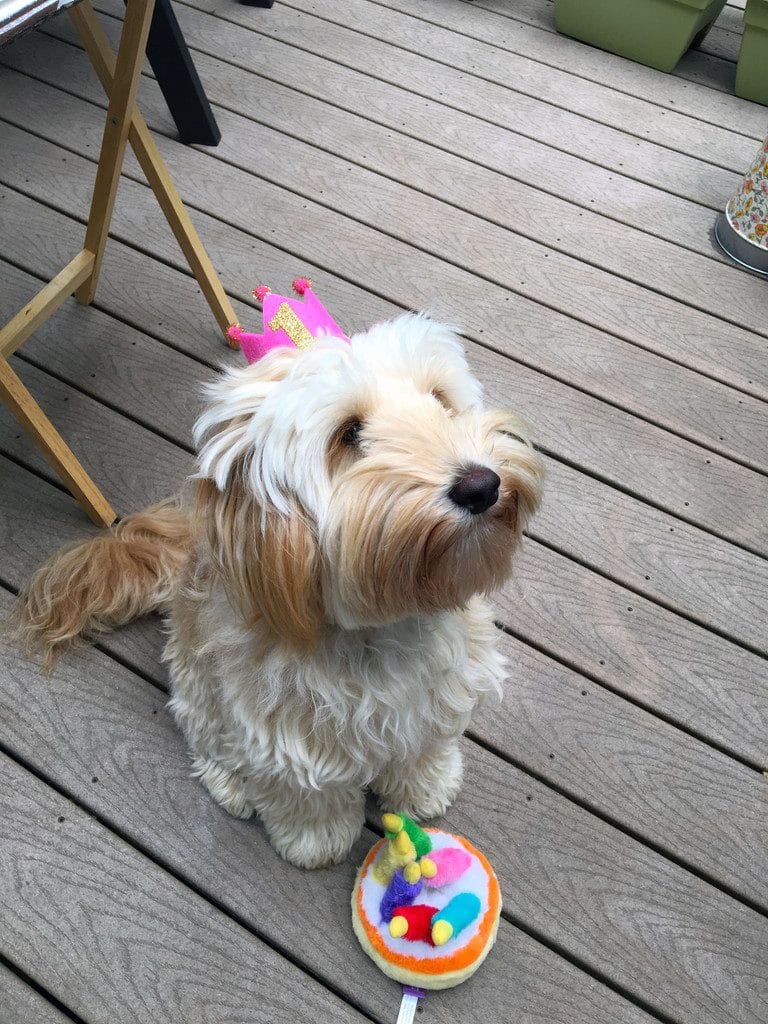 Yes, I forced her into that crown, but she didn't hate it as much as I thought she would. I think she knows when to humor me. We bought her way too many gifts, including this edible card: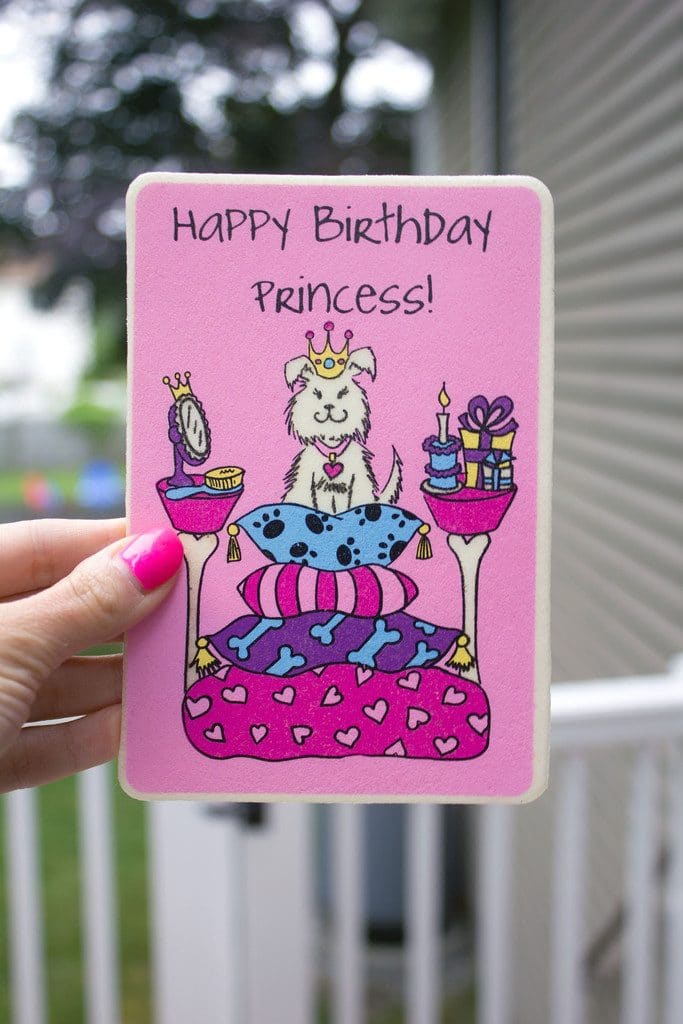 She was pretty skeptical about it at first…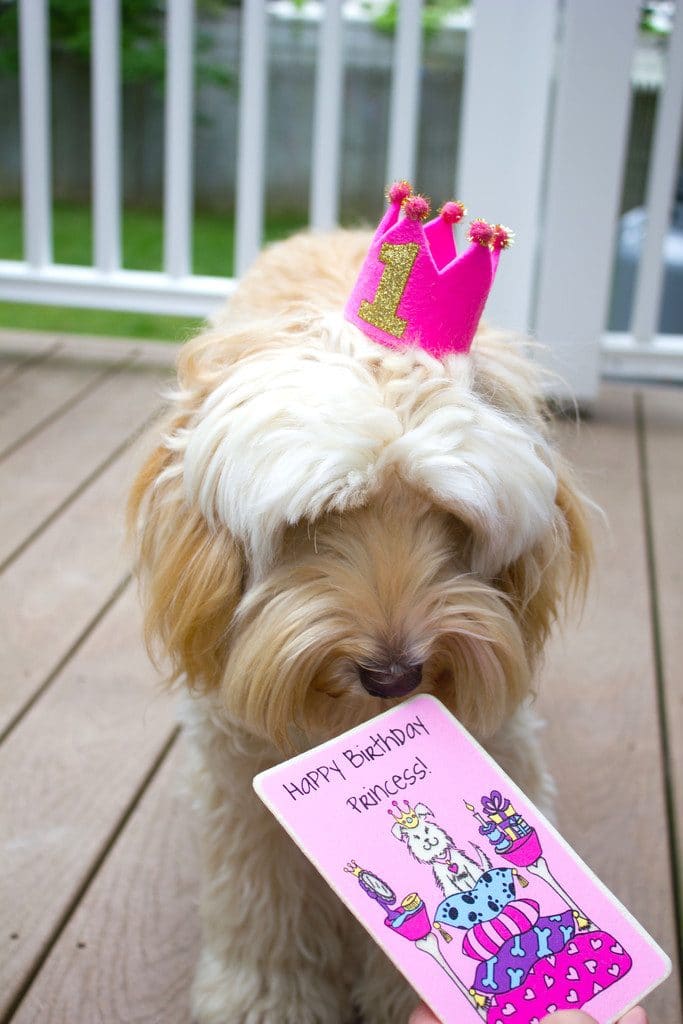 But then later that evening, she was all about it!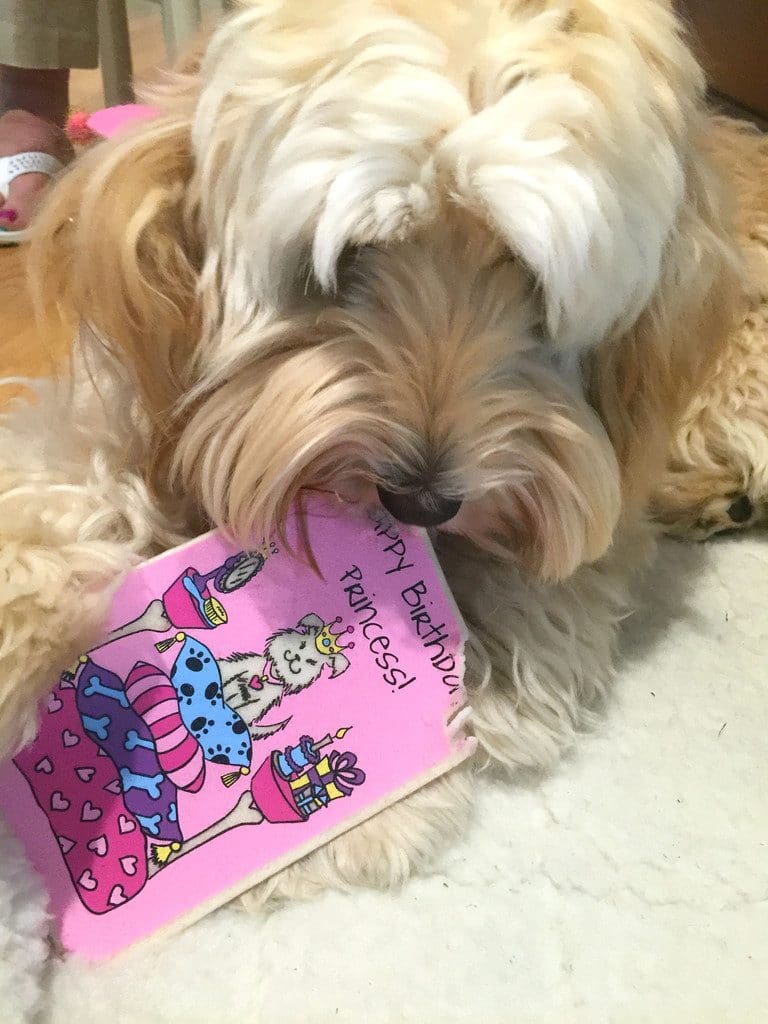 In honor of her birthday, I decided to make her a special treat, in the form of pupcakes! These cupcakes for dogs are filled with peanut butter and banana and topped with a delightful (if I do say so myself!) peanut butter cream cheese frosting. Seriously though, all the ingredients are human grade, but also dog friendly. Of course, every dog reacts differently (and some can't do dairy), so check with your vet if you have any questions!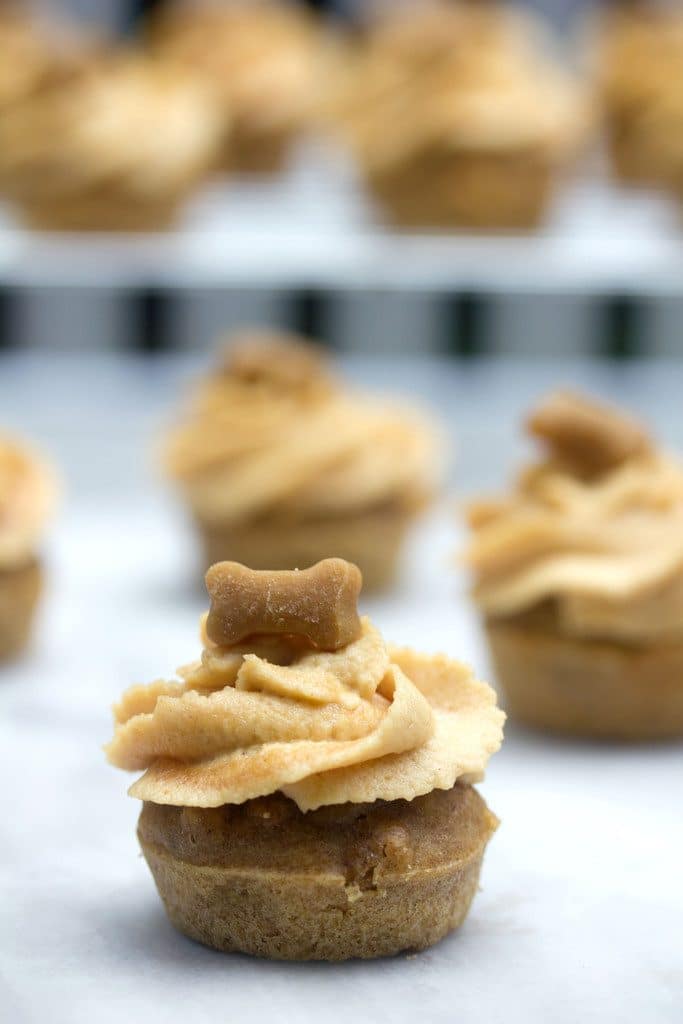 The pupcakes were mini and had just a dollop of frosting… And we let little Winnie indulge a little bit too much. I was just so happy that she was a fan.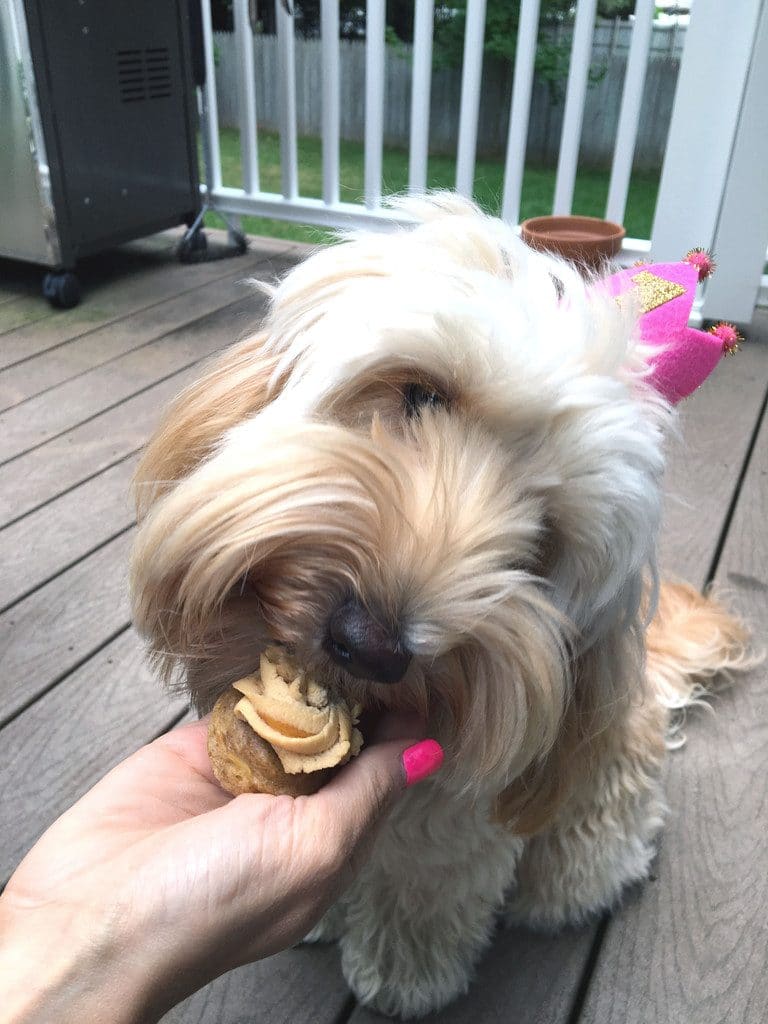 This dog has been known to turn her nose up at treats, so I wasn't so sure she'd be all about the pupcakes. Not sure why I felt like I needed validation from my dog, but I guess I did!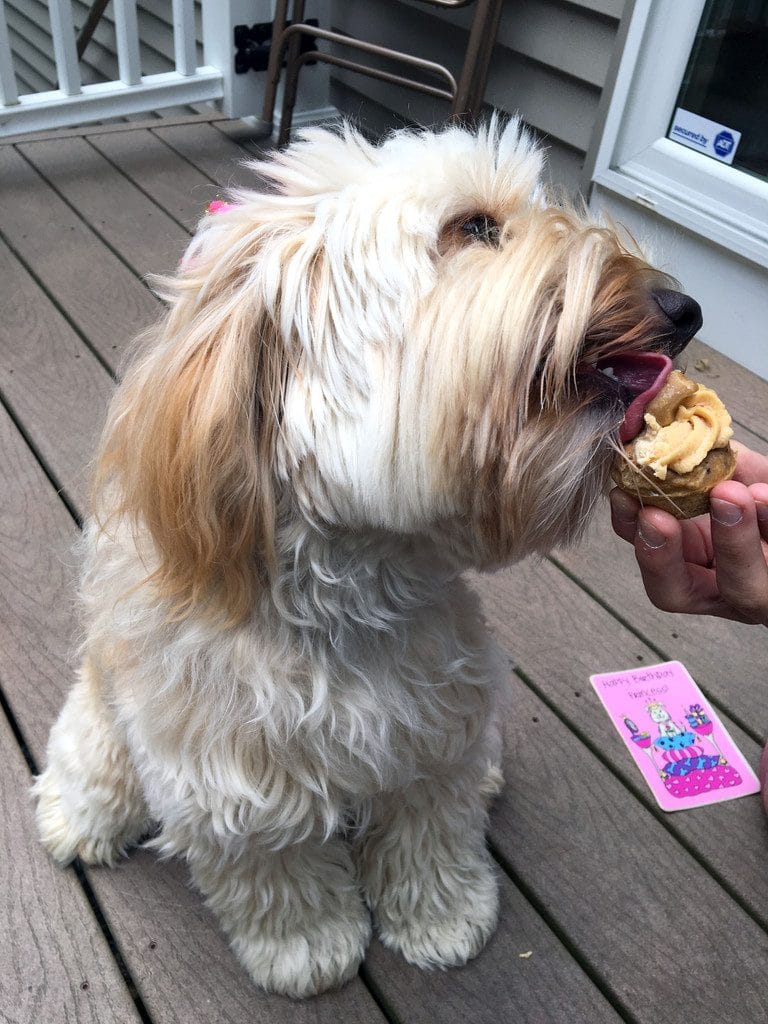 Winnie just straight up ate the pupcakes… But we also did this updated and less messy version of the cake smash: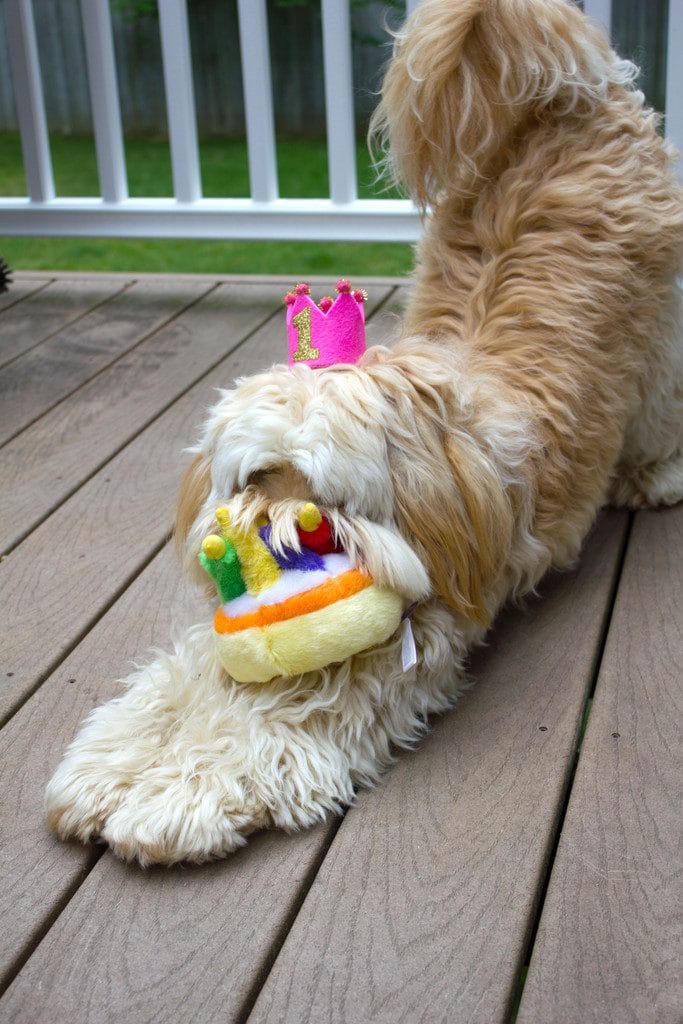 Ha! But seriously, if you have a treat-motivated dog and are celebrating a special day, I highly recommend these peanut butter banana pupcakes.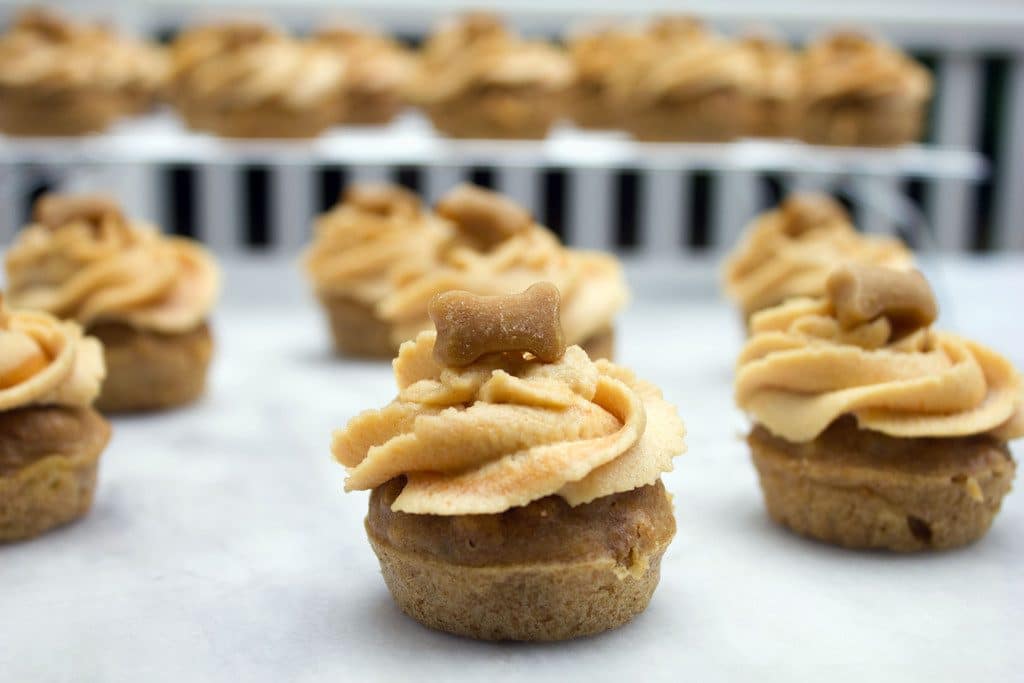 I can't guarantee your dog will thank you… But I think his or her face will probably say it all!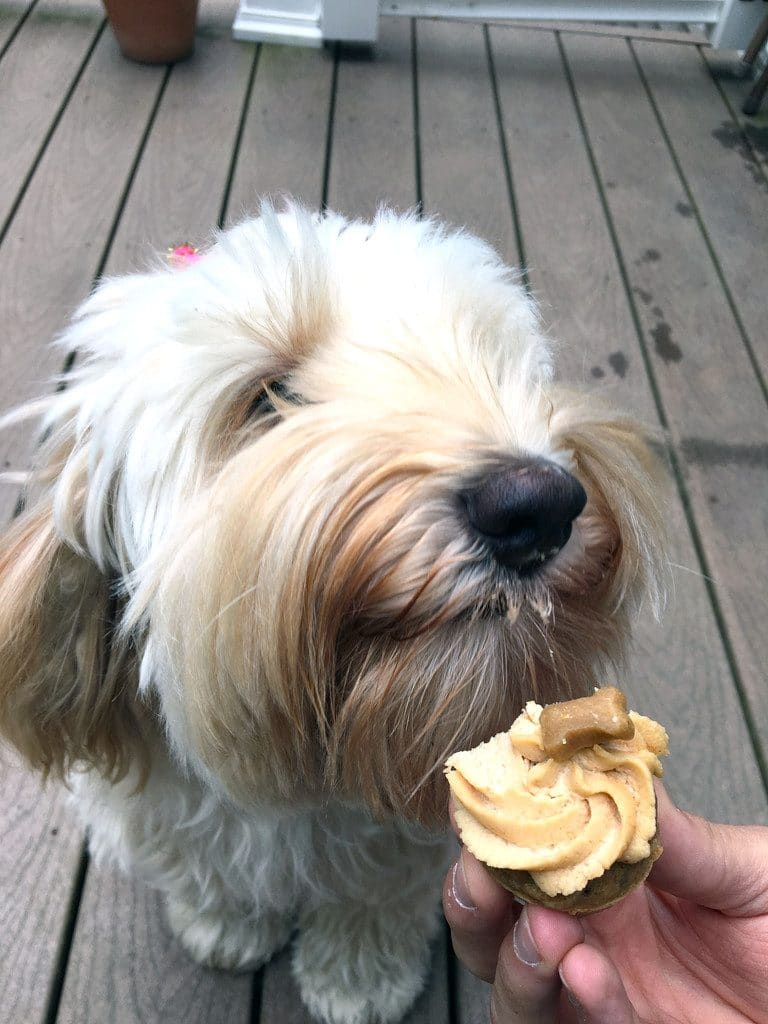 And if you happen to have guests over who are in the mood for a little treat… these pupcakes are actually pretty good! There's no added sugar or salt in them, but the banana and peanut butter flavors are in full force.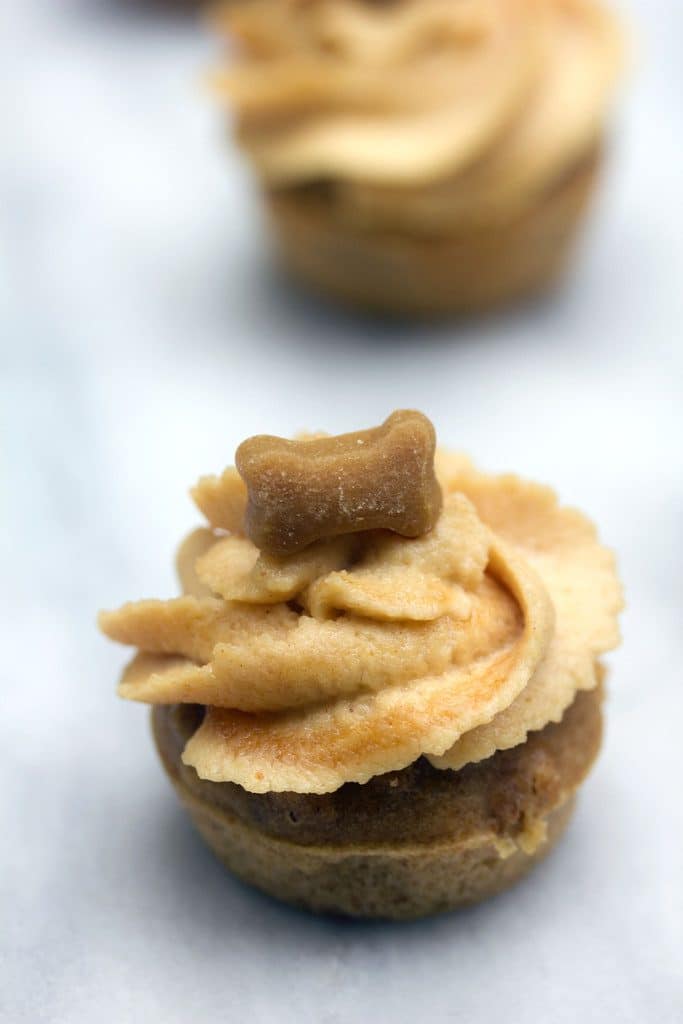 But don't take my word for it…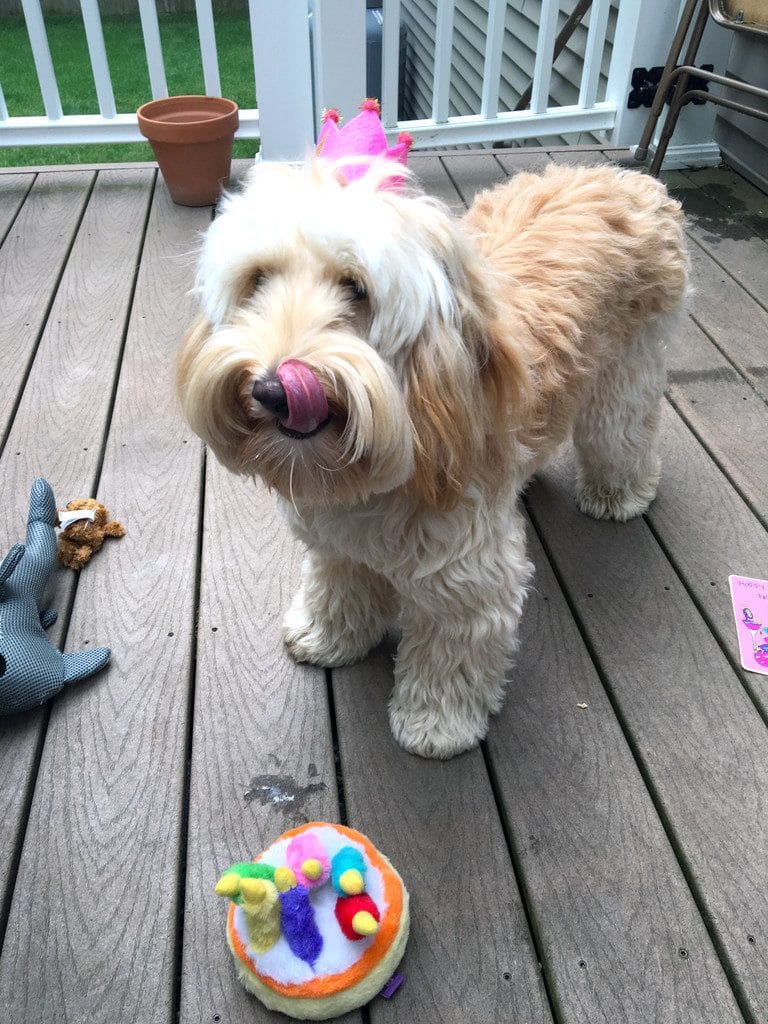 We are so, so lucky to have this little fluffball of happiness in our lives. It sounds so cheesy, but she really does add so much love to our lives. Whenever I look at her little expressive face or I wake up snuggling her, I feel like I'm going to burst. I know everyone thinks their pup is the best, but I'm pretty sure ours actually is!
Happy birthday, Win-Win! Here's to many more pupcakes in your future! Check out my video and get the pupcake recipe below: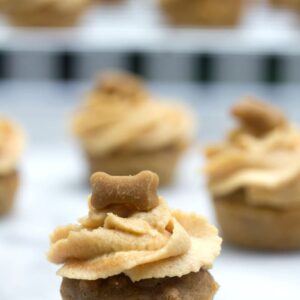 Peanut Butter Banana Pupcakes
Have a dog who deserves an extra special treat? These Peanut Butter Banana Pupcakes (cupcakes for dogs!) will have your dog going wild! All of the ingredients are human-grade, so you can enjoy them, too.
Course:
Dog-Friendly Recipe
Ingredients
Peanut Butter Banana Pupcakes:
3/4

cup

whole wheat flour

1/4

cup

old-fashioned oats

1

tsp

baking powder

1/2

cup

creamy peanut butter

(I use natural, unsalted)

1/2

cup

mashed banana

2

large eggs

1/2

cup

water
Peanut Butter Cream Cheese Frosting:
8

oz.

cream cheese,

room temperature

1/2

cup

creamy peanut butter
Instructions
Pre-heat oven to 350 degrees. Lightly oil a mini muffin/cupcake tin.

In a medium-sized bowl, whisk together whole wheat flour, old-fashioned oats, and baking powder.

In the bowl of a stand mixer or in a large bowl with a hand mixer, cream together peanut butter and mashed banana. Mix in eggs.

Mix in flour mixture, alternating with water, until just combined.

Fill mini muffin tin cavities about 3/4 of the way with batter.

Bake for 6-8 minutes, until a toothpick inserted in the middle of a cupcake comes out clean.

Let cool in tin for a few minutes before moving to wire racks to cool completely.
Peanut Butter Cream Cheese Frosting:
In the bowl of a stand mixer or in a large bowl with a hand mixer, combine cream cheese and peanut butter and beat together until creamy.

Fit a pastry bag with tip (I used a Wilton 2D) and fill bag with frosting.

Pipe frosting onto each cupcake and top with an additional dog treat, if you desire.