Hummus for breakfast? Sign me up! These Hummus Breakfast Bowls are packed with delicious flavor and the protein you need to get through your morning!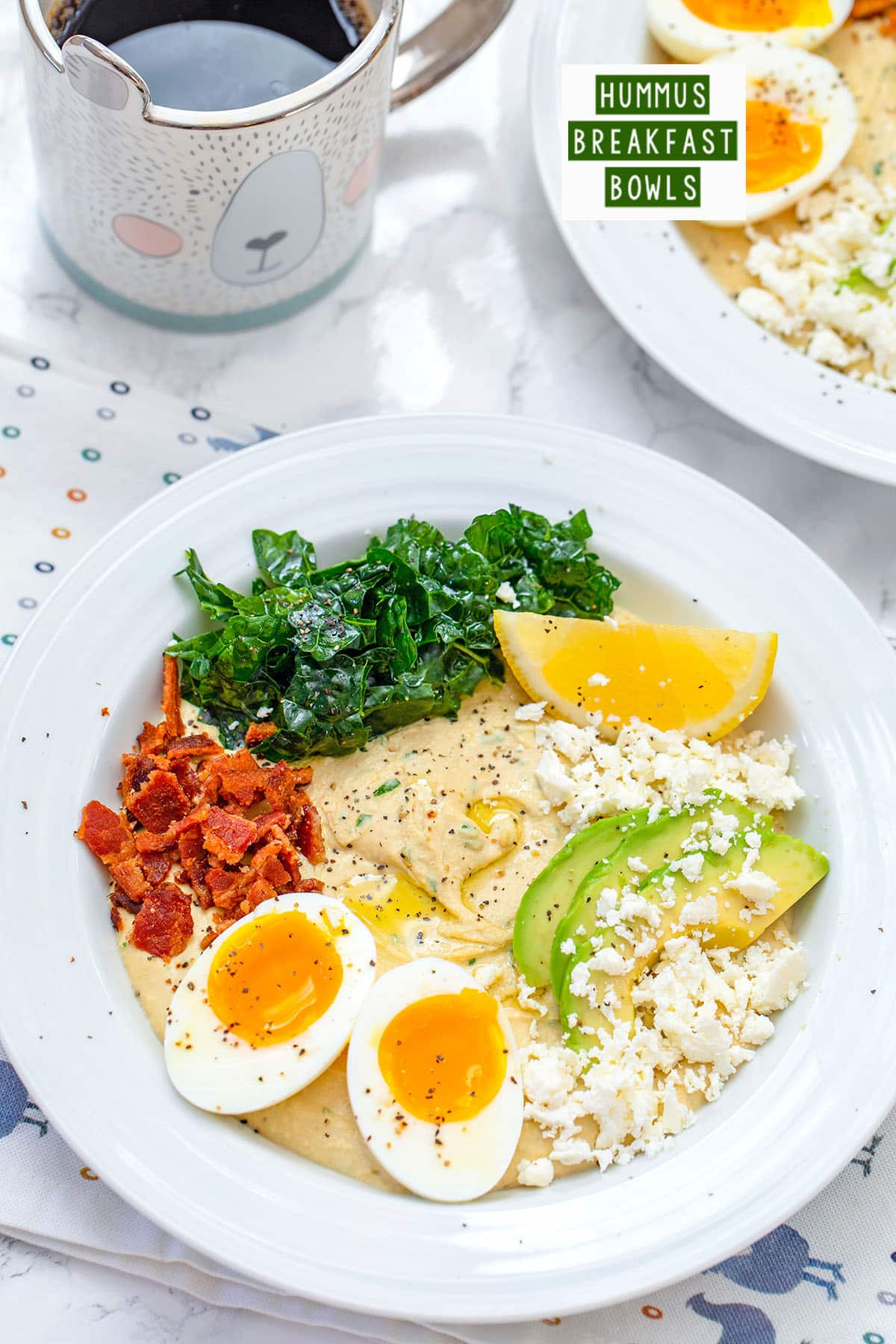 Jump to:
I know what you might be thinking right now... Hummus for breakfast?? Weird! But wait!! Don't leave. Stick around and just hear me out.
I was snacking on leftover hummus one afternoon and decided to top it off with a hardboiled egg. That got me thinking, "why are we not eating hummus for breakfast?" A quick Google search showed me that some people actually are in fact eating hummus for breakfast and that I am not about to be awarded a noble peace prize for this stunning revelation.
Sigh. So, I may be a little bit late to the game, but I'm certainly not the last to arrive. Hummus for breakfast still isn't a mainstream idea (here in the U.S. at least). And I get it. It's often packed with garlic and eaten as a dip. That doesn't really sound like a breakfast food, does it?
But after making this hummus breakfast bowl and absolutely loving it in the a.m., I'm sharing it with you to encourage you to eat hummus for breakfast (if you're not already).
❓ Is hummus good for you?
Yes!! In general, hummus is very good for you as it's packed with nutrients and protein (source). Especially when you're making it from scratch and know exactly what's going into it.
OK, and especially if you're not eating it with a pile of chips or unhealthy dippables.
Thanks to the chickpeas it's made with, hummus has lots of plant-based protein and fiber. Since chickpeas have a low glycemic index, they may also help control your blood sugar levels better (and keep you full longer!). Oh and chickpeas also have lots of nutrients in them, like folate, potassium, and iron.
The tahini and olive oil in hummus do add some calories, but they also help you get some heart-healthy fats. Tahini also has lots of antioxidants as well as calcium and protein.
🥣 Can you eat hummus for breakfast?
Yes!! I mean, to be fair, you can eat whatever you want for breakfast (don't let society tell you otherwise!), but I understand that lots of people don't think of hummus as a breakfast food.
But with all the protein and healthy fats involved in it, it's actually a really good food to start your day with.
💡 Hummus for breakfast ideas
This post is focusing on hummus breakfast bowls, but people eat hummus for breakfast in lots of different ways. One of the most popular ways is hummus toast (like avocado toast!), but you can also mix hummus into eggs, spread it on a bagel, or even in breakfast tacos.
Anywhere you'd normally use a spread like butter or cream cheese, use hummus instead!
❤️ Why you'll love this recipe
While I'm now pretty obsessed with eating hummus for breakfast in all kinds of ways, I'm especially in love with these hummus breakfast bowls. They're easy to prep in advance and have ready to go for first thing in the morning!
They're packed with nutrients, protein, and fiber that will keep you full an satisfied all morning long.
And they're so fun and easy to customize to your own perferences.
🗒 Ingredients
I made my own lemon and parsley hummus for these bowls, but you can certainly use store-bought hummus if you want.
Whenever I make hummus, I add in a TON of garlic. I love garlic-y hummus. But since we're making this hummus for breakfast, I decided to stay away from garlic. I'm a fan of starting my day with hummus, but I'm not a fan of starting my day with garlic breath.
Instead of garlic, I loaded this breakfast hummus up with lemon and parsley, both of which happy to be good for your breath! And also delicious in hummus.
Here's everything you need for the homemade hummus (be sure to check out the recipe card at the bottom of this post for ingredient amounts and full recipe instructions):
Tahini
Freshly squeezed lime juice
Extra-virgin olive oil
Salt & pepper
Cayenne
Chickpeas
Finely chopped parsley
Cold water
And here's everything I used to top my breakfast bowls:
Eggs
Kale: I like Tuscan kale
Olive oil
Lemon juice
Crispy bacon
Feta cheese
Avocado
Lemon wedges
👩‍🍳 How to make homemade hummus
If you've never made your own hummus before, I'm here to tell you that it's ridiculously easy. All you need is a food processor (a blender should work, too) and a few ingredients. But, of course, if you don't want to make your own, you can certainly use store-bought hummus and make these breakfast bowls even easier!
Start by putting your tahini and lemon juice in the food processor and blending for about 2 minutes.
Then add in the extra-virgin olive oil and salt, pepper, and cayenne and blend for another minute. Adding your ingredients in this order will help ensure your hummus is extra creamy!
Then it's time to add in your chickpeas. If you want the creamiest hummus ever, I recommend taking the skins off your chickpeas. However, you can still get pretty creamy hummus with the skins on and I think they're a huge pain to remove, so definitely don't worry if you're short on time.
Process chickpeas for another two minutes. Then add in chopped parsley and blend to combine.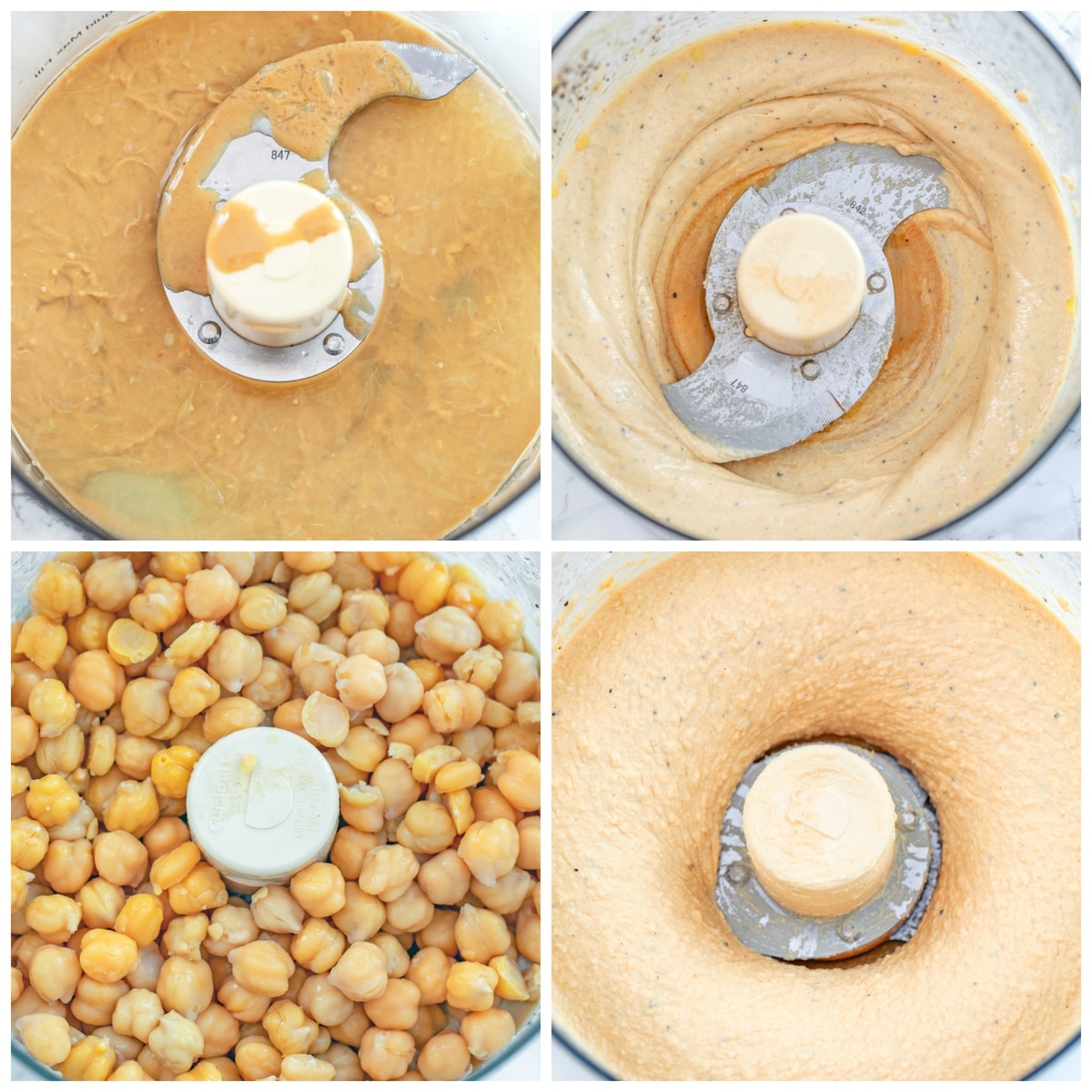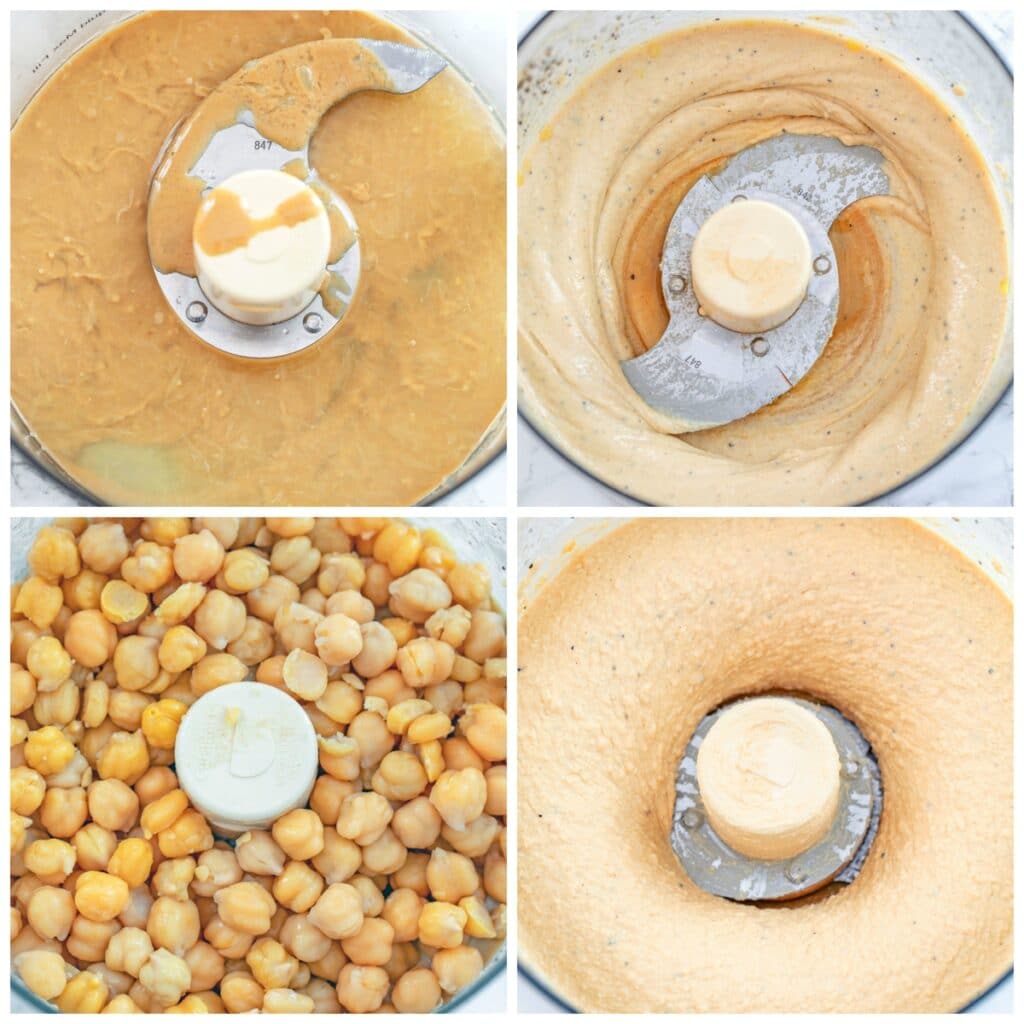 Finally, add in water and process again. The water will help make your hummus super creamy!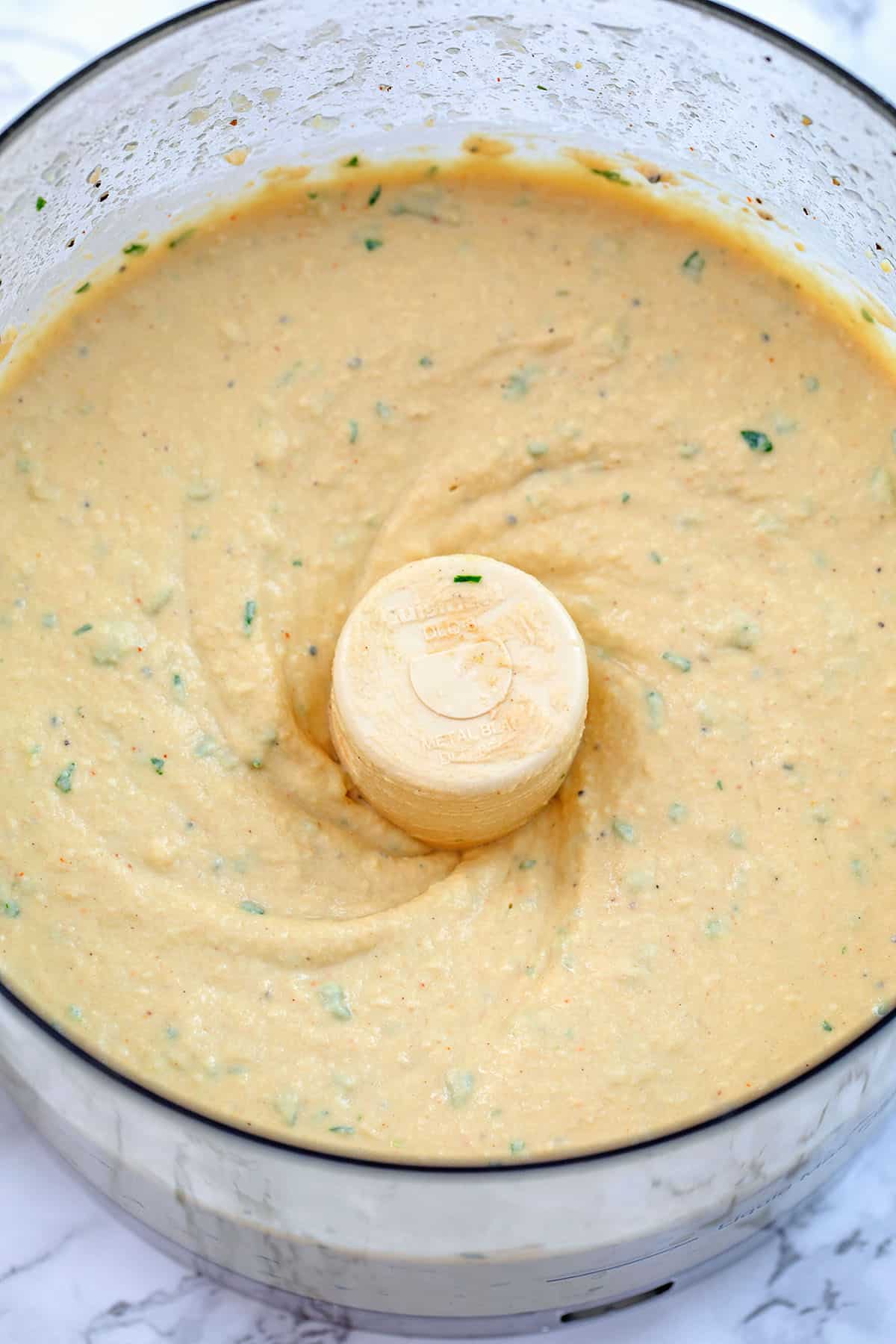 🍳 How to assemble hummus breakfast bowls
Now that your hummus is made, you're ready to assemble your hummus breakfast bowls! First, divide hummus into four bowls. And then add on the toppings!
I added crispy bacon, massaged kale, sliced avocado, crumbled feta, and the perfect soft-boiled egg.
Of course, you can add anything that sounds good to you or omit anything I included. But I feel like these ingredients made for the most perfect breakfast. I love meals where I can have a little taste of multiple things and also enjoy a mix of healthy and indulgent.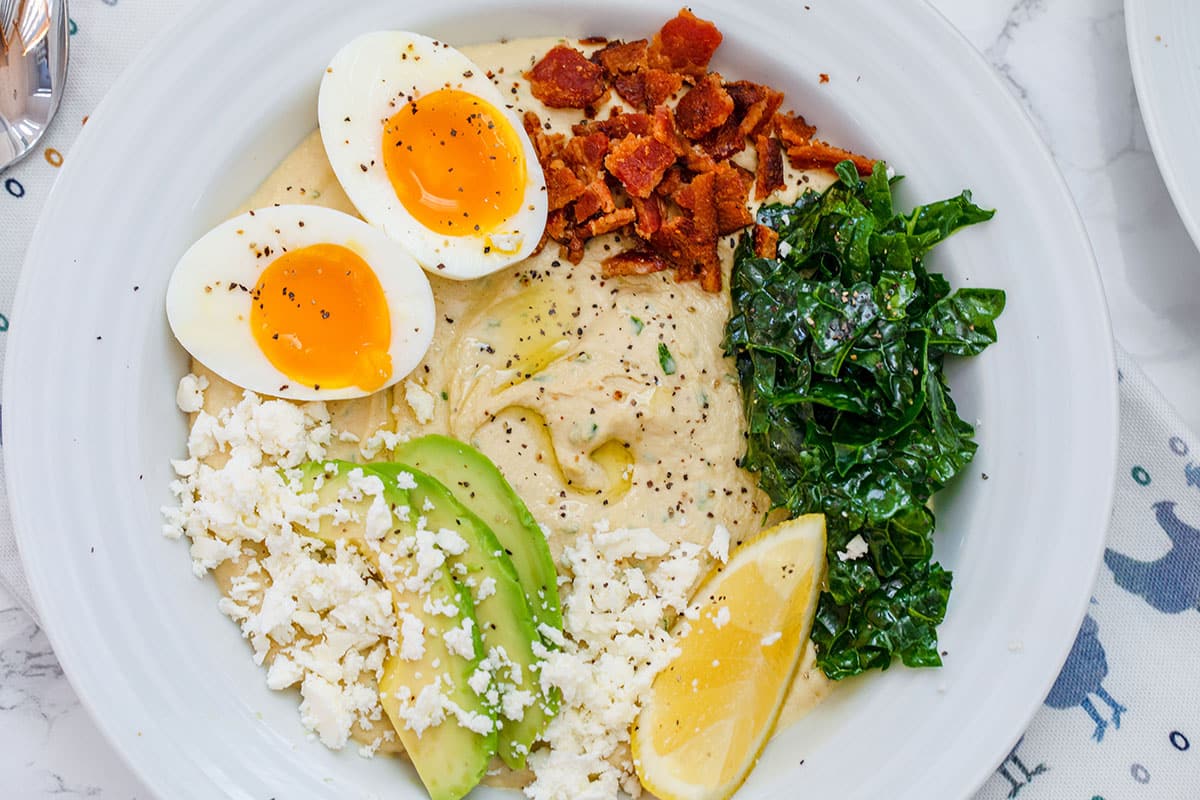 It also makes me happy that there's so much protein in this bowl... Not to mention lots of healthy fats and some vitamins, too! Starting your day with this powerhouse of ingredients is so much better than starting it with a bowl of cereal or a breakfast bar.
Plus, it's so much more delicious!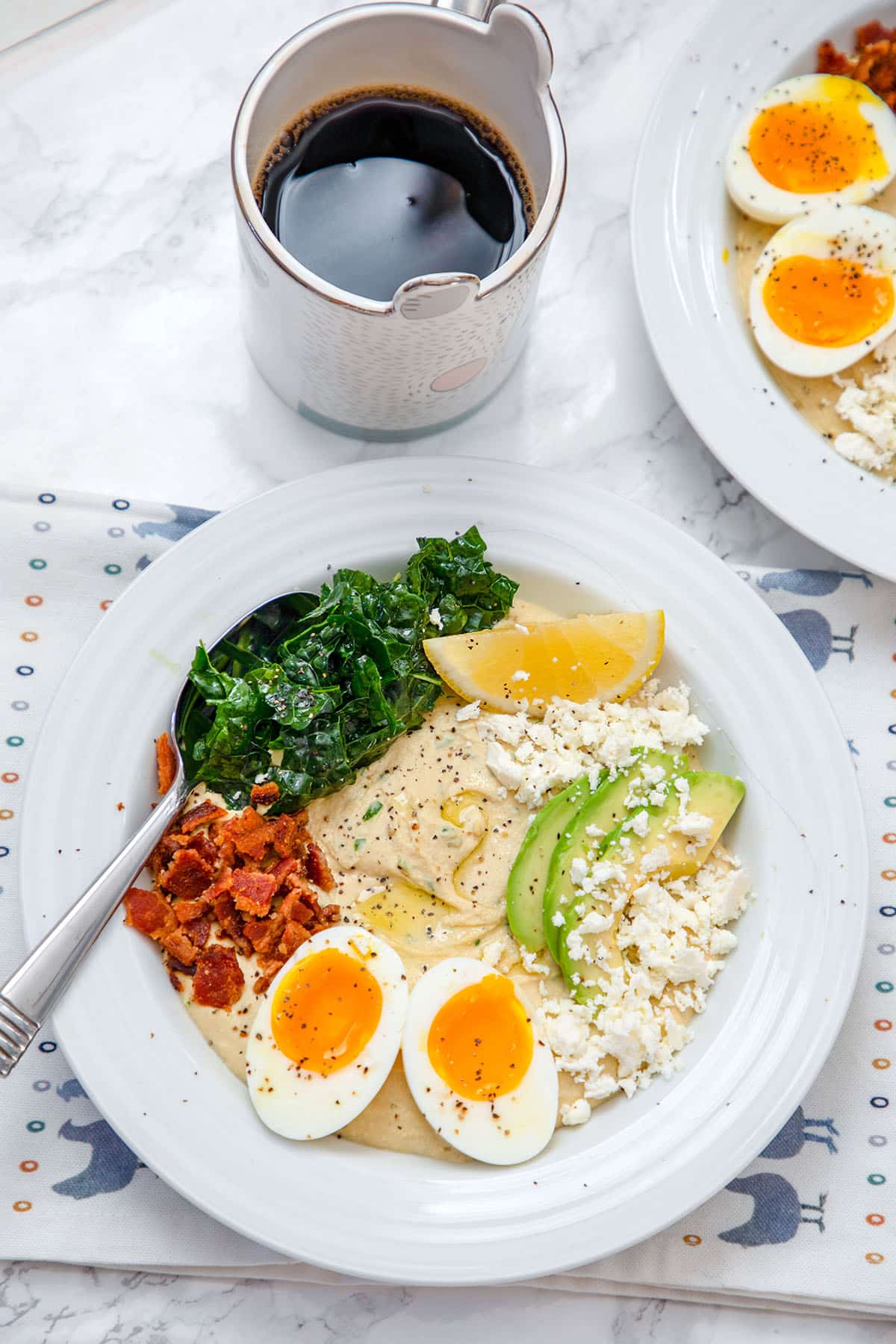 I'm actually kind of sad that I've lived 30-something years of life without ever considering hummus a breakfast food. If I worked in an office, I'd so be packing a hummus breakfast bowl in tupperware and toting it along with me.
It's super easy to prep all of these ingredients ahead of time and just assemble the bowls when you're ready to eat.
🎉 Variations on recipe
Like I mentioned, these are all of the toppings that I love best, but there are so many food you could use to top this hummus breakfast bowl with! Here are some ideas:
Additional vegetables: In addition to kale and avocado, you can use cucumber, bell pepper, sweet potato, eggplant, zucchini, and more.
Other cheese: If you don't care for feta cheese, you can use goat cheese, shredded cheddar, parmesan, or the cheese of your choice.
Other protein sources: Instead of adding an egg, try smoked salmon, grilled chicken, tofu, or sliced turkey. You could even use quinoa.
Additional Greens: If you don't like kale, try spinach or arugula.
Herbs and spices: There's parsley in this hummus, but you could also add (or replace the parsley with) basil, mint, or chives. Additional spices like cumin, chili powder, or paprika would be good, too.
Nuts: You can add chopped pistachios or almonds. Sesame seeds or pumpkin seeds would be tasty, too.
Olives: Olives would have been so perfect in this hummus bowl and the next time I make it, I'm definitely using them!
Other hummus flavors: If you don't like the idea of lemon parsley hummus, you can use any flavor you want. Roasted red pepper or olive would be good choices. Of course, you can use garlic, too- just keep in mind this is breakfast!
🥞 More unique breakfast ideas:
I love that these hummus breakfast bowls step outside the ordinary when it comes to morning meals. Here are some of my other favorite unique breakfasts!
Oh, and if you'd rather not eat hummus in the morning, these hummus breakfast bowls also make a fabulous breakfast for dinner. I should probably just call them hummus any time bowls!
Have you ever had hummus for breakfast?
📖 Recipe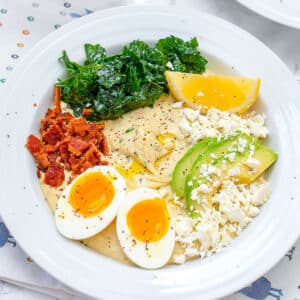 Hummus Breakfast Bowl
Hummus for breakfast? Sign me up! These Hummus Breakfast Bowls are packed with delicious flavor and the protein you need to get through your morning!
Print
Pin
Rate
Ingredients
Lemon Parsley Hummus
½

cup

tahini

½

cup

freshly squeezed lime juice

¼

cup

extra-virgin olive oil

½

tsp

salt

½

tsp

pepper

¼

tsp

cayenne

1

29-oz. can

chickpeas,

drained and rinsed

3

Tbsp

finely chopped parsley

5

Tbsp

cold water
Hummus Breakfast Bowl Assembly
4

large eggs

2

cups

kale,

roughly chopped with ribs removed (I prefer Tuscan kale)

1

tsp

olive oil

1

tsp

lemon juice

4

slices

crispy bacon,

crumbled

4

Tbsp

crumbled feta cheese

1

avocado,

peeled, pitted, and sliced

Lemon wedges,

for garnish
Instructions
Lemon Parsley Hummus
Put tahini and lemon juice in a food processor and blend for about 2 minutes, until tahini is nice and creamy.

Add extra-virgin olive oil, salt, pepper, and cayenne to food processor and blend to combine.

Add chickpeas to food processor and process for another 2 minutes until smooth.

Mix in parsley and then add in cold water and blend until hummus is creamy.
Hummus Breakfast Bowl Assembly
For soft-boiled eggs: Bring a large pot of water to a boil. Carefully drop eggs into the pot and bring water back to a boil. Let eggs boil for 6-7 minutes. Immediately drain and place eggs in a bowl of ice cold water (to stop them from cooking more. Peel eggs and slice in half.

For kale: Place kale in a large bowl along with olive oil and lemon juice. Using your hands, gently massage kale for 2-3 minutes to soften.

Divide hummus between four bowls. Top each with sliced eggs, kale, crumbled bacon, crumbled feta cheese, and sliced avocado. Add lemon wedge for garnish.
Notes
If you don't want to make your own hummus, you can use store-bought hummus.
Share a Photo of Your Finished Recipe!
Mention @wearenotmartha and share a photo if you've made the recipe!