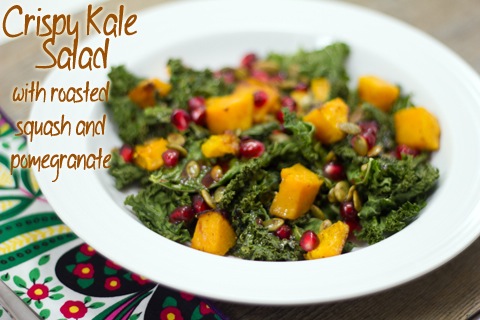 Sometimes I imagine that there's someone out there who makes every single recipe I put on the blog. They're probably very nice, but a little bit creepy in that they wait for me to post before deciding what to have for dinner. Kind of stalkerish if you ask me. However, sometimes this is what gives me that extra push to get my post up when I occasionally would rather stare blankly at The Bachelorette or sit on the couch and put things in my shopping cart on Nordstrom.com and imagine that my credit card can handle the check out. This imaginary person needs to eat and they're counting on me to post. And so I carry on.
It's this imaginary person who also encourages me to post a healthy recipe from time to time. I put brussels sprouts in my grilled cheese for this imaginary person because I worry. And now I'm worried that he or she has been eating a little too much ice cream in the past week, what with my gingerbread ice cream followed by my malted candy cane milkshake. Their blood sugar is probably out the roof and they are seriously lacking vitamins. So, here's to you, imaginary person. Please, get yourself to the grocery store and pick up the ingredients you need to make this crispy kale salad with roasted butternut squash and pomegranate. There's even a little pomegranate vinaigrette to top it with. Your body will thank you. And I promise there will be more ice cream soon. It is the holiday season, after all.
In all seriousness, I've been craving kale like crazy, but I wanted it to be a little crunchy. Not like kale chip crunchy, but a little bit crispy. I wanted to be festive so I made a salad with Christmas colors. Really, it just worked out that way, but I'm happy it did! This is a multi-step salad, but worth every step!
Crispy Kale Salad with Butternut Squash and Pomegranate (serves 4):
Print this recipe!
2 C cubed butternut squash
Extra-virgin olive oil (I used Colavita), used throughout the recipe
¼ C pumpkin seeds
1 t cumin
1 large buch kale, stems removed and leaves sliced
¼ C pomegranate juice
1 T white wine vinegar
⅓ C pomegranate arils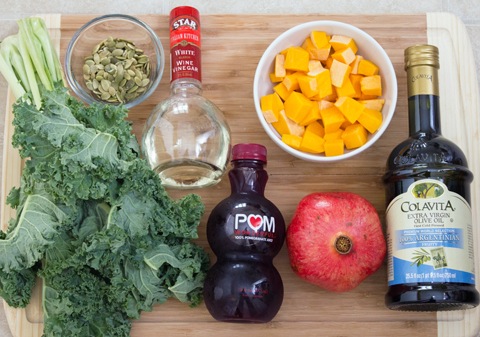 The squash is a good place to start as it can often take a long time to bake. Since I bought a peeled halved squash and diced it before roasting, it was actually pretty quick and easy. I simply tossed it with 1 T extra-virgin olive oil and sprinkled it with salt and pepper. Then I set it on a foil-covered baking sheet and roasted at 425 degrees for about 20 minutes, turning it halfway through.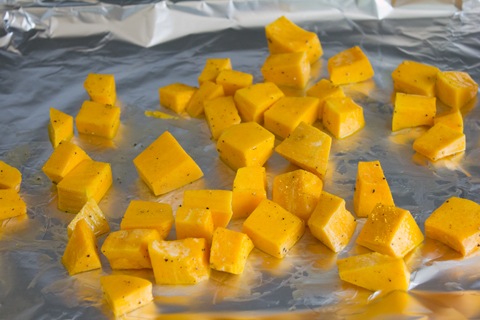 I'm still loving my shipment of Colavita olive oils and for this meal I used the 100% Argentinian Fruit Extra Virgin.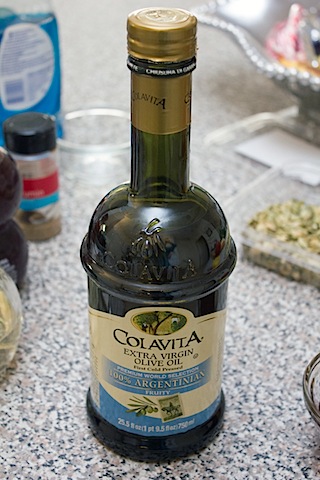 I liked that the description said it had "an intense fruity aroma and taste" and thought it would complement this dish perfectly. Good thing it did because I used quite a bit of it 🙂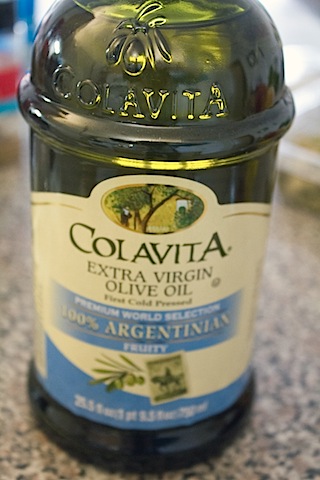 When your squash is done, remove from oven and let cool. I didn't want this to be a hot salad.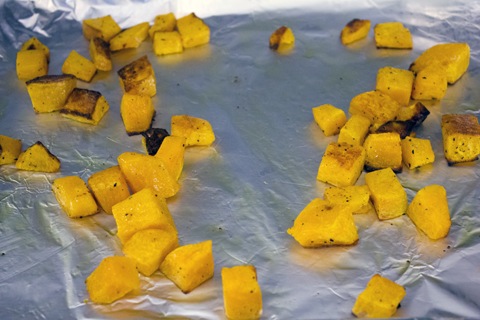 At this point, I lowered my oven temperature to 250 degrees.
In the meantime, I tossed my pumpkin seeds with a little bit of olive oil, 1 t cumin, and salt and pepper.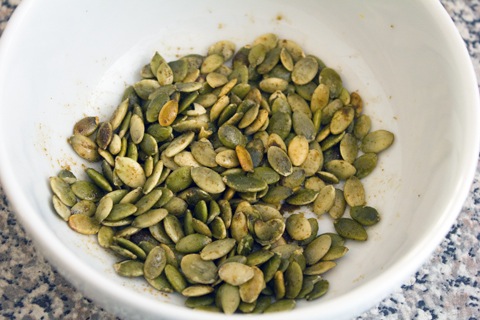 And I baked my pumpkin seeds in my mini oven at 300 degrees for 20-25 minutes, keeping a close eye on them.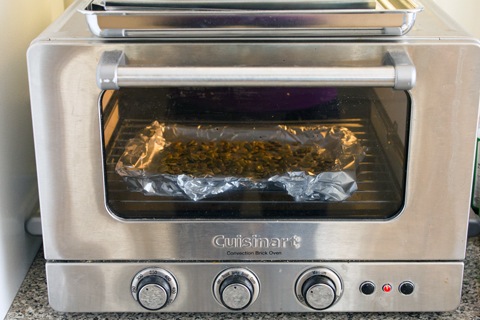 You could definitely do the pumpkin seeds ahead of time. Or even toast them (just be sure to watch closely as they can toast [and burn!] quickly). Since you need the oven set at 3 different temperatures for this recipe, it's worth it to do things ahead. Alternately, you could toast these at 250 degrees with the kale and just leave them in the oven a little longer.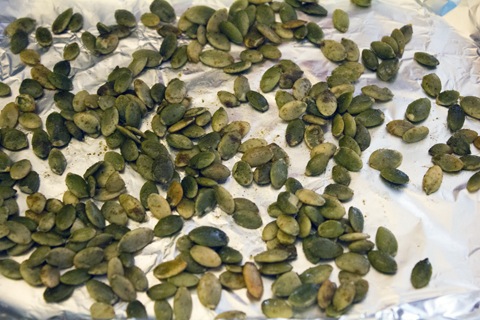 Wash and trim kale and lay it in a single layer on a foil-covered baking sheet. You'll probably need two large baking sheets! Brush the kale lightly with more olive oil.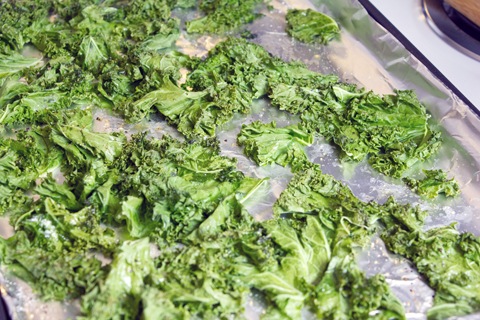 Once the oven gets down to 250 degrees, pop the kale in and bake for about 30 minutes, checking it every now and then.
It will shrink up in a major way! Womp womp.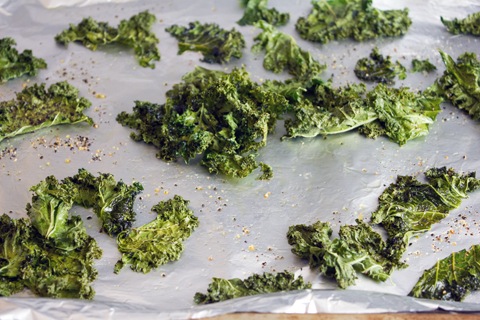 While kale is baking, mix ingredients for vinaigrette together. I used ¼ C pomegranate juice (POM!), 1 T olive oil, and 1 T white wine vinegar.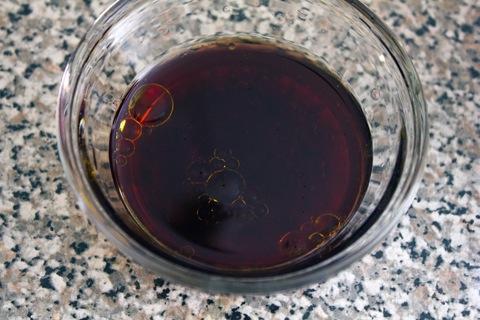 When kale came out of the oven, I let it cool a bit.
Then I put it in a couple bowls and topped with butternut squash, cumin pumpkin seeds, and pomegranates. And drizzled some pomegranate vinaigrette over the top.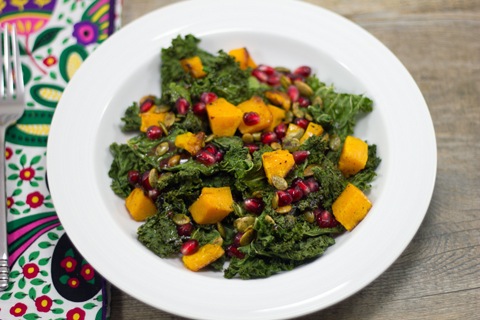 Instantly, every bite of ice cream you've eaten over the past two weeks will disappear from existence. And your hips.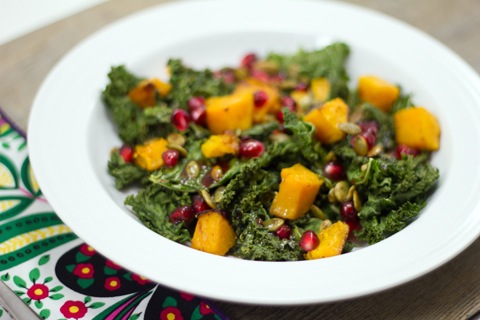 Not really. But at least you'll be getting some vitamins that ice cream can't provide?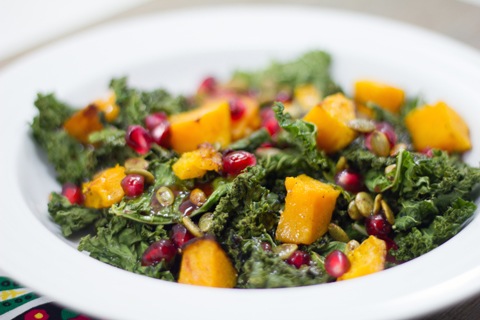 I feel like I judge many of my meals on the "what did Chris say/act like" when he was eating it method. But it works because a) he's a tough critic and b) it takes a lot for him to get excited about food. I think he was skeptical of me as I was in the kitchen making this.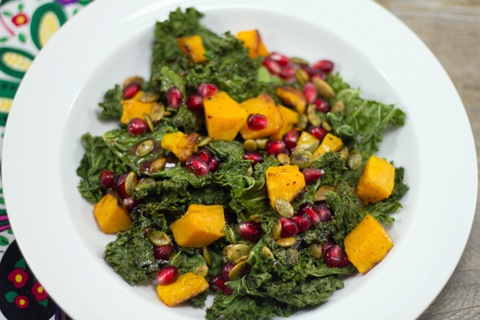 I told him, "you don't have to eat it…" but he wanted to try and literally licked his bowl clean. He also declared it "the best salad I've ever eaten," which I'm declaring as a victory in my book.
There's nothing unhealthy about this!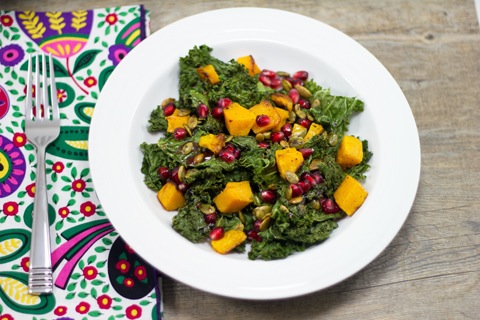 To be honest, my original intent was to put goat cheese in this, but somehow goat cheese never made it into my shopping cart and I didn't realize it until I was already knee-deep in kale.
No matter. No matter at all. For once, I didn't need cheese.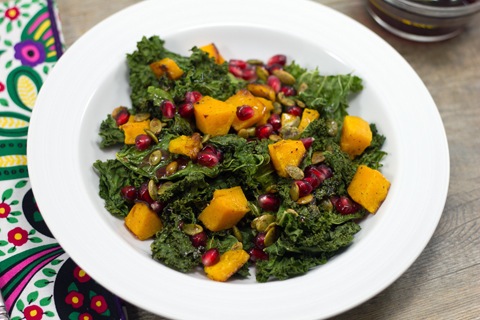 The kale was exactly how I wanted it. Almost to chip-level, but still fit for a salad. The squash tasted almost caramelized and pomegranates are also welcome in my life. The pumpkin seeds added an extra spiceful kick, without overwhelming.
And the dressing was perfectly tart and acidic to mix things up.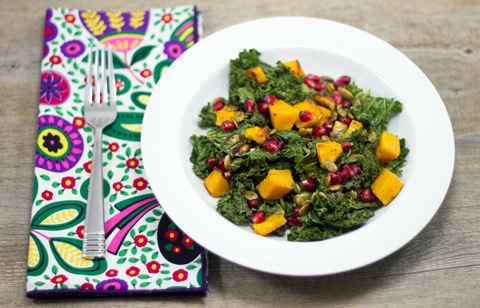 If this recipe wasn't so many darn steps, I'd be eating it for lunch every single day. As it was, we didn't have any leftovers and I was chock out of kale and squash.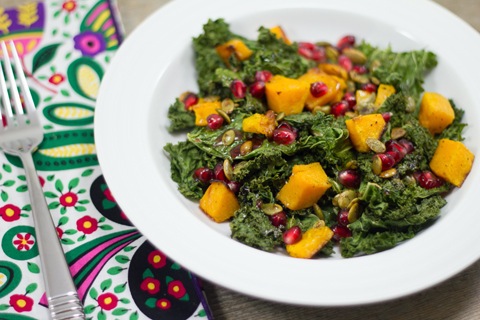 So now I'll dream about it until next time. And maybe eat some ice cream in the meantime.
You're welcome, imaginary person reading my blog and making every recipe on it. I forced you away from the ice cream and into a salad. I think some day you'll thank me.
What's your favorite way to get some vitamins and nutrition into your diet?
[Sues]