Cookies or doughnuts? How could you possibly decide the better dessert? With these Doughnut Sugar Cookies, you don't have to! Serve your doughnuts up in sugar cookie form. They're easy to bake and decorate!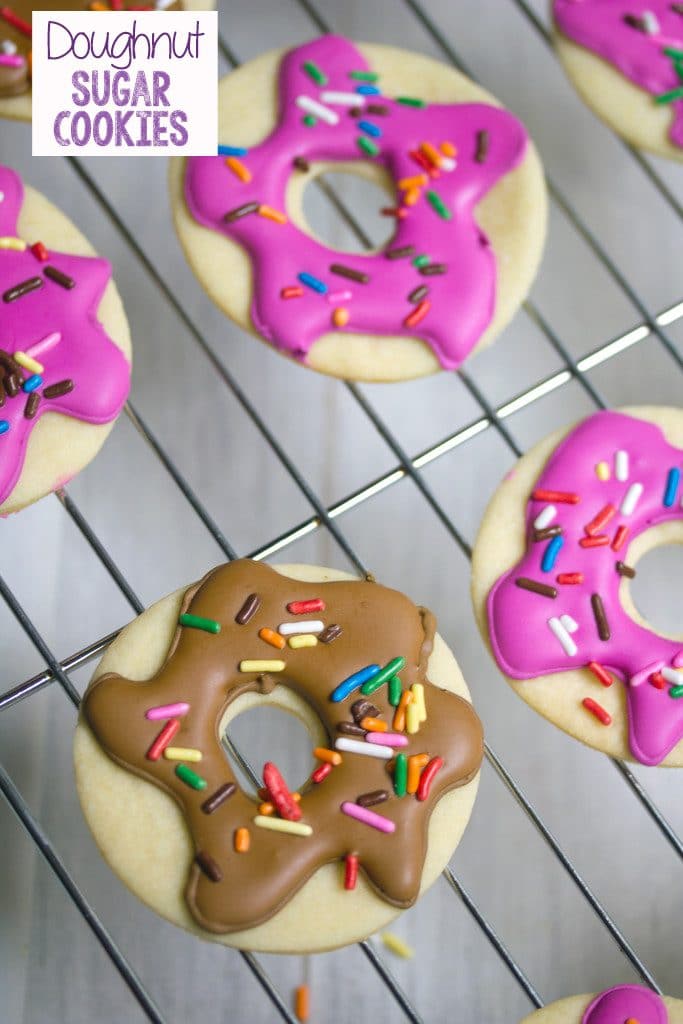 These doughnut cookies were actually a mistake. But one of those crazy beautiful mistakes that you later realize was totally meant to be. Like when you accidentally buy 2% fat Greek yogurt at the grocery store and then realize that it tastes so much better and keeps you full so much longer than fat-free (TRUE STORY). Sometimes mistakes are blessings.
When I'm not feeling a lot of recipe inspiration, I often just get in the kitchen and start cooking or baking to see what happens. And I really wanted to bake something up so I could utilize these beauties (affiliate link):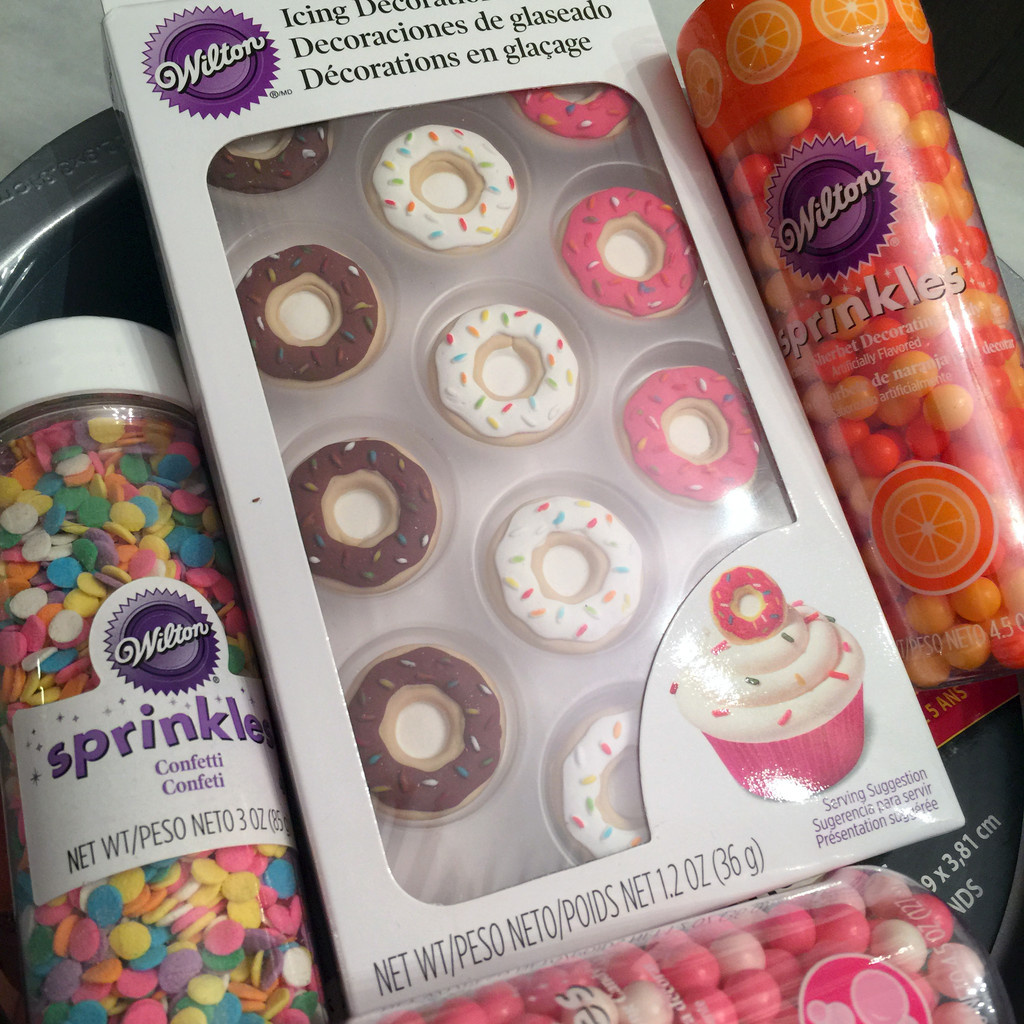 And I got the brilliant idea of adding them to doughnut-shaped cookies. But then I baked the cookies and well, I realized that putting doughnuts on doughnuts would just be silly. But then I realized that I really loved how the cookies came out. The doughnut icing decorations are still sitting in my pantry… But these cookies are sitting in my tummy. That's what I'm calling an awesome mistake.
DOUGHNUT SUGAR COOKIES RECIPE
The doughnut cookies are made with a simple sugar cookie batter. My favorite recipe because it's easy and pretty much fool-proof.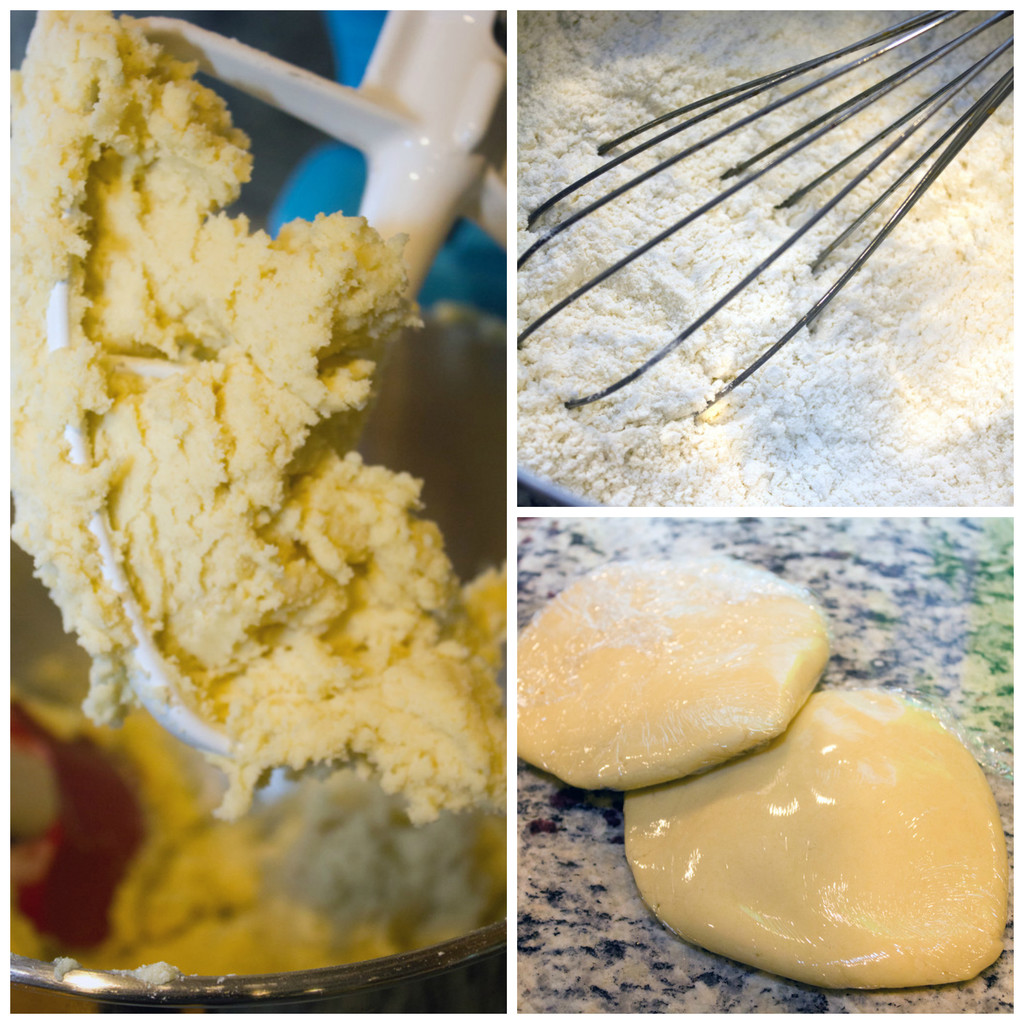 You just need a round cookie cutter and a pastry tip to cut out the center of the doughnut. Save them for Munchkins if you want! But probably not because a tiny circle cookie does not even come close to the joy that is a Munchkin.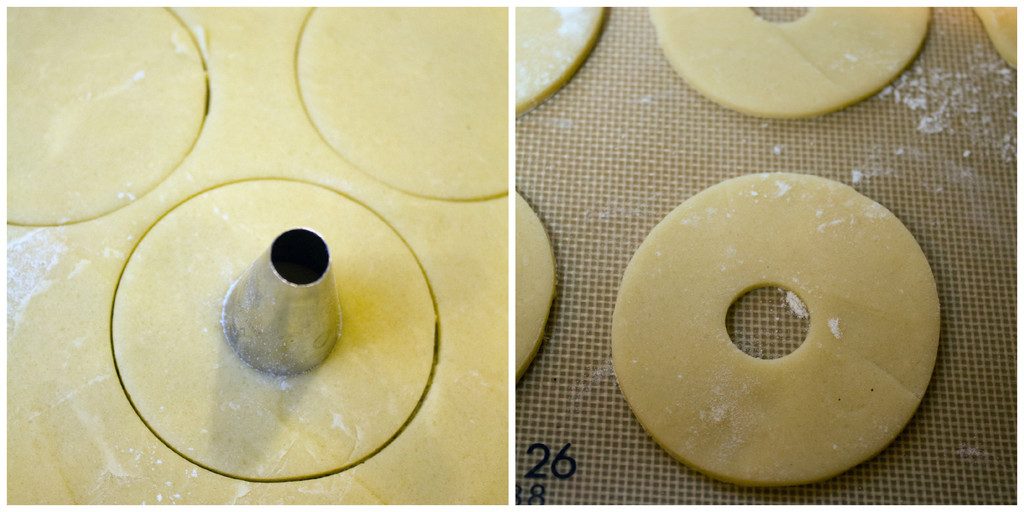 Luckily these doughnut sugar cookies do come close to the joy that is a doughnut. Sometimes I wonder if you polled a group of people on any given day, would they opt for a cookie or a doughnut? I'd probably guess cookie only because the world seems to be filled with traditionalists. But I don't think doughnut would be too far behind. I hate to choose, but I do think I'd be on team doughnut.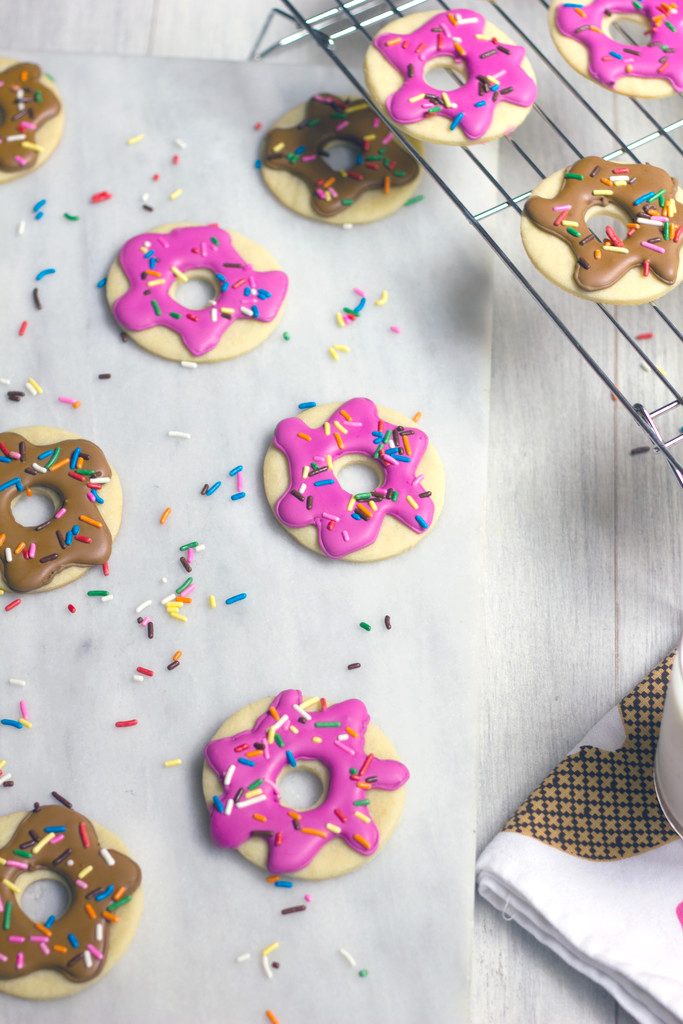 Yes, these are most definitely the things I think about in my downtime. Or really in my uptime when I'm supposed to be thinking about other "more important" things. But really, what's more important than the cookie vs. doughnut debate?
I should tell you that I cheated a little and use Wilton's Royal Icing mix (affiliate link) for the frosting. It was so easy to mix and so worth it. All you need to do is add water and color.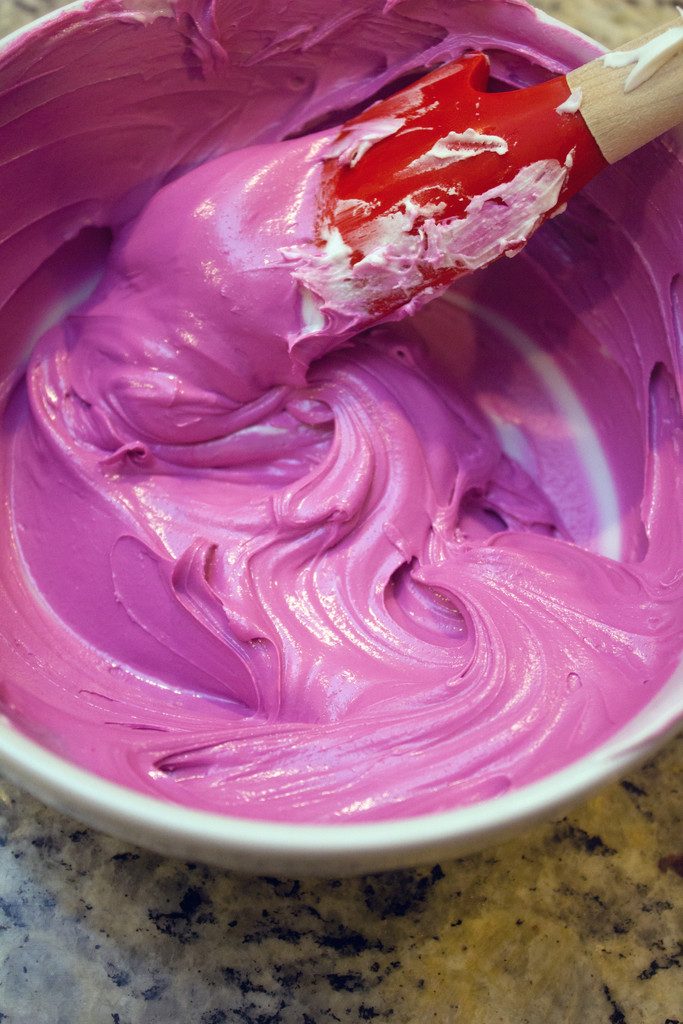 Really, the biggest deterrent to making sugar cookies is the hassle of the icing. Especially when you're making a couple different colors and want a thicker icing to outline the cookie and a thinner icing to flood it.
It's enough to make me say no thanks to sugar cookies. So, anything that makes cookie decorating a little bit easier is so very welcome into my life and kitchen.
Especially when you end up with such fun treats like these.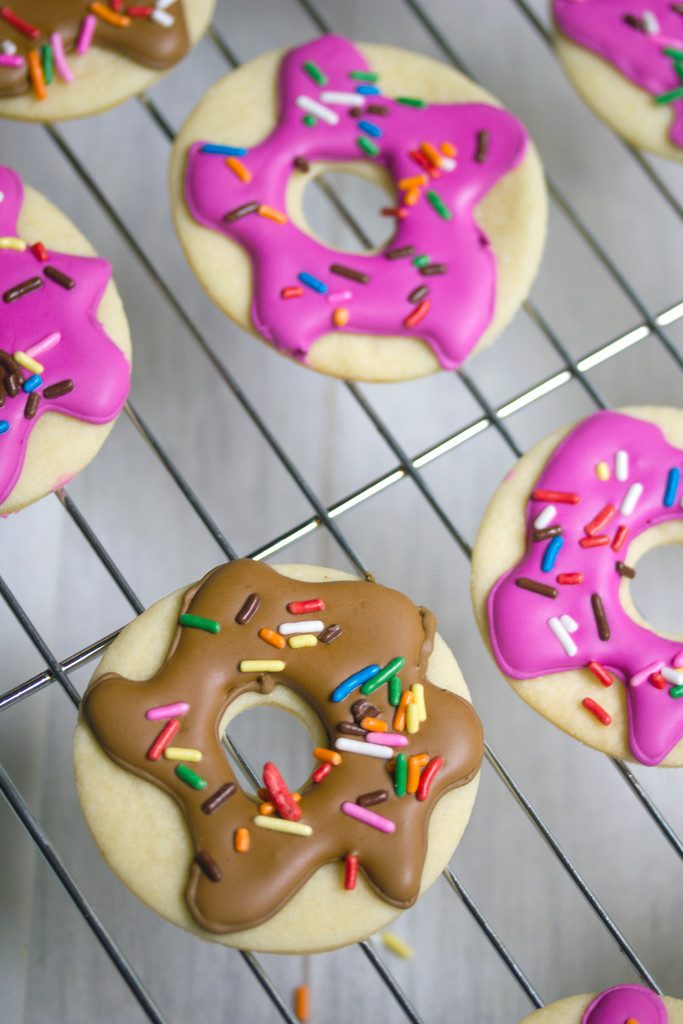 Perfecting my sugar cookie game has been a longtime goal, so I try to make them whenever I have the chance and a little extra time in my schedule. I've still been keeping them fairly simple, but simple definitely doesn't have to mean boring.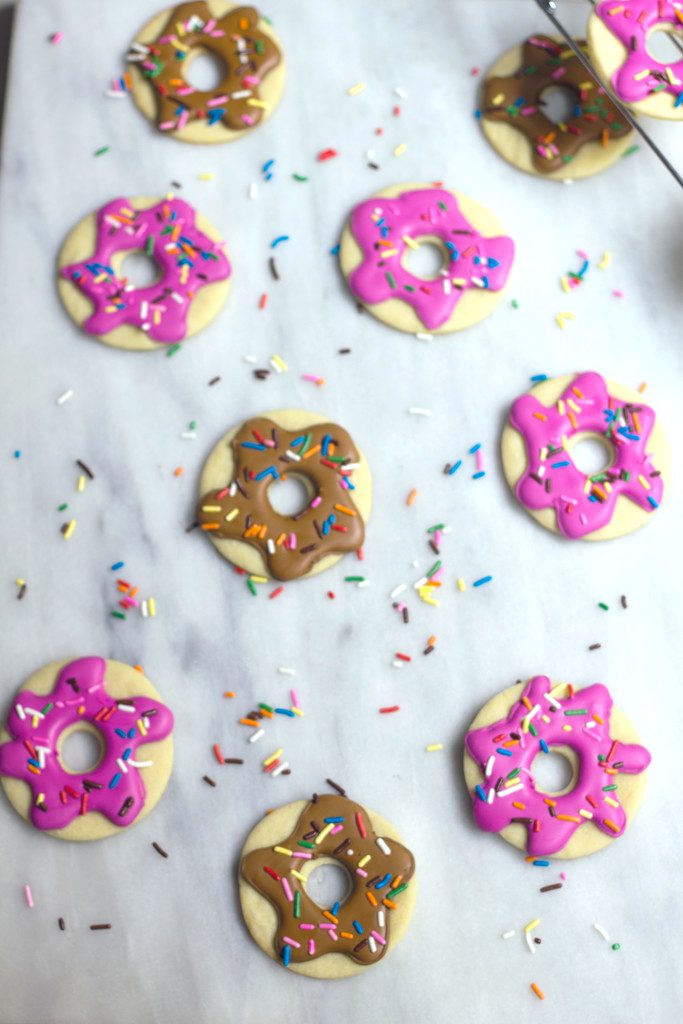 I'm almost certain I could eat a dozen of these doughnuts. I mean cookies. I mean doughnut cookies.
Especially if they're strawberry and chocolate frosted and loaded up on sprinkles. Only because I have no idea how to go about making a Boston creme doughnut cookie.
An apple cider doughnut cookie wouldn't look quite as appealing either. Not to brag, but I think I turned the very best doughnuts into cookies here. Jelly doughnuts are delicious, but they just wouldn't translate well.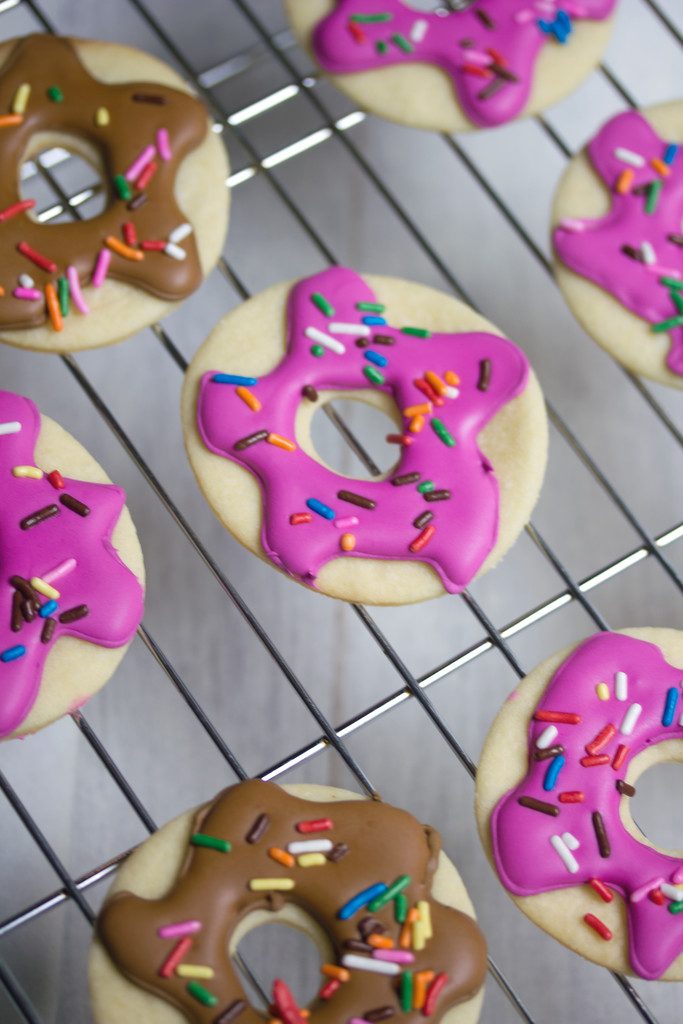 The only problem? I still have those pretty doughnut icing decorations sitting in my pantry (I know… If that's really a problem, my life must rock).
Something tells me I'm going to end up making doughnut cupcakes (a mini doughnut atop a cupcake will look SO much cuter than mini doughnuts atop doughnut cookies…) unless somebody can offer me a better idea ASAP.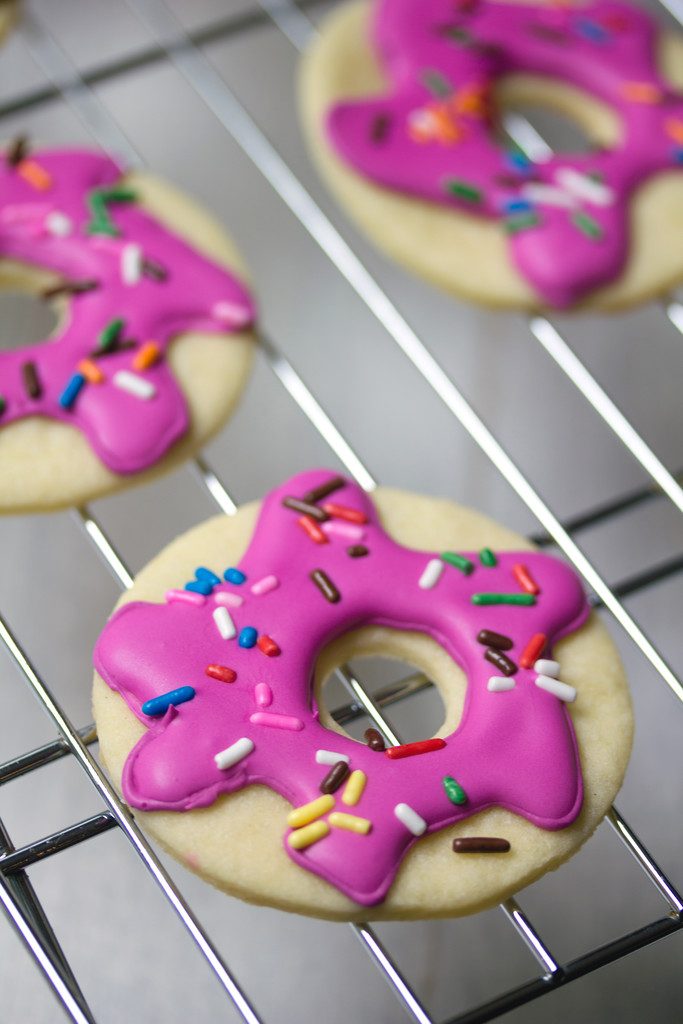 Thank goodness it's essentially impossible for me to get sick of doughnuts. In absolutely any form. Feel free to test me on that.
Would you choose a cookie or a doughnut? Or would you opt for a doughnut cookie, too?
If you like these Doughnut Sugar Cookies and want some more fun desserts, check out my Rainbow Sherbet Cookies and my Peeps Sandwich Cookies. And if you're still in the mood for donuts, check out these Cereal Donuts from Baran Bakery.
Print Recipe
Doughnut Sugar Cookies
Cookies or doughnuts? How could you possibly decide the better dessert? With these Doughnut Sugar Cookies, you don't have to! Serve your doughnuts up in sugar cookie form. They're easy to bake and decorate!
Ingredients
2

cup

all-purpose flour

1/2

tsp

baking powder

1/4

tsp

salt

1/2

cup

(1 stick) unsalted butter, room temperature

1

cup

granulated sugar

1

large egg

1

tsp

vanilla extract

2

Tbsp

milk

Royal Icing

(see below)

Colored sprinkles
Royal Icing
1

box Wilton Royal Icing Mix

Water

Food coloring
Instructions
Whisk together the flour, baking powder, and salt. Set aside.

In a stand mixer (or with a hand mixer), blend together butter and sugar, until light and fluffy.

Add egg, vanilla, and milk to the mixture and mix to combine.

Turn mixer to low and add the flour. Mix until just blended, being careful not to over-mix.

Divide dough into two and flatten each half into a disk. Wrap in plastic wrap and stick in the fridge for at least an hour.

Pre-heat oven to 350 degrees.

On a floured surface working with one dough disc at a time, roll the dough to 1/8-inch thickness. Using a round cookie cutter or biscuit cutter, cut circles from dough and set onto parchment covered cookie sheet. You can re-roll the dough out to form more cookies if you'd like.

Bake cookies for 8-10 minutes at 350 degrees, until lightly golden. Move to wire rack to cool and don't frost until completely cooled.

Using thicker icing, pipe the outline of the doughnut frosting around the cookie.

Using thinned out icing, flood the cookie inside the the outline. Add sprinkles on top.

Let icing dry.
Royal Icing
In a stand mixer (or with a hand mixer) at medium speed, beat royal icing mix with about 3 Tbsp of water for about 6-9 minutes, until stiff peaks form.

You can continue to add water, 1 tsp at a time, until desired consistency is reached. A thicker icing should be used to draw outlines on cookies. More water should be added (1 tsp at a time) to thin icing out for flooding cookies.

Icing can be stored in an airtight container at room temperature for up to five days.