Cookies or doughnuts? How could you possibly decide the better dessert? With these Doughnut Sugar Cookies, you don't have to! Serve your doughnuts up in sugar cookie form. They're easy to bake and decorate!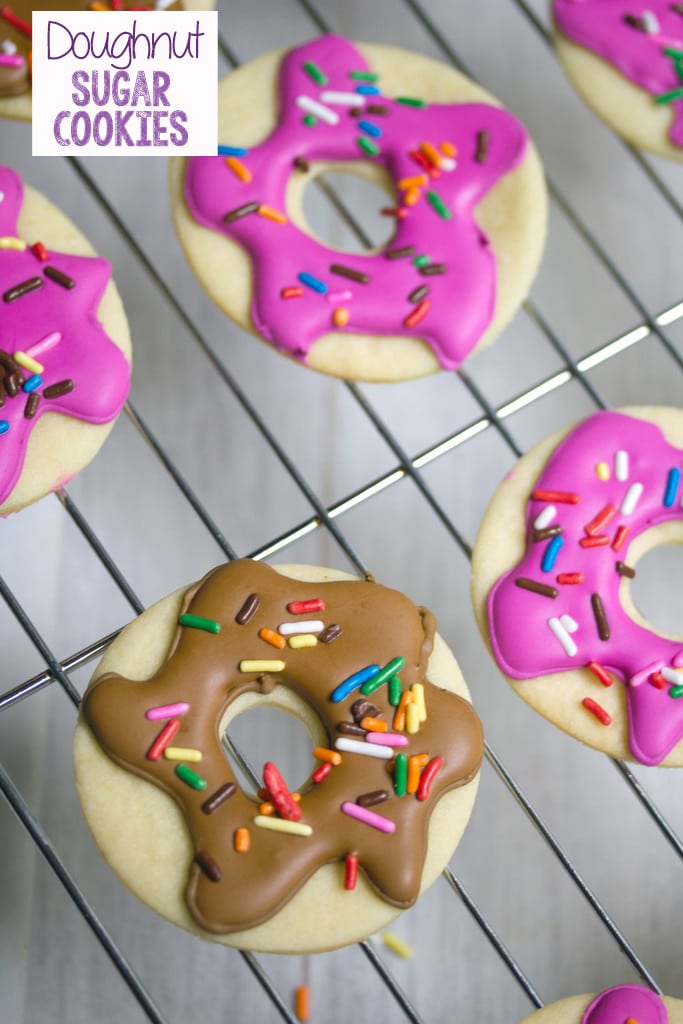 These doughnut cookies were actually a mistake. But one of those crazy beautiful mistakes that you later realize was totally meant to be. Like when you accidentally buy 2% fat Greek yogurt at the grocery store and then realize that it tastes so much better and keeps you full so much longer than fat-free (TRUE STORY). Sometimes mistakes are blessings.
When I'm not feeling a lot of recipe inspiration, I often just get in the kitchen and start cooking or baking to see what happens. And I really wanted to bake something up so I could utilize these beauties (affiliate link):
And I got the brilliant idea of adding them to doughnut-shaped cookies. But then I baked the cookies and well, I realized that putting doughnuts on doughnuts would just be silly.
But then I realized that I really loved how the cookies came out. The doughnut icing decorations are still sitting in my pantry… But these cookies are sitting in my tummy. That's what I'm calling an awesome mistake.
How to Make Doughnut Sugar Cookies
The doughnut cookies are made with a simple sugar cookie batter. My favorite recipe is easy and pretty much fool-proof.
To start, whisk together the flour, baking powder, and salt. Set aside.
In a stand mixer (or in a large bowl with a hand mixer), blend together butter and sugar, until light and fluffy. Add egg, vanilla, and milk to the mixture and mix to combine.
Turn mixer to low and add the flour. Mix until just blended, being careful not to over-mix.
Divide dough into two and flatten each half into a disk. Wrap in plastic wrap and stick in the fridge for at least an hour. Chilling the dough is important, so don't skip this step!
Now, preheat the oven to 350 degrees and on a floured surface working with one dough disc at a time, roll the dough to ⅛-inch thickness.
Using a round cookie cutter or biscuit cutter, cut circles from dough and set onto parchment covered cookie sheet. You can re-roll the dough out to form more cookies if you'd like.
What to do with those little doughnut centers? Save them for Munchkins if you want! But probably not because a tiny circle cookie does not even come close to the joy that is a Munchkin.
Bake cookies for 8-10 minutes at 350 degrees, until lightly golden. Move to wire rack to cool and don't frost until completely cooled.
How to Make Royal Icing for Cookies
I should tell you that I cheated a little and use Wilton's Royal Icing mix (affiliate link) for the frosting. It was so easy to mix and so worth it. All you need to do is add water and color.
A thicker icing should be used to draw outlines on cookies. More water should be added (1 tsp at a time) to thin icing out for flooding cookies. So once you have your thick outlining icing, remove some to a separate bowl and add more water to it to create the thin flooding icing.
Stir food coloring into icing with a toothpick. I recommend using Wilton's Color Right Performance Color System (affiliate link) as it will not affect icing consistency.
If you want to create multiple colors, simply divide icings into more bowls before adding color.
There are obviously a lot of different ways to make royal icing, but if you're looking for a super quick and easy way, I recommend the mix! If you want to make it from scratch, I like this recipe.
How to Decorate Doughnut Sugar Cookies
I should preface this by saying that I am NOT a good cookie decorator. I just don't have the artistic skills needed to decorate cute sugar cookies. But these doughnut sugar cookies? These are easy!
If I can do them, anyone can do them.
Using thicker icing, pipe the outline of the doughnut frosting around the cookie. You just need to make a squiggly "blob" shape... No drawing skills necessary!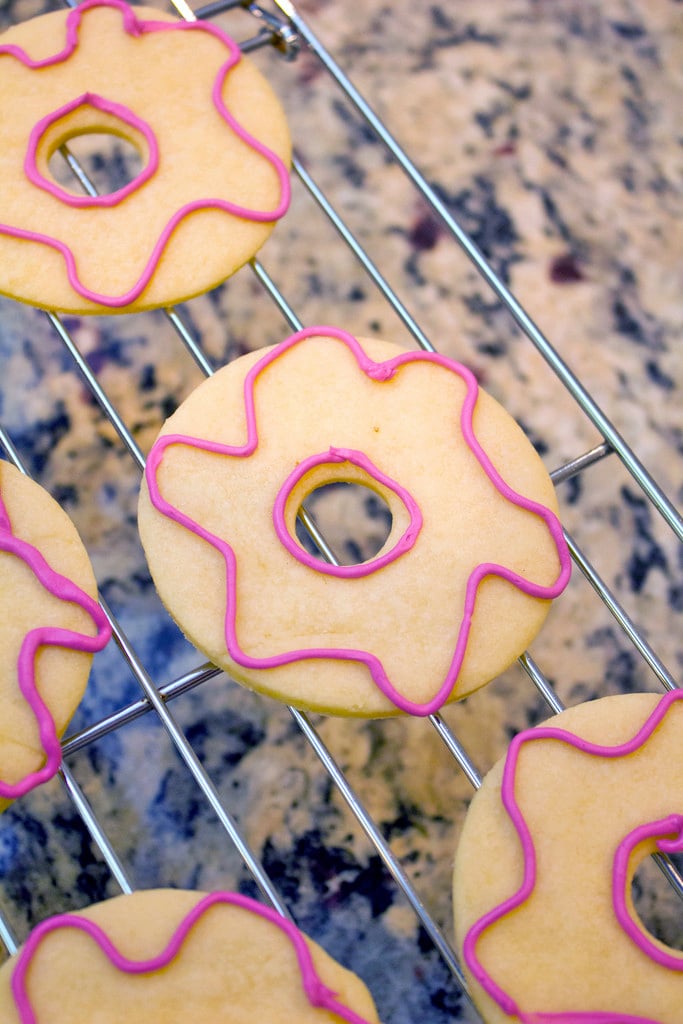 Using thinned out icing, flood the cookie inside the the outline. Add sprinkles on top.
Let dry completely.
And marvel at how you are now a cookie decorator.
Not only are these doughnut cookies adorable... But they also taste delicious! Which is always my goal when making decorated cookies.
So often cookies that look cute don't taste great... But these ones are cute and tasty!
These doughnut cookies would be perfect for a doughnut themed party (which is definitely a party I want to be invited to!).
Perfecting my sugar cookie game has been a longtime goal, so I try to make them whenever I have the chance and a little extra time in my schedule. I've still been keeping them fairly simple, but simple definitely doesn't have to mean boring.
I'm almost certain I could eat a dozen of these doughnuts. I mean cookies. I mean doughnut cookies.
Especially if they're strawberry and chocolate frosted and loaded up on sprinkles. Only because I have no idea how to go about making a Boston creme doughnut cookie.
The only problem? I still have those pretty doughnut icing decorations sitting in my pantry (I know... If that's really a problem, my life must rock).
Thank goodness it's essentially impossible for me to get sick of doughnuts. In absolutely any form. Feel free to test me on that.
More Fun Cookie Recipes
If you like these doughnut cookies and are looking for more fun cookie recipes, check out some of my favorites:
Would you choose a cookie or a doughnut? Or would you opt for a doughnut cookie, too?
📖 Recipe