The other day I had a huge craving for Italian food. And eggplant parmesan sounded perfect. I think I actually Googled "Lighter Eggplant Parmesan" to find something on the healthier side, but I ended up at Simply Recipes and Elise's version of eggplant parmesan looked so good, I totally forgot I had been searching for something light. Oops. Such is life.
Eggplant Parmesan (serves about 8):
2 lbs. eggplant (about 2 large eggplants)
Kosher salt
1 28 oz. can of whole peeled tomatoes
1 clove garlic, peeled and minced
Olive oil
Freshly ground black pepper
1/2 C all-purpose flour
1/2 C fine, dry breadcrumbs
4 large eggs, beaten
1 1/2 lbs. fresh mozzarella, sliced into 1/4-inch rounds
1 C grated parmesan cheese
1 packed C fresh basil leaves
I was also planning on making some whole wheat pasta with the eggplant, but then totally forgot. But it really wasn't missed at all as the eggplant was super filling enough. Or that could have been because I had 3 servings of it. Whatever.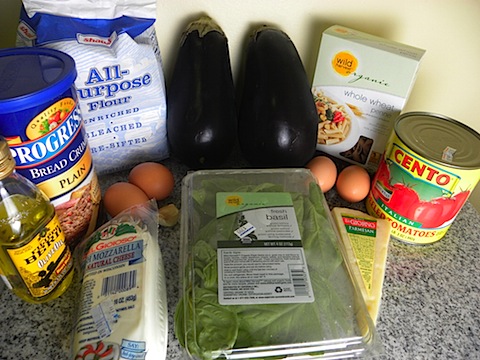 In the recipe, Elise mentioned that people's biggest issue with eggplant parm is that the eggplant has too much moisture and so it soaks up too much olive oil when frying. She tells readers how to drain the eggplant a bit. I cut my slices. And sprinkled a bit of salt on them.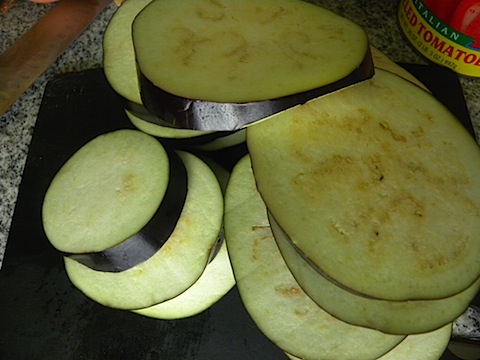 Then put them in a strainer for an hour or so with a plate on top to weigh them down.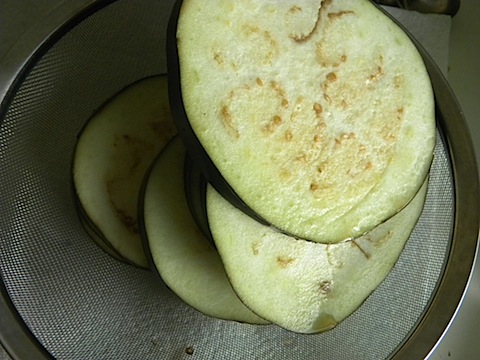 Then I took them out of the strainer after 1.5 hours and pressed down on them with a paper towel.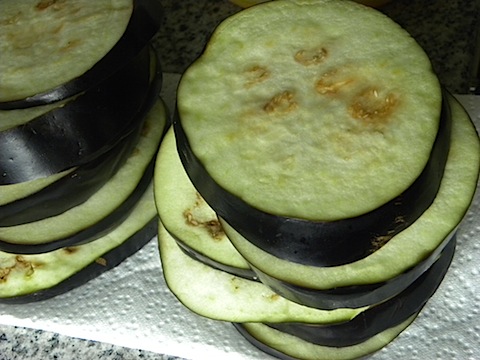 Then I got started on the rest of the dish. My favorite part? I got to use my new Chef'n Garlic Zoom! I put the clove of garlic in it.
And zoomed around a bit. Until it was all nice and minced. Whoo hoo! It worked amazingly well and I'm not gonna lie; it was super fun to use, too!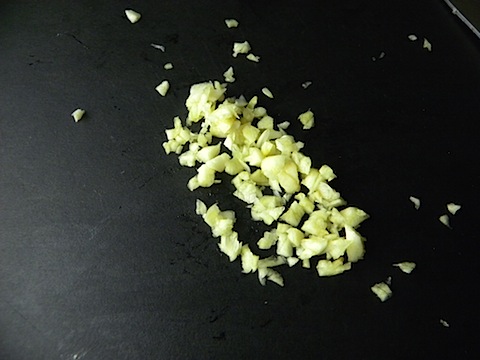 I then made the tomato sauce, but failed to take any photos of it. Combine the tomatoes, garlic, and 1/3 olive oil in a food processor (or blender if you don't have one). Season it with salt and pepper and set aside.
Next, in one bowl add your flour and bread crumbs.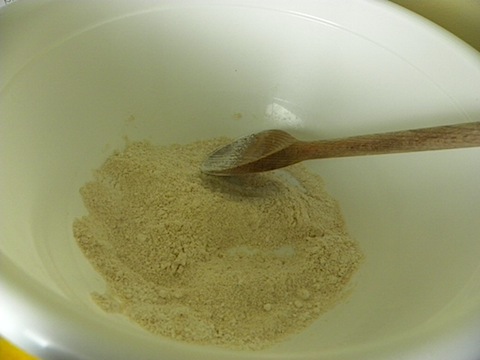 In other, lightly beat your 4 eggs.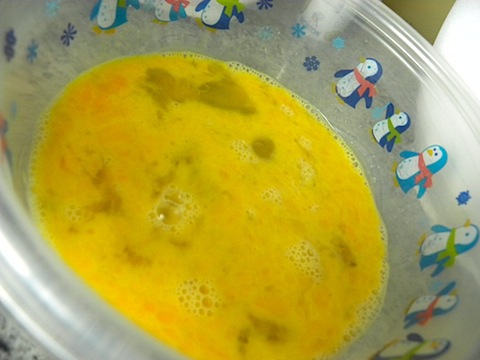 In a large, deep skillet over medium heat, pour in half an inch of olive oil. Dredge a slice of eggplant in the flour mixture and then in the egg mixture. Then put it in the hot oil and fry until it's golden brown on both sides, turning once.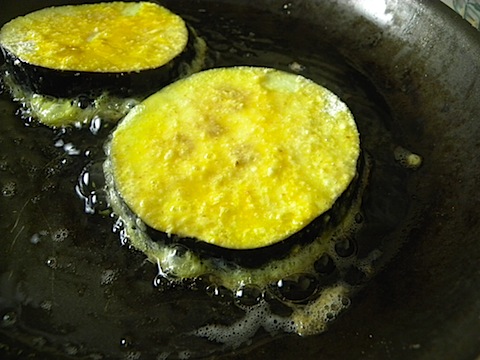 Continue with all your eggplant slices.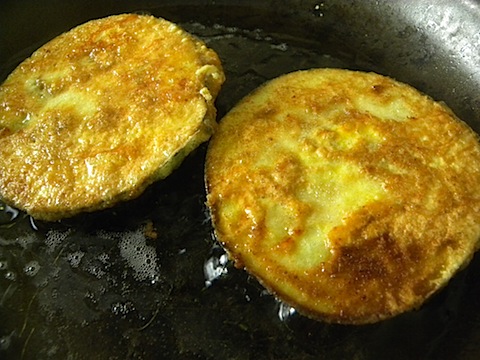 In my mind, there isn't much better than fried eggplant.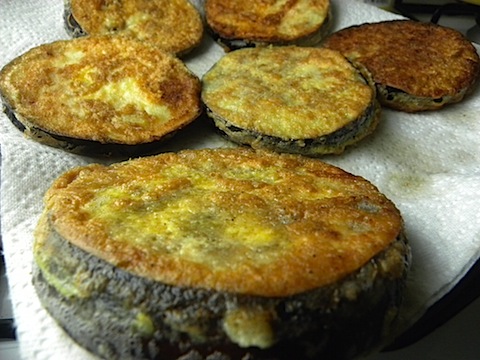 Now pre-heat your oven to 350 degrees. And get out a 10×15 baking dish. For some reason, I could only find a pie plate, so I figured that would work just as well.
Spread 1 C of the tomato sauce on the bottom of the dish. Then layer 1/3 of the eggplant slices and top with half the mozzarella. Sprinkle with 1/3 of the parmesan and half the basil leaves (I chiffonaded mine)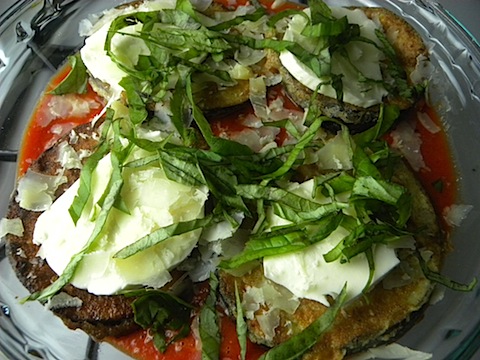 Then make a second layer of eggplant and top 1 C of tomato sauce and the rest of the mozzarella. Then add on 1/2 of the remaining parmesan and the rest of the basil.
And THEN add the rest of the eggplant, the rest of the sauce, and the rest of the parmesan. This is fun, huh?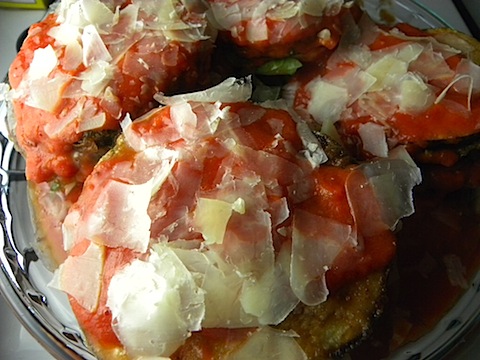 Pop it in the oven and bake (at 350 degrees) for about 30 minutes, until the cheese is melted and slightly browned.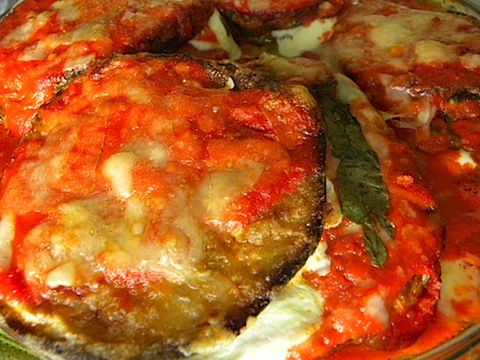 You're supposed to let it rest for about 10 minutes before digging into it. And you probably should because it's going to be really, really, really hot. Um yeah, I know from experience. It's sooo hard to wait though. And it smells soooo good.
And omg doesn't the melted cheese look so amazing?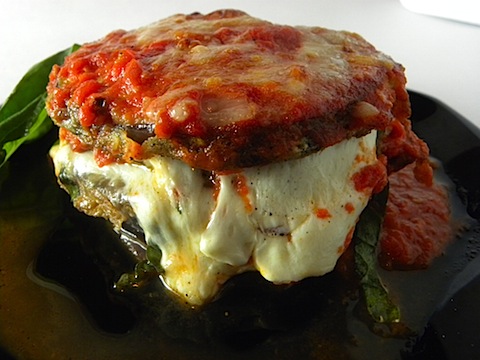 It tasted amazing too. It was the perfect combination of eggplant, cheese, basil, and tomato sauce. And it wasn't until I was done with my super-huge serving that I remembered I had wanted to make it healthier. Oops.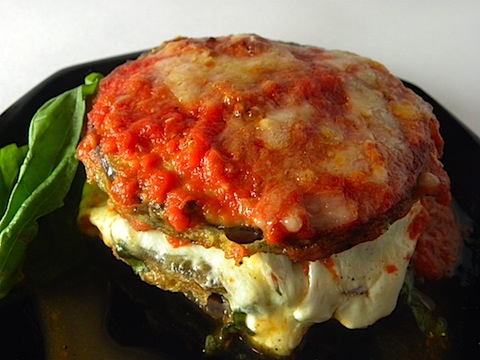 But since it was my first time making eggplant parmesan, it only made sense for me to make a classic version. I can add in all those healthy details later, when I have this mastered.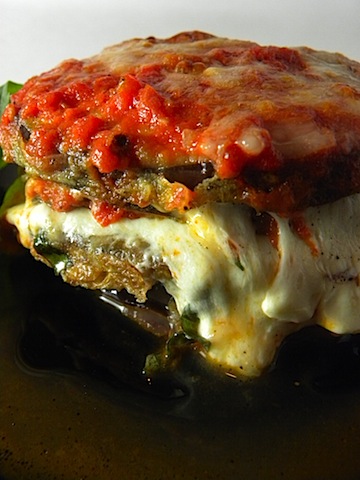 Come to think of it, I might have to make this a few more times before working on a healthier version. Because this version? is really really, ridiculously good.
[Sues]