This fabulous post comes from the lovely Brandi of BranAppetit. Brandi is one of my absolute favorite food bloggers because not only is her food always delicious-looking (seriously, check out these photos!), but she's one of the sweetest ladies I've had the pleasure of meeting. Her personality really comes through in her posts and if you read her blog for just a little bit, you'll definitely want to become friends with her! I'm lucky enough to have met her and have a feeling we'll be hanging out more in the future. Enjoy!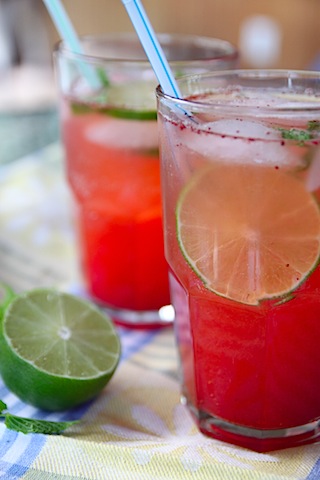 Hi WANM readers! I'm Brandi, the taste-tester and dish-washer over at BranAppetit.
I am soooooo so excited to be guest posting here for Sues and Chels. I met them a few years ago and have been able to hang out with them a few times – they are two of the sweetest and funniest girls I've ever met and I'm so happy to call them friends in real life.
Plus, I want both of their wardrobes…like, everything in their wardrobes. They both look so cute all the time! I just need to find a reason to move closer to Boston so we can share closets. Or they need to style me from a few states away.
If you read WANM, you know that Fridays usually mean cocktails….so that's what I'm bringing today. I knew I had to do a cocktail for my first ever post here. I can't compete with their cupcakes (I can't decorate baked goods at all) and these mojitos were just too good to keep to myself.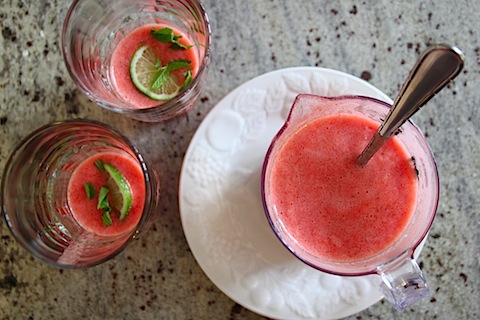 Summer = berries = berry cocktails. It's just common sense.
Our strawberries are officially over for the year, but you can still find a ton at farmer's markets all over the country. Fresh is best since the syrup is just strawberries blended with simple syrup, but frozen berries will work in a pinch, too.
Fresh Strawberry Mojitos
Makes: 4 drinks. Multiply as needed. And you will.
Ingredients:
· 1 cup sugar
· 1 cup water
· 1 and ½ cups fresh strawberries, hulled
· 2 limes
· ¼ cup mint
· 8 oz. rum
· 2 cups sparkling water
· Ice cubes
Directions:
1. Pour the sugar into a medium saucepan and add the water. Bring the mix to a boil, reduce the heat, and let it simmer until the sugar has completely dissolved. Turn off the heat and set it aside to cool for 10-15 minutes.
2. Once the simple syrup has cooled off, pour it into a blender and add the strawberries. Blend together until all the syrup is smooth and frothy. You can strain this if you don't want the strawberry seeds in the mix, but they're not really noticeable in the drinks.
3. Cut 1 of the limes into thin slices and add 2 slices to the bottom of 4 glasses. Divide the mint between the glasses and pour in a ¼ cup or so of the strawberry simple syrup.
4. Muddle the lime, mint, and strawberry syrup together until the limes start to break down and the mint is a little crushed.
5. Add 2 oz. of rum to each glass, then slowly pour in ½ cup of sparkling water.
6. Drop a few ice cubes in each drink, stir, and serve.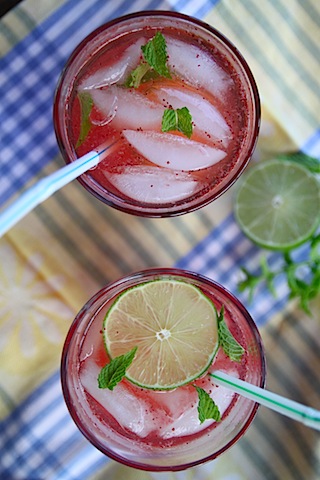 Thanks again to Sues and Chels for letting me share this recipe!
I hope you all try using some of your own berries in a bubbly mojito this summer – they're easy and delicious!
[Brandi from BranAppetit]