Made with a lavender simple syrup and homemade lemonade muddled with mint, these Lavender Lemonade Mojitos are the prettiest color and make for the perfect summer cocktail.
It's likely that I'm currently on a boat on Lake Chautauqua or sitting by the pool catching some much-needed sun. And maybe, just maybe I'm also sipping on this cocktail. Because when I made it, I also whipped up some extra lavender simple syrup to bring with me on vacation. Smart, right??
It's a part of my whole vacation cocktail strategy, which is almost as important as making sure you've packed enough underwear and the proper footwear. Maybe even more important because if you have a vacation cocktail strategy, you might not even care about not having enough underwear or the proper footwear with you. Pack a couple simple syrups in a cooler, grab some bottles of rum and vodka, have a few good cocktail recipes in mind, and you're basically vacation ready.
Cooking with Lavender
I've been wanting to cook, bake, and cocktail with lavender for a long time now. Mainly because it's purple. But also because it's deliciously tasty. I finally "splurged" on a 1/2 pound of dried lavender(affiliate link) from Amazon. It was only $10. And is A LOT of lavender.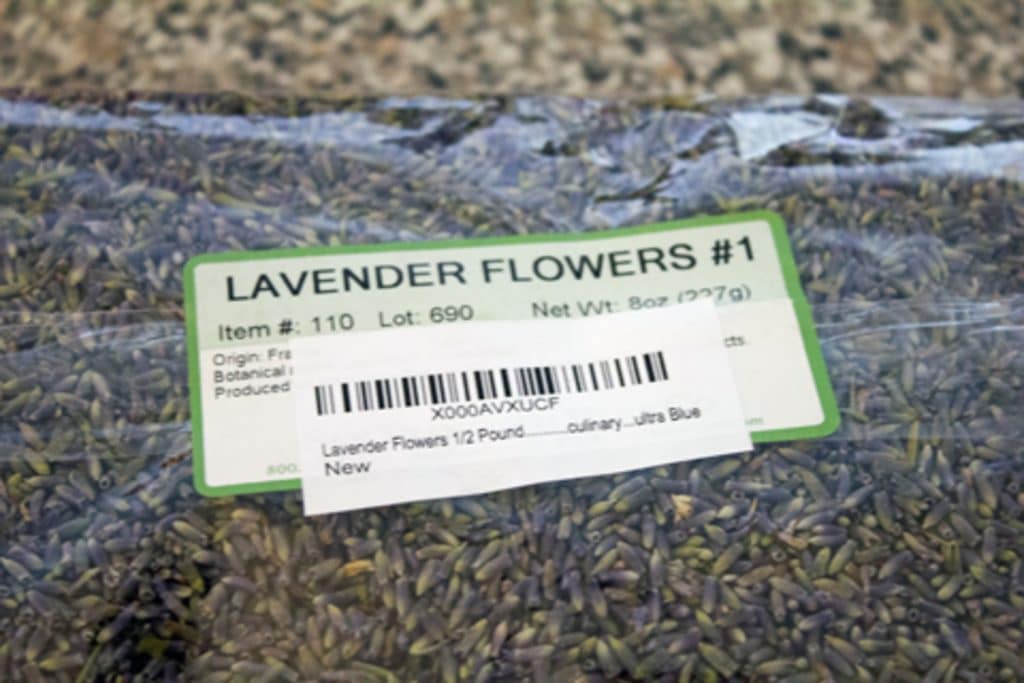 Pretty, right? If you're buying lavender, make sure it's for culinary use. You could also use it for scented sachets or simply to make your home smell nice. I want to put a little bit by my bedside to help relax me at night.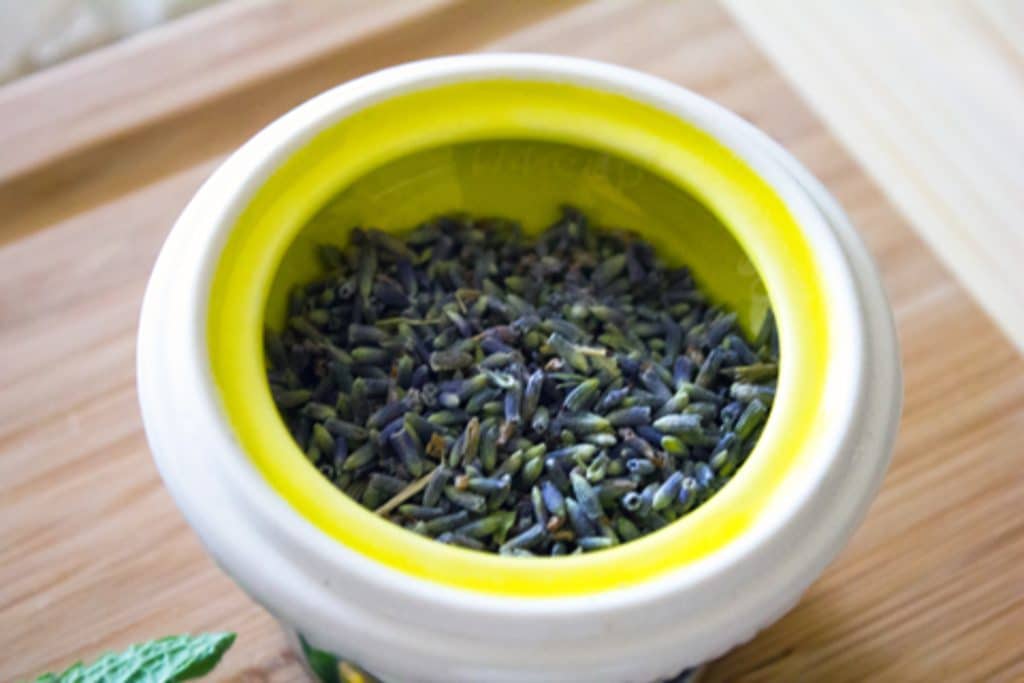 So, I mean, you should probably expect to see a lot of lavender recipes here in the coming days. I think macarons may be up very very soon.
In case you're interested, lavender actually has many health benefits… It helps you relax, it can beat bloating, and it can reduce itchiness. So, basically, this cocktail could make you feel like a million dollars. Worth a shot, right?
Lavender Lemonade Mojito Cocktail Recipe
I've seen lavender cocktails all over the internet, which is partly why I couldn't help myself from purchasing some lavender for my own use. The herb goes naturally with lemon, but I decided to add some rum and mint and make a mojito out of it.
Because when life gives you lavender, you make lavender lemonade. And then you make a mojito out of it. Always make a mojito. Or a cocktail of some kind.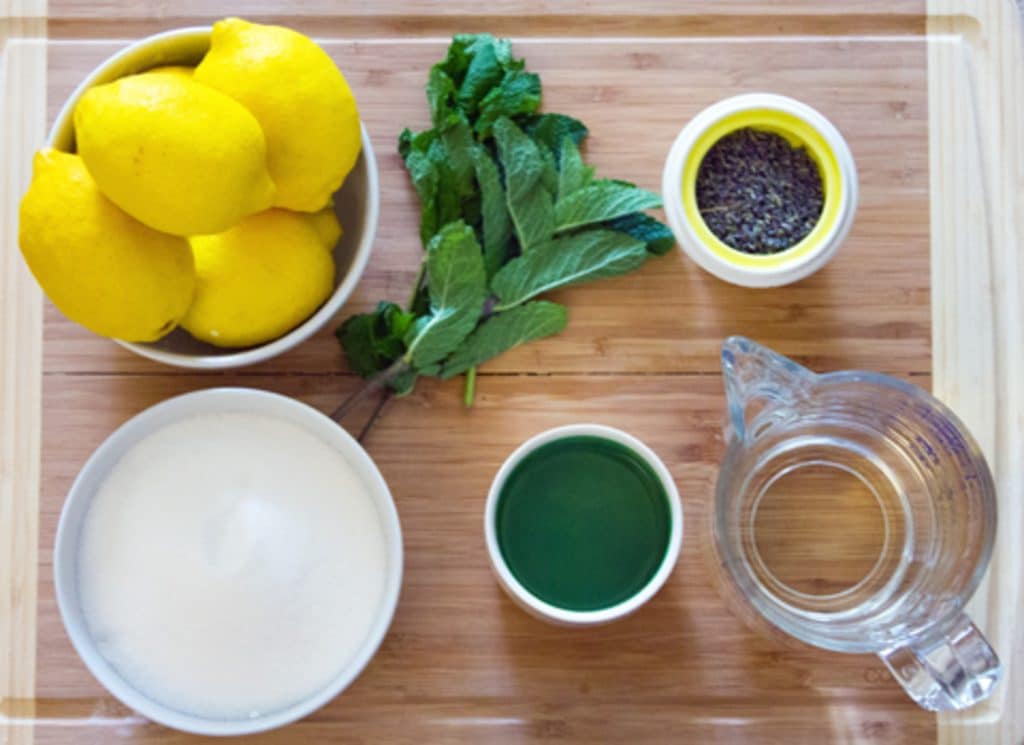 You'll want to start by making the simple syrup. You know I love simple syrup, but this lavender simple syrup takes things to a whole new level.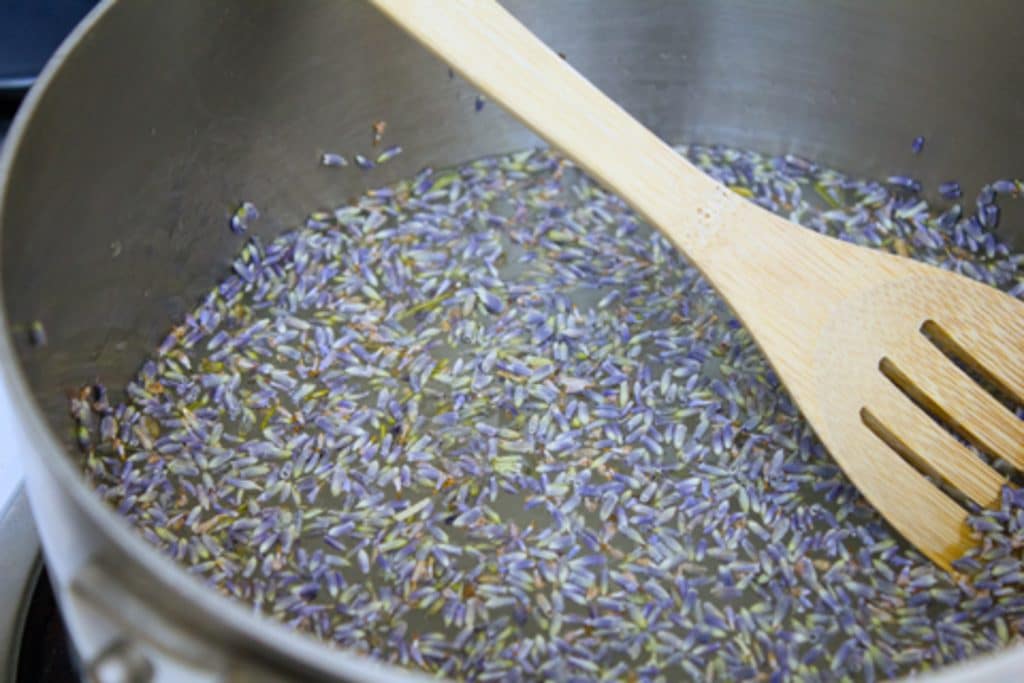 Once the simple syrup cools, muddle mint leaves with lemon juice in a pitcher until well combined. Add water, rum, and 3/4 cup chilled lavender simple syrup. Stir.
This recipe makes a nice full pitcher of lavender lemonade mojitos, so you may as well invite a friend over.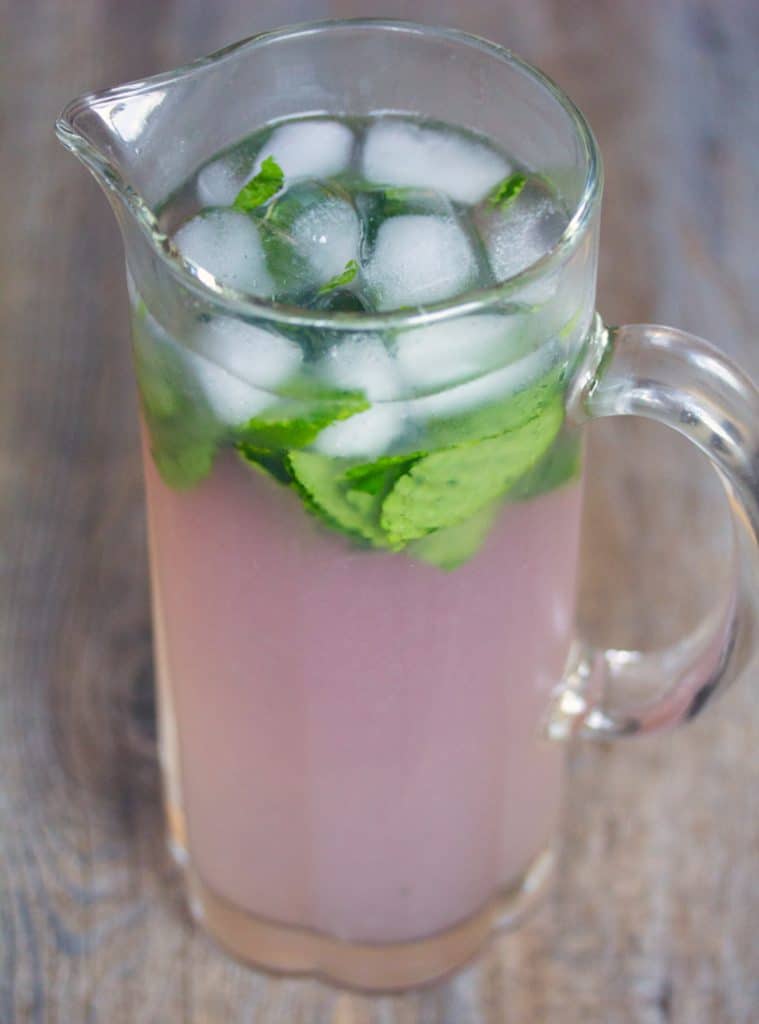 Pour the cocktail into ice-filled glasses.
And sip away. I'm pretty sure this lavender lemonade cocktail is the ideal vacation sipper. But I also kind of think it would be perfect to sip on before bed.
The combination of the lavender and rum will most definitely help you feel all nice and relaxed until you fall asleep. Not to mention, you'll be getting your fair share of vitamin C.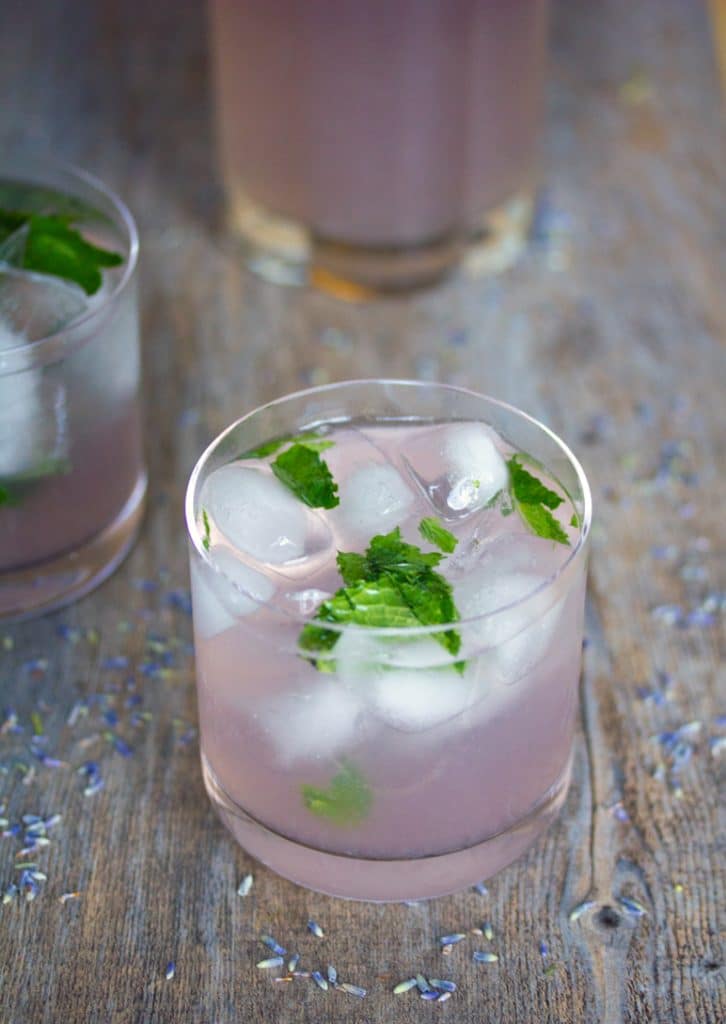 Is there anything quite like freshly squeezed lemonade? Well, yes. Freshly squeezed lemonade with lavender simple syrup and lots of mint.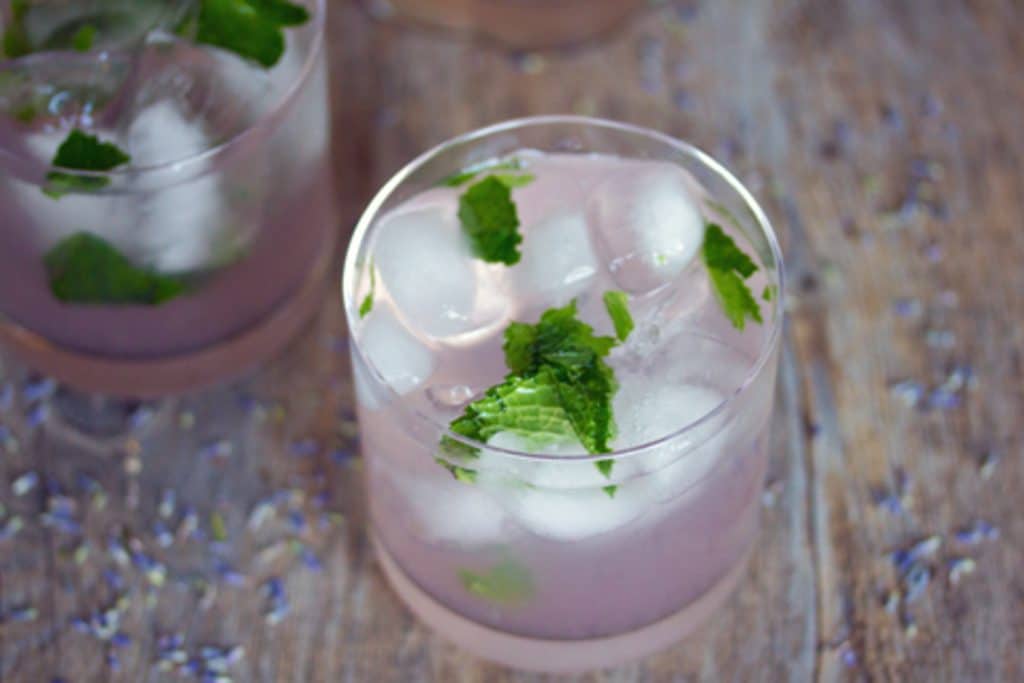 This lavender lemonade cocktail is way better than any mojito I've ever made. Also, did you know that yesterday was National Mojito Day? Well, it was. And it's not too late to celebrate. It's never a bad time to celebrate.
Of course, feel free to add more rum here if you want to. Some like a little and some like a lot… take your pick. If you must, you could also enjoy this cocktail in a mocktail, alcohol-free version.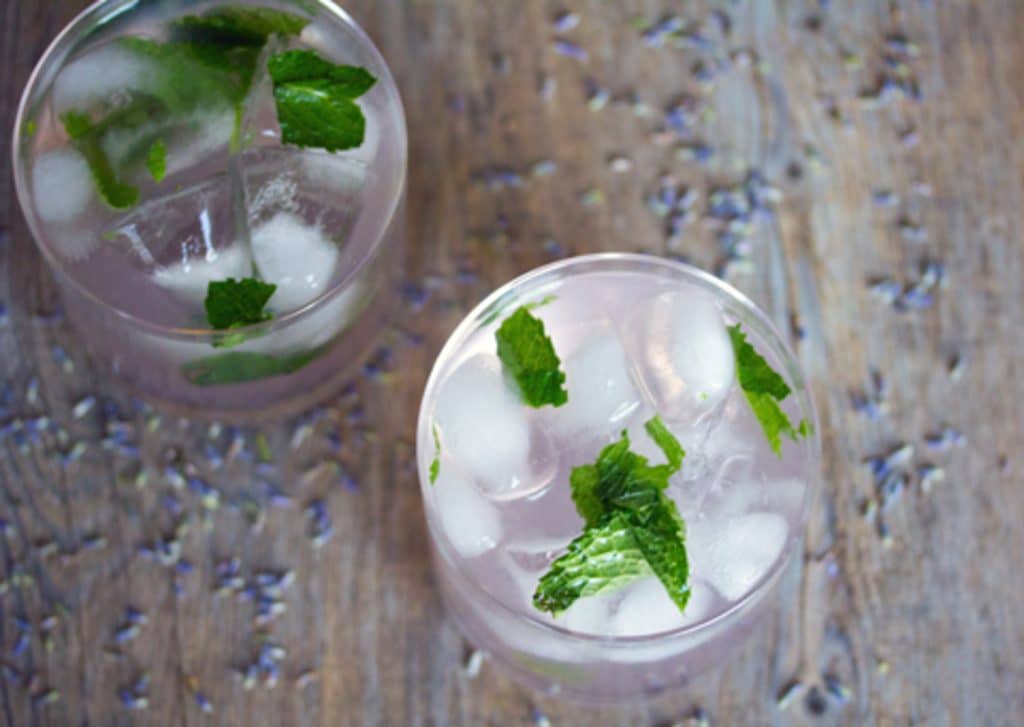 I'll be honest; I'm not even a big herbal/floral type person, but I'm in LOVE with this drink and with all of my beautiful lavender. Maybe I am becoming more of a floral fan than I previously thought. Though I think I'll still always choose fruity and dessert-like candles and perfumes over flowery ones.
The color of the drink certainly wasn't as vibrant as some of the lavender cocktails I've seen, but I also have learned that some cocktails still use food coloring, even with the all-natural lavender. I think the longer you steep the lavender buds, the deeper the purple gets.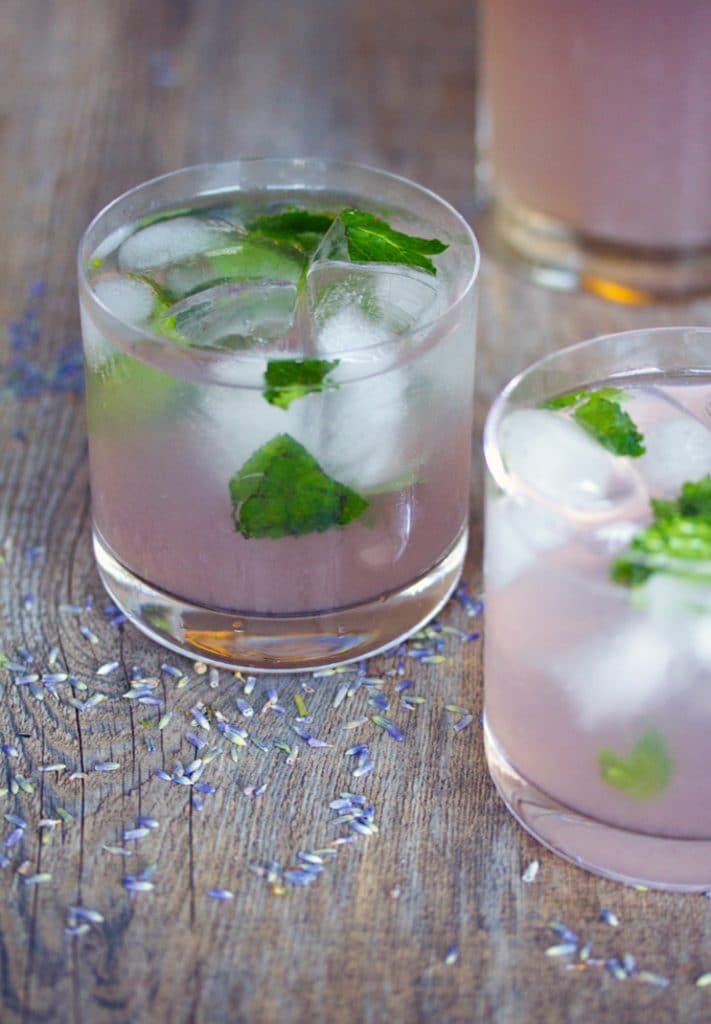 Lavender, welcome to my life. A refreshing drink that's packed with all sorts of goodness. And rum, too. Can't forget the rum. Happy Friday!
Are you a fan of lavender?
If you love using lavender in cooking and baking, check out my Lavender Lemon Cookies and my Lavender Lemonade Floats (also a great way to utilize that lavender simple syrup!). I also love the look of this Lavender Hot Chocolate from Country Hill Kitchen!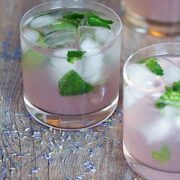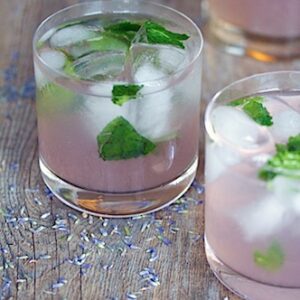 Print Recipe
Lavender Lemonade Mojitos
Made with a lavender simple syrup and homemade lemonade muddled with mint, these Lavender Lemonade Mojitos are the prettiest color and make for the perfect summer cocktail.
Ingredients
1

cup

freshly squeezed lemon juice,

from 4-7 lemons

1

small bunch

mint

2

cups

water

1

cup

light rum

3/4

cup

lavender simple syrup

(recipe below)
Lavender Simple Syrup
1

cup

granulated sugar

1

cup

water

1/4

cup

dried lavender
Instructions
In a pitcher, muddle mint leaves with lemon juice until well combined. Add water, rum, and 3/4 cup chilled lavender simple syrup. Stir.

Pour drink into ice-filled glasses.
Lavender Simple Syrup:
Put sugar, water, and dried lavender in a medium saucepan, stir, and bring to a boil.

Once mixture comes to a boil, lower to a simmer and let simmer for about 10 minutes, until it thickens.

Turn off the heat, cover the saucepan, and let steep for about an hour.

Push syrup through a mesh sieve to strain out lavender buds and into an airtight container. Place in fridge to cool.