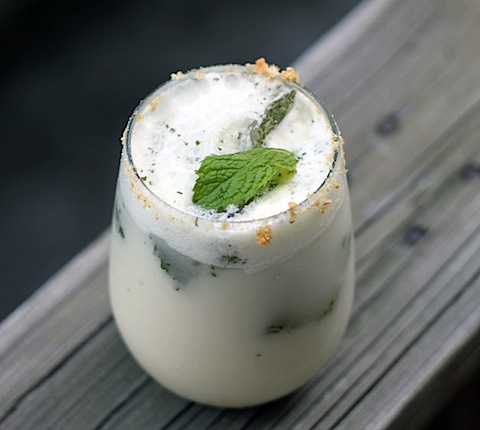 This drink was inspired by an ice cube. Never heard that one before, have you? Ice cubes don't generally do much in the way of inspiring. But the lovely Bell'alimento (seriously, LOVELY, check her out if you haven't before) posted this recipe from Amy of She Wears Many Hats (again, you need to check her out, too, if you haven't). Anyway, ever since I made blueberry ice cubes, I've been thinking about all the ice cube possibilities. In case you didn't realize, there's a whole wide world of fun and exciting ice cubes out there! And when I saw Amy's lemon mint ice cubes, I knew I had to get involved. But I already had an idea for a key lime pie martini in my mind… So, I decided to opt for lime mint ice cubes. And go for a key lime pie mojito instead.
Key Lime Pie Mojito (makes 2 drinks):
Print this recipe!
1 recipe lime mint ice cubes (see below… this drink can be made without these ice cubes, but they are fun!)
5 oz. vanilla vodka
6 oz. key lime juice (from about 20-25 key limes)
1-2 oz. heavy cream (yes, that's a photo of half & half… Don't use it. Use cream)
2 graham crackers, crushed
Small bunch of mint
Soda water (optional)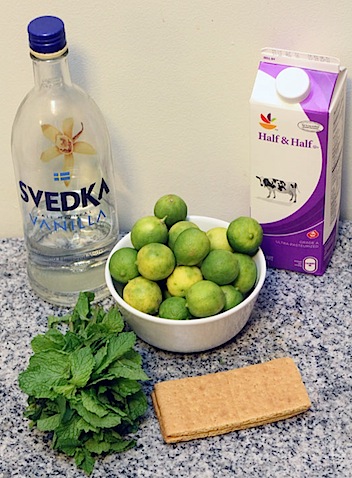 First step? Make the ice cubes. They obviously need time to freeze, so make them ahead.
Lime Mint Ice Cubes (makes about 32):
1-2 limes (about 2 1/2 T juice)
1 1/2 C packed fresh mint leaves)
4 C water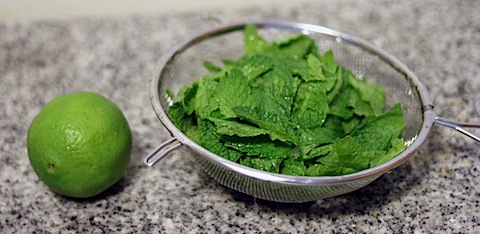 All you need to do is combine the mint, lime juice, and a tad bit of water in a blender or food processor and blend until the mint is finely chopped.
Then mix the mint mixture with the rest of the water.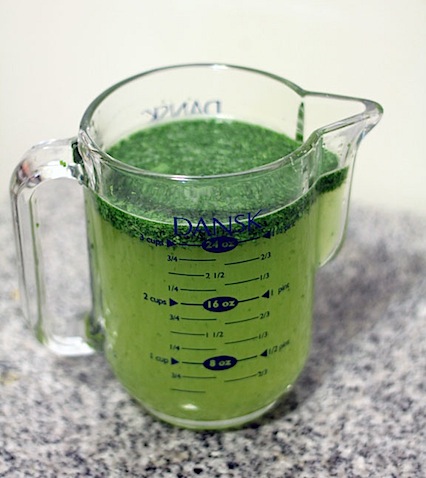 Pour the beautifully green mixture into two ice cube trays. And freeze until frozen!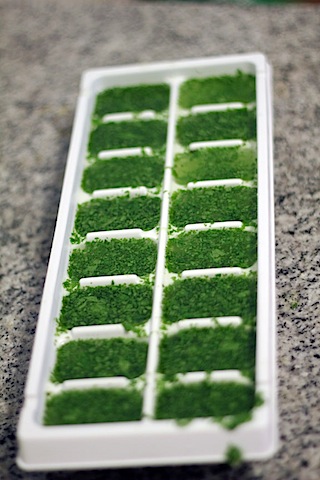 Yes, it looks weird. But when have you ever really seen anything but clear ice cubes in your ice cube trays? My ice cube trays may have to get used to this craziness.
OK, now on to the actual drink. It is Cocktail Friday and all 🙂
I say this whenever I work with key limes, but I love this brand. I love that they use my name. In quotes. And that they spell it correctly. None of that "Suzie" business (don't even get me started).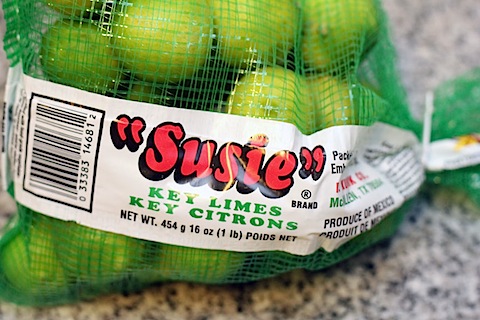 The most difficult part of this recipe is squeezing the juice out of the tiny little key limes. Especially if you have an invisible cut on your finger. Ouch. But just keep cutting, squeezing, and juicing those limes, until you have about 6 oz. of juice. It will smell so, so good! And all the work is worth it.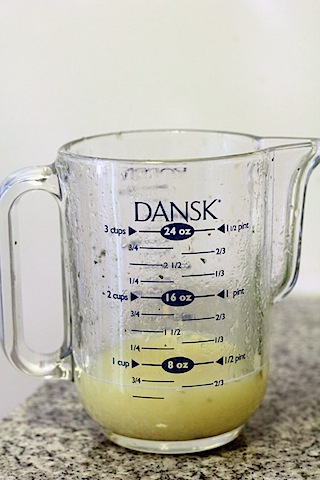 Once you have the juice, put it in a shaker with ice (I used plain ice cubes for this part), a couple mint leaves, and the vanilla vodka. Shake it up. Then add the heavy cream and shake some more.
I used half and half the first time I made this drink. It clumped up and looked majorly nasty. Duh. I guess that's what acids and dairy will do, right? Well, I did a little research and learned that since cream has a higher fat content, it doesn't get all gross when it comes into contact with an acid. Also, I shook the mixer up a lot to mix the ice into the lime and dilute it a tad bit before adding the cream.
The results were MUCH better. If you're anti-cream in your drinks, you don't have to add it. But it does add a bit to the pie effect and I promise this isn't a creamy drink… It's only a tiny bit of cream!
Crush up your graham crackers and put them on a plate. Wet the rims of your glasses and press the glasses into the crumbs for a nice graham cracker rim.
Put your lime mint ice cubes in the glass.
Pour the drink in the glass and top off with soda water and another sprig of mint.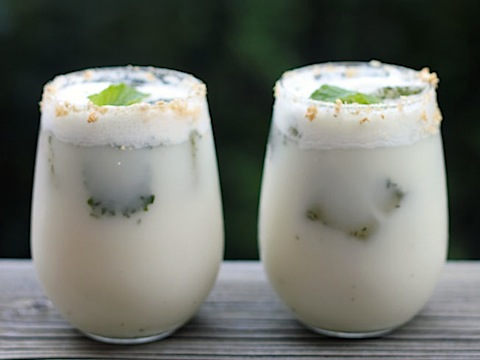 I wasn't originally planning on using soda water, which is why it isn't in my ingredient photo, but when I added it in for fun, I loved the effect.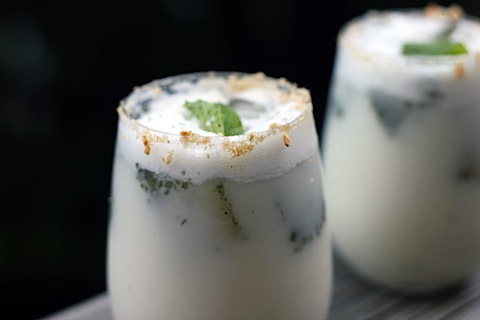 This honest to goodness tasted just like a key lime pie! With extra mint. The graham cracker rim was a nice touch, but I mostly loved the depth of this drink. It was citrusy, while being slightly creamy and fresh and minty. The perfect combination! The fizz from the soda water gave it a more summery touch. Which all key lime pie should have.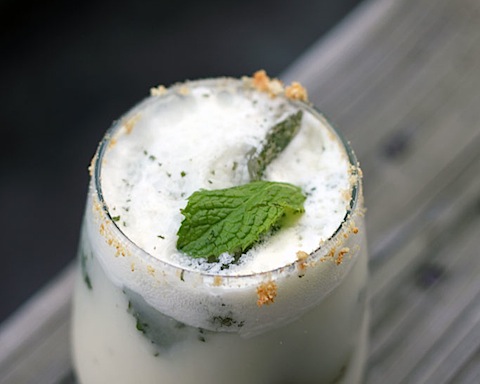 You might think this sounds like a dessert drink and only a dessert drink, but I really don't think that's true. Even though it looks super creamy, there really is so little cream in it and it's mostly packed with a citrus punch. So, I say it's the perfect drink for sipping before dinner on the patio or deck.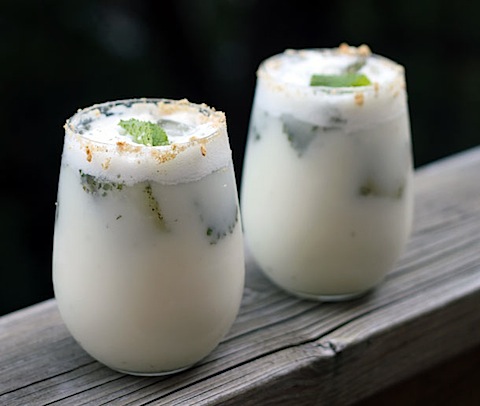 If you wanted to make this more mojito-like, you could muddle more mint into the glass. I actually did this on my first go-around, but found it to be a bit too minty, which took away from the key limes. The mint in the ice cubes and that you shake up with the vodka and lime juice is perfect.
Make this before the summer is over 🙂 Thank you ice cubes for inspiring my cocktail. Oh, and by the way, those ice cubes make plain old water taste 9402492 times better. Really.
So, what are you doing this Cocktail Friday? Instead of making cocktails at home, I'm headed to one of my favorite neighborhood cocktail spots, Regal Beagle. Can't wait to see what's on the menu!
Have a great weekend and don't forget to vote for us for CBS Boston's Most Valuable Lifestyle Blogger if you can! We'll be back Monday with something else kind of exciting to share 🙂
[Sues]