This summer cocktail is key lime pie in a glass, complete with fresh mint, a graham cracker rim, and a splash of cream. The only thing missing is the sunny day necessary to enjoy this Key Lime Pie Mojito!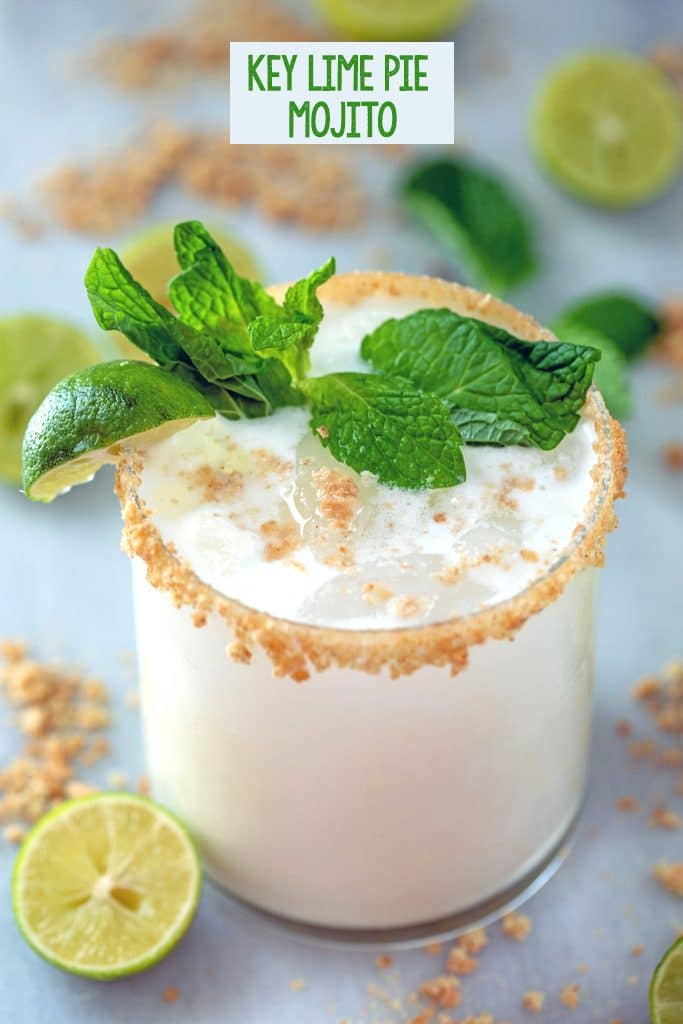 (This recipe for Key Lime Pie Mojitos was originally published in August 2011, but the post has been updated with new photos and content.)
My life has been completely consumed by key limes over the past couple weeks. Please send help. I can't stop buying them...But more importantly, I can't stop juicing them.
Like, literally. Because can we talk about how freaking long it takes to juice a bag of key limes?? But it's worth it; so so worth it. Not only for the juice and the delicious drinks and baked goods they help create, but because I love the way my hands smell after I spend 30 minutes juicing key limes.
To me, key limes are one of the very best signs of summer.
I first made this Key Lime Pie Mojito recipe years ago and actually made lime mint ice cubes to put in it. They were fun, but not really worth the effort, considering you can get the same effect from muddling mint in the bottom of your cocktail shaker and aren't left with soggy mint leaves floating in your glass.
So, I refined the drink a bit and was left with a perfectly tart, slightly creamy and sweet cocktail that is pretty much summer in a glass.
What are Key Limes?
If asked to describe a key lime, I'd probably just tell you it's a more floral and delicious, smaller version of a conventional lime. Some people actually don't recognize much of a difference between the two types of limes, but I definitely do, especially in the fragrance.
I did a little bit of digging to learn more and found a few interesting facts.
Despite the fact that I can only find key limes in my New England grocery stores in the summer months, key limes are actually much more prevalent around the world than the conventional limes we're used to. I can't decide if this is a good or bad thing.

I think I'd get sick off juicing those little buggers whenever I need some lime juice and obviously key limes wouldn't feel so special to me if they were available year round. But I also get really sad when key limes disappear for the season.
One of the main reasons key limes aren't as readily available in the U.S. as in other parts of the world is because Florida's key lime crops were all destroyed by a hurricane in the 1920s. Conventional (Tahitian or Persian) limes trees were planted in their place.
Generally, the two types of limes can be used pretty interchangeably, though a slight difference may be noticed in taste. Cook's Illustrated testers could distinguish a difference and interestingly noted that key limes were a bit less acidic.

Many sources will tell you they're more acidic, but personally, the key limes I've been using this year have actually had a sweet quality to them. You can indeed make a key lime pie with conventional limes, though I guess that would just make it lime pie, which doesn't have quite the same name appeal!
Key Lime Pie Mojito Recipe
Like I mentioned, the most difficult part of this cocktail recipe is squeezing the juice out of the tiny little key limes. Especially if you have an invisible cut on your finger. Ouch.
But just keep slicing, squeezing, and juicing those limes, until you have about 6 oz. of juice. Remember, there will be a cocktail reward in your future!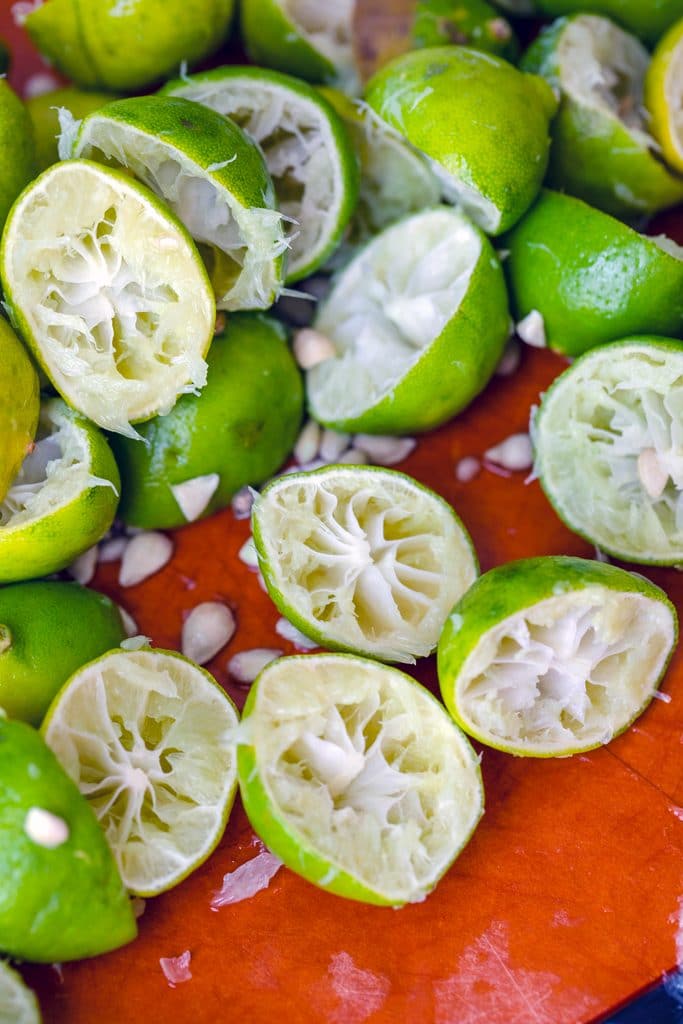 Once your lime are all juiced, muddle the mint and simple syrup on the bottom of your cocktail shaker and then add the lime juice, vodka, heavy cream, and some ice. And shake away!
It's worth mentioning that this mojito uses vanilla vodka, instead of the traditional rum used in mojitos. I know, I know; I probably shouldn't call this a key lime pie MOJITO, but I'm doing it anyway.
You can use a light rum if you prefer or plain vodka, but I'd also add in some vanilla extract for that pie-like flavor.
It's imperative that you use heavy cream in this cocktail instead of trying to go lighter with something like half and half or milk. I did the first time I made this drink and it was a disaster.
Since cream has a higher fat content, it shouldn't curdle or get gross when it comes into contact with the acid from the key limes. If you're anti-cream in your drinks, you don't have to add it. But it does add to the pie effect and I promise this isn't a creamy drink… It's only a tiny bit of cream!
You should also know that I'm in LOVE with my cocktail shaker (it's from the Oh Joy! collection from Target and sadly not available anymore).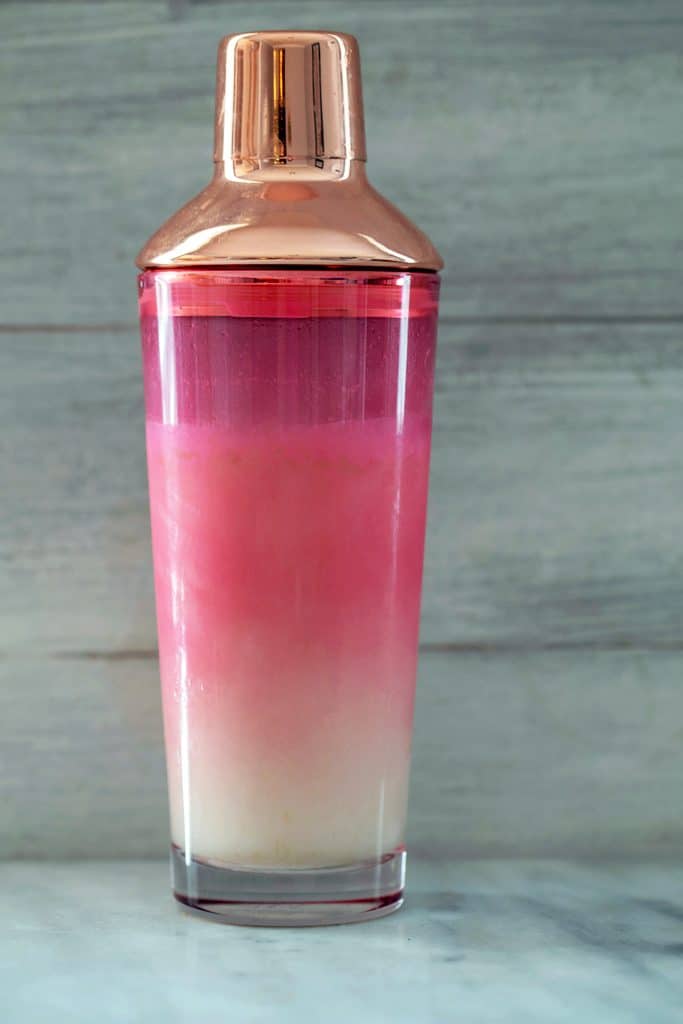 You'll pour the cocktail into a crushed graham cracker rimmed glass and garnish it with some extra fresh mint and then sip away!
This honest to goodness tastes just like a key lime pie. With extra mint, of course. The graham cracker rim is a nice touch, but I mostly love the depth of flavor in this cocktail.
It's citrusy, while being slightly creamy and fresh and minty. The perfect combination! The fizz from the soda water gives it a more refreshing summery touch. Which all key lime pie should have.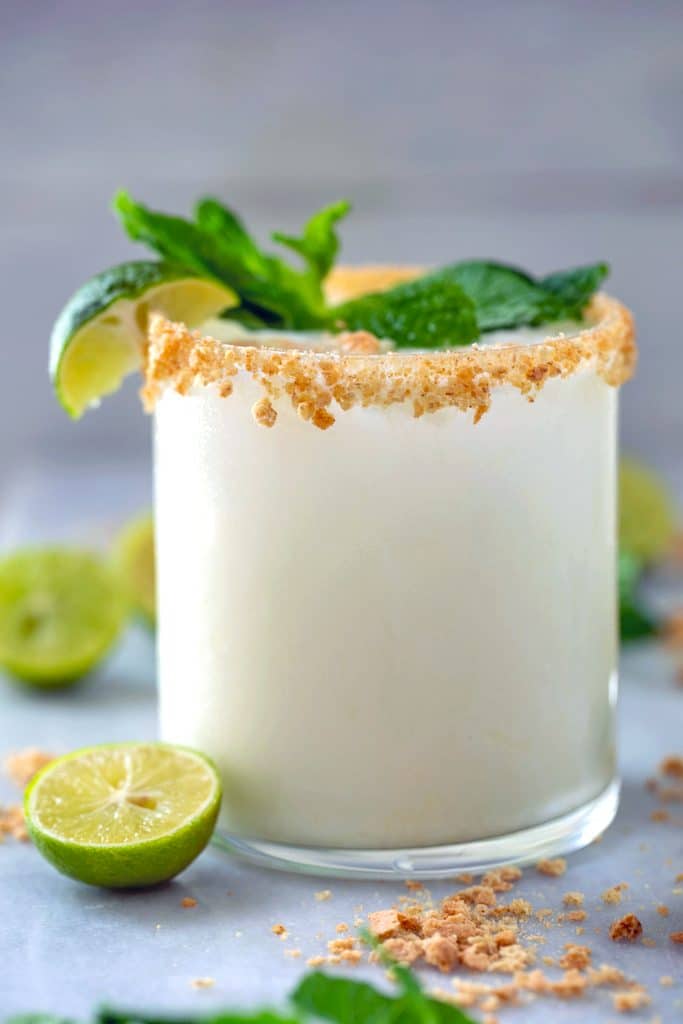 I already pretty much considered the mojito my drink of summer (I had a really delicious watermelon cucumber mojito the other day that I can't stop thinking about!), but now I'm pretty sure I have to make the key lime pie mojito my official drink of summer.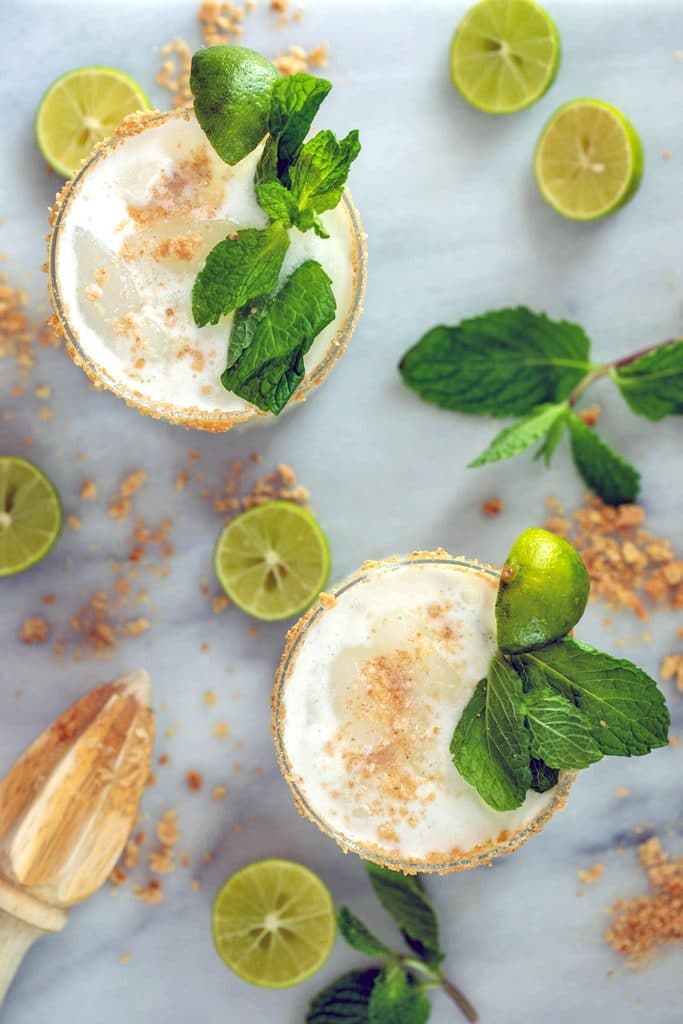 It's 100% worth the arduous labor of juicing all those key limes... Though I admit it might be a bit too intense of an undertaking if you're serving this drink to a crowd.
Some grocers do sell key lime juice in bottles, but I recommend tasting it first to make sure it's up to your key lime standards. Or maybe it's just me who has key lime standards. Ahem.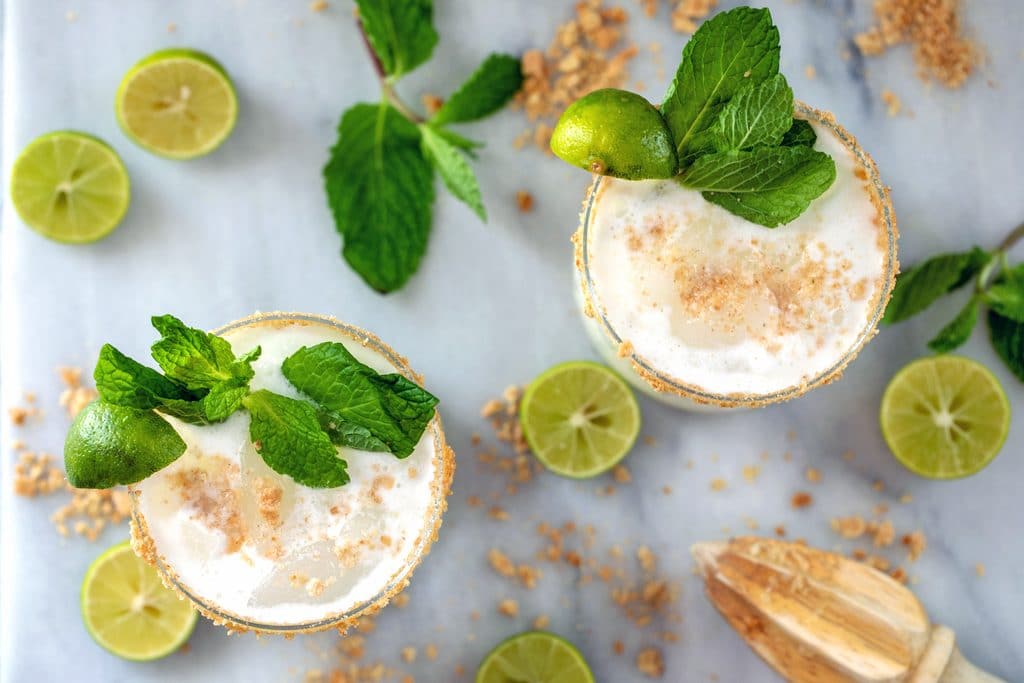 You might think a key lime pie mojito sounds like a dessert drink and only a dessert drink, but I really don't think that's true. Even though it looks super creamy, there really is so little cream in it and it's mostly packed with a citrus punch.
So, I say it's the perfect drink for sipping before dinner on the patio or deck. You definitely want a sunny day for this one!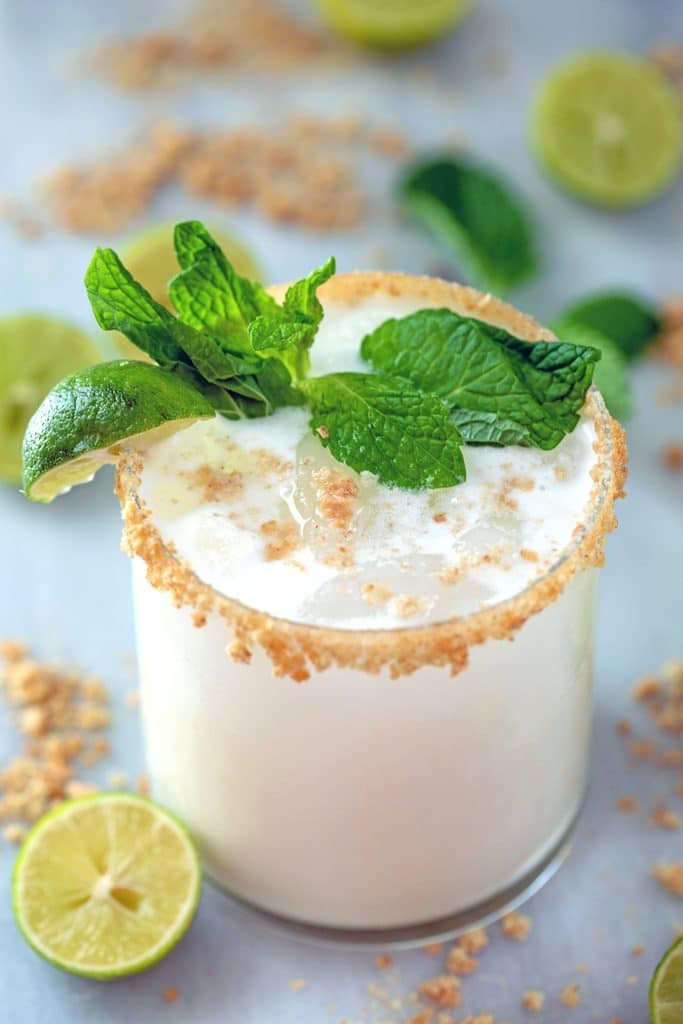 I was going to tell you to be sure to make these key lime pie mojitos before summer is over, but then I remembered that summer hasn't even technically begun yet as of the time I'm publishing this. It's only early June!
But we all know how fast summer will go by and if you don't get to the grocery store/farmers' market soon, I will probably have stockpiled all the key limes for myself. Just warning you!
You know what these cocktails would go perfectly with?? This Key Lime Pie Popcorn I made a few years back! I also want to try this No-Bake Key Lime Pie in a Jar from Thanksgiving & Co. Yup, I most definitely want all key limes, all the time!
Do you love key limes as much as I do?
📖 Recipe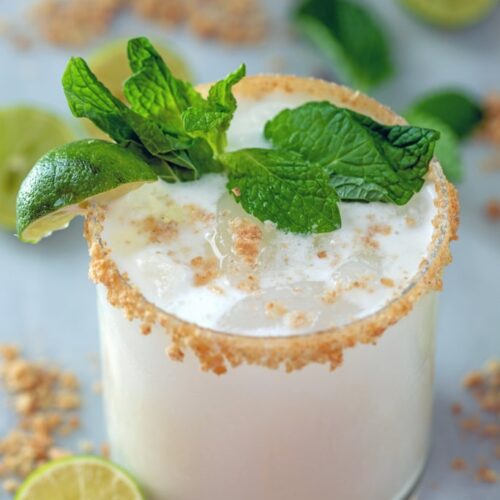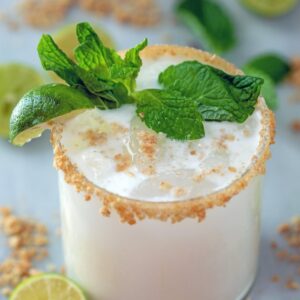 Key Lime Pie Mojito
This summer cocktail is key lime pie in a glass, complete with fresh mint, a graham cracker rim, and a splash of cream. The only thing missing is the sunny day necessary to enjoy this Key Lime Pie Mojito!
Print
Pin
Rate
Ingredients
2

oz.

simple syrup,

plus more for brushing on glasses (recipe below)

2

graham crackers,

crushed

1

small bunch

mint leaves,

plus more for garnish

6

oz.

key lime juice

(from 20-25 key limes)

4

oz.

vanilla vodka

1 ½

oz.

heavy cream

Soda water
Simple Syrup
1

cup

granulated sugar

1

cup

water
Instructions
Place crush graham crackers on a small plate. Brush the rims of two cocktail glasses with a little simple syrup and then roll them in the crushed graham crackers to coat.

Place mint leaves and simple syrup in a shaker and muddle.

Add key lime juice, vanilla vodka, and heavy cream to the shaker Add some ice, cover, and shake vigorously.

Divide cocktail into two prepared drinking glasses. Top off with soda water and garnish with additional mint.
Simple Syrup
Combine sugar and water in a medium-sized saucepan over medium-high heat. Bring to a boil.

Lower heat and let simmer for about 10 minutes, until syrup thickens.

Pour syrup into jar or bowl to let cool to room temperature. Store syrup in an airtight container in fridge.
Notes
If you don't have vanilla vodka on hand, you can use plain vodka with 1 tsp vanilla extract added to shaker.
Left over simple syrup should keep in fridge for about a month in an airtight container.
Share a Photo of Your Finished Recipe!
Mention @wearenotmartha and share a photo if you've made the recipe!