These Strawberry Mojitos are made with fresh strawberries, mint, rum, simple syrup, and lime juice and are the only cocktail you'll need this summer!
(This recipe for Strawberry Mojitos was originally posted in April 2011, but was updated with new photos in 2018).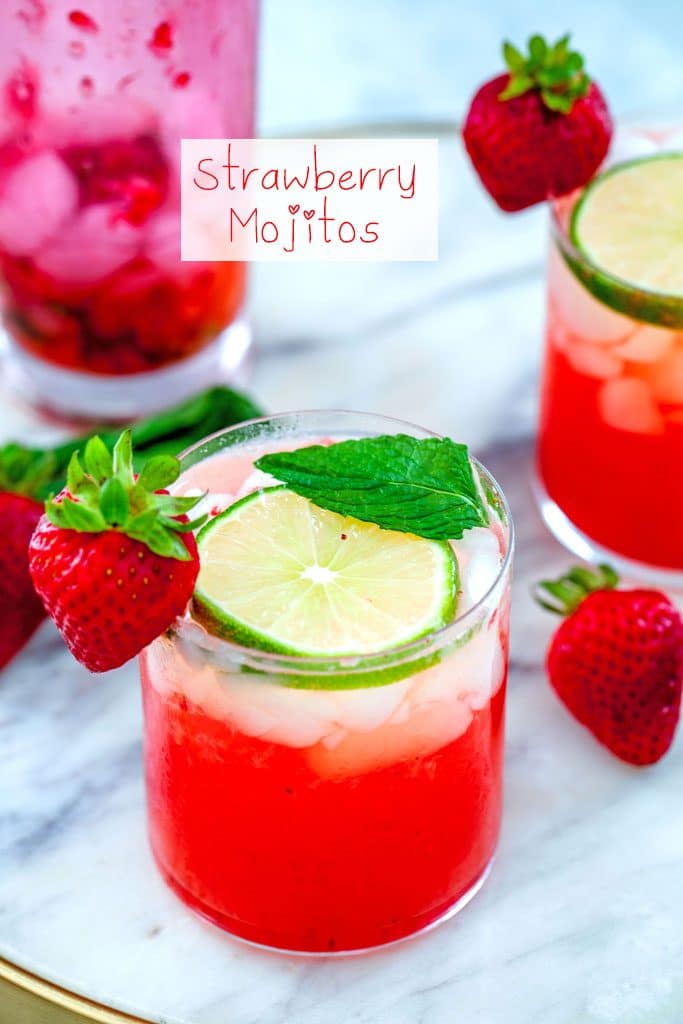 Well friends, we made it to Friday. Congratulations! You deserve a drink 🙂 It was almost a year ago that I moved into my new apartment (well, 9 months, but who's counting) and declared that I needed to make more cocktails. I've been pretty good keeping up with my promise and now that the warmer weather is hitting us once again (pool!!!), I'm trying my hand at some new concoctions. This strawberry mojito is a drink that I think would be especially delightful poolside. When it comes to goals like "make more cocktails," I guess I'm pretty good at keeping them 🙂
I swear I thought I had a bottle of rum in my liquor cabinet. But when I went to make these strawberry mojitos, I realized we only had a bottle of Bacardi 151. Oops. It was the weekend, so I figured it wouldn't be a problem. But probably you should just use regular rum for these mojitos... Just sayin'.
STRAWBERRY MOJITOS RECIPE
Because this cocktail is made in a shaker, my recipe makes one at a time. However, if you're making strawberry mojitos for a crowd, you can certainly make multiply the recipe and make it in a pitcher. Just muddle the strawberries and mint in the bottom of the pitcher and then add the ice and other ingredients and stir well. You can either keep the mint in the pitcher or remove it depending on your preference.
I was only making two drinks, so I made them one at a time in my pretty pink cocktail shaker. I muddled strawberries and mint on the bottom of it.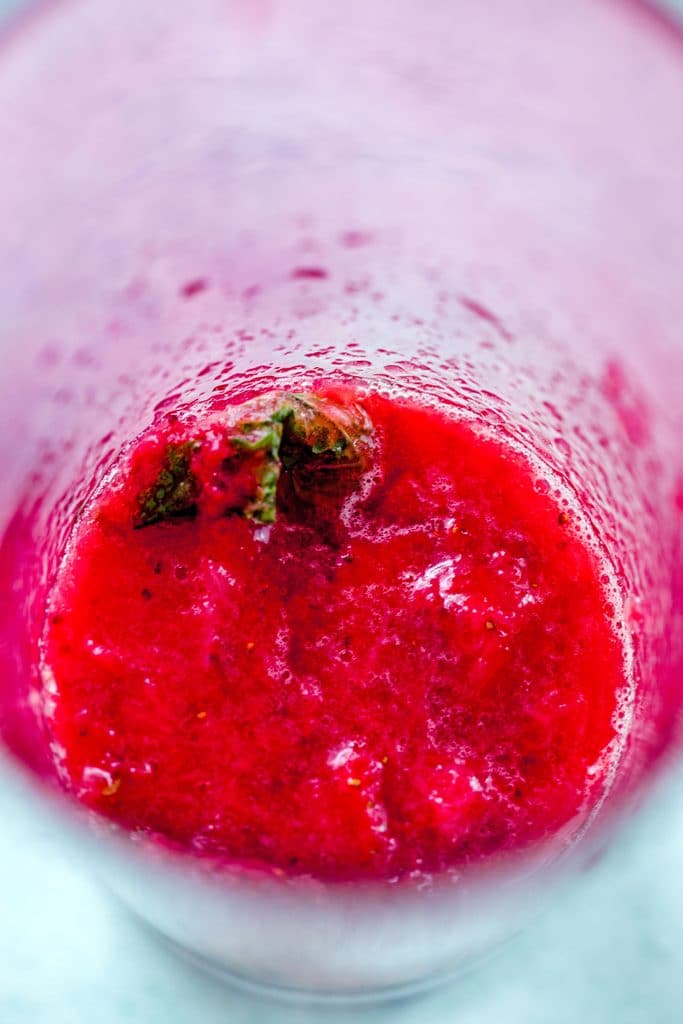 Then added ice, rum, simple syrup, and lime juice and shook it up. I poured it into an ice-filled glass, topped it off with a little club soda, and garnished the glass with a strawberry, lime slice, and mint leaf.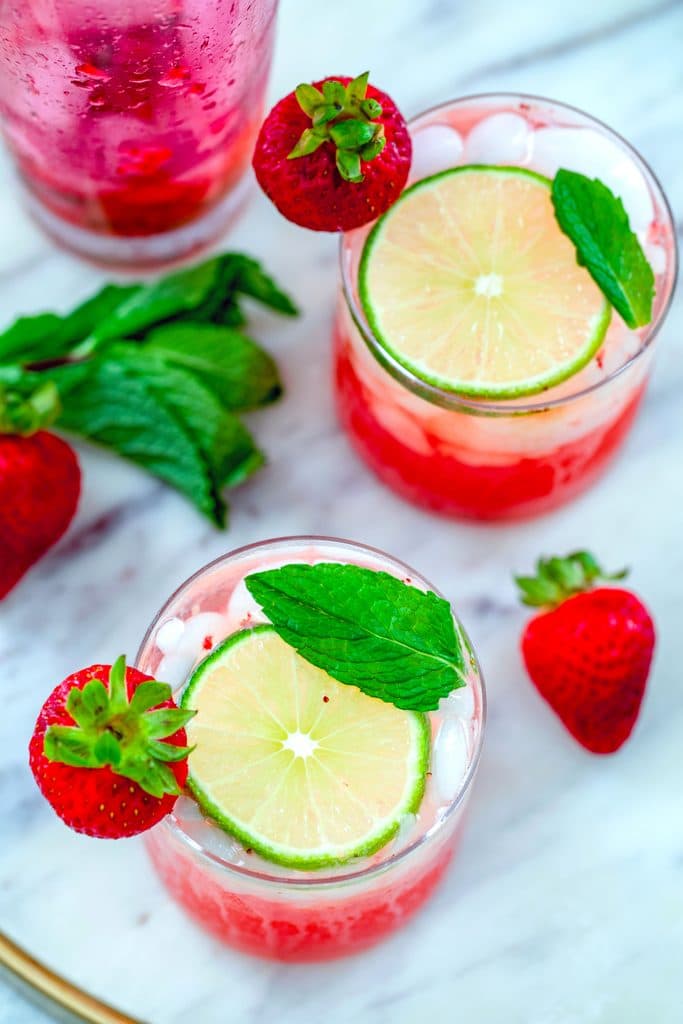 Sip away! But be careful if you use 151. It's kinda strong 🙂 And by kinda, I mean really. Thank goodness I didn't have any plans to leave my house.
I've always been a pretty big fan of mojitos and love this strawberry variation. My other faves include this Lavender Lemonade Mojito I've made, as well as this Key Lime Pie Mojito. The mojito options are seriously endless and that is a wonderful, wonderful thing.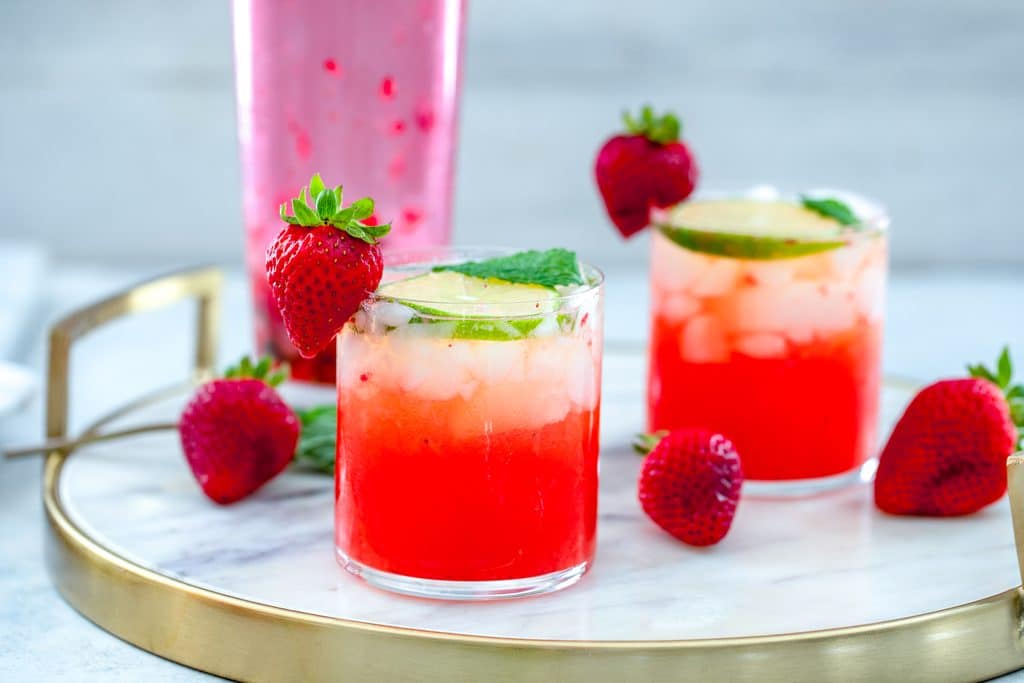 But ugh, if you live in New England, you're with me on being seriously depressed that it's April and feels totally freezing again. And it probably seems like I'm teasing you with this super summery drink. But you could always crank up the heat, put on some Kenny Chesney, and sit on the couch in the bathing suit. OK, that might be kind of weird. But here's to hoping the sun comes out and the heat returns soon.
Keep your eye out because I'm planning on having plenty more drink recipes this summer. Let me know if you have any special drink ideas or requests 🙂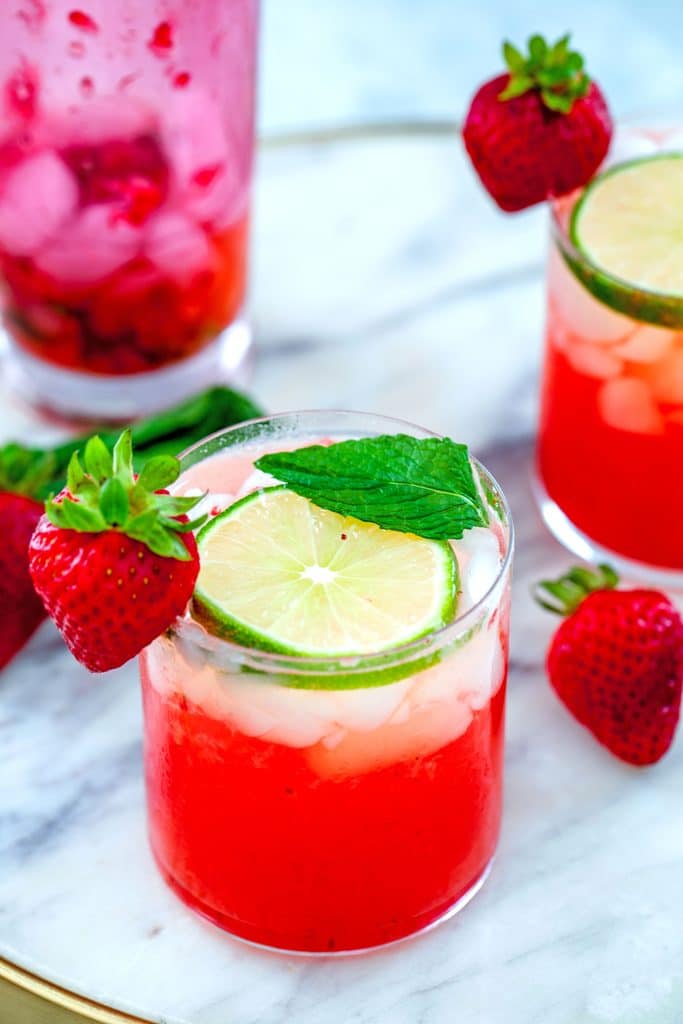 I hope you all have a wonderful weekend! My fabulous Aunt Judy is in town from Buffalo, so I'll be spending some time with her and my family and probably making more of these strawberry mojitos. And getting some major cleaning and organizing done around the apartment. I have a) wedding magazines, venue information, and wedding mailings, b) tax documents, and c) food magazines and recipes pages absolutely everywhere. I have a great filing cabinet, but... I'm really bad at using it. Order needs to enter into my life ASAP! Organization? Well, that calls for another cocktail.
Do you drink summer cocktails even when it's not warm outside?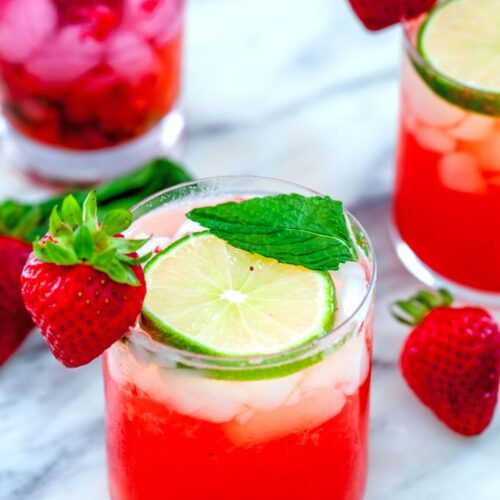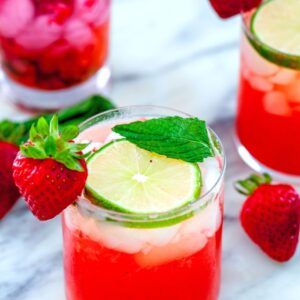 Strawberry Mojitos
These Strawberry Mojitos are made with fresh strawberries, mint, rum, simple syrup, and lime juice and are the only cocktail you'll need this summer!

Print
Pin
Rate
Ingredients
5

medium strawberries,

plus 1 for garnish

8

mint leaves,

plus more for garnish

2

oz.

rum

1 ½

oz.

simple syrup

(recipe below)

1

oz.

freshly squeezed lime juice

Splash

Club soda

Lime slices,

for garnish
Simple Syrup
1

cup

granulated sugar

1

cup

water
Instructions
In the bottom of a cocktail shaker, muddle strawberry and mint leaves together.

Add ice to the shaker, along with rum, simple syrup, and lime juice and shake until well blended.

Pour cocktail into an ice-filled glass and top off with club soda. Garnish with strawberry, a lime slice, and mint leaves.
Simple Syrup
In a medium saucepan, bring water and sugar to a boil. Turn down the heat to a simmer and stir until the sugar completely dissolves and mixture thickens a bit.

Remove from the stove, pour into a heat-proof bowl or jar and place in the fridge to cool completely.
Share a Photo of Your Finished Recipe!
Mention @wearenotmartha and share a photo if you've made the recipe!