Pineapple is delicious on all on its own, but grilling it brings out a whole new depth of flavor. This Grilled Pineapple Coconut Margarita is easy to make and perfect as a tropical cocktail!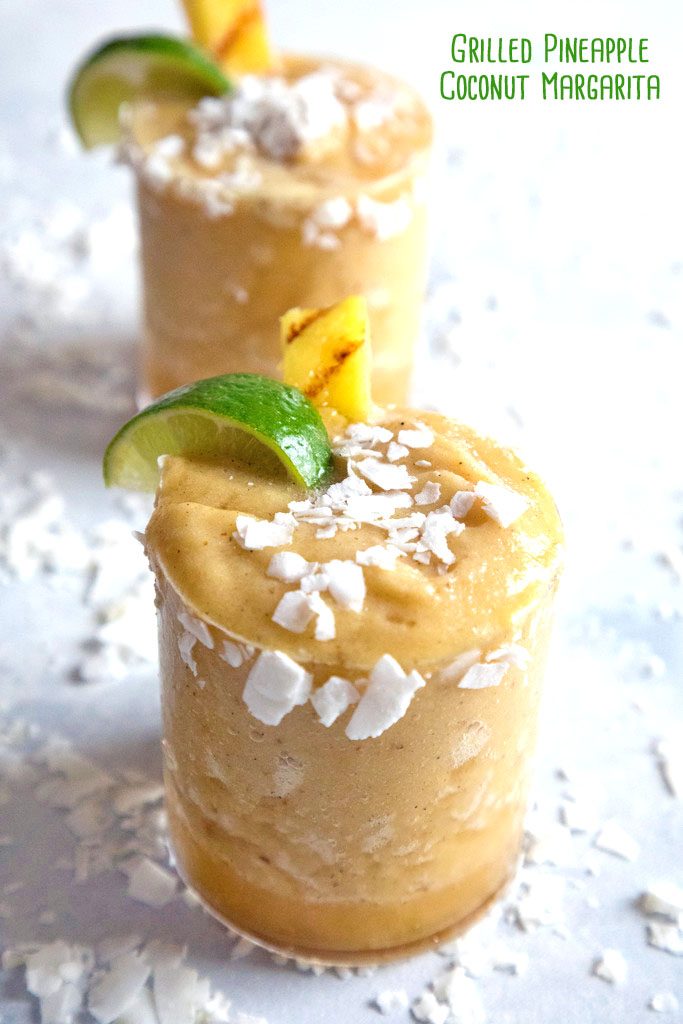 Has this week been the LONGEST week ever for anyone else? I spent most of yesterday thinking it was Thursday and had to keep reminding myself we were only midway through the week. Then when I called Chris on my way home from work, he said, "at least tomorrow is Friday!" I had to break it to him that "nope, tomorrow is still just Thursday" and he almost didn't believe me. I think it probably has something to do with the fact that it's been cold and rainy and miserable all week long. At least tomorrow really is Friday now, but every time I look at the weather forecast for the weekend, it's different. One minute it looks nice and sunny and the next minute it's pouring. I guess we'll just have to wait and see... At the very worst, we can just remind ourselves that April showers bring May flowers and Monday is officially May!
In the meantime, let's just sip on tropical drinks and pretend that the 80 degrees and sunny Easter weather stuck around. I would do anything for a tropical vacation right now and kind of think I have a good excuse for one, considering Chris and I are celebrating our 5 year wedding anniversary in June (!!!). The perfect reason to celebrate on a beach with a mixed drink or twelve. We just have a lot going on right now and moving into the summer and also... I've become that person who doesn't want to go on vacation because I don't want to leave my dog. So pathetic, right? This spring and summer I'm putting her through her own personalized boot camp (designed by me) to help her build confidence and socialization and to get rid of her fear and anxiety. Then I'll probably feel better leaving her. Wish me luck.
So for now, it's drinks like these Grilled Pineapple Coconut Margaritas on my backyard deck. Or, if it continues to be cold and rainy, on my couch with a huge furry blanket and the gas fireplace on. And you know, I think I can live with that for now. I love traveling and far-off beaches, but I'm also very much a homebody and my family room with my husband, dog, cocktail, and a book is my ultimate happy place. And this drink is my happy drink. I buy a pineapple at least every other week, chop it up, freeze it, and then regularly add it to my kale smoothies for a little touch of sweetness.
GRILLED PINEAPPLE COCONUT MARGARITAS RECIPE
I LOVE grilled pineapple, but never think to do it on my own, so I threw some on my grill pan (too gross and rainy to actually be grilling right now...) and brought out some of the sugars for a deep caramelized flavor. The grill pan works perfectly, but you could also skewer the pineapple pieces and grill them on your outdoor grill if you want. Just make sure to keep on until you get those gorgeous grill marks.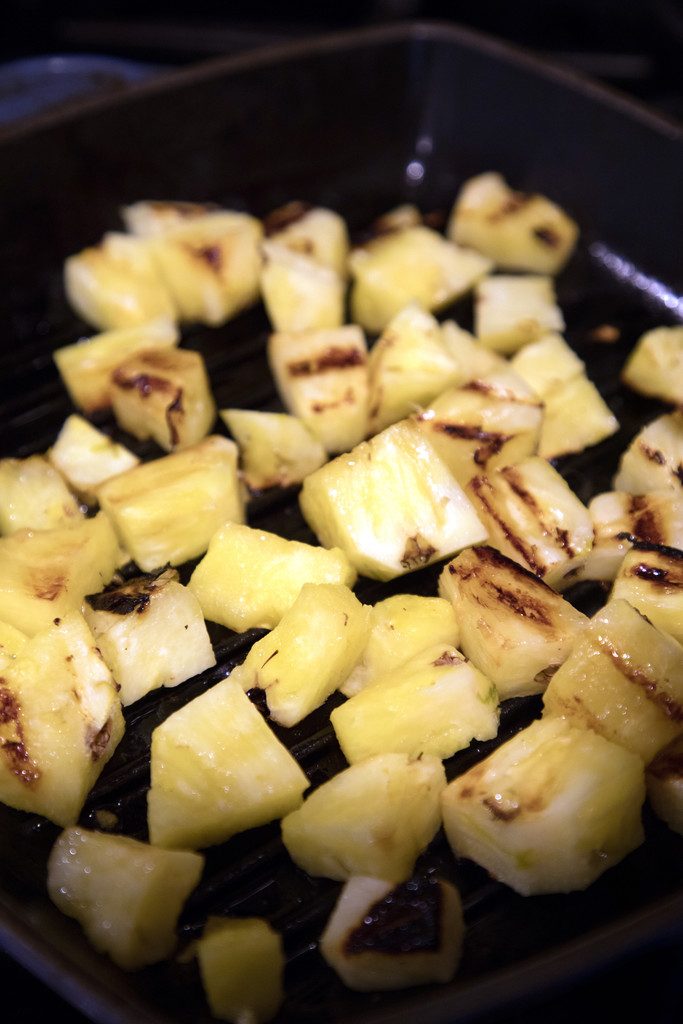 Once grilled, I cooled the pineapple to room temperature and blended with ice, coconut water, lime juice, and tequila. Is there anything more tropical than pineapple and coconut?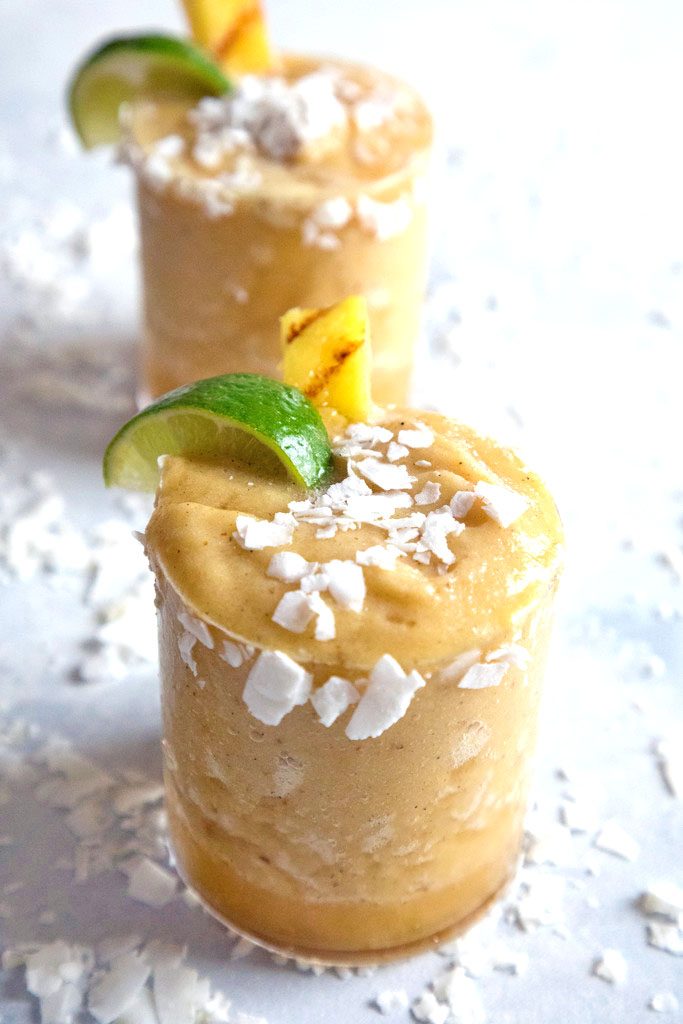 While taking these photos, I also discovered that my dog is a seriously big fan of shredded coconut. Well, I knew she loves coconut oil (coconut oil allegedly has lots of benefits for dogs, including keeping their coats shiny and their breath smelling fresh!), but I had to delete quite a few photos where her face showed up trying to lick that coconut up.
But there's no way she was getting any of this drink. a) because it has tequila in it and b) because I wanted it all to myself. I did begrudgingly share with Chris since I figured it would have been concerning if I drank a whole blender-full of this cocktail while he was at work. But don't think I wasn't tempted!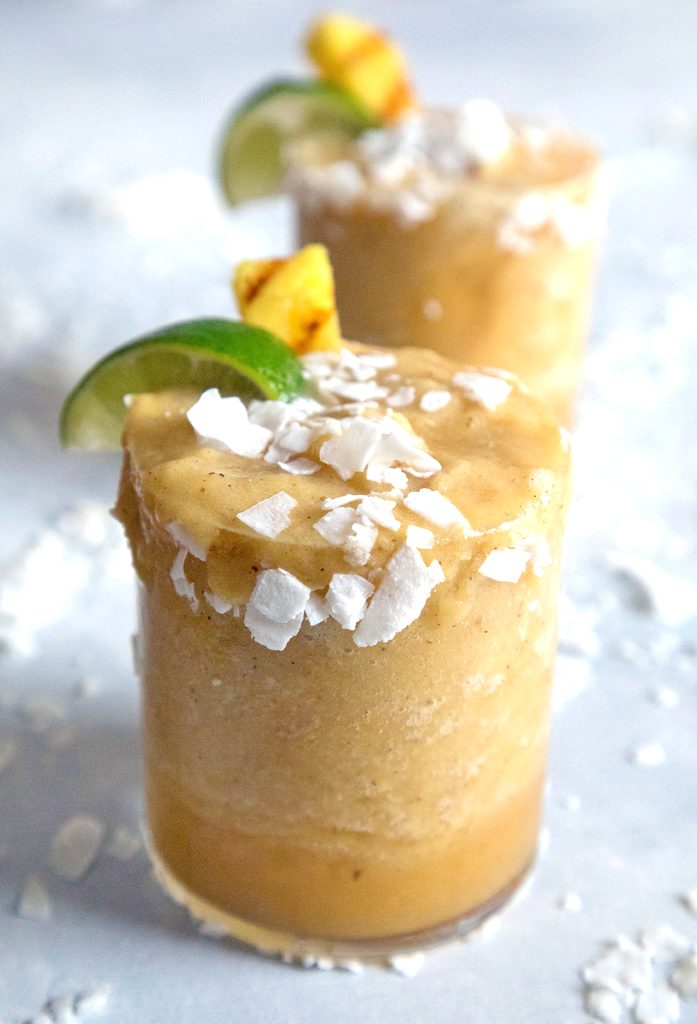 I never order frozen margaritas when I'm out, mostly because they always seem to have so much sugar in them and feel more like dessert than a drink. But I love making them at home since you can control what goes into them and they feel like a tropical vacation that's not necessarily pumping you full of sugar (other than the sugar from the fruit). BUT I have to admit that these grilled pineapple coconut margaritas had me start craving a pineapple margarita on the rocks, too. Probably with a little bit of spice added in.
I also discovered that I actually made a pineapple coconut margarita just a couple years ago (that I completely forgot about!), but that one used coconut milk instead of coconut water and frozen pineapple instead of grilled. Clearly I'm craving this combination (AND TEQUILA) quite often.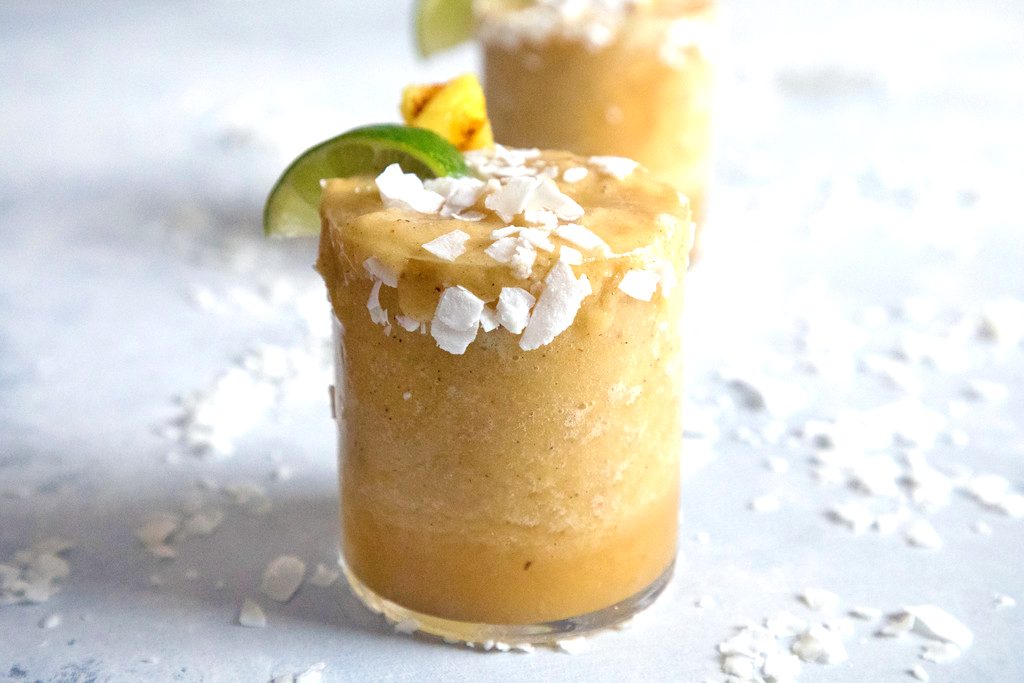 If you're looking for a tropical getaway of your own, I highly recommend pairing these margaritas alongside my Chili Lime Salmon Over Coconut Rice. And please accept my apologies if you don't like coconut. And my condolences, too, because if that's the case, I feel a little bit bad for you (but maybe not because you're probably saving money... Coconut products can be so expensive!).
It seems that the weather has been pretty gloomy across many parts of the country, so I hope that things brighten up and get warm for everyone's upcoming weekends. And if not, these grilled pineapple coconut margaritas will help!
Do you have any tropical drink plans? I think you need some margaritas in your life!
I also can't wait to try these Pomegranate Pineapple Shrub Mojitos from Butter Be Ready!
📖 Recipe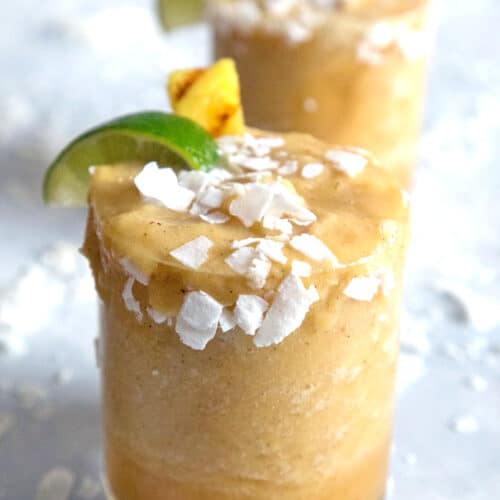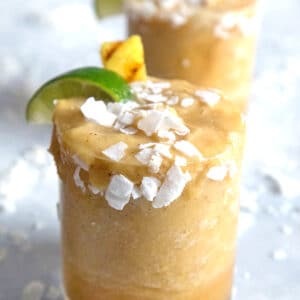 Grilled Pineapple Coconut Margaritas
Pineapple is delicious on all on its own, but grilling it brings out a whole new depth of flavor. This Grilled Pineapple Coconut Margarita is easy to make and perfect as a tropical cocktail!
Print
Pin
Rate
Ingredients
3

cups

chopped pineapple

(save 4 long pieces of pineapple for garnish, if desired)

2

Tbsp

coconut oil

(can also use olive oil)

Simple syrup for glass rims

(can also use lime juice)

½

cup

shredded coconut

3

cups

ice

1

cup

coconut water

6

oz.

tequila

1 ½

oz.

lime juice
Instructions
Lightly brush pineapple pieces with coconut oil and place on grill pan over medium heat.

Grill for about 4 minutes (until grill marks appear) and then flip and continue to grill for an additional 4 minutes.

Remove pineapple to a plate and let cool to room temperature (can put in fridge to speed up process).

Lightly brush cocktail glasses with simple syrup or lime juice and place shredded coconut on a plate. Dip rims of glasses into shredded coconut.

Once cooled, combine pineapple, ice, coconut water, tequila, and lime juice in a blender and blend until smooth.

Pour cocktail into coconut-rimmed glasses, garnish with long pieces of pineapple and lime, and serve.
Share a Photo of Your Finished Recipe!
Mention @wearenotmartha and share a photo if you've made the recipe!