Think scones are dry and boring? These sweet and tart Grapefruit Honey Yogurt Scones will prove that theory wrong! Enjoy them for breakfast, dessert, or as a snack with a cup of tea.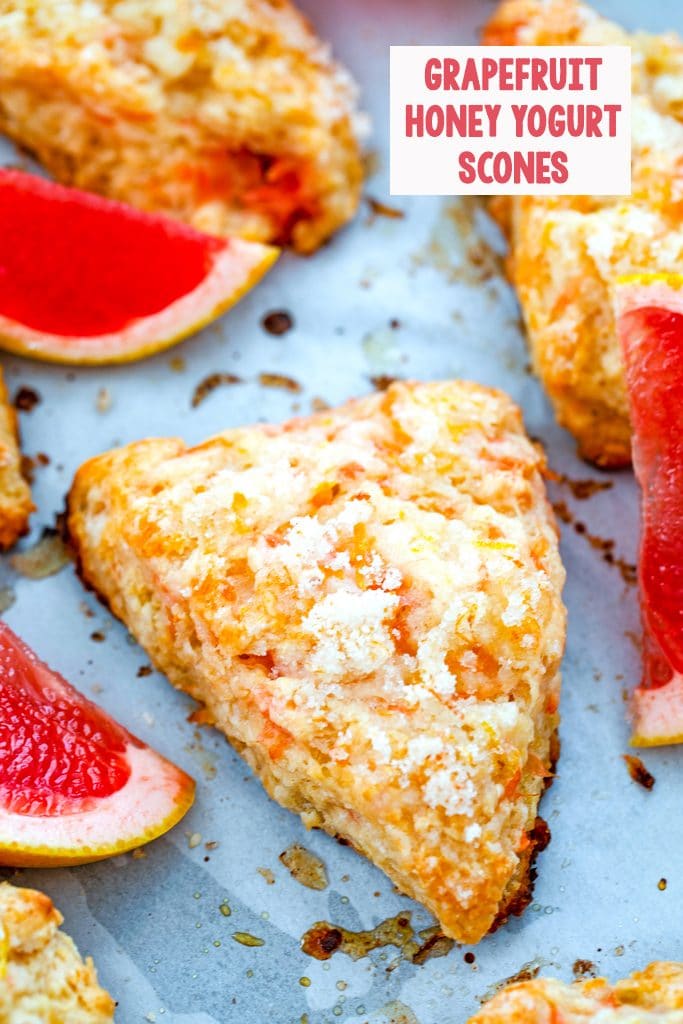 (This recipe for Grapefruit Honey Yogurt Scones was originally published in March 2011, but was updated with new photos in 2019).
If forced to pick a favorite fruit, I'd have to say it's a toss up between blueberries and grapefruit. Although these days I might have to add mangos to that list, too. But the thing is, I've been a grapefruit lover forever. Even as a kid when my peers would cringe over the tartness of the fruit, I could drink down a glass of 100% grapefruit juice. I absolutely loved it! Even today, you'll never see me ordering a glass of orange juice out at brunch. If I drink juice, it's either grapefruit or tomato... Or more likely, a bloody mary. Let's be serious here.
Recently, I've been on a major grapefruit kick and just can't get enough. So, when I saw these grapefruit honey yogurt scones on Joy the Baker, I literally swooned (wait, can you literally swoon?? I'm not really sure. But if you can, I did). While I generally bookmark recipes for months before actually making them, I couldn't wait for these and made these grapefruit scones almost immediately. You should, too, because these would be absolutely perfect for a Sunday brunch (with a grapefruit mimosa!).
GRAPEFRUIT HONEY YOGURT SCONES RECIPE
I have a special place in my heart for scones and have made quite a few fun ones on this blog (Cadbury Mini Egg Scones, anyone??), but grapefruit scones are probably among my favorites as they're the perfect combination of sweet and tart with a seriously pretty look.
If you've never made scones, it's most definitely worth a try. They're actually quite easy to do and don't require a lot of finagling with the dough like some baked goods do.
You'll make a typical flour, baking powder, baking soda, salt mixture. And add in some of this delicious grapefruit zest granulated sugar (reserving 2 Tbsp to top scones with). Then you'll work in your butter pieces until the mixture resembles coarse meal. Then stir in the pink grapefruit segments, honey, yogurt, and milk.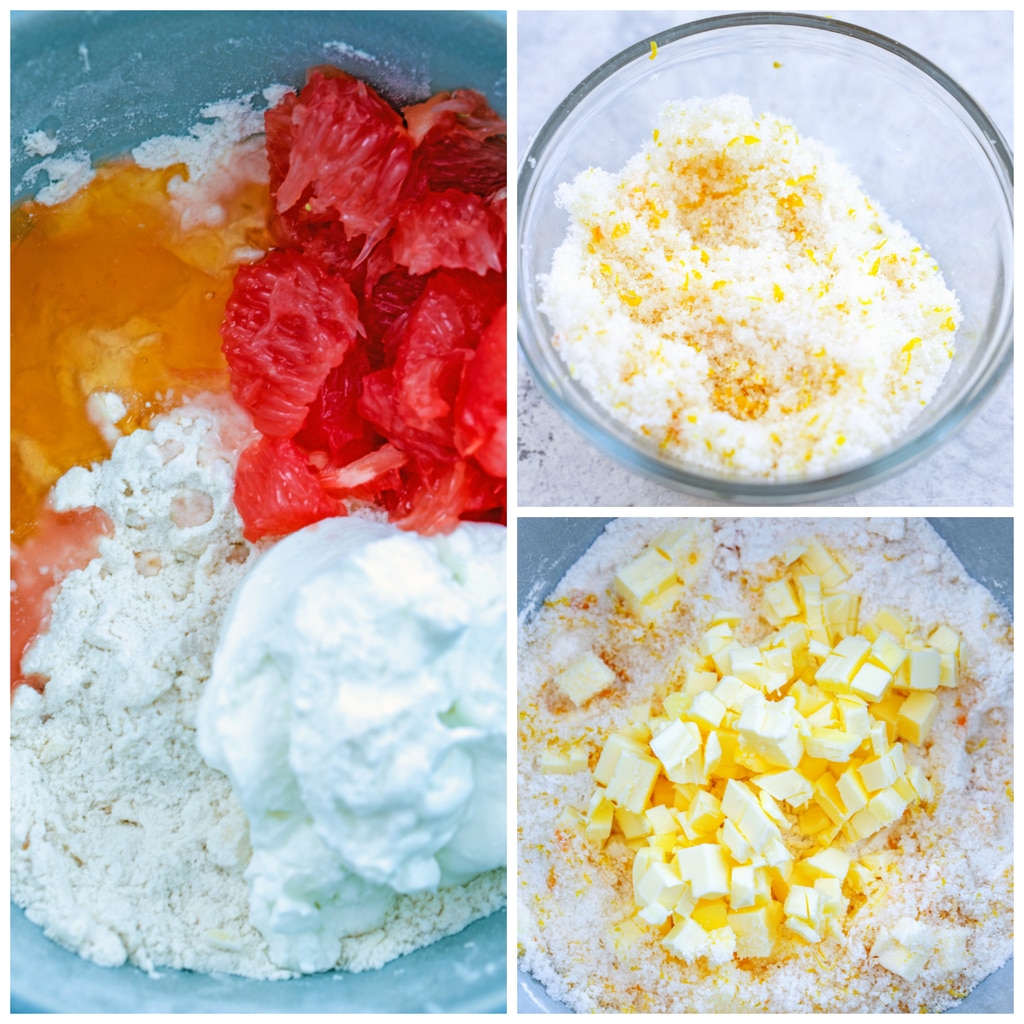 Then it's time to actually form those grapefruit scones! Place your scone dough on a lightly-floured surface and form a round that's about ¾" thick. And cut dough into 8 triangles. I like to use my bench scraper to do this, but you can also use a knife. However, if you don't have a bench scraper and do a lot of baking, I highly recommend one (here's an affiliate link to the one I love best). Not only is it great for tasks like this, but it helps you clean up messy floury countertops so easily!
Place the scones onto a parchment paper-lined baking sheet. And lightly brush the tops of them with milk and sprinkle generously with the leftover sugar zest.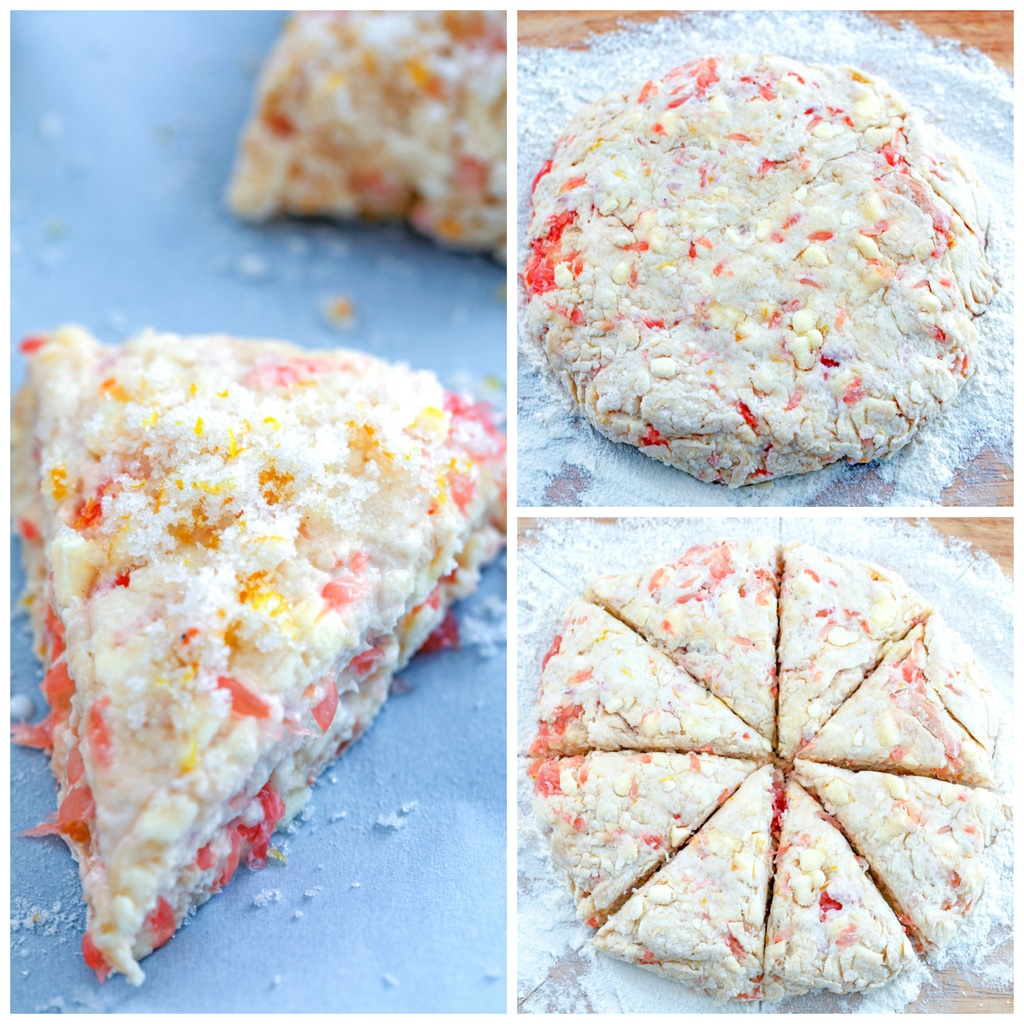 Bake grapefruit scones at 400 degrees for about 16 minutes, until they're turning golden on top. You want them to still be soft in the center. Mmmm the best scones are nice and crispy on the outside and super soft and moist in the center.
You should let the scones cool on the pan for about 10 minutes before serving. But still, serve them warm because they're amazing when warm.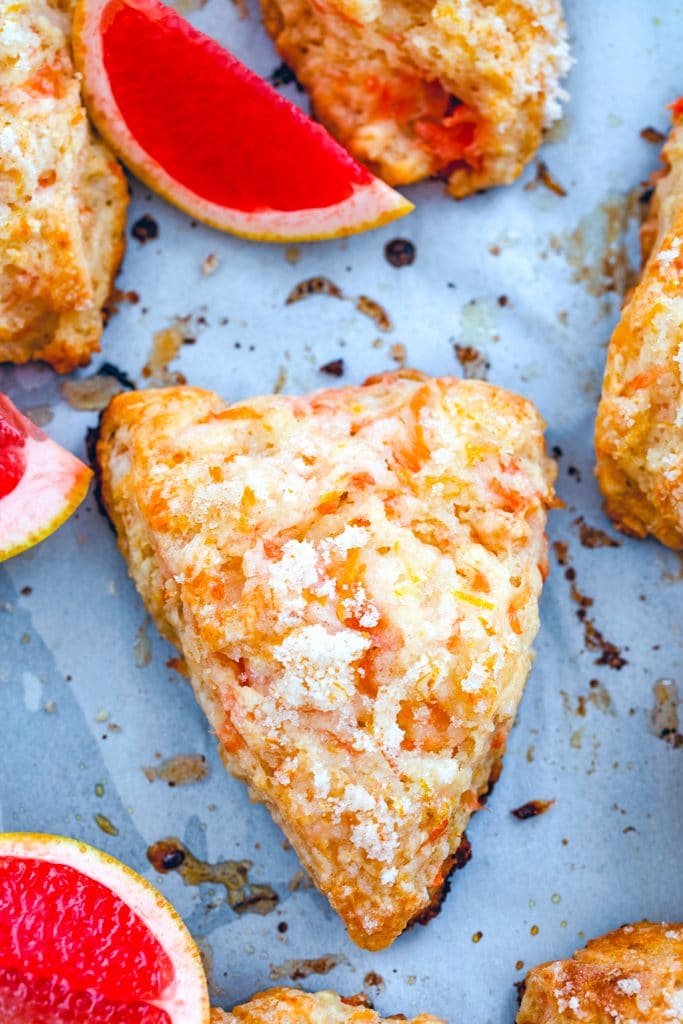 I feel like there's some kind of weird misconception about scones and lots of people think that they're always dry and hard as rocks. And that's one giant reason why you should be making these grapefruit scones immediately. You'll quickly see how delicious scones are.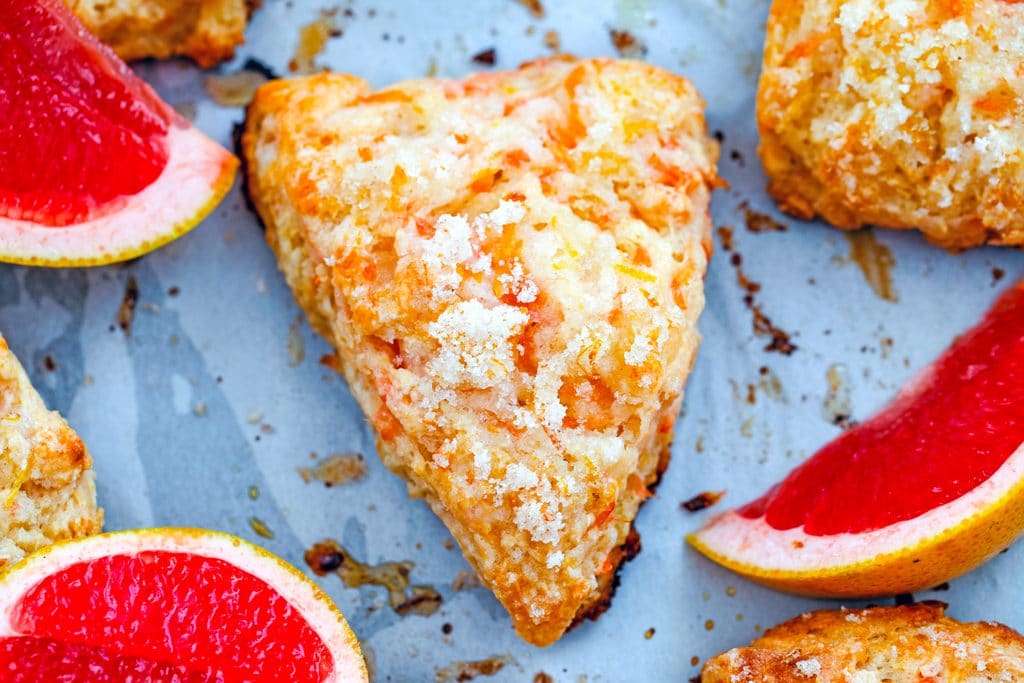 I think lots of people also equate scones with grandmothers or super boring tea times. Basically, they have a reputation as a snooze-fest. But can't you just look at these grapefruit scones and see how fun they are?? Look at that beautiful pink grapefruit peeking out!
The grapefruit flavor added a nice little zing, but wasn't overpowering or too tart at all. I didn't find the scones to be too sweet, but the the sugary zest on top gave them a little sweet crunch that I quite enjoyed.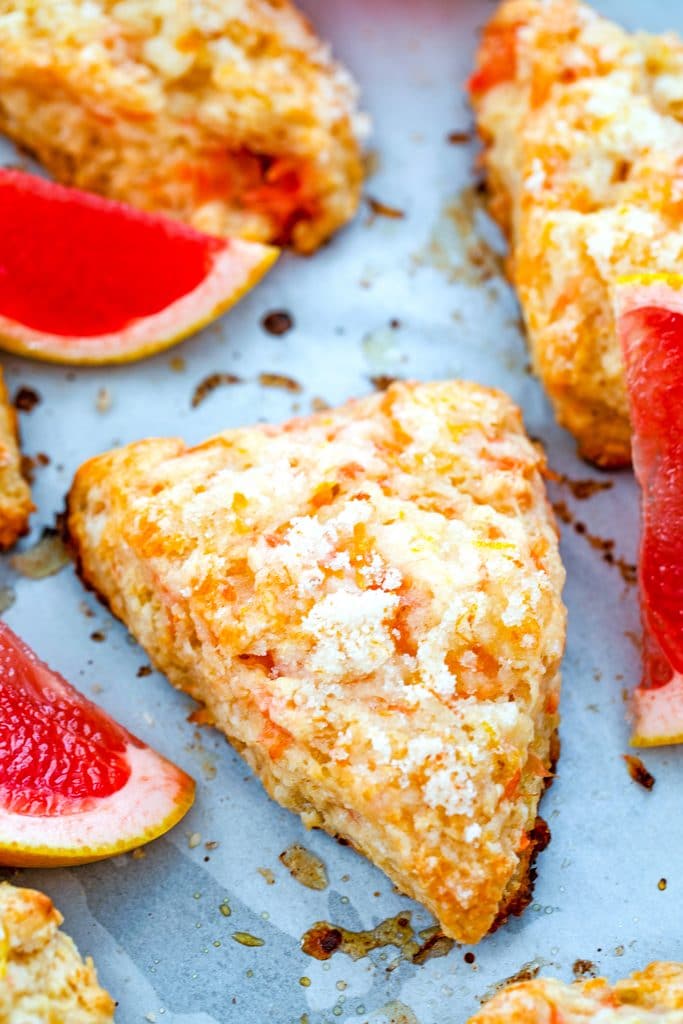 And I'm not going to lie, I definitely ate a scone with a half of a grapefruit on the side. I really can't get enough. But now I'm also thinking adding blueberries in would be awesome (and pretty!) and a mango scone probably needs to happen soon, too.
My favorite way to enjoy fruity scones is with tea (over coffee) because it just feels so light and refreshing. I'm a tea fiend and Chris and I literally stockpile it so we always have a fabulous selection. A few of my current tea obsessions are (all affiliate links) Sugar Cookie Sleigh Ride by Celestial Seasonings (it's technically a "holiday" tea, but I think it can be enjoyed any time), Harney & Sons Hot Cinnamon Spice (only the BEST tea in the world. If you enjoy a spicy cinnamon flavor, you will LOVE this), and Bigelow's Constant Comment (my old standby, it reminds me of my childhood and I love that it comes in green now!).
And with that I say HAPPY WEEKEND!! I'm going to my parents' house tomorrow to celebrate a late St. Patrick's Day (corned beef, cabbage, Guinness cupcakes!). And then crossing lots of things off the to-do list the rest of the weekend!
What's the best scone you've ever had?
If you're looking for more scone recipes, check out my Coffee Cinnamon Scones and my Eat Your Vegetables Savory Scones. I'm also really excited to try these Candied Ginger Pecan Scones from One Sarcastic Baker!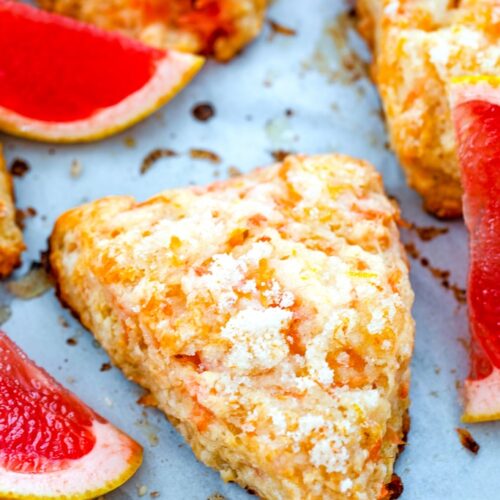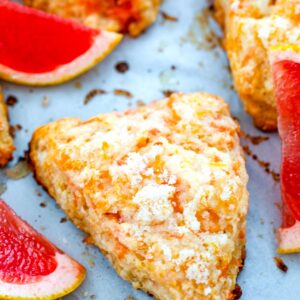 Grapefruit Scones
Think scones are dry and boring? These sweet and tart Grapefruit Honey Yogurt Scones will prove that theory wrong! Enjoy them for breakfast, dessert, or as a snack with a cup of tea.
Print
Pin
Rate
Ingredients
1 ½

cups

all-purpose flour,

plus more for dusting

1

tsp

baking powder

½

tsp

baking soda

¼

tsp

salt

1

ruby red grapefruit,

zested and segmented

6

Tbsp

granulated sugar

6

Tbsp

unsalted buter,

chilled and cut into small pieces

2

Tbsp

honey

½

cup

plain Greek yogurt

(I use 1%)

2

Tbsp

whole milk,

plus more for brushing scones
Instructions
Pre-heat oven to 400 degrees and line a baking sheet with parchment paper.

In a large bowl, whisk flour, baking powder, baking soda, and salt together.

Combine the grapefruit zest in a small bowl with sugar. Rub it together with the back of a spoon to blend well. Reserve 2 Tbsp sugar/grapefruit mixture. Mix the rest into the flour mixture.

Add butter to flour mixture and using a pastry blender or your

fingers, cut butter into mixture, until it resembles coarse meal.

Add honey, yogurt, grapefruit segments (see notes if you need help segmenting grapefruit), and milk to the mixture. Using a fork, toss the mixture together just until all the ingredients are moistened.

Place scone dough on a lightly-floured surface and form a circle about ¾" thick. Slice dough into 8 triangles and place on prepared baking sheet.

Brush scones with milk and sprinkle with reserved sugar/grapefruit zest mixture.

Bake for about 16 minutes, until scones are turning golden on top. Let cool on the pan for about 10 minutes before serving
Share a Photo of Your Finished Recipe!
Mention @wearenotmartha and share a photo if you've made the recipe!