If you think scones are supposed to be dry and boring baked goods, you need to let these Coffee Cinnamon Scones change your mind! Perfectly buttery and packed with coffee, cinnamon, and cinnamon chips, you'll want to start every morning with one of these scones.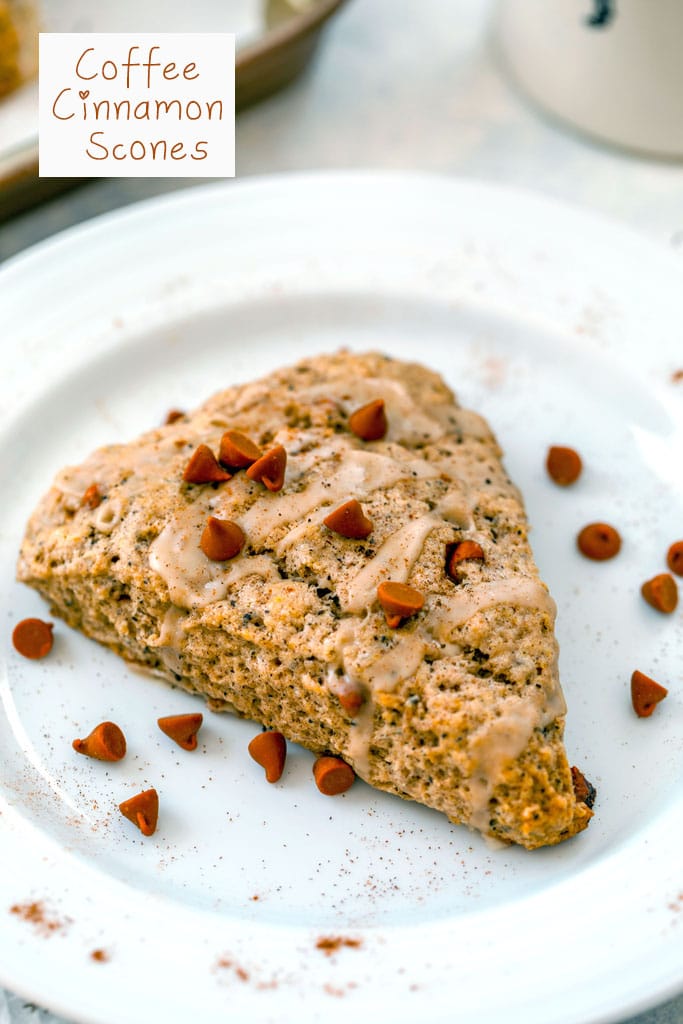 Is there anything in life that you really wish you were good at, but you're just plain not? I legitimately have an entire list, but near the top of that list is drawing. I am ridiculously horrible at drawing, to the point where I don't even really doodle because it makes me cringe when I see the results of my doodles.
If you told me that if I were to draw a little bit each day, I'd eventually be good, I'd totally be practicing my butt off. But at this point in life, I've resigned myself to the fact that I'm not good at drawing and I never will be and practice will never make perfect because it's just not how my brain or hands work.
I don't find myself sitting around with paper and a pen much these days anyway, but I still wish I could be proud of my doodles. Sigh.
It's OK though because luckily, I'm pretty decent at doing some other things. And for others, I know that lots of practice will eventually make perfect or at least close to it.
Scone-making for instance. I've been on a major scone making kick lately and each and every time I bake a batch, they're even better than the previous one.
I'm so excited by how these Coffee Cinnamon Scones turned out and I'm already thinking about my next variety. Can we all work together to make scones fun again and not those hard-as-rock dry baked goods so many people think they are?
Coffee Cinnamon Scones Recipe
Scones tend to get a bad name. Lots of people think of them as being dry and flavorless little baked goods that you have to dip into tea or coffee to actually enjoy. I'm here to tell you that isn't true!
Scones should be moist and buttery and flavorful and a little bit indulgent. These coffee cinnamon scones are all of those things and while they do go perfectly with a cup of coffee, you don't actually need to dip the scone in the coffee in order to make it soft enough to eat.
Another myth is that scones are difficult to make. Nope! They are incredibly easy and only require a few steps.
The most important? Making sure your butter is very cold and that you work it into the dough well (you can use your fingers or a fork for this, but I love my pastry cutter [affiliate link]).
Also important is making sure your scones are flavored well... I used coffee, cinnamon, and cinnamon chips for these ones.
Once your dough is made, you simply pat it into a round (no rolling pins necessary!) and slice it into 8 wedges.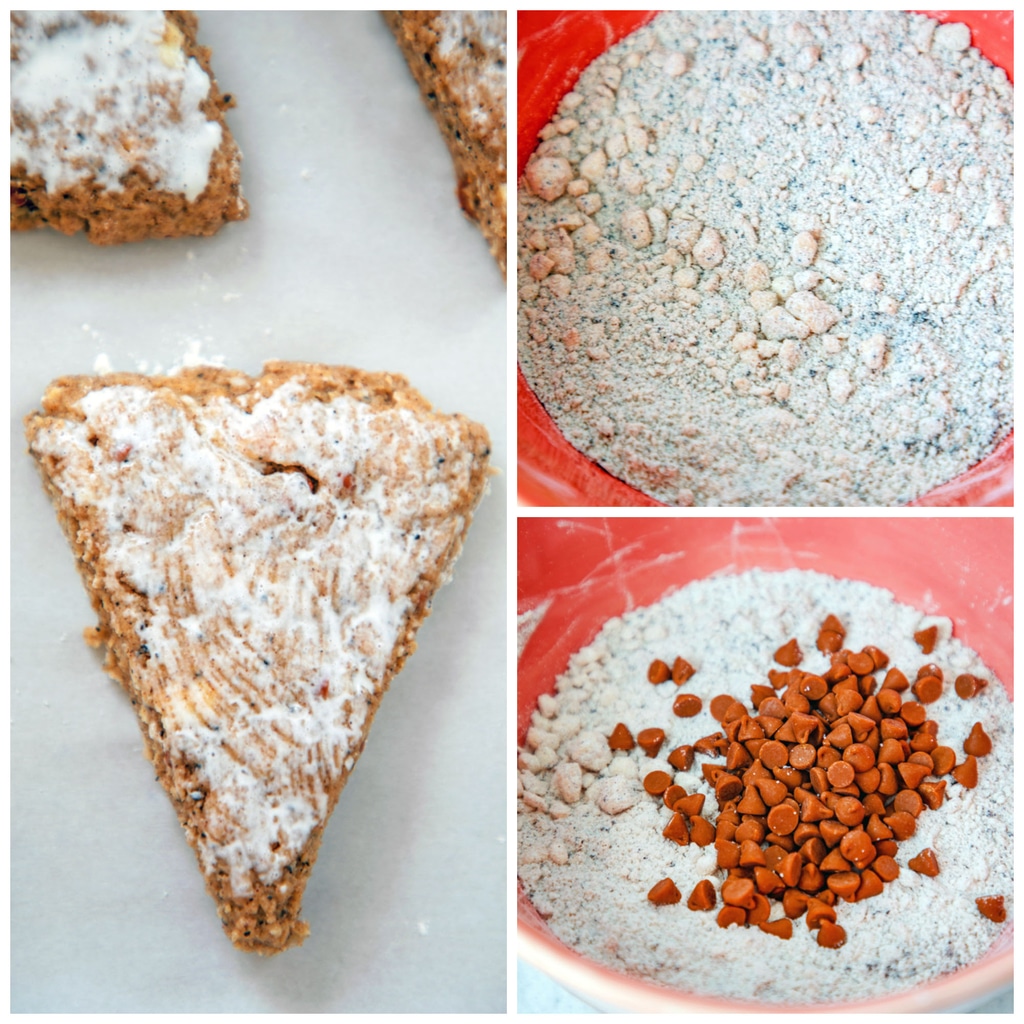 You can use a knife here, but I think every kitchen needs a bench scraper [affiliate link] (bench scrapers have so many uses! you can also cut your butter with them, move dough, and clean up a flour mess).
There's something so satisfying to me about slicing scone dough.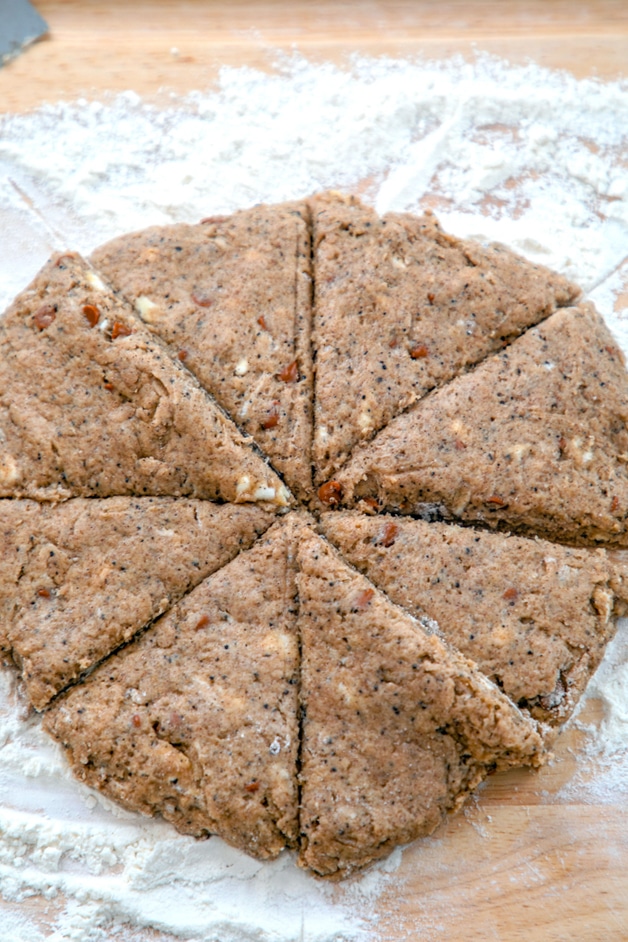 You'll brush your scones with a little bit of cream and bake them at 400 degrees for 13-15 minutes, until they're just turning golden.
But wait, don't forget the coffee glaze! And a few extra cinnamon chips for good measure.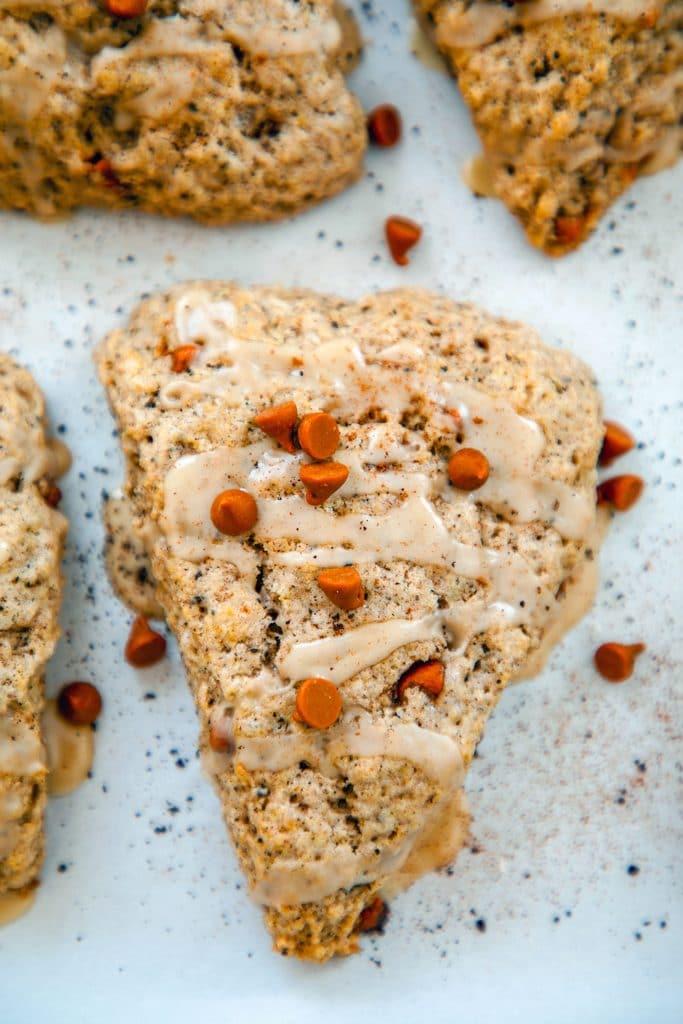 If you're not totally ready to say goodbye to summer and jump into apples and pumpkins, cinnamon is a great transitional ingredient.
But when you bake these coffee cinnamon scones, your kitchen will smell amazing and you won't be able to help getting a little bit into the fall spirit.
You'll also probably want to invite all the neighbors over for a coffee date. Even the neighbors you don't like. But be careful because they'll probably reallyyy like you after you serve them these scones.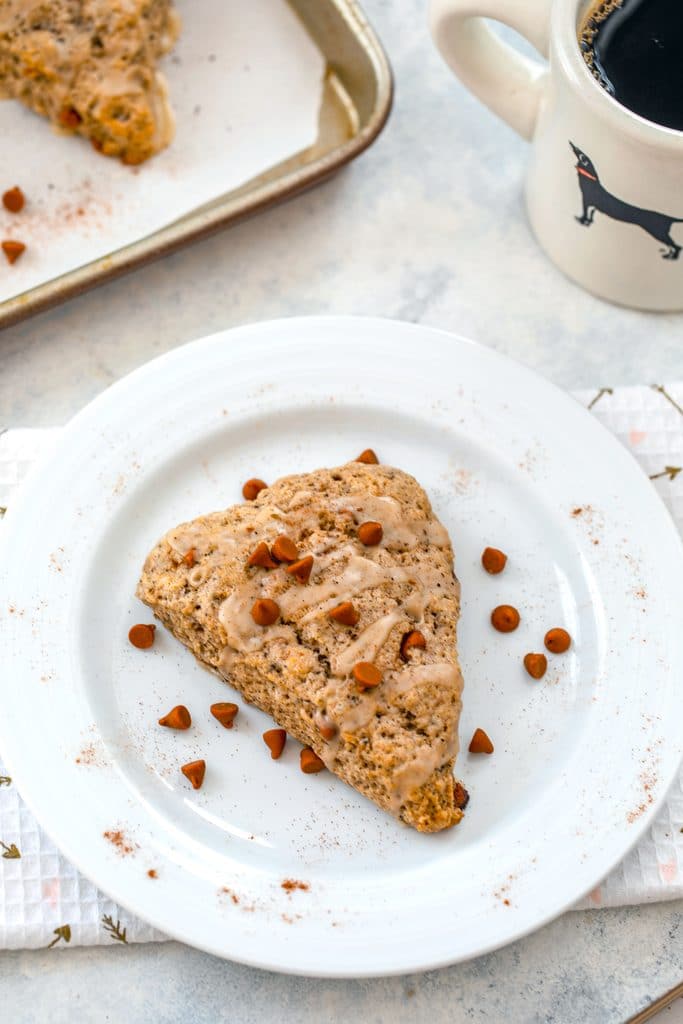 I've decided that if we were all to start our days with a scone and cup of coffee (or tea if that's your morning drink of choice), we'd all be much happier people.
And I'm not saying these coffee cinnamon scones are going to solve all your problems or anything like that, but you do know that cinnamon has all kinds of health benefits, right?
It's packed with antioxidants and may even help lower blood sugar levels and reduce the risk of heart disease (I recommend using ceylon cinnamon (affiliate link) for the best health benefits).
So, if you're going to have a morning treat (and you should! you deserve it!), making it one of these scones would be a very smart choice.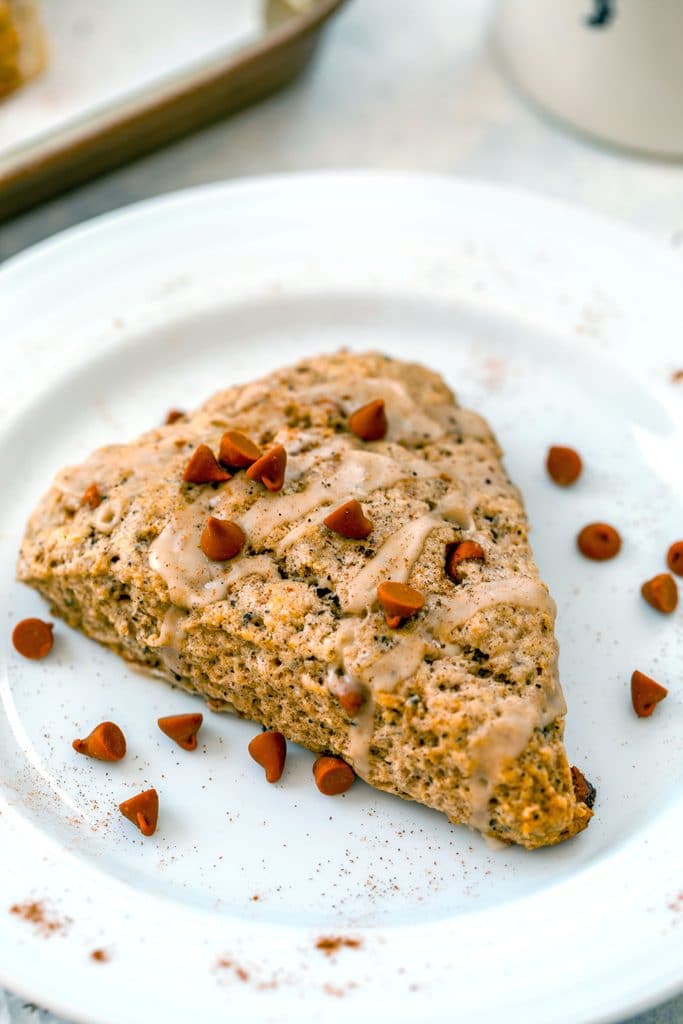 My biggest problem with these scones is that I can't decide how to categorize them. Yes, they make a brilliant breakfast, but I also ate a couple as a dessert.
And they are also perfect snacks. We might not really have a formal "tea time" here in America, but you know how when 3:00 hits you suddenly really need a cup of coffee and something sweet? Coffee cinnamon scones to the rescue!
At the end of the day, I suppose I'd rather be skilled at making scones than doodling. Because, I mean, you can't eat doodles.
What skill or activity do you wish you were better at?
Are you on a scone baking kick like me? Check out my recipes for Cadbury Mini Egg Scones and Eat Your Vegetables Savory Scones!
📖 Recipe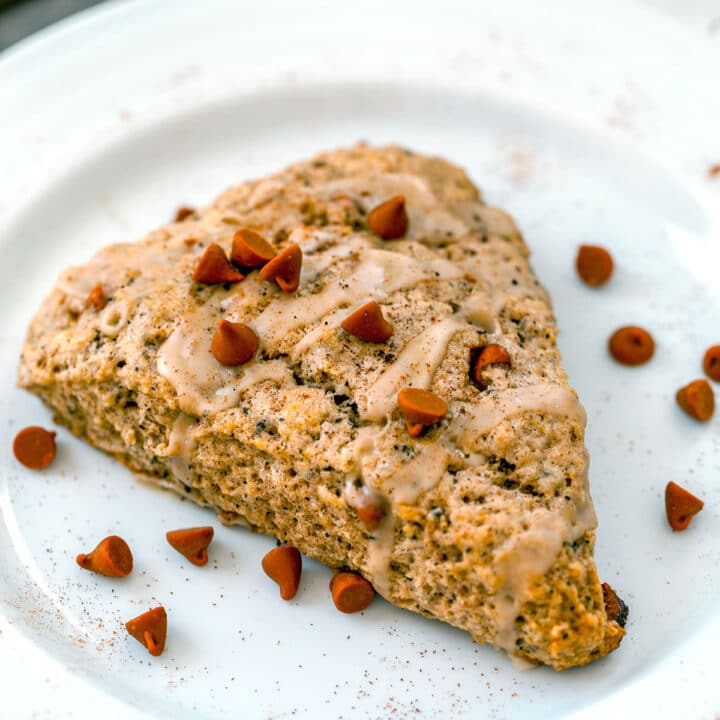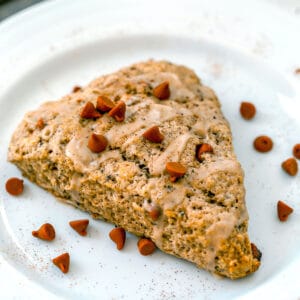 Coffee Cinnamon Scones
If you think scones are supposed to be dry and boring baked goods, you need to let these Coffee Cinnamon Scones change your mind! Perfectly buttery and packed with coffee, cinnamon, and cinnamon chips, you'll want to start every morning with one of these scones.
Print
Pin
Rate
Ingredients
2

cups

all-purpose flour

1

Tbsp

baking powder

½

cup

granulated sugar

1

Tbsp

cinnamon

2

tsp

ground coffee

¼

tsp

salt

½

cup (1 stick)

unsalted butter,

chilled

⅓

cup

cinnamon chips,

plus more for topping if desired

½

cup plus 1 Tbsp

heavy cream,

plus more for brushing

2

large eggs
Coffee Glaze
1

cup

confectioners' sugar

2

tsp

strongly brewed coffee

Pinch

salt
Instructions
Pre-heat oven to 400 degrees and line a baking sheet with parchment paper.

In a large bowl, whisk together flour, baking powder, sugar, cinnamon, ground coffee, and salt.

Cut in butter with a pastry cutter or fork (or your hands), until pea-size pieces form with some larger chunks remaining.

In a small bowl, whisk together cream and eggs. Using a spatula, fold the cream/egg mixture into the dry mixture until just combined.

On a lightly floured surface, gently knead the dough a few times. Then using your hands, form a circle about ¾" thick. Slice dough into 8 triangles and place on prepared baking sheet. Brush scones lightly with heavy cream.

Bake for 1

3-15 minutes, until scones are just turning golden around edges.

Let scones cool a bit before drizzling with coffee glaze and sprinkling with additional cinnamon chips.
Coffee Glaze
Put confectioners' sugar in a medium bowl. Add coffee and salt and whisk together until combined. Add more coffee if you'd like a thinner glaze.
Share a Photo of Your Finished Recipe!
Mention @wearenotmartha and share a photo if you've made the recipe!