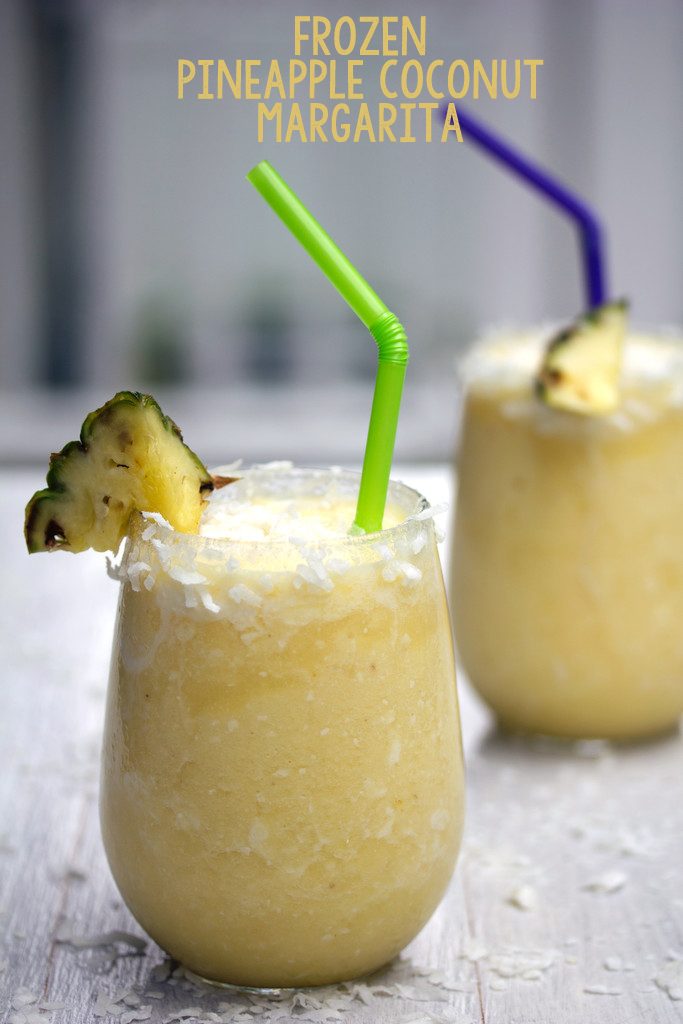 Uhh I know a couple weeks ago, I wished for a blizzard. But then the temperatures seriously dropped. To like negative degrees. Not even my fleece-lined leggings could protect me. It's warmed up a little bit and we're actually in the midst of a pretty big snow, but at this point, I think I'd rather just have a tropical vacation instead. So much so that I actually stopped in the middle of my work the other day and started looking up how much a tropical vacation would cost right about now.
But since I sadly won't be heading on one any time soon, I'm just going to have to keep re-creating them at home. It gets a little pricey to continuously turn up the heat, but blankets and sweats don't quite give you that tropical vacation feel. This drink, however, does. There is no wrong time for pineapple and coconut. No sand necessary.
I've been pineapple crazed lately, chopping a large one up every Sunday for green smoothies throughout the week. But I think a tropical cocktail is a much better use for it. Sorry, green smoothies; but you lose this week.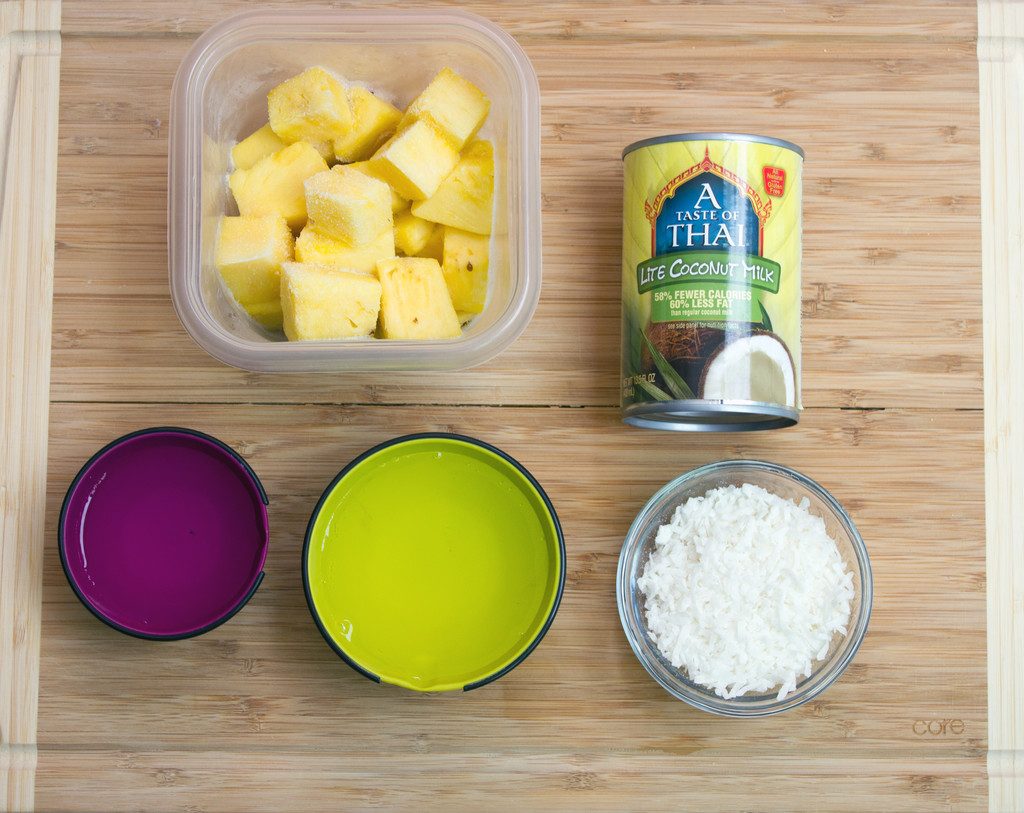 A coconut rim is super fun and pretty… But it also makes cocktails a little awkward to drink. Still… Worth it!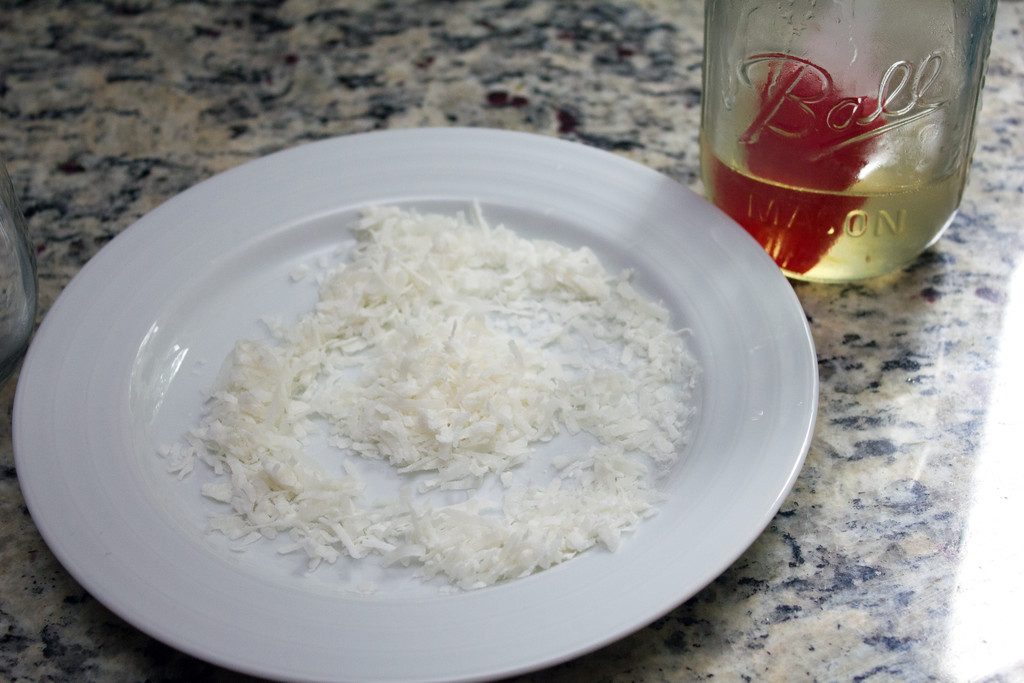 I always use simple syrup to get any coconut, sugar, salt, etc. to stick to the rim of a cocktail glass. And as you probably know by now, I always have at least two jars of simple sugar in my refrigerator (current count: 5).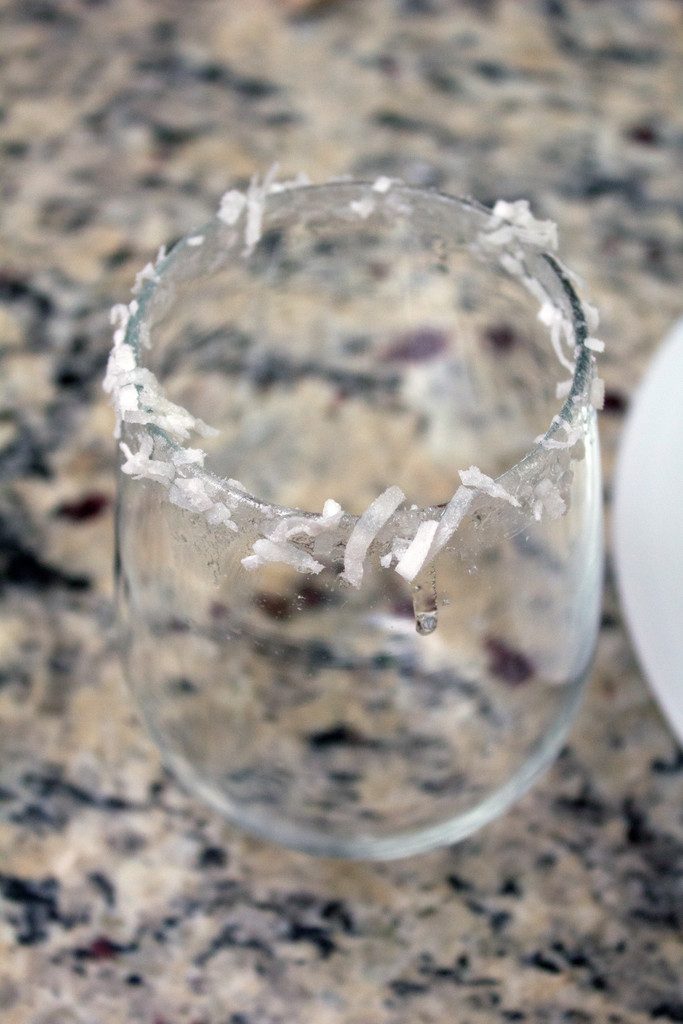 Like most margaritas, this one is quick and simple. Good thing because you don't have time to waste at the end of a long, stressful, freezing day. You need a tropical cocktail in hand ASAP!
In a blender, put 2 C ice, 1 C chopped frozen pineapple, ½ C light coconut milk, ½ C tequila, and ¼ C triple sec. Blend until smooth.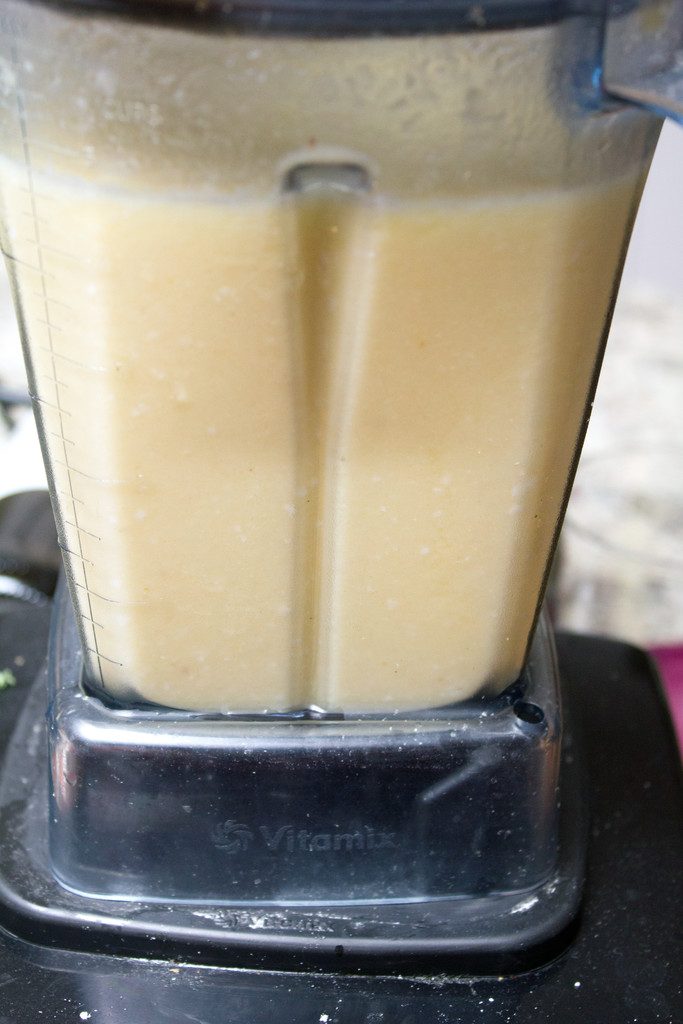 Divide into two coconut rimmed glasses. Stick a straw in it, put a little pineapple garnish on the side, and sprinkle some extra shredded coconut over the top.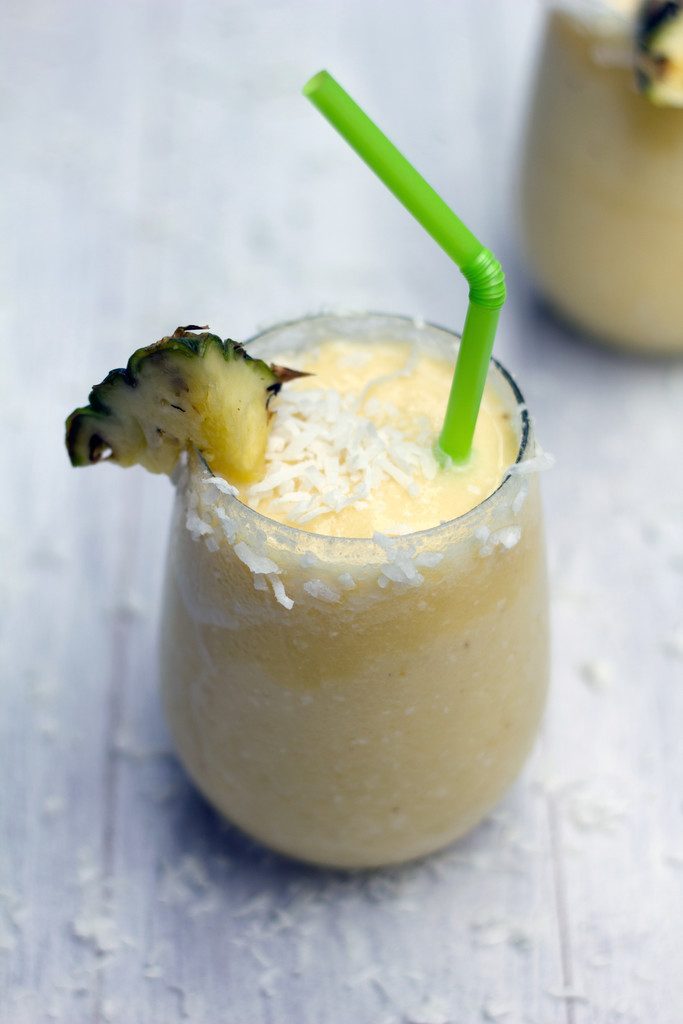 Crank up the heat, put on some sunglasses, and clothes your eyes. Feel like you're on a beach? Kind of? Sort of? OK, well this is probably as close as you're going to get right now if you live in New England.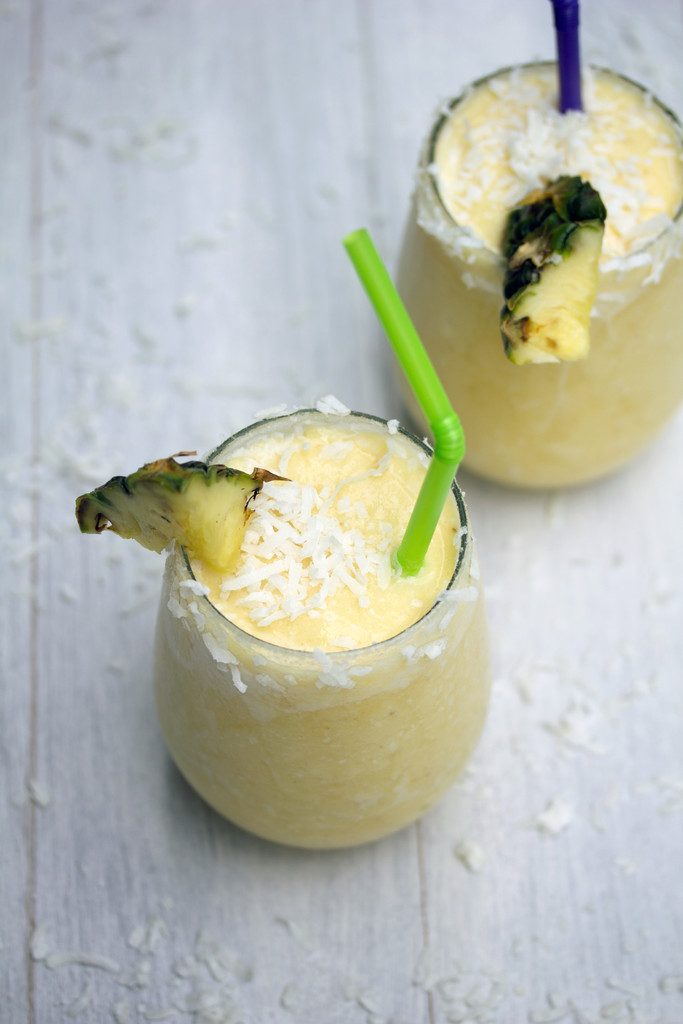 I'm trying to think of the reasons why drinking this on your couch during a snowstorm is better than drinking this while sitting on the beach. The only point I can come up with, though, is that you won't have sand stuck on you at the end of the day. And sadly, a little sand would be more than worth it for the feel of the hot sun.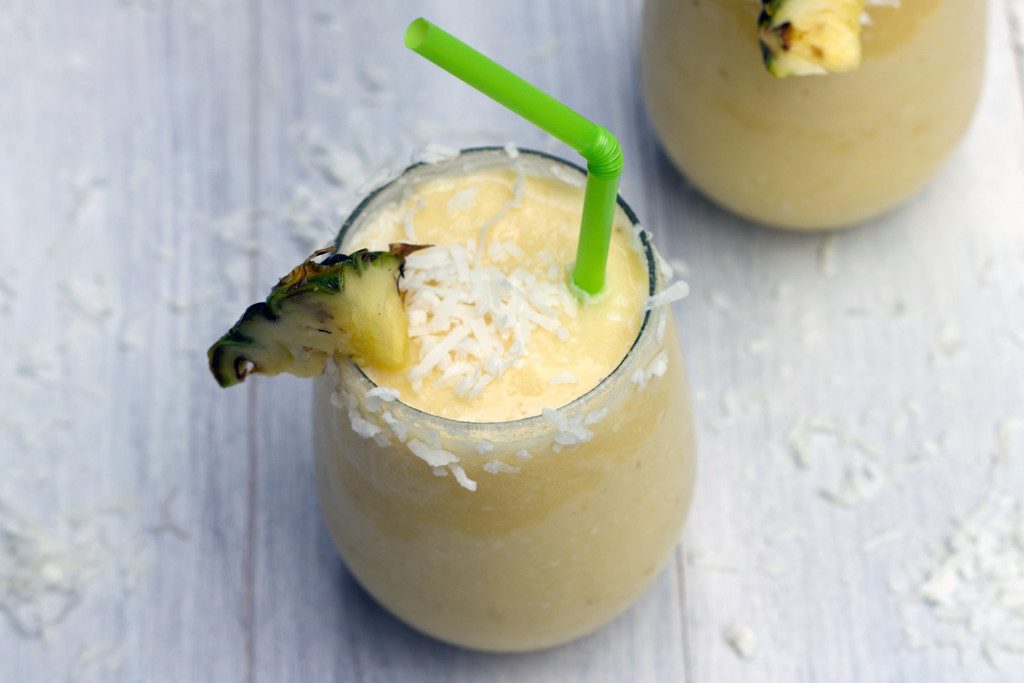 This is a hybrid of a piña colada and a frozen margarita. After all, the pineapple and coconut make it piña colada-like, while the tequila and triple sec make it margarita-like. Let's just call it the perfect combination!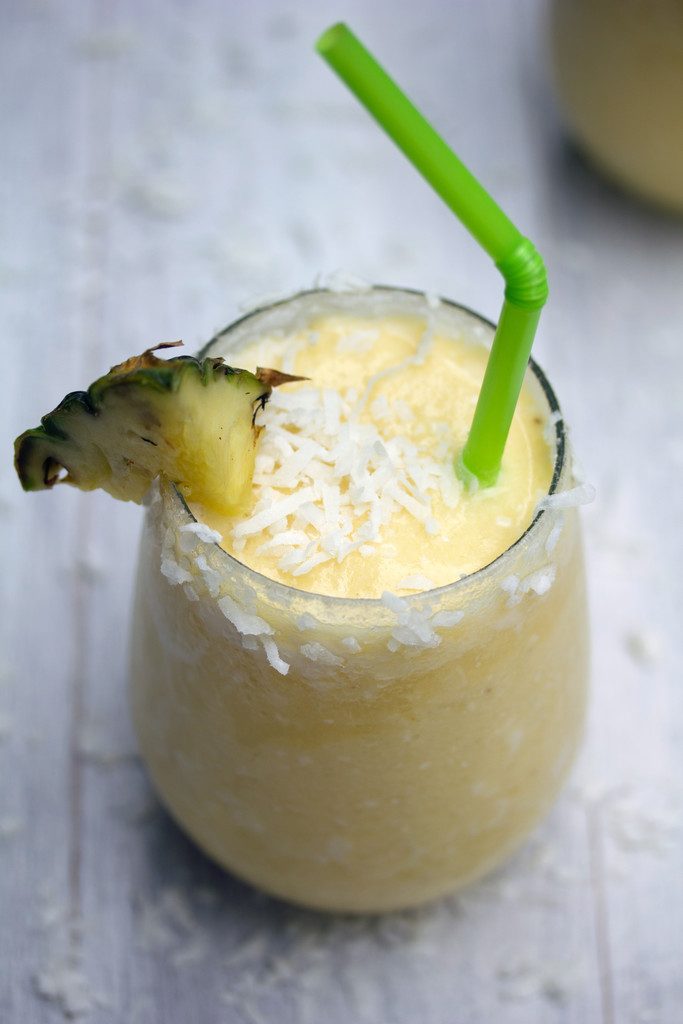 Don't drink it too quickly or you'll totally get a frozen headache. But again, I'm pretty sure it's worth it. We've reached such lows in January that we're starting to accept a little bit of pain and misery for some tropical happiness.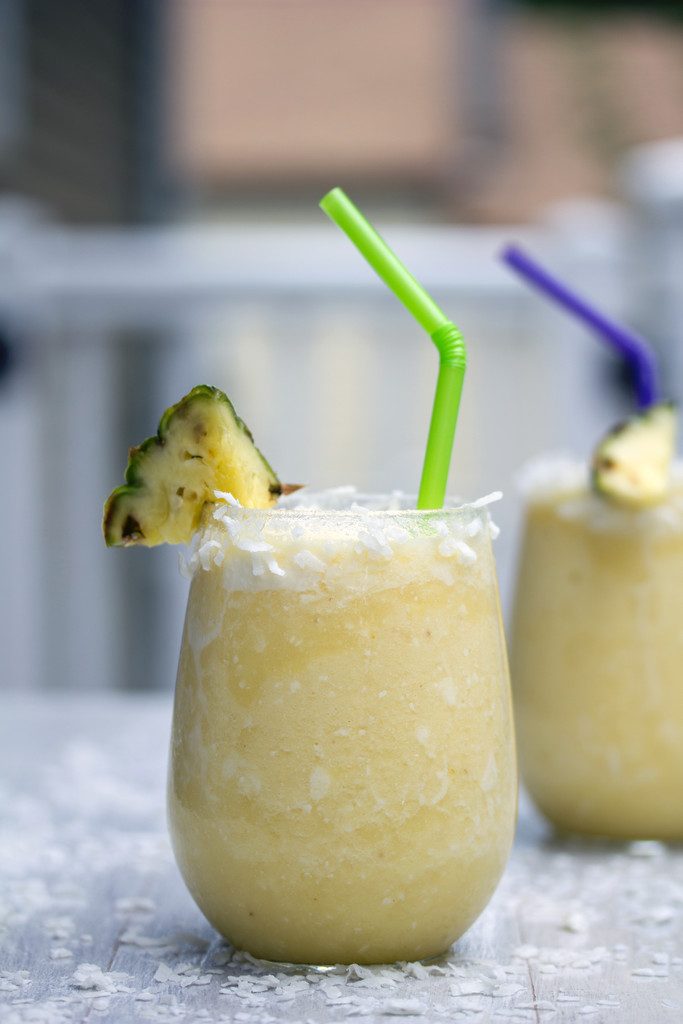 I hope you didn't put your blender away for the winter! If so, I think it's time for you to lug it back out and have a little chilly winter weekend tropical cheer!
What tropical location would you most like to be in right now?
At this point, I wouldn't argue with ANYWHERE with a beach and 80 degree temperatures!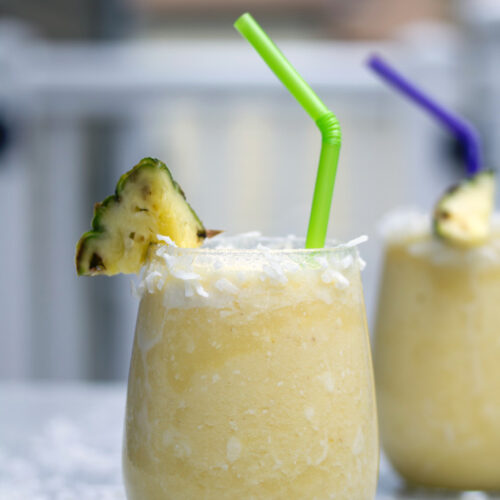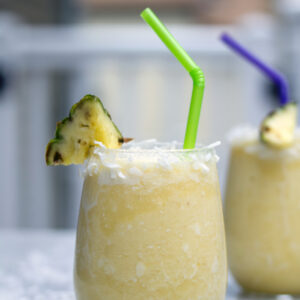 Ingredients
¼

C

shredded coconut for rim and garnish

optional

Simple syrup for rim

optional

2

C

ice

1

C

chopped frozen pineapple

if using fresh pineapple, chop and then chill in freezer for 1+ hours

½

C

light coconut milk

½

C

tequila

¼

C

triple sec
Instructions
If rimming glasses in coconut, place shredded coconut on a plate and lightly brush the rims of the cocktail glasses with simple syrup.

Place glasses on plate upside-down and roll gently until rims are coated in coconut.

In a blender, put ice, chopped pineapple, light coconut milk, tequila, and triple sec. Blend until smooth.

Divide drink into two glasses. Garnish with slice of pineapple and sprinkle with additional shredded coconut if desired.
Share a Photo of Your Finished Recipe!
Mention @wearenotmartha and share a photo if you've made the recipe!